The Best Ways to Serve Ice Cream at Your Wedding
Dish up this creamy confection at your wedding using one of these fun ideas.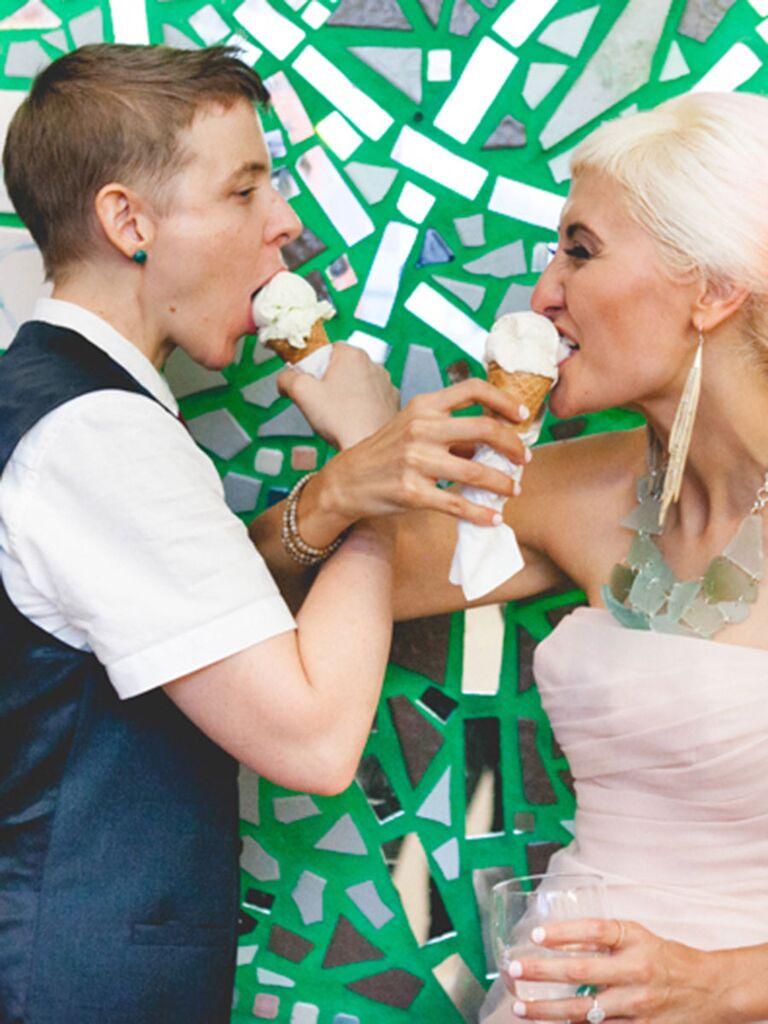 Tara Beth Photography
Haven't you heard? Ice cream and cake make a perfect pair—especially when there's wedding cake. We looked to some beautiful real weddings to uncover the best ice cream–serving inspiration. From waiters passing cones, to throw-back ice cream carts, there are so many ways to get creative with this refreshing dessert.
On a Serving Tray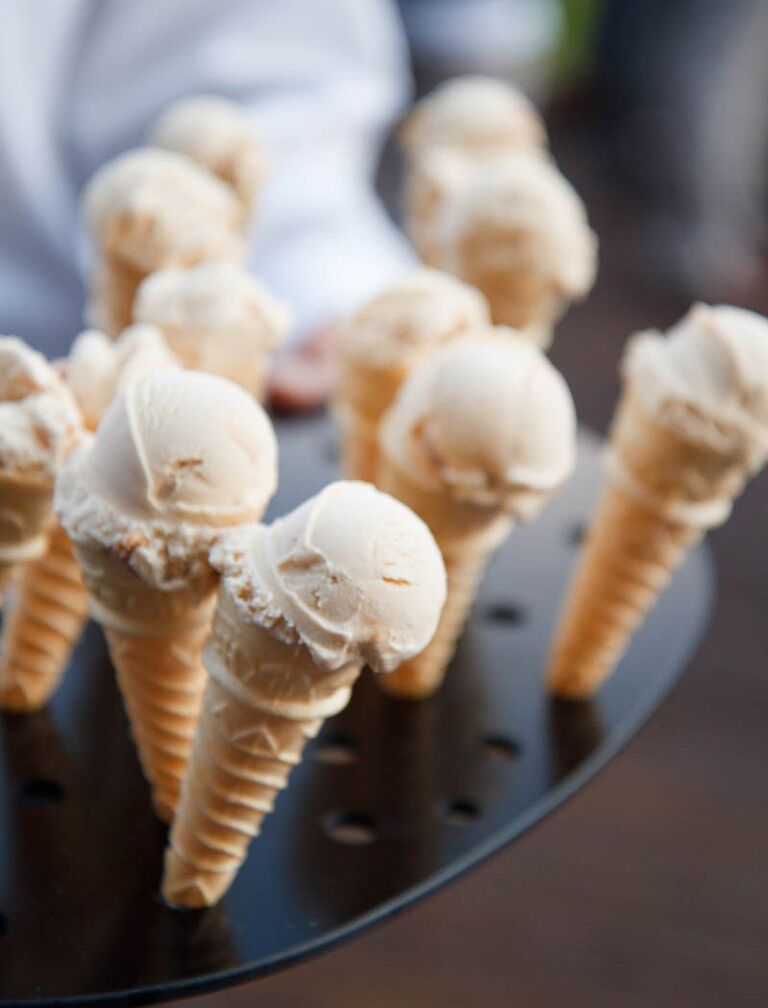 Don't limit your passed bites to appetizers—get some dessert in on the action. Not only is it convenient for guests to snag a treat while the attendants are making rounds through the reception, but it keeps energy levels up even toward the end of the night.
From: A Brighton Ski Resort Wedding in Brighton, Utah
On a Sundae Bar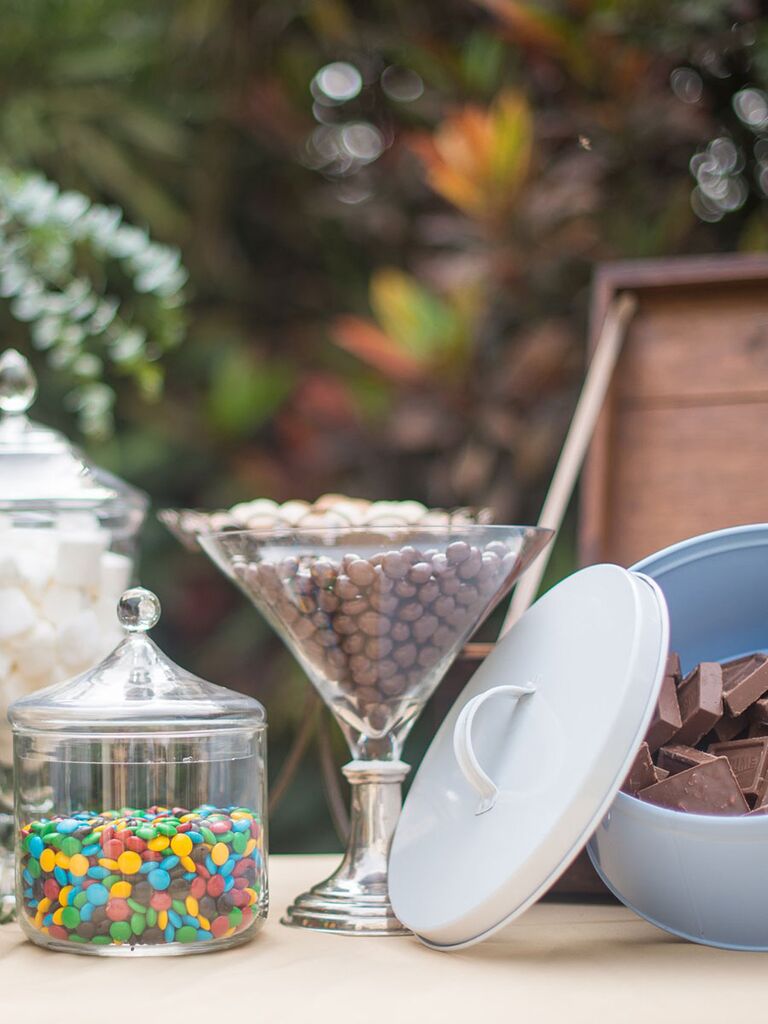 A sundae bar guarantees there will be something for everyone. Opt for the traditional toppings like candies and cookie crumbs, but if you really want to impress, set out a few unexpected options like candied bacon, nut brittle or champagne-soaked strawberries.
From: An At-Home Destination Wedding in Lima, Peru
As a Cookie Sandwich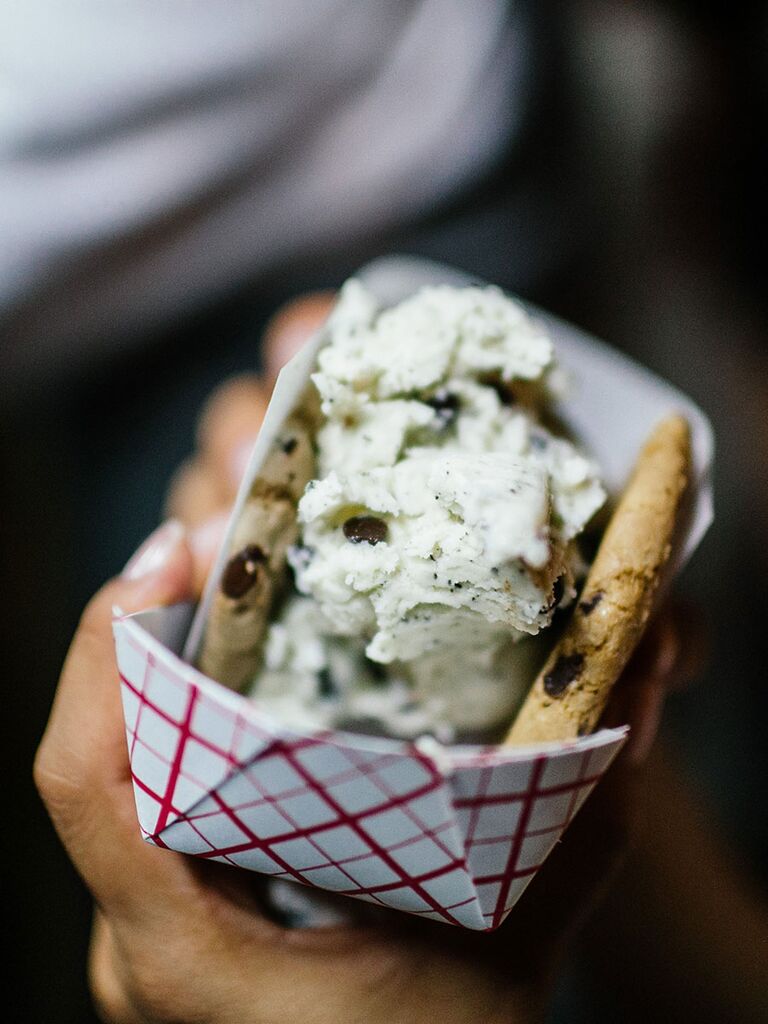 Not only are ice cream sandwiches a total crowd-pleaser, they're a great treat to source locally. Reach out to your favorite neighborhood baker for a few batches of different types of cookies, and a corner-store creamery for a few flavors of ice cream. Then let guests customize their own cookie sandwich!
From: A Green Building Wedding in Brooklyn, New York
In a Self-Serve Cart
That's right, go old school. Load up one of these old-fashioned carts with a few different selections of ice cream favorites (think: chocolate eclairs, Screwballs and ice pops). Guests can choose exactly what they like without the need of an attendant to man the station.
From: A Relaxed Elegant Wedding in Windsor, Ohio
As a Retro Milk Shake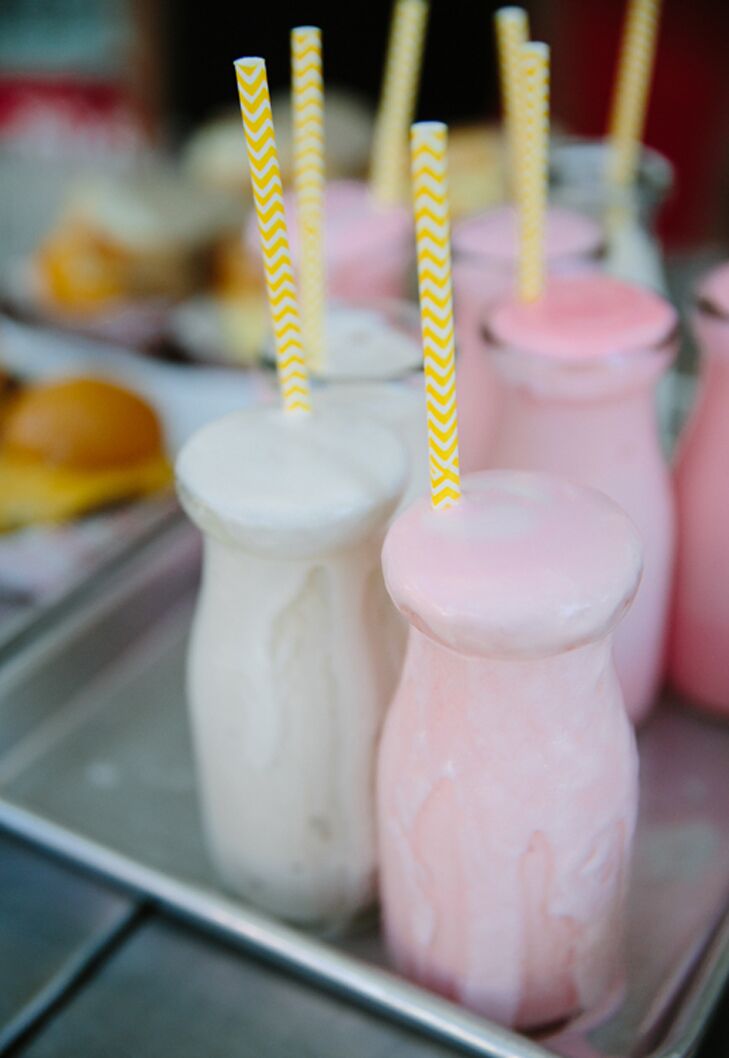 What's more fun than a retro strawberry milk shake or an overflowing root beer float? Even better—when they're served in old-fashioned milk bottles with festive straws. Bonus: Guests can sip these sweet treats with one hand.
In Your Cocktails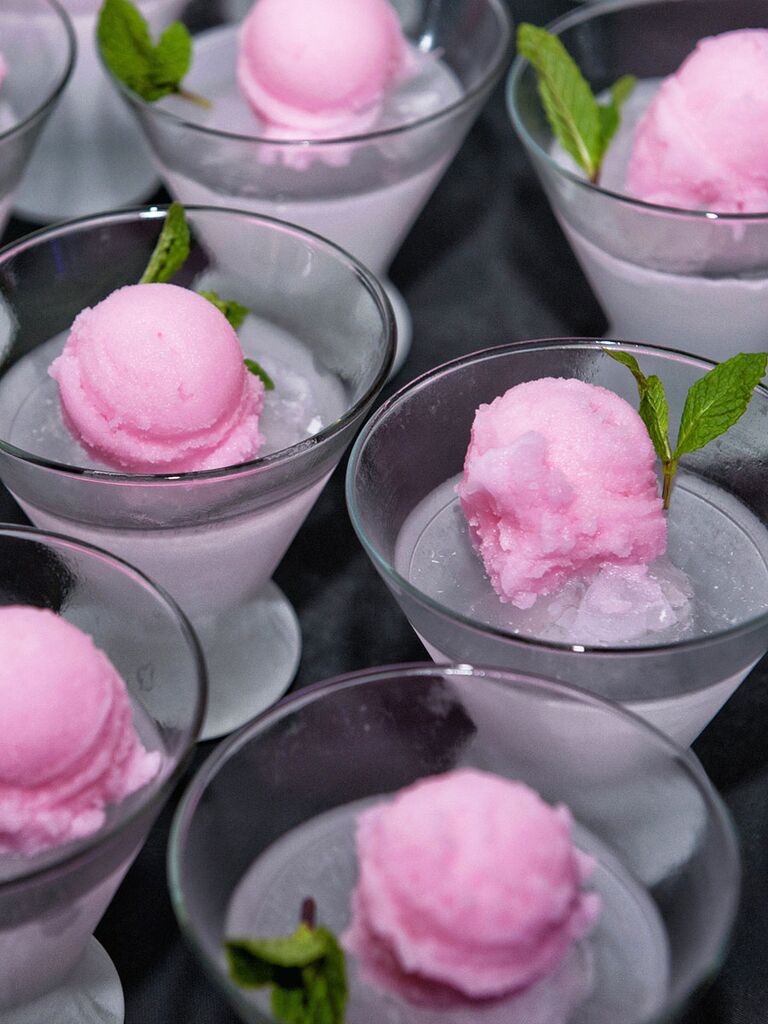 Don't worry—we didn't forget about the booze. Jazz up your signature sip with a refreshing scoop of sorbet for a unique and delicious cocktail hour treat. Garnish with a sprig of mint and you'll have a show-stopping refreshment.
From: A Classic Ballroom at Intercontinental Cleveland in Cleveland, Ohio
Nestled in Cake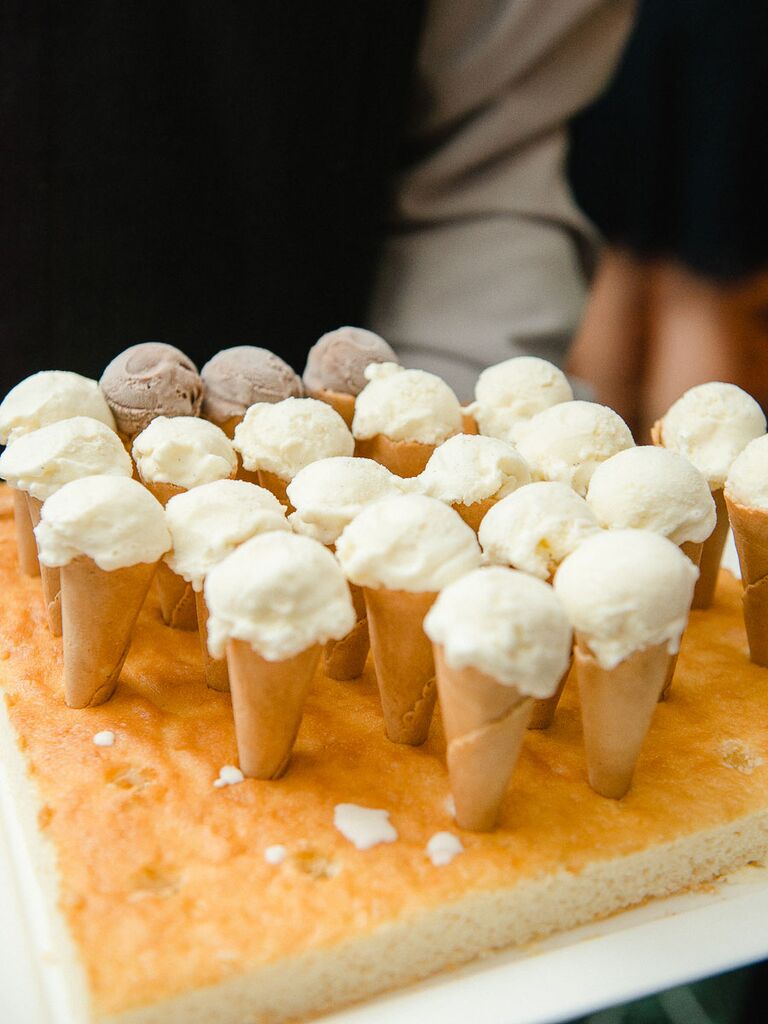 Okay, we know we already showed ice cream cones being passed on a tray, but this hack is genius. If you can't find serving trays that fit the shape of your cones, sculpt one out of cake.
From: A Classy, Romantic Wedding at Four Seasons Hotel in Philadelphia, Pennsylvania