The Wedding Alcohol Calculator & Shopping List You Need to Stock Your Reception Bar
Your essential shopping list for bubbly, beer, wine and cocktails.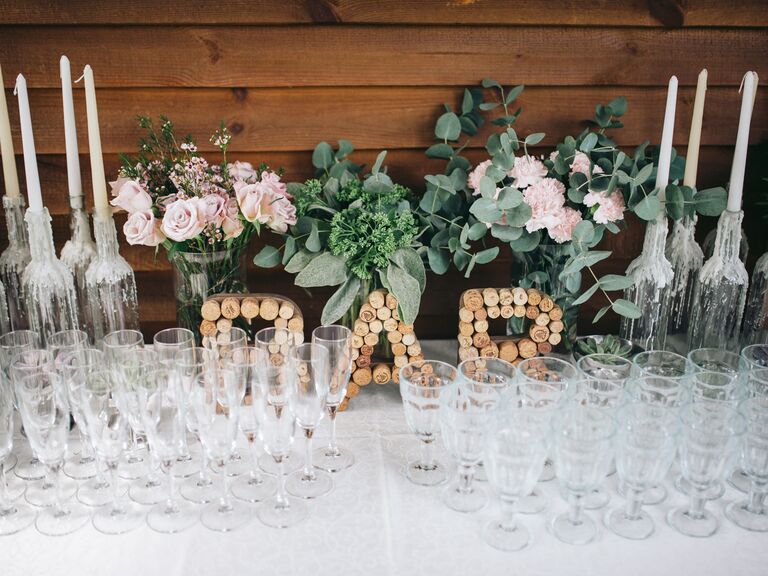 Alexsuh/Shutterstock.com
Once your wedding ceremony wraps, you're going to want to raise a glass with your guests and enjoy some celebratory drinks. Calculating how much alcohol to buy for a wedding bar menu is an important part of wedding planning and we've made it easy with this wedding alcohol calculator. While staying within your wedding budget, you also don't want to run out of liquor halfway through your wedding reception.
Whether you're working with a professional bar service or stocking a DIY wedding bar, there are a lot of variables to consider to determine how many and what types of drinks to serve—including guest count, season and wedding style, to name a few. We reached out to Joshua Mentrup from Barspirit Premier Bartenders & Event Staff in Los Angeles to get pro tips on how to get the perfect mix of liquor, wine, beer and bubbly on your wedding alcohol list.
In this article:
Wedding Alcohol Calculator
Let's start with the math, shall we? Mentrup advises, "Assume each guest will consume one drink per hour or about five drinks throughout the evening. Some guests will drink less, of course, but others may be a little thirstier. Generally, people tend to consume more earlier in the event but slow down later on, so the drinks per guest per hour are higher for an event under 3 hours."
According to Mentrup, the variables (and questions you'll need to answer) to calculate how many drinks you will need to serve at your wedding reception include:
What is your guest count?
How many hours will your reception last?
Are your guests light, average or heavy drinkers?
Will you have a champagne toast?
How many signature cocktails would you like to offer?
What type of alcohol? Note: These days, the recommended mix is 50% liquor, 25% beer and 25% wine. Typically it's a 50/50 split of red and white wine.
Now, here's the fun part: enter your answers into this handy wedding drink calculator tool to generate an alcohol shopping list for your wedding. This will provide you with an excellent starting point that you can further customize to reflect your specific wedding style.
Expert Advice for Stocking the Wedding Bar
Once you've calculated how many wedding drinks you'll be serving and generated a basic shopping list, a professional bartender can lend their expertise to further refine your list and give you a cost estimate. Mentrup offers these pro tips:
Signature Cocktails
Serving signature cocktails can help to personalize your wedding. "I recommend couples offer two to three craft cocktails—definitely no more than five. Offering too many can make it overly complicated for guests to order, which can slow down the bar service. If you do offer five, you'll want to include a popular classic like an Old Fashioned, as well as a mocktail to make deciding from the menu easier," says Mentrup.
Liquor Choices
Don't offer too much variety when it comes to spirits either. "Vodka and bourbon, along with tequila, gin or rum, are adequate offerings. Otherwise, it's likely that you'll need to buy more alcohol than you'll actually use and be left with several half-empty bottles. To satisfy the majority of guests, choose good quality mid-priced brands over bottom-shelf or top-shelf spirits," Mentrup explains.
Wine Varietals
When choosing types of wine, work with your caterer and bartender to select wines that go well with the food menu, as well as varietals to serve at the bar. "If you'd like to add rosé and sparkling wine to your bar service, you can substitute these for some of the white wine bottles as they have a similar flavor profile," suggests Mentrup.
If you plan to put a bottle of white and red wine at each table versus having a waiter pour wine for each guest, you will need to buy more bottles of red and white wine to allow for this. Keep in mind, you may have unfinished bottles if you decide to go this route.
Champagne Toast
You can buy enough champagne to serve one glass to each guest, but this doesn't have to be the case. Mentrup notes, "Guests often prefer to stick with their drink of choice for the toast. You can end up with a lot of unfinished glasses of champagne if you pass one out to everyone."
If you're considering a champagne tower, you'll need to buy some extra bottles. Mentrup warns that it can be costly and time-consuming to set up for 100+ guests. "While it can be done, it's best saved for a micro wedding or a thirty-glass tower for a photo opportunity. You also don't want to risk a guest helping themselves to a glass and inadvertently toppling over the whole tower."
Mocktails
"Over the past year, mocktails have become very popular," remarks Mentrup. "Some couples simply include a Shirley Temple for the kids, but recently more couples are offering one or two mocktail recipes using new non-alcoholic spirits on the market—you can therefore substitute some liquor for non-alcohol gin and tequila."
How to Customize Your Wedding Alcohol List
Mentrup recommends that you consider these key factors to further customize your wedding bar:
Time of Day, Season and Climate
If you're hosting a brunch or lunch wedding, you can scale back the total served drinks by 15%. If you're planning a wedding in the summer or a warmer climate? You'll likely need more white wine, beer, refreshing cocktails and water.
Reception Itinerary
A tried and true reception lineup includes a cocktail hour featuring signature cocktails, a red and white wine selection with a meal, a champagne toast and a full or limited bar after dinner. If you're planning an after-party, you'll need to account for it in your event duration, too.
Guest Profile
Are your guests wine enthusiasts, beer drinkers or cocktail lovers? You can adjust the ratio of bottles of beer, wine and spirits to better suit your crowd.
Wedding Style
The style of your wedding will play an important role in the bar menu as well. For example, a casual backyard BBQ wedding will lend itself more to refreshing beverages and beer. On the other hand, an elegant cocktail reception might feature more spirit-forward options with thought-out garnishes and glassware.
Venue Type
Talk to your venue coordinator to get their advice for your wedding bar. They might have house specialties, especially if it's a winery, brewery or restaurant. If your venue allows you to bring your own alcohol for your wedding, check to see if your venue charges a corkage fee, so you can incorporate that cost into your total alcohol budget.
Personalized Moments
Don't forget to include any cultural traditions or creative wedding ideas in your plans. For example, you could set up a whisky tasting, tequila shots, kegs of local craft beer or mini-bottles of champagne.
How Much Alcohol to Buy for Your Wedding Size
We crunched the numbers for a typical wedding to come up with how much alcohol you need for a wedding guest count of 100, 150 and 200 with a ratio of 50% liquor, 25% beer and 25% wine. Here are the results:
100 Wedding Guests
Scenario: 5 hours, champagne toast, average drinkers
Champagne (750 ml) - 17 bottles
Red Wine (750 ml) - 10 bottles
White wine (750 ml) - 10 bottles
Spirits (1 liter) - 11 bottles
Beer - 100 cans or bottles
150 Wedding Guests
Scenario: 5 hours, champagne toast, average drinkers
Champagne (750 ml) - 25 bottles
Red Wine (750 ml) - 15 bottles
White wine (750 ml) - 15 bottles
Spirits (1 liter) - 16 bottles
Beer - 150 cans or bottles
200 Wedding Guests
Scenario: 5 hours, champagne toast, average drinkers
Champagne (750 ml) - 33 bottles
Red Wine (750 ml) - 20 bottles
White wine (750 ml) - 20 bottles
Spirits (1 liter) - 21 bottles
Beer - 200 cans or bottles
Different Types of Bars at Weddings
Another approach for deciding on how to stock your wedding bar is to consider what kind of bar you'd like to have. There are four major types of bars at weddings: open, limited, cash and non-alcoholic. To figure out which is right for you, consider your preferences and your guests.
Open Bar
An open bar or (hosted bar) is the most gracious approach—no guest should pay for anything at the wedding—but it's also the most expensive. Guests can order any drink at the bar, and you'll have to pick up the tab when the party's done. Because there's no limit, people may drink like guppies. Know anyone who tends to imbibe too much? Tell the bartender in advance.
Limited Bar
You offer a selection of drinks—beer, wine, signature cocktails, and basic mixed drinks, for example. You can also set specific consumption times for certain drinks, such as the cocktail hour, meal, toasts and after-dinner drinks. By hiring a professional bartender to serve drinks, you'll probably save money on alcohol, and fewer guests will go overboard.
Cash Bar
Don't have a cash bar without a great reason (there really isn't one). After all, you don't invite people to your house for dinner and then charge them for the butter. Trust us on this one—it's not a good cost-cutting solution and is way too controversial.
Dry Wedding
If you, your families and most of your guests don't drink alcohol, skip it. Serve mocktails, sparkling water and soda instead. If you want something festive for toasting, go for sparkling cider.
Wedding Bar Shopping Tips
Once you've generated your shopping list using our wedding alcohol calculator and adjusted it to your needs with our tips, you should tailor the list to include signature cocktail ingredients, a mix of beer (e.g. a lager and pilsner), and add any specialty spirits you're planning to serve. For your quick reference, here are the drink quantities per unit and bottles per case:
How many drinks are in a bottle?
750 ml bottle of champagne = 6 drinks
750 ml bottle of wine = 5 drinks (5 oz)
750 ml bottle of liquor = 14 drinks (1.75 oz measure)
1L bottle of liquor = 19 drinks (1.75 oz measure)
Beer keg (5 gallons) = 53 glasses (12 oz)
How many bottles are in a case?
A case of wine contains 12 bottles.
A case of beer contains 24 bottles or cans.
P.S. If you're going to pick up the liquor and mixers for your reception, make sure you have a plan of action for getting it all to the wedding as well (it could end up being a heavy haul).