How to Stock the Bar at Your Wedding
Your essential shopping list.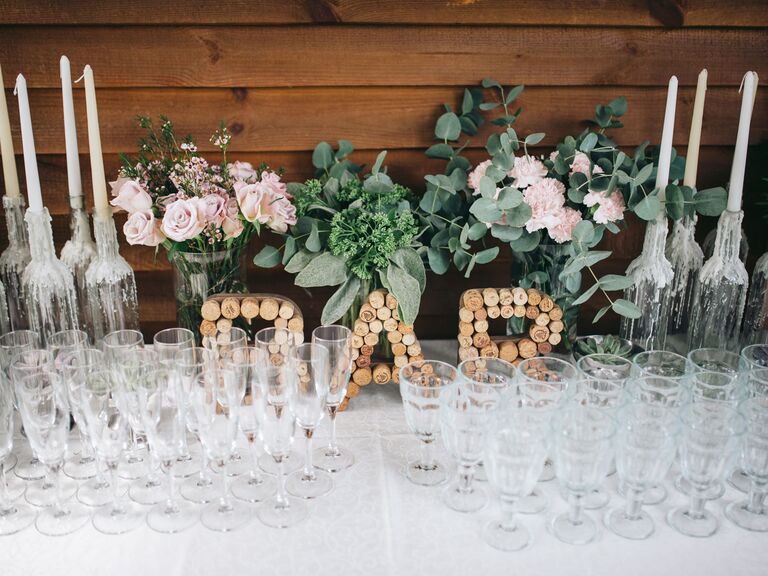 Alexsuh/Shutterstock.com

When it comes to your wedding reception, you need to consider things like music, food and décor. Another factor to consider is alcohol. While we reccomend hiring with professional bar services, you can DIY. If you're thinking about stocking your own wedding bar, here's everything you need to know. First, check to see if your venue charges a corkage fee, so you can incorporate that cost into your total alcohol budget. Next, consider how much your guests will likely drink. As a starting point, we recommend estimating the crowd will consume one drink per person per hour, or about five drinks over the course of the evening. Some will drink less, obviously—but some may drink more. Read on to find out how much alcohol you'll need to properly stock your wedding bar.

Read Next on The Knot
How to Navigate Weddings If You're Sober

Read Next
How to Navigate Weddings If You're Sober
How Much Alcohol to Buy for Your Wedding

Read Next on The Knot
How to Navigate Weddings If You're Sober

Read Next
How to Navigate Weddings If You're Sober
So, how much beer, wine and/or liquor do you need for your nuptials? The answer depends on multiple factors. Consider the size of the guest list, the length of the reception and the likelihood of an after-party. Next, take your guest list into account. If they love to party, you may want extra booze. If not, perhaps you can scale back your shopping list.
It's also important to consider what you want to serve. If you'd like to offer a signature cocktail, you'll need to secure multiple bottles of the required liquor and mixes. If you know many of your guests love beer, it's best to stock up.
Finally, don't forget any traditions or personalized moments during your reception. If you'd like to have a champagne toast, factor that into your wedding bar shopping list. If you'd rather pass out another cocktail, you'll want to take that into account. Think through all of the different aspects of the night and write them down so you don't lose track of anything important.
How many drinks in a bottle?
A bottle of champagne fills six to eight glasses.
A bottle of wine fills five glasses.
A liter bottle of liquor makes about 18 drinks. 
How many bottles in a case?
A case of wine contains 12 bottles.
A case of beer contains 24 bottles or cans. 
Different Types of Bars at Weddings
Another approach for deciding on how to stock your wedding bar is to consider what kind of bar you'd like to have. There are four major types of bars at weddings: open, limited, cash and non-alcoholic. To figure out which is right for you, consider your own preferences and your guests. If you and your friends love to sip on cocktails, an open bar might be the best fit for you. If your guests prefer beer or wine, then a limited bar is a great option. If you and your guests don't love downing drinks, a cash bar could be a possible alternative. Finally, if you don't want to serve alcoholic beverages at your wedding, you don't have to. Consider a non-alcoholic bar with creative mocktails or refreshing soft drinks. See more on the different types of bars at weddings below.
Open Bar
An open bar is the most gracious approach—no guest should pay for anything at the wedding—but it's also the most expensive. Guests can order any drink at the bar, and you'll have to pick up the tab when the party's done. Because there's no limit, people may drink like guppies. Know anyone who tends to imbibe too much? Tell the bartender in advance. 
Limited Bar
You offer a selection of drinks—beer, wine, and a signature cocktail, for example—and set specific consumption times, such as the cocktail hour, the toasts and during dancing. Consider hiring waiters to pass drinks on trays rather than letting guests go up to the bar. You'll have to pay for the waiters, but you'll probably save money on alcohol, and fewer guests will go overboard. If you limit the amount of time the bar is open, make sure the waiters circulate during dinner to refill glasses of water and soda. 
Cash Bar
Don't have a cash bar without a great reason (there really isn't one). After all, you don't invite people to your house for dinner and then charge them for the butter. Trust us on this one—it's not a good cost-cutting solution and is way too controversial. 
Dry Wedding
If you, your families and most of your guests don't drink alcohol, skip it. Serve sparkling water, soda and nonalcoholic mixed drinks instead. If you want something festive for toasting, go for sparkling cider.
Wedding Bar Shopping List
We did the math for you and put together a list of exactly everything you need to buy if you're stocking your own wedding bar. This list of liquor and mixers is good for 100 guests, so you should adjust the quantities based on your own guest list size. If you're going to pick up the liquor for your reception, make sure you have a plan of action for getting it all to the wedding as well (it could end up being a heavy haul). 
Alcohol/Beer/Wine
Beer: Five to six cases
Whiskey: One liter
Bourbon: One liter
Gin: Two to three liters
Scotch: Two liters
Rum: Two liters
Vodka: Six liters
Tequila: One liter
Champagne: One to one-and-a-half cases (include an additional 18 bottles for a champagne toast)
Red wine: Two cases
White wine: Three-and-a-half cases
Dry vermouth: One liter
Sweet vermouth: One liter
Mixers
Tonic: One case
Club soda: One case
Cranberry juice: Two gallons
Orange juice: One gallon
Grapefruit juice: One gallon
Ginger ale: One case
Triple sec: One liter
Lime juice: One gallon
Sparkling water: Two cases
Bottled water: Three cases
Diet coke: Two cases
Coke: Two cases