96 Wedding Captions for Instagram Any Newlywed Can Use
Everyone needs a little help sometimes.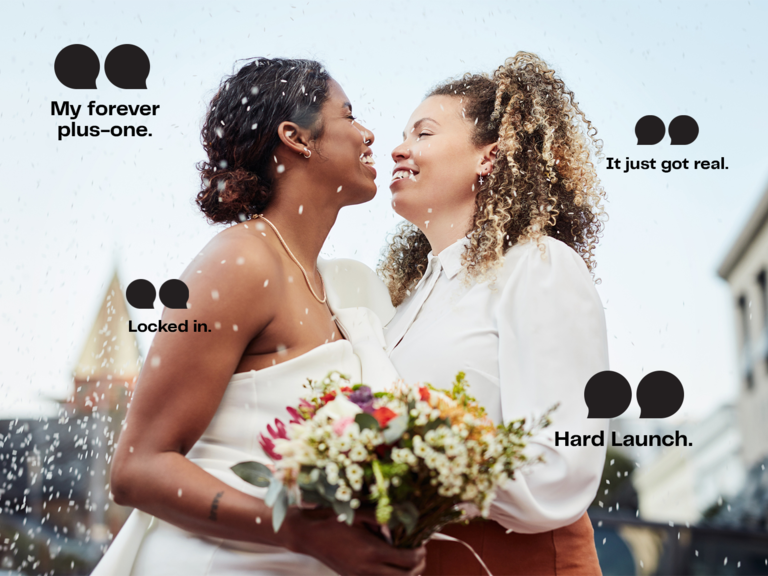 Photo: LumiNola | Getty; Design: Natalie Romine
After you say "I do," we have a feeling you'll want to post every single professional photo online for the foreseeable future, so you'll need a few wedding captions for Instagram on hand. Since we know a thing or two about great social captions, we've compiled all the best ones for your wedding day. Of course, your caption for your wedding photos should be personal to you, so consider also including your nuptial date or personalized hashtag at the end.
But if you can't think of any funny, clever or utterly romantic lines to share with your followers, we've got just the right thing for you. Bookmark this for future use, find the best wedding captions below and get ready for the likes to roll in.
Wedding Captions That Are Chef's Kiss
Funny Wedding Captions
If you're looking for funny wedding photo captions, you've come to the right place. Make your social media followers chuckle with one of these silly one-liners.
[Last name] photo dump.
Hard launch.
No wedding crashers here.
Congrats on being stuck with me forever!
Do these outfits make us look married?
Basically the royal wedding.
My ride or die for life.
Seriously, it's legal.
Locked in for life.
"Trust me, you can dance." – Champagne
It just got real.
We said "Yaaaas!"
The best part of our wedding was realizing we don't have to plan it anymore.
Clever Wedding Captions
Want to be witty instead of cheesy? Then you'll need one of these clever wedding captions for Instagram below.
The beginning.
LOML.
We did.
'Till death do us party.
Marriage? Yeah, it has a nice ring to it.
The best thing I swiped right on.
My name is cuter with your last name added to it.
Cheer to the world's cutest couple!
One day down, forever to go.
Today was so great, even our cake was in tiers.
Shoutout to my Pinterest board for making this happen.
It's about time.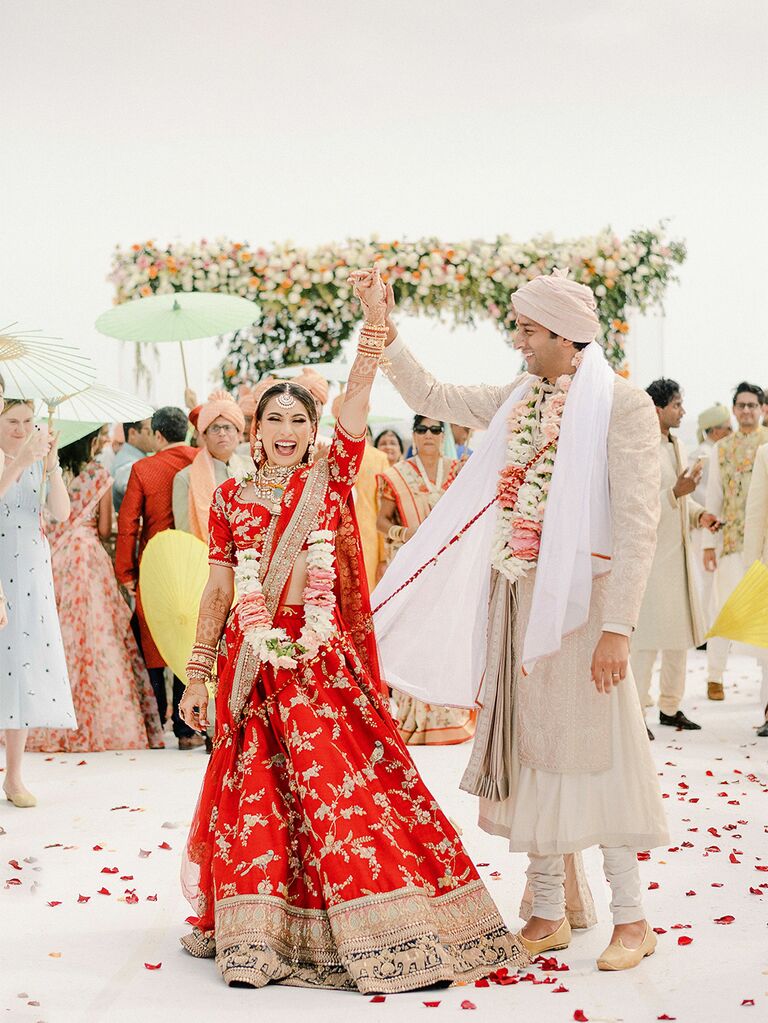 Romantic Wedding Captions
For couples who have a soft spot for all things sentimental and heartfelt, consider these romantic wedding pic captions. Keep reading to find ideas that'll give you all the feels.
So this is love.
We love a happily ever after.
Toi et moi.
I want laughs like this forever.
To infinity.
First day of forever.
All mine, for a lifetime.
Who said fairytales weren't real?
The best is yet to come.
Together forever.
Still falling for you harder than ever before.
All because two people fell in love.
This was clearly taken *before* I started crying.
Cheers to love and laughter, but especially to our happily ever after.
The best thing to hold onto in life is each other.
I'll choose you always.
Together is a beautiful place to be.
With my whole heart and for my whole life.
Newly wed.
Elopement or Minimony Wedding Captions
Perhaps you said "I do" in front of a smaller crowd. Alternative ceremonies like elopements, microweddings and minimonies continue to rise in popularity as couples opt to celebrate their wedding in the most intimate setting possible. When you share the happy news on social media, pair it with one of these cute minimony and elopement captions for your wedding.
I'd marry you anytime and anywhere.
Two's company, three's a crowd—it's also our wedding!
Life is short, just elope.
Being spontaneous was always our thing anyway.
It's just you and me, together forever.
Nothing fancy, just love. And these new rings.
Just eloped, NBD.
Woke up and decided to get married today.
Just married. Surprise!
Hey, wanna get married today?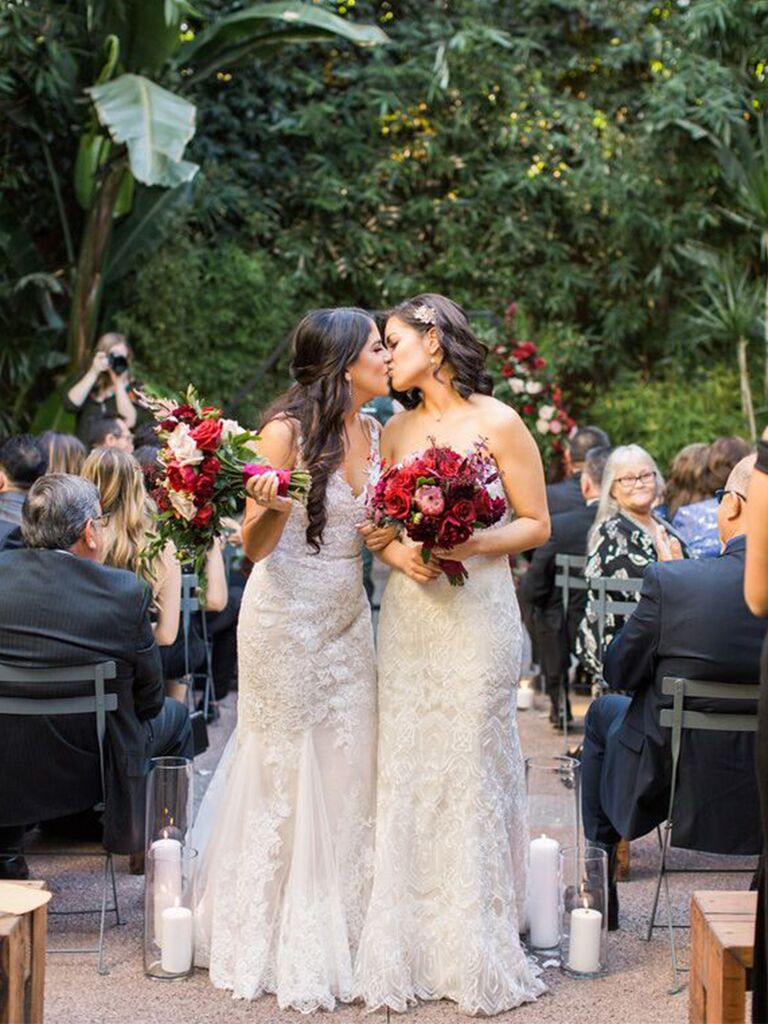 Wedding Captions Inspired by Pop Culture
Pop culture junkies, this one's for you. Below, find the best wedding captions for Instagram inspired by your favorite movies, television shows and music. Prepare to swoon.
Wedding Captions From Movies
If crafting a wedding caption from scratch isn't your strong suit, that's totally okay because that's what movies are for. Steal a quote from one of these popular romances.
"When you realize you want to spend the rest of your life with a person, you want the rest of your life to start as soon as possible." (When Harry Met Sally)
"I want all of you, forever, you and me, every day." (The Notebook)
"You had me at hello." (Jerry Maguire)
"I love you very much, probably more than anybody could love another person." (50 First Dates)
"This is true love. You think this happens every day?" (The Princess Bride)
"You are my greatest adventure." (The Incredibles)
"I promise to never forget that this is a once in a lifetime love." (The Vow)
"It could be nice, growing old with you." (The Wedding Singer)
"How about coffee, drinks, dinner, a movie... for as long as we both shall live?" (You've Got Mail)
"It was a million tiny little things that, when you added them all up, they meant we were supposed to be together." (Sleepless in Seattle)
"We're all traveling through time together, every day of our lives. All we can do is do our best to relish this remarkable ride." (About Time)
Wedding Captions From TV Shows
Just like movies, television shows are great sources for wedding Instagram captions. If your favorite show isn't listed below, check out the IMDB page of your desired show for romantic quotes.
"You're my lobster. 🦞" (Friends)
"I love you and I like you." (Parks and Recreation)
"Three words, eight letters... say it and I'm yours." (Gossip Girl)
"Well, it's love at first sight. Actually, it was... No, it was when I heard your voice. It was love at first see with my ears." (The Office)
"There is nothing I know more than the fact that I want to be with you." (New Girl)
"When I'm with you, I feel happy to be alive. Like I can do anything." (Boy Meets World)
"I'm always gonna love you—till the end of my days, and beyond." (How I Met Your Mother)
"You're my person." (Grey's Anatomy)
We have that "can't-live-without-each-other love." (Sex And The City)
"When all my dreams come true, the one I want next to me… it's you." (One Tree Hill)
"I want something real. I want you." (The Summer I Turned Pretty)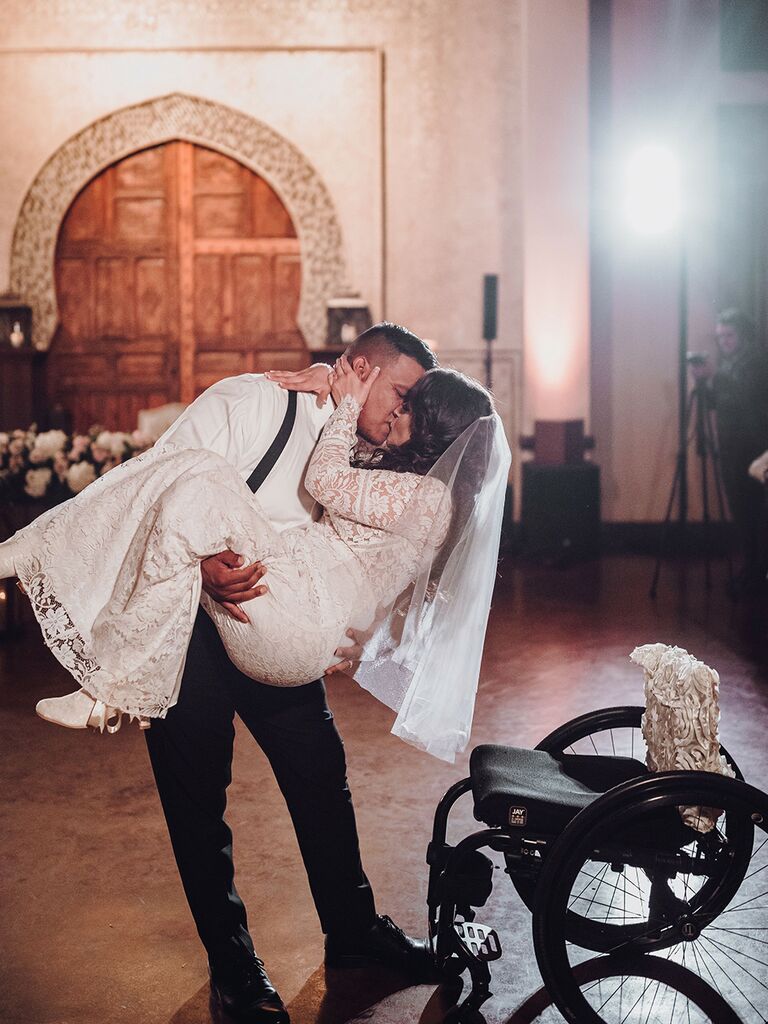 Wedding Captions From Music
Music lyrics are ideal wedding day captions because they allow you to show off a little of your personality. Choose your favorite artist and song and use the lyrics to create the perfect wedding Facebook post.
"I woke up like this." ("Flawless," by Beyoncé)
"All you need is love." ("All You Need Is Love," by The Beatles)
"We built this love from the ground up." ("From the Ground Up," by Dan and Shay)
"You look perfect tonight." ("Perfect," by Ed Sheeran)
"Just say you won't let go." ("Say You Won't Let Go," by James Arthur)
"This will be an everlasting love." ("This Will Be," by Natalie Cole)
"You're my end and my beginning." ("All of Me," by John Legend)
"You are mine… at last." ("At Last," by Etta James)
"You've set my world on fire, and I know, I know everything's gonna be alright." ("Golden Hour," by Kacey Musgraves)
"Still can't believe it when you say you're mine and I am yours." ("I Am Yours," by Andy Grammer)
"I'll tell you one thing, it's always better when we're together." ("Better Together," by Jack Johnson)
"It should cost a billion to look this good." ("PURE/HONEY," by Beyoncé)
"And that's romance. Let's dance." ("Glitch," by Taylor Swift)
Gen Z Editor's Best Wedding Captions
Hopefully, you've realized from the options above that there isn't just one way to go about marriage Instagram captions. For those who are still unsure what to write under a bomb wedding pic, check out my favorites below.
Me and a fan.
I just showed up for the cake.
It started out with a kiss.
My forever plus-one.
Hopelessly devoted.
This just might be our best adventure yet.
Allow me to reintroduce myself.