86 of the Best Wedding Guest Captions to Use on Your Socials
Non-cringey ideas, right this way.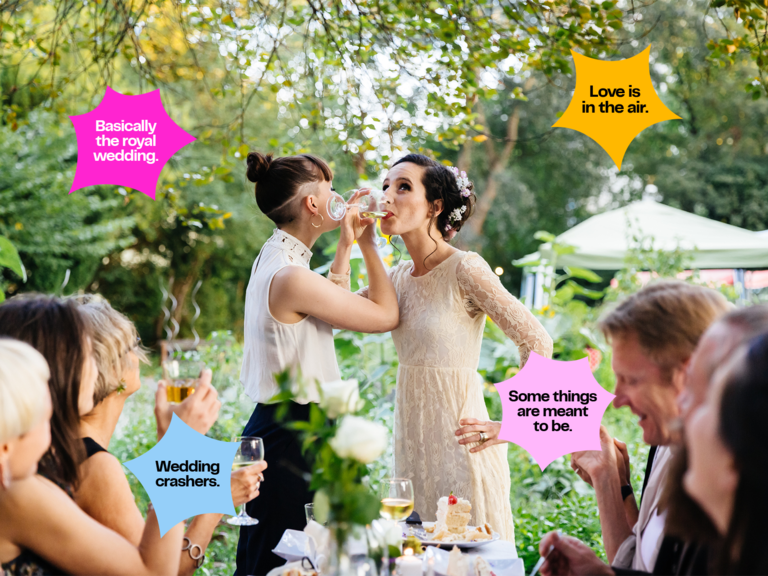 Photo: Getty | Hinterhaus Productions,Design: Natalie Romine
As wedding season rolls around, you'll need a few guest essentials to get through (think: comfortable dancing shoes, go-to outfits, and a selection of gift ideas to start). But perhaps, most important of all, is a collection of wedding guest captions to use on social media. You'll probably take tons of pictures throughout the day, which means you'll have plenty of snaps to share on the 'gram. And whether you're posting pics with the happy couple or shots of you and your plus-one in the photo booth, a great IG caption for weddings is a must—with the couple's wedding hashtag, of course.
Luckily, we are experts on the topic and have done all the hard work for you by compiling the best wedding picture captions for guests. Some are funny, and some are simple, but one thing is certain, these captions will pull in all the likes on social media.
Wedding Guest Captions That You Need to Use:
Funny | Cute | Clever | Simple | Pop Culture | Gen Z Editor's Favorites
Funny Wedding Guest Captions
Don't want to post a sappy caption? There are plenty of funny ideas to inspire your posts. (Fellow wedding guests will wish they would have thought of these one-liners.) Find the best funny wedding guest Instagram captions to steal below.
Call me a professional wedding hopper.
They got married, and I got champagne. Win-win.
You can find me on the dance floor.
Better than any Pinterest wedding board I've ever seen.
Now accepting applications for single friends!
Basically the royal wedding.
Did someone say champagne?
These two weirdos are perfect for each other.
I wouldn't want to tear up the dance floor with anyone else.
If they think this means less BFF time, they're wrong.
'Til death do us party.
They said "I do" to each other, and I said "I do" to cake.
They tied the knot. Now it's time for a shot.
The wedding was great, but these late-night snacks were the real star of the show.
Locked in for life? I'll drink to that.
If you invite me to your wedding, just know I'll tear up the dance floor with you.
I don't dress up often, but when I do, it's for a wedding.
Can I fit in your honeymoon luggage?
All dressed up for open bar season.
You should have seen us tearing up the dance floor.
Wedding crashers.
Cute Wedding Guest Captions
If you're a hopeless romantic, these IG captions for weddings are exactly what you need. Try one of these sentimental phrases for your next social media post.
Did someone say wedding season?
Forever looks good on these two.
A fairytale wedding.
Here's a toast to the couple I love most.
Celebrating the [couple's last name].
I'm with Cupid on this one.
They proved happily ever after does exist.
My forever plus one.
This picture was taken before I started crying.
A picture-perfect day.
This is only the beginning.
The most beautiful day for the most beautiful couple.
To love, laughter, and their happily ever after.
May you always be as happy as you are today.
The cutest newlyweds I ever seen.
Wishing you both a lifetime of love and happiness.
All because two people fell in love.
After this wedding, I really do believe in true love.
Together is the best place to be.
You guys got me all emotional and stuff.
My favorite people finally met their match.
Clever Wedding Guest Captions
No, your caption doesn't have to be "I love love." Put one of these creative wedding guest IG captions below your post and make all your followers jealous.
These two make such a gouda couple. Now, where's the charcuterie board?
For weddings, I wear [color].
The Real Bridesmaids of [the city the wedding is in].
You two will make the cutest old couple.
Playing dress up.
Saved (this) date.
All dressed up with only one place to go.
Cheers to the happy couple…now here's a photo of me. 😘
It's the bride/groom for me.
Let's take a moment to appreciate how great these two look.
Simple Wedding Guests Captions
Some people want their photos to do all the talking. If this describes you to a tee, take one of these simple wedding captions for guests from our list.
The happiest day. 💍
We have *married* friends now.
All you need is love.
They did!
Another weekend, another wedding.
Cheers to the newlyweds.
Love is in the air.
To love, laughter, and happily ever after.
It's about time!
And the rest of history.
Blessed to have witnessed such a gorgeous wedding.
Wedding Guest Instagram Captions Inspired by Pop Culture
If you consider yourself a pop culture buff, pull inspiration from your favorite TV shows, movies and songs for your social posts. Here, we've rounded up some of our favorite Instagram captions for wedding guests inspired by pop culture. No binge-watching necessary—we've done the work for you.
"I'm ready to PAAARTYY." (Bridesmaids)
"Love is that can't eat, can't sleep, reach for the stars, over the fence, World Series kinda stuff." (Angels in the Outfield)
"Some people are worth melting for." (Frozen)
"I am as ever in bewildered awe of anyone who makes this kind of commitment…I know I couldn't do it, so I think it's wonderful they can." (Four Weddings and a Funeral)
"There are two big days in any love story—the day you meet the person of your dreams and the day you marry them." (How I Met Your Mother)
"They're your lobster. Come on, you guys. It's a known fact that lobsters fall in love and mate for life. You can actually see old lobster couples, walking around their tank, you know, holding claws." (Friends)
"What an awesome party. The best wedding I have ever been to…This was epic." (The Office)
"It's you and me. It's always been you and me." (New Girl)
"Time for the charm bomb to explode." (Bob's Burgers)
They built this love from the ground up. ("From the Ground Up," by Dan and Shay)
"Some things are meant to be." ("Can't Help Falling In Love," by Elvis Presley)
"I never seen nobody shine the way you do." ("Hey Stephen," by Taylor Swift)
"This is why I live, sweet moments like this." ("MOVE," by Beyoncé)
Gen Z Editor's Favorites
This list wouldn't be complete without you seeing my top picks for wedding guest captions. Yes, I know what's cool—don't question it.
All you need is love…and an open bar.
In my plus-one era.
Came for the couple, and stayed for the cake.
The party doesn't start until we walk in.
The hangover only lasts a day, but the memories last a lifetime.
Still ugly crying.
The wedding photo dump you've been waiting for.
Champagne showers all night.
Guys…I just saw a princess/prince in real life.
I can't stop smiling.