How One Celeb Photographer Used the Pandemic to Refocus Her Life
Jana Williams opens up about how she refocused to align her business with what really matters.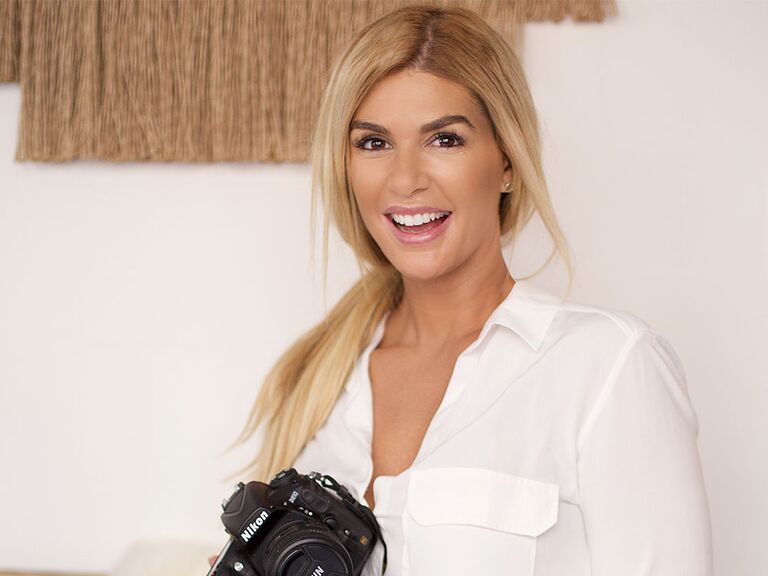 Dave Baez
As the world began to re-open in 2021 and 2022, everyone breathed a sigh of relief. Living in a prolonged state of tension and stress is, well, stressful. Everyone from couples and wedding guests to wedding pros can only persevere for so long. For one wedding photographer, the hardship of the pandemic forced her evaluate her lifestyle and to do a hard reset to prioritize wellness. In The Knot Winter 2022, Jana Williams, owner of her eponymous business Jana Williams Photography, opened up to Senior Weddings Editor Hannah Nowack about how she refocused and entered this new season of business more aligned with what really matters.
The Los Angeles-based destination wedding and lifestyle photographer shares how she's excited to tackle new adventures while maintaining a healthy work-life balance. Williams also shares insights for other wedding pros seeking to prioritize wellness in their life and business.
Coming to a Halt
Perspective—for me, that was the major thing that I took away from the pandemic. With the shutdowns in southern California, my wedding photography business was taken away from me overnight. As everyone from wedding planners to caterers was grappling with this new reality, I realized how much of my identity was connected to my business, and I felt lost. To add to that, I then lost my mother and my marriage in quick succession, leaving me at a crossroads.
Many other wedding vendors and business owners chose to pivot to offer things like online education courses packed with everything from photography tips to social media advice while events and photoshoots were on hold. But I simply couldn't pivot. I was quiet and felt frozen.
The Decision to Reprioritize
As the world started to reopen, I knew I had to make a choice about the kind of life I wanted to have and how I wanted to run my wedding photography business. I could over-book my calendar to make up for lost income, but would that be fair to my clients? Weddings are such an emotional investment. As a fine art wedding photographer, I find that being in a good condition—mind, body and soul—really is part of the job to make the big day perfect for couples.
Find all the vendors you need
Meet every kind of expert from photographers to photo booth rentals.
After lots of thought, I decided to take steps to change my lifestyle. I scaled back in all areas of my life because I knew that making sacrifices now would ensure the quality of my work and the longevity of my business. The first thing I did was meter how much news I was ingesting. While staying informed is healthy, I found that allowing myself to be inundated with news was hurting my mental health. I had to quiet all the outside noise and remind myself of the toolbox of practices that I have to strengthen my mind. For me, those tools look like meditation, prayer, exercise and keeping a healthy diet.
I also had to take a break from social media. I needed to discover how to navigate through the hard times for myself and not be influenced by how others were navigating through it.
In the midst of all of this, I made the decision to raise my prices. The pandemic reminded me of how absolutely priceless memories with your family and friend are. The beautiful result was that I was truly able to see the value in what we do as wedding photographers. I fell deeper in love with my business, story telling and wedding photos. I gained a renewed perspective about how important it is to capture all of those priceless memories of a wedding day. I learned to follow my heart. Had I listened to what was right for everyone else and not given myself time to grieve my losses, then I would be so busy and burned out right now. Had I not been in touch with my needs, my work and personal life would suffer.
To me, the key was going back to the basics. I started to strip away material things that I didn't actually need. Once I did that my stress level went down and I was able to think more clearly and look at the whole situation from a more healthy place. Even the act of moving into a smaller apartment during this time helped me see that I had started to connect my worth to material things. That is not how I want to live my life and this heart-opening process reminded me of that.
Moving Forward
There's a Gabby Bernstein quote that really inspired me during the pandemic: "When an egg is cracked on the outside, it is broken. When an egg cracks from the inside out, it's a rebirth." My mind had a rebirth, my brand is going through a rebirth, and it is amazing to think that all of this positive energy came out of the trials of the pandemic.
What excites me most about the future of my business is being able to use this new tenderness and perspective in my work. I have a new appreciation for my work and a fresh excited to serve my client in every way. Ultimately, my couples are getting a better version of me because of the journey I went through.
To others who are in a rut and looking for a way out, I would say it starts with self-love. Before anything else, having a healthy relationship with yourself is necessary. You can't have healthy relationships with couples and other vendors without a solid foundation for yourself. Moreover, consider your internal self-talk: The way we talk to ourselves needs to be kind and understanding. It's paramount that you set boundaries, have a healthy diet and, most importantly, stay consistent with working toward wellness goals.
I always remember one of my fathers of the bride who gave a prayer at his daughter's reception and quoted the lyrics of "Lord Don't Move the Mountain," by Mahalia Jackson: Lord don't you move the mountain, just give me strength to climb.