The Wellness and Fitness Rules All Couples Should Follow in 2020
The first? Sleep.
We have included third party products to help you navigate and enjoy life's biggest moments. Purchases made through links on this page may earn us a commission.
Weddings and wellness. These two topics have long remained at odds especially as weddings have long been related to extremes in dieting and physical transformation. But in 2020, the very concept of wedding wellness is something millennial and Gen Z couples will increasingly seek as they plan their nuptials in a way that represents them to completion. For many to-be-weds, 2020 is the year they will marry. It's also a Leap Year. According to Pantone, the dawn of this new decade will be defined by Classic Blue. Politically speaking, it's Election Year. The 2020 World Cup Championship and the Summer Olympics will have sports fanatics glued to their screens for months.
With so much happening in the world, including your wedding, The Knot has essential tips straight from a range of experts to help set the tone for the year, if not the decade—and your marriage ahead.
"Often, a wedding is the ultimate motivation for people to feel and look their best," says Harley Pasternak, MSc (Master of Science in Exercise Physiology and Nutritional Sciences). "Too often, however, people do things that are extreme or too intense only to peak on the day of the wedding. From there, they're unable to continue the overly-stringent eating plan or intense workout programs they did leading up to the wedding. I'll tell everyone that I work with, who is getting ready for their wedding, that they are getting ready for their life."
1. Sleep
Basic human function requires rest, which is why it's essential for couples to have the bare minimum percentage of restful, quality sleep each night. Hence, why, sleep hygiene is an important practice. This includes putting down the phone an hour before bedtime, avoiding intake of sugar and other vitamins that might keep you awake, and being consistent about the time you fall asleep each night.
Numerous tools and apps out there to now help track sleep quality, which is a composite stat that includes the number of uninterrupted hours of sleep a person has each night along with positioning, consistency over time and more.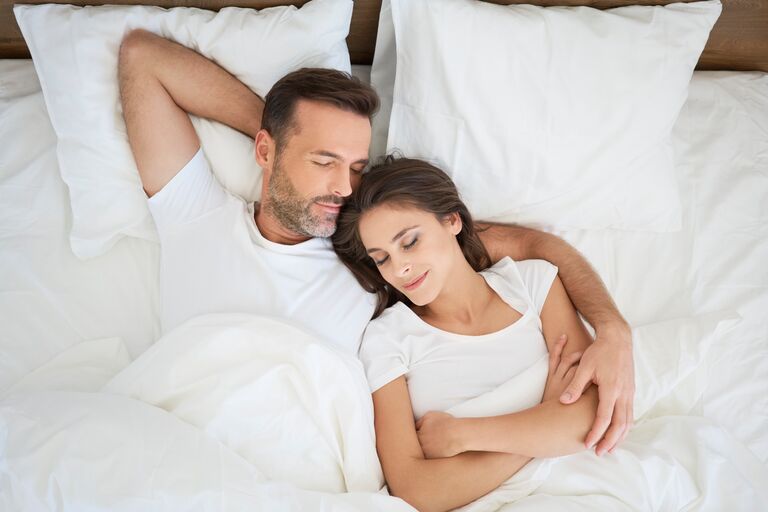 2. Set Realistic Goals
The concept of "taking baby steps" is true… down to form. Habits are developed with increased practice, so setting lofty expectations for yourself without patience can deter you in pivotal moments. Part of wedding wellness is being kind to yourself and setting goals that are not only realistic, but still attainable. With each tiny victory, you'll see yourself move ahead.
"The planning process has begun and sometimes, included in that process, are goals to look your best on your wedding day," says Robia Smith-Herman, LCSW, The Renfrew Center of Radnor. (The Renfrew Center has long promoted healthy body image and largely treats patients with food-related disorders.) "These objectives can become overwhelming and add to the stress of planning because often, if you're on a diet, it's restrictive. If you have a workout plan, it can be excessive. Set goals that feel genuine rather than overwhelming."
3. Hydrate
One of the frequently underestimated needs for anyone looking to be in optimal shape is hydration. The human body is about 60 percent water, which means activity, any kind of energy exertion requires a replenishment of fluids in the body. Start the day with a glass of lukewarm water to activate your body.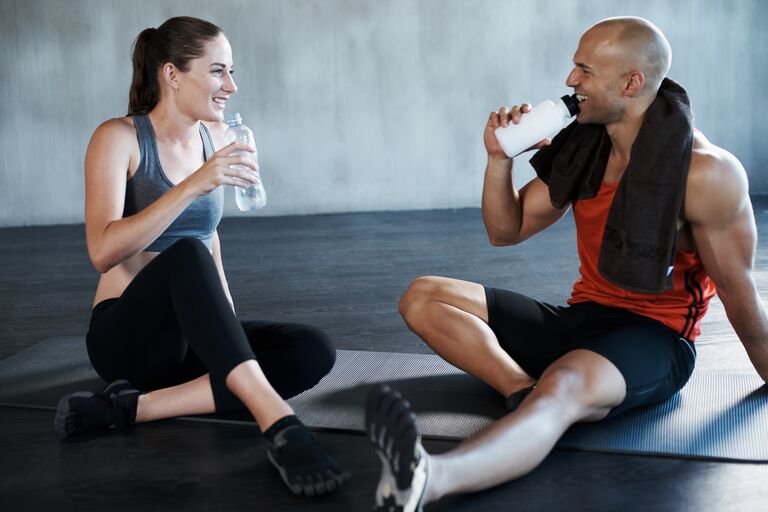 Part of integrating this habit includes cutting back on drinks with additive sugars. If you still find yourself craving soda and other carbonated drinks, there's nothing better than creating your own spa water. Cut cucumbers and lemons and infuse it into your water. This will encourage you to hydrate frequently.
We recommend: Welly Bottle, $30, Amazon.com
4. Increase Your Step Count
Move… a lot. The rise of full en-suite health apps like Apple's Health option, Fitbit or the Pedometer app make moving more data-driven than ever before. "Wearables are continuing to play a major role in wellness, with consumers having more access to data than ever before and really paying attention to what that data means," says Pasternak, who's also the Kardashian Family's personal trainer. "Use your Fitbit to try and get at least 12,000 steps a day, at least seven hours of quality sleep at night, and keep track of your food intake."
Take a walk or go to a class with your partner. "The wedding is a great opportunity for the two people getting married to do this together," he adds. "You're accountability partners to one another, and this hopefully will hold up for the rest of your lives."
We recommend: Fitbit Versa 2 health & fitness smartwatch, $130, Amazon.com
5. Get Your Heart Rate Up
Dance, hot yoga, a class like Orangetheory Fitness or even a brisk outdoor walk can help increase your heart rate. The options these days are aplenty, especially with the rise of live-streamed classes. "One piece of wedding fitness advice for couples is to focus on finding activities that are fun and enjoyable rather than activities that feel like a chore or burdensome," says Smith-Herman. "Fitness activities that you can do up to three times per week and that you actually enjoy doing together, or separately, can be a great activity throughout the wedding planning process."
Wrist fitness trackers that are supplemented by heart monitors can report everything from your resting heart rate to your peak rates while interval training. It may all sound intimidating, but it's incentivizing to watch your heart soar. Most trainers recommend a minimum of three to four sessions of cardio of at least 30 minutes each time per week. Replicate that model for strength training, which is also very important for longterm fitness goals. Of course, it compounds over time, so the more you move, the more results you'll see over time.
6. Follow a Personal Plan
Since the average couple doesn't necessarily have access to a celeb trainer, it's worth seeking out professional nutritionists and trainers who can customize a plan for you. This includes targeted areas where you'd like to build muscle or change form.
Pasternak, for example, tells most of his brides that they need to work on their posture. The trainer recently shared four tips to counter poor posture, including a bent-over dumbbell row, a deadlift, his signature hips up, arms up "Harley" move and a final movement called the "Superman, Superwoman or the Superperson."
"Use your wedding as the spark to ignite a series of sustainable and healthy behaviors that you can keep up the rest your life," says Pasternak, who customizes a personal plan for each of his clients. Simply put, follow the wedding wellness plan and fitness goals developed by your team. You'll be surprised as you see results.
We recommend: AmazonBasics Neoprene dumbbell pairs and sets with stand, 20-pound option, $29, Amazon.com
7. Consistency Is Key
Part of following a plan requires consistency and devotion. "Whatever you do to get ready for your wedding should be something that you can keep doing after the wedding," says Pasternak. "Life is not a sprint, it's a marathon."
The fitness professional encourages couples to use their phone, smartwatch or another tool to account for everyday behaviors. "Track consistent daily habits that are sustainable," he notes. "Up to, through and after the wedding."
8. Consume Mindfully
Diet is an important function of wedding wellness and fitness goals. Intake does affect energy levels, goal progress and more. "Over the past year, we've seen a lot of extremes—in diets for instance," says Pasternak. "I'm hoping that in the coming year, we will start to see those subside and experience a return to a more balanced approach."
A 2019 study published in The Lancet found that your diet can result in life or death situations over time. Researchers reviewed diets across 195 countries, factoring in stats about household income and more, and found that more people die from poor dietary consumption than from smoking. "Our assessment shows that the leading dietary risk factors for mortality are diets high in sodium, low in whole grains, low in fruit, low in nuts and seeds, low in vegetables, and low in omega-3 fatty acids; each accounting for more than two percent of global deaths," the study explains.
With a background in nutritional science, Pasternak explains why certain fad diets (such as the Master Cleanse or the Blood Type Diet) are detrimental to overall well-being. "There are programs that aren't healthy in the long-run," he notes. "It is so important to eat a balanced diet to ensure you're getting the right amount of protein. But also, carbs, to keep your energy levels up."
Finally, mind your vitamins. With so much happening, it's important to supplement your meals with proper intake of everything from Vitamins A to Zinc.
We recommend: Olly The Perfect Women's Multivitamin, $13, Amazon.com
9. Meditate and Breathe
Four seconds is all it takes to reevaluate everything, according to author Peter Bregman. Breathing, though essential to the human function, is an art and a practice. Sometimes it requires building a space at home that is a haven. Maybe it's a book nook or a pillow in the corner of your bedroom where you get the most natural light.
Once you've taken that step, begin your mornings with a guided meditation to give you mental clarity or light a candle at the end of the day to help you unwind. "There is a lot of time, energy, effort, and money that goes into planning a wedding," says Smith-Herman. "Practicing being present and aware of what is going on around you throughout the process can be helpful."
We recommend: Calm annual membership, $69.99, Calm.com
10. Change Your Outlook
Rather than looking to fitness as a task, approaching impending transformation or building healthy habits with a positive mentality is key. The same applies to your overall lifestyle. Sure, wedding planning is a hectic time, but it's also a precious number of months where you'll connect with your favorite people and build an experience that will ultimately be your day.
Journaling is a solid practice for mindfulness. Just take it from this editor, who's found respite in scrawling notes or jotting down thoughts in the same-style journal for decades. And know that greats like Leonardo Da Vinci, Sir Isaac Newton, Thomas Edison, Albert Einstein, Oprah and others have honed refined this habit.
Finally, if you find yourself stuck in patterns, you're grappling with difficult situations beyond your control, or you need professional guidance from an expert, we highly encourage you to seek out a therapist or a professional certified counselor who can help you during this especially action-packed season.
"When you take time to be mindful, your wedding day becomes about being present and enjoying your time with your partner, family and friends," says Smith-Herman. "Shifting away from making sure everything is perfect and towards being present and enjoying yourself can really make a difference in your special day."
We recommend: Moleskine Classic Notebook in large, ruled with lined hardcover, $10, Amazon.com
11. Take a Vacation
If everything seems overwhelming, sometimes hitting the reset button someplace relaxing or reinvigorating is exactly what your wedding wellness plan needed. (Bonus points: Did you know you can register for a couple's wellness retreat?) Whether you're planning for a micromoon, a solomoon, your honeymoon or simply, a vacation, find a destination that brings you a sense of well-being.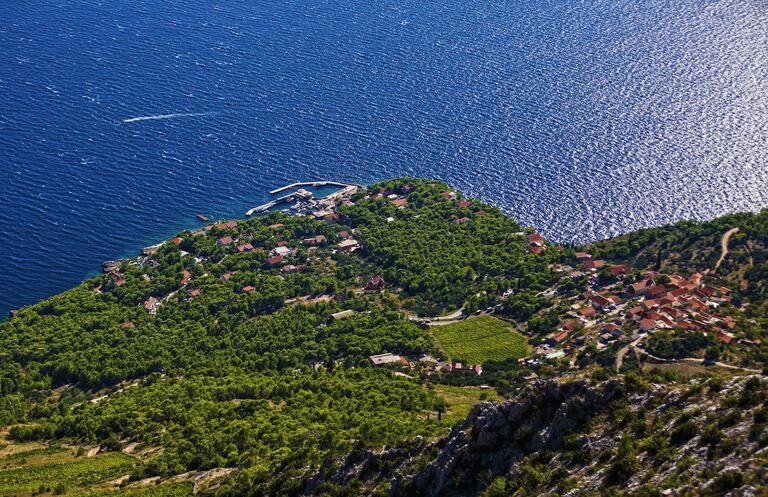 If your budget doesn't necessarily allow for a getaway, enjoy a staycation. Transform your kitchen into a Tuscan paradise and cook to decompress. Take a long bath filled with fresh flower petals and aromatherapy. Do what's best for you.
We recommend: The Knot Registry; Hotels.com