The Truth About the 2022 Wedding Boom From Real Couples and Pros
How does an industry shaped by love stories evolve when millions of celebrations are taking place?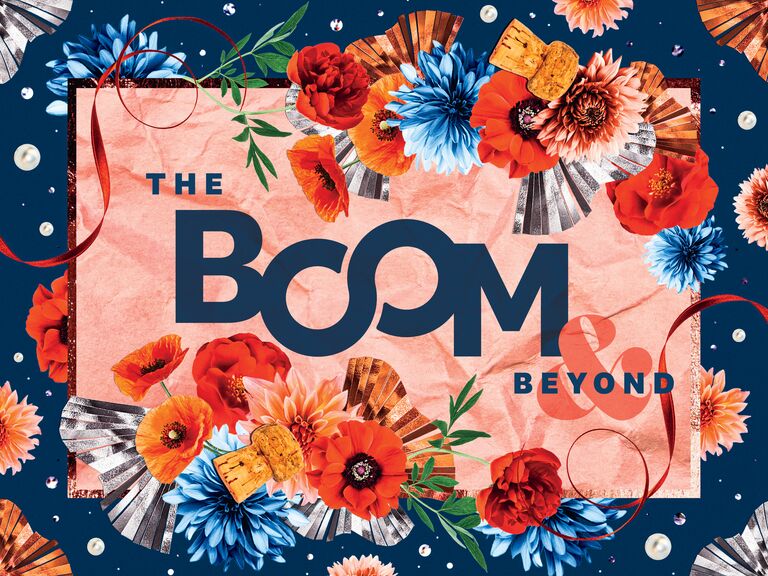 Count 'em: 2,600,000 weddings—that's 7,123 weddings for every day of 2022. After months of postponements and a veritable wedding drought, the industry rebounded in a booming way. Truth be told, there's a good chance you went to one of those weddings. Over 200 million Americans are set to attend one in 2022—more than 60 percent of the population.
The seismic shift the industry has seen as a result of the wedding boom can't be overstated. Even couples getting married in 2023 and 2024, of whom there will be plenty, are part of that ongoing change. They are replacing tradition with customization and centering their personalities and love stories. This evolution is enriching the very definition of weddings.
But where exactly did all this demand come from? While some 2022 weddings have been rescheduled from earlier in the pandemic, those aren't the only "I dos" taking place this year. Much of the demand comes from couples who took their relationship to the next level during the pandemic and are absolutely stoked to celebrate their love. That's also creating a snowball effect—now that all their friends are hosting weddings, other couples are jumping on the bandwagon and running straight to the altar.

While there have been rumbles of a potential recession, the strong demand for weddings is a comfort to the small businesses, such as caterers and florists, that comprise the events industry. In the midst of economic shifts, couples still fall in love and want to begin forever together. The wedding boom has brought business to those who missed out on revenue in 2020 and early 2021. And the wedding boom gives couples permission to finally let loose and have a little fun.
On the other hand, many couples and vendors are also feeling a strain. Inflation and high demand mean that things are more expensive and in short supply, businesses are short-staffed and ongoing global travel woes are throwing a wrench in everyone's plans. The thing is that the boom isn't going away anytime soon. And this comforting fact remains: The industry's new horizon, despite the bumps in the road along the way, is packed with personalization, creativity and a buzz of energy. To get a full picture of the state of affairs, we sat down with 14 couples and pros for The Knot Winter 2022 issue to get their take on the boom and beyond.
In this story:
Inflation's Effects on the World of Weddings
The return of weddings after two years of isolation is something to celebrate. But the truth of the matter is that the boom is not all sunshine and roses (in fact, shortages and supply chain delays mean it's harder to make roses part of the big day). It's more than just doom and gloom, but to-be-weds should be aware of the challenges.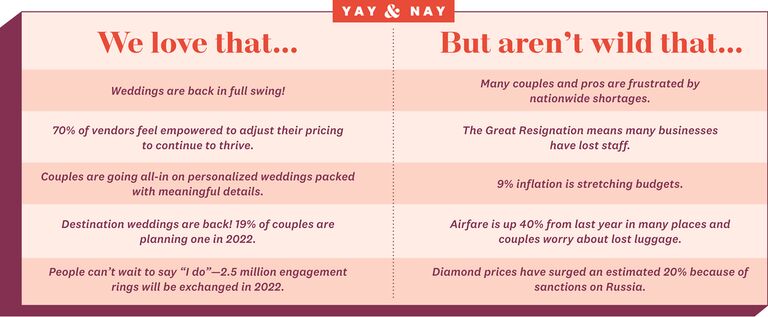 Wedding planner Nora Sheils of contracts platform Rock Paper Coin shares that flower and rental costs especially have increased across the board—and couples can expect to pay at least 20 percent more for many decor items. "Rental companies have increased their pricing significantly for several reasons," she explains. "They have to pay their employees more than ever before, as they're short-staffed and have to keep the team to fulfill their orders. With that comes higher hourly wages, additional benefits and even sign-on bonuses. Also, with higher gas prices and so many trucks on the road, a price increase was necessary."
The Wedding Flower Shortage
Despite their incredible popularity, flowers are sadly not immune to shortages. News of shortages, backlogs and supply chain issues can initially be intimidating, but they're actually a chance for innovation and ingenuity. Many flower farms missed an entire growing season last year as a result of the pandemic, so when the wedding boom rolled around, the supply simply couldn't keep up with the demand.
"During COVID-19, many growers had to stop production as a result of the uncertainty of the industry," explains California-based flower expert Mignon Scarbrough of Mignon Floral Co. "Product was destroyed, and people were unable to work due to mandates or let go as a consequence of the lack of production. Some flower farms closed indefinitely. While growers are trying to recover, the demand outweighs the supply. One of the major factors affecting the demand is the current wedding boom."

Scarbrough advises couples to expect a 15 to 20 percent increase for services compared with the last few years. Price increases are due not only to product shortages, but the scarcity of labor. She says it's been challenging to hire experienced freelancers for events—and they're also charging more. "The higher cost of living has led freelancers to raise their prices, which is another factor in the overall increased costs of event services," Scarbrough explains of the labor shortages she is seeing in the wedding industry.
As a result of the flower shortage, one of the most popular wedding flowers—white spray roses—is the hardest to source. So what do you do when everyone wants a white rose for their wedding, but there are none to be found? Some floral designers are getting creative by swapping in other varieties that look similar.

New Business That Blossomed Amid the Pandemic
The changing wedding landscape has incubated new businesses and retailers and led existing ones to pivot. Here are two new wedding planning businesses that are revolutionizing the way couples say "I do."

Turnkey Microweddings
Gretchen Culver is no stranger to weddings. She's been planning couples' dream days in Minneapolis, Minnesota, under her flagship brand Rocket Science Events, since 2010. When the pandemic rolled around, she saw an opportunity: Many couples with limited time and resources wanted a one-stop-shop wedding. Enter: the pop-up wedding model. Couples who want a small wedding still wish for great photos, epic decor and a stress-free process, but those things can be hard to attain without a full-service planner. Minne Weddings aims to solve this problem. Culver's company coordinates everything—starting with digital invites and ending with a champagne toast. She designs a stunning ceremony space, and then four or five couples cycle through and get married over the course of a day. Culver's team focuses on making sure all the essentials are not just present for the "I dos," but are also thoughtfully curated. Her team believes "you don't have to sacrifice design when you have a small wedding." They take care of everything so you and your partner can just enjoy the moment. Couples get 90 minutes and a guest count of up to 30 wedding guests. "You're in and out and on your married way!"
Franchise Wedding Planning
It's not surprising that franchises are so appealing to new business owners. You benefit from the brand awareness, established processes and expertise of a larger company. It works well for restaurants and hotels, so Mavinhouse set out to bring the franchise model into the world of weddings. Britt Cole and Francie Dorman founded 42 North, a full-service wedding planning company, in 2014. After it proved successful, the duo opened a sister company, Mavinhouse, that invests in the next generation of wedding pros. Opening a small business takes a lot of capital and some serious courage. For planners who've been working full-time jobs to support their fledgling event careers or people who are ready to dive headfirst into a planning career, Mavinhouse helps them realize their dreams. Cole and Dorman thoroughly vet new planners, then take them under their wings and give them support. The result? The company continues to expand, proof that the brand's tenets of straightforward communication, transparency and partnership resonate deeply with couples.

How Real Couples Reinvented the Fibers of Weddings
These real couples are the epitome of the wedding boom—they used this one-of-a-kind season to plan nuptials that were uniquely their own. From new wedding dates to new wedding venues, these couples proved what is possible when it comes to reimagining weddings.
Over-the-Top At-Home Weddings
When someone says "backyard wedding," what comes to mind? Some may think DIY. But at-home weddings don't need to be plain, as Tommy and Gamo proved. They were popular early in the pandemic due to the simple fact that they offered more flexibility. The trend has stuck around because couples love the idea of hosting nuptials that feel intimate. But there's a big difference between the backyard weddings of 2022 and those of yesteryear. The at-home "I dos" we're seeing now are deluxe, customized, over-the-top affairs.
Tommy and Gamo chose their friend's Florida backyard, which backs up to a lake, for their wedding day, but there was nothing casual about it. Using the home's architecture as inspiration, the duo planned an epic black-and-green wedding packed with velvet and acrylic accents. While a traditional venue may have limited their creativity in some ways, Tommy and Gamo could bring their dream wedding to life in a backyard.
Personalized Weddings
We believe couples should plan a wedding that's uniquely their own, but couples haven't always felt liberated to do that. Until the pandemic. As couples were forced to scale back, reschedule and adjust their nuptials, they also came back to what a wedding should really be: a meaningful celebration that authentically honors your love story. Sure, people will always have advice about what you "should" do, but couples finally feel liberated to cast rules aside.
For Shannon and Keith, bucking tradition meant hosting a retro-inspired wedding at the TWA Hotel at John F. Kennedy International Airport. Vibrant colors and funky patterns set the tone. And while the wedding design was beautiful in its own, the backstory made the day even more special. Shannon and Keith are big fans of the Technicolor style of the 1960s. "We wanted everyone on our guest list to feel as though we took them in a time machine back to the 1960s," they say
Friday Weddings
You're cordially invited to…a Friday wedding. Those words might have once been surprising, but with 2.6 million weddings taking place this year, there was no way that every 2022 event could be held on one of its 53 Saturdays. Enter: weekday weddings.
When the pandemic hit, Tanya Marie and Anthony were forced to change their wedding location from Mexico to Little Elm, Texas. "Luckily everything worked out and we were able to have our perfect wedding without losing any money or cutting things that we wanted to due to a pandemic," says Tanya Marie. But the kicker? With the new wedding date, the dream Texas affair took place on a Friday.
The best part about a wedding on a Friday, Monday or even Tuesday is that the rules of a Saturday wedding don't apply. You can do whatever you want, however you want. Why not host a day-after brunch on Saturday or a hike for guests on Sunday? With the main event on Friday, that's totally doable—and sure to excite guests.
Domestic Destination Weddings
2022 saw a rise in domestic destination weddings, and Katie and Kaitlin were one of the many couples who found it more appealing to stay within the United States. The uncertainty of border-crossing regulations, paired with unprecedented travel delays, means that many to-be-weds who may have previously looked abroad for a venue are turning their attention to locales accessible by car as well as air. For Katie and Kaitlin, that meant traveling from Ohio down to Florida for a weekend with loved ones.
Even though friends from different stages of life all came together to support Katie and Kaitlin at their wedding, the couple shares that "there were truly no sides or groups, and we had so many people walk away with new friends! We think part of that was because we had additional time and events with it being a destination wedding. We have the most incredible people in our lives who showed up to have a good time and share their love for us with everyone around them."
No Time Like the Present Mentality
Hali and Jon met while working the night shift as nurses at the same hospital. While jobs in health care are always taxing, the couple felt the strain significantly in March 2020 as COVID-19 emerged. For Jon, the uncertainties of the future solidified that he needed to hold onto his love for Hali and their son, Caleb. "The future isn't promised," Jon said as he proposed to Hali, "and if there's one thing I want you to know, it's that I want to spend the rest of my life with you." Although Hali and Jon weren't able to celebrate their wedding until April 2022 because of the pandemic, the past few years made them recognize that there's no time like the present to proclaim your love and honor it with a wedding.

Wellness Matters to Wedding Vendors and Couples Alike
Throughout much of 2022, The Knot focused on celebrating wellness (check out The Knot's 2022 Wellness Destination). This expert-driven coverage offers advice to couples on a broad range of topics from relationship wellness to financial wellness. But wellness doesn't begin and end with couples—pros need to focus on their well-being just as much.
As the world began to reopen in 2021 and 2022, everyone breathed a sigh of relief. Living in a prolonged state of tension and stress is, well, stressful, and you can only persevere for so long. For one wedding photographer, the challenges of the pandemic forced her to do a hard reset. In The Knot Winter 2022, Jana Williams opened up about how she refocused and entered this new season of business more aligned with what really matters. She's excited to tackle new adventures while maintaining a healthy work-life balance—read all about Jana Williams' story here.
The Current State of Wedding Travel
As borders have opened up again, many people have been eager to hit the skies in 2022. With 500,000 destination weddings and a whopping 1.9 million honeymoons, travel is on a definite upswing this year. But the sudden surge comes after many airlines laid off workers during the pandemic. This has led to a soaring number of delays, cancellations and luggage misplacements. Katie Jacobson, travel expert and owner of Ever After Honeymoons, says that many flights are about 33 percent more expensive in 2022 than they were a year ago. "If you have miles or points, now is a great time to use those! And plan ahead, as last-minute tickets tend to be incredibly expensive," she advises. "It's a good idea to download the airline's app and keep an eye on your flight schedules. Airlines are changing and canceling flights often and don't always notify passengers." She adds that travel insurance is a smart idea too.

Jacobson says that in the current travel climate, she's seen a variety of honeymoon trends emerge. Notably, many brides and grooms opt for a mini-moon right after their wedding, spending a few nights near their wedding location and taking a longer honeymoon several months later. More couples are sticking with one destination, or several spots within the same country, rather than visiting multiple countries. "This lessens the chances that there will be a last-minute border closure that impacts your itinerary," she notes. "Many couples are also opting for a bit of a slower pace spent in fewer locations. Couples really want to immerse themselves in each destination and take time to relax, rather than rushing from one spot to the next."
Ultimately, Jacobson reminds everyone to be kind. "The travel industry is busy, and a lot of places are operating with a smaller sta than previously. Everyone is working incredibly hard and doing their best. You need a little extra patience and understanding when traveling these days!"
What Pros Expect for the Future
The changes we've seen in the world of weddings this year won't stay in 2022—they signal a true paradigm shift. We sat down with two experts to get a sense of the changes they are seeing in the wedding industry and their take on what's not going away at year's end.

New Booking Habits With Couples
Kim-Trang Blair, a wedding photographer in New York City, usually caps her business at 15 weddings a year. But that was before the pandemic shook things up. This year she has 21 weddings on the books—a 40 percent increase. It's not just that she's overextended, but she's noticed a shift in couples' booking patterns. "Inquiries are coming in hot," says Blair, who has received two to three times more calls than she did before the boom. She also notes that she no longer has a "booking season." In the past, during a typical wedding season, most inquiries would come between December and March. "Now it's all over the calendar. Inquiries are steady throughout the year."
Many requests are for 2024. In 2021, The Knot found that the average length of an engagement in the United States was 16 months. But shifting demand and booking patterns may impact that statistic moving forward. Blair shares that she had one to-be-wed who reached out within 24 hours of getting engaged and already had booked a venue for 2024. "Couples are seeing all their friends getting married and the moment they get engaged, they want to get the ball rolling," she says.
Sustained Wedding Demand
Amy Abbott's event planning company is based in Los Cabos, Mexico. That made it hard to navigate the pandemic, but now the firm, which caters to American couples planning destination weddings, has more business than it knows what to do with.
"This year, we've found it incredibly di cult and almost impossible to keep up with new inquiries," says Abbott. "Leads have increased by about 50 percent, are persistent and come in all avenues imaginable. People do not want to hear no for an answer." Abbott has had to change the way she runs her wedding business. She has doubled down on maintaining strong vendor relationships and educating couples about price changes. For example, she says, flowers missed an entire growing season, so it's been a challenge to get beautiful blooms at a reasonable price.
In the midst of it all, Abbott stresses that extending grace and patience to couples and wedding vendors alike is the best way forward. "Just remember that everyone is doing the best they can during this time, while navigating the many changes and challenges taking place in the industry."