Celebrity Stylist Micaela Erlanger on Her Prewedding Wellness Awakening & Tips
"Our wedding had been postponed for the umpteenth time, even though I knew that it was happening at some point. I really needed a lifestyle change."
It was July 2020 when Micaela Erlanger experienced her wellness awakening. The celebrity stylist–best known for dressing the likes of red carpet mainstays Lupita Nyong'o, Diane Kruger and Meryl Streep–had recently moved to Miami from New York, and was wedding planning (or more like sending change-the-dates) with her now-husband, Mac Osborne. "It was such a dark, stressful and concerning time," she reflects. "Our wedding had been postponed for the umpteenth time, even though I knew that it was happening at some point. I really needed a lifestyle change. I needed an overhaul, and I needed a reason to feel good about myself. I wasn't feeling motivated. I was feeling down."
It's an all-too-familiar tale for those who were sequestered at home. "At the height of the pandemic, I found myself taking far too many trips to the refrigerator as opposed to having a healthier routine. My routine was upside down. Gyms were closed, grocery stores were compromised. But I had actually been feeling this way even leading up to 2020," she reflects. "I was so busy on the hamster wheel of my job, life and work that I just didn't prioritize it. Mac was saying, 'You and I both really need this.' But we didn't know what we needed… We knew we needed something."
"I basically ate Baked Cheetos because I thought they were better than regular Cheetos," adds Osborne, a restauranteur. "Micaela really got on the ball because she knew the wedding was coming, but then she realized that this is a lifestyle choice. Not a means to an end."
While providing virtual bridal styling consultations, one of Erlanger's brides was notably glowing. "I said, 'You look incredible.' And she's like, 'I feel amazing. I've been working with this health coach.'" That magic maker was Erica Quillen, a holistic health coach based in Sarasota, Florida, who recently started her virtual wellness company. Erlanger reached out immediately. "I said, 'I need help. I don't even know what I need. I need a whole overhaul. I don't even know what healthy habits are anymore.' She replied, 'Well, there's no one-size-fits-all fix, so we're going to get to the root of what makes you tick. This is much more internal and thought-driven than it is.' … It wasn't about fixing things overnight. It was about building habits that made me feel good."
"Long story short: Every week since July 2020, we've worked together despite lots of ups and downs and a chaotic travel schedule. We discovered allergies. We discovered things we love. We discovered things we hate. We discovered new routines. I mean she's literally coached me mentally, physically and from the inside out," says Erlanger. "Even my mindset! I meditate now… who am I? I never made time for that before, and it's those little things. I've gone on to lose 23 pounds, which I didn't even know I had to lose."
A health coach, however, differs from a nutritionist or trainer. They provide tactics to implement sustainable changes in the overall health of their clients. "For me, it wasn't really about like dropping pounds. It was about feeling confident and good," she notes. "The really big lifestyle changes I made [overall] was making time for myself: a reprioritization and management of stress. I wouldn't say I'm doing a great job of that right now. I'm really stressed out so close to the wedding, but I'm doing a lot better than I probably would have." If this sounds relatable, here are some tactics Erlanger and Quillen took for the stylist's wellness plan.
Practicing Sleep Hygiene
The Knot Editors are big on sleep wellness, especially as more research reveals it's a necessity for health. According to the CDC, adults need seven or more hours of sleep each night for optimal wellbeing and function. It's something Erlanger had to prioritize despite her all-too-busy career. "First and foremost, I have my sleep routine. I go to bed early and I'm typically asleep by 10," she says. "From time to time, Mac and I sleep apart because if I don't get a good night's sleep and he travels or sometimes gets in late at night after work. We have rules: sleep is sleep. Then I'm up every day without fail. The alarm goes off at 6:30 am."
Hydrating and Taking Vitamins
Immediately upon waking up, Erlanger goes to her kitchen and chugs a bottle of water. Then she has her coffee, followed by a cocktail of vitamins and a high-protein breakfast. "My new obsession is my omega fish oils. I actually take the raw liquid form, which is amazing. It doesn't taste funny," says Erlanger. "Then I take a cocktail of vitamins… from stress-reliever vitamins to CBD to magnesium to a digestive health enzyme."
Working Out and Walking–Consistently
Erlanger then carves fitness into her mornings. "I'll go work out from seven to eight if I have time… Then I start my day by like 9:30," she says. "I do the simple things, like get 10,000 steps a day, full stop. Get them in or your day isn't done. Anyone can get 10,000 steps and you don't need a gym. You don't need a trainer. You don't need a subscription to an online class. Like you don't need any of that." Heart disease is the leading cause of death in the US, says the CDC. Regular exercise and a healthy diet are both recommended as preventative measures.
Meditating and Practicing Mindfulness
With a high-stakes, red carpet-scrutinized career, Erlanger has turned to daily meditation as is recommended often in wellness plans. "I'm fortunate enough that there's a sauna in the building," she notes. "While I'm there for 30 minutes to an hour, I try to find time to meditate." Of course, anyone can meditate anywhere (in an Uber, on a train, or in the corner of your living room).
"Finding success in a wellness routine for couples or anyone, in general, is all about tailoring it to their lifestyles," says Quillen. "Creating a doable approach requires factoring in things like work schedules, their stress loads. I help my clients become more comfortable with prioritizing themselves, their health and their goals."
Changing Reward Systems
We've all been there: turning to alcohol, sweets or comfort food to celebrate or commiserate. "I finally figured out food after a year and a half with Erica," says Osborne. "I really changed my reward system. Before, it was Baked Cheetos, deli meat and Lactaid milk. I had so many cookies and milk that I've made myself lactose intolerant. I went from that to this morning, eating salmon and butter lettuce with homemade dressing and scrambled eggs for breakfast. That is a massive lifestyle change."
"When your health and wellness routine is filled with things that you actually like, discipline becomes much easier," elaborates Quillen. "You start to crave the new habits you're creating simply because they make you feel good. If you hate running, stop running. If you don't like broccoli, stop force-feeding yourself broccoli. There are so many workouts and foods out there. You just have to be open to taking the time to find what you like and fuel yourself."
Testing for Allergy Awareness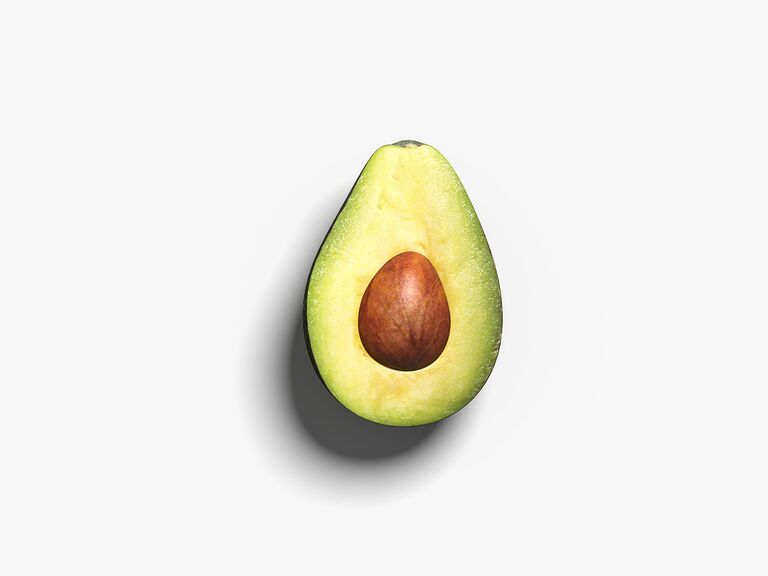 Everybody reacts differently to the myriad of foods that exist in our world. Some are living with allergies without even realizing it. "It turns out I'm super allergic to avocado, which sucked because I ate avocado with basically every meal for as long as I can remember," says Erlanger. "It was determined by an elimination diet. My body was having really strange bloating episodes after eating, and it was really inconsistent."
Quillen saw that her client potentially had a histamine intolerance. "I'm very allergic to peaches, cherries and nectarines, which are stone fruit. Avocado is also a stone fruit and it's also incredibly high in histamine. Once I eliminated it, near immediately my issues were resolved. It was insane… That was a big thing to uncover along with some other things that I didn't realize weren't coupling well with my body."
Limiting Alcohol
In 2022, the options for nonalcoholic mixers and beverages are bountiful. "I really removed alcohol when moving from New York City to Miami. New York is a very alcohol-focused town when it comes to social visitation and relaxing after work," notes Osborne.
Adds Erlanger, "I absolutely love a margarita. What really helped me was choosing to have a drink when I want–but only if it makes me feel good. I gave up alcohol recently, which has been a game-changer. I don't think it's something I'm going to do forever. At my bridal shower, I'm totally having a glass of champagne. I'm choosing to do that. I am confident in my choice."
Meal Prepping
Every week, Erlanger and her husband will pre-plan their week's meals as a preventative measure against junk food. "It's so I have healthy things in the fridge," she notes. "That way, I'm not ordering in or finding myself hungry and reaching for something… I'm on a very high protein diet, which is the right thing for me (a lot of like tuna salad and eggs)." By being proactive and diligent in this step each week, the couple has cut out immense temptation, consuming healthier alternatives instead.
Building Habits Together
Despite having to postpone their wedding due to COVID multiple times, the couple eloped in August 2021 in a multi-destination wedding that ended with vows in St. Barth's. This spring, they'll finally throw their long-awaited wedding reception with a massive party. The silver lining, the couple says, is they were able to hit reset together.
"Mac and I now share more in common. We have a new shared routine: this morning I was down in the gym, and he came down and got his steps on. Even getting to spend more time together is really cool," says Erlanger. Adds her husband, "We can be active outside year-round together without going to an Italian restaurant and spending $300. It's helped our wallets, our bodies, our minds, and it's so much more sustainable. If the only way you can connect is through pasta and red wine, then you'll be in trouble."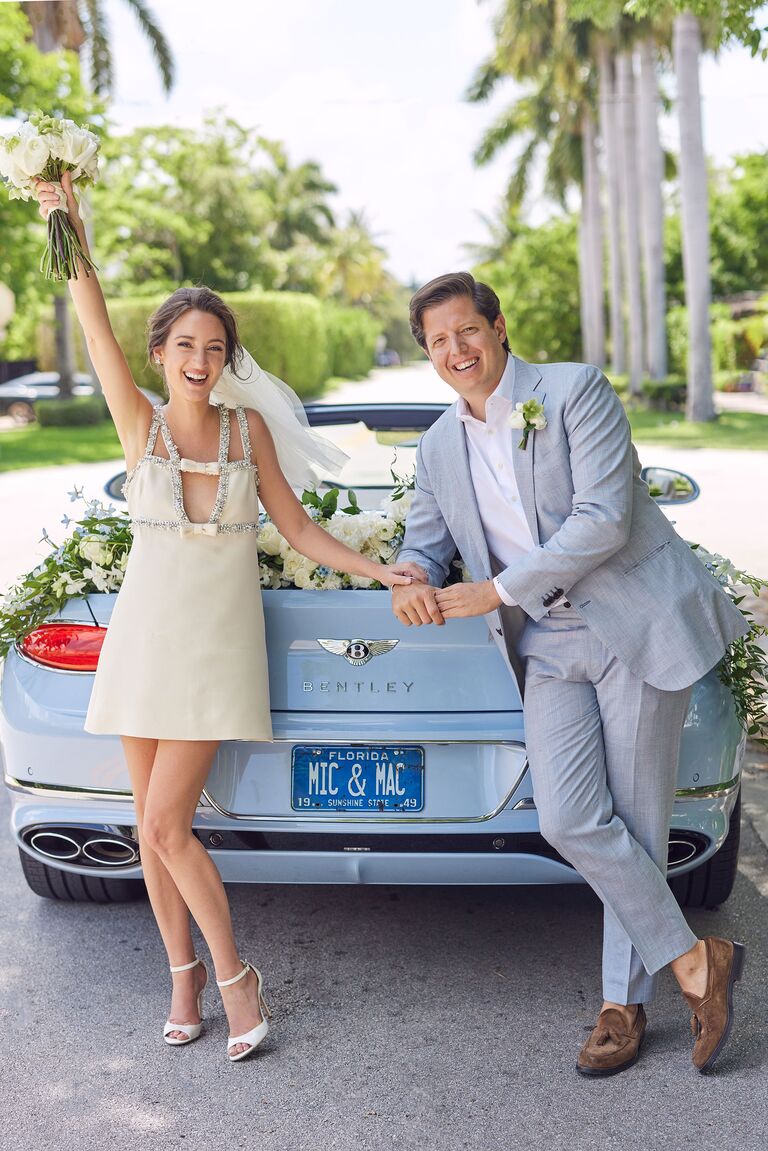 "The reality is you're building a life with somebody and there are challenges you'll face," concludes Erlanger. "But if you're in a routine with your partner, it makes everything so much easier and so much more enjoyable and exciting. I don't think I could have done it if Mac wasn't doing it too." She laughs, "He says 'same.'"