Why Jeannie Mai and Jeezy's Marriage Is All About Activism
"We will spend the rest of our lives continuing to stand up against injustice, racism and hate."
When the initial interview for this piece was conducted, anti-Asian sentiment was already percolating around the country with a rise in hate crimes against the AAPI community. On March 16, 2021, a gunman murdered six Asian women across three Atlanta-area spas, leaving those of Asian descent reeling from the violent, targeted loss of innocent lives. Two weeks later, a 65-year-old Asian woman was attacked outside a luxury Manhattan apartment building; its guards witnessing the incident without direct intervention, closing the building's doors instead as the assailant walked away and the victim suffered alone on the sidewalk.
For Jeannie Mai and Jeezy, the violence has felt deeply personal, especially within their relationship as an interracial couple (Mai is a Vietnamese and Chinese-American woman and her fiancé is Black). As editors, we're required to provide a comprehensive view when crafting a story; or in the case of weddings, what drives each couple's love story. In this case, we had much more to discuss about identity, culture and activism, all core to Mai and Jeezy's future together. "It's not just the recent events that make me mindful about our distinct cultures," Mai tells The Knot. "For Jeezy, everything—from his upbringing, experiences, struggles and his position in this white-centric country—is a learning curve for me; and, vice versa. Part of the foundation of our love is constantly discovering our respective identities and gaining an understanding from our experiences."
For example, Jeezy originally planned to propose to Mai in Vietnam in spring 2020, in a place where together, they would explore her family's history and culture. Due to COVID, he ended up bringing the country to their living room with a themed, at-home proposal. Honoring their backgrounds remains of utmost importance as they broaden the exploration of their own modern love story. Like so many couples, this year for Mai and Jeezy certainly hasn't been without its struggles: together, they've tackled racism, navigated their engagement during a pandemic, and even confronted grief due to profound loss. Forever, their partnership has changed. "What bonded Jeezy and I most is our passion to serve and take care of our communities," says Mai. "We will spend the rest of our lives continuing to stand up against injustice, racism and hate." Read more about how the couple is using their wedding registry for the greater good.
In This Article:
Jeannie Mai and Jeezy's Wedding Registry
Together and in response to the uptick in hate crimes against Asians, the couple has created a charity wedding registry on The Knot, specifically in support of Stop Asian Hate, the umbrella organization providing funds across Asian-owned businesses and foundations. Their goal is to use their platform to help the underrepresented during a time of crisis in America. "For the past year, Asian Americans have tweeted, posted, and cried out for help," says Mai. "Violent attacks against people of the AAPI community have gone up 150% since 2020, 68% of them being Asian women. If you're wondering what to do, here's a couple of immediate ways to help this problem… Donate to GoFundMe.com/AAPI. These funds are distributed to verified fundraisers to help uplift and protect individual families and businesses in the AAPI community."
According to Mai, self-reflection and education are also necessary. "It's no longer enough to say, 'I'm not racist.' We need to be anti-racist, and that's harder," she continues. "To be anti-racist, we must look at our everyday routines, our communities and our own families; eliminating even some of the things that brought us joy as children, so that the next generation can be healthier, stronger and not racist."
Other ways all couples can showcase their activism while wedding planning is, like Jeannie Mai and Jeezy, adding a charity component to their registry. Another area of intentionality for engaged couples is seeking out a diverse vendor team to help execute the wedding of your dreams. Most importantly, maintaining healthy communication by addressing issues of racism together is something all to-be-weds should consider as they prepare for marriage.
"The things I appreciate about Jeezy are endless on the list," Mai adds. "I love his smile, his tenderness. He's so generous and serving. He's a great servant to his community and such a leader in his own life and in his business. What I mean by leader: it's not that he tells people what to do, he follows and listens to people and tends to people's needs… Nothing is a basic 'yes' or 'no.' Everything has a deeper layer to it."
Jeannie and Jeezy's Wedding
The couple married on March 27, in a backyard ceremony in their Georgia home. "You will forever be my 'I Do,'" Mai expressed on Instagram. "Mrs. Jeannie Mai Jenkins."
The couple enlisted the help of famed photographer Denis Reggie, renowned for capturing Carolyn Bessette-Kennedy and John F. Kennedy Jr.'s iconic wedding on Cumberland Island. The gown, a strapless ballgown featuring an embroidered, lace bodice, was designed by none other than luxury bridal designer Galia Lahav.
"Becoming Mrs. Jeannie Mai Jenkins is the best thing that has ever happened to me," Mai told The Knot in an exclusive reveal of more wedding details.
How Jeannie and Jeezy First Met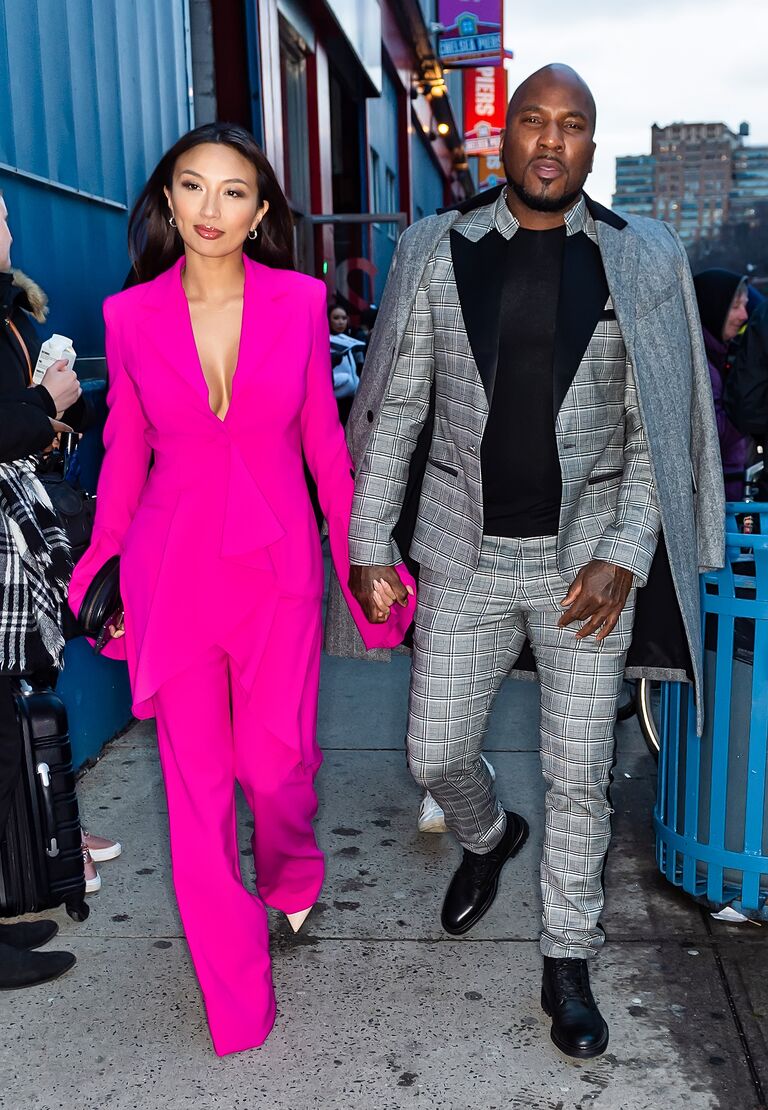 The story may differ ever-so-slightly between spouses, but it was obvious sparks were abundant at the studio. "If you hear his side of the story—we met on [set] when he first came to The Real, and we locked eyes—he says he knew from that moment," says Mai. "For me, it was an amazing sushi dinner date and this man arranged an evening that was just magical."
After dinner, the couple spontaneously went salsa dancing, a skill Mai would have to quickly develop as the evening progressed. "Let me tell you: the way I put that together and figured it out," she laughs. "What was so refreshing about it was his effortless conversation with me. We even had a fun debate. From then on, I couldn't see past him. I was so fixated on what a wonderful guy he was and is. Every date has been like that even as we're engaged and I expect after we're married too… I knew the first date. I was smitten with him."
It wasn't until the holidays, a few months later, when her gut instinct was crystallized with his unexpected gift idea. "He came out with this huge box from his condo," she recalls. "I went home and I felt so guilty about this gift, and I sat it down in front of Mama Mai, my mom. She starts shaking it, smelling it, [asking] 'Is it a Birkin bag?' …Eventually, my mom poked open a hole and inside, [the gift included] nine books on travel, women in culture, US historians, cooking, Vietnam. I'm not kidding you. That moment I received that gift, I said, 'This is my soulmate.' He captured the essence of my spirit and my yearning to learn."
Jeannie Mai and Jeezy's Engagement
Like many couples, the rapper's original plans to pop the question were diverted as the ongoing COVID-19 fallout has resulted in mass quarantines around the world. Jeezy, also a philanthropist, had originally wanted to propose in Vietnam during a couple's trip they had planned for April. Instead, he ended up asking Mai to be his wife during a date night at his Los Angeles home during quarantine at the onset of COVID in 2020. He surprised Mai by bringing Vietnam to her inside their home.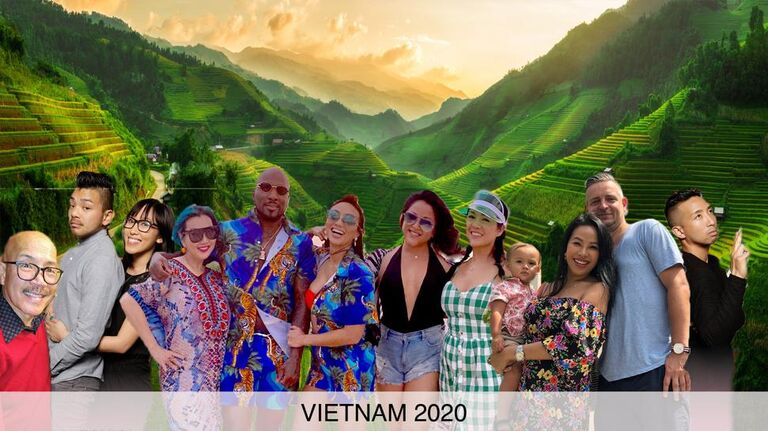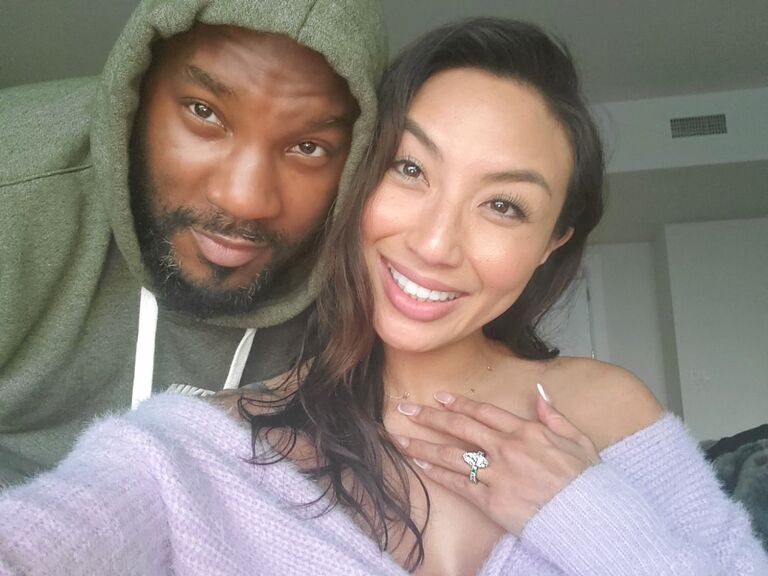 To add to the perfect date night, Jeezy proposed with a marquise diamond ring featuring emerald accents. The ring is about four to five carats in size and set on a platinum band with emerald stones set into the sides.