Jeannie Mai and Jeezy Are Expecting a Baby Six Months After the Wedding
The couple married in a backyard microwedding.
Jeezy and Jeannie Mai are expecting a little one. Six months after exchanging vows in a lavish backyard microwedding, Mai revealed on September 20, that she's pregnant with her first child.
"Jeezy and I have been kind of saving this and hiding this for five months," the TV personality told Women's Health. "So, we're relieved to finally share the news." During the interview, Mai spoke about the massive change-of-heart she experienced with wanting to raise a family with her husband. (Mai has long been outspoken about not wanting kids.) However, it was during her engagement to Jeezy and COVID that Mai realized she wanted to conceive a baby with the love of her life. However, due to her age, they ended up going the route of IVF. "We both needed a bit of assistance, especially with me being 41 at the time," she said.
Just one month after the wedding, however, Mai discovered she was pregnant, then suffered a miscarrige. "I wondered if I was being punished. I wondered if I'd jinxed myself or cursed myself," she told the health publication. "My entire life, I never wanted children. When I say never, I'm talking a hard-stop never."
Jeezy is already a father of two. "Now that we're bringing another Jenkins into the picture. I have no idea what to expect," Mai added. However, watching her husband has been encouraging for the future mom. "He's an amazing dad," she said. "[It] overwhelms me with even more love."
Jeannie Mai and Jeezy's Wedding Plans
Originally, the couple's wedding was supposed to be a multi-day, destination affair, but much like millions of COVID couples, they had to pivot their original vision to something more realistic. That didn't mean, however, that their proposed, new wedding wouldn't be special. Together, they safely celebrated their nuptials at home in late March with elements of their original vision infused in the backyard celebration. "Jeezy and I decided to have a [microwedding] when it felt like we were waiting too long to get married," Mai previously told The Knot exclusively. "After a while, the original plans we had started to feel just like that: plans. We simply wanted to be husband and wife. The best decision we made was to keep our celebration as simple as possible."
On March 27, the Emmy-winning TV host exchanged vows with Jeezy (Jay Wayne Jenkins), a Grammy-nominated artist-turned-entrepreneur. Though the setting wasn't abroad like they had hoped, a dressed-up version of their backyard with only a few dozen loved ones as witnesses was exactly what they needed to be ushered into marriage. For the occasion, the bride chose a nude and blush strapless gown by Galia Lahav featuring sheer embroidery and an intricate bodice. The groom's tailored pink suit by Teofilo Flor accentuated the bride's dress with flair. Famed photographer Denis Reggie—the force behind the late Carolyn Bessette-Kennedy and John F. Kennedy Jr.'s wedding photos—captured the intimate occasion, documenting much of the peaceful atmosphere that permeated throughout the couple's home.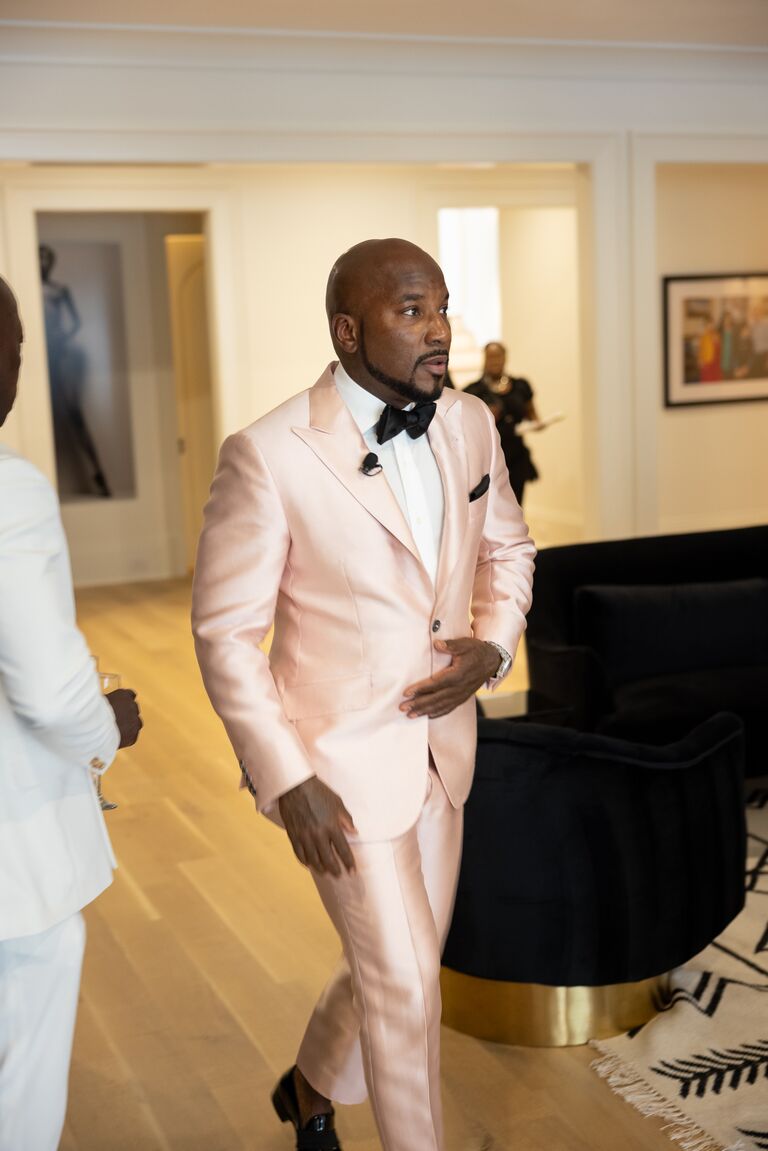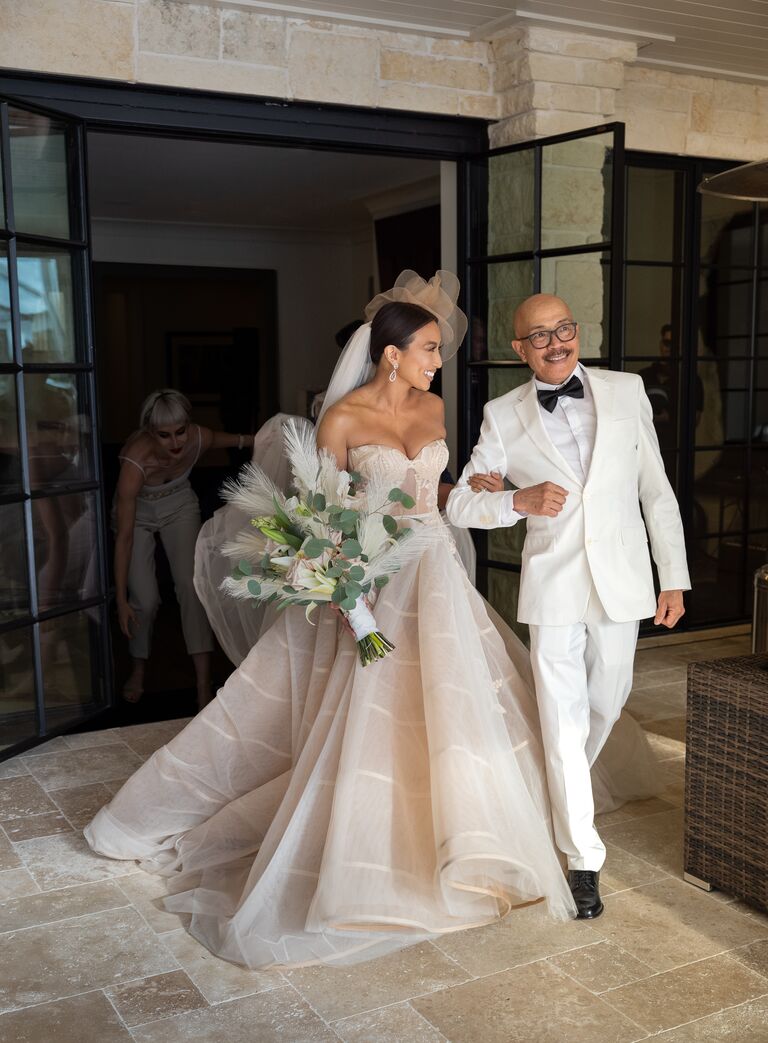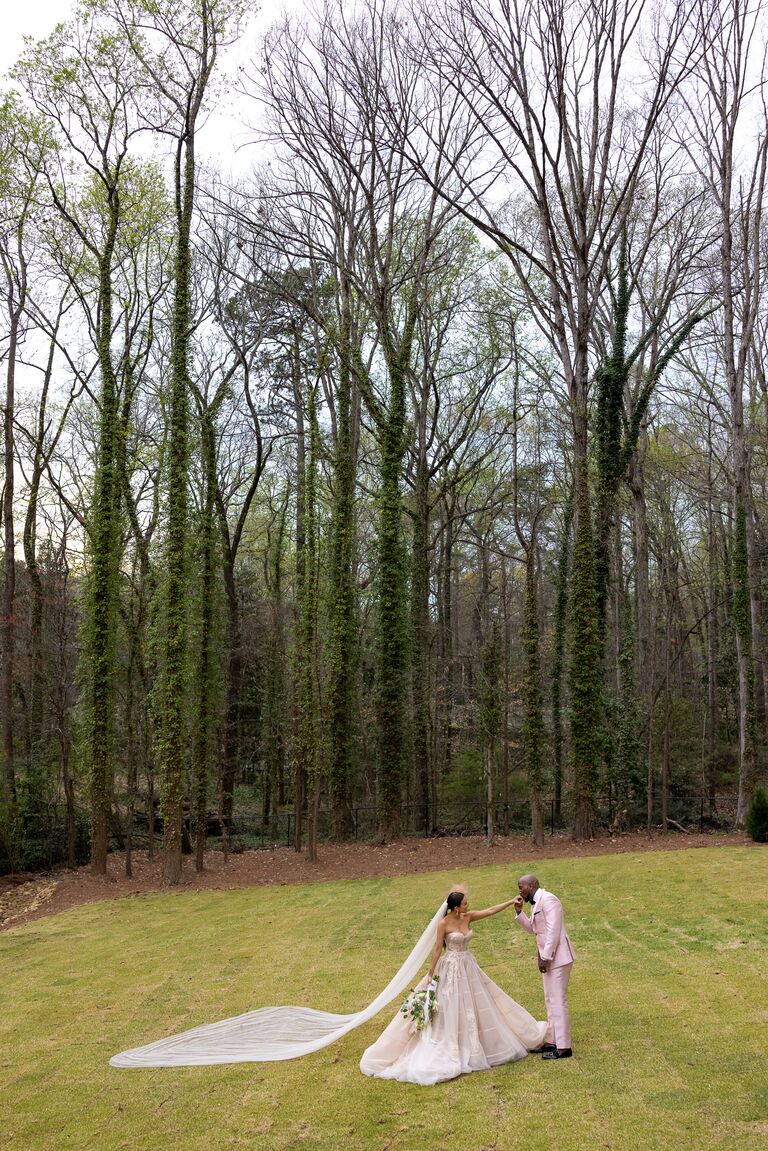 "Becoming Mrs. Jeannie Mai Jenkins is the best thing that has ever happened to me," reflected Mai. And without doubt for Mr. and Mrs. Jenkins, the party will continue. "We plan to have a bigger celebration and reception with all of our relatives and dearest friends when the world gets back to normal," she confirms. Below, The Knot shares exclusive details about their wedding day, the couple's registry picks and more about their anniversary reception.
The Wedding Ceremony
"The most sentimental part of our ceremony was the exchanging of our vows," said Mai. "Listening to Jeezy's words of devotion melted my heart. And I have never in my life felt more proud and certain than when I proclaimed my commitment to him in front of our family and God."
Both in their forties, the bride and groom's purpose for their wedding was simply to bring together their loved ones. "We're not in our twenties," reflected Mai. "We've curated a beautiful group of people who have been in our lives to help us become who we are… Even when it comes to your friends and family members, all of our people are such dope human beings. Jeezy's family is so warm, fun and gregarious. My mom is a trip, and my Papa Mai is the balance to her."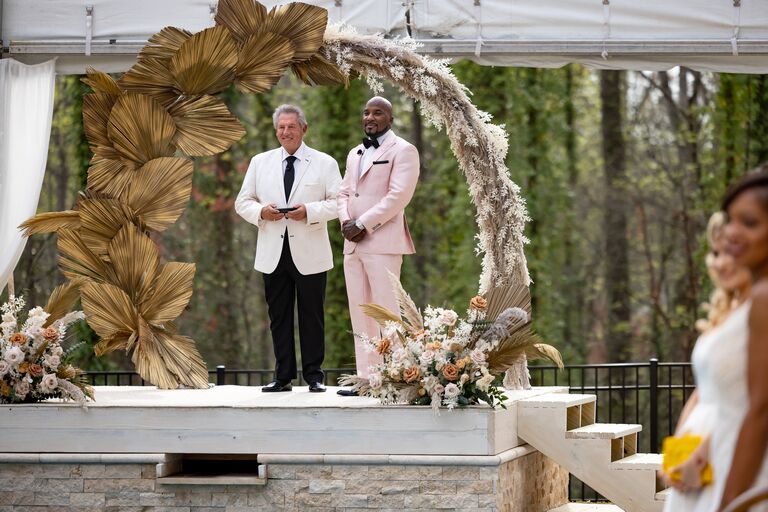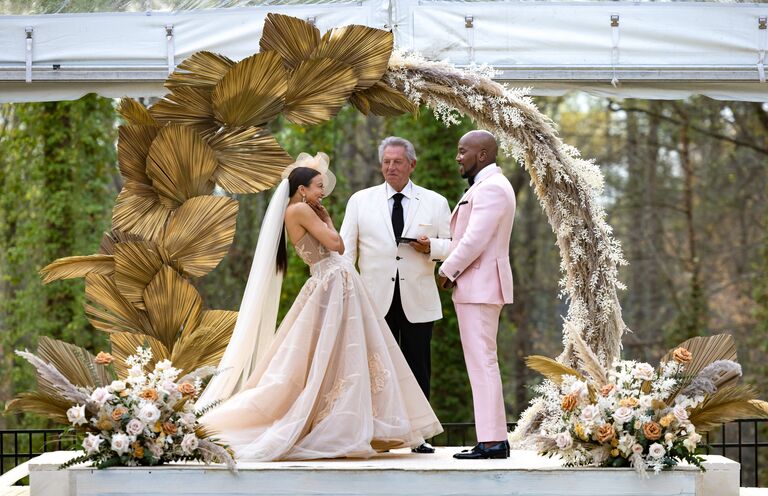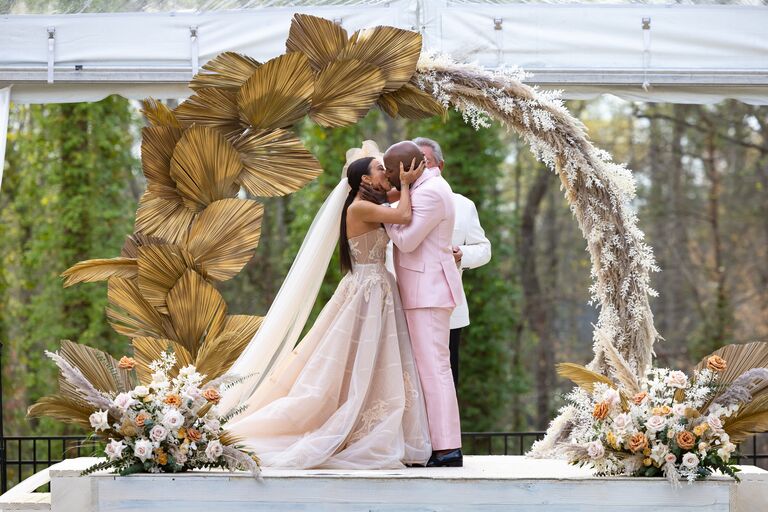 They Had a Coordinated Dress Code
A 2021 wedding trend predicted by The Knot, Mai and Jeezy requested a coordinated dress code from their guests and asked they were off-white. "Our wedding colors: we decided on colors that calm us the most," Mai told us. "We also wanted to be coordinated with our guests… It's so cool when people plan their weddings based on what they would want."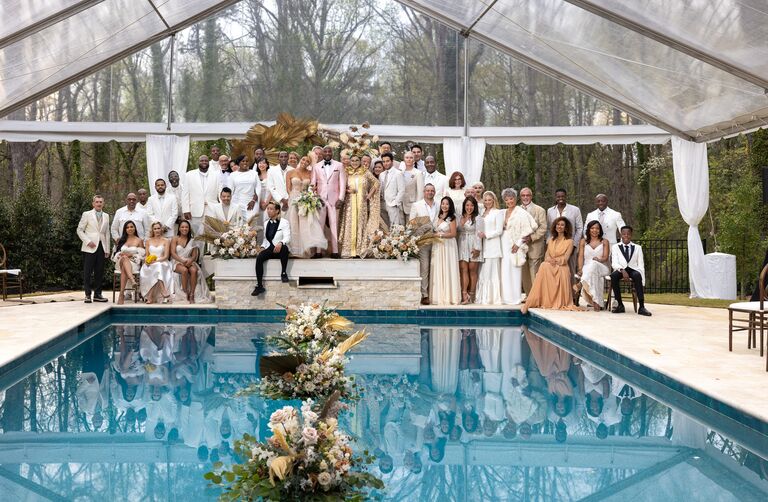 In Jeannie Mai and Jeezy's case, that's not-so-standard wedding attire. "I love that we get to take pictures and be black-tie. But, I want to change into something that exemplifies who me and Jeezy are, which we're homebodies and we love hanging out and relaxing," she said. "We want our party to really experience what Jeezy and Jeannie are like. I think that's the most important thing about a wedding."
Their Vendors Were Everything
After getting engaged in 2020, Mai and Jeezy soon booked their planner among select wedding vendors. "God, I love wedding planners. I think they have the hardest job," she said. "I don't think about the 10 steps after [a decision, like] putting extra napkins with ribs. I really appreciate wedding planners out there… It's so much easier having one."

The couple hired luxury wedding planner Suzanne Reinhard to help them orchestrate the secretive event at their Georgia home. "My wedding planner is really calm and cool. For me, a wedding planner has to make me feel like there's nothing to worry about," said Mai. "I don't like too many options. [It's like] when I go to IKEA… there are too many things to see, I forget and get discombobulated."
It Was Experiential Over Decadent
Mai wanted to honor each attendee and one way she did that was with a handwritten, personalized note. "I write handwritten letters all the time and I plan to write handwritten notes to all my guests," said Mai. "I'm so thankful to every single guest invited… I believe the people at our wedding are witnesses. They are our community."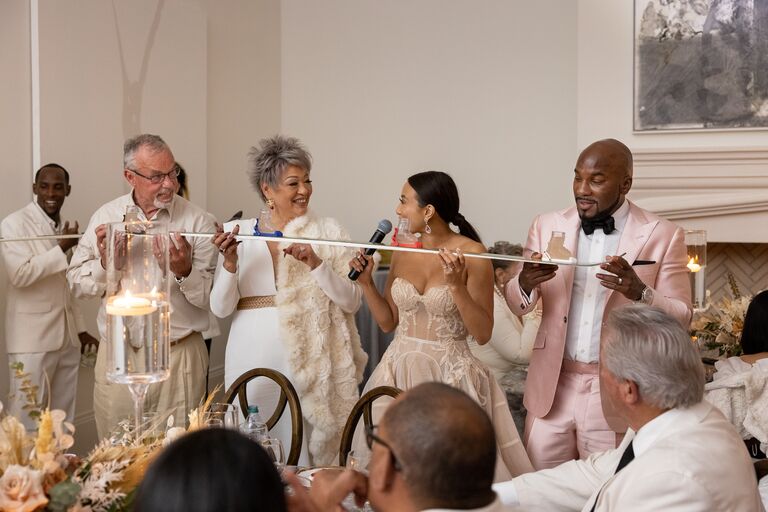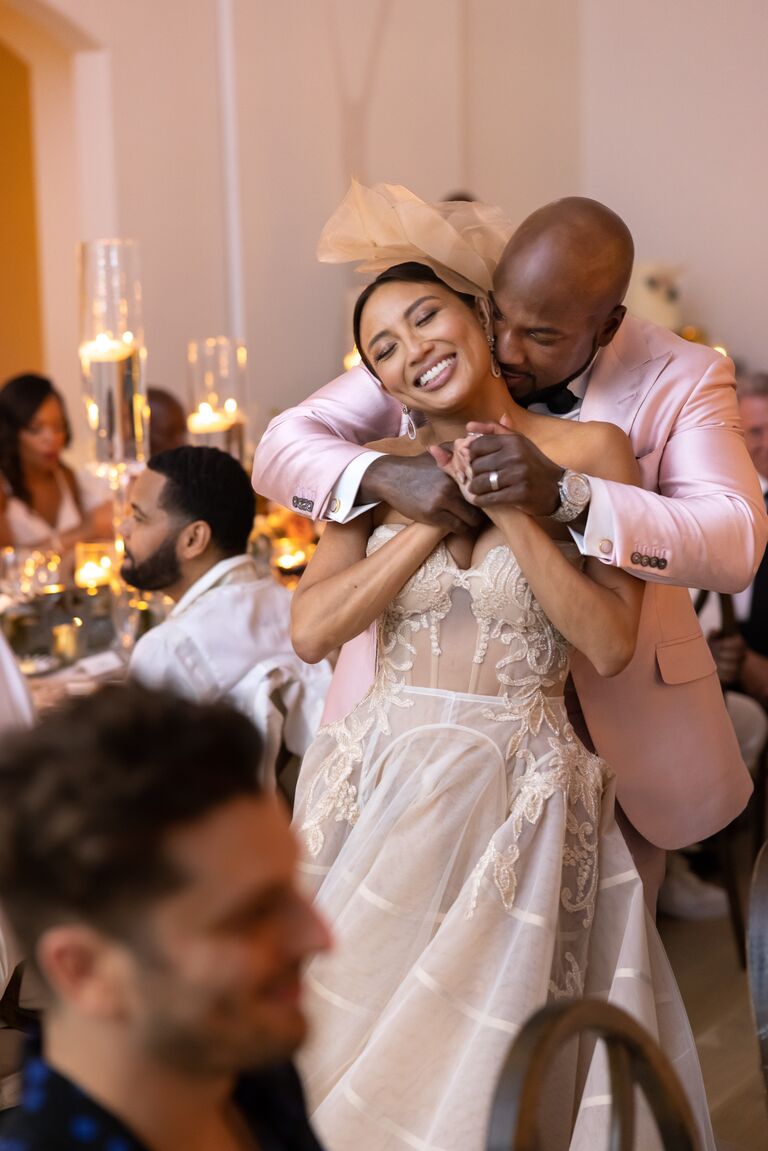 It was important to the couple to throw a wedding that reached fullness in its experience. "I've been to some of the most beautiful celebrity weddings. I love when you take every flower on the planet and sculpt cool shapes and things, but is the heart in the wedding?" she speculated. "What is the essence? Is the food on point? Is there enough to be full and absorb the alcohol you plan to drink? That's what I think about."
It Was a Faith-Driven Ceremony
Both Jeezy and Mai are Christians, so their ceremony will reflect their religious beliefs. "We are faith-driven and I want to feel like the essence of God is right in there," said Mai. "It will have a lot to do with our vows, the words we choose, our prayers. We are praying out loud together so that everyone feels united."
Jeannie Mai and Jeezy's Wedding Registry Picks
After spending so much time at home during COVID (and now having hosted a wedding in the space too), the duo was intent on building a wedding registry that reflects their evolved lifestyle and values. Together, the couple turned to The Knot Registry and narrowed down their respective picks for an all-in-one shopping experience. Watch Jeannie and Jeezy select their favorites above.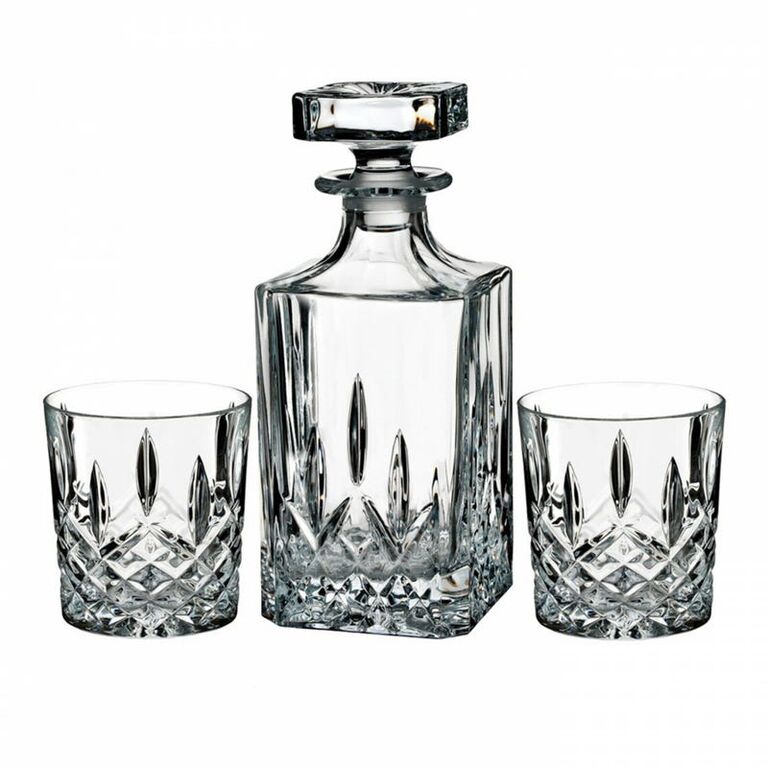 After joking she'd make each guest take a shot of Hennessy at her wedding, Mai chose a luxe option: the Markham whiskey decanter set for her choice in barware. Jeezy, meanwhile, selected Waterford wine glasses. Together, here's to toasting to forever.
Markham 3-Piece Crystal Whiskey Decanter Set, TheKnot.com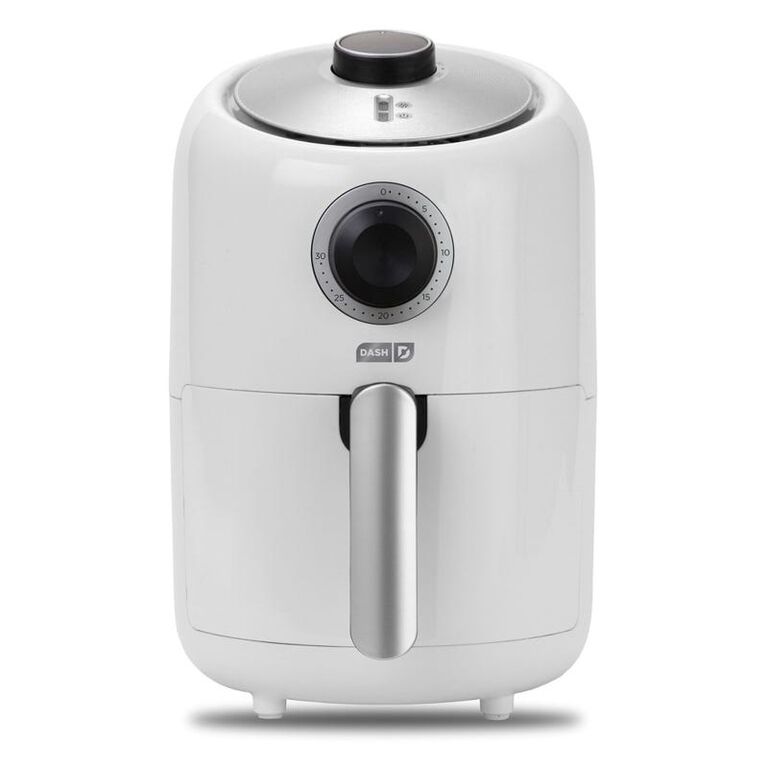 Jeezy's choice was an air fryer, and Mai quickly agreed it's a must-have on any registry. "If you don't own an air fryer, your entire life is flashing by and you don't know it," she jokes. "Everything is better with an air fryer."
DASH 2 Qt. Compact Air Fryer, $53, TheKnot.com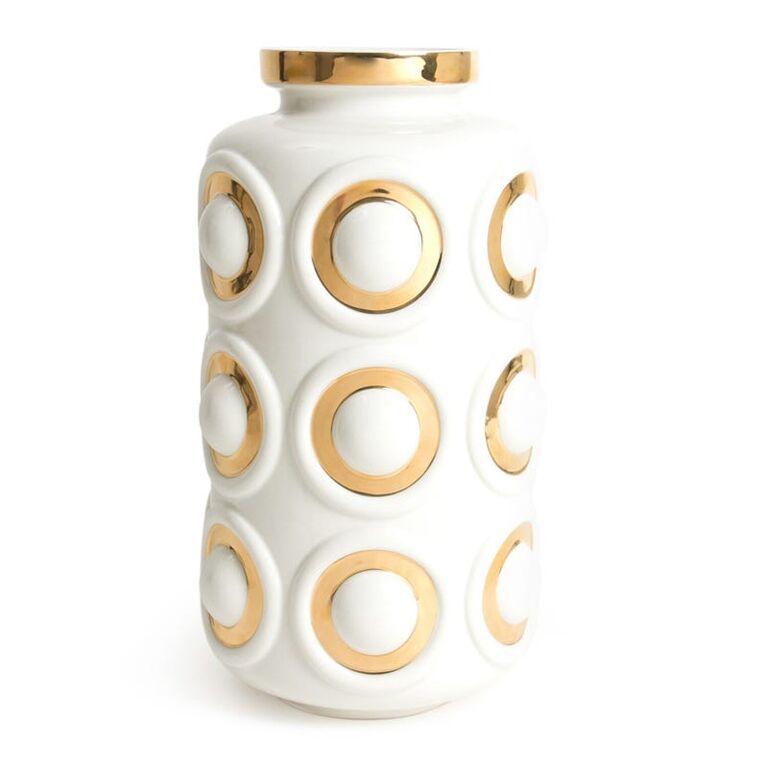 Sprucing up her office for an at-home vlog setup is Mai's specialty, so the on-air personality thought a gold-accented vase by Jonathan Adler would pair perfectly with her personal space.
Jonathan Adler Futura Vase, $336, TheKnot.com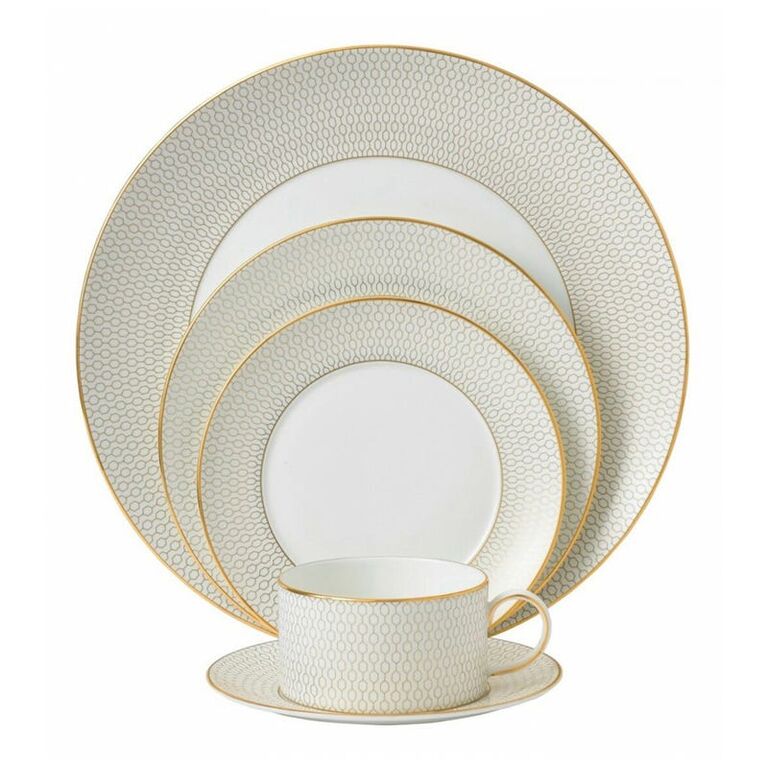 The wedding was just the beginning for the couple as they'll certainly entertain more at their home. Both Mai and Jeezy selected the five-piece place setting from Wedgwood, a classy option for couples hosting many future dinner parties.
Wedgwood Arris 5-Piece Place Setting, $170, TheKnot.com
Their Advice for All Couples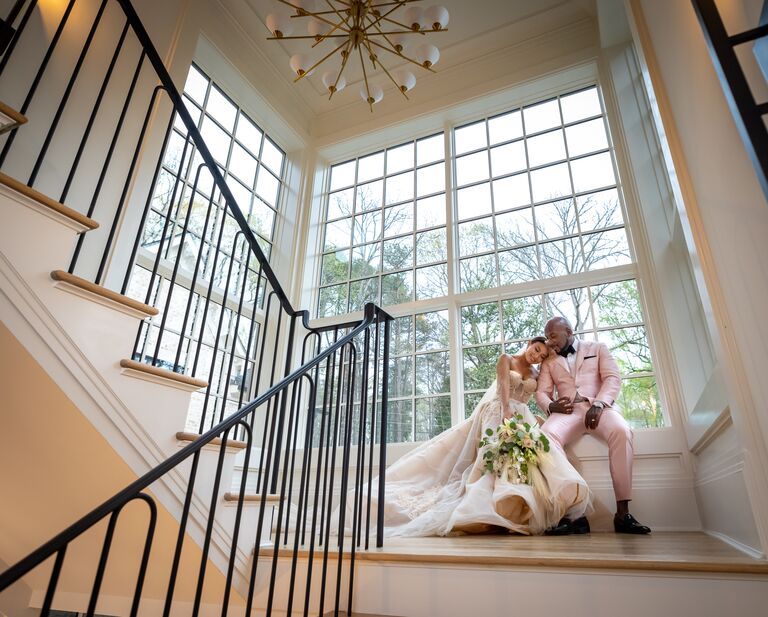 Now that the Jenkins have planned a wedding during COVID, their word of advice is to put your guests first. "Make the best decision to make it safe for everybody… where nobody feels endangered," said Mai. "A wedding is a celebration. It doesn't have to be the perfect venue, or 200 people, or everybody close together. Remember what matters most."
Mai is close friends with Project Runway host Elaine Welteroth, former cover star of The Knot and 2020 bride. "Elaine said it to me best: 'What are the words that describe your wedding?'" she recalled. "I said, 'Carefree, fun, comfortable, and stress-free.' And she said, 'That's it. Anything else you do… the things that don't match those descriptions, take it off the list.'"
Trusting her intuition has been a big finding for Mai, especially now. "The one thing I learned in my previous experience was to learn that your spirit feels calm in the process. If you feel anxious, unsure, nervous, that's not supposed to happen for your wedding," she concluded. "With weddings, remove the pressure and make sure your spirit feels calm. Then, let them eat cake."
Vendors
Photographer: Denis Reggie | Planner: Suzanne Reinhard | Wedding Gown: Galia Lahav | Groom's Attire: Teofilo Flor | Hair: Kristen White | Makeup: Stephen Moleski