See Galia Lahav Wedding Dresses From Bridal Fashion Week
Here's the designer's latest collection to hit the bridal runways.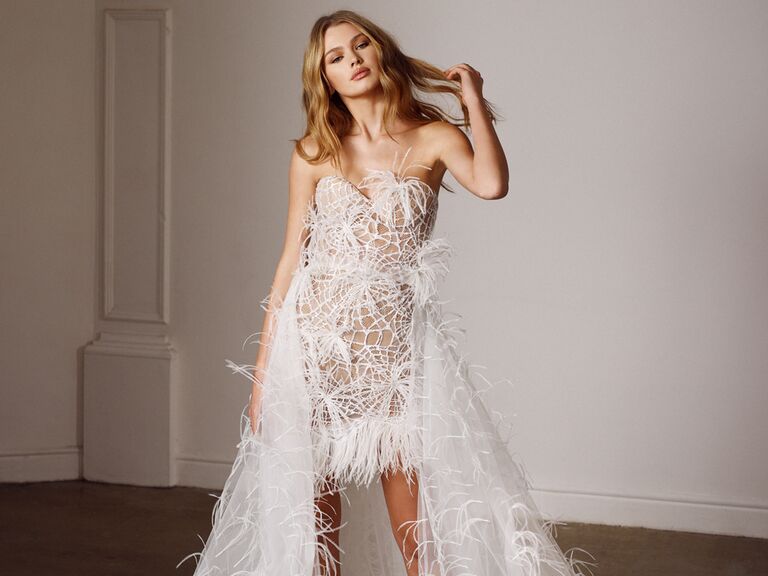 Eyal Nevo

Every bride wants a wedding dress that feels one-of-a-kind designer Galia Lahav does exactly that with her luxury couture collections. The Israeli fashion designer distinguishes herself with lavishly styled, ornately detailed dresses, made to brides' exact measurements—all without ever meeting them in-person. Thanks to the brand's unique technology, Galia Lahav wedding dresses are each customized to the wearer's exact specifications, giving brides the ultimate experience in couture bridalwear. While brides can experience the designer's gown samples at luxury retailers across the world, each wedding dress is sketched, sewn, and embellished on-site at the Galia Lahav headquarters in Tel Aviv, Israel.
See every dress from Galia Lahav's 2022 collection below.
Galia Lahav's Spring 2022 Wedding Dresses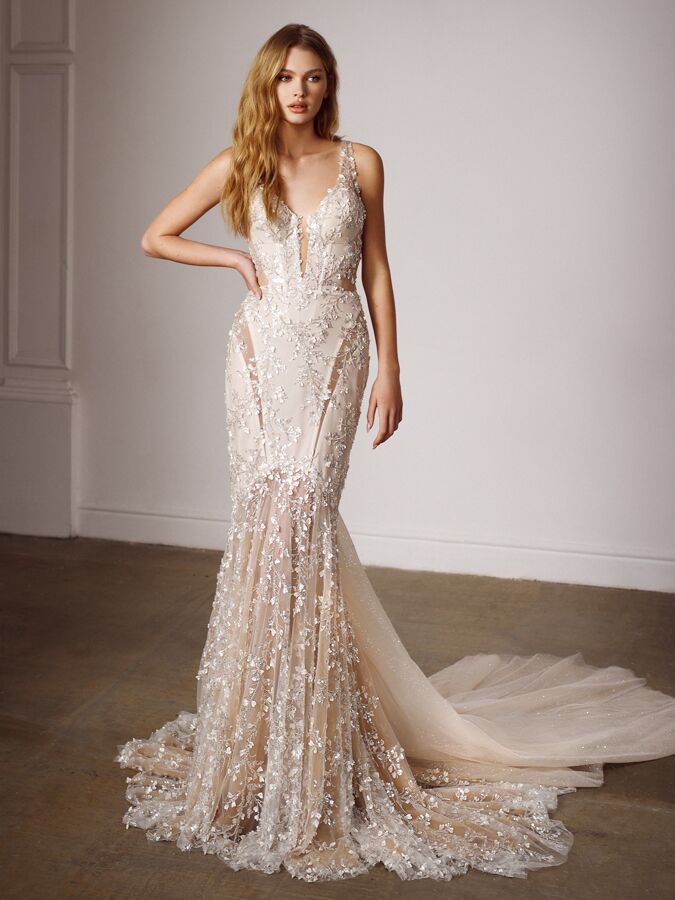 "Blair" Gown; embellished trumpet wedding dress with V-neck corset bodice, and geometric sheer cutouts.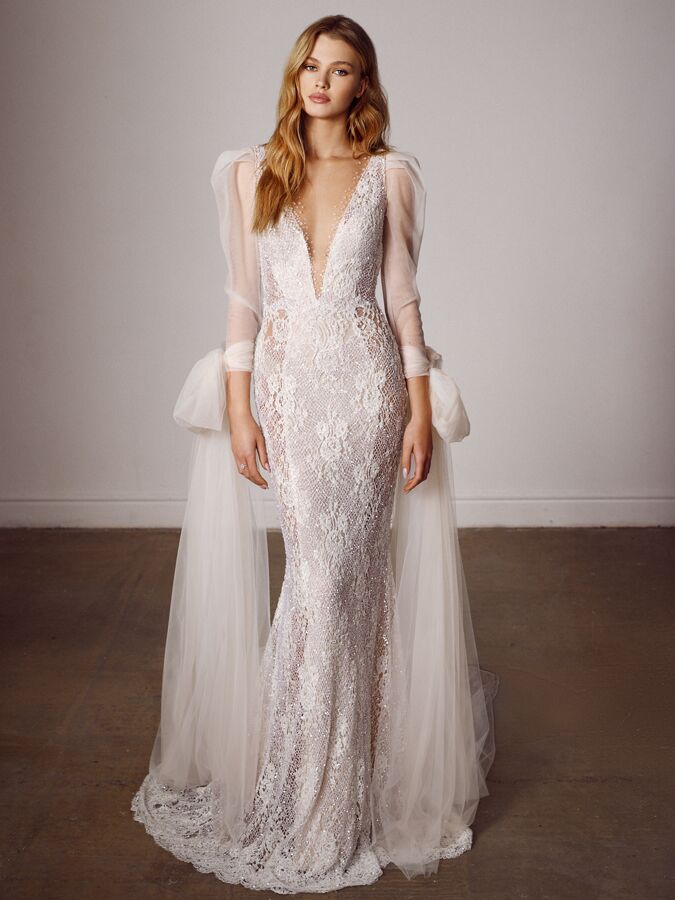 "Amanda" Gown; French lace trumpet wedding dress with plunging V-neck and long sleeves complete with cascading tulle bows.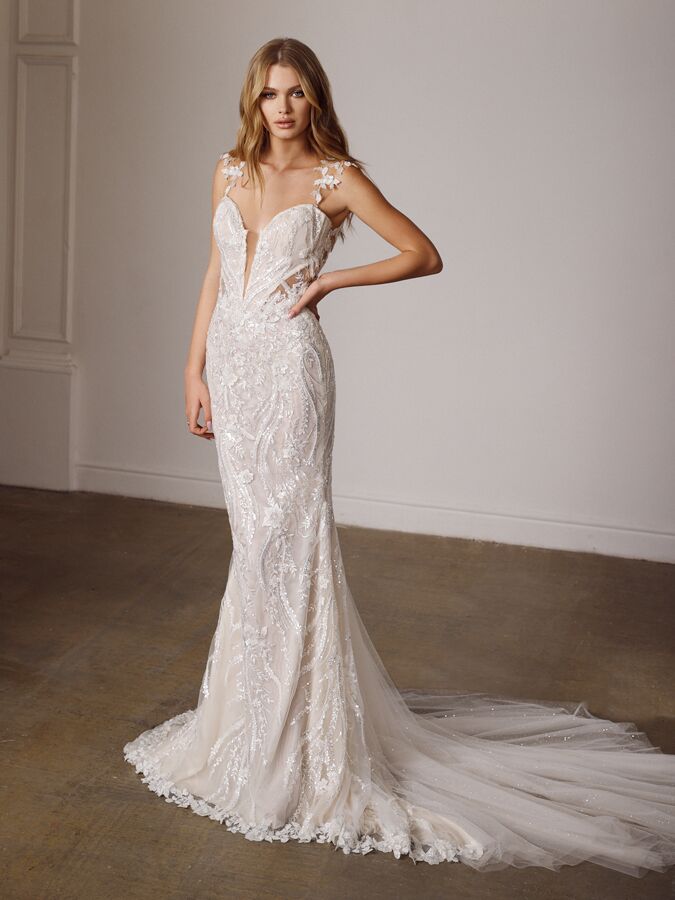 "Angie" Gown; beaded lace sheath wedding dress with sheer sides, low back and tulle train.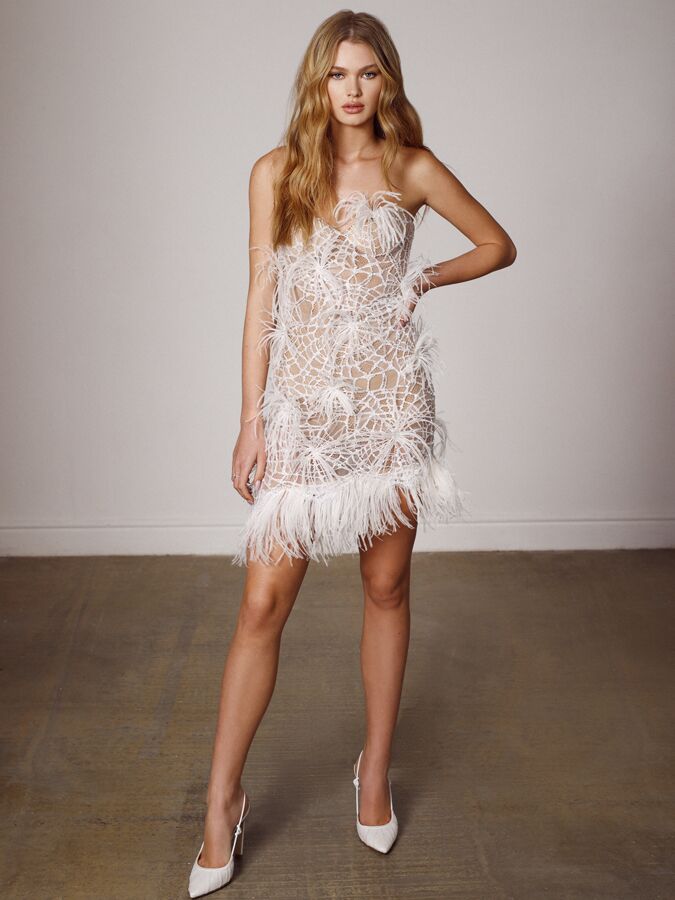 "Bebe" Mini Dress; corseted strapless mini dress with beaded netting lace and feathers.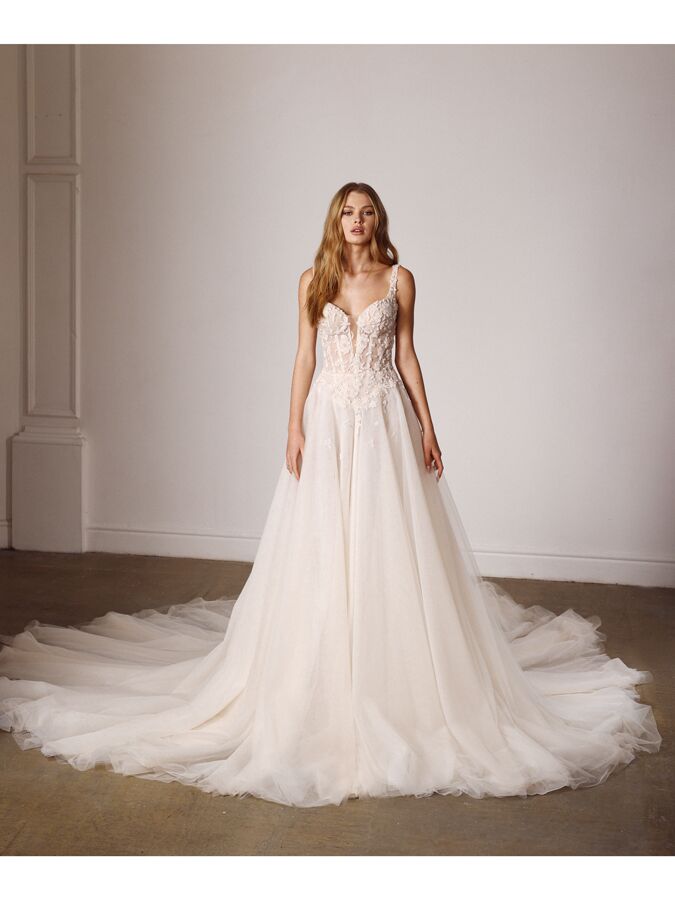 "Brooks" Gown; tulle ball gown with plunging corset bodice, embellished straps and hand-embroidered blush flowers.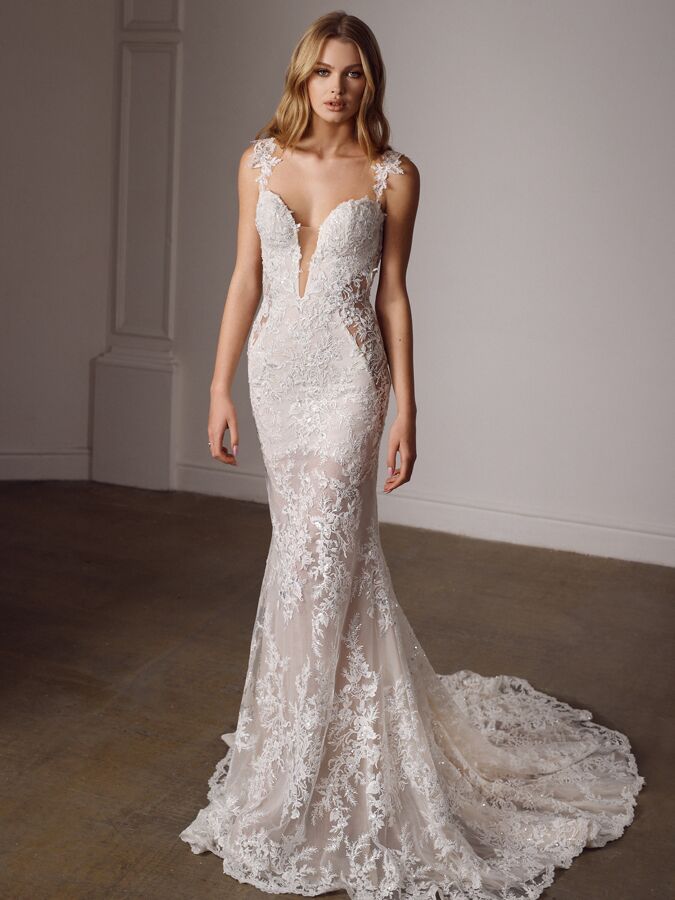 "Eddie" Gown; embroidered lace trumpet wedding dress with plunging sweetheart neckline, sheer side cutous and cathedral -length train.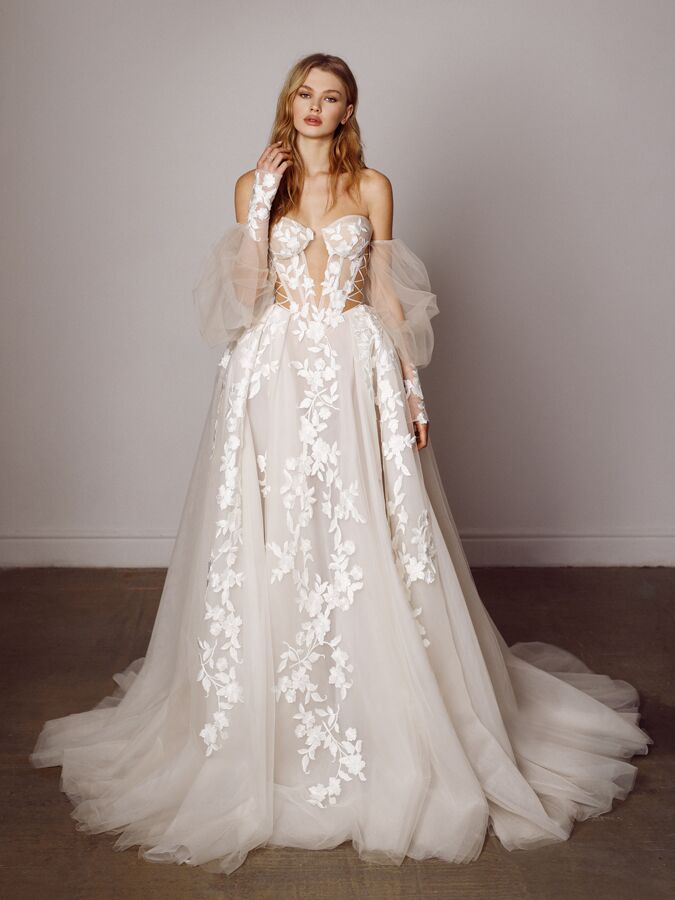 "Gale" Gown; tulle ball gown with sheer corset and lacing bodice, balloon sleeves, pleated tulle skirt and embroidered floral appliqués.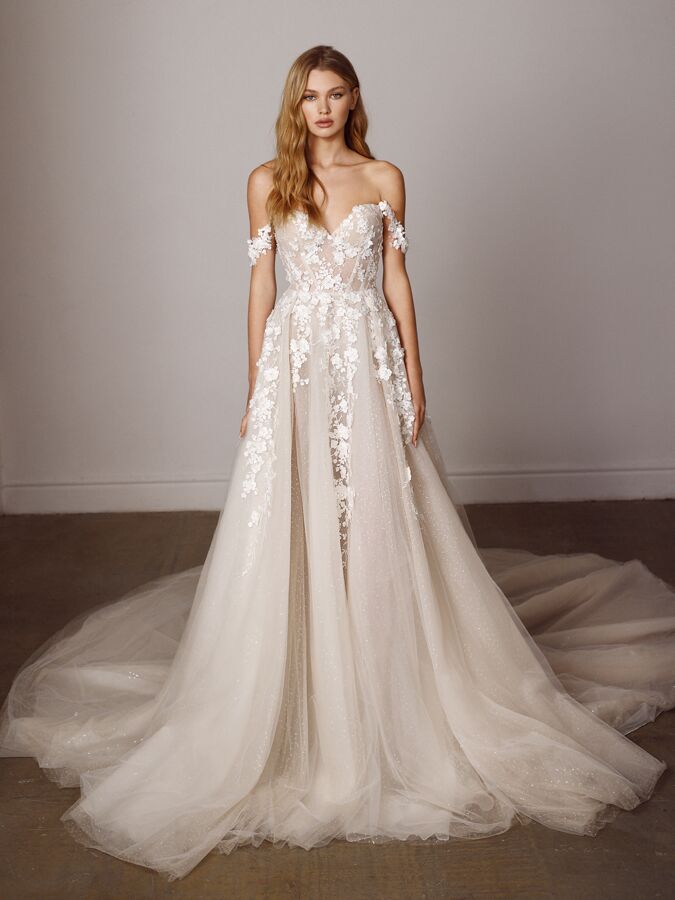 "Gimaya" Gown; off-the-shoulder lace and tule ball gown with corset bodice, 3D floral embroidery and sparkling box pleat skirt.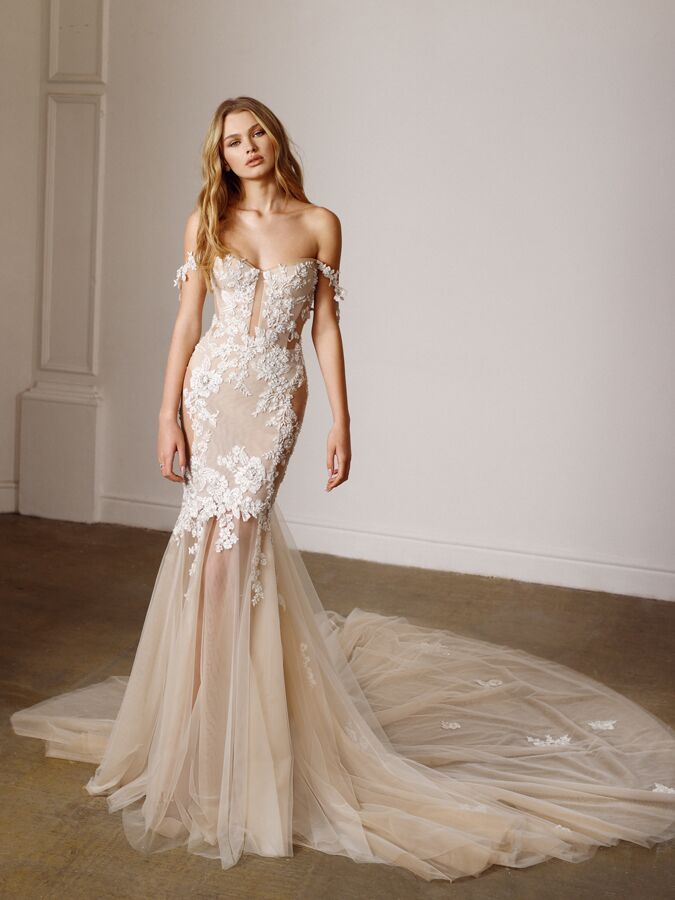 "Magia" Gown; two-toned silk tulle trumpet wedding dress with hand-embroidered floral appliqués and fitted sweetheart bodice with off-the-shoulder straps.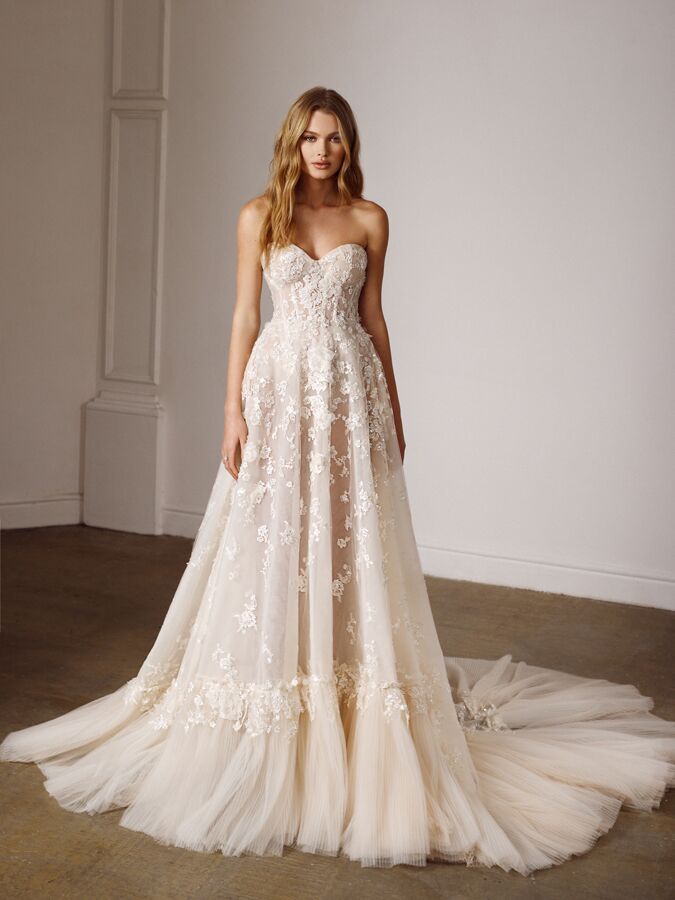 "Mimosa" Gown; strapless ball gown with 3D lace, floral embroidery, corset bodice and pleated tulle hem.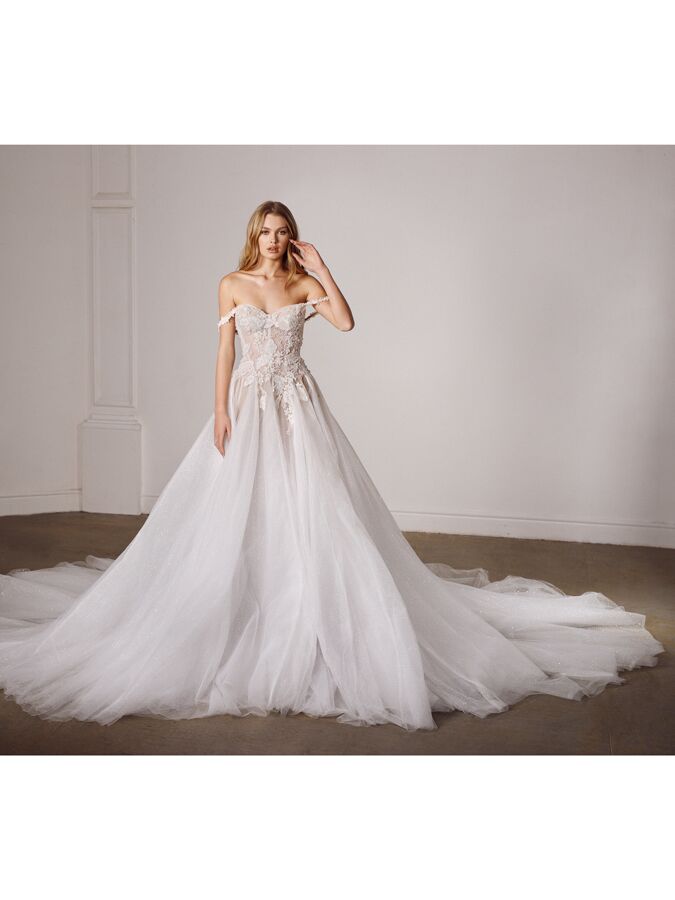 "Casey" Gown; pale pink and white hand-embroidered ball gown with sweetheart neckline, off-the-shoulder straps and sparkling godet skirt.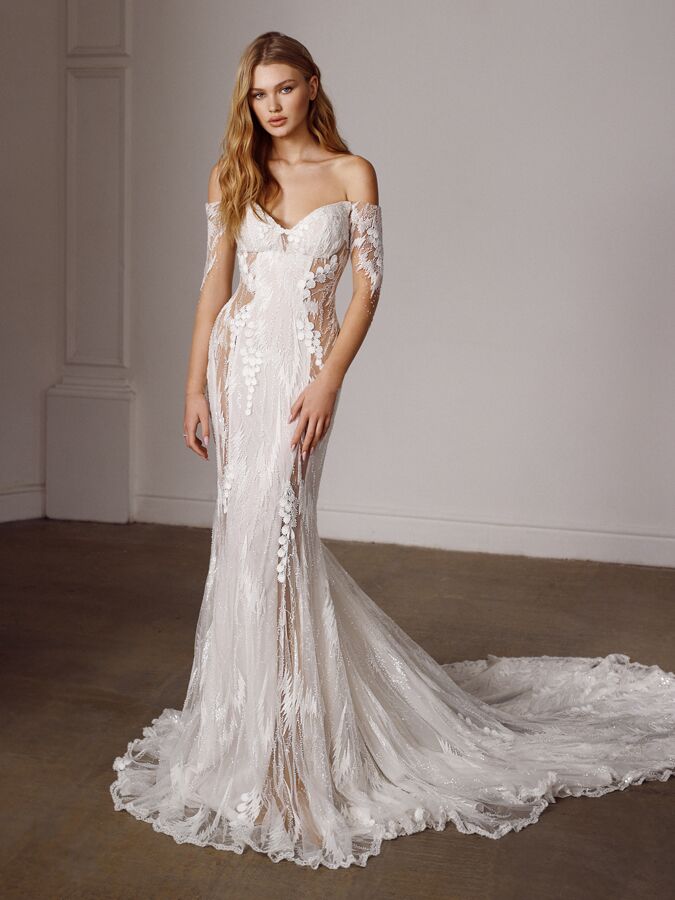 "Jules" Gown; fit-and-flare wedding dress with sheer side panels and detachable sheer glove sleeves.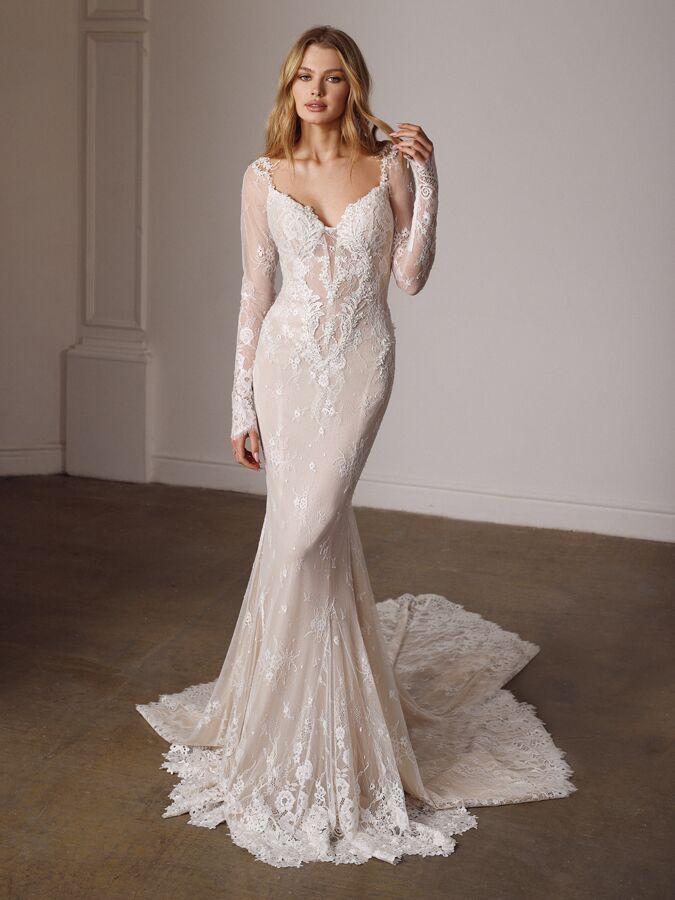 "Rania" Gown; French lace and silk tulle fitted wedding dress with sweetheart neckline, detachable long sleeves and low open back.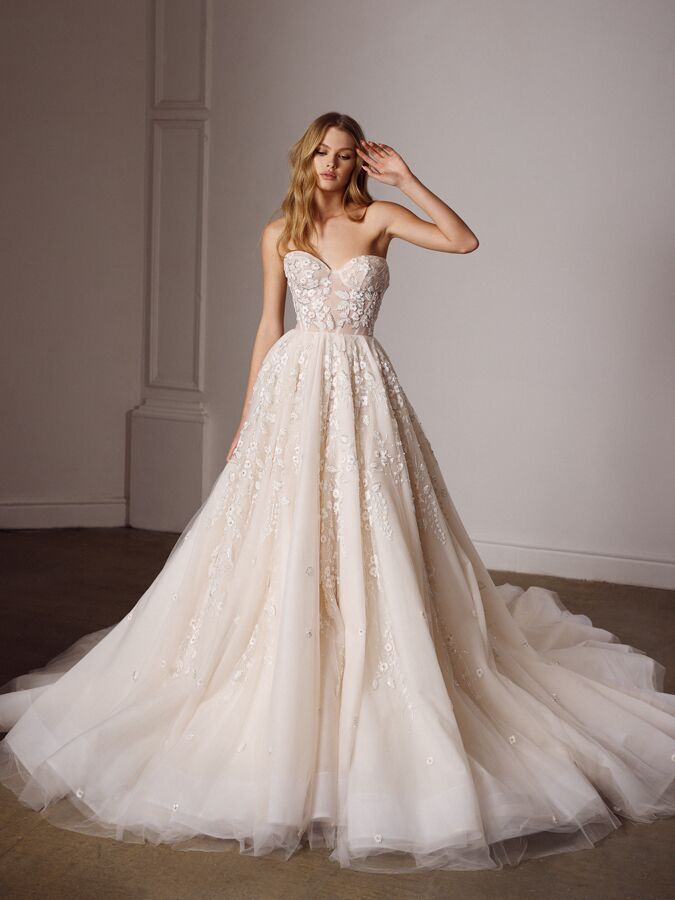 "Hunter" Gown; strapless silk tulle ball gown with sweetheart neckline, horsehair trim skirt, sheer corset bodice and floral
"Lady G" Gown; satin ball gown with detachable puff sleeves and peplum corset top.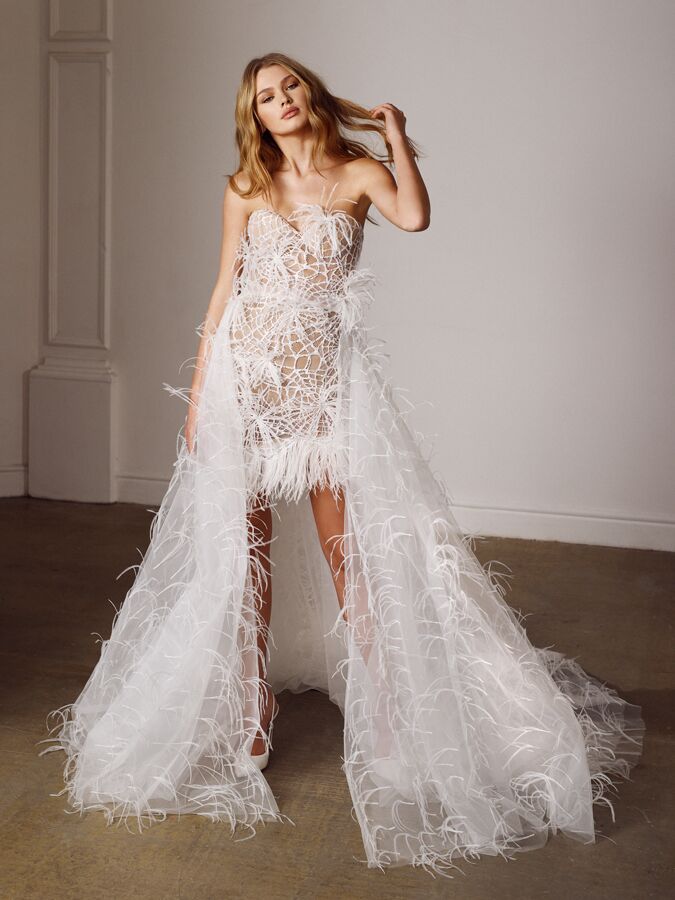 "Bebe" Mini Dress with Overskirt; corseted strapless mini dress with beaded netting lace and feathers with detachable sheer tulle overksirt that's sprinkled with feathers.
Designer Galia Lahav Signature Style
Often defined as lavish, sensual, and luxurious, brides don't wear Galia Lahav wedding dresses to go unnoticed. The impeccably designed gowns often feature curve-hugging silhouettes, dramatic open backs, plunging necklines, elaborate embellishments, and cascading trains, for an unmistakably glamorous look. Each couture creation is intended to make a daring statement, while also highlighting the natural beauty of the bride.
A Brief History of Wedding Dress Designer Galia Lahav
Galia Lahav's fashion career began in 1984 when she left the education field to embark on her dreams of design. She started the Galia Lahav House of Couture by creating bridal and evening wear collections that went on to gain her international recognition. Galia Lahav bridal is credited as one of the first designers to create wedding dresses with a distinctly sensual appeal. She was unafraid to experiment with strategically placed cutout panels and sheer fabric appealing to the sexy yet discerning bride.
Today, Galia Lahav 2022 collections are available at 70 luxury retailers in 40 countries, with flagship stores located in Tel Aviv, Los Angeles, New York, and Hamburg. She runs the company alongside designer, Sharon Sever, and company CEO, Idan Lahav, her son.
Other Galia Lahav Labels
Galia Lahav wedding gowns are designed under two distinct labels within the Tel Aviv fashion house. Along with their custom-made bridal couture line priced from $7,000 to $20,000, the brand also designs under their GALA by Galia Lahav label, which was launched in 2016. GALA by Galia Lahav operates as a made-to-order contemporary line and brings the brand's lavish aesthetic to a more accessible price point of $4,000 to $7,000. In addition to Galia Lahav bridal gowns, the designer also produces luxury evening wear collections, which have become a favorite among celebrity clients.
Galia Lahav Collection History
Over the past 30 years, Galia Lahav wedding dresses have made major waves in bridal fashion with designs that draw the attention of glamorous, fashion-forward women across the world. One of the brand's most popular dresses to date, the 'Bella,' features a long sleeve design with a plunging neckline and shimmering embroidery—representing Galia Lahav's daring signature style. The 'Bellina' dress, another wildly popular design, takes a more romantic approach with flowing blush pink silk tulle and swooping off-the-shoulder sleeves with a modern-day Cinderella aesthetic.
Whether they lean more sensual, romantic, or somewhere in between, fans of the Israeli designer are anxiously awaiting to see what Galia Lahav wedding dresses 2022 have in store.
Famous Galia Lahav Brides
Beyoncé famously wore the 'Thelma' dress from Galia Lahav's Victorian Affinity collection for her 2018 vow renewal ceremony with Jay-Z. The dress featured off-the-shoulder sleeves, Swarovski crystal and pearl embellishments, and a fishtail skirt for a curve-hugging effect. Inspired by Queen Victoria's wedding dress, the Thelma design was a fitting selection for the always stylish Queen Bey.
With designs well-suited for the most glamorous occasions, Galia Lahav evening wear dresses have been spotted on celebrities ncluding Gal Gadot, Emma Stone, Jennifer Lopez, Lucy Liu, Chrissy Teigen, and Katy Perry.
Fun Facts About Galia Lahav
In 2017, Fédération Française de la Haute Couture invited Galia Lahav to participate in Paris Couture Fashion Week, making her the first Israeli fashion designer to present at the career-defining event.
Galia Lahav Previous Wedding Dress Collections
Galia Lahav's Fall 2021 "Dancing Queen" Wedding Dress Collection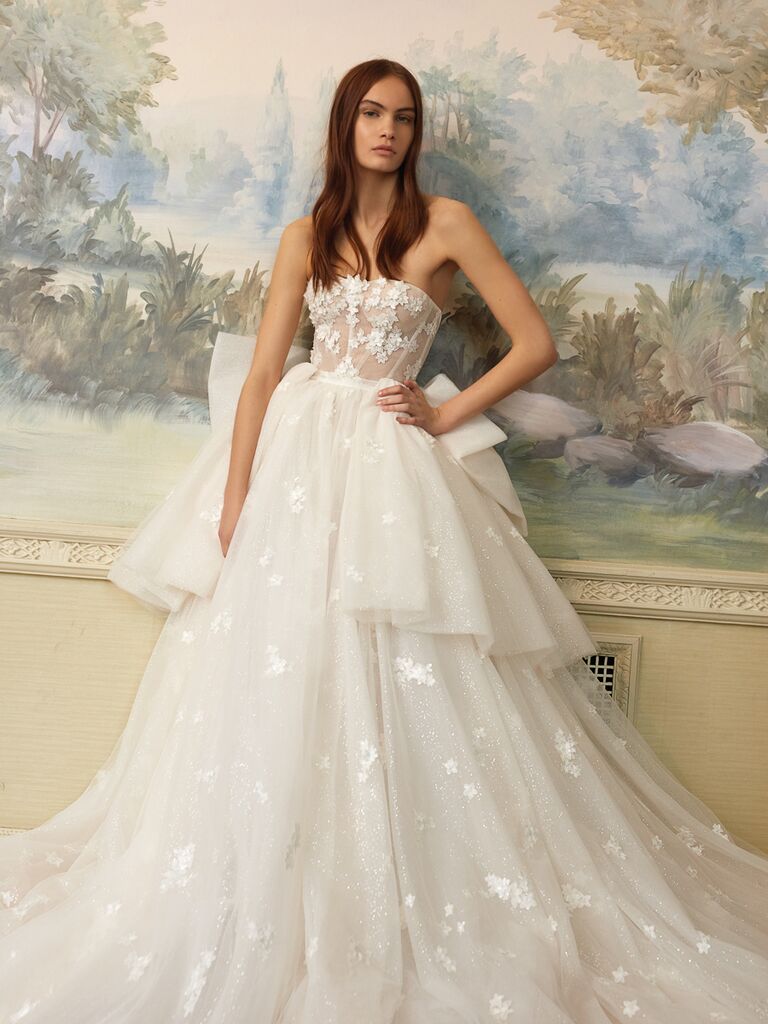 "Ballerina" strapless two piece ball gown with sheer corset bodice, flower appliques and bow at the back. The voluminous floor-length tulle skirt can be taken off to reveal a mini dress with tulle half-skirt.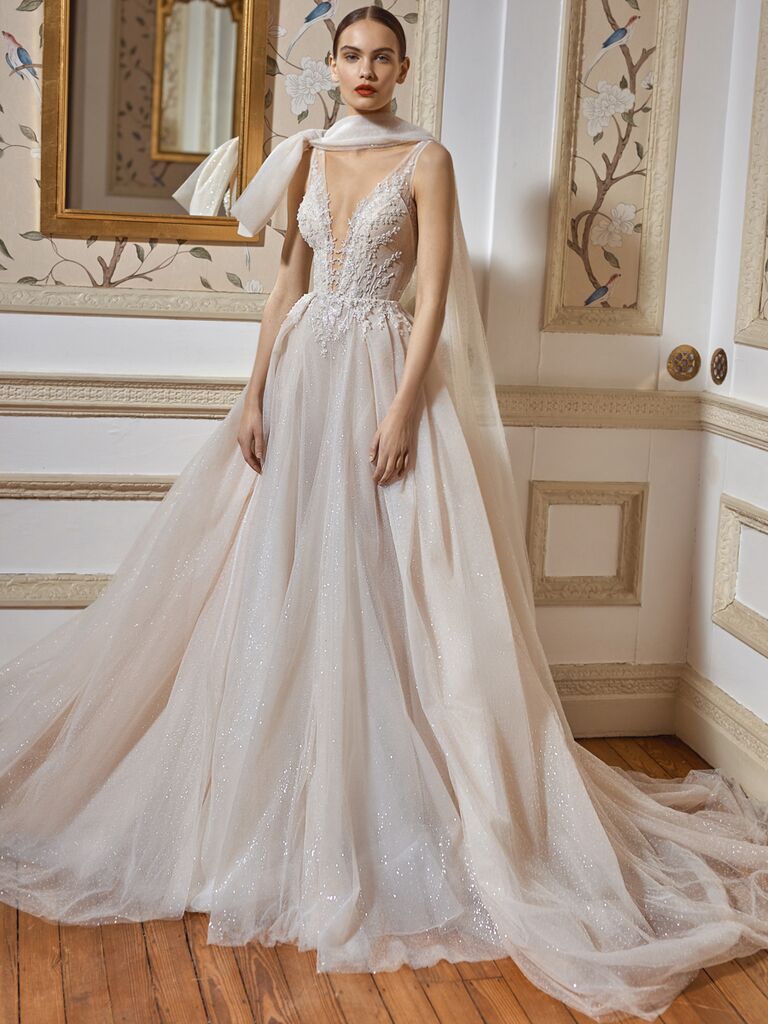 "Celeste" A-line tulle gown with embroidered glass beads and an oversized tailored bow that fastens to the side strap.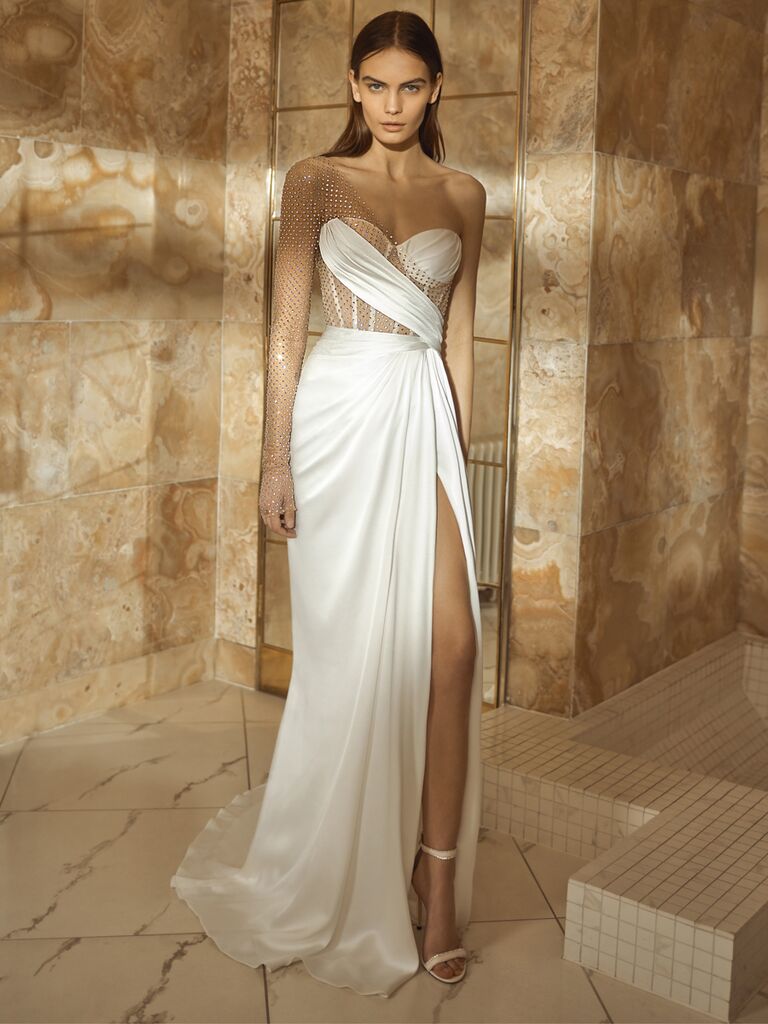 "Lais" Swarovski crystal one-sleeve silk sheath dress with embellished corset top and draped crepe skirt.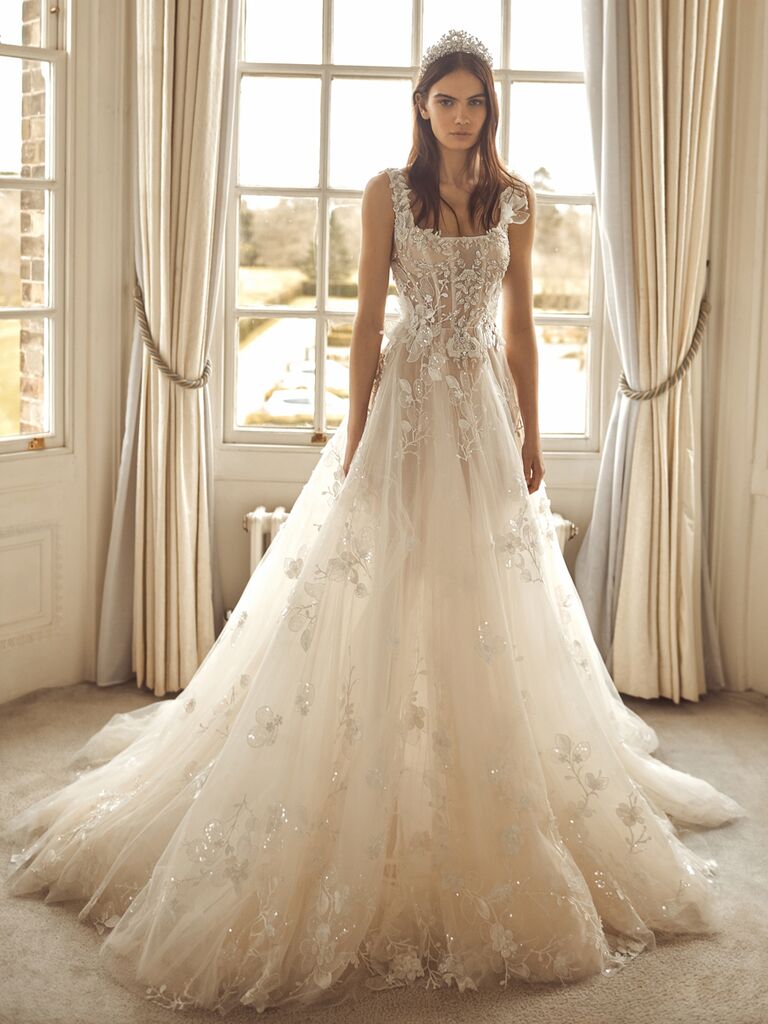 "Sabrina" blush and ivory A-line dress with sheer square neckline corset, 3D flowers and silver crystal embroidery.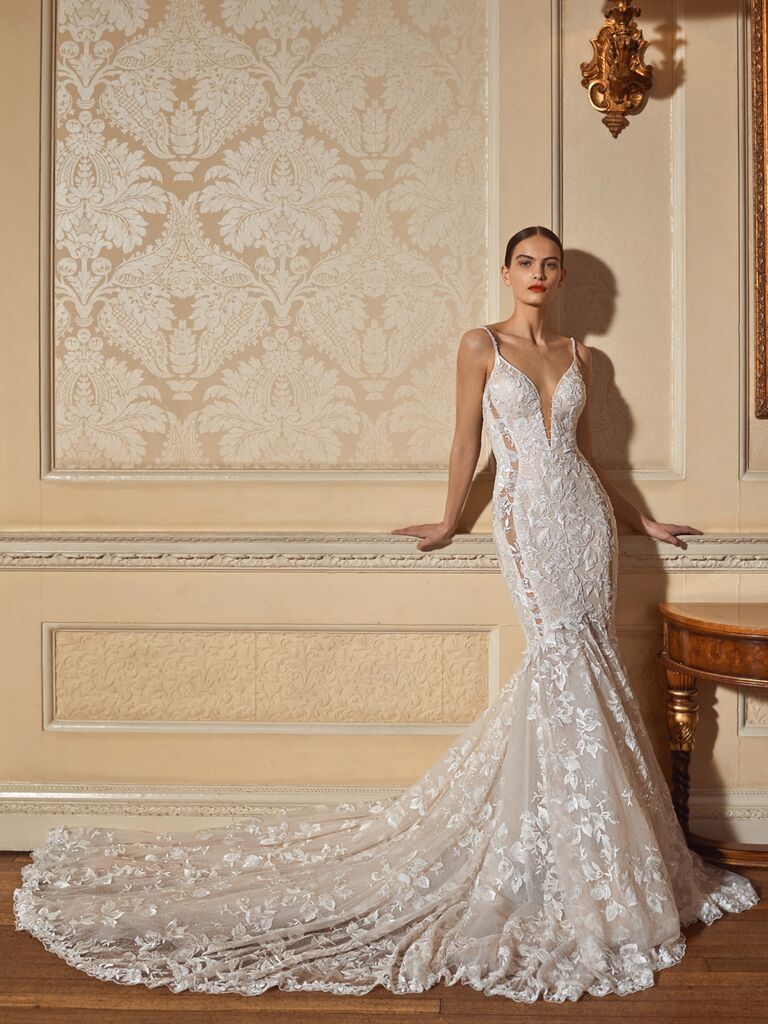 "Carla" embroidered fitted trumpet dress with plunging neckline, low back and sheer paneling.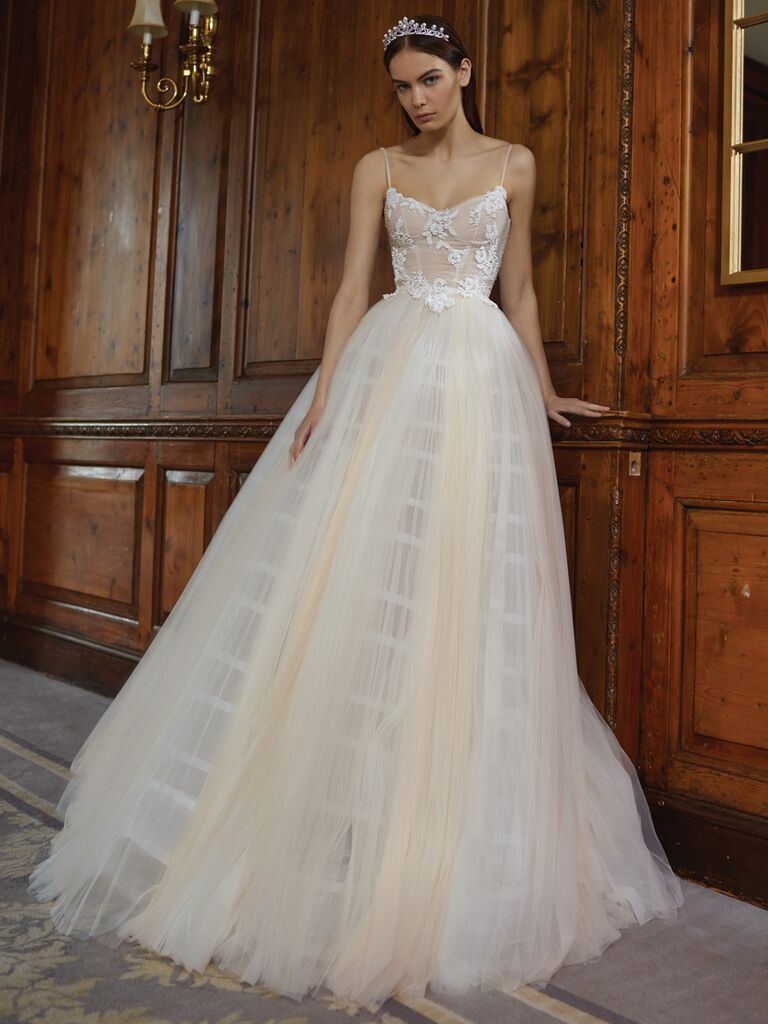 "Cherie" scoop-neck ball gown with petal embroidered corset bodice and two-toned tulle tulip petticoat.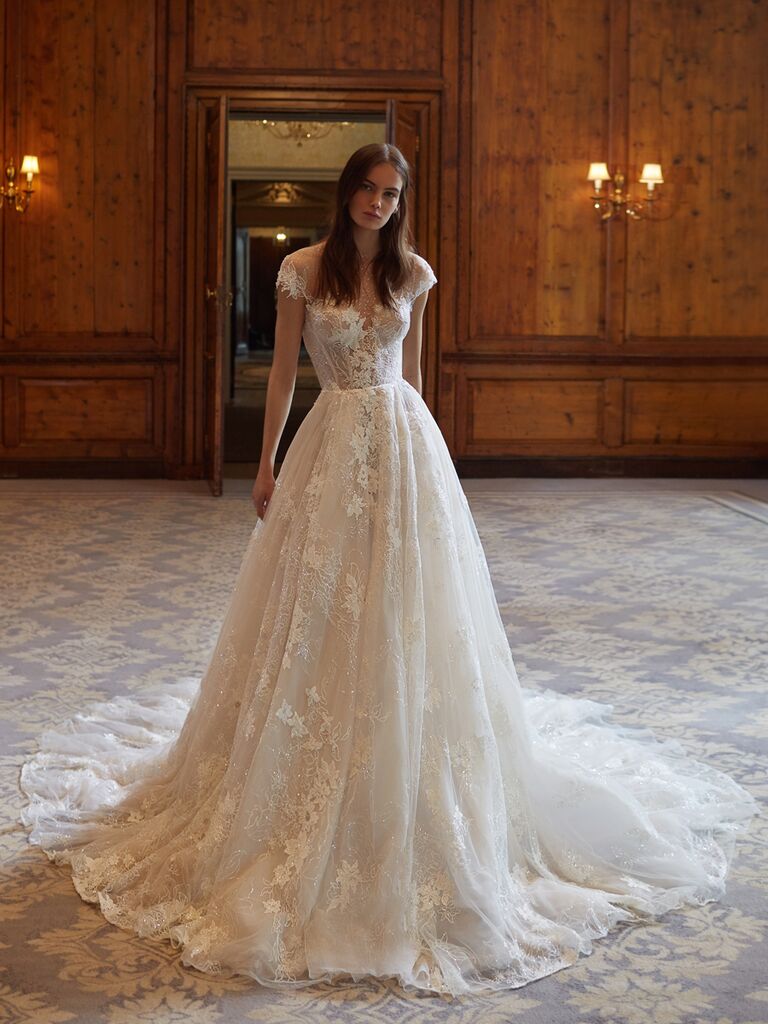 "Dorianne" beaded lace ball gown with illusion neckline, cap sleeves and keyhole open back.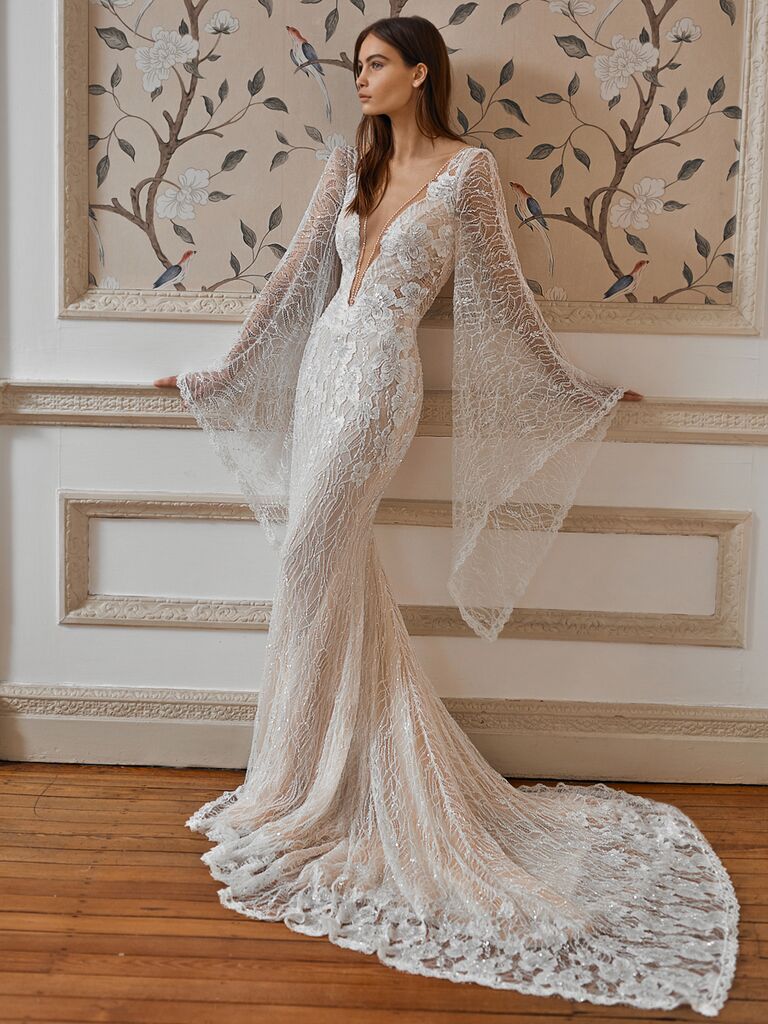 "Idilliya" blush beaded lace mermaid dress with dramatic wing sleeves and plunging neckline.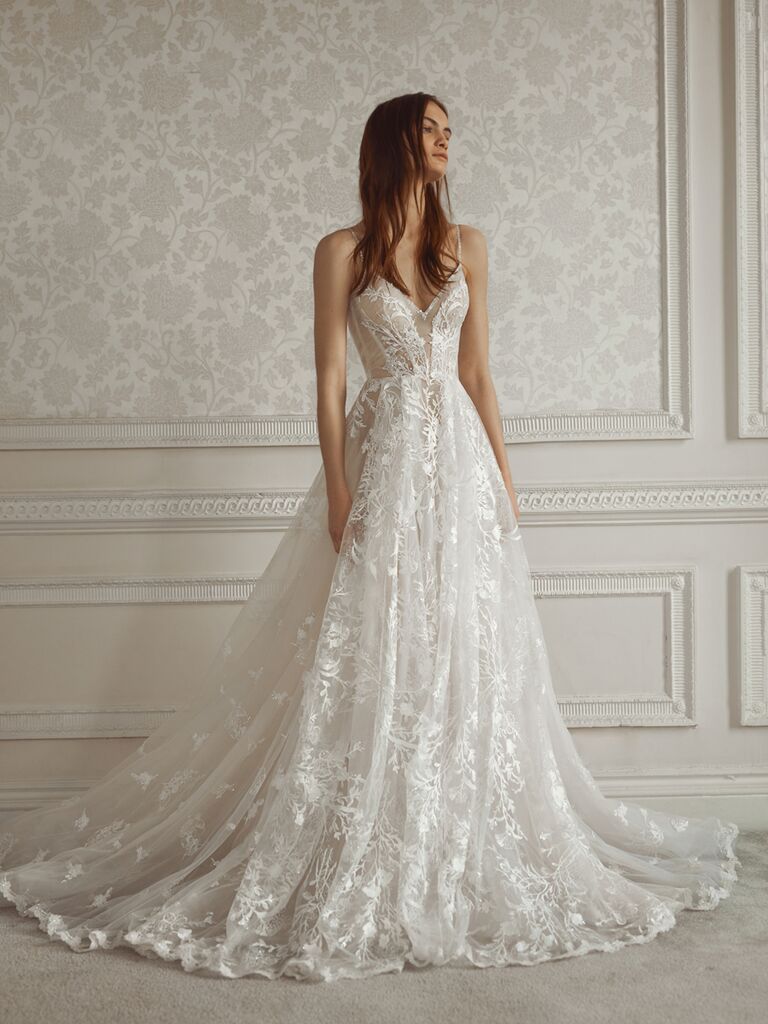 "Pavlova" silk tulle and lace A-line gown with sheer corset bodice and illusion neckline.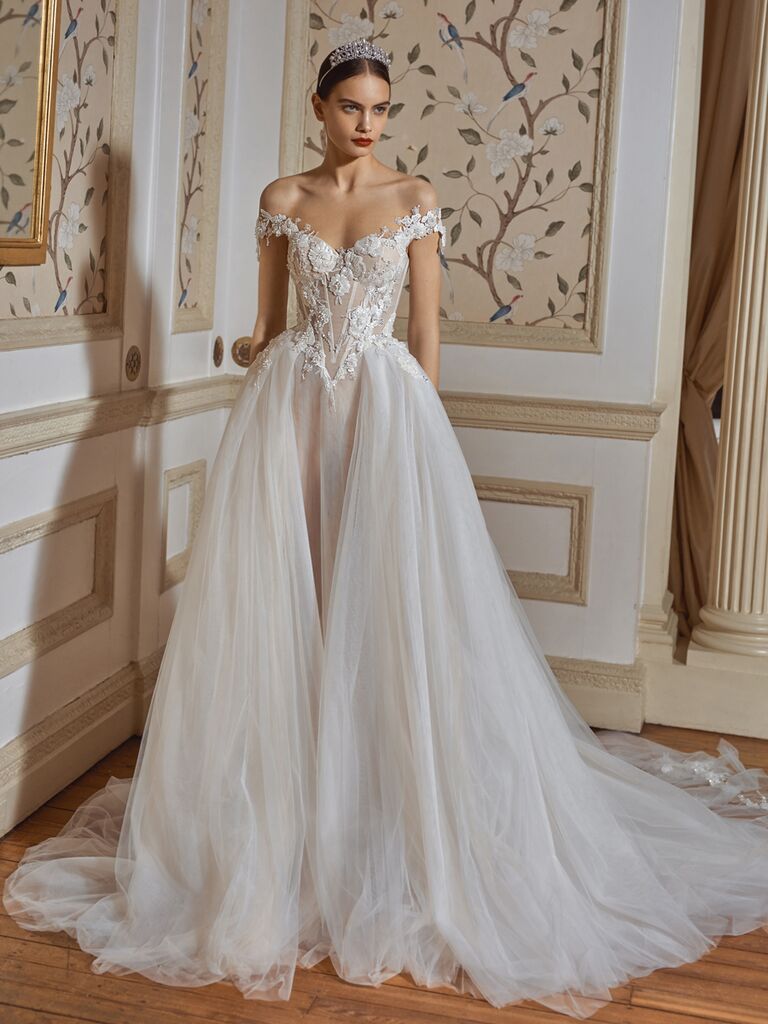 "Ria" silk tulle and satin A-line gown with sheer bateau neckline, corset bodice and hand-beaded floral applieques.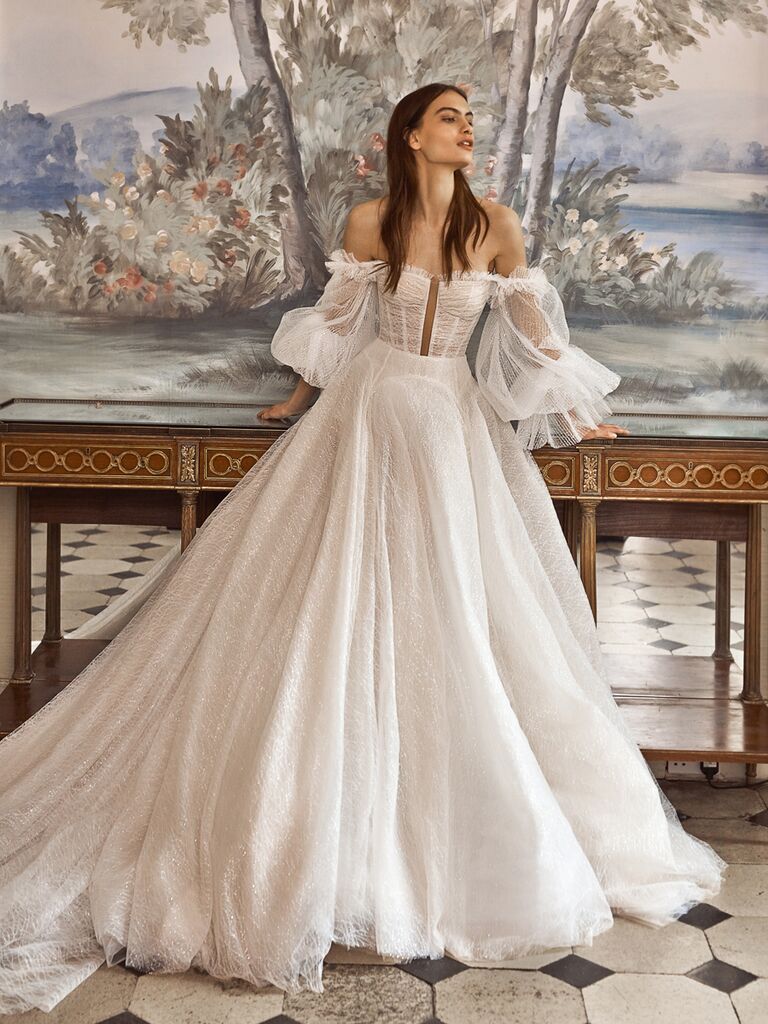 "Seraphina" sparkling tulle ball gown with pleated lantern sleeves and sheer-paneled corset.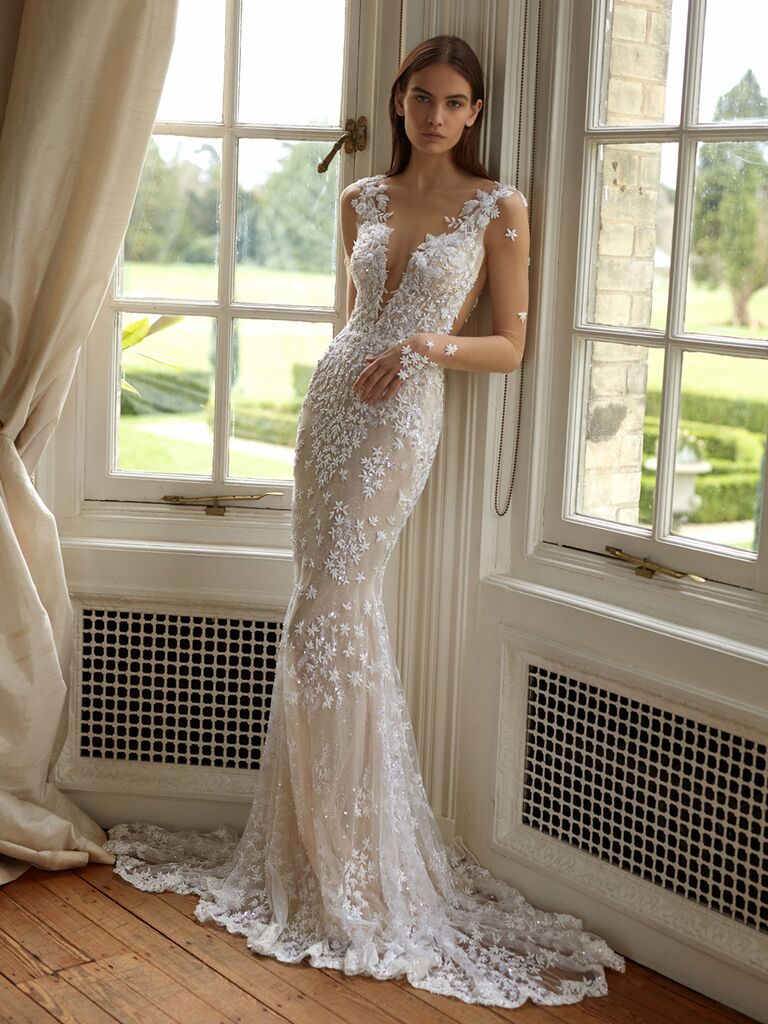 "Donatella" hand embroidered flower fitted gown with plunging neckline, illusion long sleeves and open back.
"Giovanna" celestial embroidered ball gown with pinwheel tulle skirt and strapless sheer corset.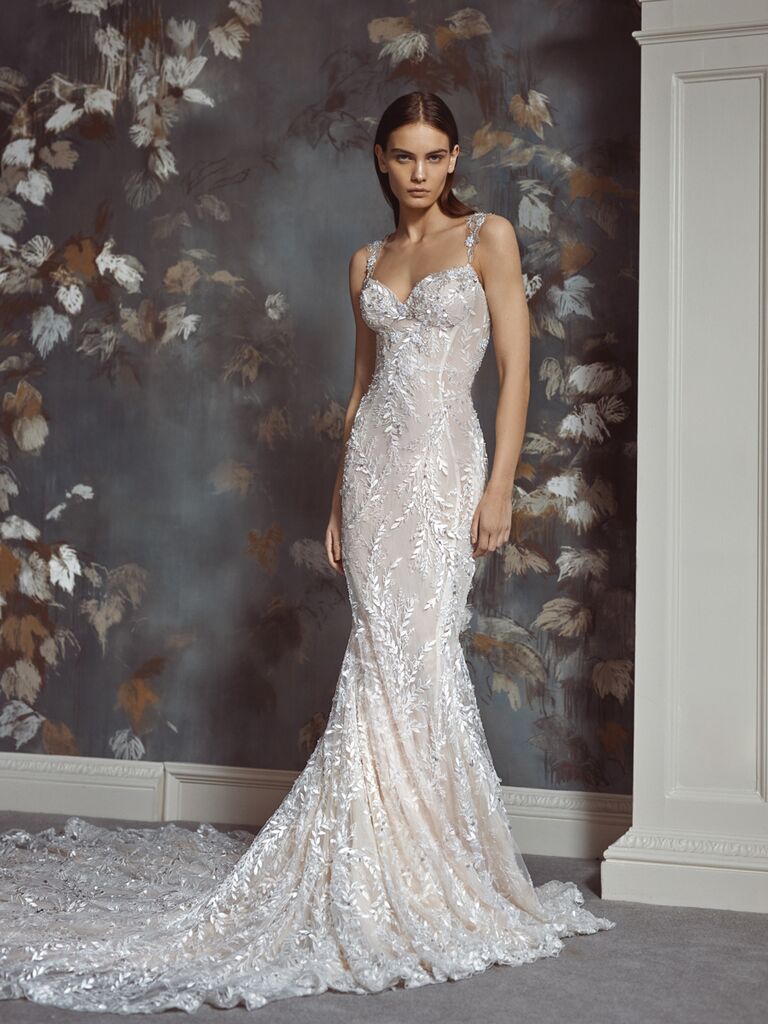 "Margot" embellished lace mermaid dress with sweetheart neckline and sheer low back.
To check out all the Bridal Fashion Week galleries, plus wedding dress advice and more, go to TheKnot.com/bridal-fashion-week.