The Important Steps You Can Take to Hire a Diverse Vendor Team
We want to help you find your dream team.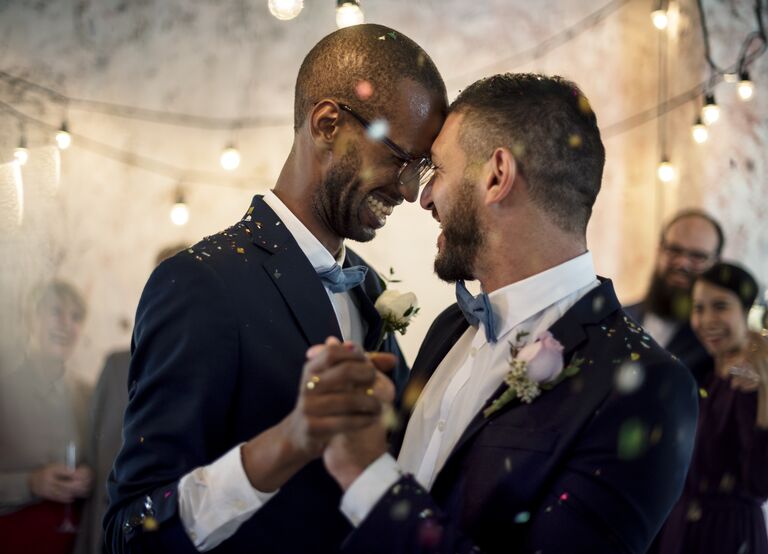 Shutterstock
As weddings are a moment to celebrate true love, the notion of allyship is an essential component of the narrative, especially if you identify as part of an underrepresented people group. What it means to be an ally lately has everything to do with intentionality and activism—even within the wedding space. As you and your partner look ahead to the most important day of your lives, allyship could be a meaningful and significant topic of importance to you. You'll likely want to surround yourself with wedding experts who understand and share your beliefs, through every step of your wedding checklist.
Here are the vital questions to ask and topics to consider as you hire pros who embrace what it means to be an ally.
Defining Allyship in the Wedding Industry
The allyship definition is the same when applied to wedding vendors. "I would say allyship is something that is outspoken," says Ashley Mason of full-service event planning firm Saunter Weddings. "[Being an ally] is not just a personal choice that you make. It's something that you show. It has an outward expression in some way. It doesn't mean everything you do should be [outwardly] advertised as it's not humble or true to self. There should be some representation that others can see [nevertheless,] if you consider yourself as an ally."
One important step for wedding pros to take, if they themselves identify within an underrepresented group, is to opt into The Knot Marketplace's new diversity filters. The options under "Support Diversity" include Asian-owned, Black-owned, Hispanic or LatinX-owned, LGBTQ+-owned, Native American-owned, veteran-owned and women-owned filters. "In your business, it should be reflected in what you've posted, in what you speak," Mason explains of allyship. "It's also showcased through the clients you represent and work with, [along with] your social professional circles. In all those different ways, it should be referenced in there too."
How to Find Vendors Who Represent You
If allyship is important to you and your partner in the planning process, Mason encourages researching on your ends. She specifically points to groups like the Ethos West Collective, which is comprised of talented Black-owned creators in the wedding industry. "They launched it because many [couples and pros] were saying they didn't know where to find Black vendors. 'We're here!'" says Mason. "This collective was created for vendors across the US and international destinations. There's a great standard of excellence."
The seven new filters launched by The Knot were created to address this exact concern and to help couples source experts who specifically specialize in cultural weddings or represent a certain people group. The categories again include Asian-owned, Black-owned, LatinX and Hispanic-owned, LGBTQ+-owned, Native American-owned, women-owned and veteran-owned businesses. Vendors who identify themselves under each filter will have opted in, thereby making a distinction for couples to progress one step closer to sourcing pros who are allies.
Questions to Ask Yourselves
If allyship is of utmost importance to you, the couple, then approaching the planning and interview process with vendors is a pivotal time to help pave the foundation for allyship during your engagement.
Am I represented here?
Couples should first look to pros to see if they're represented in their body of work. "Look at their online portfolio. Oftentimes in our industry, our most recent work is on our social media pages," says Mason. "Look at their socials. Do you see yourself represented there or the people groups that you value represented there?"
What has this pro said on social media?
"People have been posting about their allyship," explains Mason. "When you look at that, then you can use it to hold them accountable." An example of a conversation to have, as an extension of social media, could be related to preferred vendor lists as presented by the pro. "If and when they give you a list of preferred vendors and it only represents one people group, one face, then you can say, 'I saw on your socials you posted about these different movements and I'm curious about why I don't see it in the vendors that you're supporting? If you are an ally, do you have additional options that represent your values?'" encourages Mason.
What does this pro's website look like?
The next place to look is the pro's website. An extension of what the pro has posted on social media, the website is a place where the vendor's most valued work is showcased. "When a couple comes to me and sees my portfolio, they're able to see a representation of a rainbow. I try to be intentional about that," explains Mason. As of late, more and more couples have sought Mason in support of Black vendors.
Who are the other pros this vendor aligns with?
Professional alignment is another place to unpack what it means to be an ally. "If you value diversity and inclusion, it has to show up in your circles," explains Mason. "I'm saying who are the people [vendors] call on first when you work a wedding? Look at the list and check for representation there."
"It takes intentionality to start opening up the door for our relationships and exploring that," muses Mason. "Finding people we identify with… that's important in every way… And, it's just as important for everyone involved to support businesses, full circle."
Questions to Ask Your Vendors Before Hiring Them for Your Wedding
As it's your wedding, allyship-minded couples should feel comfortable discussing a range of topics with their vendors to further represent their interests. Mason encourages to-be-weds to review vendors' portfolios and social media accounts and to take a critical look at preferred vendor lists if challenging norms is necessary among your values. "You have the hiring power especially in this season," she elaborates. "The need is there and you have an advantage in that way, considering all that [the last year] has brought up."
Why is it important for us to select off this preferred vendor list, and do you have more diversity?
"If you have hiring power, it's important to look to a setting that has inclusion. That's something that really truly shows your allyship," explains Mason. As the vendor why it's important to adhere to this particular list, whether it's pertaining to a style of work or relationship dynamics.
If you're looking for a more diverse range of vendors, go forth and have that discussion with said venue, planner or vendor. "Looking at preferred vendor lists that your designer gives you or your venue gives you, [review it]," says Mason. "Do you see it only representing one group? If that's so, don't be afraid to ask for diverse options."
Unpacking it through open and honest communication can help you, the client, and the business attracts new talent into the portfolio as well.
Finally, be comfortable asking for more diverse options among preferred vendors. "Don't be afraid to tell your planner about the groups you value, the people you want to work with: Ask, 'Can you give me more diverse options?'" adds Mason. "This is the perfect season to do that because everyone is posting their allyship. Many are posting their allyship. See it represented in the preferred vendor list and the people this [pro] works with. You have the hiring power as the client. Who you work with is up to you. Don't be afraid to ask that question if you don't see yourself or the people groups you value represented."
I've noticed you've been silent about this issue online. Would you share your stance with me here?
Among the most challenging of scenarios as it relates to what it means to be an ally is having tough conversations where necessary. "Now if you go to a venue and it's been silent with all that's been going on? It's a sensitive conversation, no matter what, but it needs to be approached especially if you value diversity and inclusion," she continues. "Don't be afraid to set up that meeting and have that conversation."
How to approach it in a way that isn't accusatory is by being aware of circumstances and leading with observation: "'I've noticed [this] and I don't know if you've noticed it,'" says Mason. "Sometimes these lists have been established a year or two years before. Bring it to their attention and then ask the questions. 'Can we shift this? We don't see it represented here and we'd like to shift that.'"
Is it possible to review more of your work outside of what's featured online?
Some vendors participate in hundreds of events each year alone, making it challenging for these pros to dwindle down the sheer breadth of work into one concise portfolio. In such cases, couples are encouraged to return to their vendor to request additional work that may or may not have been showcased online.
Also, look to reviews on The Knot Marketplace for other couples' experiences. It's a great place to review not only the events pro has participated in, but also to see how the planning journey went from other couples across the board.