All the Details About Joe Jonas and Sophie Turner's Two Weddings
The couple had two weddings in 2019.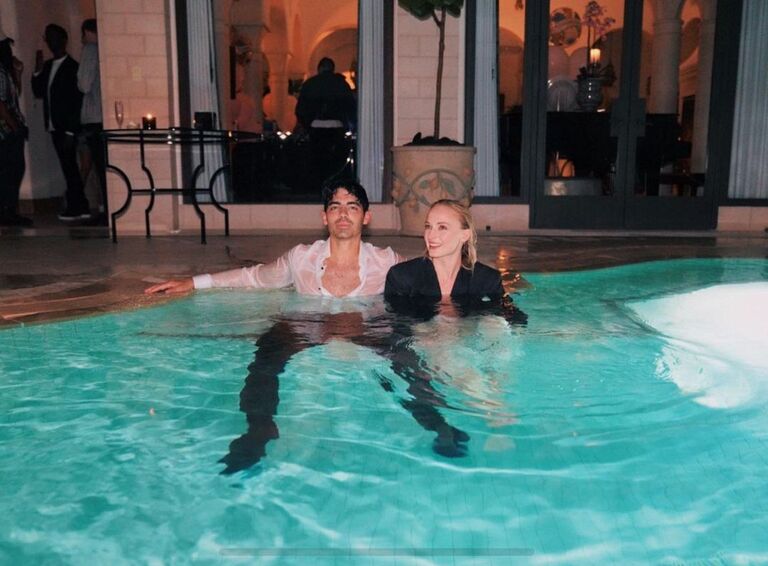 Sophie Turner / Instagram
We have included third party products to help you navigate and enjoy life's biggest moments. Purchases made through links on this page may earn us a commission.
Joe Jonas and Sophie Turner are one of the best-known celebrity couples to have hosted a sequel wedding. The Game of Thrones actress and the musician first memorably eloped in May 2019, followed by a larger and much more lavish destination wedding in France, held weeks later on June 29.
For legal purposes while in Vegas for the Billboard Music Awards, the couple decided it was a worthy time to make their marital status official. Together, they exchanged vows at A Little White Wedding Chapel and picked up a Clark County marriage license. The event was supposed to remain furtive as far as elopements go. However, one particular celeb attendee (DJ Diplo) foiled the proceedings by documenting the entire wedding on social media.
Nevertheless, the couple still remains fond of their Vegas wedding, the first of two ceremonies they would celebrate in 2019. In honor of their two-year wedding anniversary, Turner and Jonas have shared never-before-seen wedding photos from that wild night out in Sin City, along with their more formal wedding in France. Here's everything to know about Joe Jonas and Sophie Turner's wedding and marriage.
In This Article:
Joe Jonas and Sophie Turner's Vegas Wedding
Thankfully, the celeb couple was surrounded by key talent on their wedding day. Jonas and Turner had country superstar duo Dan + Shay perform an acoustic version of their beloved wedding song "Speechless" for the ceremony. The bride also turned to her future sister-in-law Priyanka Chopra to serve as her maid of honor for the Vegas elopement, while the brothers were also witnesses to the entire event.
Perhaps, the aspect of their entire surprise wedding that was the most "Vegas" of all was securing their vows before an Elvis impersonator, who officiated the ceremony. With so many antics across the board, Diplo couldn't resist sharing behind-the-scenes clips from the fun-filled atmosphere of Joe Jonas and Sophie Turner's unexpected wedding plans.
Following the trip, Chopra also ended up revealing more details to Access. "Joe had this idea that he wanted to do this [after the BBMAs]," she said. "He had these little black cards that we all got and we were randomly inviting our friends, like, people that we met. We were like, 'OK, we're going to the chapel right from here, please arrive.'"
As a result, their guest list ended up being a hodgepodge of some of music's biggest names. "It was awesome," Chopra said. "We were driving around in this pink Hummer limo and I was outside the window. It was epic. It was a Joe-phie kind of night."
Nick and Kevin Jonas, as well as other celeb names, attended the events, but the bride and groom alerted other close loved ones about the spur-of-the-moment decision. "Sophie did call me before," her mother, Sally, told the Daily Mail after the news broke. "She said, 'Mum, I'm getting married in Vegas.' …I am absolutely delighted and so is my husband, Andrew."
Joe Jonas and Sophie Turner's Destination Wedding
Months after that memorable night, the couple made their way over to France to kick off their lavish destination wedding week. Starting in Paris, the pair welcomed their friends and family members to the City of Love to enjoy sightseeing while day drinking. Days later, the spouses exchanged vows on June 29, in a beautiful outdoor ceremony in the French countryside.
The venue of choice was a storied chateau, Le Château de Tourreau, that beautifully showcased the region's splendor and beauty. Sophie Turner wore a Louis Vuitton wedding dress, custom-designed by creative director Nicolas Ghesquière.
To commemorate their second wedding anniversary, Turner published a series of never-before-seen wedding photos on Instagram all shot by professional Corbin Gurkin. "I mean… f--k it, it's been 2 years," the actress wrote. Jonas added, "The best two years of my life."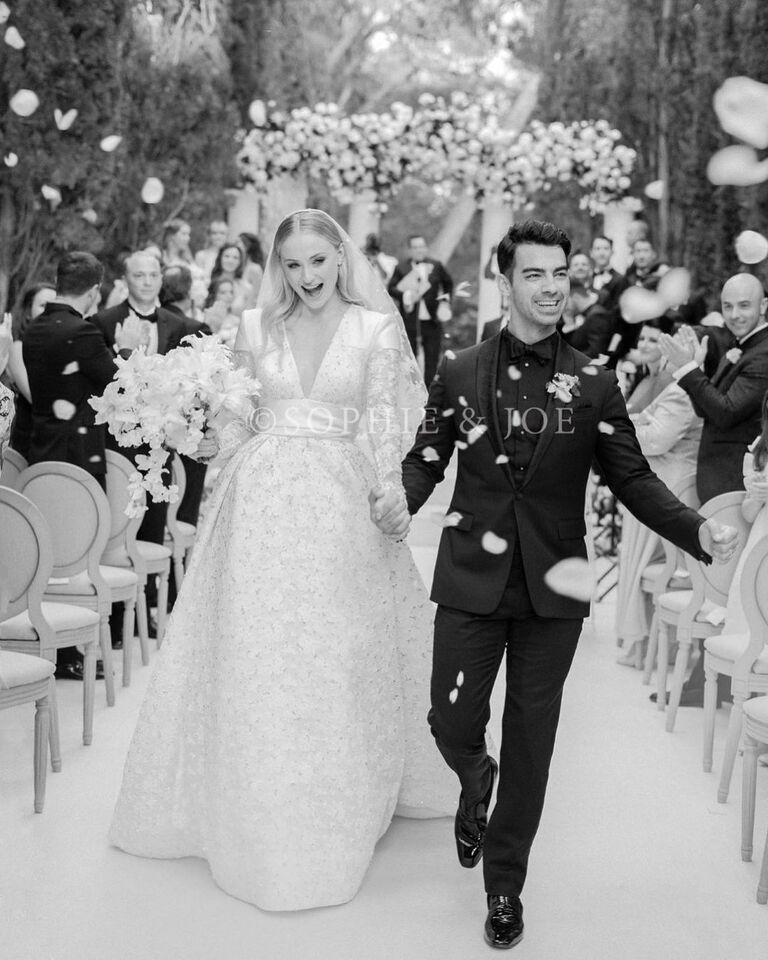 Jonas honored his American heritage (and his general love of beer) with custom labels from Coors Light, which he specifically called out as his one wedding non-negotiable leading up to the nuptials. It was so important to the groom that Coors Light ended up providing beer for the wedding, even helping the couple commemorate the occasion with custom labels. Along with printed images of the couple's faces, the brand also included call-outs to "Joe + Sophie 2019" on the label.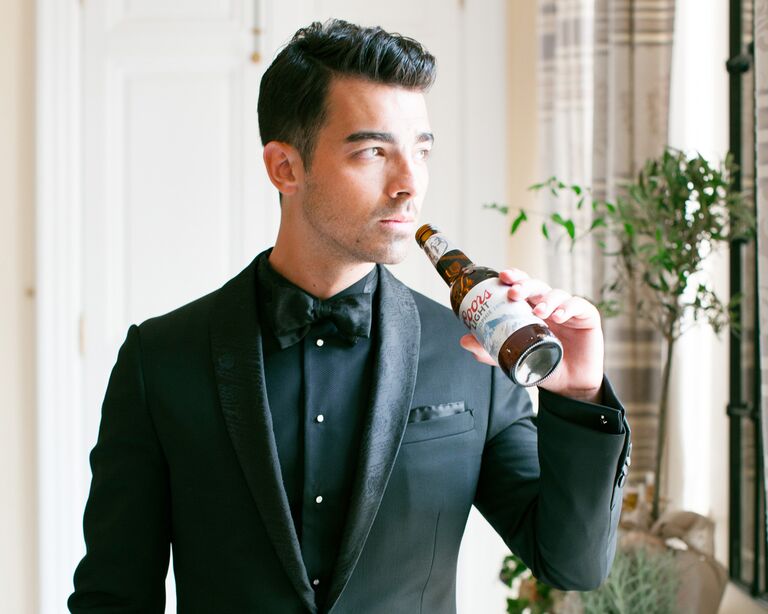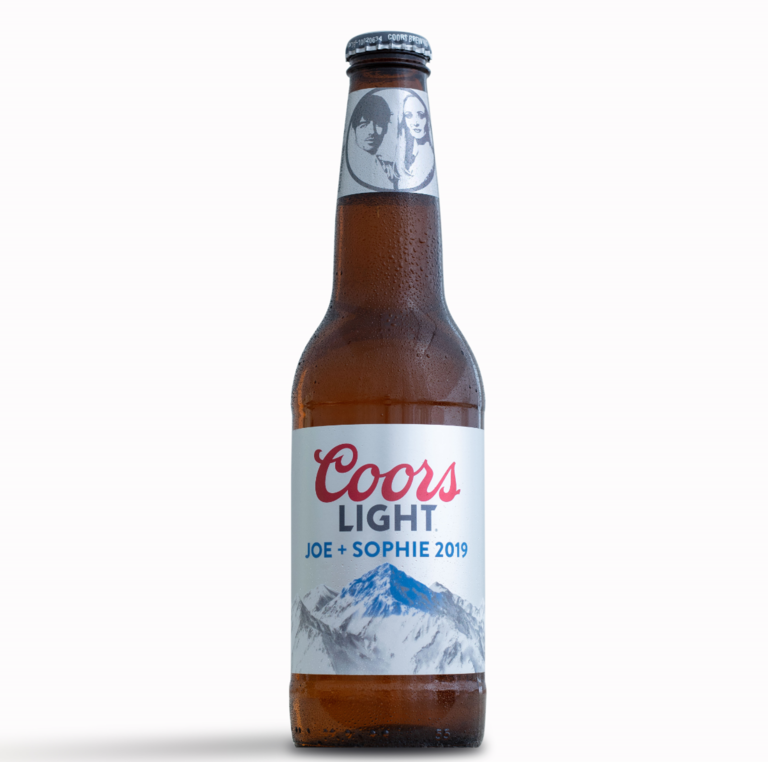 "I mean, we are getting married in France, so a lot of Coors Light is necessary," Jonas said to James Corden. "Not hard, really, to get that, but we needed to make sure that was going to happen." The pair was well-prepared for their wedding, considering Nick Jonas ended up running out of beer during his wedding to Priyanka Chopra. ("We learned a lesson from my wedding," Nick told Corden in the same interview. "Our friends drink a lot of beer, specifically, and we ran out of beer at the wedding, at my wedding, which was a big issue.")
Joe Jonas & Sophie Turner's Honeymoon
Weeks later, the newlyweds ended up in the Maldives for their honeymoon. The luxurious getaway included a stay at the Soneva Fushi, an all-inclusive resort comprised of oceanfront luxury villas amid a biosphere location.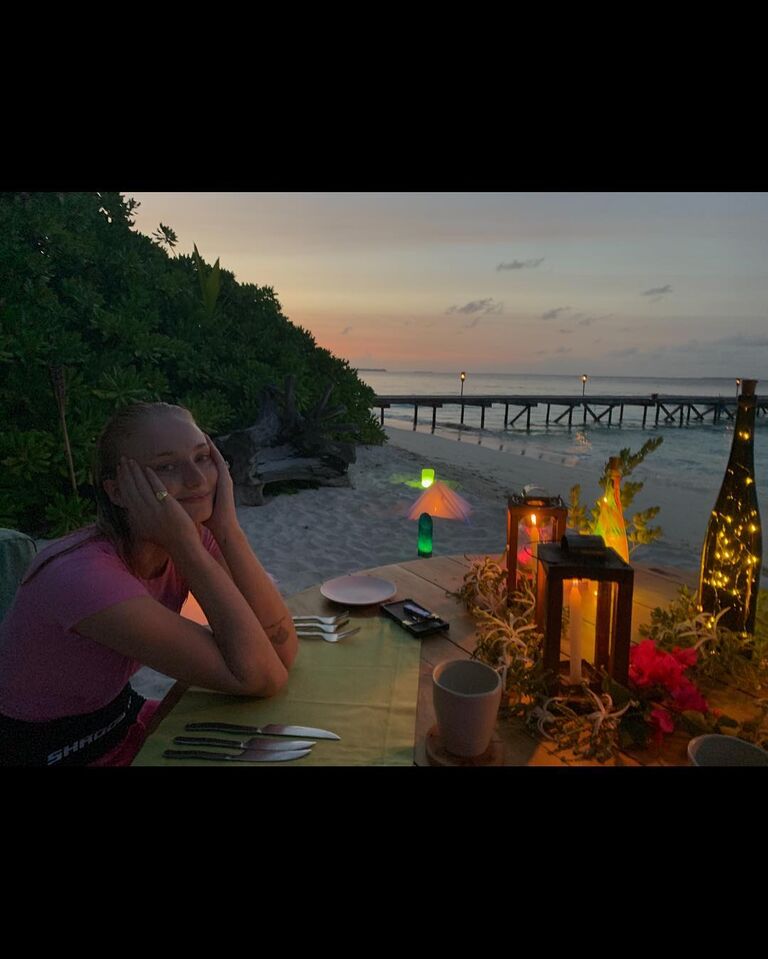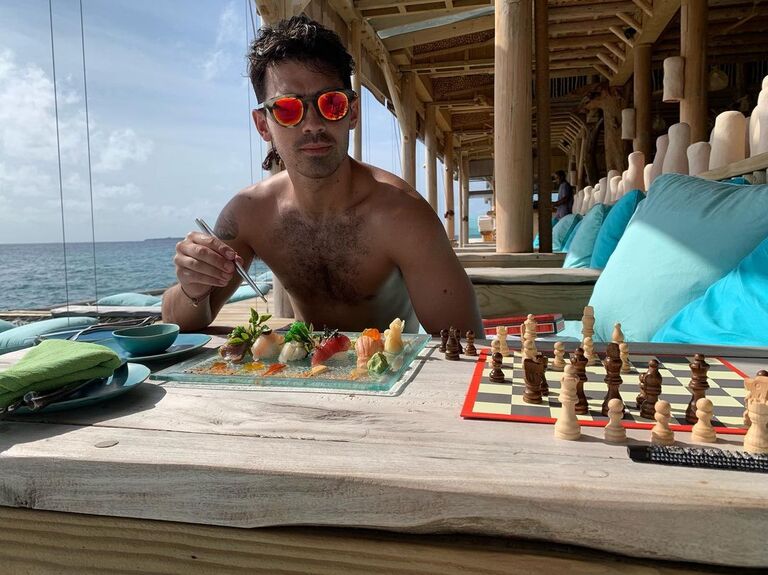 Why Joe Jonas and Sophie Had a Sequel Wedding
Since the wedding was in Europe, the pair still technically had to make their marriage legal in the US. The US Embassy & Consulates in France states that in order for a marriage to be legally recognized, "at least one of the parties to be married must have resided in France for at least forty days immediately preceding the marriage."
The pair didn't expect to live together in France for 40 days before the ceremony, so they had to take the nuptials elsewhere to make their marital status official. That location, of course, ended up being Vegas.
The couple likely had some guidance from their pro team, which Turner praised during the planning process. "Wedding planners are key," the actress told Extra. "That means you don't have to do anything." In total, they were among the first A-listers to throw a sequel wedding, which was defined by The Knot in 2019.
Joe and Sophie's Relationship & Marriage
The couple's love story started, interestingly enough, in a rather relatable way. Mutual friends had attempted to set the pair up together for a while, but the two were social media buddies first. "We were following each other on Instagram," Turner told Harper's Bazaar. "And he direct-messaged me one fine day, out of the blue."
Getting married was a very clear option for the couple, who quickly fell in love and knew they wanted to spend the rest of their lives together. "I was fully preparing myself to be single for the rest of my life," Turner told Rolling Stone in a separate interview. "I think once you've found the right person, you just know. I feel like I'm much older a soul than I am in age. I feel like I've lived enough life to know. I've met enough guys to know—I've met enough girls to know. I don't feel 22. I feel like 27, 28."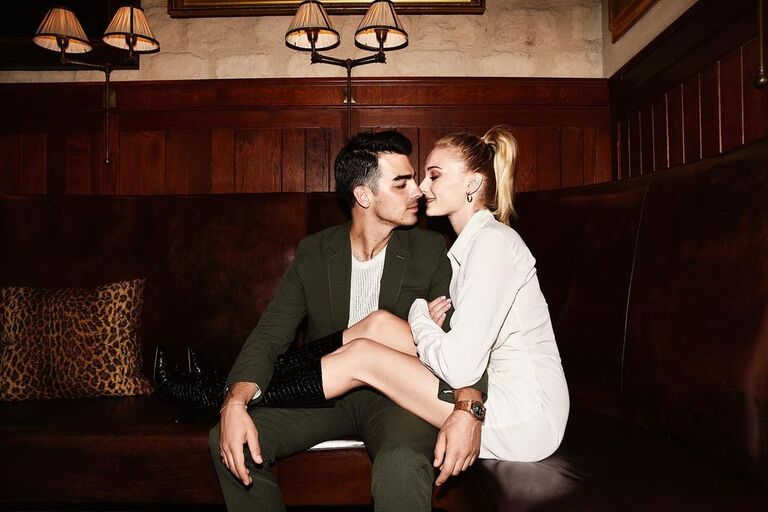 In July 2020, the couple welcomed their first child together, a baby girl named Willa. "With Joe, I always felt like I was the one who was punching, like, way above my league," Turner told Elle in an interview. "And I still feel like that. He's so handsome, talented, funny, charismatic. I'm really lucky to be with him and have someone like him want to be around me and spend time with me."
And now that the couple has experienced marriage, she's feeling hopeful about love and about what this next phase of their lives together can bring. "I feel like the only thing that's changed for me is having this incredible sense of security," she said. "Just the word 'husband' and the word 'wife'—it just solidifies the relationship. I love being married. I think it's wonderful. I'm sure we'll have our hiccups and our different things. But right now, it's like the security and the safety is everything."
Details About Sophie Turner's Wedding Ring
Jonas proposed to Turner in 2017 with a pear-shaped diamond set in gold and stacked elegantly against a dainty, matching eternity band of delicate tiny diamonds. The three-carat piece was initially valued at $150,000 minimum, given its large center stone.
"I love the double band," New York-based jeweler Bliss Lau previously said to The Knot. "To me, that symbolizes a balance that they will have in their relationship." To accentuate the piece's sparkle factor, Turner opted instead for a simple wedding band to offset the elaborate engagement ring. The band brings symmetry to the overall stacking of the engagement ring and band.
"The elongated pear diamond is spot on," Lau explained. "[It] matches her as a tall woman… and it fits her proportions. Additionally, the low-profile setting is great for her active lifestyle… A ring is meant to embody the wearer, and in this case, I think Joe did a great job."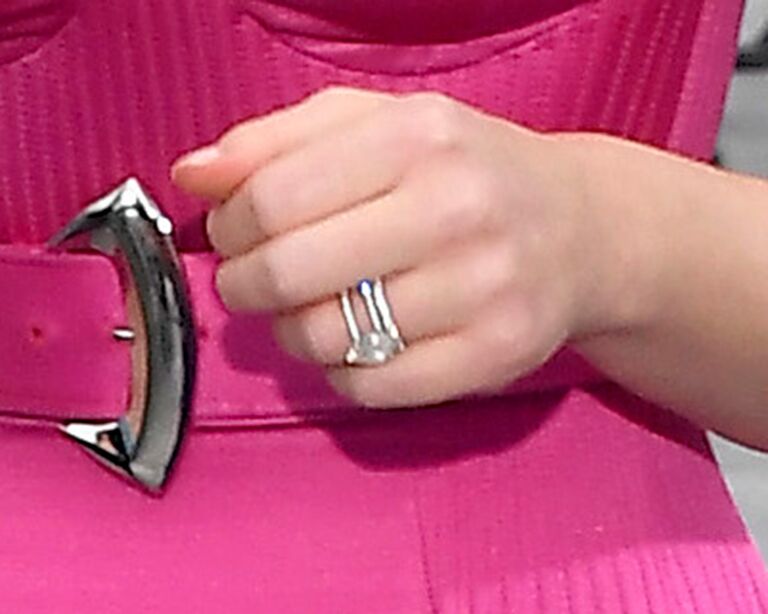 Details About Joe Jonas' Wedding Ring
After getting married in Vegas, Joe Jonas's wedding ring of choice was a simple ring pop. Since then, however, the couple has swapped out their ring pops for actual wedding rings. Jonas has since been spotted out and about with what appears to be a gold wedding ring.