10 Celebrities Who Got Married in Las Vegas
We can't get enough of these Sin City nuptials.
While we love the glitz and glamor of lavish celebrity weddings, there's something just as fascinating about a Las Vegas elopement. Over the years, we've watched plenty of A-listers tie the knot at picturesque international destinations and unique venues here in the US—but we also have a soft spot for those who've opted for a spontaneous Sin City vow swap too. Here, we look back on 10 of our all-time favorite celebrity Las Vegas weddings. From Ben and Jen to Joe and Sophie, these celebrity elopements featured Elvis impersonators, outfit changes, late-night pool parties, and so much more. And while not all of them were legally binding, these Vegas celebrity weddings were unforgettable. Relive our favorite moments below, and if you feel so inspired, use our expert-driven guide to plan your own celebrity-approved Las Vegas elopement.
Jennifer Lopez and Ben Affleck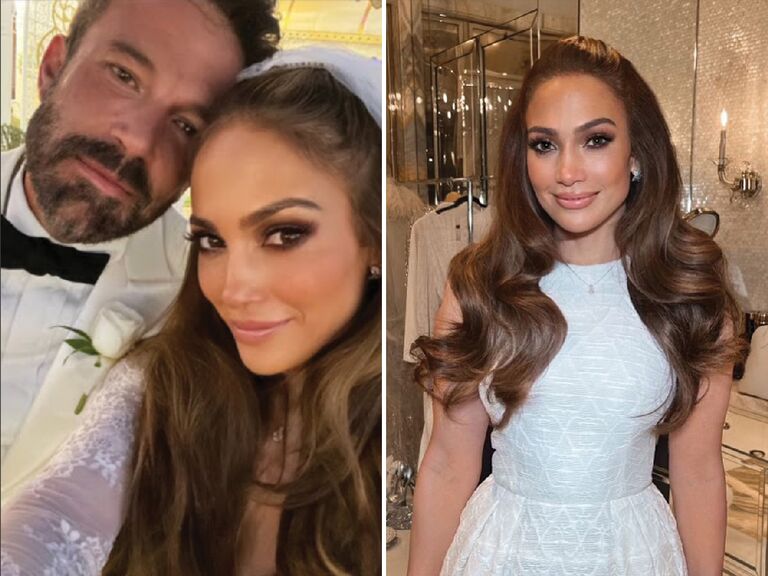 Where did Ben and Jennifer get married, you ask? They actually had two wedding ceremonies in 2022—and the first, of course, was in Las Vegas. The couple, who famously got engaged in 2002 and again twenty years later, opted for a simple vow ceremony at A Little White Wedding Chapel on Saturday, July 16. JLo opened up about the experience in her On the JLo newsletter, writing, "We barely made it to the little white wedding chapel by midnight. They graciously stayed open late a few minutes, let us take pictures in a pink Cadillac convertible, evidently once used by the king himself (but if we wanted Elvis himself to show, that cost extra and he was in bed)."
Bennifer waited for Elvis to make an appearance, and they swapped vows shortly after 12:30 am. Throughout the celebration, the bride wore two designer looks. The first dress, a vintage, sleeveless piece, was revealed in a post shared by celeb stylist Chris Appleton, who handled Lopez's wedding day glam. Attentive fans realized that the gown was actually a dress that Lopez wore in "an old movie." In the same post, the bride revealed the origins of her gown. "I've had this dress for so many years," she says in the video. "And I've just been saving it and saving it and saving it. And now, I'm wearing it to my wedding."
She later changed into a corseted lace dress from Zuhair Murad's 2023 bridal collection. Affleck opted to wear a white tuxedo jacket with black pants, a white shirt, and a black bow tie. The newlyweds were also joined by their kids to mark the special occasion. "They were right when they said, 'all you need is love'. We are so grateful to have that in abundance, a new wonderful family of five amazing children and a life that we have never had more reason to look forward to," Lopez continued in her newsletter. "Stick around long enough and maybe you'll find the best moment of your life in a drive through in Las Vegas at twelve thirty in the morning… with your kids and the one you'll spend forever with. Love is a great thing, maybe the best of things-and worth waiting for." She signed the post, "Mrs. Jennifer Lynn Affleck."
Kourtney Kardashian and Travis Barker
If you keep up, you'll know that Kourtney Kardashian and Travis Barker have had quite a few wedding celebrations in 2022—but they began with an unofficial vow swap in Sin City. Curious to know where did Kourtney and Travis get married in Vegas? The A-listers headed to One Love Wedding Chapel on Monday, April 4 following the Grammy Awards, where Barker performed. They opted to have an Elvis impersonator preside over the ultra-private nuptials, which was deemed as a "practice" run since they didn't have a marriage license. The bride shared a slideshow of photos from the microceremony on Instagram, writing, "Once upon a time in a land far, far away (Las Vegas) at 2am, after an epic night and a little tequila, a queen and her handsome king ventured out to the only open chapel with an Elvis and got married (with no license). Practice makes perfect."
Kravis made things official at a Santa Barbara courthouse one month later, which served as the precursor to their lavish, multi-day destination celebration in Portofino, Italy.
Joe Jonas and Sophie Turner
Joe Jonas and Sophie Turner had one of our favorite Las Vegas celebrity weddings… but we almost didn't know it happened. The boy band singer and Game of Thrones actress attempted to secretly tie the knot at A Little White Chapel after the Billboard Music Awards in May 2019. They were surrounded by famous friends at the raucous ceremony, including Joe's brothers Nick and Kevin, Nick's wife Priyanka Chopra (who served as maid of honor) and country musicians Dan and Shay, who performed an acoustic version of their song "Speechless." In true Vegas fashion, they also had an Elvis impersonator presiding over the ceremony.
This Las Vegas celebrity wedding was so exciting that even the guests couldn't control their enthusiasm. During the couple's vow swap, DJ Diplo live-streamed the action, thus foiling the couple's plans for secrecy. The newlyweds ultimately took it in stride, and they've since revealed more photos from that special night, which included a pool party. Chopra later shared more details about the nuptials to Access Hollywood: "It was awesome," she told the outlet. "We were driving around in this pink Hummer limo and I was outside the window. It was epic. It was a Joe-phie kind of night."
One month after their Vegas rendezvous, the couple hosted a formal wedding excursion with more loved ones in Provence, France.
David Harbour and Lily Allen
When it comes to celebrities who've eloped, we love the simple nuptials of David Harbour and Lily Allen. The Stranger Things star married his longtime love on September 7, 2020, at a Las Vegas chapel. Though the two never publicly confirmed their engagement, they were first linked in January of that same year.
The newlyweds hard-launched their marriage news in a post on Instagram, featuring a select carousel of photos from the day. "In a wedding officiated by the king himself, the people's princess wed her devoted, low born, but kind credit card holder in a beautiful ceremony lit by the ashen skies courtesy of a burning state miles away in the midst of a global pandemic," Harbour captioned his post. "Refreshments were served at a small reception following."
Allen wore a subdued white boat-neck mini dress with black buttons, platform heels and a veil, while the groom opted for a simple black suit. After exchanging vows led by an Elvis impersonator, they celebrated with a West Coast staple: In-N-Out burgers.
Arie Luyendyk and Lauren Burnham
From the Bachelor Mansion to a Las Vegas chapel, Arie Luyendyk and Lauren Burnham's love story is one of the most successful to come from Bachelor nation. Although the two did get off to a rocky start (Luyendyk famously proposed to Becca Kufrin before breaking up with her on camera and asking Burnham for a second chance), they're happily married today with three kids.
While most celebrity Vegas weddings happen before a formal sequel ceremony, that wasn't the case for this Bachelor couple. The two officially got married at a destination wedding set in Maui, Hawaii, in January 2019. During their planning process, the couple considered ditching their plans and running off to Vegas to make it official, though it never happened. But eight months after their first wedding, the newlyweds decided to do it again. Like many other celebrities who got married in Las Vegas, they hosted their ceremony at A Little White Wedding Chapel. Their elopement was particularly special as they were joined by their daughter, Alessi Ren, who was born in May of that year.
"We got married on Saturday (again) in the back of a pink caddy in Vegas," the bride wrote in their big Instagram reveal. Instead of an Elvis impersonator, the Luyendyks invited a friend to officiate their nuptials.
Kelly Ripa and Mark Consuelos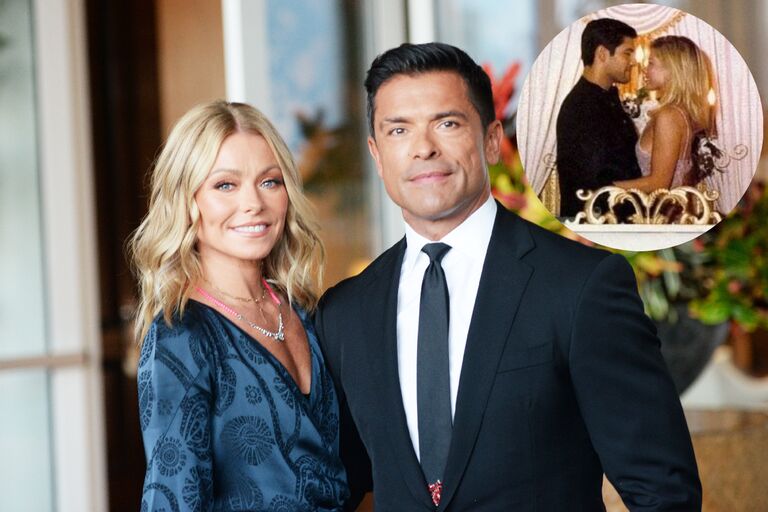 Kelly Ripa and Mark Conseuleos celebrated their 26th wedding anniversary in 2022, so you might wonder where it all began. We're happy to report they had a Las Vegas celebrity wedding that has withstood the test of time. The longtime couple met in 1995 when they both starred on the soap opera All My Children. The next year, on May 1, 1996, they wed in a Nevada chapel. But, as Ripa later revealed, their path to the altar wasn't exactly traditional. "We broke up and we got back together the day before we went off and eloped," she said during the first episode of Betches' Comments by Celebs podcast in 2018. "Yeah, we eloped. We went to Vegas and got married."
Frank Sinatra and Mia Farrow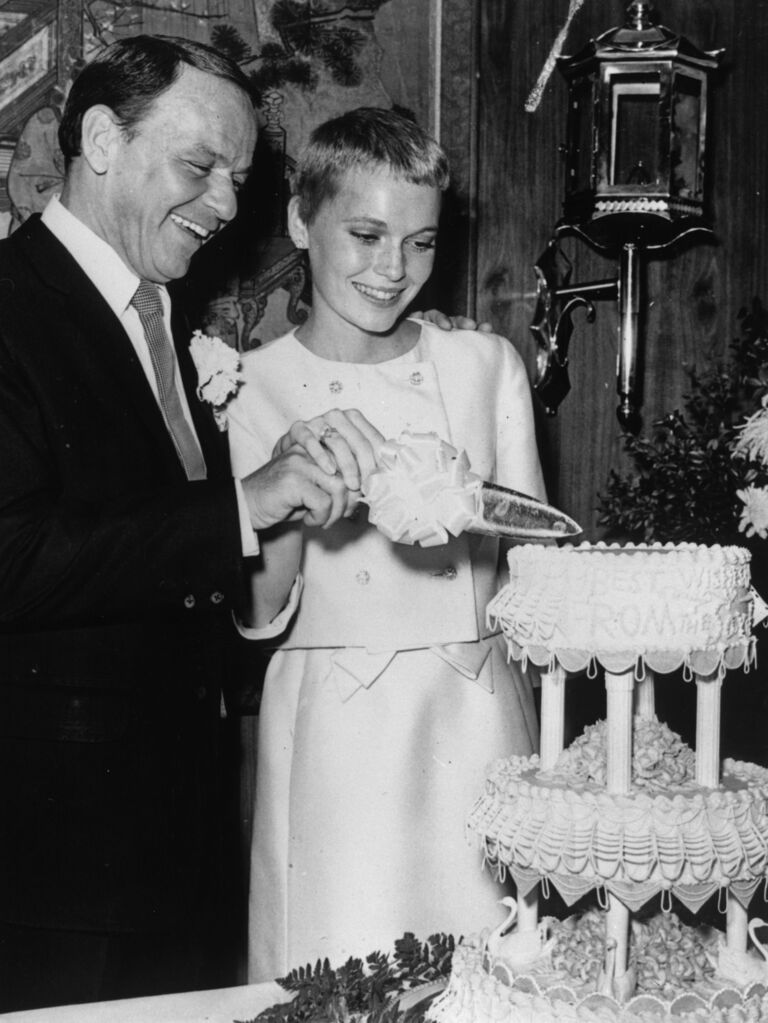 Famed crooner Frank Sinatra was married four times in his life, but his third wedding—to actress Mia Farrow—was a Las Vegas elopement. They hosted a private ceremony on July 19, 1966, at the private home of Jack Entratter, an entertainment businessman and a close friend of Sinatra's. The couple was only married for two years before their 1968 divorce. Although Sinatra credited their 29-year age gap as the reason for their split, the two did remain close friends until his death in 1998.
Bruce Willis and Demi Moore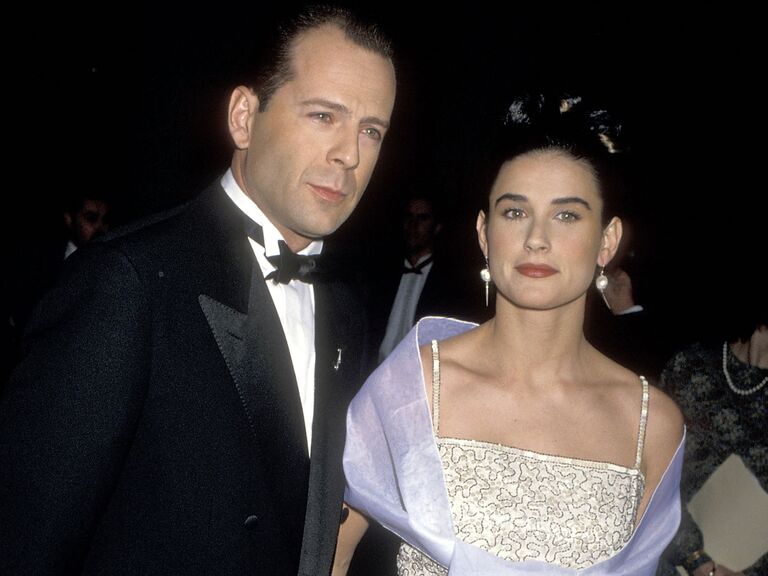 After a three-month relationship, actors Bruce Willis and Demi Moore made it official by eloping at the Golden Nugget in Las Vegas on November 21, 1987. Since they were two of the most famous movie stars at the time—and had only just made their relationship public—news of their celebrity Vegas wedding spread like wildfire.
The couple ultimately had three children together: Rumer, Scout and Tallulah. They divorced in 2000 but continued to have a friendly relationship. Moore went on to marry Ashton Kutcher, whom she was with from 2003 to 2013. Willis married model Emma Hemming in March 2009, and their wedding was attended by Moore and their three daughters. When the former couple's wedding officiant, singer Little Richard, passed away in 2020, Moore shared a throwback photo of the big day on Instagram. "Remembering #LittleRichard today... Bruce and I were so lucky and honored to have him officiate our wedding back in 1987," she captioned the post. "Thankful for the memories."
Cindy Crawford and Richard Gere
Supermodel Cindy Crawford was introduced to film star Richard Gere by Vogue photographer Herb Ritts in 1988. They quickly became one of Hollywood's hottest couples, galavanting around red carpets and lavish parties together. Three years later, they eloped on December 12, 1991, at The Church Of The West on the Las Vegas strip. The decision to formally marry was incredibly last minute. In fact, the bride didn't even wear white—she walked down the aisle in a navy Armani suit. They also didn't have time to get official wedding bands, so they exchanged aluminum foil rings. In a full cuticle moment, Ritts had double duty as Crawford's bridesmaid and the wedding photographer. Ultimately, the couple divorced four years later, and Crawford went on to marry businessman Rande Gerber. Gere was later married to actress Carey Lowell from 2002 to 2016. In 2018 he wed Spanish publicist Alejandra Silva, whom he's still with today.
Jon Bon Jovi and Dorothea Hurley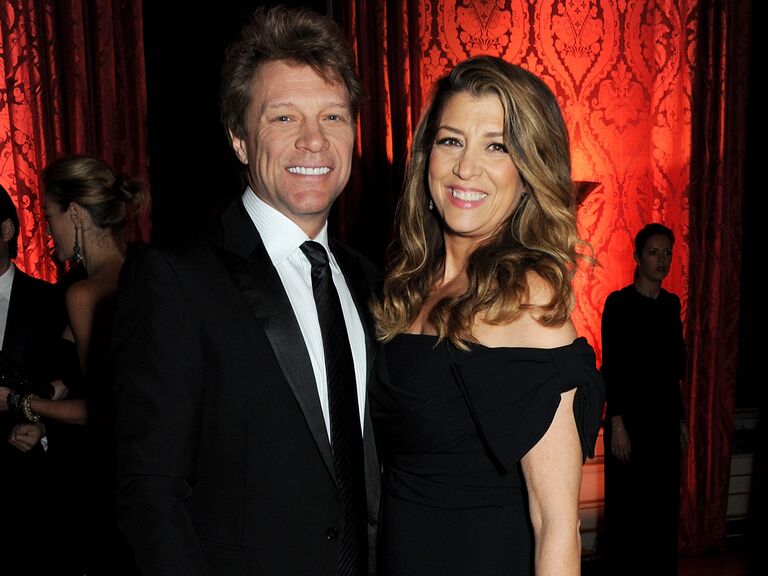 Did you know that Jon Bon Jovi is one of many celebrities who got married in Las Vegas? The rock star made a pit stop on his "New Jersey Syndicate Tour" to swap vows with his high school sweetheart, Dorothea Hurley. The longtime couple obtained their marriage license and wed in front of the Graceland Wedding Chapel on April 29, 1989. Due to the spontaneous nature of their union, only one paparazzi photo exists of the wedding, which shows Bon Jovi reaching for Hurley's hand outside the venue. To this day, the lovebirds are still happily together.
In 2013, Bon Jovi returned to that very same chapel to walk a super-fan down the aisle. Although the couple, Australian natives Branka and Gonzalo, launched a campaign on the internet urging the singer to fulfill the role, the bride didn't know he received the message—that is, until he showed up on the wedding day. "Congratulations @branksd!" Bon Jovi wrote on Twitter after the ceremony. "May you & Gonzalo have a lifetime of happiness, love & memories together."