Here's What Made Priyanka Chopra and Nick Jonas' Wedding So Elaborate
The pair spent just two months planning their multi-day celebrations.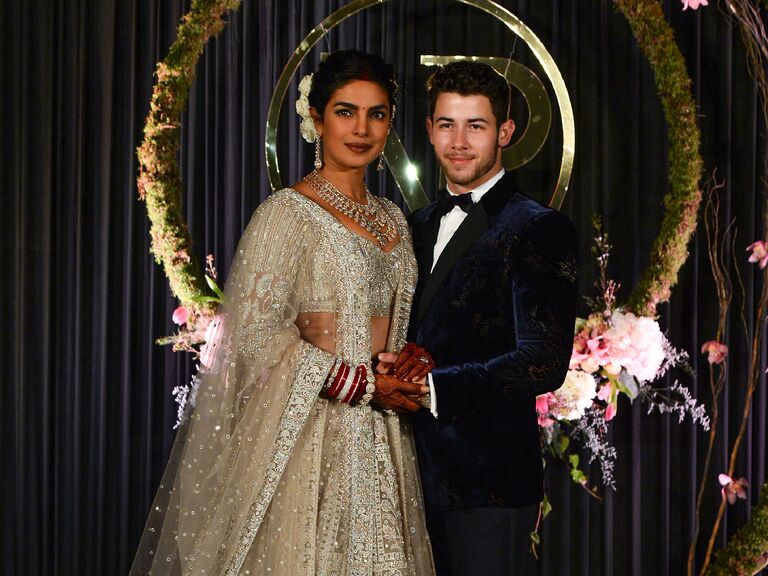 Sajjad Hussain / Getty Images
Priyanka Chopra and Nick Jonas are currently self-quarantined together at their Encino, California, home, whiling away their days by snuggling with their dogs, Gino and Diana, and enjoying their time together. During a recent interview on Sirius XM Hits 1's Celebrity Session, Nick and his brothers Joe and Kevin opened up about what it's been like to spend uninterrupted hours at home with their significant others after a lengthy tour for their new album, Happiness Begins.
"[We] only got married like a year and a half ago, so it's been nice to actually have some time at home together, which we didn't have," Nick, 27, said. "Similarly, [Priyanka's] really busy as well in this time, and we're working from home. So we have that time where it's sort of structured. Like, we work out together, do our thing, and then do our work and come back and have our nights together and it's really lovely."
Added the youngest Jonas brother: "She's the best, and I'm quite happy."
Jonas and Chopra, 37, got married in an elaborate wedding celebration held in Mumbai, India, and Jodhpur, India, in late November and early December 2018, that honored both Chopra's Indian culture and Jonas's religious upbringing. Here, we take a look back at the incredible multi-day nuptials that helped kick off the couple's charmed life together, a year-and-a-half in the making.
Priyanka Chopra and Nick Jonas planned the wedding in two months
With the help of a whole team of stylists, planners and vendors, Chopra and Jonas managed to plan their multi-day wedding celebration in just two months (which is substantially less time than the average of 14 months most couples take to plan their big day, according to The Knot's Real Weddings Study). "One thing you should know is that [Chopra's] wedding was not planned months in advance or anything; it was barely a two months heads up, which is a tight window frame for a bride," the actress's longtime stylist Ami Patel told Vogue India. "It was a bit of a challenge, but Priyanka's always thrown challenges at me, so I wasn't surprised."
In all, the pair hosted a welcome party, a Mehendi (a traditional pre-wedding ritualwhere the couple, wedding party and their loved ones get henna design tattoos), a Sangeet ceremony, a Hindu wedding ceremony, a Western ceremony, and a Bidaai all in the span of six months, with a bridal shower, bachelor party, and bachelorette party, somehow fit into that timeframe as well. The entire wedding weekend was planned by Sandeep Khosla and Aditya Motwane, founder-owners of Abu Jani Sandeep Khosla and Motwane Entertainment & Weddings, respectively.
In a way, the couple's wedding planning was simply a continuation of the whirlwind pace of their relationship. The pair first met in May 2017 at the Met Gala. News that they were casually seeing each other surfaced one year later after they spent Memorial Day together; by Chopra's birthday that July, they were engaged.
The couple kicked off wedding festivities with a prayer service
On November 28, a week after Thanksgiving, Chopra and Jonas flew to Mumbai to kick off their wedding week with a prayer service called the Puja, held at Chopra's mother's home. "The Puja is an auspicious ceremony, Shawna Gohel, founder and CEO of Maharani Weddings, told The Knot. "It's to bring good energy, asking for the gods and goddesses to welcome the union of the couple."
The couple wore traditional garb for the ceremony, and Gohel told us that the couple planned to incorporate elements from both of their cultures throughout the wedding week celebrations. "Priyanka's background is a unique blend of different parts of India," he said. "She's from Jamshedpur, but her dad is from Punjab. They moved to Delhi, so she's going to have an Indian wedding mixed with traditions. She's going to pick and choose what she wants, and as the week goes on, it will get more lavish."
Jonas' Christian background was also honored during the wedding week, with a Christian wedding ceremony officiated by the singer's father to complement their extravagant Indian wedding.
Their Sangeet was a roaring success—and sparked a TV series
Chopra's family and Jonas's family came together for the ultimate dance-off in the form of an incredibly fun Sangeet held days before the wedding ceremony. Last December, the couple announced that they were inspired by their own wedding Sangeet to create a new unscripted series revolving around the Indian tradition. "We want to share this amazing experience with couples set to be wed," the actress wrote in a post to Instagram on December 11.
"At our wedding, both of our families came together to perform a Sangeet," Chopra wrote. "A performance (dance-off competition style) that celebrated our love story, one of the most unforgettable moments from a very special time in our lives. [Nick] and I are excited to announce a new, currently untitled project (we're still working on it!!) that celebrates the love and magic that comes from friends and family that join together through music and dance the night before a wedding. It's our #SangeetProject."
Priyanka Chopra wore Ralph Lauren for the Christian wedding ceremony
On December 1, Chopra donned a custom Ralph Lauren wedding dress to marry Jonas in a Christian ceremony held at Jodhpur's Umaid Bhawan Palace. The dress consisted of sheer lace leaves and button detailing down the front, as well as a trendy high neckline and an elaborate 75-foot veil. Chopra's bridal party, including her now sister-in-law Sophie Turner, stunning in matching blush bridesmaid dresses. The gown was completely covered in Swarovski crystals, which took a reported 1,826 hours to complete. In a sweet photo taken by renowned wedding photographer Jose Villa, Jonas can be seen kissing his new wife's hand as they walk away from the altar after the ceremony.
Fashion icon Christian Louboutin recently told InStyle that while he provided Chopra's footwear for her wedding day, he also offered up a previously unmentioned backup to ensure the actress's comfort on the big day. "I did some things that held the ankle with a mid-heel," he said. "And then for emergencies I added some sets of sandals the color of her skin with gold inside."
The next day, the couple rang in their love in a traditional Hindu ceremony.
Priyanka Chopra and Nick Jonas had three wedding receptions
Truth be told, the couple didn't have a wedding week so much as they had a lavish wedding month: following their dual wedding ceremonies at the beginning of December, the newlyweds held a lavish reception in New Delhi that was attended by the prime minister of India. Then, two weeks later, on December 19, they hosted a second wedding reception in Mumbai.
The couple then hosted a third wedding reception, also in Mumbai, which was specifically thrown to fete Chopra's extended network in Bollywood. Of all of Chopra and Jonas's wedding pre-celebrations, ceremonies, and receptions, their third one was the most comparatively low-key, though the venue was still decorated with twinkly lights and the couple's wedding monogram emblazoned in gold on a dark backdrop.