Your Complete Guide to a Maldives Honeymoon
Escape to one of the world's most luxurious honeymoon destinations.
Icemanphotos / Shutterstock
We have included third party products to help you navigate and enjoy life's biggest moments. Purchases made through links on this page may earn us a commission.
There are few places in the world like the Maldives. Equal parts laid-back and luxurious, the country has more than 1,100 islands with a unique concept of "one island, one resort." Most luxury resorts are on their own private Maldives island, where guests can stay in an over-the-water pool villa or experience an underwater fine dining experience 15 feet under the sea.
As luxurious as staying on a private island resort sounds, a Maldives honeymoon is also extremely laid-back. Most guests will walk around the islands barefoot, have lunch in a swimsuit while sitting in the surf, or chill out in a hammock all day in the island breeze. It's not a place where you need to worry much about makeup or formal clothing. Nearly every island features white-sand beaches, and the country's turquoise lagoons, marine life and tiny atolls are the very definition of a tropical paradise.
The downside to the Maldives is its distance from the US. Couples will need to fly to a major Middle East airport (probably Doha or Dubai), then catch a small plane to the Male airport on the country's capital island. From there, you'll likely have a seaplane ride or speedboat ahead of you to get to the island resort of your choice. The Maldives is a great choice for honeymooners with more than a week to spare.
Ready to plan the perfect Maldives honeymoon? Here's what you need to know.
Is The Maldives Good for a Honeymoon?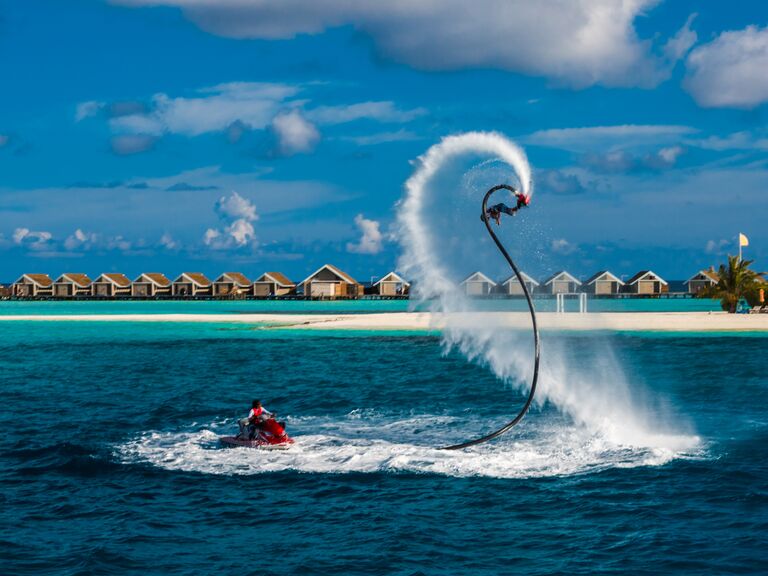 You won't be surprised to learn the Maldives is perfect for a honeymoon. With more than 1,100 islands, nearly all of which are covered in white-sand beaches and swaying palm trees, the country is the definition of a remote, island paradise. Couples stressed after having planned and executed their weddings will love how relaxing and stress-free a Maldives honeymoon can be.
Pros of a Maldives Honeymoon
The Maldives is pure luxury: many hotels have private butlers, catamaran sails, over-the-water villas and even submarines available for their guests. Your room will likely be perched over the clear waters of the Indian Ocean. Each resort is typically on its own tiny island. It won't take more than five minutes to walk from your room's infinity pool to the gourmet restaurant.
It's also often all-inclusive: don't stress about carrying your wallet as many resorts are all-inclusive, making it easy to facilitate a romantic champagne toast whenever it strikes your fancy. Finally: whatever ocean-related activity you like, you'll find in the Maldives. Nearly all resorts have on-site activity shops to arrange water sports, boat tours, snorkeling, fishing, scuba diving, parasailing, submarine tours, kayaking and the list goes on. Non-motorized water sports are often included in inclusive hotel packages.
If you prefer an adventurous honeymoon, many couples choose an extended layover to explore Dubai before heading to the Maldives. There, you'll find high-end dining and luxury shopping boutiques, world-class hotels, as well as bragging rights that you've witnessed the Burj Khalifa, the tallest building in the world.
Cons of a Maldives Honeymoon
Expect a long flight to get to paradise. New York City is about 13 hours from Doha (Qatar) and Dubai (UAE), the two common layovers for travelers from the U.S. From either of those airports, it's another four hours to Male, from which point you'll need to take a seaplane or speedboat to your island resort of choice. Coming from the states, if you leave on a Monday, it'll be Wednesday morning before you're at your hotel.
Flights aside, the Maldives is known as a luxury destination and hotels are no exception. You'll save money on your trip if you visit in the off-season (generally June through August.) Expect even the most basic spa treatment to be well over $150, and even domestic flights can be several hundred.
Since most Maldives resorts are on their islands, you won't be immersed in Maldivian culture like you might if you were staying in a mainland city. Resorts sometimes offer tours to local islands, and you'll have plenty of opportunities to try Maldivian food, but if you're keen on visiting historical sites or museums, The Maldives may not be for you.
The Best Times of Year to Go on a Maldives Honeymoon for Good Weather
There's no bad time to go to the Maldives. It holds a steady temperature of around 80 to 85 degrees year-round. The water temperature is almost exactly the same, so you'll be able to snorkel or scuba dive any month.
The Maldives does have a rainy season, however, from May to October. This is when hotel prices are slightly lower. That said, you may still have weeks of sunshine during that season. If you can handle the risk of an overcast afternoon or slight shower, it's a great time to go for fewer crowds and lower prices.
Things to Do During a Maldives Honeymoon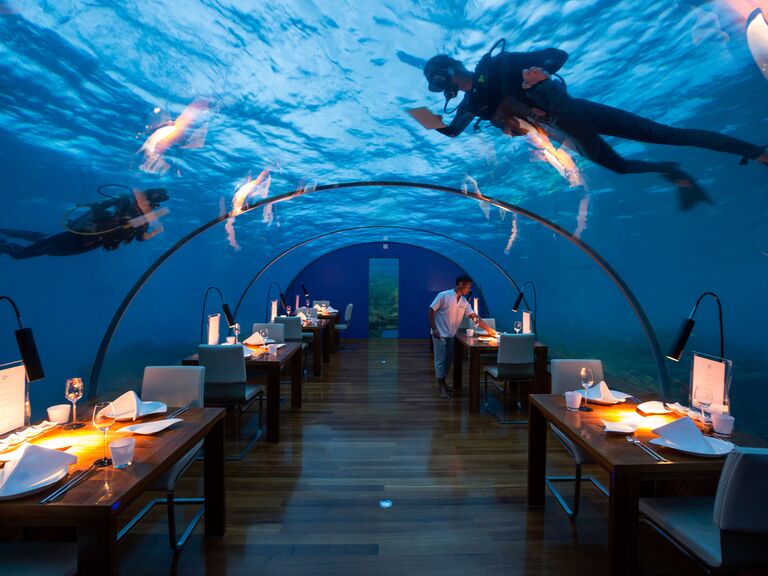 Go Scuba Diving
With incredibly warm water and clarity that allows you to see for well over 100 feet underwater, there's no better place to try scuba diving than the Maldives. If you've never experienced diving before, couples are able to sign up for a class at most resorts. It requires no advanced knowledge and will allow you to do a shallow dive with an instructor. If you're already certified, you'll be pleased to know that the Maldives is known for manta rays, whale sharks, hammerhead sharks, as well as healthy reefs.
Take a Sunset Cruise
You've got to spend time on the water in the Maldives and sunset cruises are in no short supply. Many resorts offer evening sails as part of all-inclusive packages, and the boat ride is usually short. (The focus is on seeing the sun dip down while sailing, not on covering as much distance as possible.) Some resorts will offer private sails, while others offer it as a daily option at a reasonable price. For example, Kuramathi Maldives offers a daily sunset cruise available to any of the island's guests for under $30. Lucky honeymooners may even see dolphins or sea turtles while sailing out.
Have Dinner Underwater
There aren't too many places in the world where you can have dinner literally under the sea. Fortunately for couples in the Maldives, many of them are under the Indian Ocean in this very location. Most are going to be luxury experiences and won't be included in an all-inclusive package. But if you're planning on springing for an elegant dinner on your Maldives honeymoon, book one of these before you take off. Popular options include 5.8 Undersea Restaurant at Kudadoo Resort and Ithaa Restaurant at the renowned Conrad Maldives.
Try A Traditional Spa Treatment
Even non-spa couples will want to try a traditional treatment while in the country. Nearly every resort offers natural and organic spa treatments. If you're able, book one that relies on endemic ingredients and traditional remedies. The Javvu Spa at Amilla Maldives Resort in the Baa Atoll works with a traditional Maldivian healer to offer treatments using local ingredients like homemade massage oils from thamburu leaves and karanfoo spice grown on-site. Anantara Veli Maldives Resort offers traditional Ayurvedic Shirodhara treatments, in which hot oil is slowly poured on your forehead as you receive a scalp massage from a master of wellness. Just ask your resort what Ayurvedic treatments they recommend for jet-lagged honeymooners.
The Best Honeymoon Resorts and Hotels in The Maldives for a Honeymoon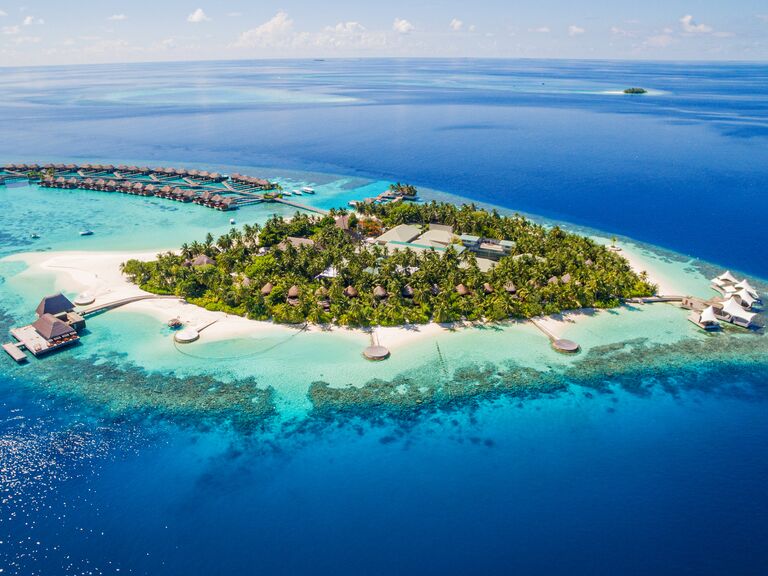 Lux North Male Atoll
Each of Lux North Male Atoll's over-the-water suites is its own private penthouse with modern styling, ideal for newlyweds who prefer contemporary over traditional. Better still, each comes with a private butler who can arrange everything from private ceviche classes to romantic movies projected on the roof of your villa, complete with popcorn and a bottle of wine. There's very little Lux North Male Atoll can't arrange for their guests, from moonlight spa treatments to scuba diving with sharks.
JW Marriott Maldives Resort & Spa
Believe it or not, the sunrise-view, over-the-water villas at the JW Marriott Maldives Resort & Spa are their most affordable rooms, making it an ideal choice for honeymooners keen to wake up to the lapping sound of its surrounding turquoise waters. The emphasis here is on organic and natural luxury with earth tones throughout the elegant rooms. Thatched roof and open-air restaurants feature hanging woven chairs around the resort's pool and beach bar. The resort's over-18 pool, perched on a sandbank above the private lagoon, is especially stunning.
Robinson Club Noonu
An all-inclusive resort with the perfect blend of romance and entertainment, Robinson Club Noonu is ideal for couples who want both the option of an over-the-water sushi dinner with a private chef (the resort's on-site teppanyaki restaurant) and a beach bar where they can dance to live music long into the night (The Sundowner Bar.) Put your wallet away while you're here; yoga, glass-bottom kayak paddling, mimosas, and as many fresh fruit cocktails as you'd like are included in the rate.
W Maldives
It's hard to think of a hotel more romantic than the W Maldives. The private island is literally heart-shaped. The resort offers five-star, over-the-water bungalows with private pools, complete with glass floors so you watch the coral reef below. Nearly everything at this luxe resort is made for two, from the two-person beach loungers to the resort's private Gaathafushi Island, which guests can have to themselves as a private hideaway.
Hurawalhi Island Resort
Not keen on hanging with kids during your honeymoon? Hurawalhi Island Resort is an adults-only luxury resort. It offers several private dining experiences ranging from torch-light beach dinners to floating breakfasts to beach picnics to-go, complete with champagne and portable versions of its restaurants' most popular dishes. The resort can also arrange any number of other romantic bespoke activities, like private snorkeling trips in the blue waters of Hanifaru Bay Marine Reserve, or couple's yoga classes on a remote island beach.
What to Pack for a Maldives Honeymoon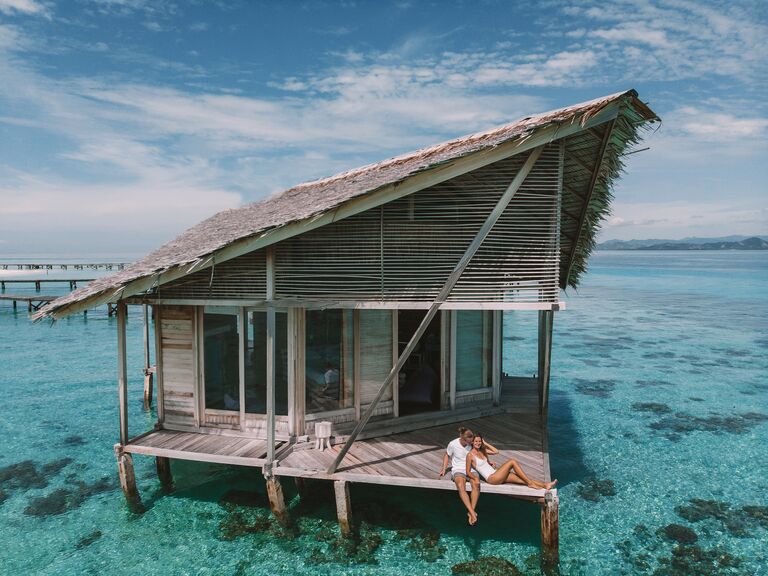 The Maldives is a no-stress destination, and that means you don't need to pack much. Clothing-wise, you'll be fine in swimsuits, shorts and T-shirts during the day. Depending on your hotel, you may want to bring a sundress for women or a nice button-down shirt for men, though it's not required. Getting dressed up is an option. Going barefoot around the islands is de rigueur, though you'll likely want flip-flops for restaurants.
In terms of makeup, blowdryers, hair products and more, the best advice is to leave most of those things at home. The destination is hot and sometimes muggy; this is a place to let your natural beauty shine and not worry about getting your eyeliner perfect or curling your hair (your beach villa or overwater bungalow will likely have something in the room anyway.)
You may want to pack lightweight water shoes for snorkeling, an underwater camera since nearly all your activities will involve the ocean, and some extra plastic bags for wet clothing. If your honeymoon involves a seaplane, you'll want noise-canceling headphones for the ride as the planes are quite loud.