Jonathan Bennett & Fiancé Jaymes Vaughan On Love, Their Wedding and the Importance of Visibility
"As a member of the LGBTQ+ community, you don't just need to feel safe—you need to feel celebrated."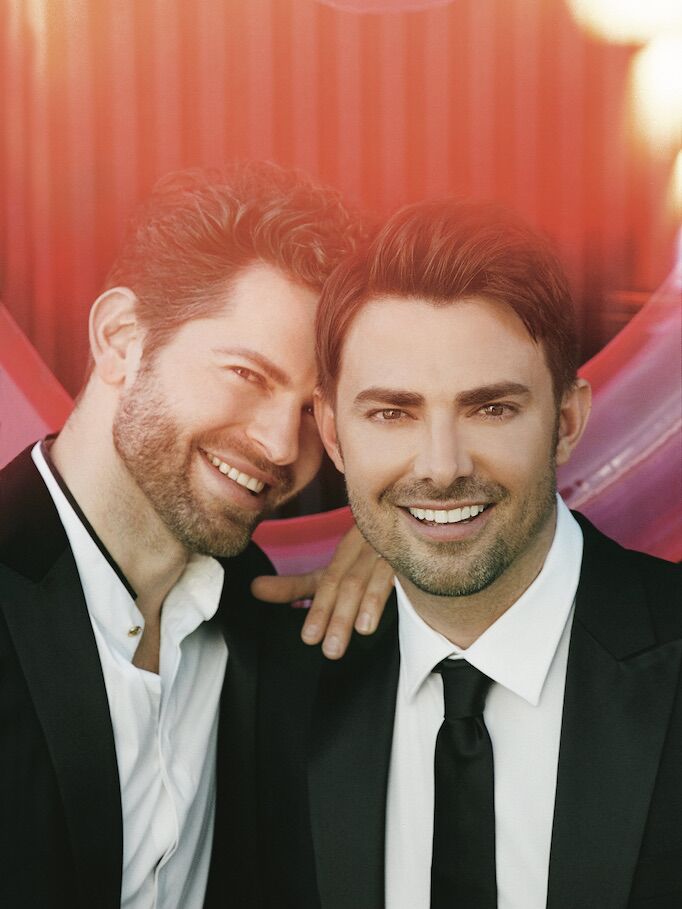 Easton Schirra,Fashion Styling: Lisa Marie Cameron
Mean Girls and Hallmark star Jonathan Bennett and his Celebrity Page TV host fiancé Jaymes Vaughan are purposely loving out loud to bring more visibility and representation to the LGBTQ+ community. The to-be-weds dished to Executive Editor Lauren Kay for The Knot Summer 2021 issue on everything from their movie-like meet-cute and the story of their engagement (spoiler alert: Jaymes, proposed to Jonathan with a love song!) to a rough moment of discrimination in wedding planning and how they're breaking from tradition with their big day.
I think it's safe to say America fell hard for Jonathan Bennett while watching him as Aaron Samuels in the teen classic, Mean Girls. It took his fiancé, Jaymes Vaughan, a few more years, but mere minutes to catch up with the rest of us. When I connected with the engaged couple over Zoom, it was like sitting down with old friends. Basking in the glow of Palm Springs, Jonathan and Jaymes giddily shared their love story. But their journey hasn't been all sunshine—the same-sex couple was blindsided by discrimination early on in their wedding planning. And in that moment, the two decided their wedding was not just about them, but about something much bigger.
Lauren Kay: Epic proposal, amazing wedding plans underway, take us back to the start. I want to hear your meet-cute.
Jaymes Vaughan: Wait, what is a meet-cute?
Jonathan Bennett: It's that scene in a movie where she's walking with all the papers and she drops them and that's when he just knows.
JV: Oh okay, okay, I get. Oh, we definitely had one of those.
JB: I was on a press tour for Halloween Wars and I walked into The Grove [outdoor mall in Los Angeles] to do an interview with the guy from Celebrity Page. I had never heard of him before, but when I saw him setting up to do the interview, I thought he was the most beautiful man I'd ever seen. I ran to the bathroom to fix my hair. I came out of the bathroom and his producer Jade was standing in front of me. I asked her this exact question: "Am I about to meet my future husband?" And she said, "I think so."
JV: I love how he says it was love at first sight for him. For me, I was just ready to do my interview, get it done and get on with the day. So the producer is counting down 5,4,3, and I'm like, let's take a picture for social. The minute he leans into me, it's like electricity. And then the producer calls, 2, 1, go.
JB: The interview was a complete disaster. You literally watch us fall in love with each other on camera. After it was over, I said, "Can I get your number?" And he said, "I would hope so." My publicist said, "Jonathan, you came on a little strong, whatever you do, make sure you wait at least three days to call."
JV: Do you think he waited three days?
LK: Not. A. Chance.
JB: The car dropped me off at home and I immediately called him. Jaymes picked up and said, "Took you long enough." And I said, "Would it be weird if I came back to The Grove so we could kiss and see if this is the real deal?" And he said "Not at all." I said good, because I'm already in my car and on the way.
JV: I was having lunch in the farmers market at The Grove, and we're on our phones, looking for each other. There may have been running involved, but we finally found each other.
JB: I think I just looked at him and I said, "Okay, let's do this." And we just kissed in the parking lot. And immediately it became The Notebook. It started raining out of nowhere, doves were released. I said okay, great, "Dinner tonight?"
JV: I was worried—everything about this was magical. I kept thinking, please, if this is meant to be, show me a sign.
JB: I showed up at his house with two hoodies and I said, "Do you want to go to the beach and sit and talk?"
JV: So if someone asked me what my ideal date was, it would be going to the beach—talk about a sign. We talked for six hours. We both lost our dads to cancer and we really bonded over that. We've always kind of felt like they put us together.
JV: So we went to Barney's Beanery to finally get dinner after hours on the beach and the waitress was like, "Oh my god, you guys are so cute together, how long have you been together?"
JB: Um, like six hours.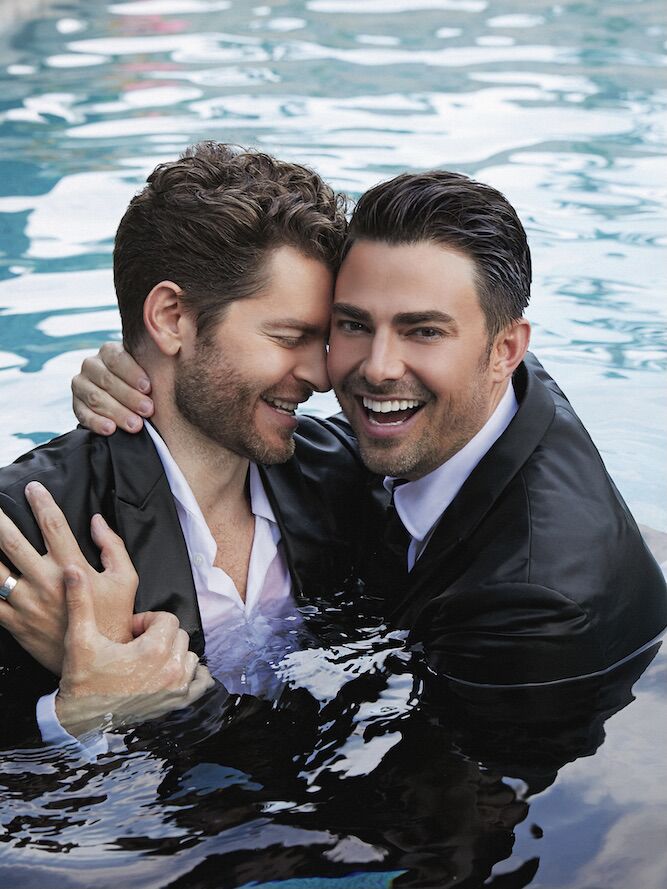 LK: That is straight out of a movie. And the proposal?
JV: Well, when your significant other is in Hallmark movies and romantic comedies you think, how am I going to make him feel special? We've always tried to find our song and we never could. My background is in music, so I thought, why don't I just write it? Jonathan will always say to me, "Hey, do you love me?" And I'm like, "Obviously, you know I love you." One day, he said it to me and it clicked—this is the song. It's going to be a song that you can put on anytime you need that answer. And just like that, it all came out. Then came the ring. There really isn't a precedent for two guys. I knew we were both going to want to wear rings to say we're engaged. But it felt silly to have a ring that we didn't wear later, so I teamed up with Kay Jewelers and designed one. When you wear the ring diamond-side out, the world sees we're engaged. When we get married, it flips and the diamonds face us, because my world is more beautiful with you in it forever.
JB: NAILED IT!
JV: Being an LGBTQ+ person, there are so many times when you don't know if you're welcome or safe, especially when it comes to your engagement. Straight couples get to be excited the whole time, but it's different when you're gay. I thought, if I use a small bougie jeweler, I'm not really helping progress anything for our community. Kay Jewelers has stores everywhere—now the community knows that this safe space has been created.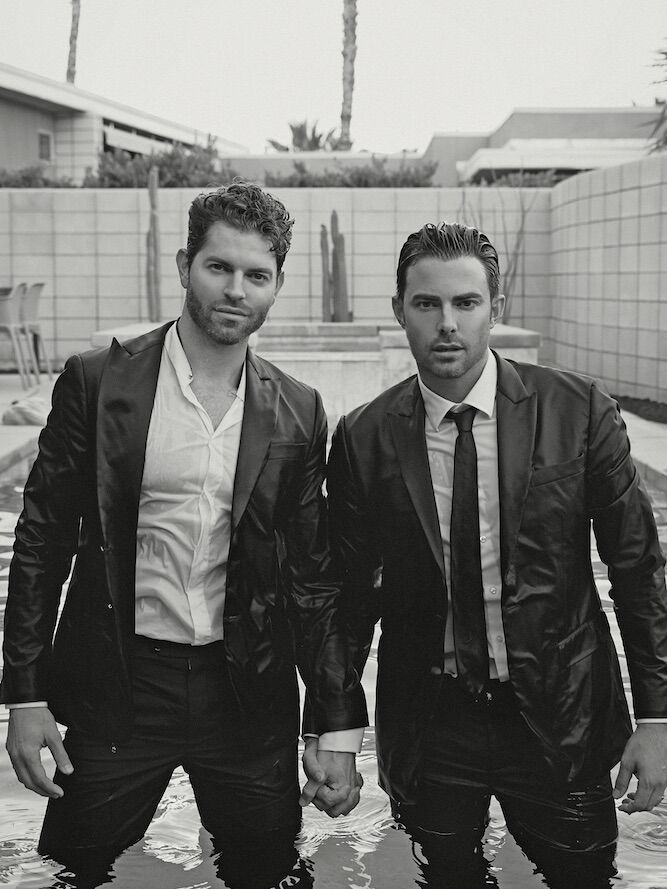 LK: That's incredible. I absolutely love your rings and more importantly, your mission for progress. So what came next?
JV: So then I had to get family, because I had to make it special, but we're in COVID times. I set up a quarantine at a local hotel and had a lab come in and do rapid testing.
JB: So my whole family is at our house and my sister comes running into the kitchen and says, "Jonathan, come out here real quick, you've got to see this." I run out the door and Jaymes is standing there holding a sign that says, "We never did find our song, so I wrote one for you." When I saw him with the sign, I knew I was being proposed to and began to ugly cry. It was the first time I heard the song and I just blacked out.
LK: Wow! It's like the sequel to the meet-cute. Dare I ask about what's planned for the wedding?
JB: You know, my initial dream was to have our wedding look like something from The Greatest Showman, with a circus tent and aerialists. Jaymes dreamed about getting married in an enchanted forest. We both gave a little and settled on Mexico.
JV: I want this moment to be classic and intimate and just about us. We love traveling, we love the beach and the water.
JB: We'll be outside, near the ocean, up on this beautiful platform alongside a tropical jungle. Simple and classic with a masculine vibe. And roses. My mom's favorite flower was white roses so we'll incorporate those too. Our reception will be under this clear tent with string lights—very much, "Leave your shoes at the door and come play in the sand with us,".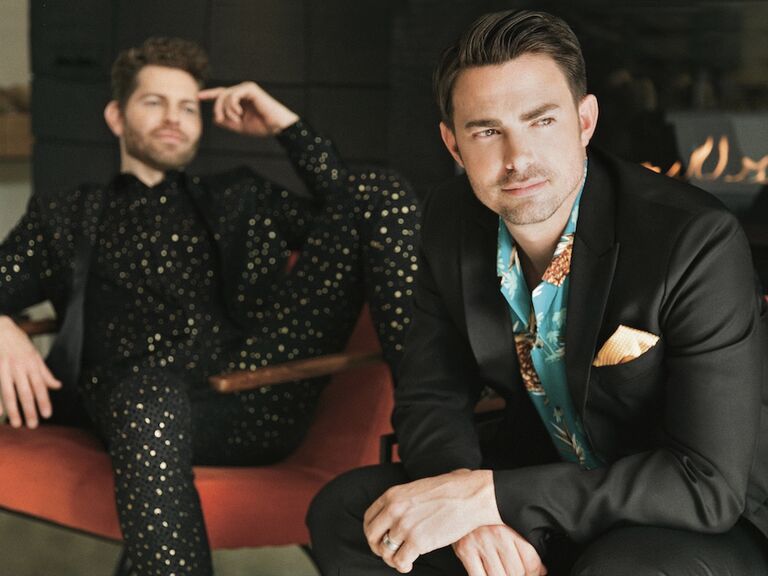 LK: It sounds amazing. What traditions are you keeping or forgoing as you plan?
JB: We're breaking away from tradition a bit because what is the point? It's your wedding. You can do whatever you want. There are no rules. We only think there are rules. We're not going to have groomsmen or best men. We're just going to have our best girls and guys in our lives, on each side of us, forming one big wedding party. The other tradition we're skipping is not seeing each other on our wedding day. He's my best friend. If I don't see him before the wedding, who am I going to talk to? As much as we are fiancés, we're best friends first.
JV: We need each other because we know what the other needs. The whole point is to spend so much time together as a family and then leave as an even bigger family.
LK: I love that. A lot of to-be-weds are selecting pros and vendors that align with their values. Is this something you've thought about as you've planned your day?
JB: This has been the most important factor in deciding what our wedding looks like. As a member of the LGBTQ+ community, you don't just need to feel safe—you need to feel celebrated. For years, we planned to get married at Palace Resorts in Mexico. When we got engaged, the owner said he couldn't marry us because we're two men and it goes against his morals. That was a sucker punch to the gut. We decided in that moment that our wedding was bigger than us. It's our wedding, but it isn't just about us. It's about the LGBTQ+ community. We're really making a point to make this wedding very loud on purpose.
JV: We knew we could go to the UNICO Hotel, because on social and in their marketing, they have shown us that we're welcome there. When we first started talking about having our wedding there, they were excited for us, which is what everyone's wedding is supposed to be.
JB: We want to make sure that there's never a moment during the engagement or wedding planning journey that LGBTQ+ people aren't excited. We want to make sure that they are celebrated every moment and don't feel a sense of otherness. The otherness needs to be removed from gay weddings.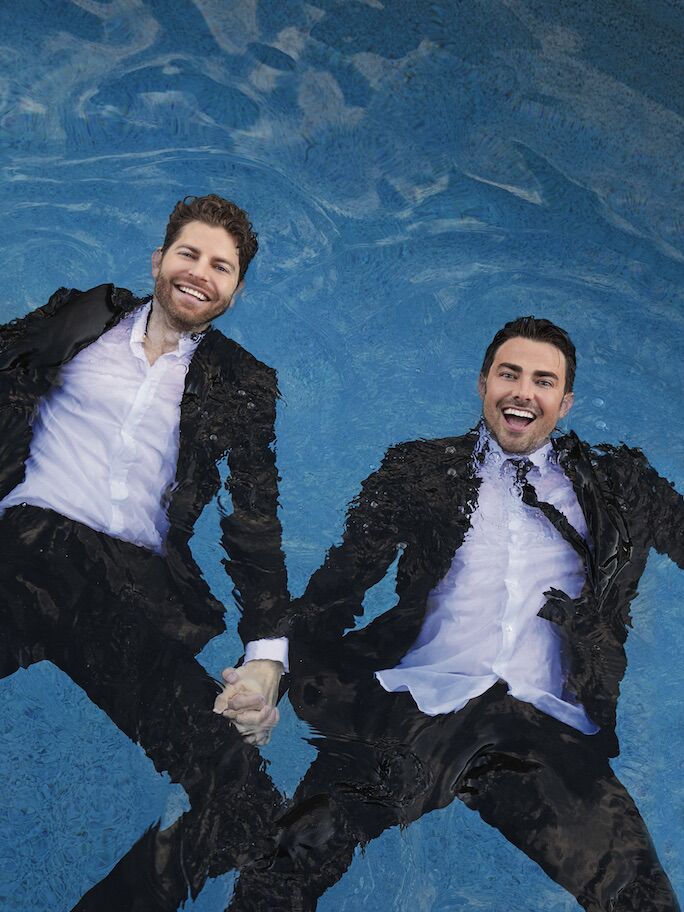 LK: That's so important and exactly how it should be. Speaking of the journey, tell me about OUTbound, your travel company.
JB: Well, we are taking the most epic, multi- trip honeymoon! We recently launched a LGBTQ+ travel adventure company. Like our wedding, we wanted a place where our community feels safe and celebrated. We created these adventures all around the world, from the Greek Isles to the Mekong River to Berlin Pride to Amsterdam Pride to the Adriatic Sea. We'll charter an entire ship and fill it with our OUTbounders, LGBTQ + people, members of the community and their friends, family and allies.
JV: If there's anything that our life growing up as gay men has taught us—especially now as we're planning a wedding—is that there aren't enough spaces where we all feel safe and celebrated. We love traveling. Jonathan's dad's tag line was...
JB: It's all about adventure.
JV: We always say that and try to have as much adventure as possible. It's exciting to know we're creating this space where everyone can go and feel safe to hold their partner's hand, or give their partner a kiss at dinner. It's your chance to be yourself and see the world.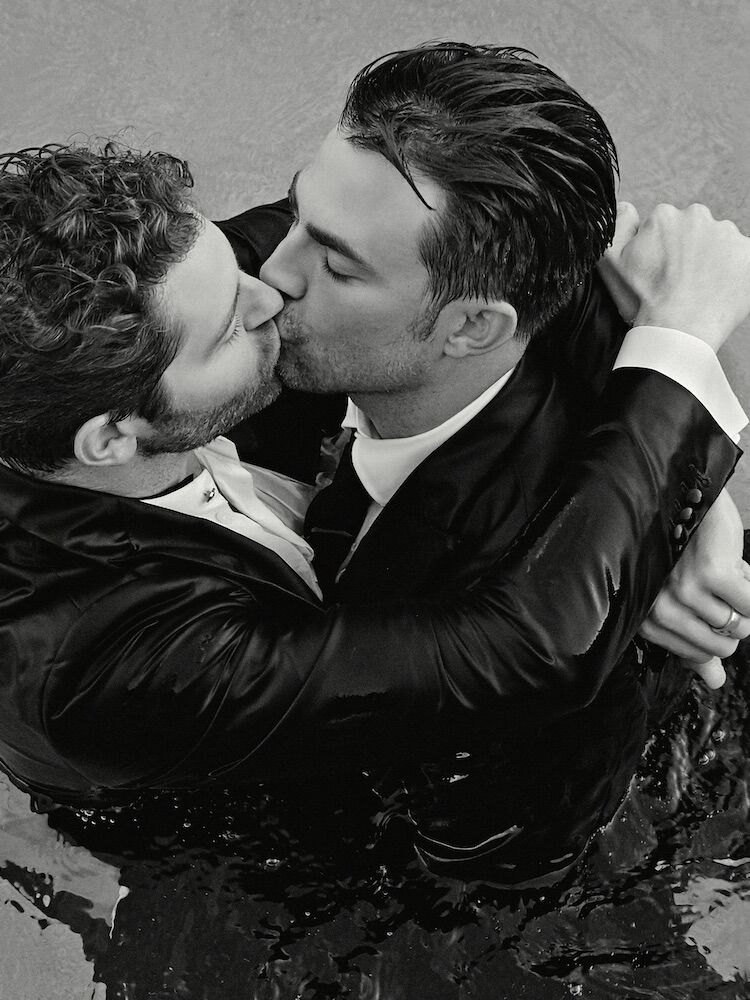 LK: That sounds groundbreaking, kind of like your role in The Christmas House, Jonathan. How did it feel to be the first leading character in a same-sex relationship in a Hallmark film?
JB: It felt like I was a part of progress and it felt really good. I can only imagine what younger Jonathan would have thought, watching a movie with his family at the holidays and seeing a love that looked like the kind he wanted to have represented on screen. It was almost therapeutic playing this character, because not only was it healing a lot of my childhood fears, but I knew it was going to help some members of the LGBTQ+ community feel seen.
JV: I'm very proud of him. Any time you take on trailblazer stuff like this you're met with praise, but then there's this other part of it that you tackle as well.
JB: The pandemic made us step back and look at what's important. I want to tell these types of stories. I want to get married to Jaymes and make sure our love is very visible and very loud for everyone to see. We're doing a lot of firsts. I hope by doing all of this, that it changes some hearts and minds and helps people in our community feel seen and represented.
JV: Visibility is so doggone important. I always think about what could have saved me so much hurt and so much heartache, and it's just visibility. I make a point to share our love a lot on Instagram, to show that we have this relationship full of love and support and it's healthy. People need to know that healthy love exists out there. And if you see it, you realize you too can have it.
JB: I want to make sure that through this whole process of our love and wedding, and building our family, that we are trailblazing for the LGBTQ+ community. I want everyone to realize that they are never too much, and they're always enough. That's my mission in life. You're never too much. And you're always enough. You just being you is enough.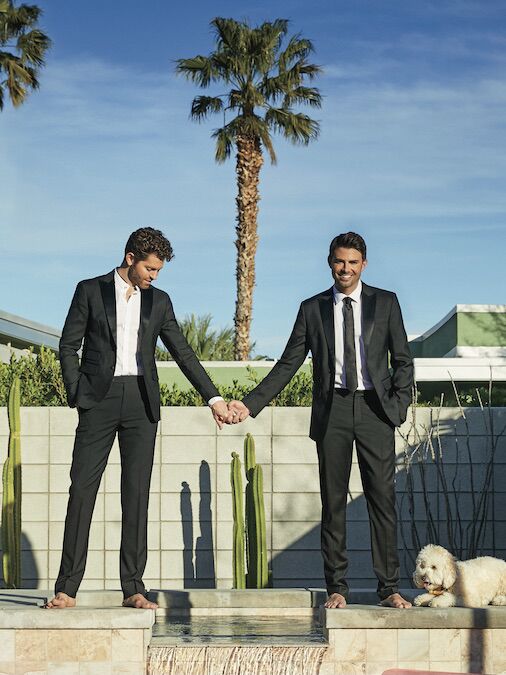 Pick up a copy of The Knot Summer 2021 issue to get even more essential wedding and planning advice, inspiration from real couples and more.