The Best 10-Year Anniversary Gift Ideas for Her, Him and Them
A couple that's been hitched for 10 years has shown the world their marriage is stronger than metal and as indestructible as diamonds. Show them some love with one of these traditional or modern 10-year anniversary gift ideas.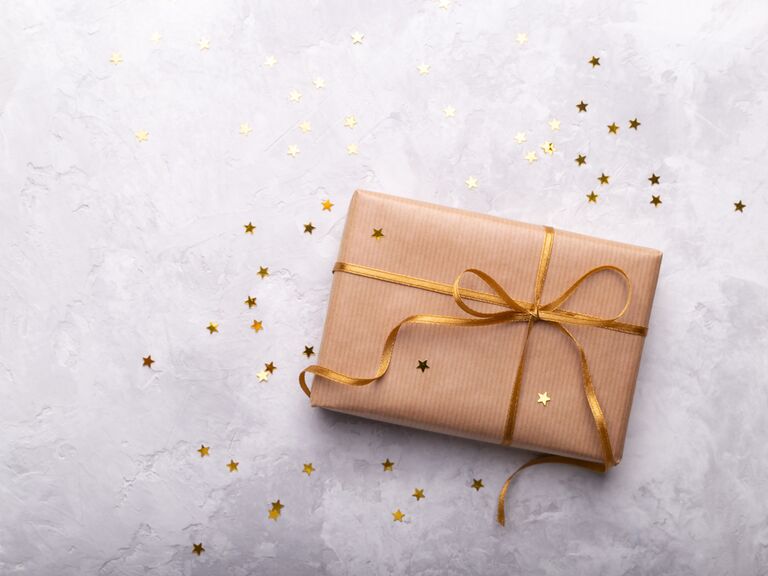 Lana_M/Shutterstock.com

We have included third party products to help you navigate and enjoy life's biggest moments. Purchases made through links on this page may earn us a commission.
10 years! How did the time go so fast? The wedding seems like it was just yesterday, and now you're celebrating a major milestone. A decade of marriage is definitely something to commemorate, so you're probably on the lookout for a gift that reflects such an incredible journey. We've got 10-year anniversary gift ideas you'll love, whether you're a friend or relative looking for the perfect gift for the happy couple, or you're a husband or wife looking for a present for your spouse.
What is the 10-year anniversary gift?
According to etiquette, the traditional 10-year anniversary gift is tin or aluminum. That doesn't exactly sound glamorous, right? The good news is, there are tons of creative, fun and romantic gifts made of these silver-toned metals.
The other upside is that the modern 10-year anniversary gift is diamond jewelry, which definitely feels glamorous. Plus, each anniversary is also symbolized by a shade: the 10-year anniversary color is silver or blue. And who's to say you can't make tradition, anyway? Your present certainly isn't limited to these categories. Whether your 10th wedding anniversary gift budget is big or small, we've got a variety of classic and unique ideas—in fact, we'll start off with the latter. Happy shopping—and of course, happy anniversary, lovebirds.
In this article:
10-Year Anniversary Gift Ideas for Her
The 10th anniversary may be called the "tin" anniversary, but you certainly don't have to gift the metal. After 10 years together, you probably know your lady better than anyone. So keep her personality in mind when thinking about 10-year anniversary gift ideas for her. Does she like to decorate? Wear jewelry? Pamper herself? Travel? Here, you're sure to find some 10th anniversary gift ideas for her that speak to her unique taste. That said, all the gifts on this list could really work for anybody, so keep scrolling for even more inspiration.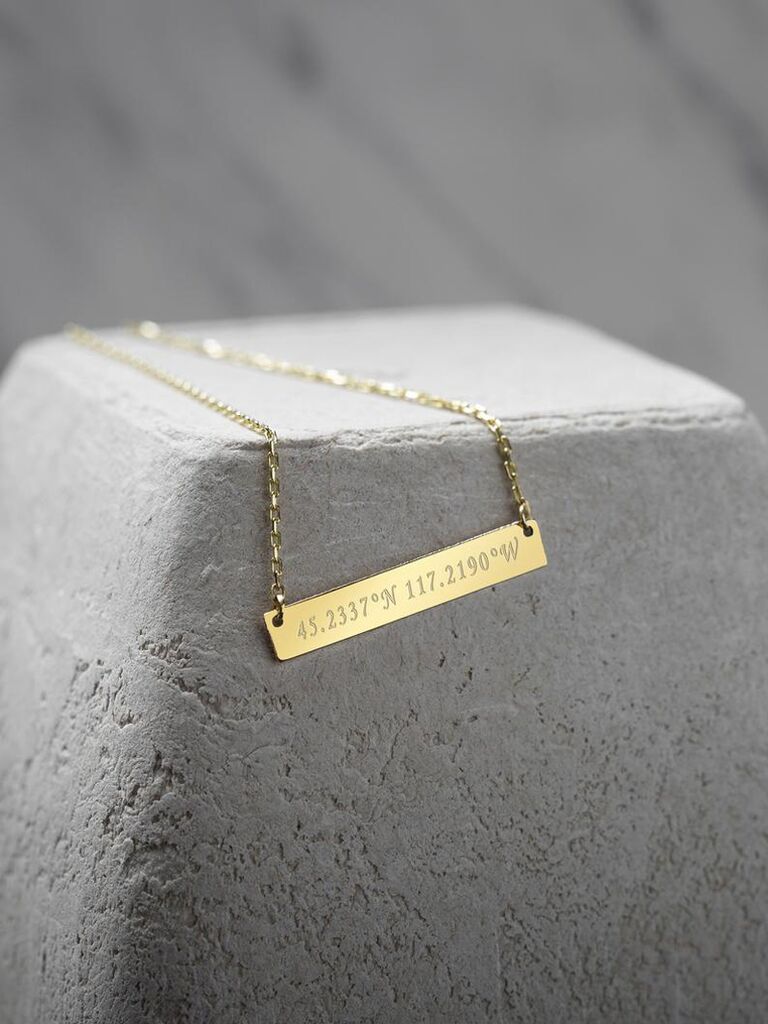 The beauty of this necklace lies not only in its simple design, but also in the personalization options. Have it engraved with your wedding date, both your initials, or the coordinates of where you tied the knot. No matter what, it'll make an extra-special 10-year anniversary gift for your wife.
BYNCR's Jewelry personalized bar necklace, from $169, Etsy.com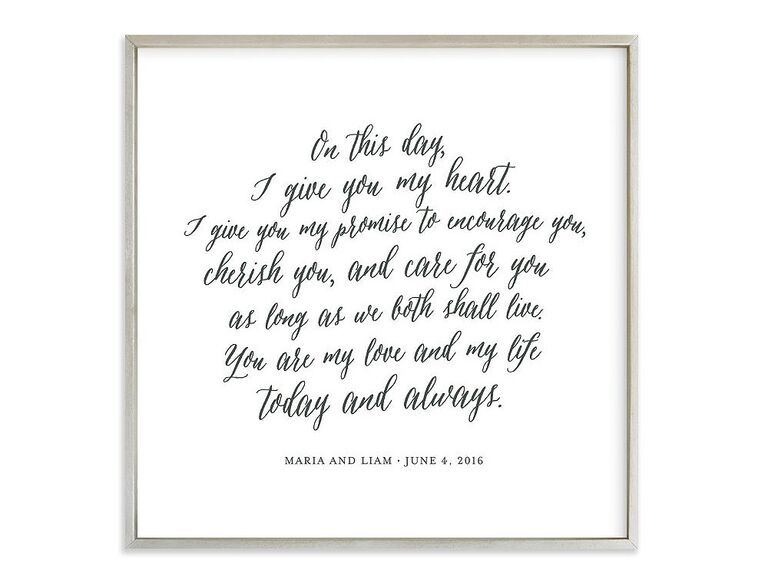 Have your wedding vows printed and framed as a sweet, everyday reminder of your commitment and love. She'll swoon all over again when she receives this completely personalized, super-romantic 10-year anniversary gift.
Minted Your Vows as an Art Print, from $36, Minted.com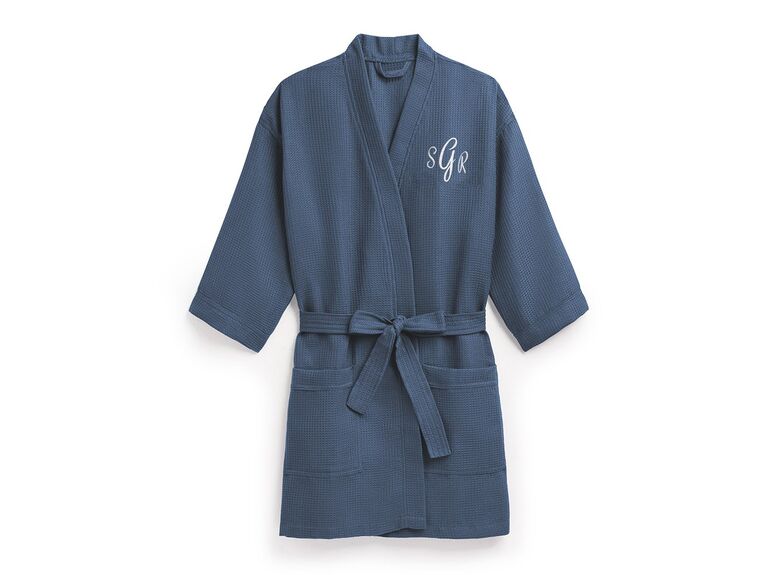 Admit it—she does a lot. Remind her to pamper herself a bit by giving her a soft robe emblazoned with her initials as a 10-year anniversary gift. (Psst: Order it in a beautiful shade of blue to nod to the 10th anniversary color.) Then, draw her a bath, play some soft music and give her time to relax. 
The Knot Shop women's personalized embroidered waffle spa robe in Navy, $28, TheKnotShop.com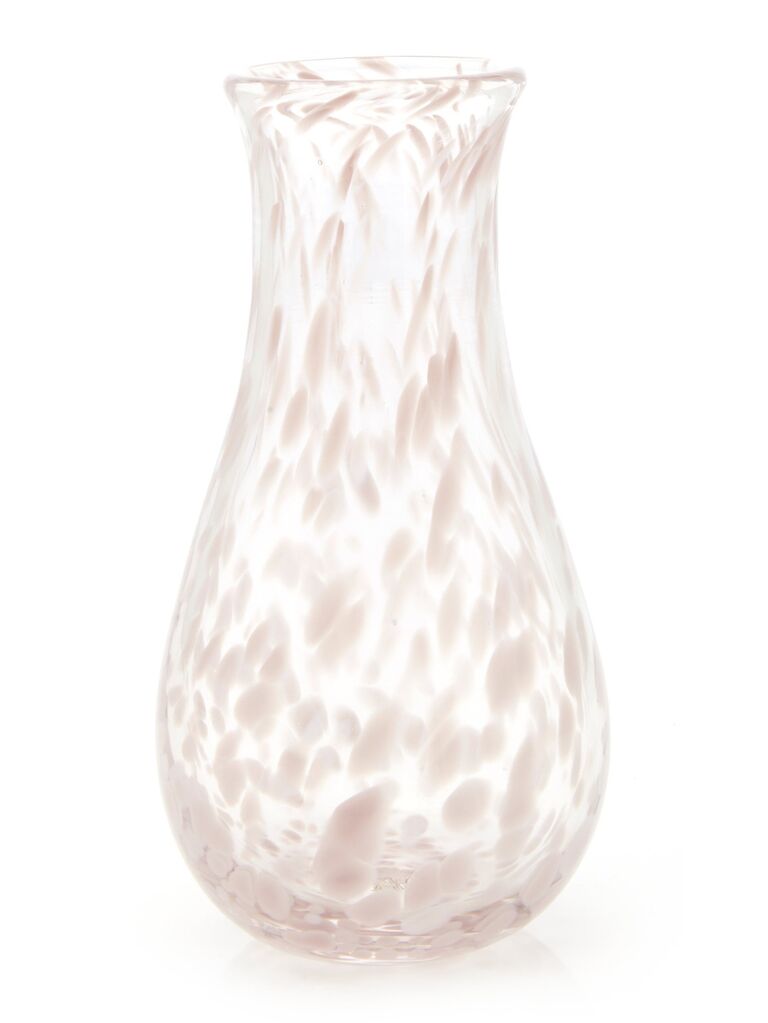 If she's not a jewelry person, vow to give her fresh flowers more often this year. She can put them in this gorgeous hand-blown vase with a chic, abstract finish.
Paul Arnhold Glass glass vase, $200, ModaOperandi.com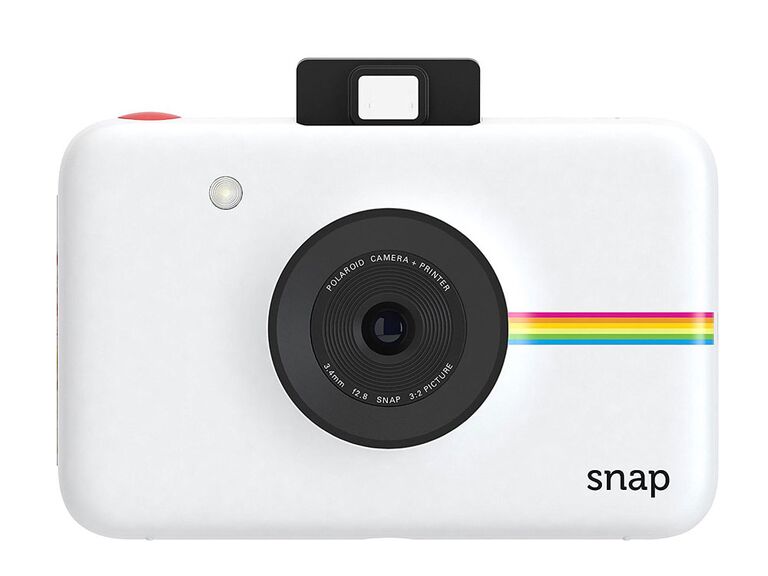 This throwback camera works as a 10-year wedding anniversary gift for her or for him. Attach a sweet note about all the memories you've made together—and how you want your S.O. to be able to capture many more over future decades.
Polaroid Snap Instant digital camera, $90, Amazon.com 
10-Year Anniversary Gift Ideas for Him
Gift your main man something super-meaningful on this important year. A 10th anniversary gift for him can be stylish or sweet but remember: It should be something that reflects how well you know him. Searching for ideas that don't involve tin or aluminum? Whether he's a techie, a sports fanatic or just someone who loves to relax and unwind, we think there's a winner among these 10-year anniversary gifts for him. (But again, these presents aren't limited to just being "for him.")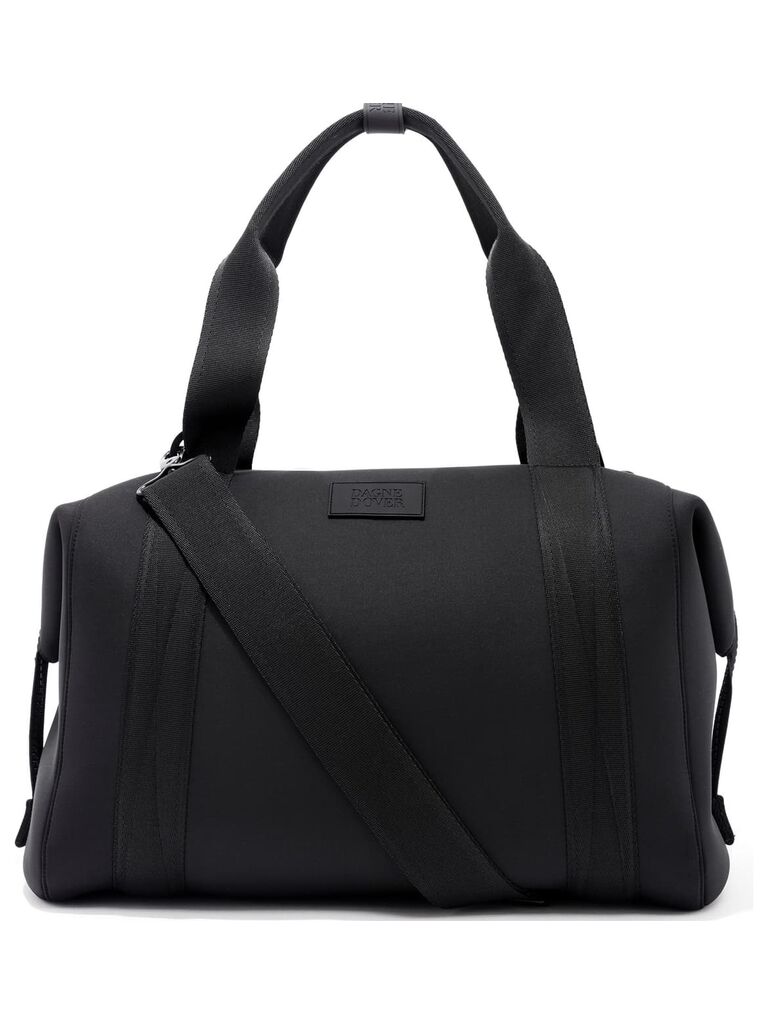 For the guy on the go, try this do-it-all bag with a built-in laptop sleeve, key leash and laundry bag. This 10-year anniversary gift is perfect for the husband who likes to stay on top of things.
Dagne Dover 365 large Landon neoprene carryall duffle bag, $185, Nordstrom.com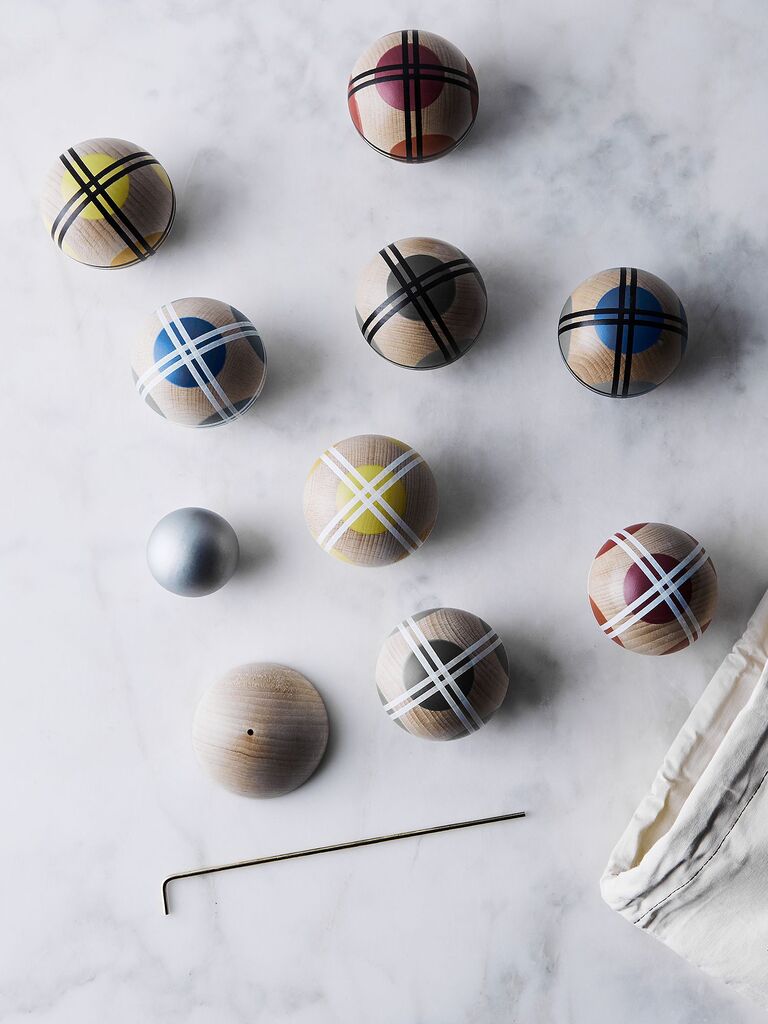 If it's all fun and games with your guy, give him a game with an upscale, nostalgic feel, like bocce. This 10-year anniversary present has a fun, barbecue-ready design. It's so special it feels like a once-in-a-decade gift, yet it's still as laid back as your man.
Fredericks & Mae bocce set, $150, Food52.com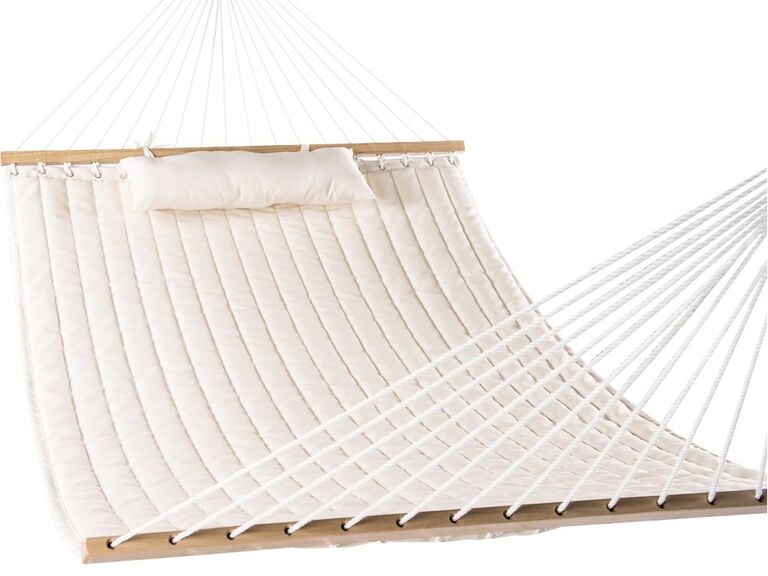 Give him the gift of ultimate relaxation with this hammock—the perfect excuse for a little R&R. Better yet, this one is big enough for two, making it the perfect 10th anniversary gift for him and you.
Lazy Daze Hammocks double quilted fabric hammock swing with pillow, $75, Amazon.com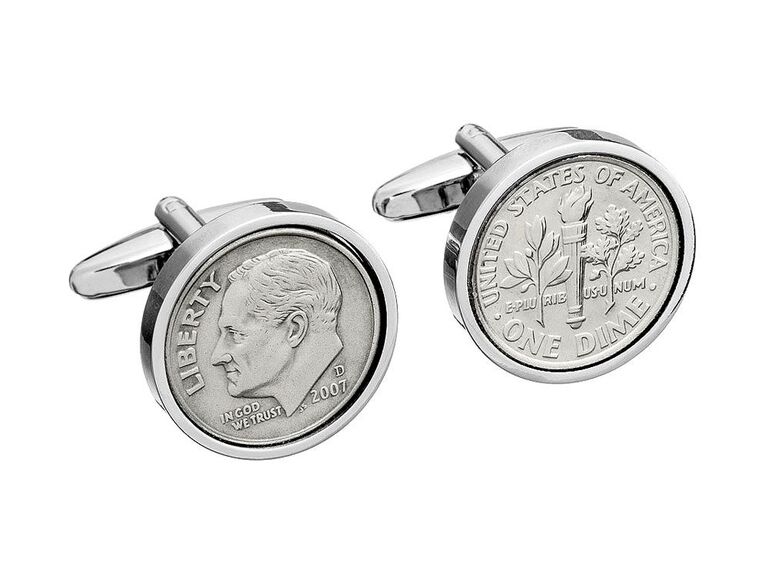 Anyone who gets a close look at these cufflinks will notice they're made of dimes, representing 10 years of wedded bliss. They're the perfect 10-year anniversary symbol for your dapper guy who likes to get dressed up. Bonus: They come in a stylish silver box, representing the 10th anniversary color.
World Coin Cufflinks dime coin cufflinks 10-year anniversary gift, $60, Etsy.com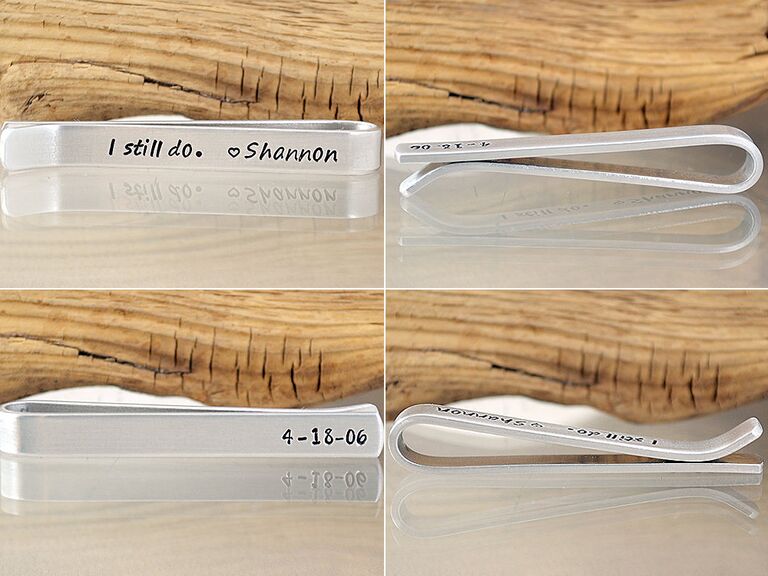 Not all guys have the opportunity—or inclination—to wear a tie clip. But if yours is part of the finely dressed few, give him a personalized tie clip with your wedding date and a romantic message telling him "I still do."
Pink Lemon Design anniversary gift for men personalized tie clip, from $17, Etsy.com 
10-Year Anniversary Gift Ideas for Them 
A 10-year anniversary gift for a couple should be either practical or sentimental—and ideally both. Consider customized 10th anniversary gifts that suit the couple's tastes and feel like a once-in-a-decade treasure. These alternative options prove your present doesn't have to be made of tin or aluminum.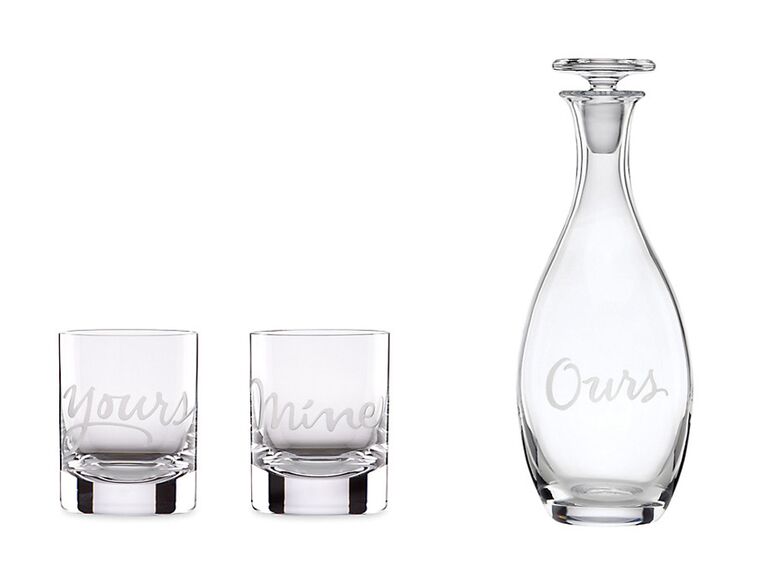 The happy couple can raise a glass to 10 years together with this fun set of "mine" and "yours" glasses. And because they've proven they can share, you might want to spring for the "ours" decanter too.
Kate Spade New York Two of a Kind Yours and Mine double old fashioned glasses, $60 for set of 2, KateSpade.com, and Ours decanter, $100, KateSpade.com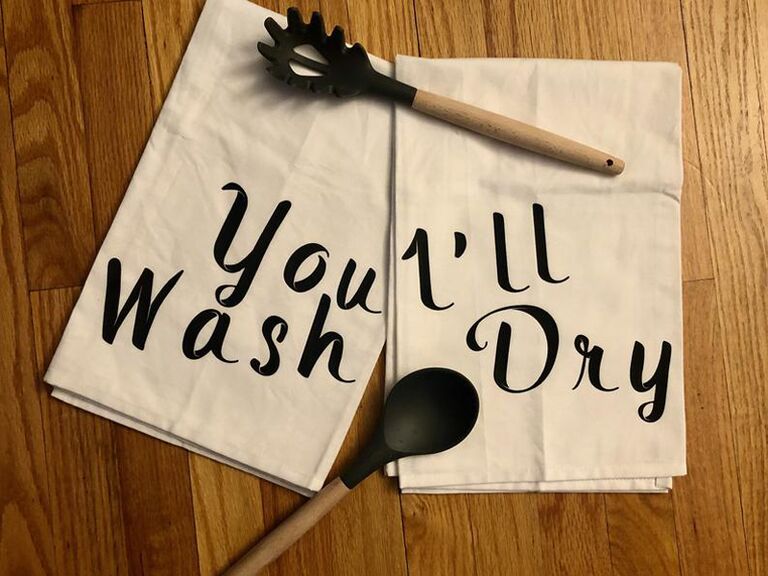 What's any married couple's most common conversation about? Dinner, of course. This fun tea towel set pays tribute to their ability to work as a team to make mealtime (and cleanup) happen.
Abundant Blessings You Wash I'll Dry tea towel set, $22, Etsy.com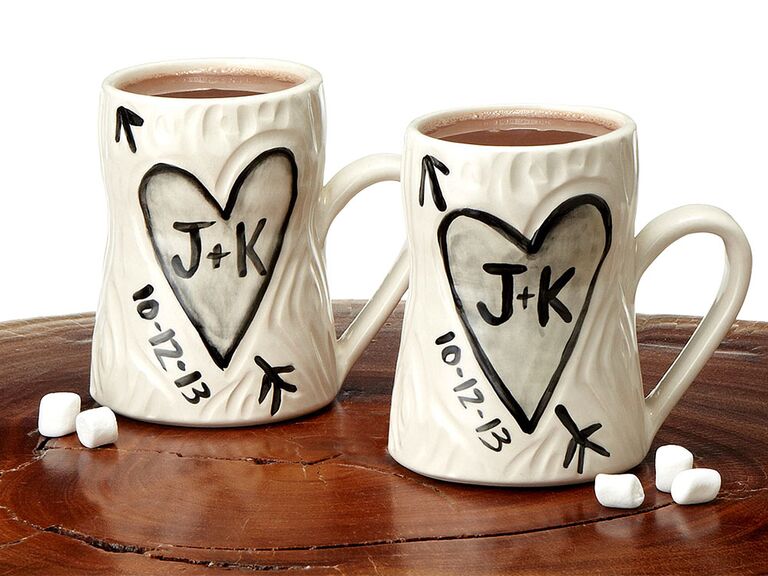 They say the secret to a lasting relationship is being able to be boring together. These adorable initial mugs are perfect for a quiet night in with their favorite movie. This 10th anniversary gift idea for a couple reminds us of lovebirds carving their initials into a tree. That is, without actually harming a tree.
Gina DeSantis personalized porcelain faux bois mug set, $75, UncommonGoods.com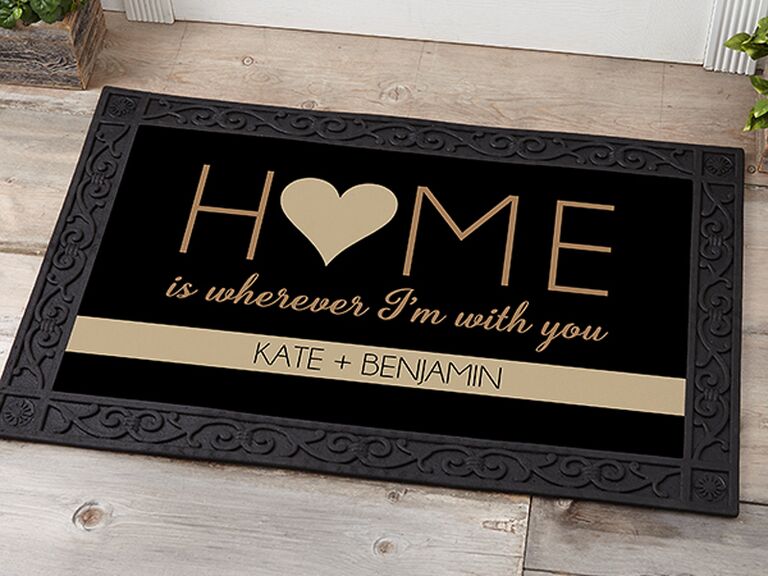 Home is where the heart is. A personalized doormat makes a sophisticated accent to any home's entryway and pays tribute to the life a couple has established together.
Personalization Mall HOME With You personalized doormat, from $30, PersonalizationMall.com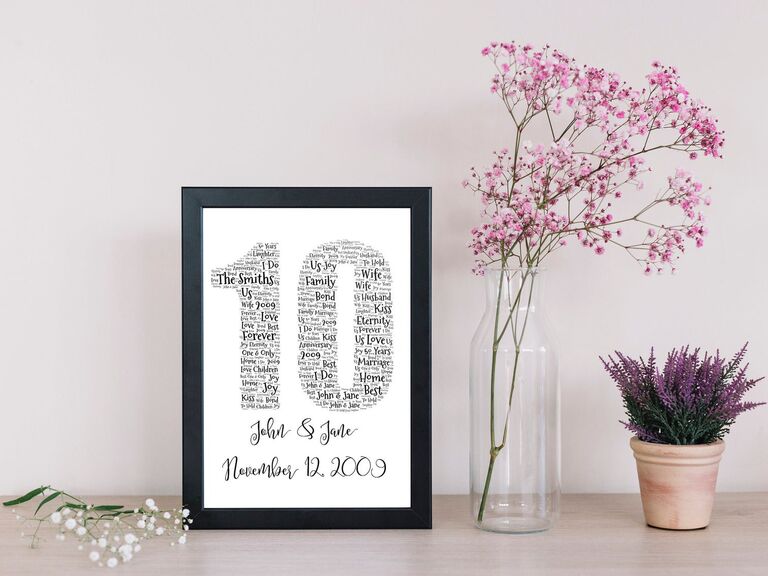 Use words that are meaningful to the couple—their wedding date, their first date, their favorite places, their kids' names and more—to create a printable "10" that's perfect for framing and hanging in their home. Bonus: Friends of the happy couple can gift this thoughtful 10-year wedding anniversary gift without over-stretching the budget.   
Novel Designs Etc custom 10th anniversary word art gift, $19, Etsy.com 
Aluminum and Tin Anniversary Gifts
Surprise! There are tons of tin or aluminum anniversary gifts that are totally on-trend while keeping with the 10-year anniversary gift tradition. You're sure to find the perfect aluminum or tin anniversary gift on our list, whether you're shopping for your wife, husband or favorite couple friends.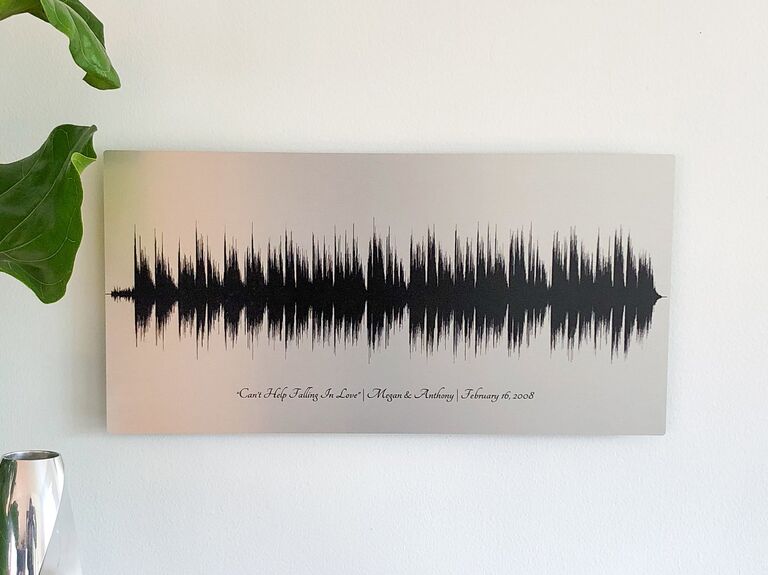 Here's proof that traditional 10th anniversary gifts can still be super creative. Get one of your (or their) wedding songs printed in aluminum for an amazing home decor piece.
Artsy Voiceprint 10 year anniversary tin sound wave art, from $80, Etsy.com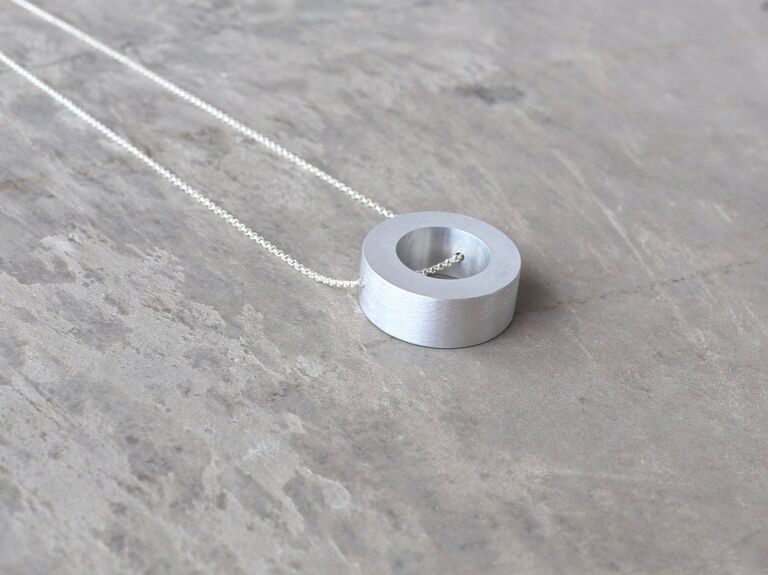 Not only is this necklace simply chic, but its circular pendant is made of aluminum, so it fits the 10-year anniversary gift theme perfectly. This minimalist necklace proves that sometimes simple 10th anniversary gifts are best.
Natura Metallum contemporary circle sphere aluminum necklace, $96, Etsy.com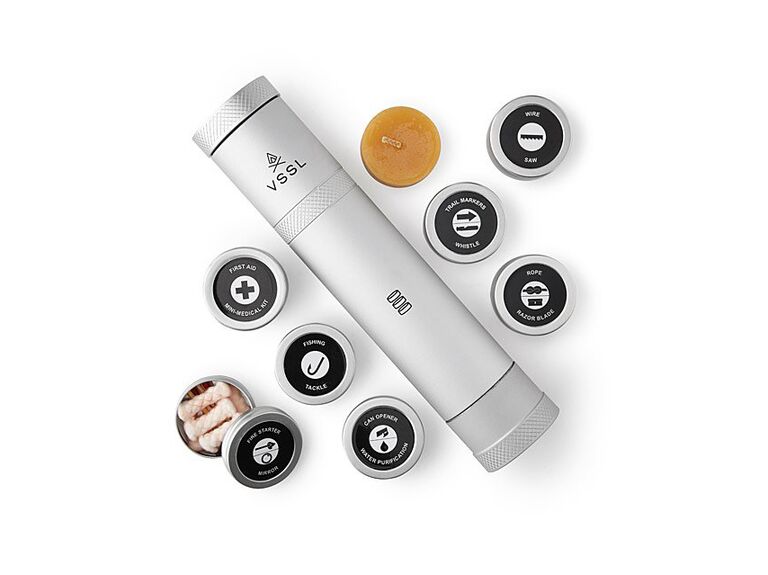 Surprise the adventurer in your life with a handy aluminum survival kit. This military-grade flashlight has a range of essentials safely stowed inside. With this convenient tool on hand, they'll be keen to start planning their next adventure.
Uncommon Goods adventure essentials survival kit, $130, UncommonGoods.com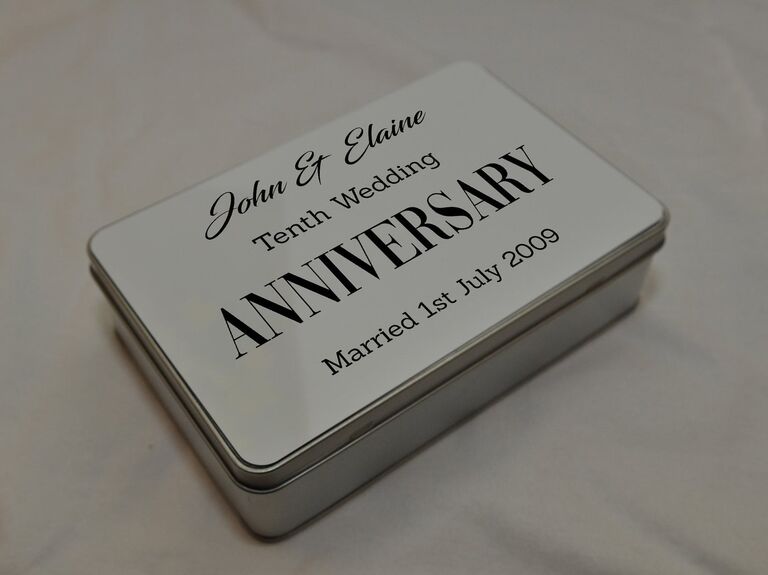 It's called the tin anniversary, so give them just that: a tin filled with a selection of pampering products. This cute gift is yours to make your own. Fill it with some of their favorite things, from tasty snacks to beauty staples. 
Mill Hill Sublimation personalized 10th wedding anniversary storage tin, $17, Etsy.com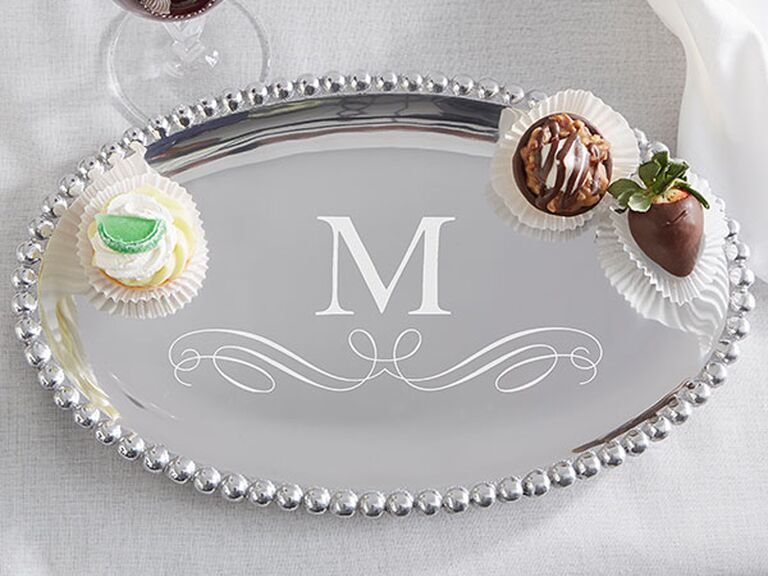 Monogrammed gifts feel extra special and work well for anniversaries if the couple shares a last name (or just happen to share the same last initial). An elegant pearl design makes this aluminum serving tray the perfect traditional 10-year anniversary gift.
Mariposa String of Pearls personalized oval serving tray, $90, PersonalizationMall.com
Diamond Anniversary Gifts
You can't go wrong with diamond anniversary gifts for the 10th anniversary. And whether you're buying on a budget or you want to splurge, there's a good variety of diamond or diamond-inspired items that make a modern 10-year anniversary gift they'll cherish for the next 10 years and beyond.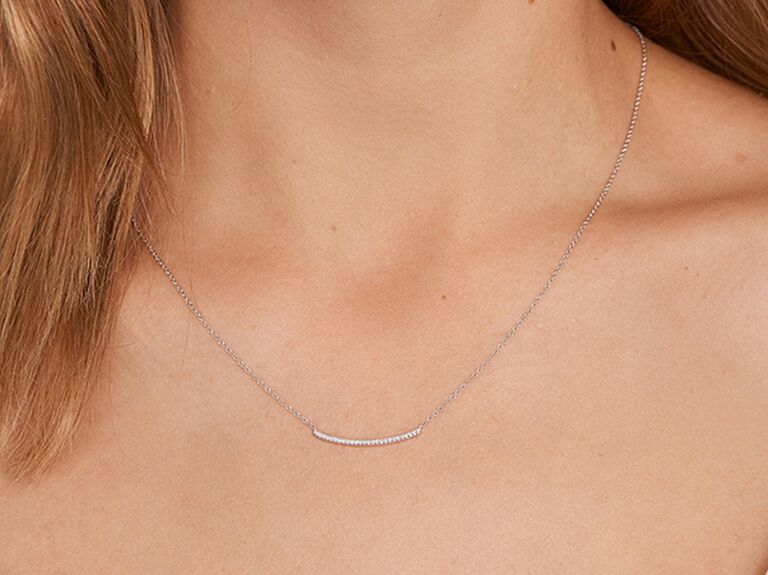 This necklace exhibits a sleek row of diamonds dangling from a delicate chain—a simple, elegant look that's versatile enough for a night out to dinner or their kid's soccer game.
James Allen 14k white gold slightly curved diamond bar necklace, $450, JamesAllen.com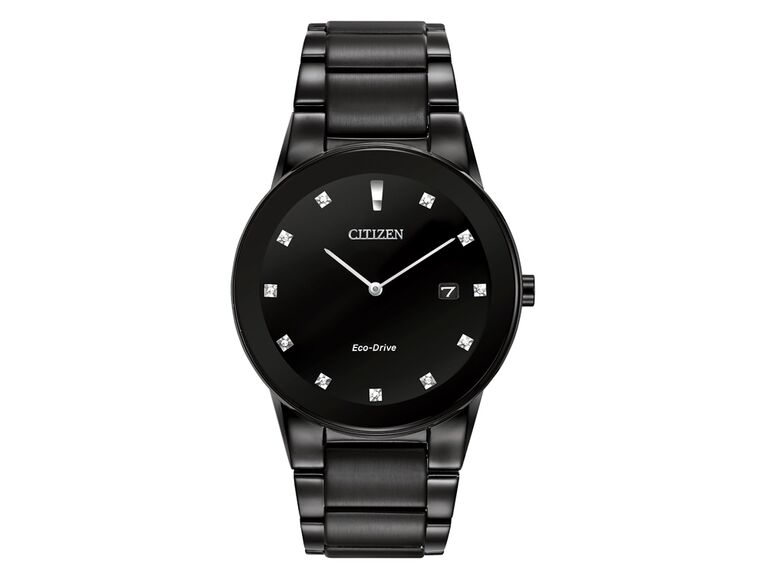 Add a subtle sparkle to their wrist with this classic 10th anniversary gift idea. We're big fans of Eco-Drive watches because they run on light. That means no winding and no battery changing. Not to mention, this watch is accented with diamonds.
Citizen Axiom diamond accent stainless steel bracelet watch, $395, Macys.com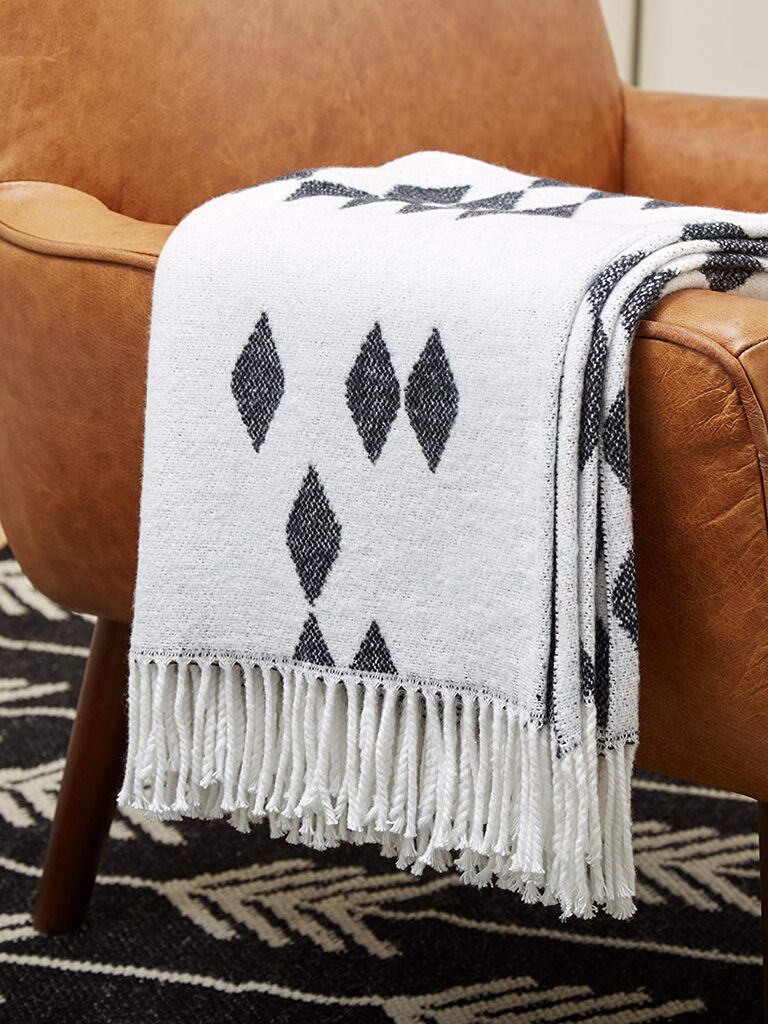 Not everyone wants to give a real diamond anniversary gift. But remember: "diamond" is open to interpretation. This contemporary throw has the chicest diamond pattern and comes in five different colors. It's perfect if your favorite way to show affection is with a cozy snuggle sesh.
Rivet geometric diamond jacquard reversible throw blanket, from $33, Amazon.com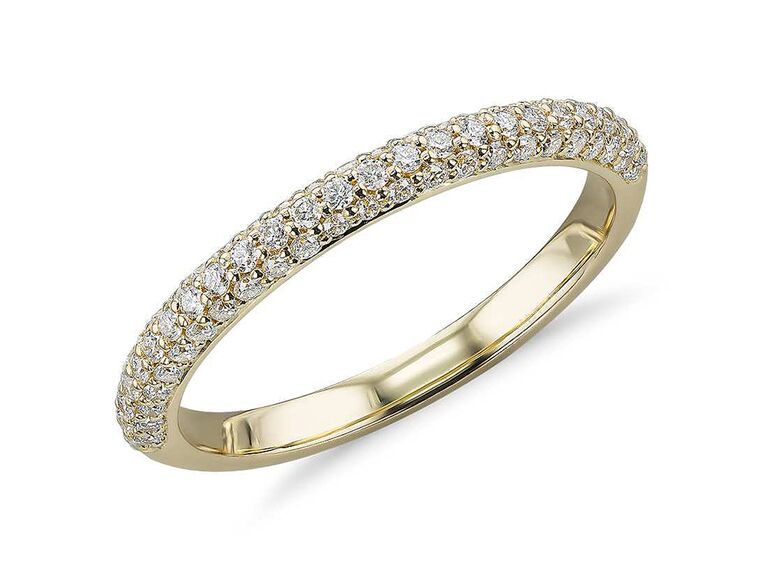 Ready to splurge? Add a bit of bling to their finger with a 10-year anniversary ring. They can wear this diamond band stacked above their wedding ring or on a different finger. Either way, we guarantee this sparkler will make them smile.
Blue Nile Trio micropavé diamond wedding ring, $1,490, BlueNile.com
For the style-setting spouse is this less-traditional, edgier jewelry choice: a simple chain strung with a beautifully natural black diamond.
Austin Down to Earth genuine black diamond necklace, $35, Etsy.com