30 10-Year Anniversary Gift Ideas Deserving of a Decade
A couple that's been married for 10 years has proven their bond is stronger than tin, aluminum and even diamonds.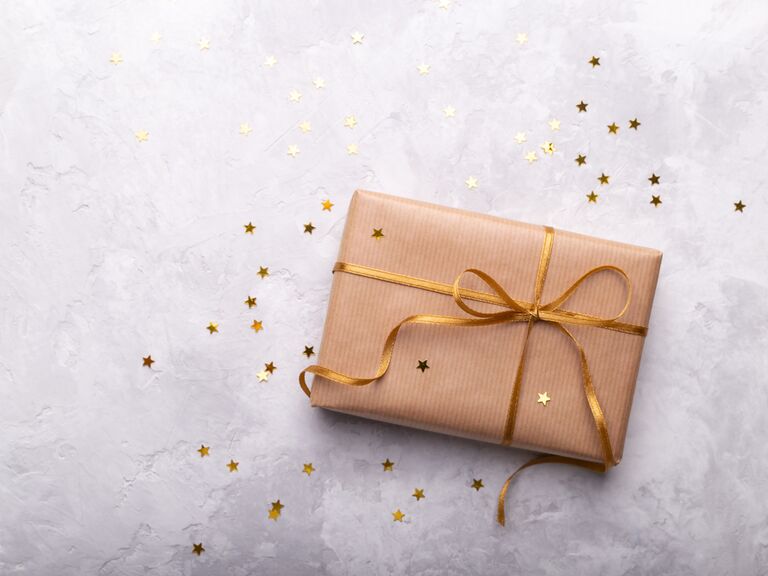 Lana_M / Shutterstock.com
We have included third party products to help you navigate and enjoy life's biggest moments. Purchases made through links on this page may earn us a commission.
A decade of marriage—what an incredible journey! Whether you're a friend, relative or one half of the happy couple, this one is certainly worth celebrating. A great way to do just that? Picking out a meaningful 10-year anniversary gift for your spouse or favorite duo. Finding a present deserving of such a big milestone might be a little intimidating, but lucky for you, there's already a selection of unique 10-year anniversary symbols you can take inspiration from. Not only that, but we've listed our favorite ideas for both the traditional and modern 10-year anniversary gift themes below, as well as some great alternatives we think would make an excellent present. Ready to get started? Find out everything you need to know about the tin anniversary and then have fun shopping!
In this article:
What is the 10th anniversary gift?
According to etiquette, a traditional 10-year anniversary gift is made from tin or aluminum. While that might not sound glamorous, there are actually tons of creative, fun and romantic gifts made of these silver-toned metals. Plus, they're both fitting representations of a marriage that's lasted 10 years. These materials don't rust, meaning they'll keep their shine over time, and their pliability pays tribute to the flexibility a lasting relationship requires.
The other upside is that the modern gift material for the 10th anniversary is diamond, which definitely feels glamorous. Scoring a perfect 10 on the Mohs scale, it's the hardest natural material in the world. With that in mind, it makes sense that this durable gemstone should symbolize 10 years of marriage.
If none of these themes grab your attention, don't worry. Each year of marriage is also symbolized by a color and flower. The 10-year anniversary color is silver or blue, in contrast to the bright yellow daffodils that are also associated with this wonderful milestone. And who's to say you can't make tradition, anyway? Your present certainly isn't limited to these categories. Whether your budget is big or small, we've got a variety of classic and unique ideas to choose from.
Aluminum and Tin Anniversary Gift Ideas
Surprise! There are lots of cool and sentimental tin and aluminum anniversary gifts—you just have to know where to look. Lucky for you, we do! You're sure to find an awesome traditional 10th anniversary gift on our list, whether you're shopping for your wife, husband or favorite couple friends.
Meaningful Star Map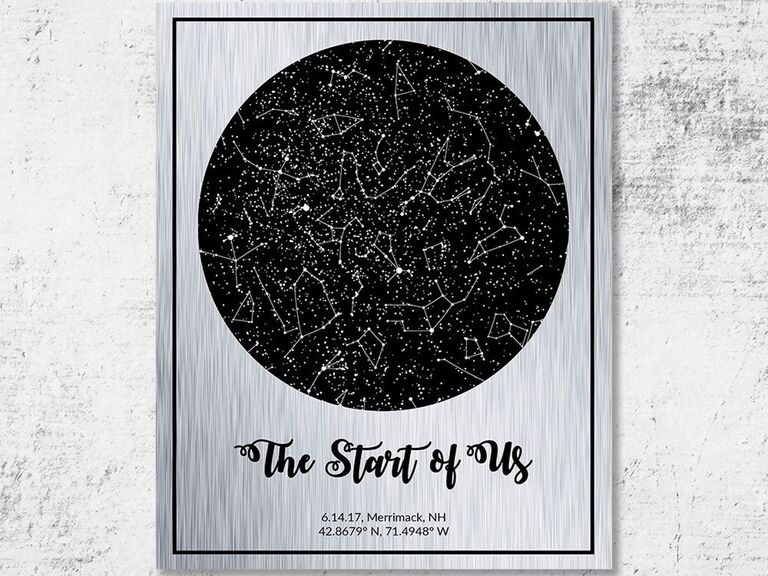 "Milestone anniversaries signify an important year in one's marriage that is more noteworthy than previous or upcoming years," says Kathy Flynn, Senior Vice President of Merchandising and Creative at Personalization Mall. With that in mind, it makes sense to go big with commemorating the occasion. A map of the stars from the date of your 10th anniversary (or your wedding day) is a super-thoughtful present your spouse will always cherish. What's so special about this one is that it's made out of aluminum panels, perfect for your 10-year marriage anniversary. Have it personalized with the date and location right down to the coordinates.
Sleek Survival Kit
Surprise the adventurer in your life with a handy aluminum survival kit. This military-grade flashlight has a range of essentials safely stowed inside. It's an excellent opportunity to start planning your next adventure together, like a camping trip or romantic hike (we're thinking David and Patrick style).
Zodiac Ring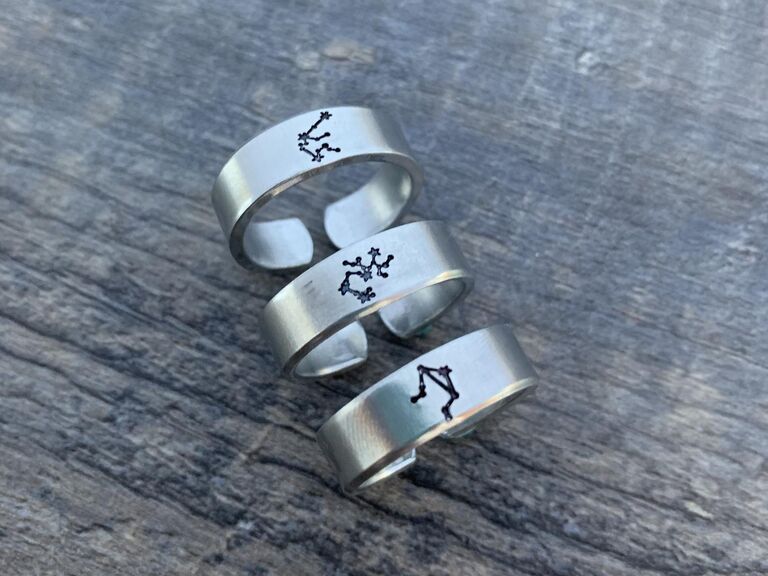 Lots of couples choose a 10-year anniversary ring as a thoughtful present. Incorporating a unique element such as their birthstone or zodiac sign is a meaningful way to personalize a gift, says Kathryn Money, Senior Vice President of Merchandising and Retail at Brilliant Earth. Our pick? This minimalist aluminum band complete with your S.O.'s star sign.
Elegant Serveware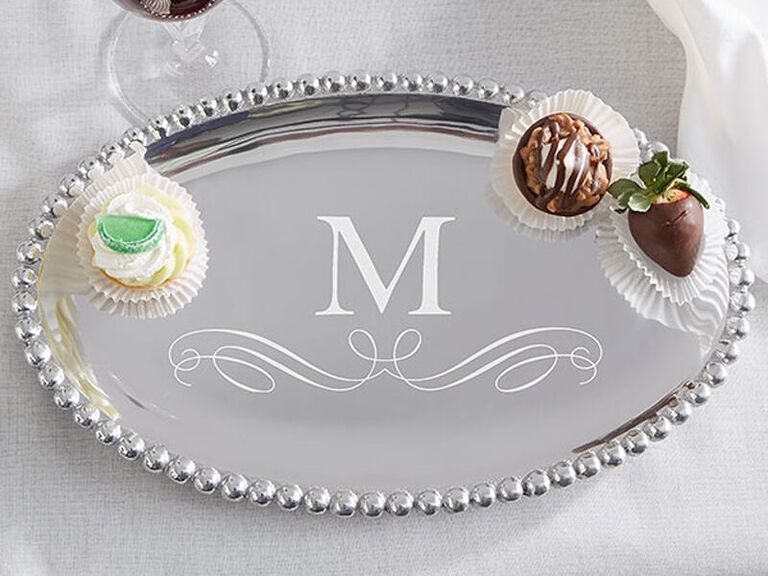 Elevated serveware always works well as a gift for a couple, but this monogrammed tray trumps the rest when it comes to celebrating 10 years of marriage. It's made from recycled aluminum and features an elegant pearl-inspired design.
Punny Guitar Pick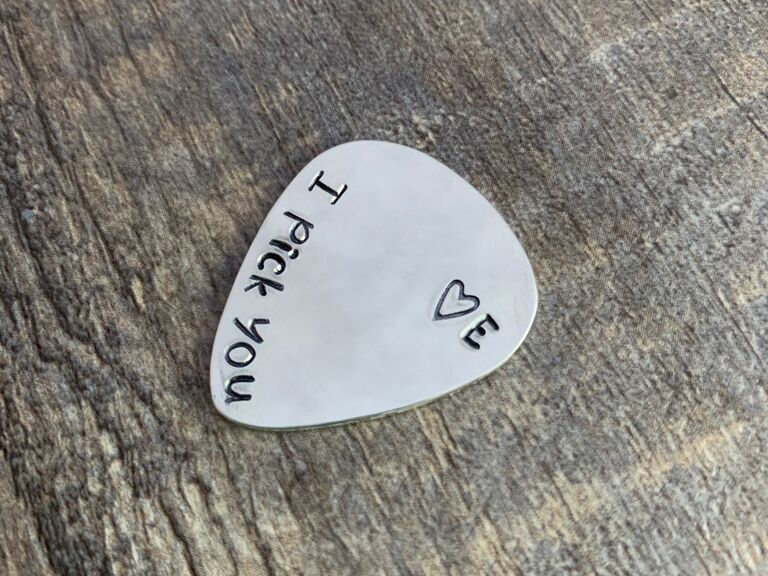 Who said you have to break the bank to come up with a meaningful gift? This aluminum guitar pick is a cute token for your music-loving spouse. Have it stamped with a sweet message like "I pick you" so they know you're still crazy about them.
Sentimental Wall Art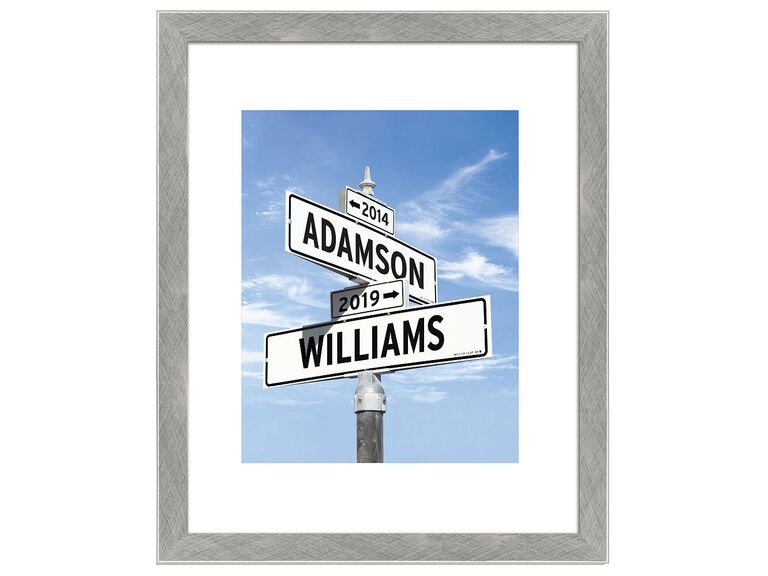 Whether you're looking for tin anniversary gifts for him, her or the couple, this one's a winner. It's a personalized art print commemorating your (or their) relationship—cue the happy tears! The icing on the cake? You can get it framed in tin as a special tribute to the occasion. According to Dana Selarnick, Senior Buyer, Home and Technology at Uncommon Goods, it's one of the retailer's most popular anniversary presents.
Romantic Sound Wave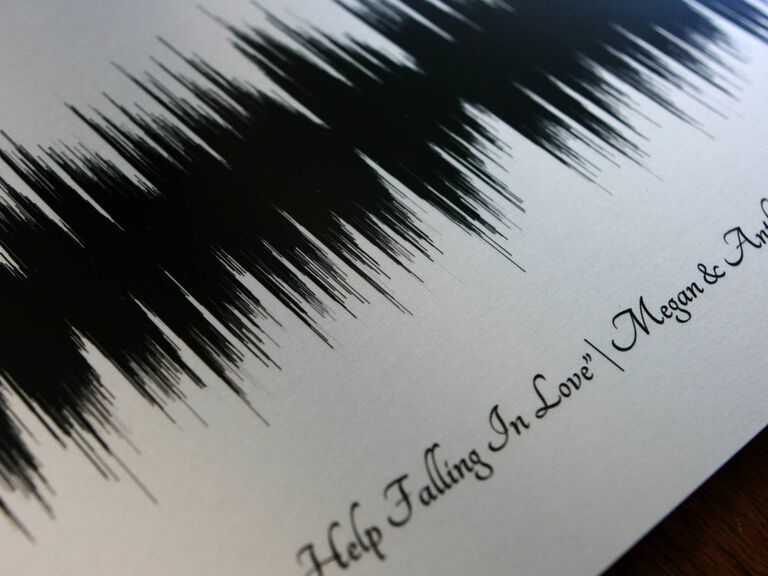 Here's proof that traditional 10-year anniversary ideas can still be super creative. Get one of your (or their) wedding songs printed on brushed aluminum for an amazing keepsake that doubles as home decor.
Pampering Gift Set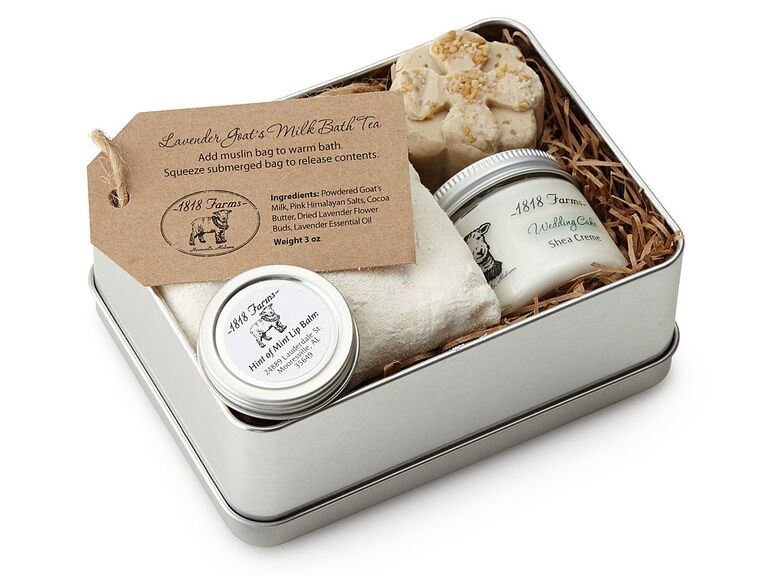 Don't be afraid to think outside the box when it comes to finding a tin-themed 10-year anniversary gift. Why not give your other half a tin filled with goodies? This one is chock full of farm-fresh spa products, including wedding cake-scented shea cream that'll instantly bring them back to the day they said "I do."
Anniversary Sundial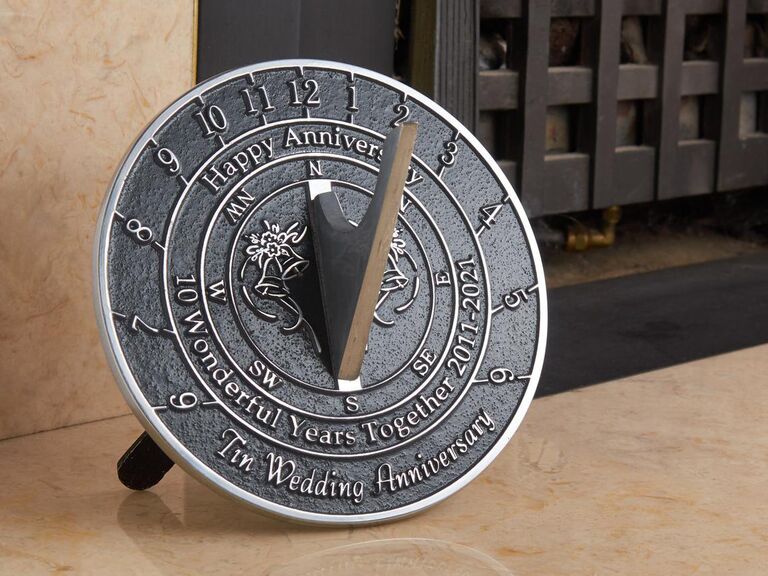 Here's another unique aluminum present for the couple celebrating a decade together. The chic metal sundial will look stunning in their home or garden. It reads: "10 Wonderful Years Together" and "Tin Wedding Anniversary."
Personalized Pen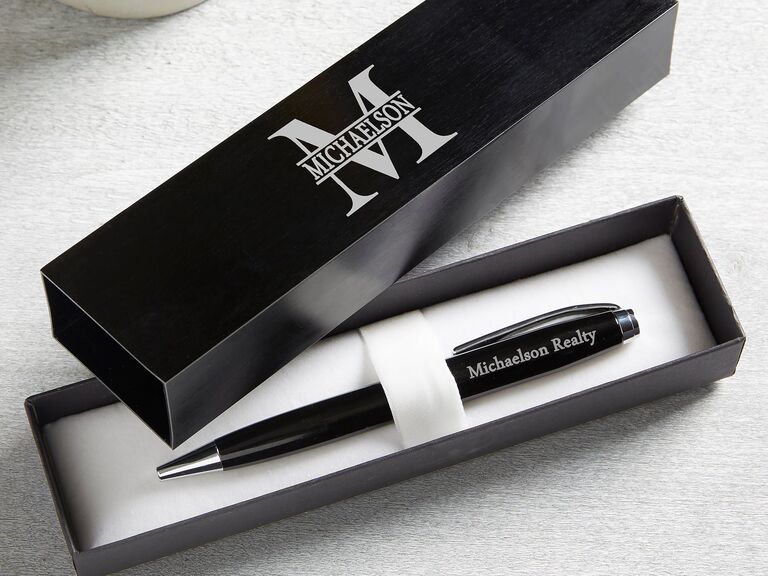 An engraved aluminum pen is a small-but-sentimental gift that'll add a personal touch to your S.O.'s desk at home or in the office. The case can be personalized with their surname and monogram, and the pen can be engraved with pretty much anything (think: their name, the date of your nuptials or a sweet message like "I love you").
Diamond Anniversary Gift Ideas
As a refresher, the 10-year anniversary stone represents the strength and durability of a relationship. There are lots of ways to incorporate this coveted gemstone into a memorable 10-year wedding anniversary gift for your spouse or favorite lovebirds, from diamond jewelry to diamond-cut champagne glasses. To help narrow your search, we've listed our top 10 picks right here.
Dazzling Ring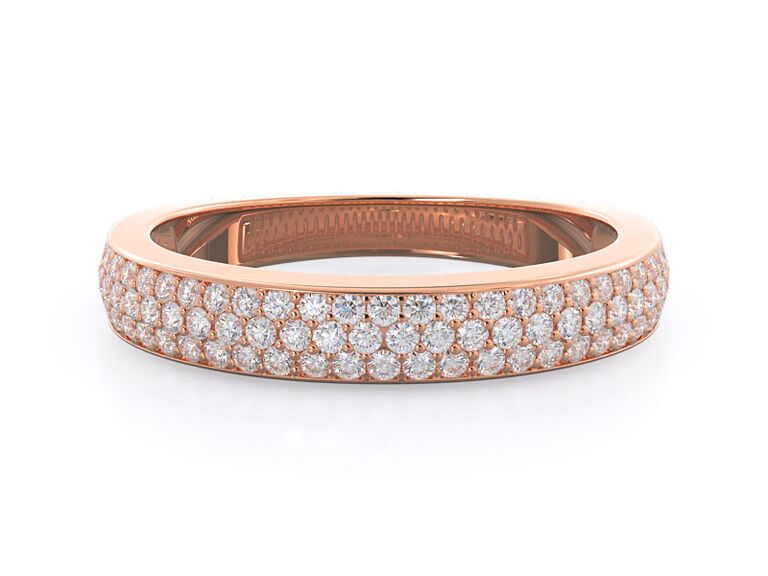 Ready to splurge? It's been a decade since you put a ring on their finger, so why not get your other half a ring upgrade for your 10-year anniversary? A dazzling diamond band like this one will look just as good on its own as it will stacked alongside a wedding and engagement ring. Either way, we guarantee this sparkler will make them smile. Money believes that jewelry is "a daily reminder of your shared love, making it the perfect anniversary gift."
Unusual Necklace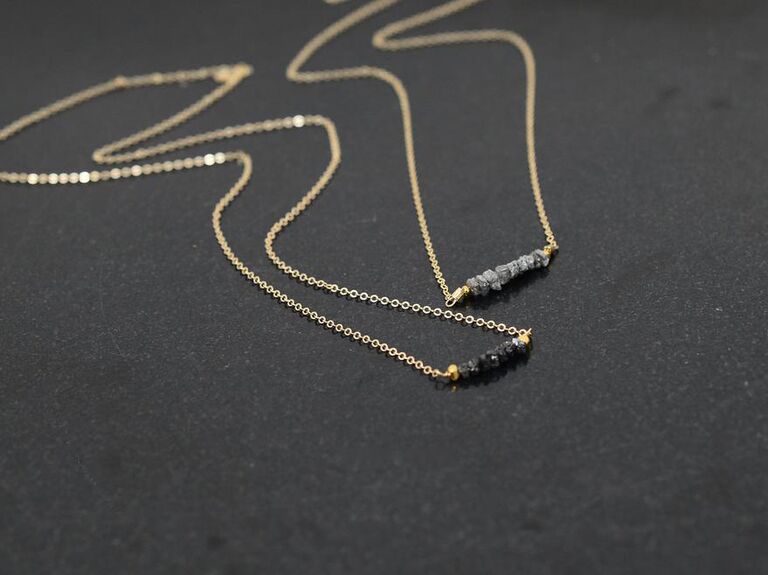 Shopping for 10-year wedding anniversary ideas on a budget doesn't mean you have to ditch the diamonds. Raw gemstones have tons of character without the hefty price tag, plus they're often more sustainable than their polished counterparts. This dainty necklace is a great gift for your trendsetting spouse.
Minimalist Ring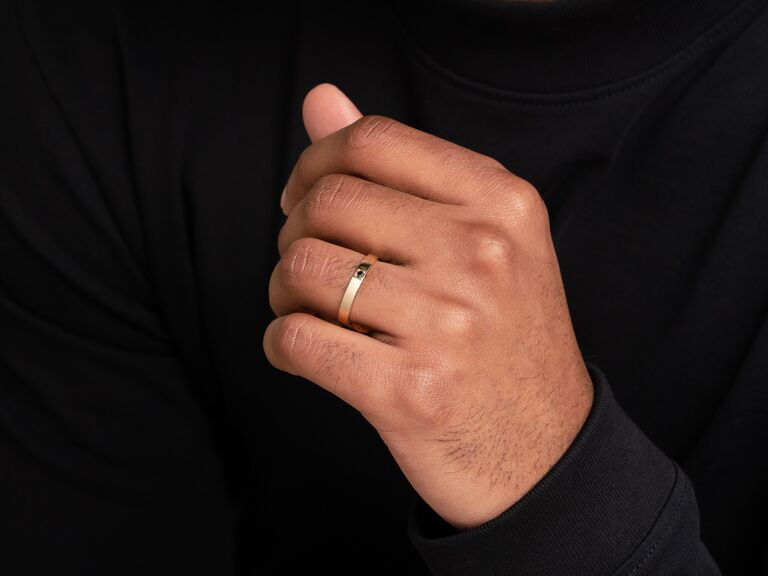 Diamonds can be anyone's best friend, and there's a dazzling piece of jewelry to suit every style. This minimalist ring features a small black diamond on a yellow- or white-gold band. It's one of the best 10th anniversary ideas if your spouse has an understated style. Bonus: Mejuri specializes in selling ethically sourced jewelry that skips out on the traditional markup.
Opulent Glassware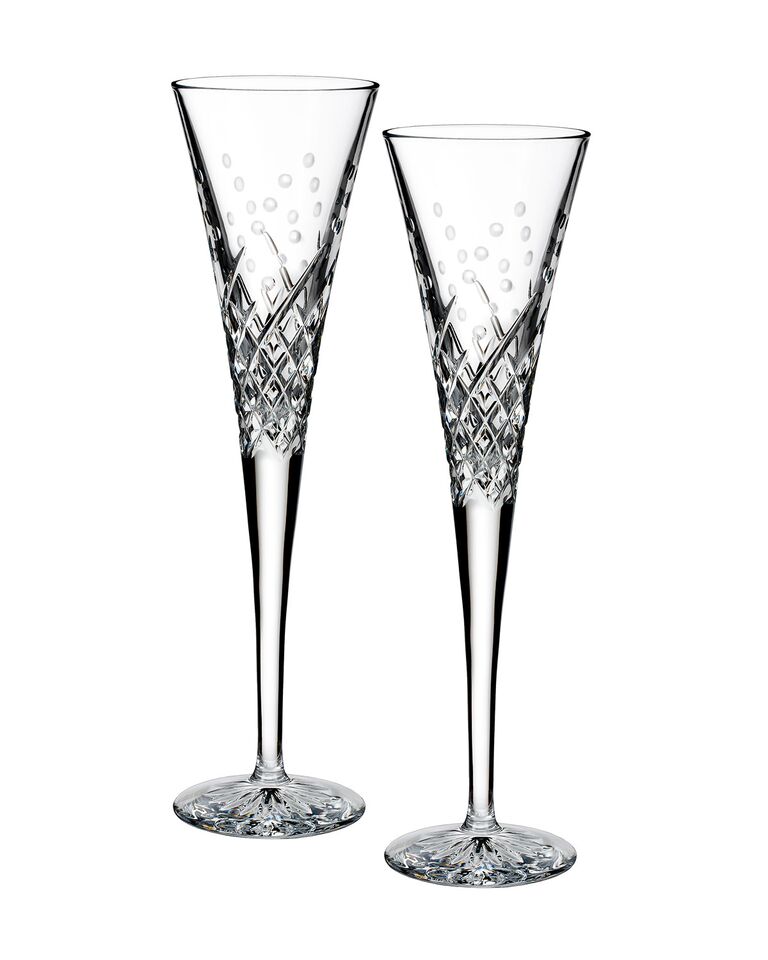 Looking for 10-year anniversary gift ideas for friends? Don't be afraid to get creative—each theme is totally open to interpretation. A pair of diamond-cut champagne flutes is a unique gift they can use to toast the special occasion. Cheers!
Diamond-Studded Watch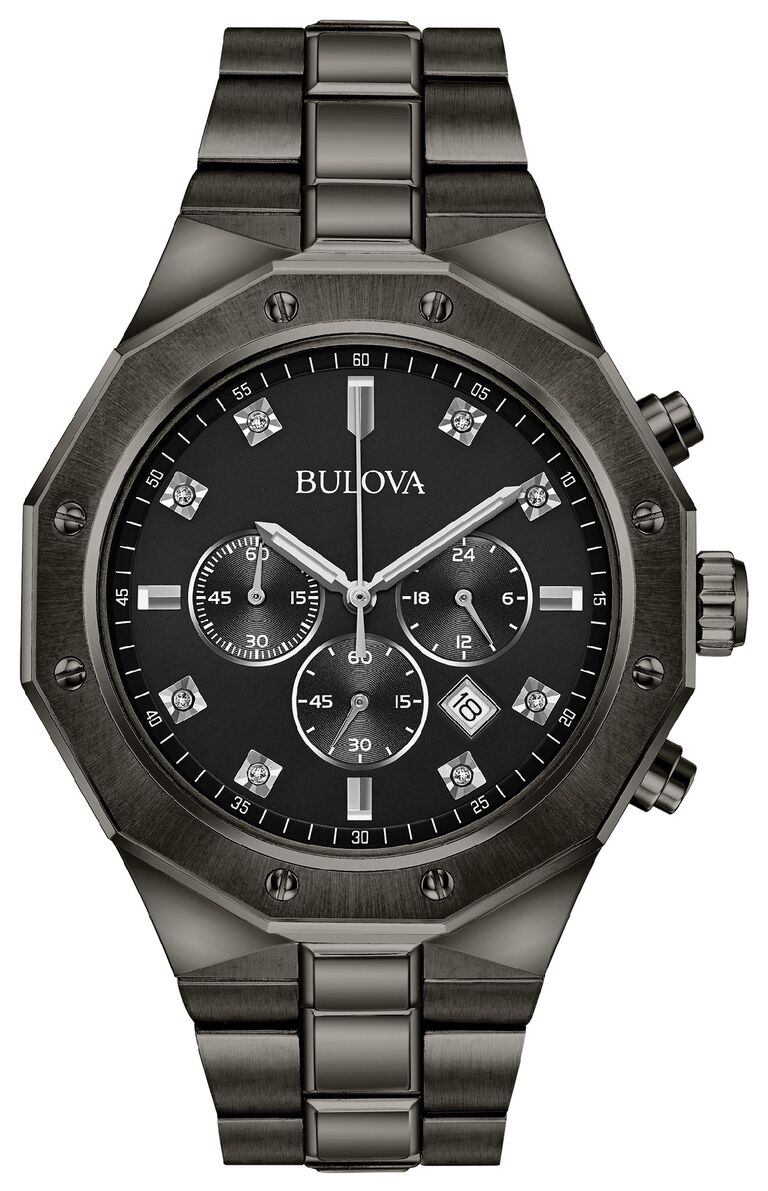 10 years later and your love still shines bright like a diamond. "A watch is a reminder to take the time to nurture the relationship and never forget the special times in our lives, for the most important things in life are made up of memories," says Susan Chandler, Chief Merchandising Officer, Citizen Watch America, representing both Citizen Watch and Bulova brands. Still not sold on this stainless steel chronograph? It's also water resistant up to 100 meters and has a calendar feature.
Stunning Earrings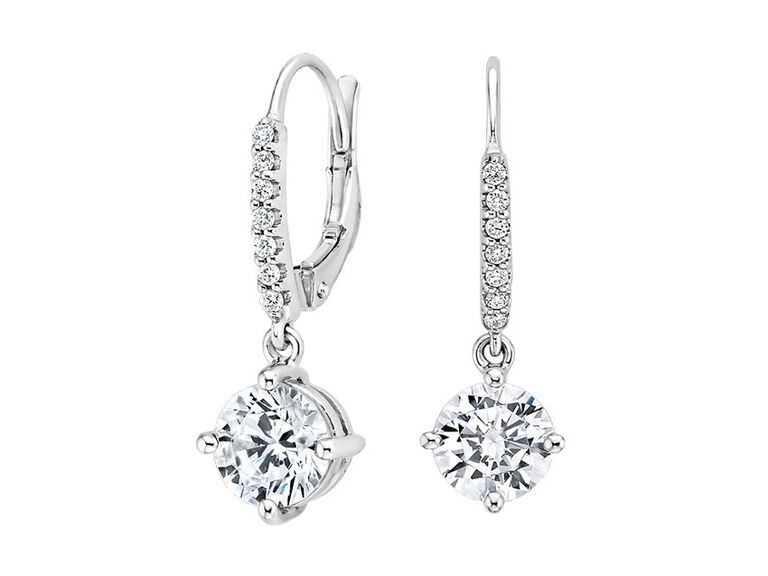 There are so many directions you can go with the modern gift for this milestone. According to Money, handing over jewelry as a gift "shows you have a strong understanding of your partner's style and preferences." So if you're feeling overwhelmed on your hunt for the perfect diamond jewelry, just focus on what your spouse usually wears. If they're a fan of timeless drop earrings, these stunning diamond hoops are a must-have.
Symbolic Cuff Links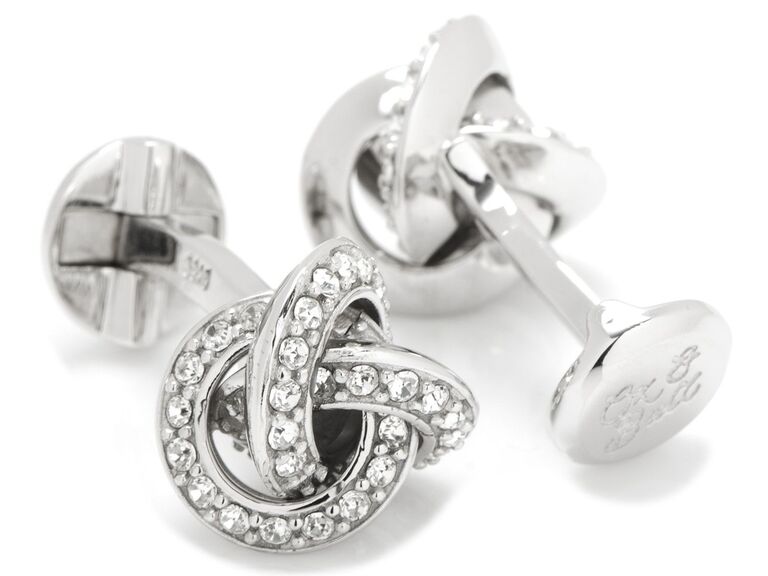 Accessories like cuff links are super giftable, and you can save some moolah by gifting your other half a set covered in stunning Swarovski crystals instead of diamonds. These ones are shaped like love knots—a fitting tribute to your lasting union.
Trendy Necklace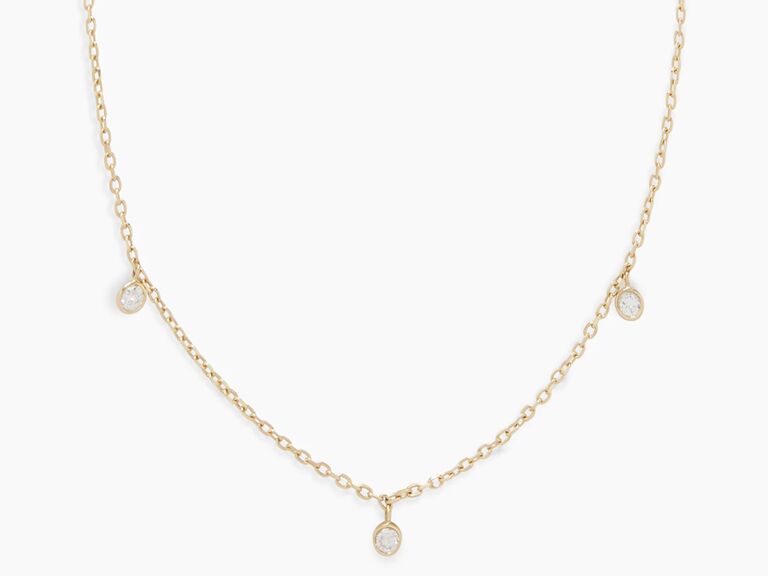 "Jewelry is such a personal moment, and the type of jewelry that is best for an anniversary gift is really contingent on the receiver's style and the meaning behind the gift," says Money. For the free-spirited spouse, Gorjana has a range of pieces in a quintessentially Californian style. We love the subtle beauty of this diamond station necklace. They can wear it alone for an understated look or layer it with shorter and longer pieces to create an elevated style.
Stylish Watch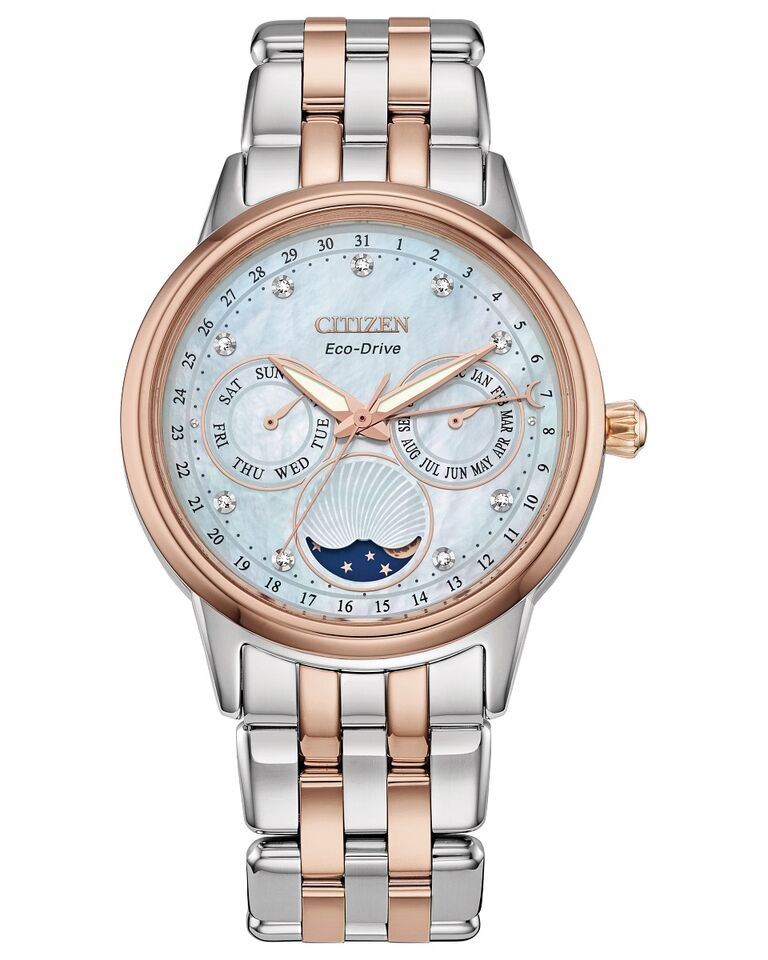 Like we said before, watches are a meaningful symbol of your time together, and there are plenty that come embellished with diamonds. The trick is picking out the right one for your spouse. "Since watches are available in an endless variety of styles, features and price points, they make ideal gifts to suit any couple's taste, style and budget," says Chandler. "When selecting the gift, the key is to connect with the values of the receiver. What do they appreciate? How will they wear the watch?" This one's dual-tone, bracelet-style band is ultra chic. We also love that it keeps track of the day, month and phases of the moon.
Dazzling Chain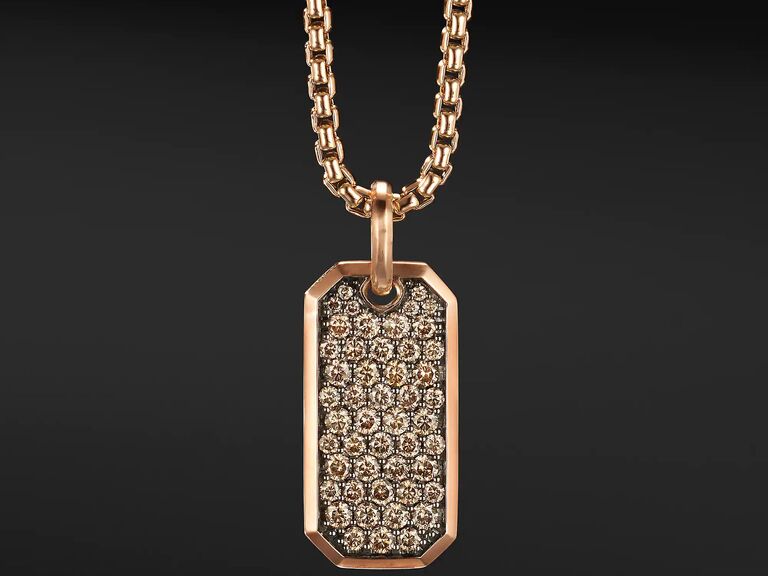 If your budget is on the bigger side, check out this statement chain from David Yurman. Dazzling pavé diamonds and 18-karat gold just scream luxury, while the tag design gives off slightly more casual vibes. Better yet, the rose gold metal and cognac-hued gemstones provide a stylishly cohesive finish.
Alternative 10-Year Anniversary Gift Ideas
Just because it's called the tin anniversary doesn't mean you have to gift the metal—the modern and traditional themes are guidelines rather than a hard and fast rule. Besides, after 10 years, it's safe to assume you probably know them pretty well. Whatever you think would be a great present, go for it! Of course, that doesn't mean you can't shop around a little before making a decision. Check out our favorite alternative 10-year anniversary gift ideas for your husband, wife or the happy couple below.
Delicious Donuts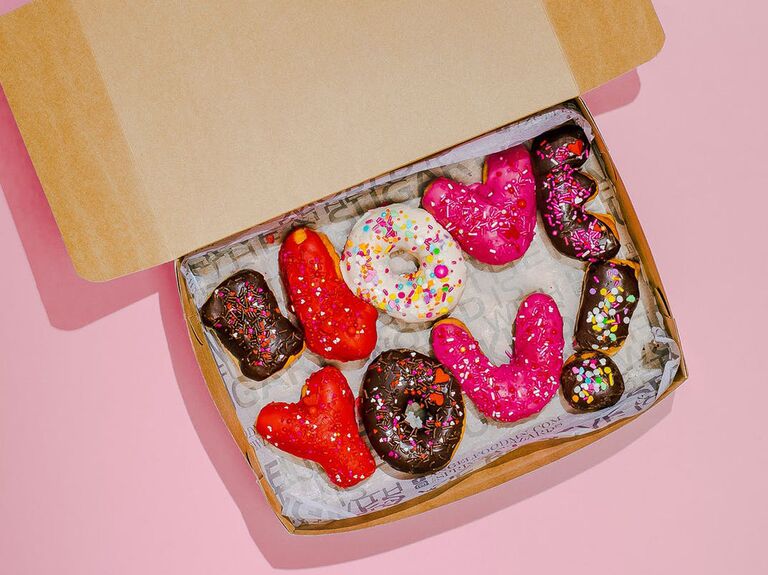 Who doesn't love doughnuts? This sweet and funny 10-year anniversary gift will tell your spouse everything they need to know. Together, the treats spell "I love you" in colorful iced letters.
Thoughtful Sheet Music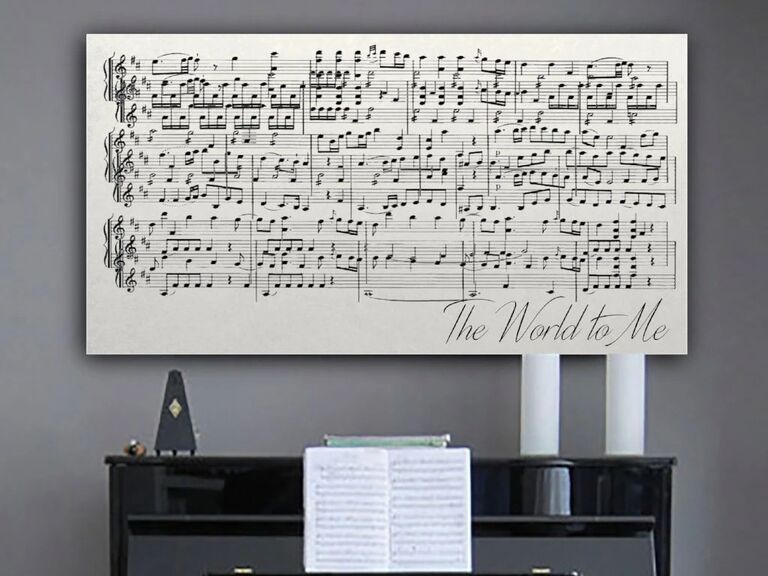 "You certainly don't need to stick with the traditional anniversary materials," says Krissy Osborne, Associate Buyer, Art at Uncommon Goods. She believes it's okay to stray from tradition with a personal present, especially if you know the lovebirds well. A canvas print of their first dance lyrics is the kind of emotional tribute any couple welcomes on the date they had their wedding. This stunning piece of decor is equal parts sophisticated and sentimental.
Dainty Jewelry
Reminder: Each year of marriage is associated with a flower, and this time around it's the daffodil. A symbol of new beginnings, it's a fitting way to start your next 10 years together. That's why a dainty disc necklace imprinted with the spring blossom will be a lovely present. You can even add an extra charm so it features both of your initials.
Therapeutic Massage Gun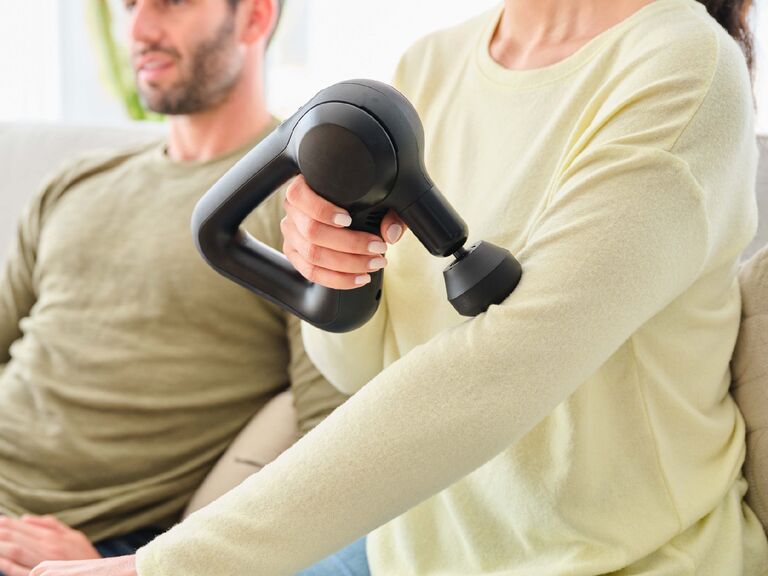 If you still haven't found what you're looking for, this might just be the one. The Theragun is an amazing 10-year anniversary gift, whether it's for him, her or the couple. This sleek massage therapy device soothes sore muscles and eases tension, no matter the cause. Whether they spend their days sitting at a desk, going hard at the gym, running around after their kids or all of the above, this clever tool is a life saver.
Cute Mug Set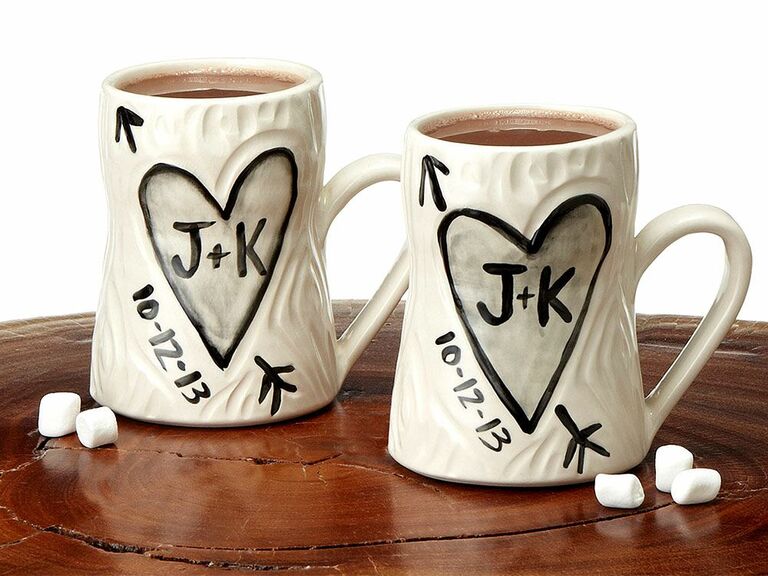 They say the secret to a lasting relationship is being able to be boring together. These adorable initial mugs are perfect for a quiet date night watching their favorite movie, and the faux bois design is just too cute.
Cozy Sweater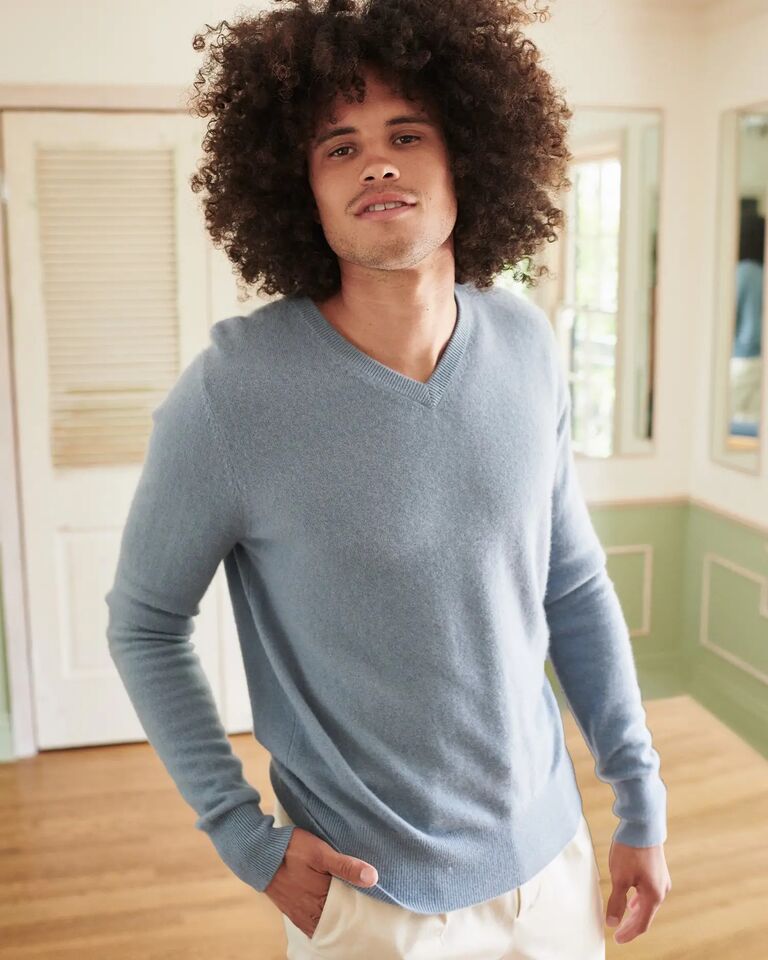 Cashmere is always a good idea, but a cashmere sweater in this milestone's traditional color is even better. This super-soft sweater is stylish and affordable to boot—it might just find its way into the wrong wardrobe every so often.
Chic Phone Sanitizer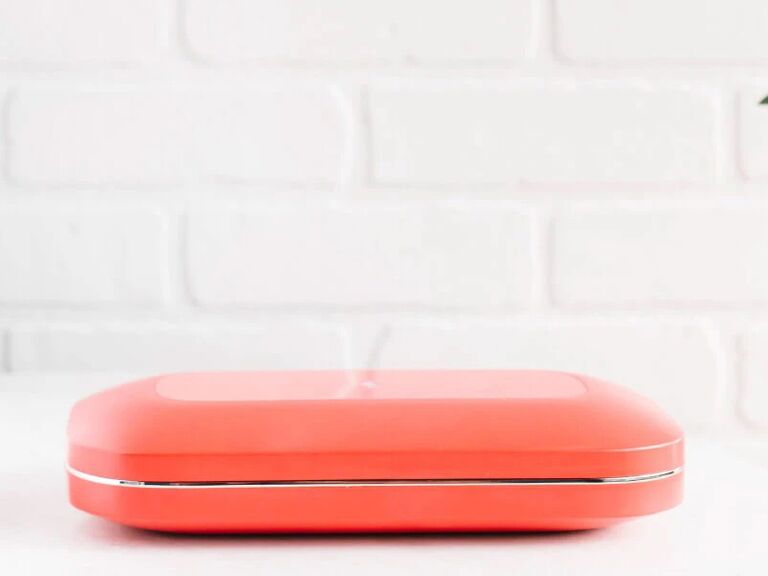 If you haven't heard of the PhoneSoap, prepare to be amazed. This clever device will disinfect their phone, keys, jewelry and more automatically or with the click of a button. It uses UV-C light to effectively kill germs (and it only takes five minutes—that's half the time of the original version). (Psst, if you're shopping for a couple, you can nab a set of two for a discount!)
Fresh Flower Subscription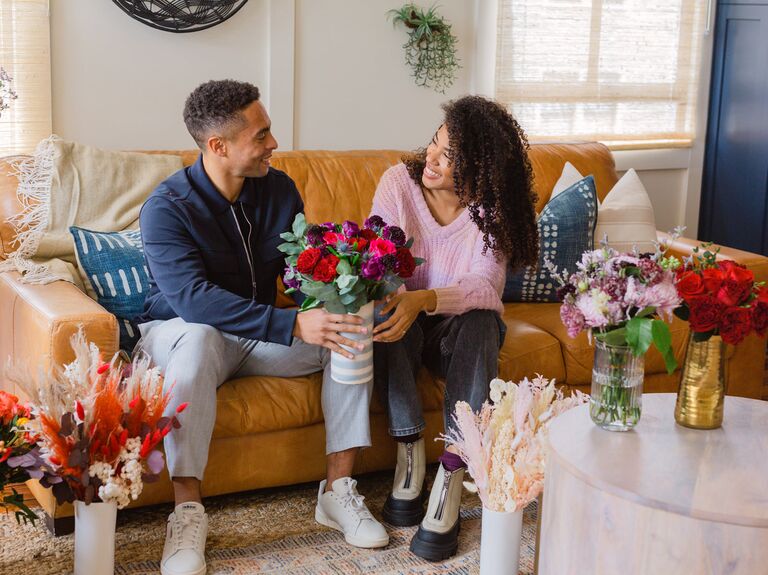 A delivery of flowers is a lovely gesture, but all too often it's a one-time deal. Up the ante this year by giving your other half a subscription so they can receive beautiful blooms all the time. The Classic and Seasonal plans include a timeless glass vase with the first delivery, while the Luxe subscription includes a curated vase with every bouquet—take your pick to suit your budget.
Wedding Vow Wall Art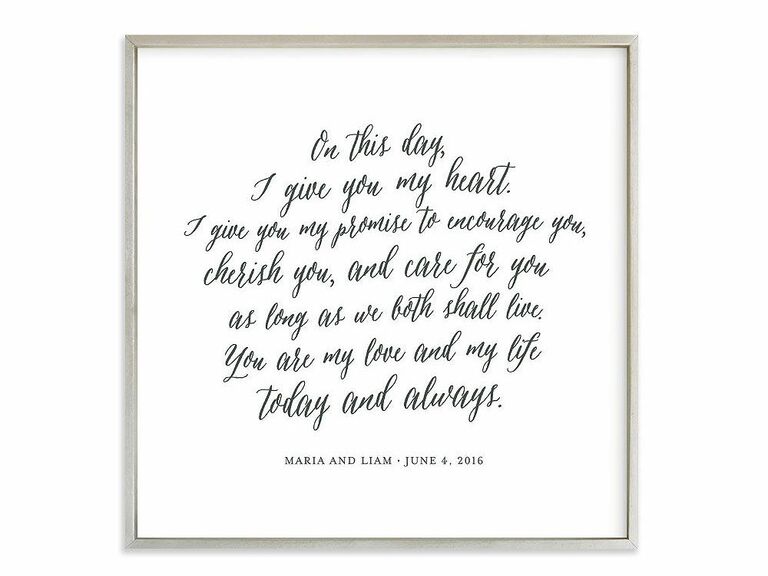 Have your wedding vows printed and framed as a sweet, everyday reminder of your commitment and love. Your spouse will swoon all over again when they receive this completely personalized, super-romantic present. (And while we're on the subject, renewing your vows is one of the most beautiful 10-year anniversary celebration ideas.)
Heart-Warming Welcome Mat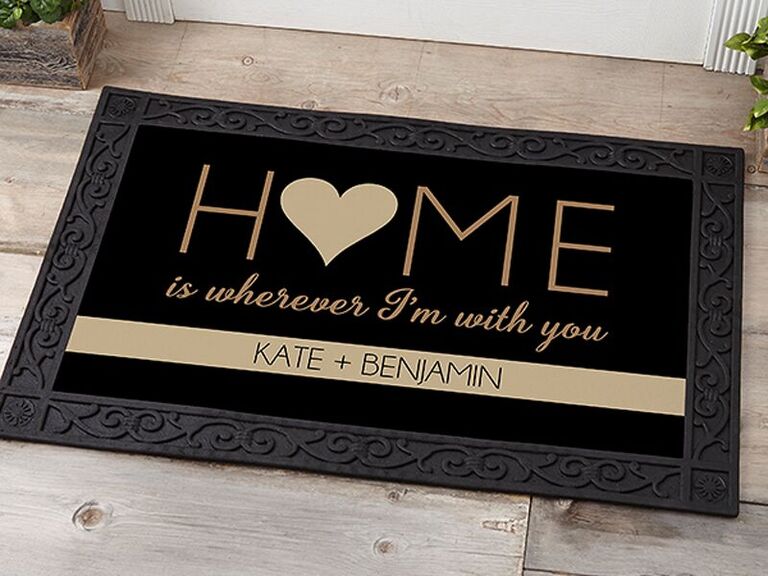 Home is where the heart is. A personalized doormat brings a sophisticated accent to any entryway and pays tribute to the life a couple has established together. This one reads: "Home is wherever I'm with you."