The Best 2nd Anniversary Gift Ideas for Him, Her and Them
Celebrate a couple—years, that is.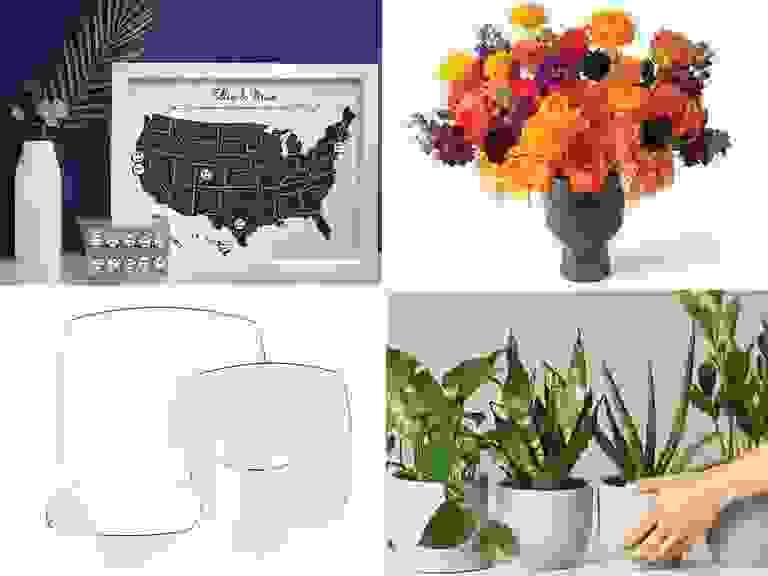 We have included third party products to help you navigate and enjoy life's biggest moments. Purchases made through links on this page may earn us a commission.
When it comes to wedding anniversaries, the first anniversary always grabs the most attention. But do you know what's better than being married for one year? Staying hitched for two! When the time arrives for you to celebrate the vows exchanged just a couple years ago, don't let your second anniversary gift fall flat. 
We've pulled together some of the best two-year anniversary gift ideas, whether it's a second anniversary gift for your spouse or something you're gifting to the still-newlyweds.
What is the second anniversary gift?
While any present that comes from the heart qualifies as the perfect two-year anniversary gift, if you want to pick something that follows custom, the traditional second anniversary gift is cotton. This fabric represents flexibility and interconnectedness—because as time goes on, you and your spouse get stronger with every year of marriage. The modern take on the second anniversary gift is china or porcelain. Both strong and delicate, these materials also symbolize your marriage. While it is fragile, your union is a beautiful relationship—just like fine china. 
When it comes to celebrating your two-year anniversary, you can stick with the theme or break the mold, which is why we'll start by offering plenty of other unique second wedding anniversary gift ideas.
In this article: 
Two-Year Anniversary Gifts for Him
If a cotton or china two-year anniversary gift just wouldn't be his thing, ditch the traditions and choose a more appropriate present for your husband. Here are our favorite second year anniversary gifts for him. (Or really, any spouse who would appreciate them.)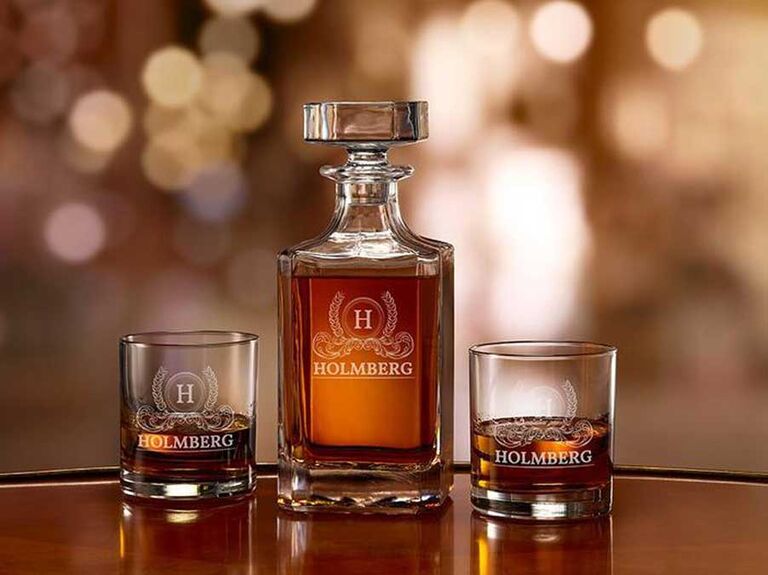 Any self-proclaimed liquor connoisseur will appreciate a brand new set of decanter glasses as a second anniversary gift. Get them personalized with your names to serve as upscale bar cart décor, or break them out to serve beverages for dinner parties with your loved ones. 
Timeless Treasures USA engraved decanter set, from $60, Etsy.com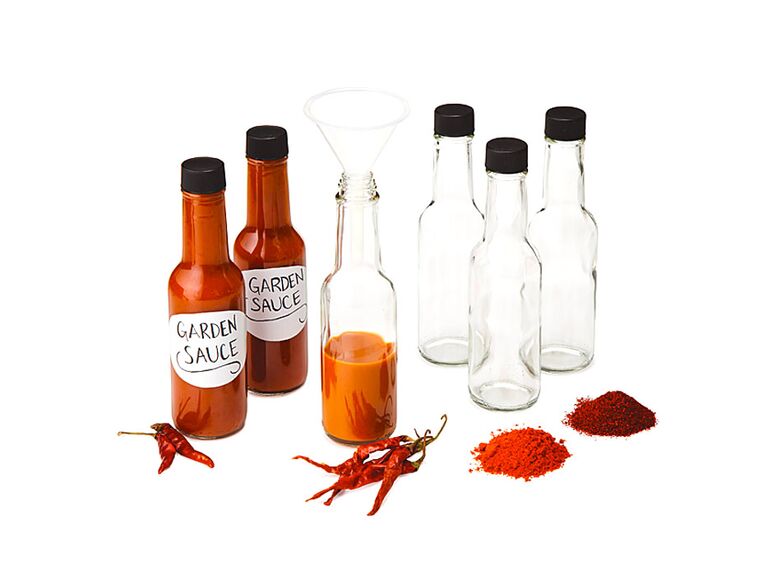 For the man who likes his food as hot and spicy as his marriage, you can't go wrong with a DIY hot sauce kit as a second anniversary gift. This one features a variety of spice packs, recipes, bottles and labels to whip up small-batch condiments to turn up the heat on his favorite eats.
Uncommon Goods Make Your Own Hot Sauce kit, $35, UncommonGoods.com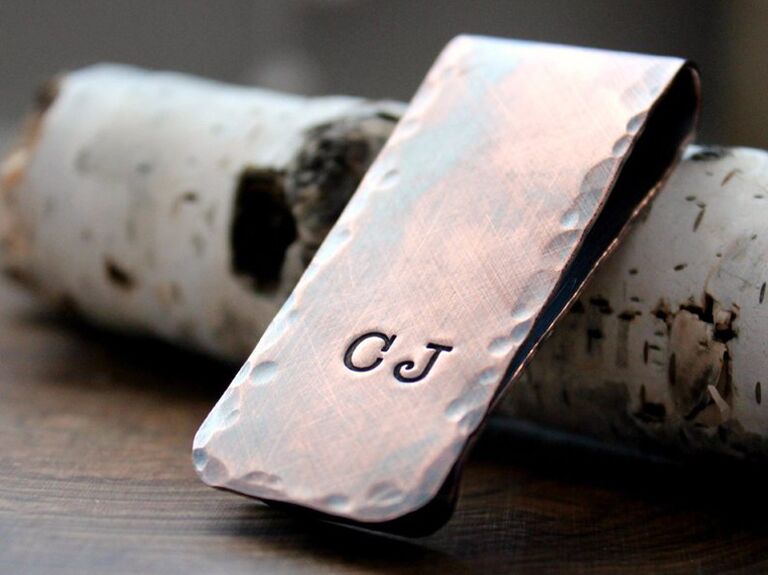 Match this rustic-cool money clip to your equally dapper groom. Each time he uses this personalized piece, he'll be reminded of how much his love is worth to you.
2 Sisters Handcrafted custom initial money clip, $41, Etsy.com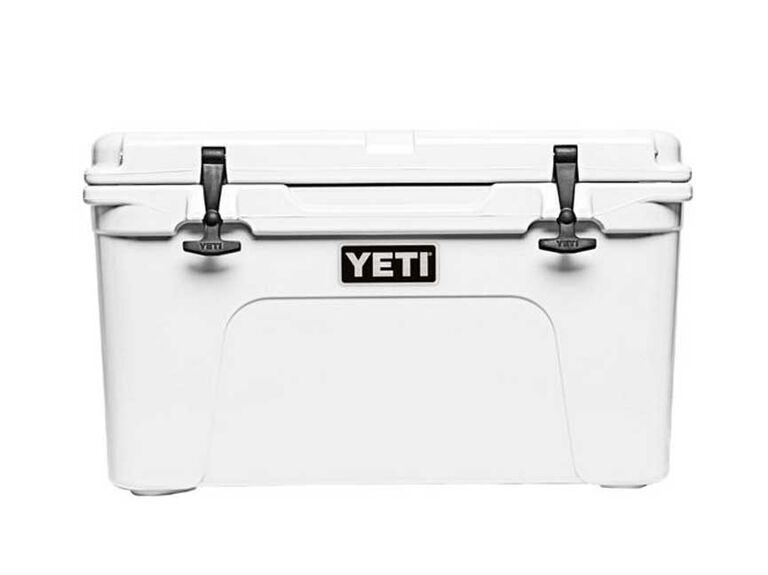 The guy who's always planning his next adventure needs a sturdy cooler to accompany all of his outdoor escapades. Yeti coolers are a cult classic for a reason—they'll keep beverages cold while withstanding plenty of wear and tear over the years. To make this an exceptionally special second-year anniversary gift, plan an outdoor picnic for the two of you to break in the brand new cooler. 
Yeti Tundra 45 cooler in White, $300, LLBean.com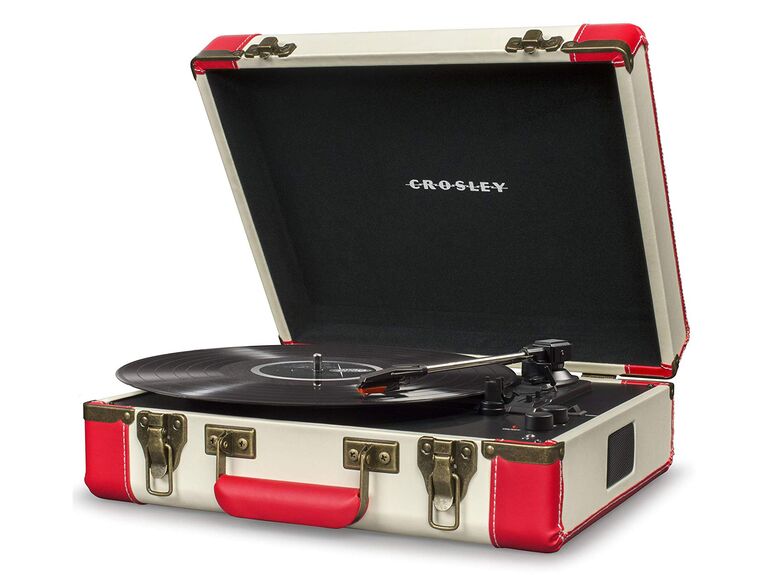 Is your husband a music-lover? Make your two-year anniversary gift one filled with sweet songs. This suitcase-style turntable plays all of his vintage vinyl, and can even turn the music into digital files for when he's on the go.
Crosley CR6019D-BR Executive portable USB turntable with Bluetooth, $100, Amazon.com
Two-Year Anniversary Gifts for Her
Break with tradition for the second anniversary gift and choose something that's a little more personal to the bride. Need some second anniversary gift ideas for her? Here's our list that's sure to please the lady in your life.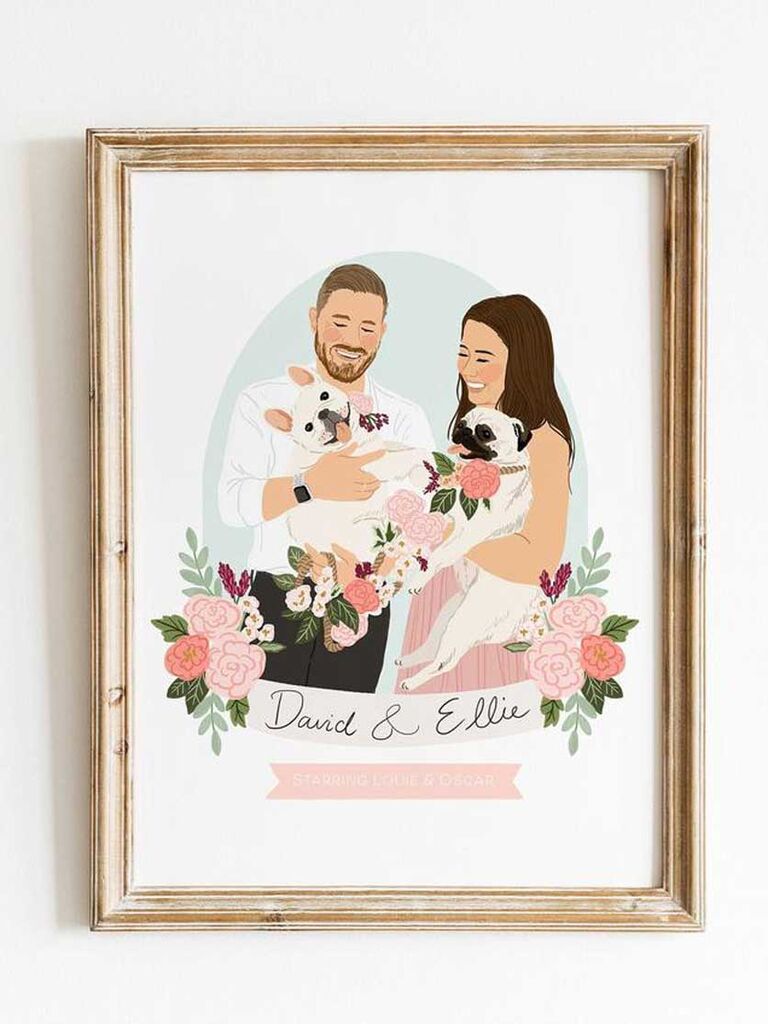 Custom digital portraits are having a serious moment right now. They're a sweet way to memorialize your favorite photo, and some artists are able to include additional elements, like pets or children too. Honor two years of marriage by getting your S.O. a sweet picture to commemorate your wedding day. 
Frankie Norman Designs custom couple portrait, from $65, Etsy.com
If two years together has been filled with adventure, a travel jewelry case is just what she needs to protect her wedding ring and other bling on the road. Pair it with a new piece of jewelry inside, or get creative by including a gift card to your favorite airline or restaurant to insinuate a future trip together—no matter what you choose, you'll have the perfect second anniversary gift to give.
Away The Mini suitcase, $45, AwayTravel.com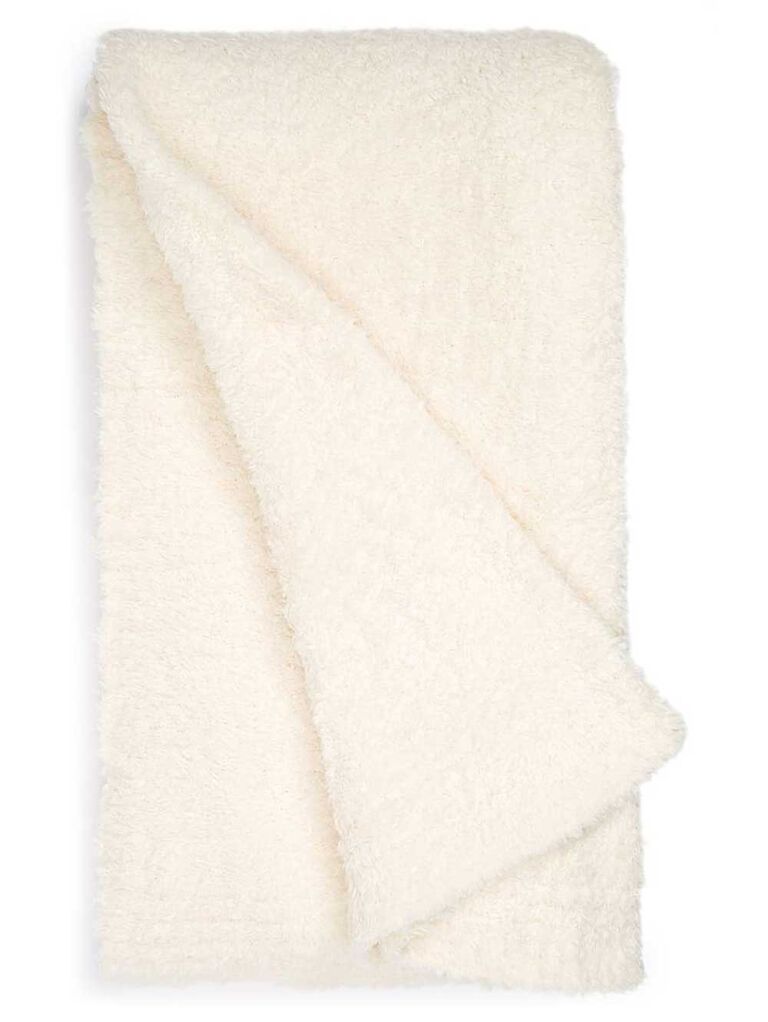 Loyal fans of Barefoot Dreams claim the beloved microfiber blanket feels like butter, making this a great two-year anniversary gift for the person who cherishes cozy nights spent at home. The fabric won't shrink or pill either, meaning it's a worthy investment that will last years in your home. 
Barefoot Dreams CozyChic throw $147, Nordstrom.com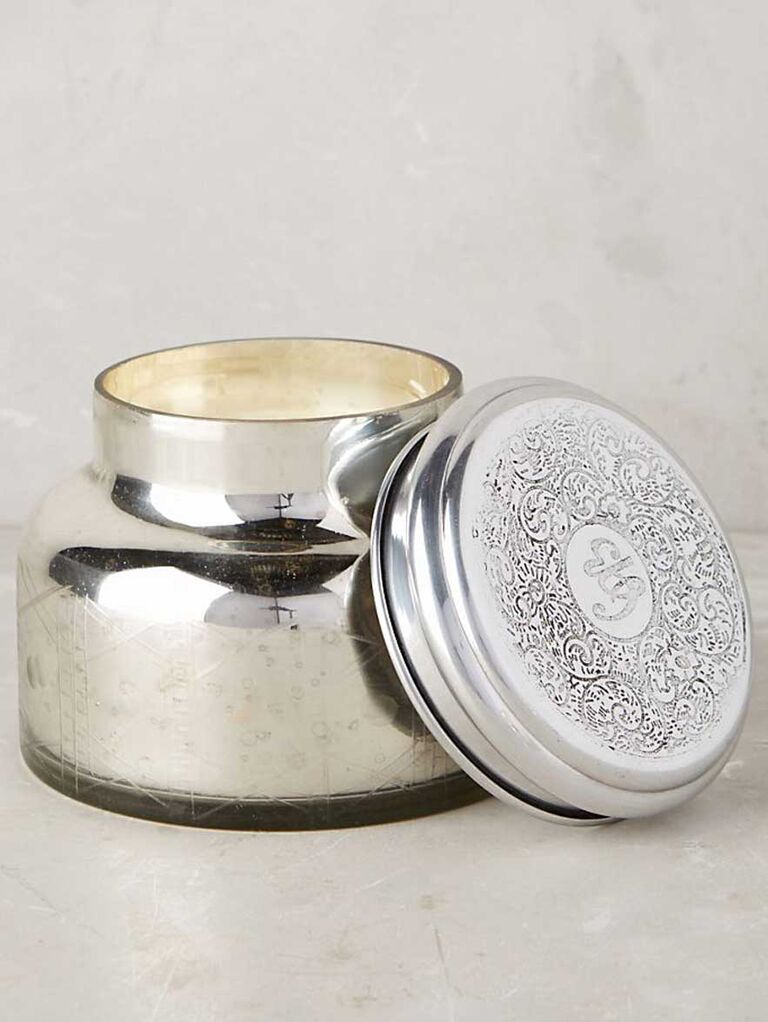 This candle is a must-have second anniversary gift for anyone who spends all their time in Anthropologie. Picking out candle scents online can be tricky, but the website includes detailed descriptions for each option. (Pro tip: Volcano is the classic tropical fresh scent that Anthropologie stores are notorious for.) To make it extra special, splurge on a larger two-wick option like this so it lasts longer. 
Capri Blue giant mercury glass candle, $98, Anthropologie.com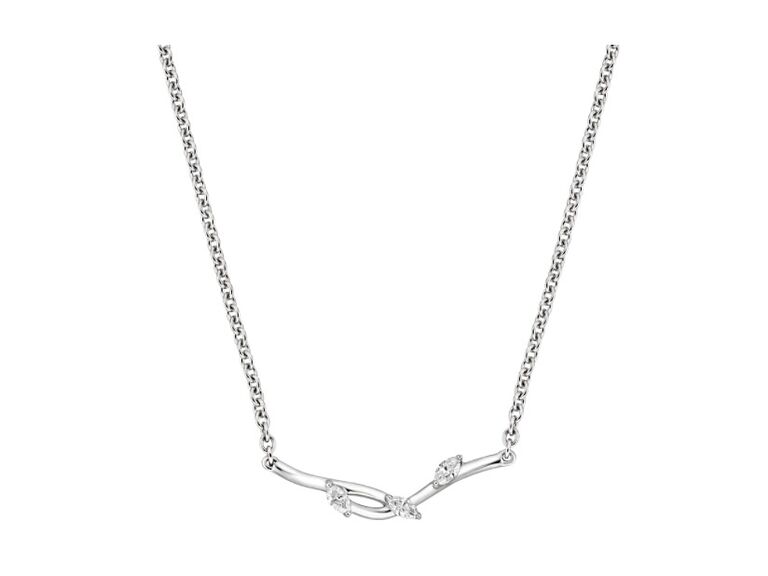 Diamonds aren't just for her finger. As you grow your family tree together, present her with a branch of diamonds to hang around her neck. This nature-inspired bar necklace is made of silver and blooms with three shimmering marquise diamonds.
Brilliant Earth Willow diamond pendant in Silver, $250, BrilliantEarth.com
Second Anniversary Gift Ideas for Them
Not sure what to get your favorite newlyweds for a second anniversary gift? Here's a list of two-year anniversary gift ideas for them ranging from funny to fancy, and lots in between.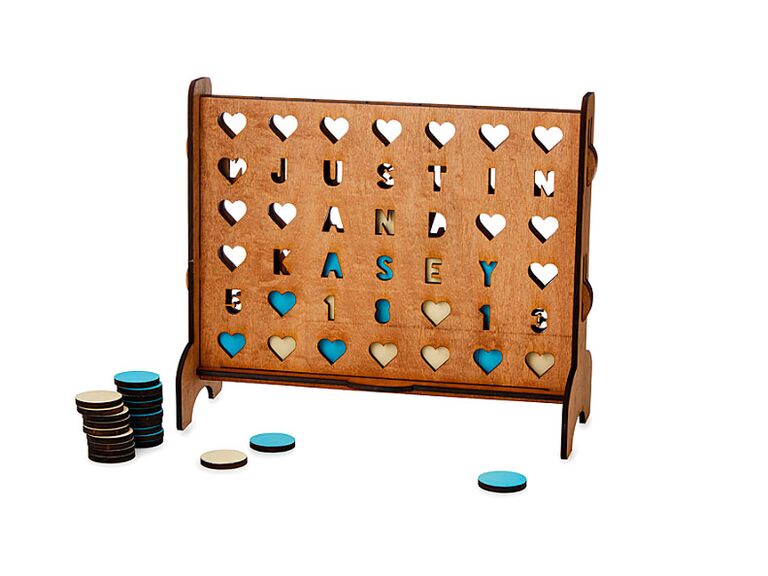 The dating game may be over for these two newlyweds, but that doesn't mean the fun has to end. Personalize this Connect Four-style game with the couple's names, so they can challenge each other to some lighthearted competition.
Kasey and Justin Pearson Personalized Hearts four-across game, $85, UncommonGoods.com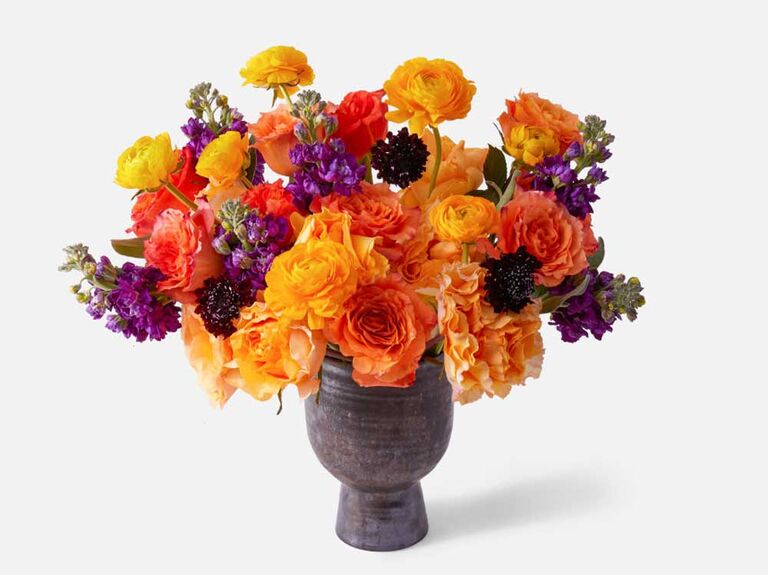 If you can't be with the happy couple on the special day, send them a fresh bouquet of flowers to show that you're celebrating in spirit. This colorful bouquet from Urban Stems comes pre-packaged with a vase, so they won't have to do any work to display their blooms when they arrive. You can also customize the delivery date to ensure their flowers are a perfectly-timed two-year anniversary gift. 
Urban Stems The Bold Floral bouquet, $160, UrbanStems.com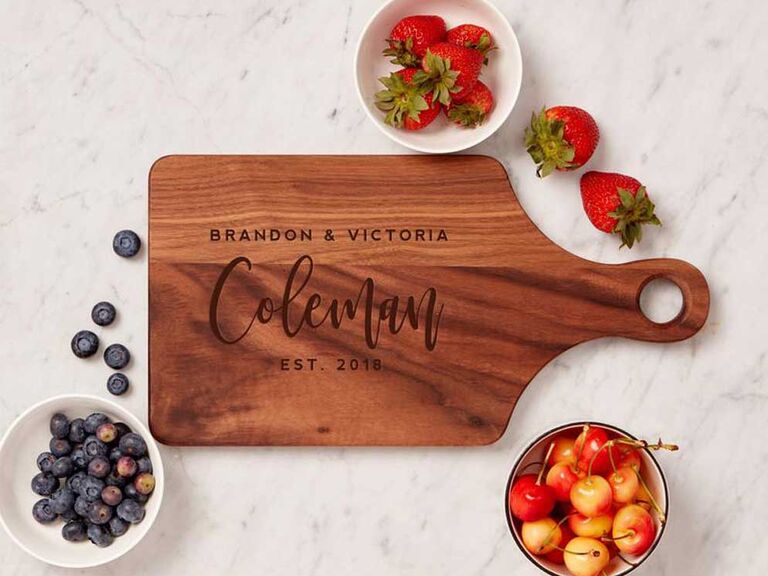 Are they self-proclaimed charcuterie experts? Is their house the go-to spot for dinner parties? If so, they need a personalized cutting board to use for all of their serving (and cheese board) desires. Even if their most-used app is Seamless, this custom piece will make a cute decorative addition to their kitchen.
Flowertown Weddings personalized cutting board, from $25, Etsy.com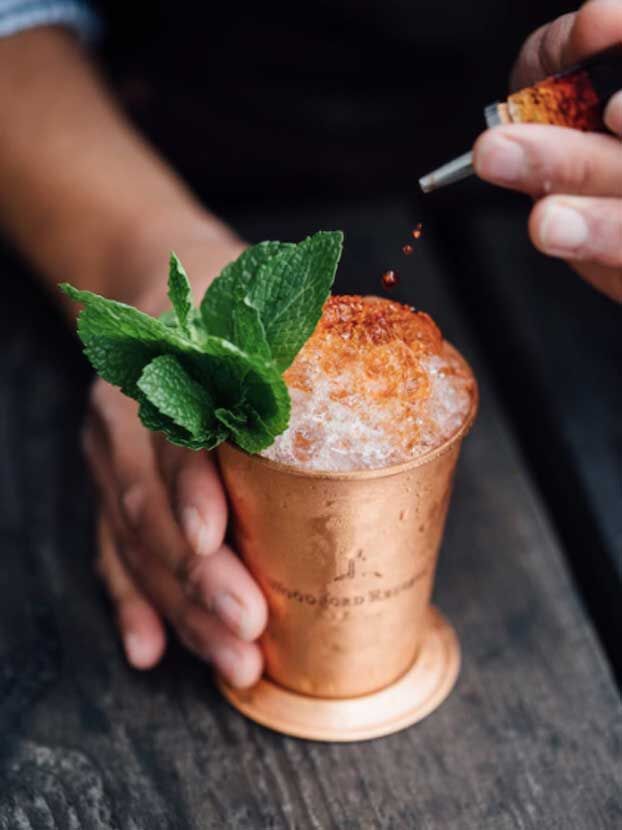 Help them plan a creative second anniversary date night from home by purchasing two spots to a live Airbnb Experience event, like this cocktail-making class. They'll learn about the history of gin live from an expert, and they'll even get to create custom cocktails from scratch. If gin isn't their thing, Airbnb offers plenty of unique experiences for all interests. Browse through the website to find an event that best fits their personalities.
Airbnb Experiences GINspiration History & Cocktails at Home, from $25 per person, Airbnb.com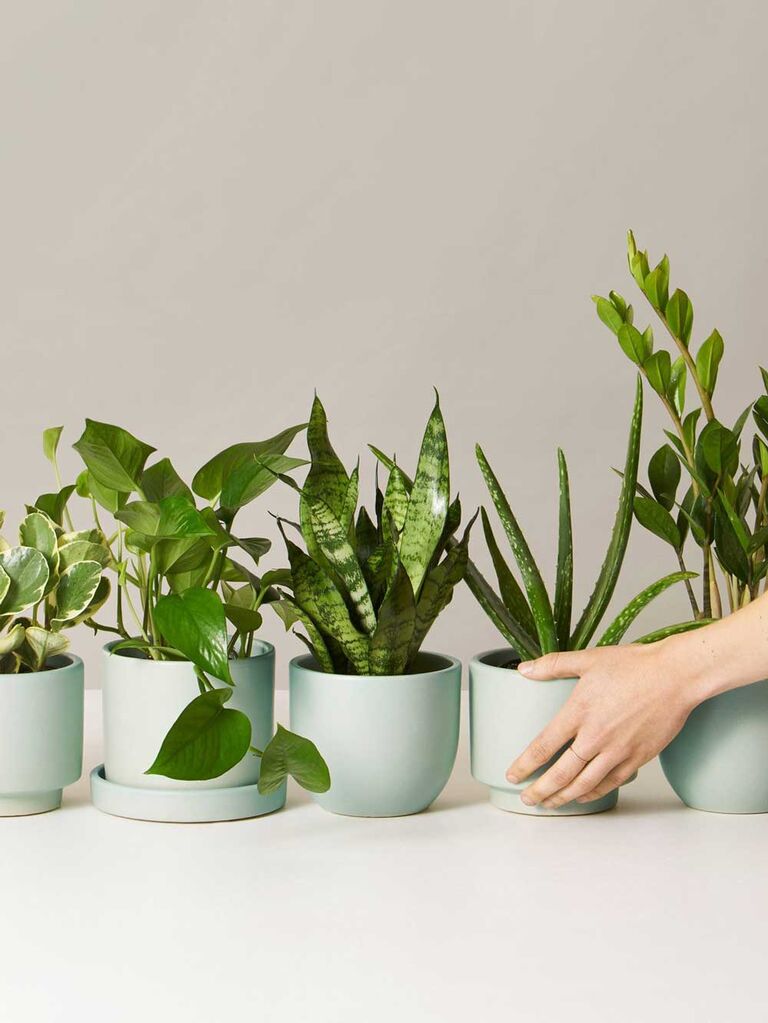 Whether they're succulent experts or just starting out, get the newlyweds a subscription to The Sill to fill their home with lush greenery every month. You can choose how long the subscription lasts too, making this a fun second-year anniversary gift for the duo with green thumbs.
The Sill Plants for Beginners monthly subscription, $35 a month, TheSill.com
Cotton Anniversary Gifts
In their second year of marriage, the couple is likely as comfortable with one another now as they are wearing a well-loved T-shirt. That's why it should come as no surprise that cotton is the traditional second anniversary gift. Still, it can require some creativity to transform something cozy and laid-back into a two-year anniversary gift that's romantic and special. Before you abandon tradition, consider the following creative cotton anniversary gifts.
Cotton Anniversary Gifts for Him
Think you'll never find a great cotton gift for your man? Think again! We've rounded up several comfortable, fun and creative cotton anniversary gifts that he's sure to love. Don't miss our list of cotton anniversary gifts for him.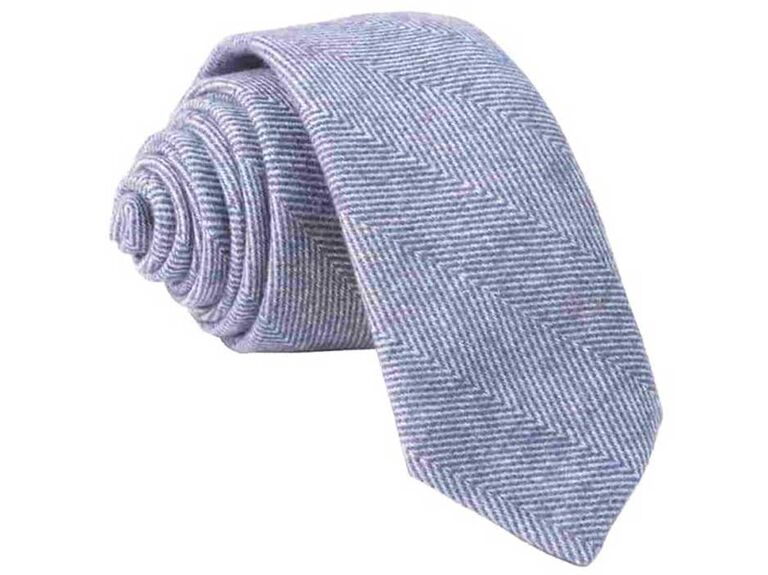 You can never go wrong with a tie as an anniversary gift—especially for two years together. This cotton blend from The Tie Bar is on-theme and will get plenty of use in his closet. We recommend pairing it with an additional gift, like a shirt, a pair of cufflinks or another accessory he frequently wears, to make it heartfelt. 
The Tie Bar brushed cotton herringbone tie, $25, TheTieBar.com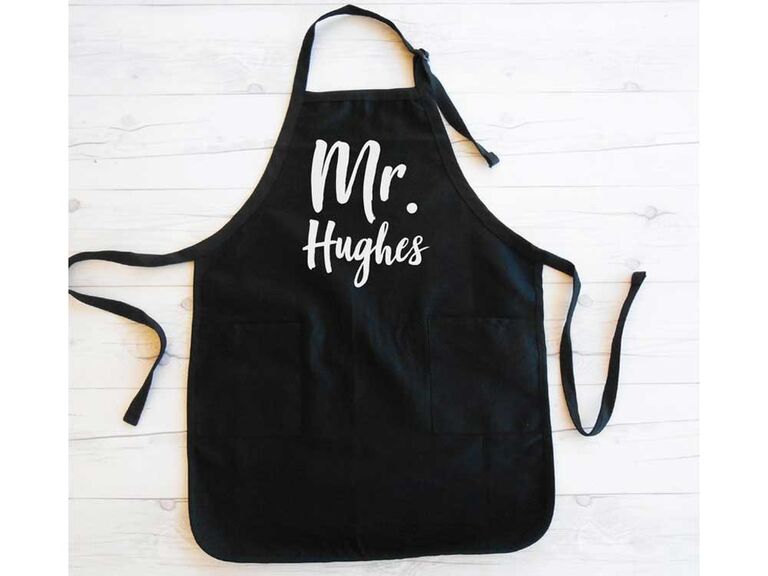 For the grill master in your life, let him know you think he's hot stuff when he's flipping burgers. Customize this cotton apron with a saying of your choice so he can look his best while cooking up a feast. One thing is certain—this cotton anniversary gift will ensure that he puts his grilling skills to use. 
Bride Bikini custom text apron, from $20, Etsy.com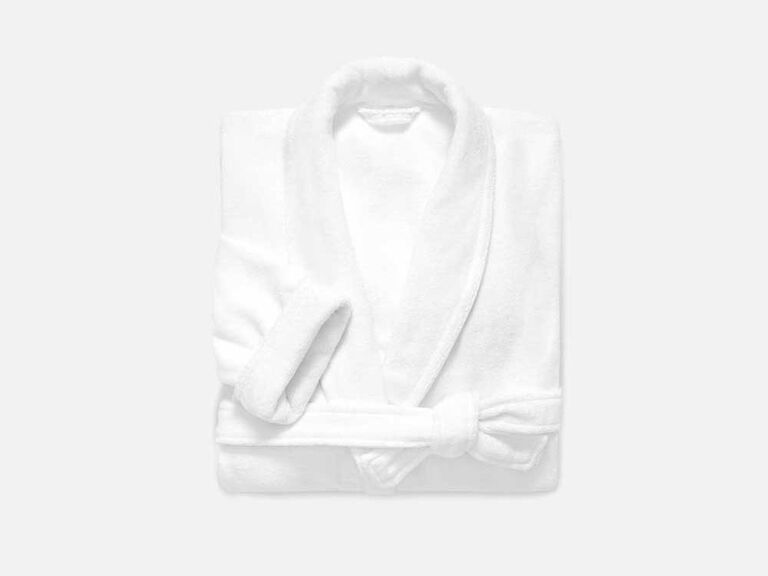 Inspired by Brooklinen's beloved bath towels, this super-plush cotton robe feels like wrapping up in a cloud. Once he puts on this second anniversary gift, he'll never want to take it off. 
 
Brooklinen super-plush robe, from $98, Brooklinen.com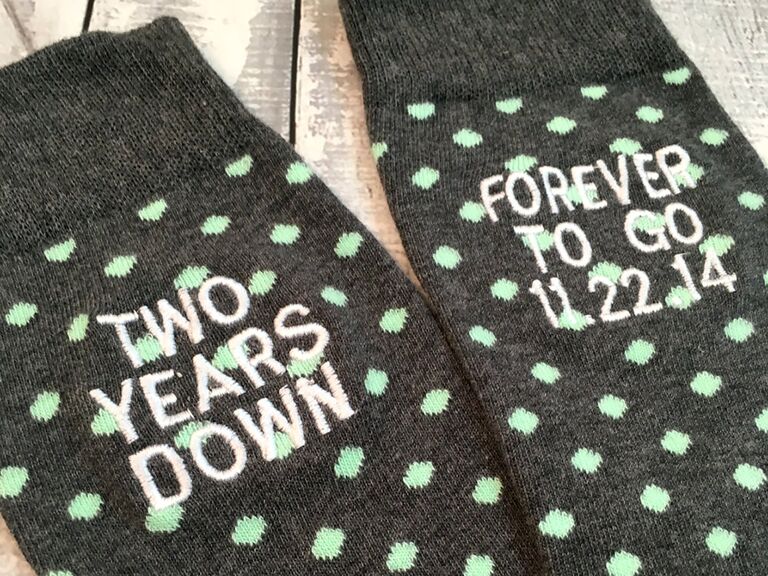 Cold feet may be a thing of the past, but with personalized cotton socks commemorating your wedding date, he's sure never to forget your anniversary.
Crafty Momma Company anniversary socks, $30, Etsy.com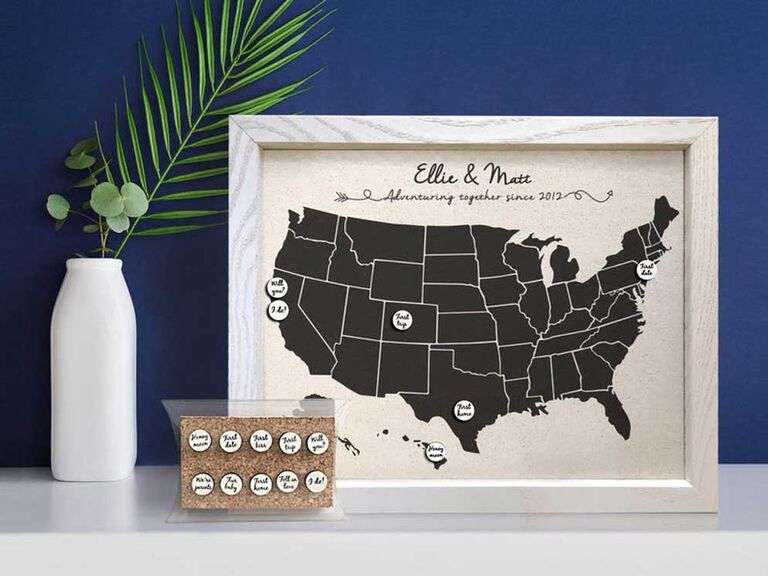 While they've likely had their fair share of adventures in their first two years of marriage, there are countless memories to be made ahead. Help them keep track of where they've been (and where they plan to go) with a cotton map. This thematic two-year anniversary gift is just what they need to fuel their wanderlust.  
Paper Anniversary Love Adventuring Together cotton map with custom pins, from $119, Etsy.com  
Cotton Anniversary Gifts for Her
If you're sticking to old-school tradition for your two-year anniversary gift, cotton is definitely the way to go. Here are a few of our favorite cotton anniversary gifts for her.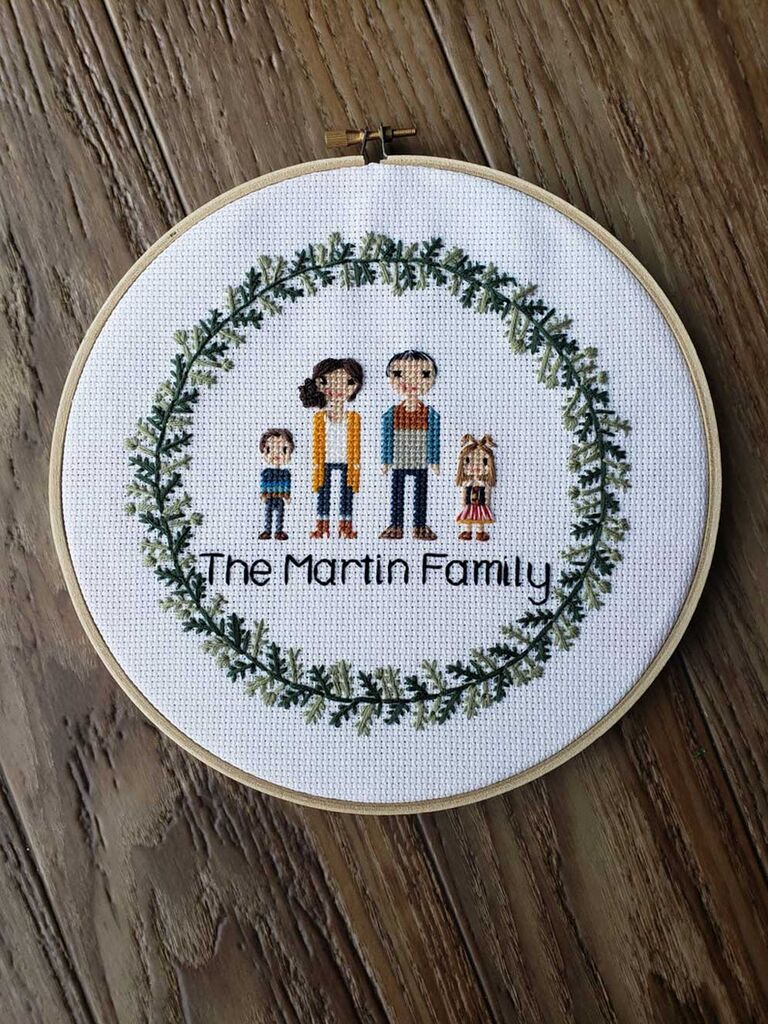 Cross-stitch portraits are gaining popularity, and it's not hard to see why. These small custom pictures can depict you and your S.O., your family and even your pets if you want, making them a unique gift to honor the traditional cotton theme. Submit a variety of photos and this Etsy shop will bring your family to life. You can even upgrade the image with add-ons like wreaths, greenery or flowers. 
Hoops and String custom cross stitch family portrait, from $30, Etsy.com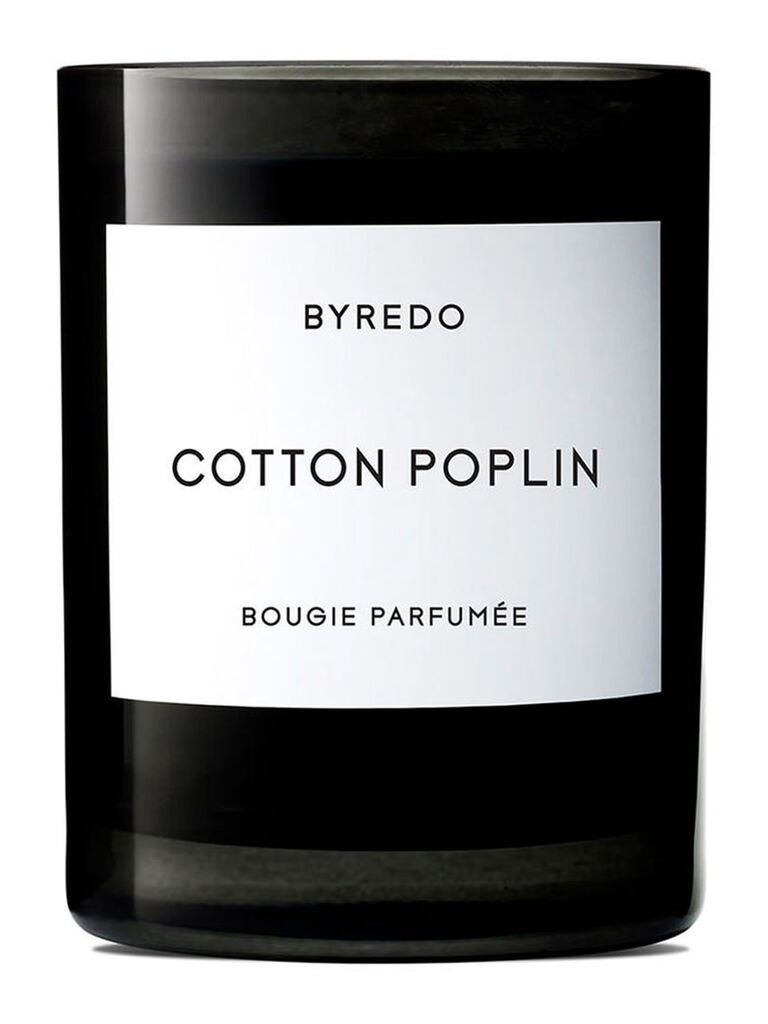 No one said the traditional second-year anniversary gift has to be made of cotton. For something more scent-ual, treat her to a candle that smells like the stuff made by a trendy brand.
Byredo Cotton Poplin candle, $85, Nordstrom.com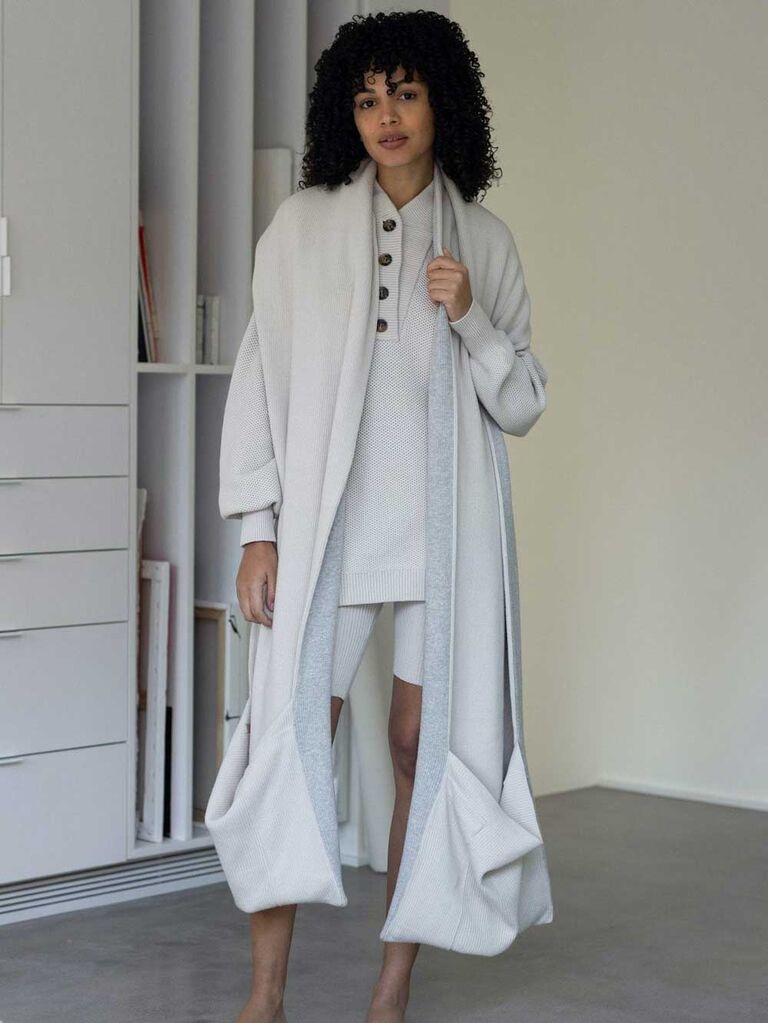 Perhaps you don't want to get her another blanket. Instead, opt for a cozy cotton anniversary gift like this wrap from Lunya. This cross between an oversized sweater and a throw blanket will keep her warm and cozy in the house, and it even has pockets—five, to be exact. She'll never want to stop wearing it. 
Lunya cozy cotton silk pocket wrap, $148, Lunya.co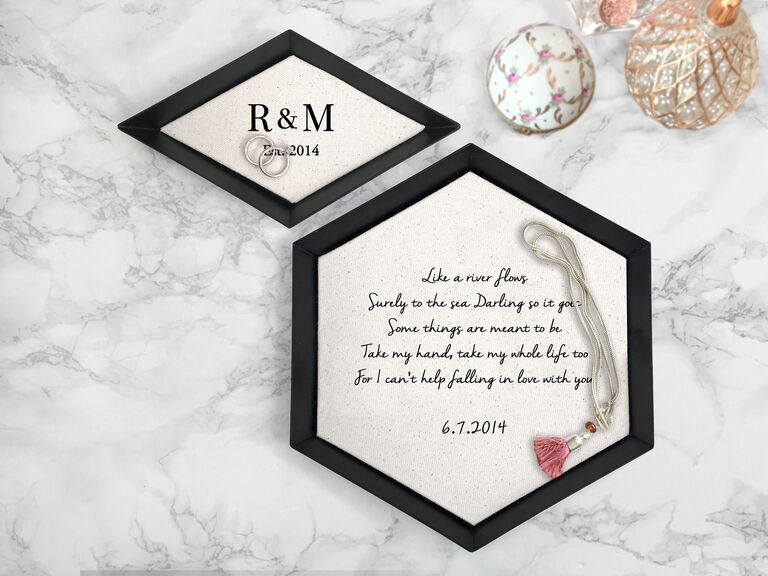 Get this beautiful cotton tray embroidered with your wedding vows, lyrics from one of your wedding songs or another quote or phrase that'll mean a lot to her. It'll put a smile on her face whenever she goes to grab the jewelry or knick-knacks she stores on it.
Paper Anniversary Love personalized cotton tray, from $79, Etsy.com 
Cotton Anniversary Gifts for Them
When shopping for second anniversary gift ideas for them, cotton offers lots of fun options to celebrate the newlyweds and let them know they're loved.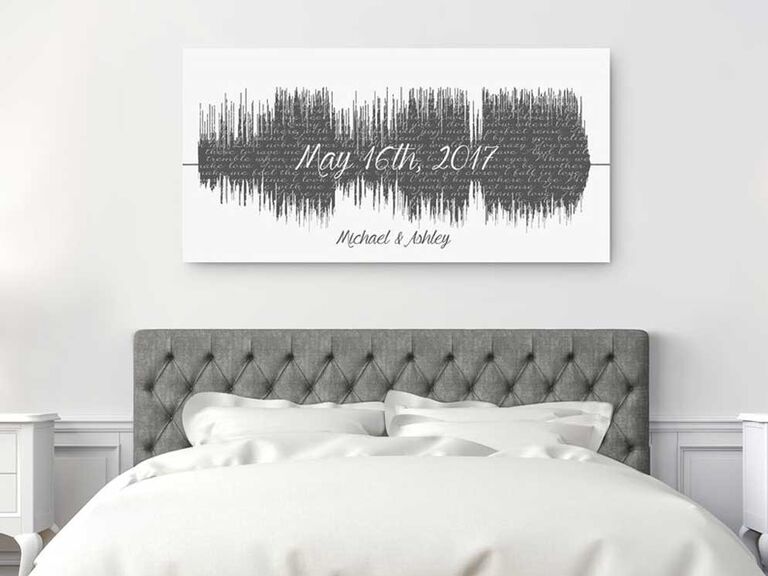 Let them relive their first dance with this sentimental cotton anniversary gift. This Etsy shop will print the song's lyrics and corresponding soundwave on a cotton canvas, along with their names and wedding date. What a thoughtful present. 
Canvas Vows first dance lyrics cotton anniversary gift, from $69, Etsy.com
No one said cotton has to mean the textile. For a playful second anniversary gift, consider getting them a nostalgic cotton candy maker for their kitchen. It'll give them a fun activity for their next date night, and it's a lighthearted way to honor the traditional meaning behind two years together. 
Nostalgia Electrics retro hard cotton candy maker in Aqua, $50, BedBathandBeyond.com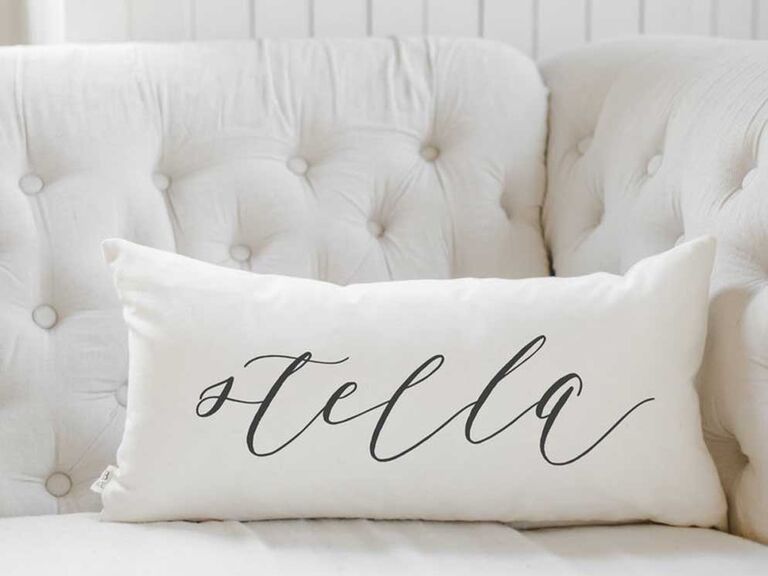 There's no such thing as too many throw pillows. Commemorate their second wedding anniversary with a custom cotton pillow that can be used to decorate any room in their house. This calligraphy font has an effortlessly elegant feel, and it's a great way to keep with tradition. 
PCB Home personalized calligraphy lumbar pillow, from $20, Etsy.com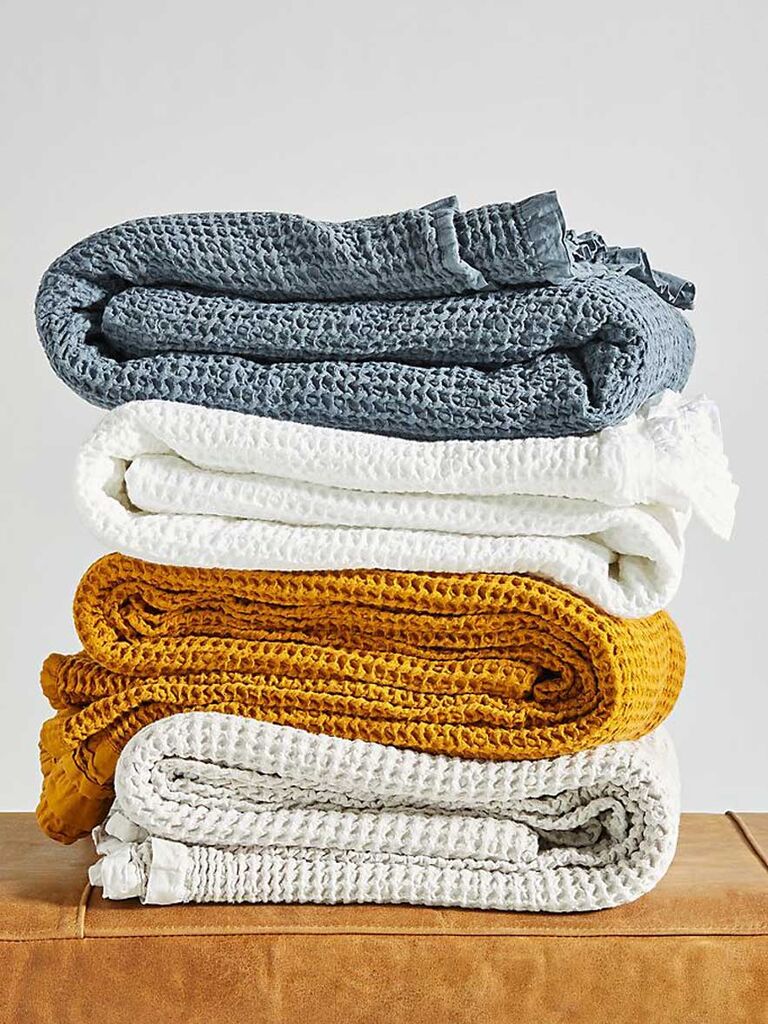 It's hard not to love wrapping up in a cozy waffle-knit blanket. Anthropologie is known for having soft, statement-making throw blankets, and this cotton option is ideal for a two-year anniversary. The material is breathable, too, meaning they can enjoy this gift throughout the year. 
Anthropologie woven waffle bed blanket, from $108, Anthropologie.com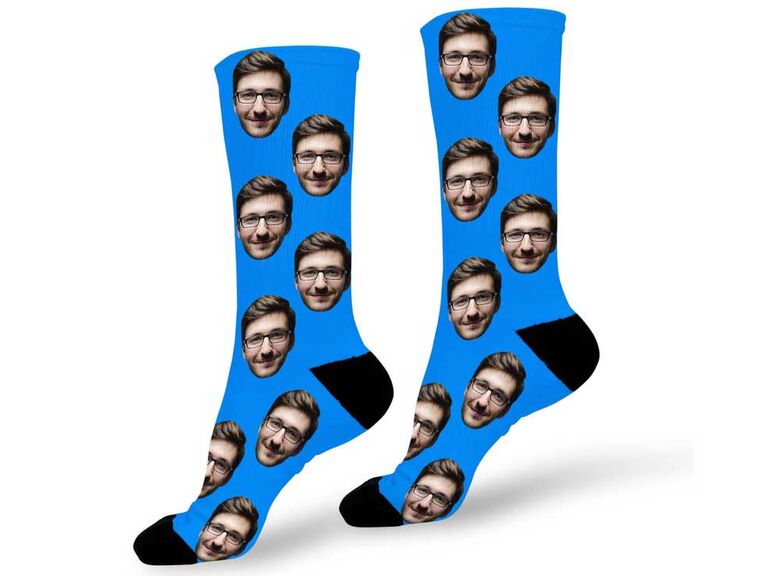 Looking for a fun second anniversary gift? They'll get a kick out of these custom face socks. Get them each a pair with their spouse's face printed all over—you can even customize further with additional photos, shapes or text. 
Zeek Creative Shop custom face socks, $24 per pair, Etsy.com

China Anniversary Gifts
When you think china for a second anniversary gift, images of Grandma's place settings might be all that come to mind. While fine china is a lovely two-year anniversary gift, there are also lots of modern porcelain options that don't have to feel so formal and fancy. Shop pretty and practical china anniversary gifts below.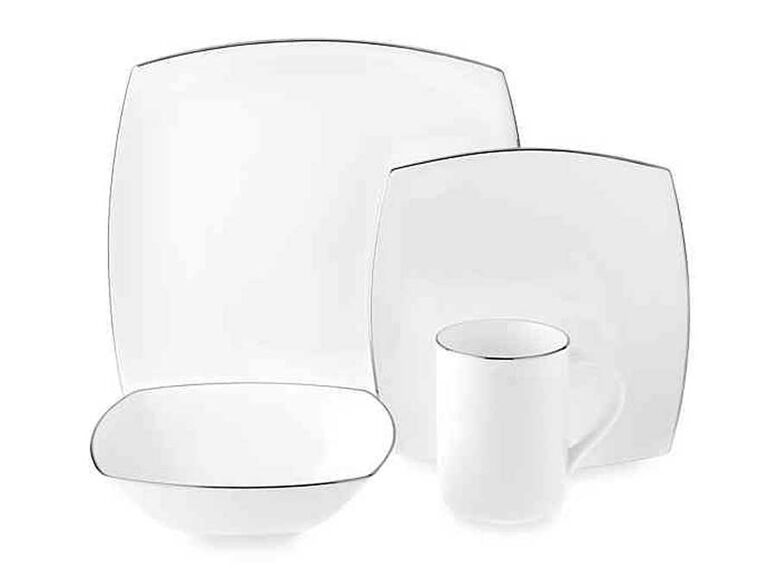 China sets don't have to feel dated. This modern four-piece collection is a great second anniversary gift option for her, him or them, especially if they're still completing their kitchenware collection. Plus, a great china set is always worthwhile for special occasions that might arise.
Mikasa Couture platinum dinnerware collection, $90 per 4-piece place setting, BedBathandBeyond.com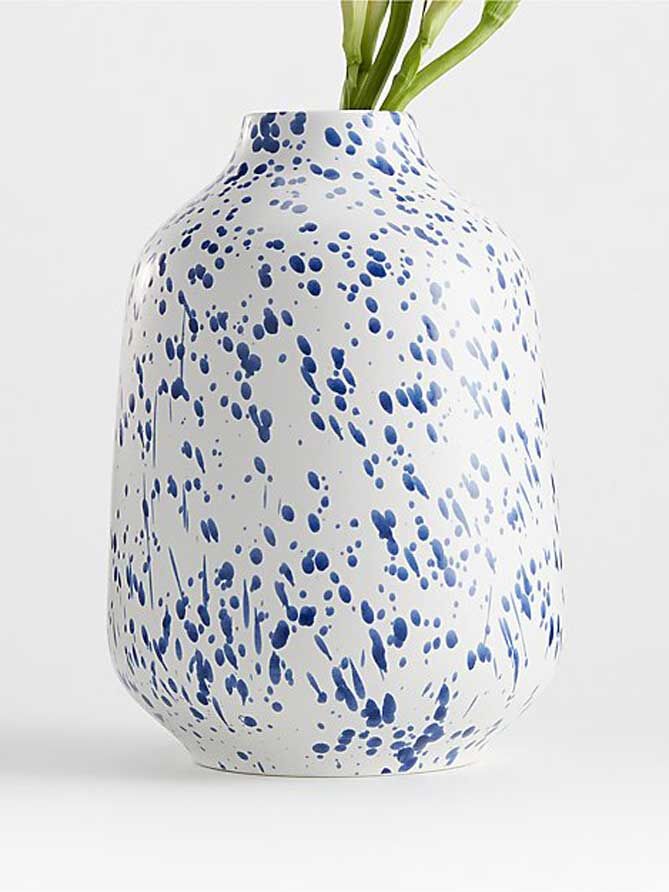 Perhaps you'd like to get the happy couple a fresh bouquet of flowers to honor their anniversary. If so, present them in a china vase like this option from Crate and Barrel. The speckled print is fit for those with modern or coastal style, and it's a gift they'll use over and over again throughout the years. 
Crate and Barrel Alya white speckled vase, $35, CrateandBarrel.com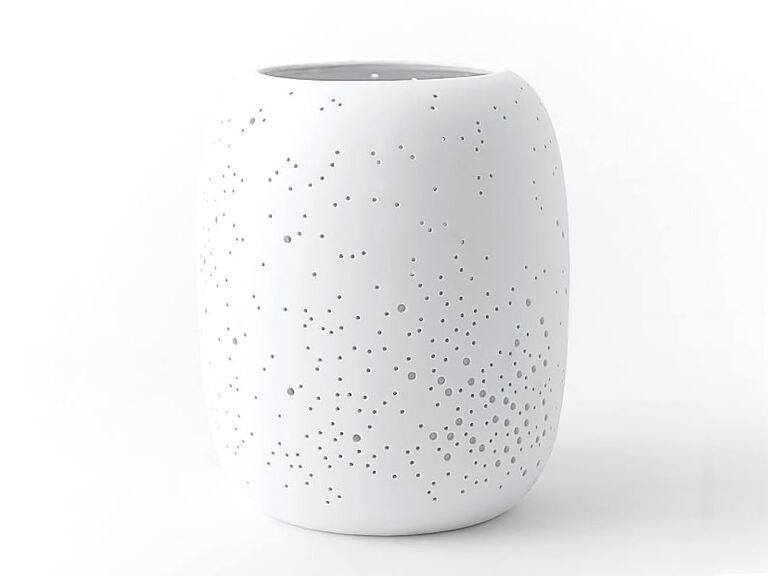 Love is written in the stars with these porcelain hurricanes perforated in a delicate design of the night sky. Include a couple of flameless candles, and the couple can sleep under the stars without ever leaving their bed.
West Elm Constellation pierced porcelain vases, from $10, WestElm.com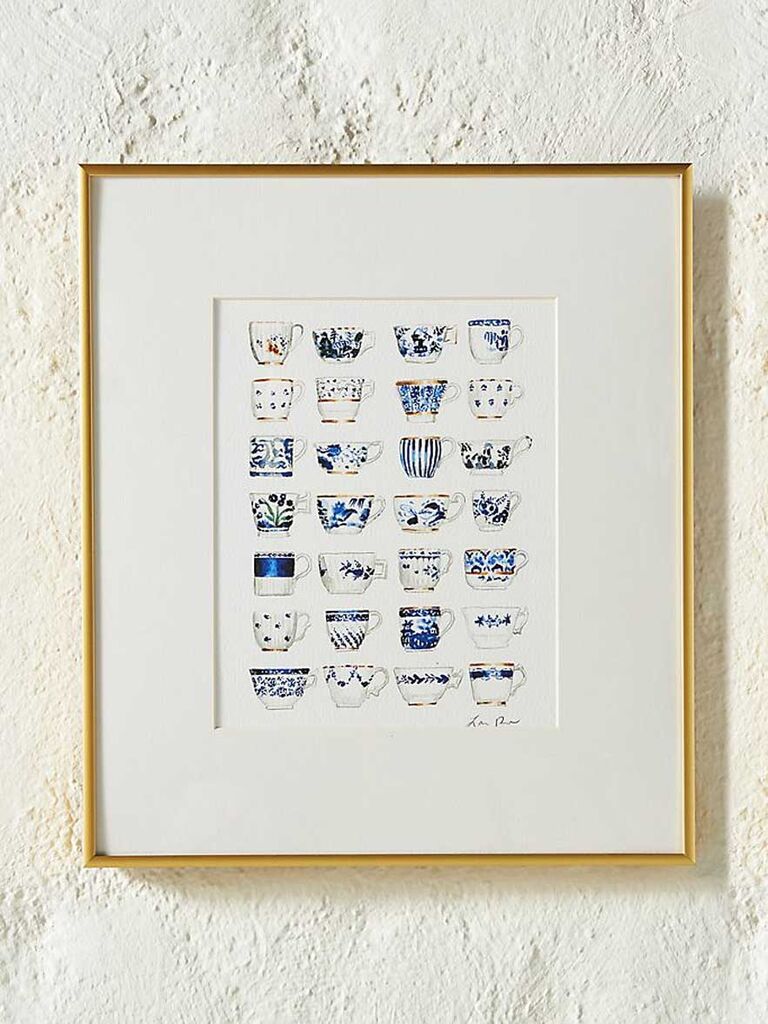 China isn't always fit to every couple's taste, and that's perfectly okay. If you're looking for a thematic gift they'll still enjoy, consider getting them a framed portrait of china pieces like this design from Anthropologie. The quirky pattern serves as a nod to tradition for those who would rather hang artwork around their home. 
Artfully Walls blue and white pattern china teacups wall art, $148, Anthropologie.com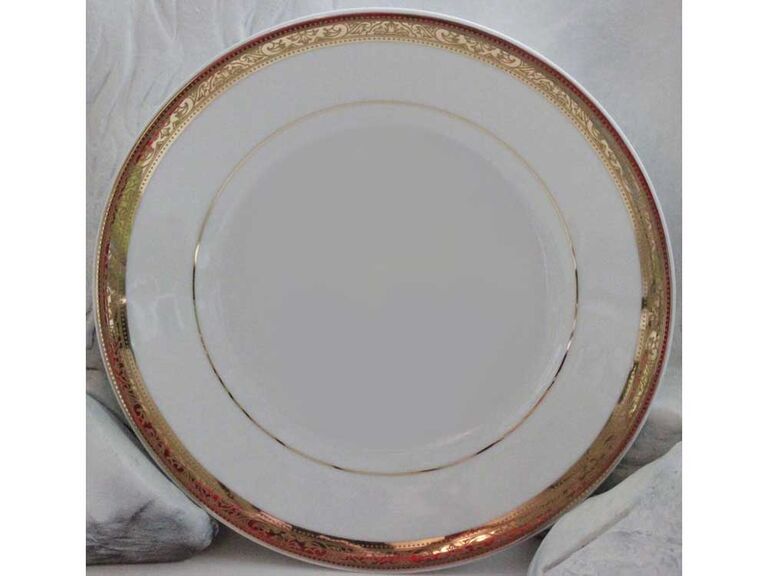 This Etsy shop will customize china plates with a couple's names or monogram for a sweet second anniversary gift. The custom pieces add a personal touch to any home, making it a great addition for couples celebrating two years together. 
Angioletti Designs custom china plate, from $28, Etsy.com