The Best 2-Year Anniversary Gift Ideas for Your Spouse
Mark two years of wedded bliss with symbolic gifts of cotton, china and more.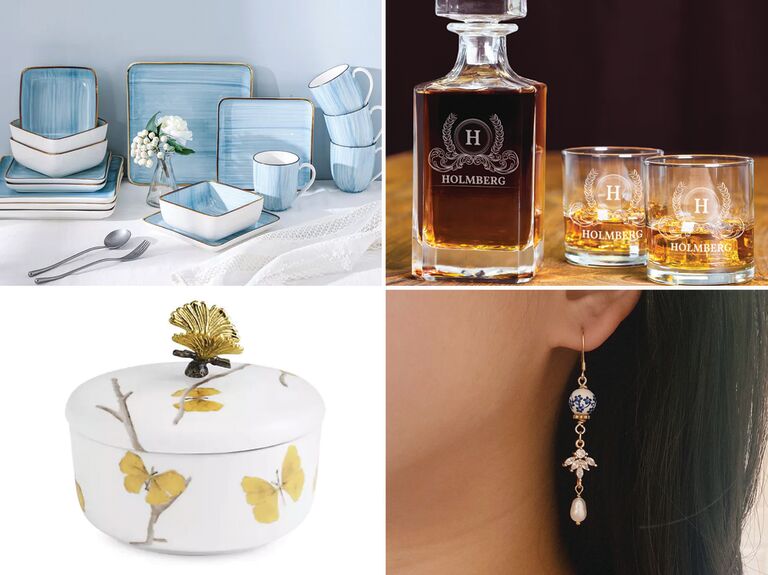 Photos, clockwise: Target, Saks Fifth Avenue, juneauri, TimelessTreasuresUSA
We have included third party products to help you navigate and enjoy life's biggest moments. Purchases made through links on this page may earn us a commission.
While the first wedding anniversary generally grabs the most attention, celebrating two years of marriage can be just as memorable. Want to make your day feel extra special? Take the time to choose a thoughtful two-year anniversary gift for your beloved spouse. Whether you're shopping on a budget or going all out, we've assembled a list of our favorite traditional and modern presents to mark the occasion. And, if you're looking for something a little bit different, our selection of alternative anniversary gifts will help you think outside the box.
In this article:
Traditional Two-Year Anniversary Gifts
Commemorate two happy years of wedlock with a gift made from cotton, the traditional second anniversary symbol. This versatile material is made of interwoven threads, symbolizing how marriage joins two people together. It's also a strong and flexible fabric that comes in many forms, making it the perfect (and versatile!) way to celebrate your second wedding anniversary. From cozy bathrobes and blankets to sentimental canvas artwork, there are tons of options available that creatively incorporate the traditional anniversary theme. We've rounded up the best cotton anniversary gifts to help you and your spouse mark year two of marriage in style.
Sheet Music Wall Art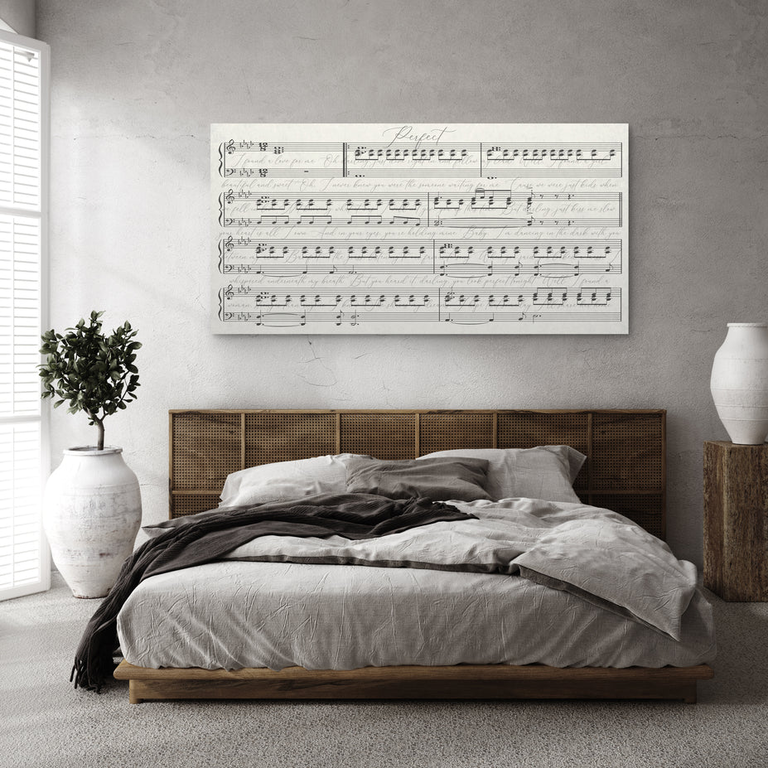 Here's a sweet gift that'll take your spouse right back to your first dance as newlyweds. This tasteful piece of art features sheet music from your chosen tune, like your wedding song or even the track that was playing on the jukebox the night you met. The icing on the cake? The canvas is made primarily from cotton, making it one of the best traditional anniversary gifts for her, him or them.
Plush Cotton Bathrobe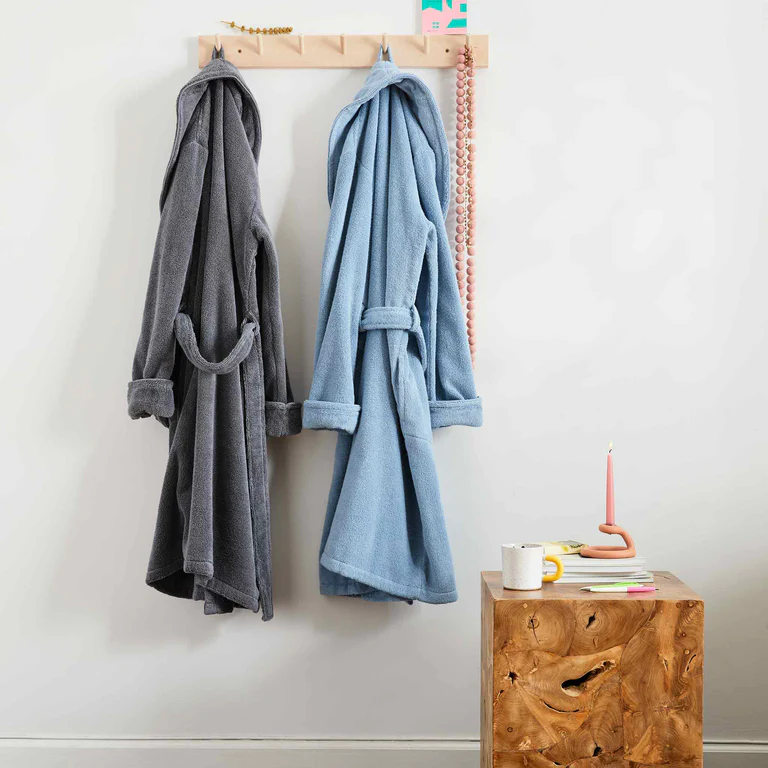 Inspired by Brooklinen's beloved bath towels, this luxuriously soft cotton robe feels like wrapping up in a cloud. Our bet? Once your other half puts it on, they'll never want to take it off. Practical and stylish, this cotton-themed gift is one they'll really appreciate, whether they rock it after a relaxing bath or for a hotel-inspired hangout at home.
Personalized Material Art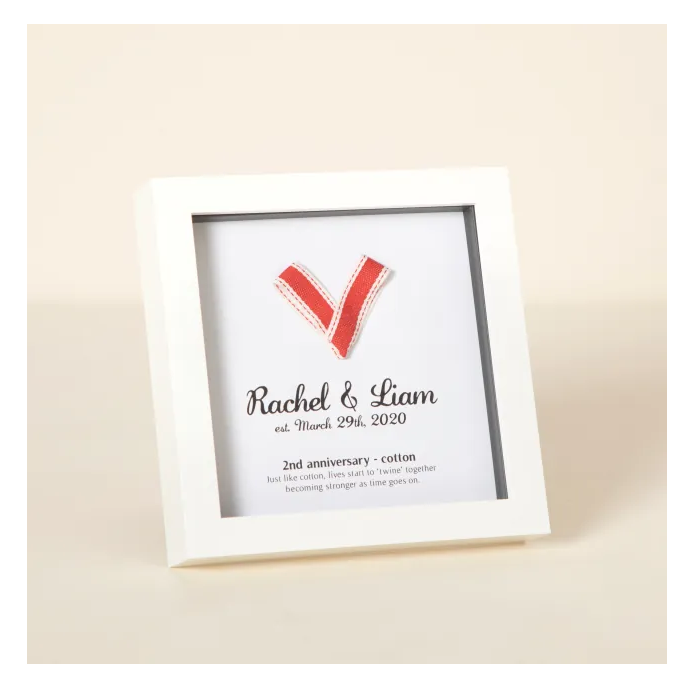 If you're shopping for a sentimental spouse, this personalized artwork makes for a meaningful gift for your other half. The framed piece features a folded cotton ribbon above a short message explaining the meaning behind the traditional second anniversary material. Add your names and wedding date to give this cotton-inspired gift the perfect finishing touch.
Stylish Cotton Loungewear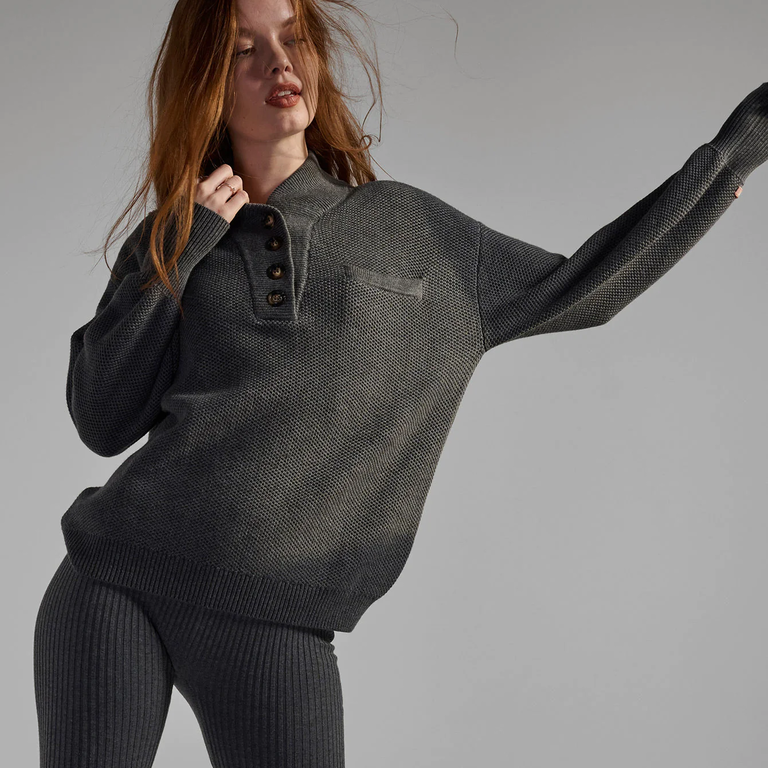 Luxury cotton gifts are a great way to mark this special milestone. Lunya's trademark silk PJs are always a hit, but did you know the brand makes cotton womenswear too? This gorgeous henley sweater comes in several neutral shades and boasts a trendy oversized fit, meaning it'll be extra comfortable to lounge in. It's also available in limited edition colors that change seasonally. (Psst: Are you a first-time customer? Take $20 off your order of $100 or more with the code FOR-TK20.)
Luxurious Cotton Duvet Set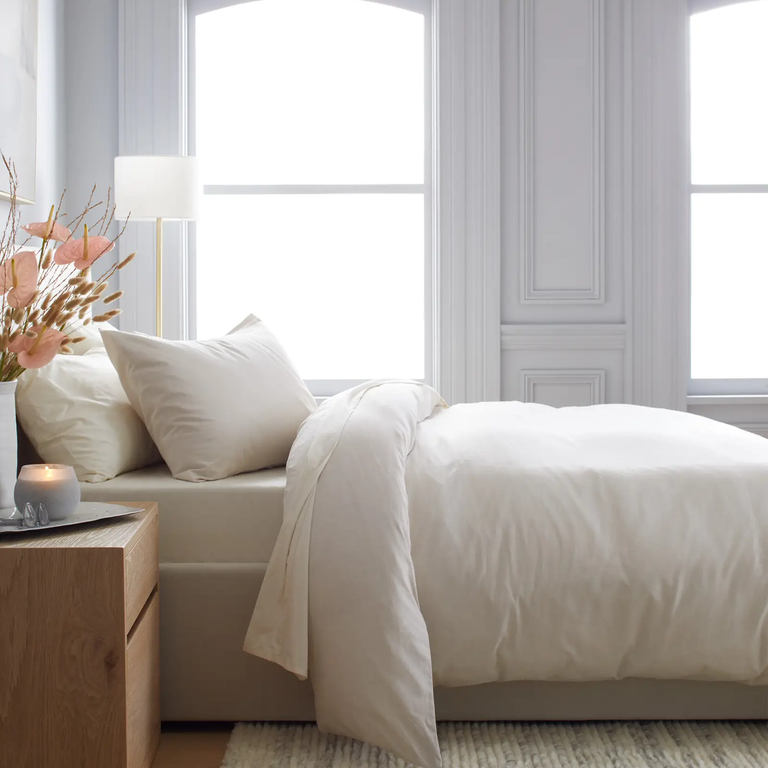 Cozy bedding is a practical second anniversary gift that keeps on giving. Not only will it help your partner fall asleep every night, but it'll make weekend lie-ins extra special. Sumptuously soft, this cotton duvet and pillowcase set is blended with cashmere for next-level comfort. Bonus: It's available in two muted colors (natural and gray) that will enhance any bedroom design scheme.
Custom Cotton World Map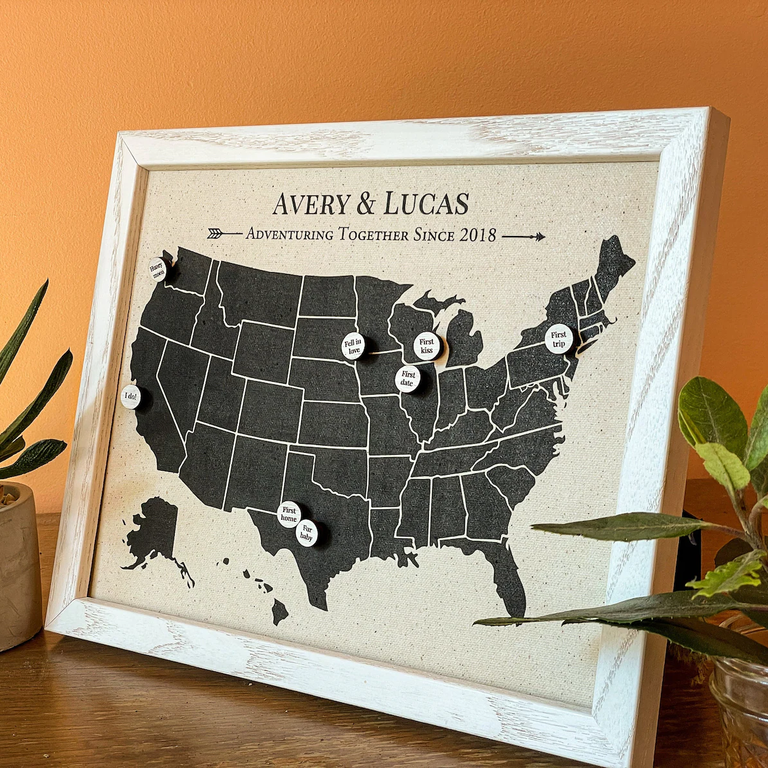 Keep track of where you've been (and where you plan to go) as a couple with this personalized cotton push-pin map that reads: "Adventuring together since…" You can personalize it with your names and anniversary date and add pins denoting memorable locations from your travels. This thematic present is just what your adventurous partner needs to further fuel their wanderlust.
Matching Cotton Sweatshirts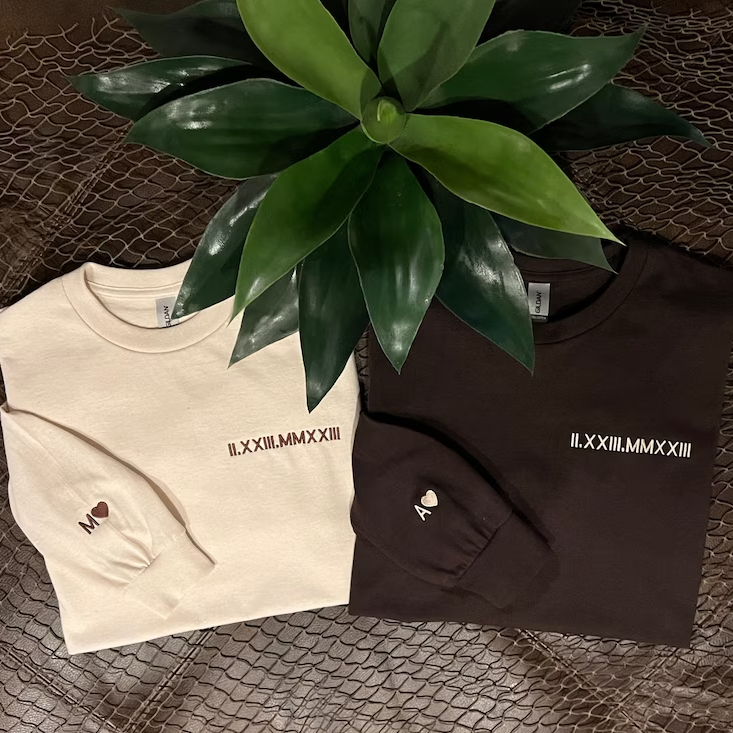 Want to honor tradition while having fun at the same time? Matching cotton loungewear is the answer. These cute sweatshirts can be embroidered with your spouse's first initial and a heart on the sleeve (while theirs will have your initial and another heart) and your wedding date displayed as Roman numerals for a thoughtful touch. Best of all, they're made from 100% cotton and come in a variety of colors, from classic black to light blue.
Cotton Weighted Blanket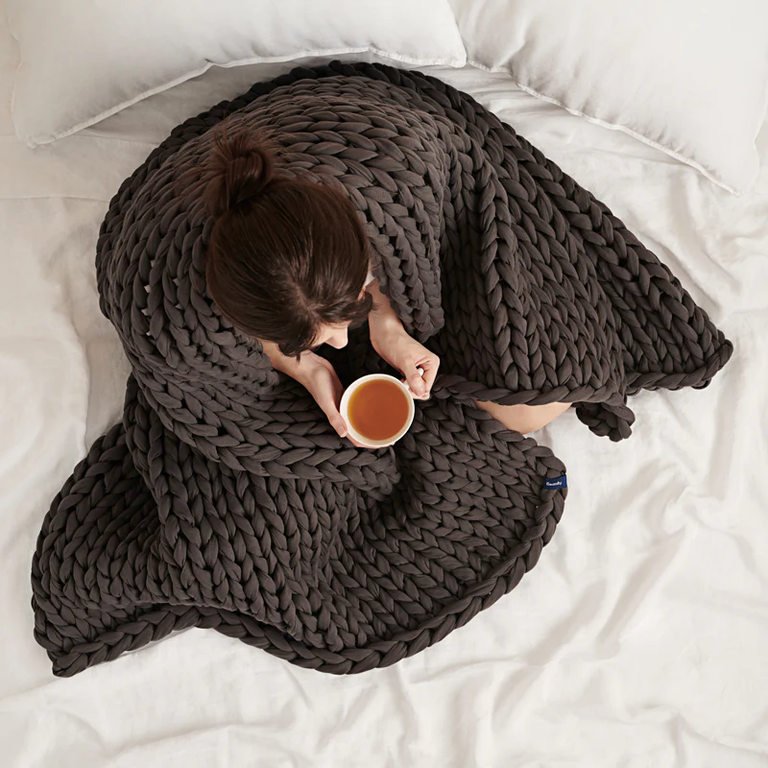 Show your other half some love with a cozy blanket designed to help them unwind after a busy day. This chunky knit blanket is gently weighted to aid sleep by reducing cortisol (the stress hormone) and increasing serotonin (the happy one) in the body. Made from 100% organic cotton, it comes in four different weight options and a selection of gorgeous colors, making it a practical and thematic second anniversary gift that's sure to inspire a cuddle sesh (or maybe even a nap) on the sofa with your love.
Wrinkle-Resistant Cotton Shirt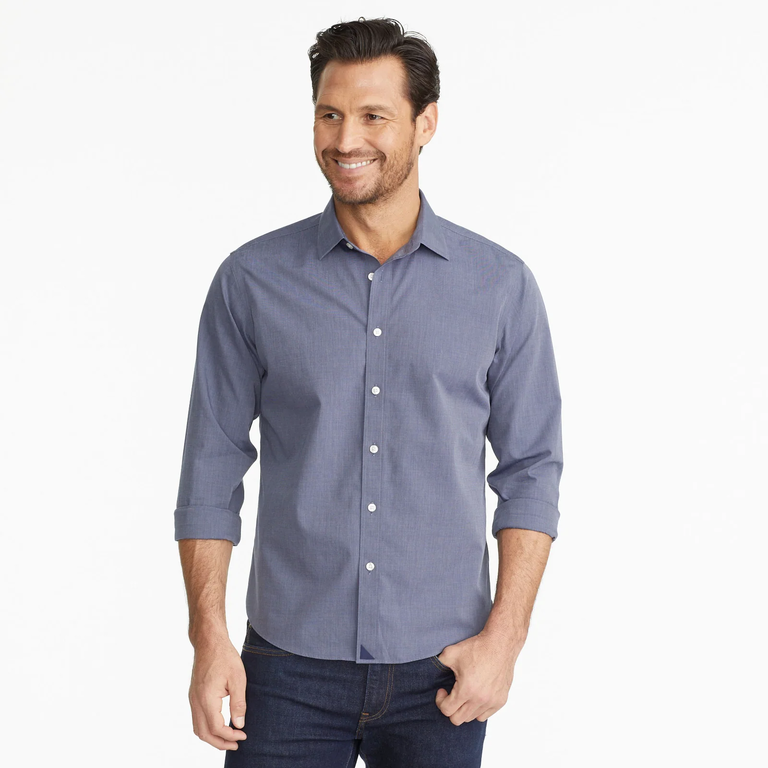 The traditional two-year anniversary theme is the perfect opportunity to upgrade your partner's wardrobe with a new shirt. This button-down style is made from 100% cotton and comes in a versatile navy shade that'll go with pretty much everything. That's not even the best bit, though—it's made from wrinkle-resistant fabric, so they won't have to worry about ironing it. Choose from two different fit options, slim or regular, to suit your spouse's tastes.
Monogrammed Cotton Bath Towel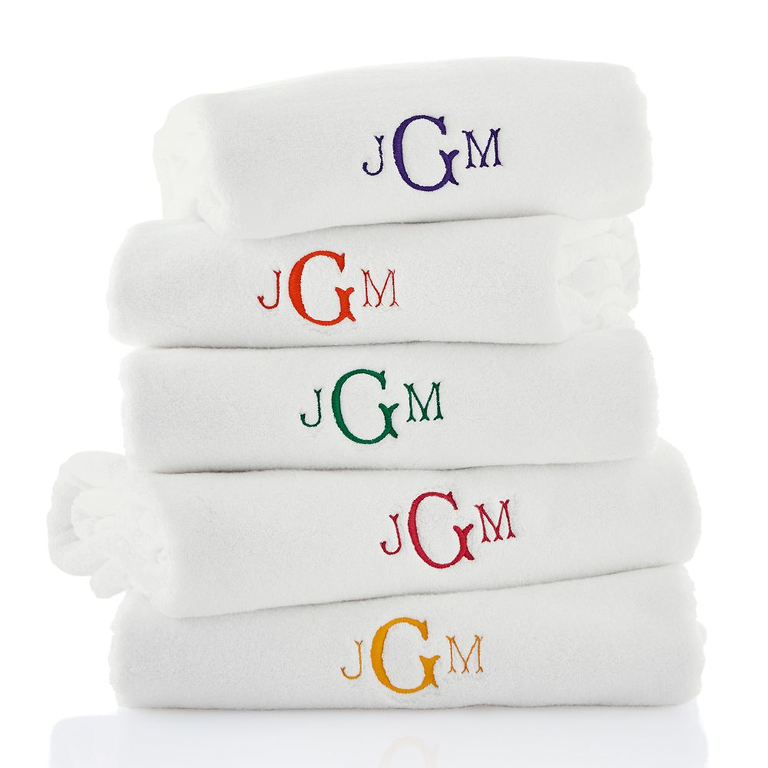 Need to upgrade your linens and towels? The traditional gifting theme is a great excuse to refresh your home. This monogrammed bath towel can be customized with your spouse's initials or name to create a stylish personalized anniversary gift. It's made from 100% Turkish cotton and looks so good you'll want to snag one for yourself two. Choose from individual towels or a set of four if you're in the mood to splurge.
Recycled Cotton Beanie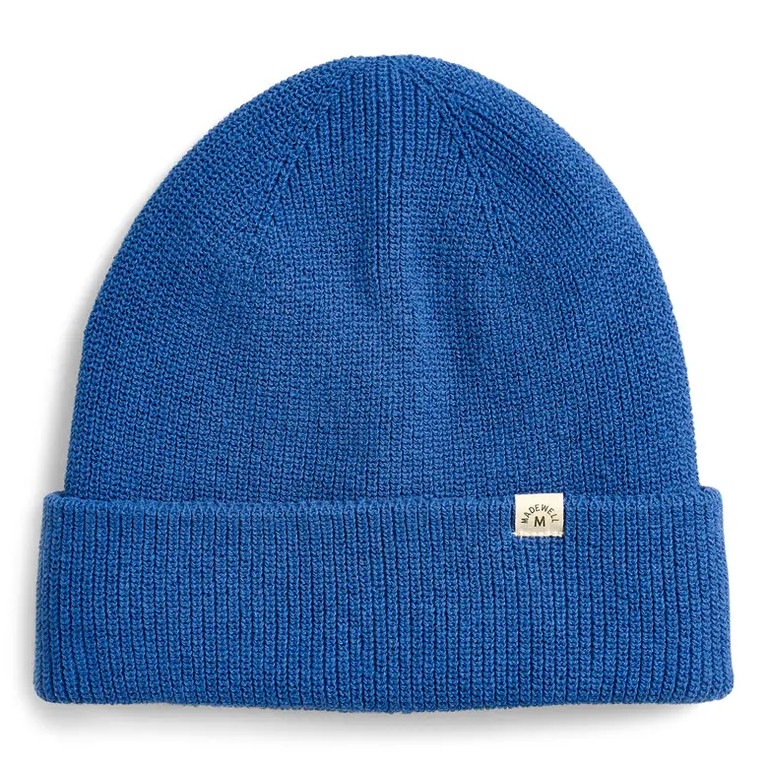 A cute beanie hat is a gift any fashionable spouse will love, especially as the days get a little chilly. This stylish accessory from Madewell is made from a recycled cotton and polyester blend and is a cool (and eco-conscious) way to honor the traditional anniversary material. It comes in three gorgeous colors (we love the blue!) and is finished with a subtle tag detail on the front.
Personalized Anniversary Pillow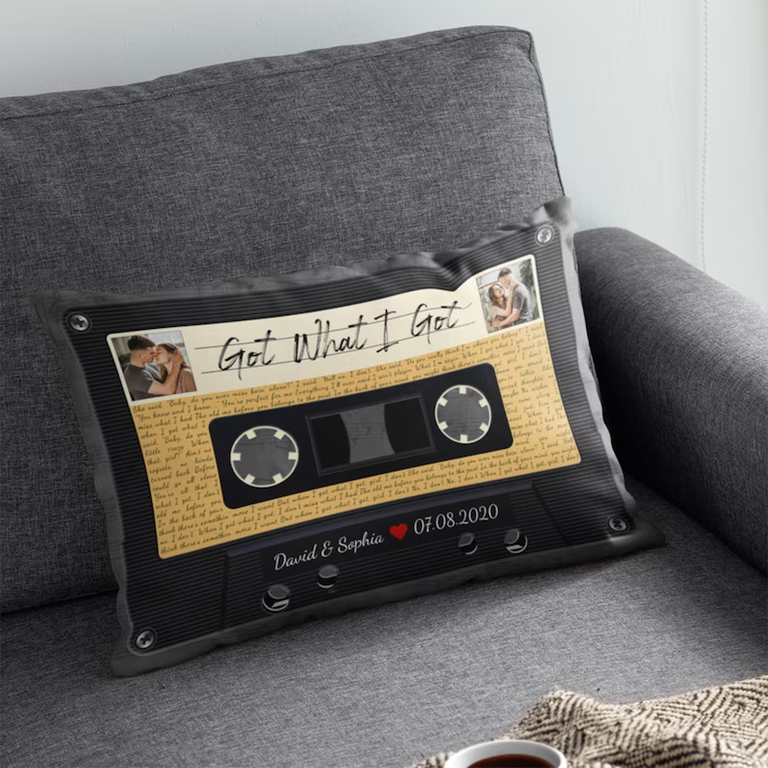 This retro-inspired decorative pillow is a great gift idea for anyone who loves music and their home. The quirky print mimics the look of an old cassette tape, with space for your names, details and favorite song (think: your first dance or another treasured tune). You can also add two personal photos to make this second anniversary gift even more memorable.
Modern Two-Year Anniversary Gifts
The modern second wedding anniversary symbol is porcelain or china. Elegant yet delicate, these materials represent the beautiful fragility of being in love and the special care required for a relationship to flourish. After two years of marriage, you and your partner have likely grown closer than ever—making this meaningful gift especially fitting. With this in mind, we've selected the best modern anniversary gifts to show your spouse just how much you adore them.
Porcelain Mug Set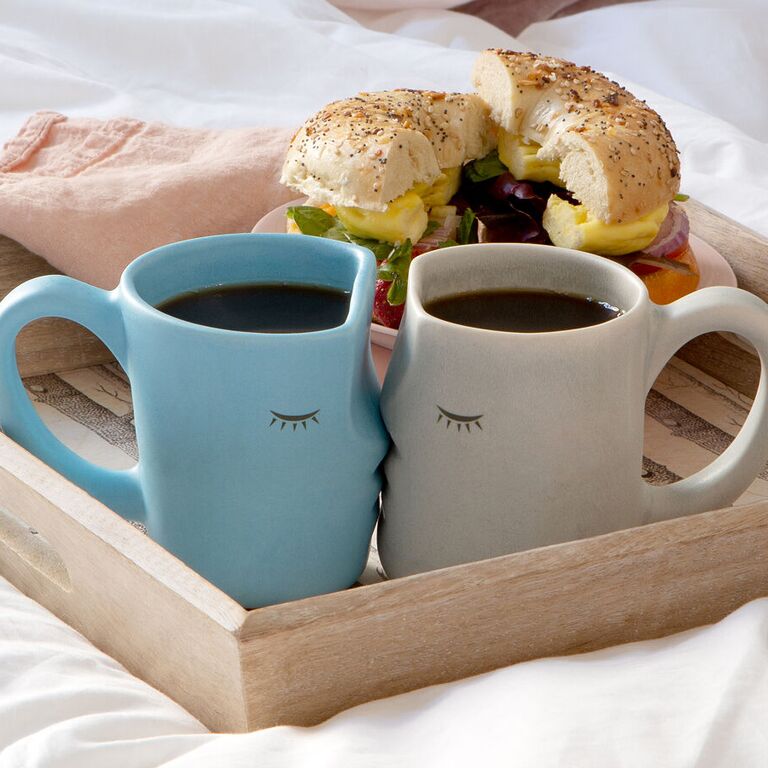 Looking for modern second anniversary gift ideas for your coffee-loving spouse? This adorable set of porcelain mugs will make their morning brew extra sweet. Sold as a pair, each one is shaped like a face—when pieced together, their lips "kiss," mirroring a cute moment of affection. It's a thoughtful and on-theme gift that'll add a playful touch to your daily ritual.
Personalized Ring Dish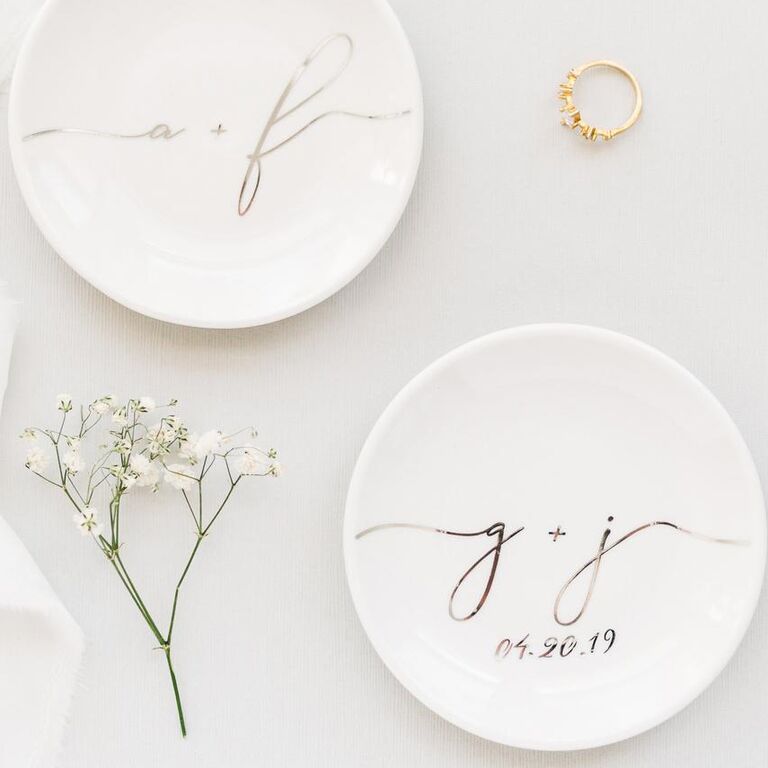 This elegant ring dish is a fitting china anniversary gift for the second year of marriage. It'll give your partner somewhere safe to store their engagement and wedding rings and act as a sweet nod to the day that started it all. Personalize the dish with your first initials and wedding date in black, gold, rose or silver calligraphy.
Porcelain Hummingbird Feeder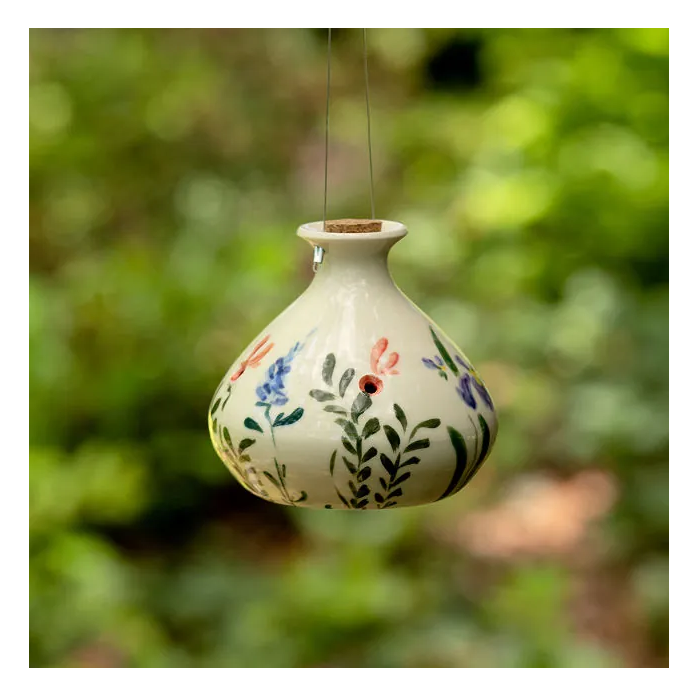 If you're married to someone who loves spending time in the garden, this cute hummingbird feeder is a gift they'll treasure. It's handmade from porcelain and is painted with floral motifs for a colorful finish. The cork stopper is easy to remove for quick refilling and cleaning, while the feeding holes allow the little birds to reach their food. It's an excellent way to nod to the modern second anniversary theme and turn your backyard into a haven for your feathered friends.
Porcelain Dangle Earrings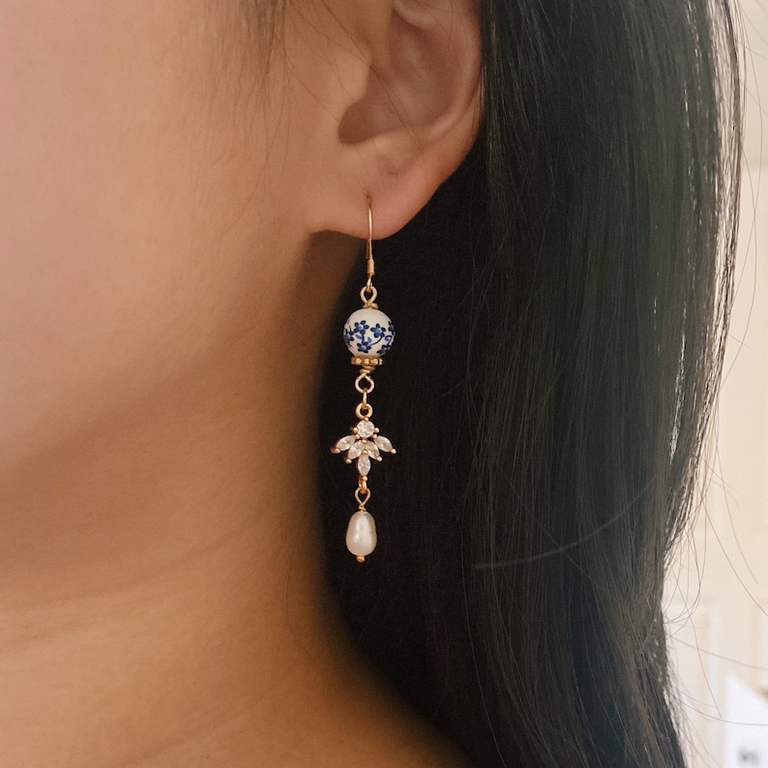 Who knew the two-year modern anniversary gift of china was so wearable? Made to order, these delicate porcelain earrings feature painted blue flowers and sparkling crystals. Elegant pearls add a touch of glamor to the overall look, giving these accessories a unique vintage feel. Trust us, these striking baubles are sure to become a favorite in your spouse's jewelry collection.
Porcelain Dinnerware Set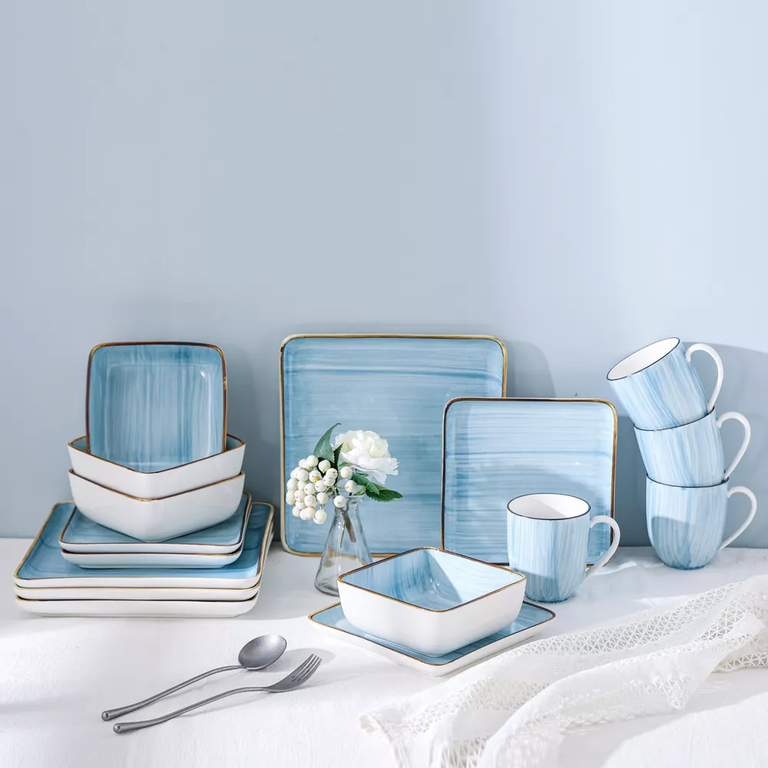 Practical gifts are a great way to incorporate the modern anniversary theme, as this stylish dinnerware set shows. It includes 32 pieces—eight dinner plates, eight salad plates, eight bowls and eight mugs—each crafted from quality porcelain. The square shape and brushed finish will bring a contemporary twist to your existing collection and a splash of color to your kitchen table. If you want to really wow your spouse, offer to cook a special anniversary dinner so you can try out your new dishes right away.
Porcelain Trinket Box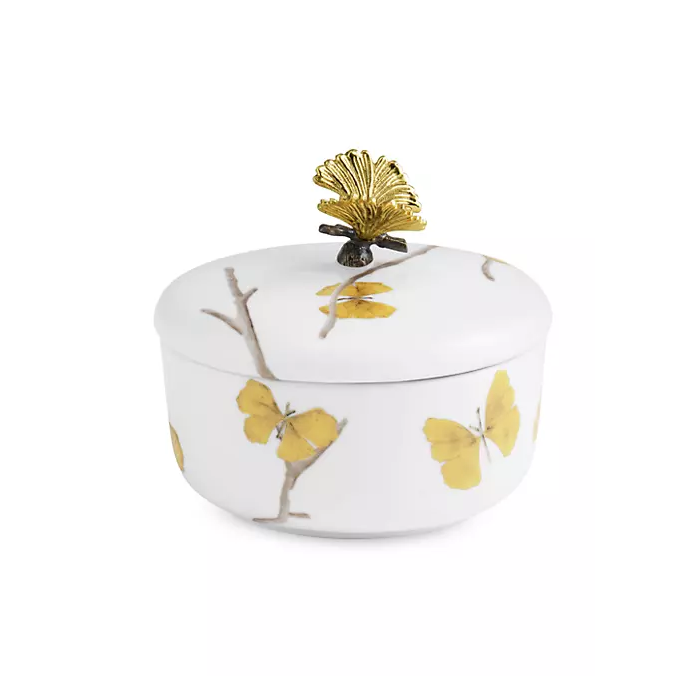 Add a luxurious touch to your partner's nightstand with this trinket box from Michael Aram. It's crafted from porcelain and features a pretty pattern inspired by the butterfly-shaped leaves of the Ginkgo Biloba tree. The gold hardware on the lid adds a glamorous finish to this modern anniversary gift that's perfect for storing everything from jewelry to keys.
Personalized Flower Pot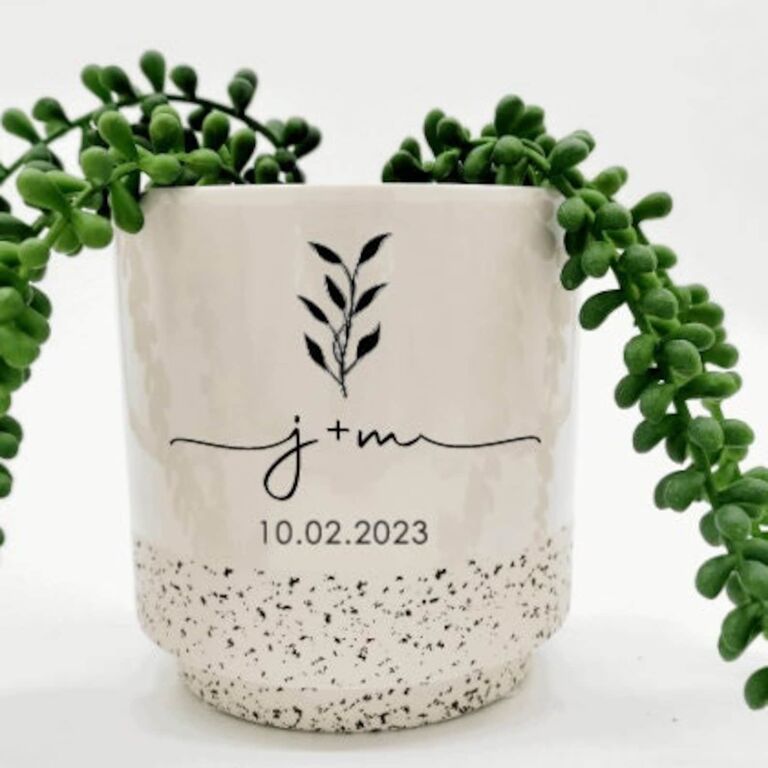 Feel free to bend the rules a little if you're finding the china and porcelain theme tricky to work with. This ceramic flower pot looks as good as the real thing and will surely impress any green-thumbed spouse. Practical and pretty, it can be personalized with your initials, anniversary date or a meaningful quote for a thoughtful touch. Pair it with a packet of wildflower seeds or a flowering plant to earn some extra brownie points.
Porcelain Cake Stand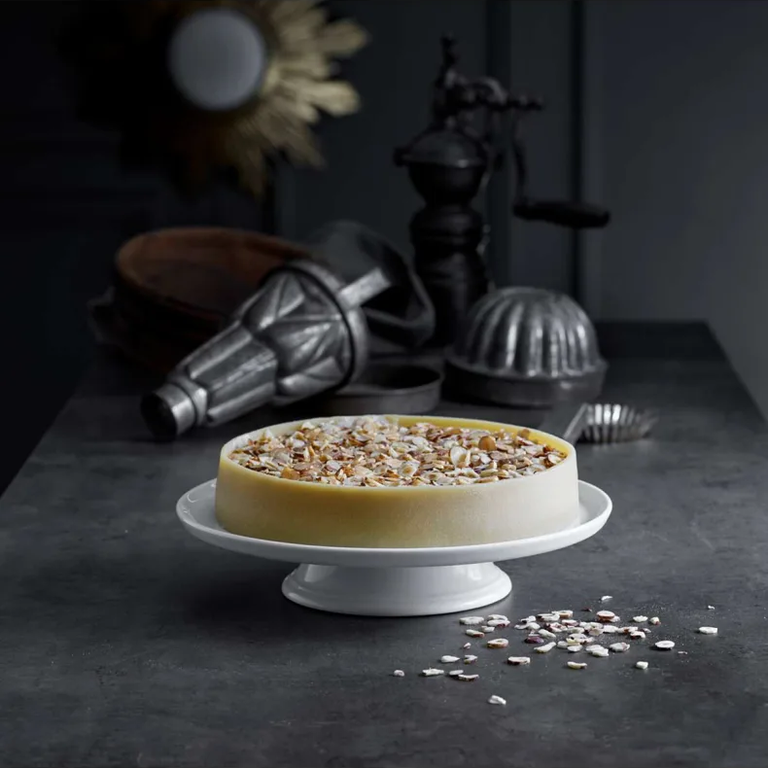 If you and your partner love to entertain, this porcelain cake stand will come in handy at your next dinner party. The chic minimalist style will perfectly show off your homemade bakes and bring a touch of elegance to the table. It's a modern two-year anniversary gift you can reach for to celebrate any future occasion, from birthdays to family gatherings and everything in between.
Photo Travel Mug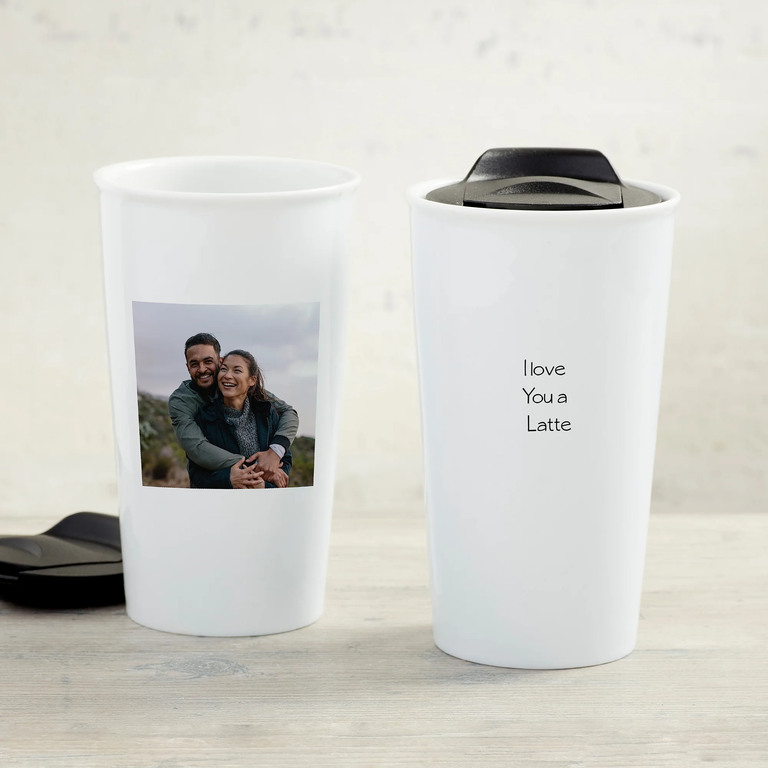 Shopping for someone who loves their coffee to-go? This personalized travel mug is guaranteed to brighten up their daily commute. It's made from durable ceramic and features double-walled insulation that'll keep their brew hot for hours. The best part? You can add a romantic photo and thoughtful message to instantly transform this handy mug into a standout second anniversary gift.
Porcelain Vase Set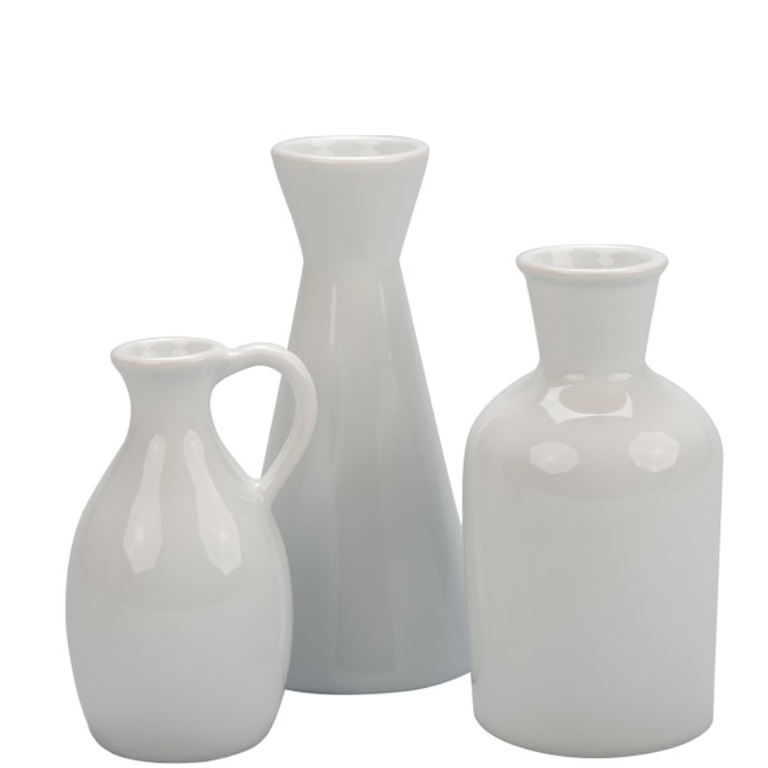 If you're shopping for someone who loves fresh flowers, a stylish vase (or three) is a gift worth giving. Simple and timeless, this trio of vases looks great when grouped together or displayed individually in any setting. Each one is made from durable glazed porcelain and is ideal for holding single stems and small bouquets alike. It's a modern two-year anniversary gift that'll impress anyone who loves having fresh (or faux) blooms in their home.
Unique Two-Year Anniversary Gifts
If you'd rather not incorporate the traditional and modern themes into your second anniversary gift, there are other options to think about. The color red is associated with year two of marriage, while cosmos are the official anniversary flowers. And, if you're considering gifting jewelry, the garnet is the designated gemstone for this milestone. Even if you don't want to take inspiration from these ideas, we can still help you find an awesome anniversary gift for your husband or wife. Without further ado, here are some of the best alternative presents for the second wedding anniversary.
Adventure Scrapbook With Camera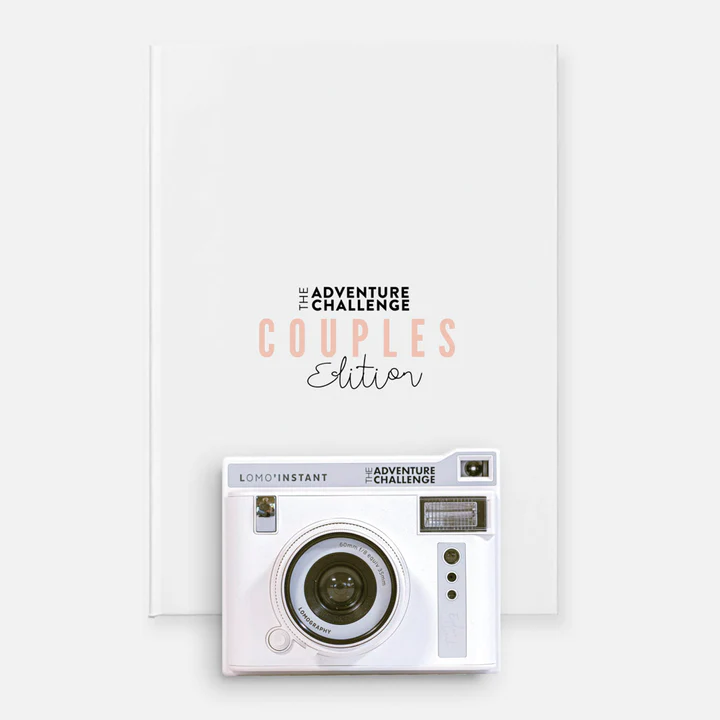 If you're looking for a thoughtful two-year anniversary gift for your wife or husband, it's hard to go wrong with something from The Adventure Challenge. This cool scrapbook is packed with exciting date night ideas you can do together and then document with the included camera. The best part? You have to commit to one of the scratch-off ideas before finding out what it is, which brings an element of fun and spontaneity to your next hang. Use code THEKNOT20 for 20% off your purchase.
Personalized Four-Across Game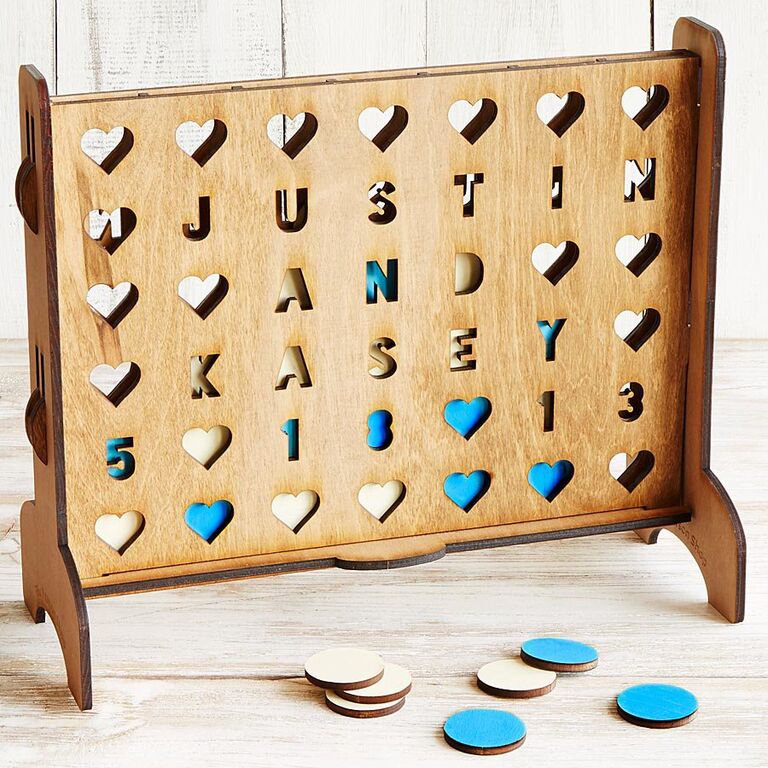 The dating game may be over, but that doesn't mean the fun has to end. Personalize this wooden four-across game with your names so you can challenge each other to some lighthearted competition. It's a fun second anniversary gift that'll go down well after a romantic dinner or with a glass of your favorite wine.
Anniversary Journal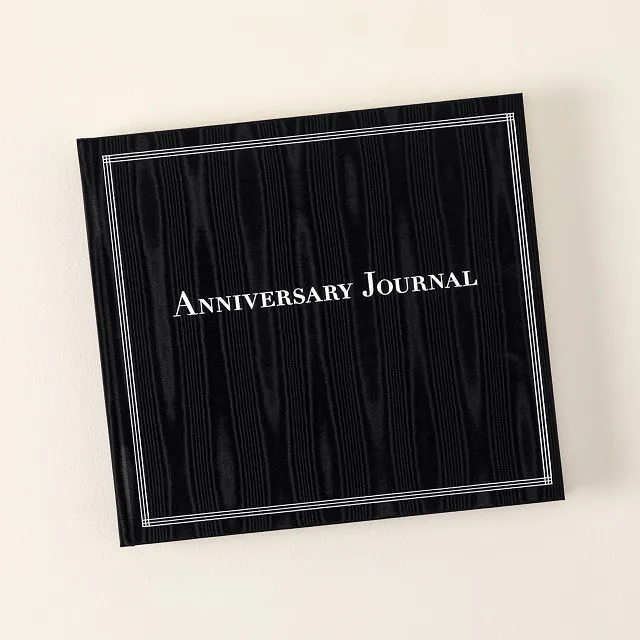 This beautiful journal is an incredibly popular first anniversary gift, but it's never too late to start documenting your milestones. There's a space dedicated to each year of marriage, from the first all the way to the 60th. Thoughtful prompts inspire you to reflect on the past year together, while dedicated photo pages and envelopes allow you to preserve your memories differently.
Elegant Diamond Necklace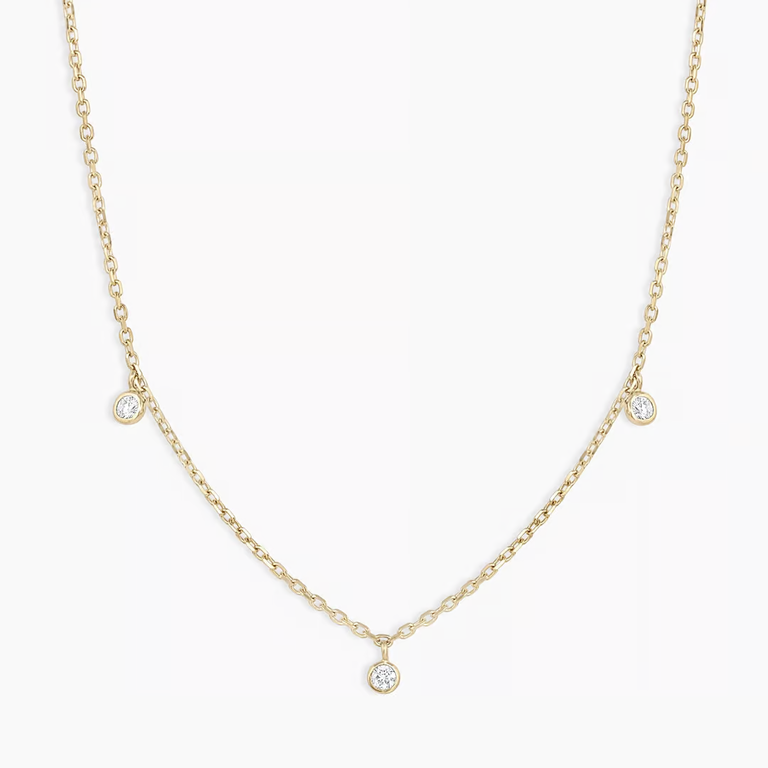 Diamonds are a super romantic gift, whether it's your second anniversary or your 30th year together. Show your spouse how much you cherish them with this elegant necklace from Gorjana. The 14K gold chain is accented with three round-cut diamonds and is the perfect example of understated glam. It'll add just the right amount of sparkle to their ensemble and works equally well when worn alone or layered with other gold jewelry.
Intersection of Love Print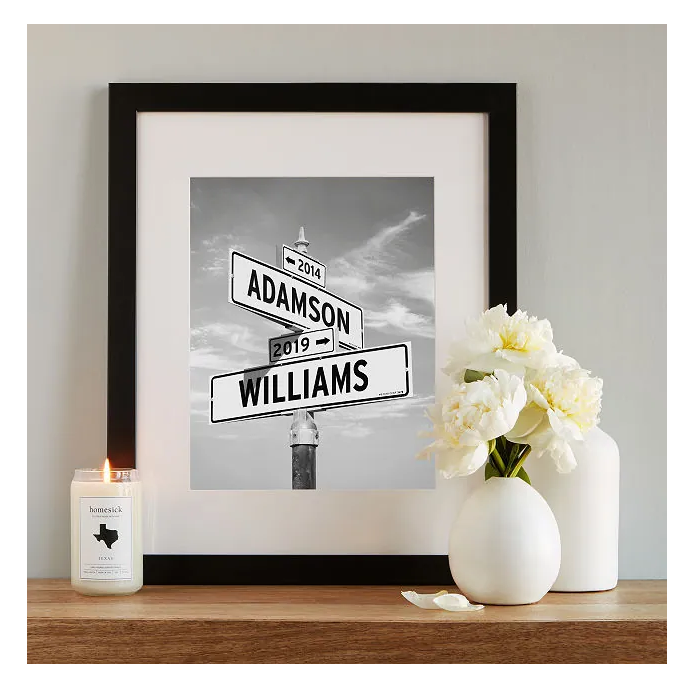 When you really think about it, finding someone to spend your life with requires a little (or a lot) of luck. Celebrate the moment fate intervened and your paths crossed for the first time with this cute print from Uncommon Goods. It features an image of two street signs displaying your names and two special dates (like when you met and when you got married). Choose from several stylish framing options to give this meaningful second anniversary gift a display-worthy finish.
Custom Whiskey Decanter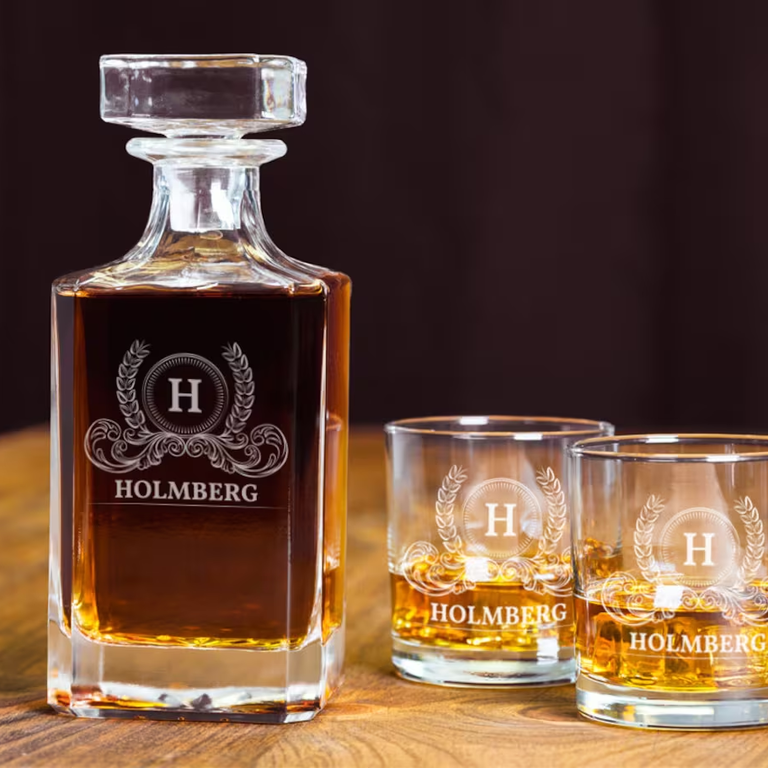 Anyone who likes to celebrate with their favorite bottle of scotch or bourbon will be wowed by this elegant decanter. It comes engraved with their last name and monogram emblem proudly displayed on the front. There's also an option to upgrade to a complete set with up to six glasses—ideal for when guests come over.
Garnet Stud Earrings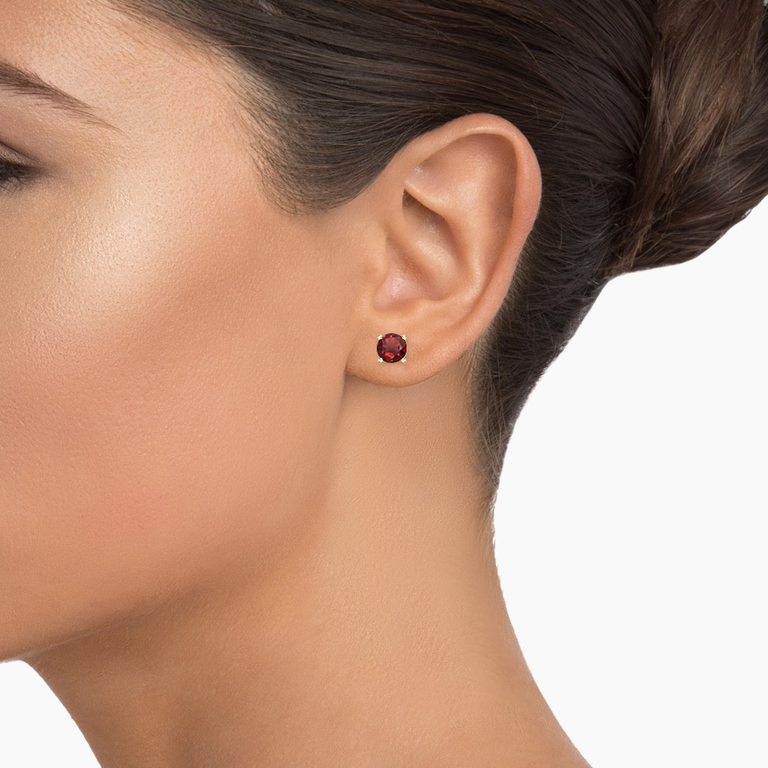 As the official second anniversary gemstone, the garnet is a striking red jewel that represents love and friendship—a fitting tribute to your special bond. If you want to treat your spouse to a symbolic jewelry gift, look no further than these gorgeous stud earrings. They're made from ethically sourced garnets and 14K yellow gold and are a lovely way to add a pop of color to any outfit.
Wine and Cheese Set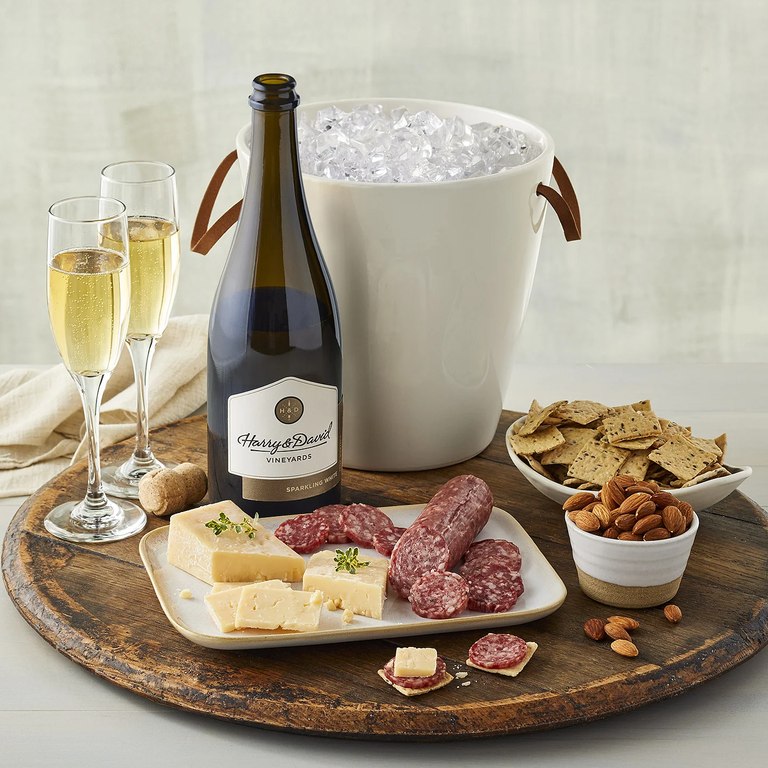 Are they self-proclaimed charcuterie experts? Do they love a glass of wine with crackers and cheese? If so, this two-year anniversary gift is the ultimate treat. It includes salami, cheese, crackers, almonds and a bottle of sparkling white wine to help start the celebrations. If that's not enough to convince you, the set also comes with a ceramic wine chiller for seamless service.
Red Baking Dish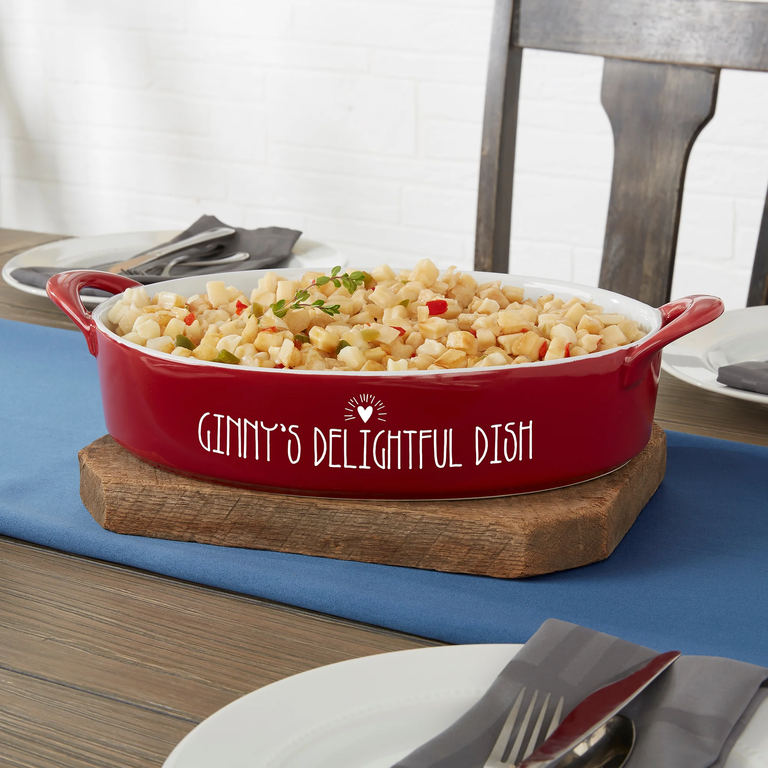 The color red is a second anniversary theme you can draw inspiration from when shopping for a gift for your husband or wife. Cute and quirky, this bright red baking dish will add a cheerful touch to their kitchen stovetop. Have it engraved with their name or a sweet message to impress the talented home baker in your life.
Cosmos Flower Wall Art
Cosmos, the second wedding anniversary flowers, symbolize peace and harmony—making them a lovely representation of a happy marriage. This vibrant print features pink cosmos and blue cornflowers in a bright, breezy palette that'll liven up any room. Purchase it framed or leave it as is for a more relaxed poster look.
Nature-Inspired Scented Candle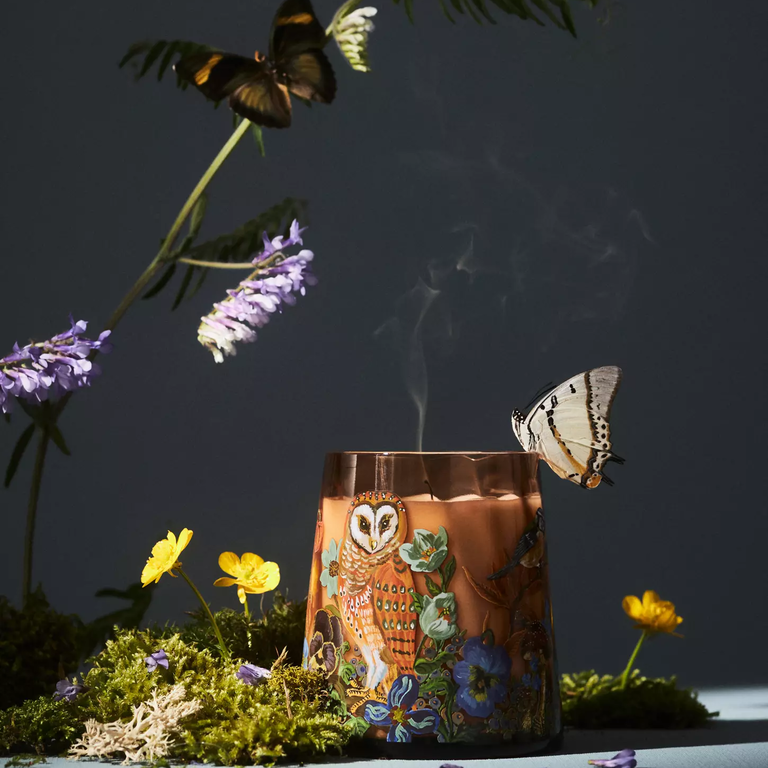 We couldn't complete an anniversary gift round-up without including a gorgeous scented candle. This one from Anthropologie is made from a soy wax blend and comes in a colorful glass vessel decorated with pretty nature-inspired motifs. Once lit, it gives off an alluring fragrance of orchid, amber and white musk.