The Most Thoughtful 2nd Anniversary Gifts for This Special Milestone
Celebrate the cotton anniversary with one of these traditional or unique ideas.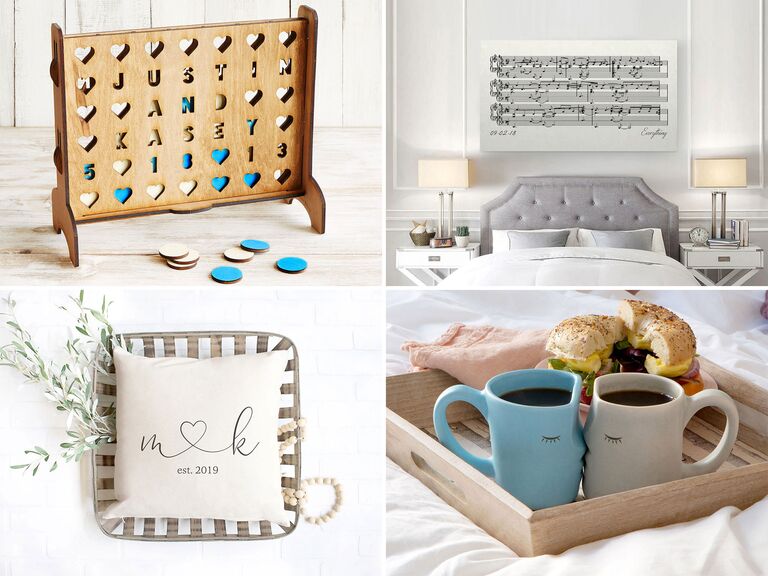 We have included third party products to help you navigate and enjoy life's biggest moments. Purchases made through links on this page may earn us a commission.
While the first anniversary generally grabs the most attention, don't let that take away from the fact that celebrating two years of marriage is a major milestone! After all, you know what they say: Two is better than one. Want to make the day feel extra special? Two-year anniversary gifts are a sweet way of showering your spouse with love or congratulating the happy couple.
If you're not sure how to trump last year's present, fear not! We've put together a list of all the best traditional and modern picks, including some impressive cotton anniversary gifts to go with the year's theme. Of course, you don't have to follow the traditional guidelines when it comes to choosing a thoughtful present. We've also gathered some of our favorite alternative gifts for the second anniversary.
In this article:
What Is the Two-Year Anniversary Gift?
If you've decided to pick out a traditional second anniversary gift for your wife, husband or the couple, you're in luck. The material associated with this special milestone is cotton, which comes in many forms and is super easy to work with. The meaning behind this traditional gift is flexibility and interconnectedness—because with every year together, a couple only gets stronger. From cozy bathrobes and blankets to sentimental canvas art, there are tons of great cotton gift ideas to choose from.
Of course, cotton isn't the only material you can turn to for inspiration. The modern take on the second wedding anniversary gift is china or porcelain. Just like a couple's union, these materials are beautiful yet fragile. The second year of marriage is also linked to cosmos flowers, the color red and the dazzling gemstone garnet.
Cotton Anniversary Gifts
Two years in and the couple is likely as comfortable with one another now as they are wearing a well-loved T-shirt. That's why it should come as no surprise that cotton is the traditional two-year anniversary gift. Still, it can require some creativity to transform something cozy and laid-back into a thoughtful or romantic present. Lucky for you, we know exactly where to start.
Sheet Music Wall Art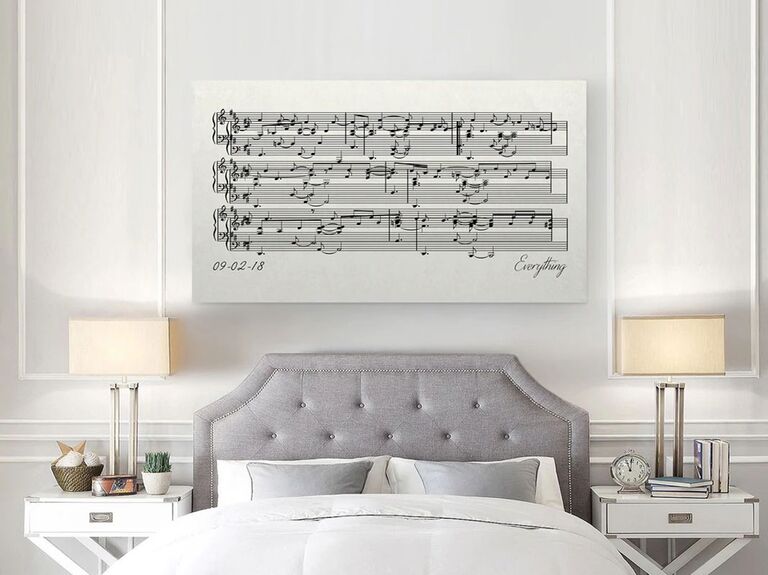 Here's a sweet way for your spouse or favorite lovebirds to relive a meaningful moment through song. This tasteful wall art features the sheet music of your choosing, such as your (or the couple's) first dance song. The icing on the cake? The canvas is made primarily from cotton. It's easily one of the best cotton anniversary gifts for him, her or the couple.
Custom Cotton World Map
Keep track of where you've been (and where you plan to go) as a couple. This personalized cotton push-pin map reads: "Adventuring together since…" Personalize it with your names, anniversary date and pins denoting memorable locations from your travels. This thematic present is just what your partner needs to fuel their wanderlust.
Plush Cotton Bathrobe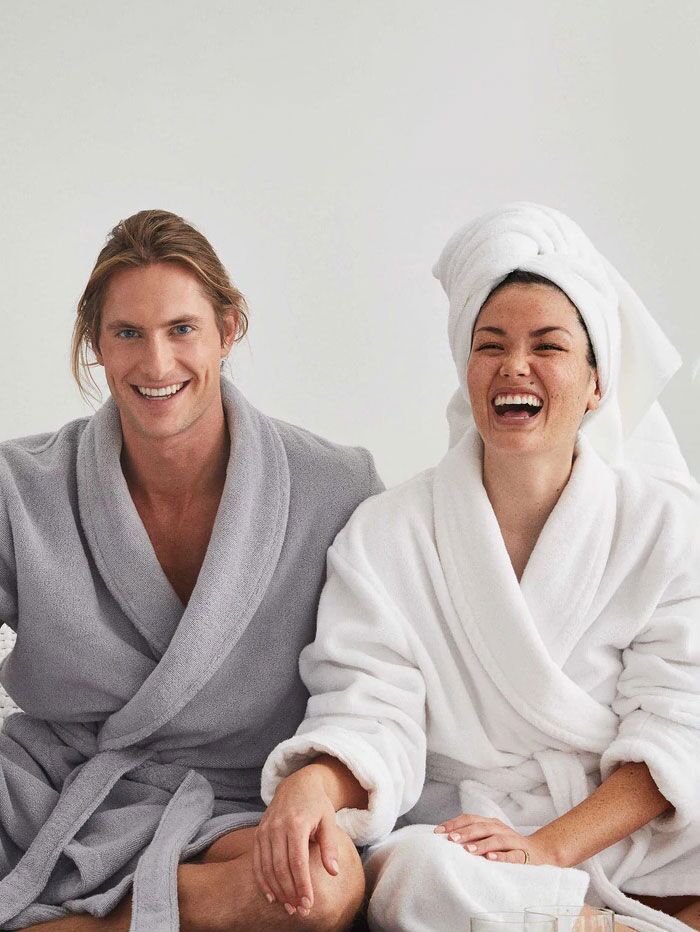 Inspired by Brooklinen's beloved bath towels, this super-soft cotton robe feels like wrapping up in a cloud. Once your other half puts it on, they'll never want to take it off. It's easily one of the most practical cotton gifts for him or her and so cozy you'll want to grab one for yourself too.
Stylish Cotton Loungewear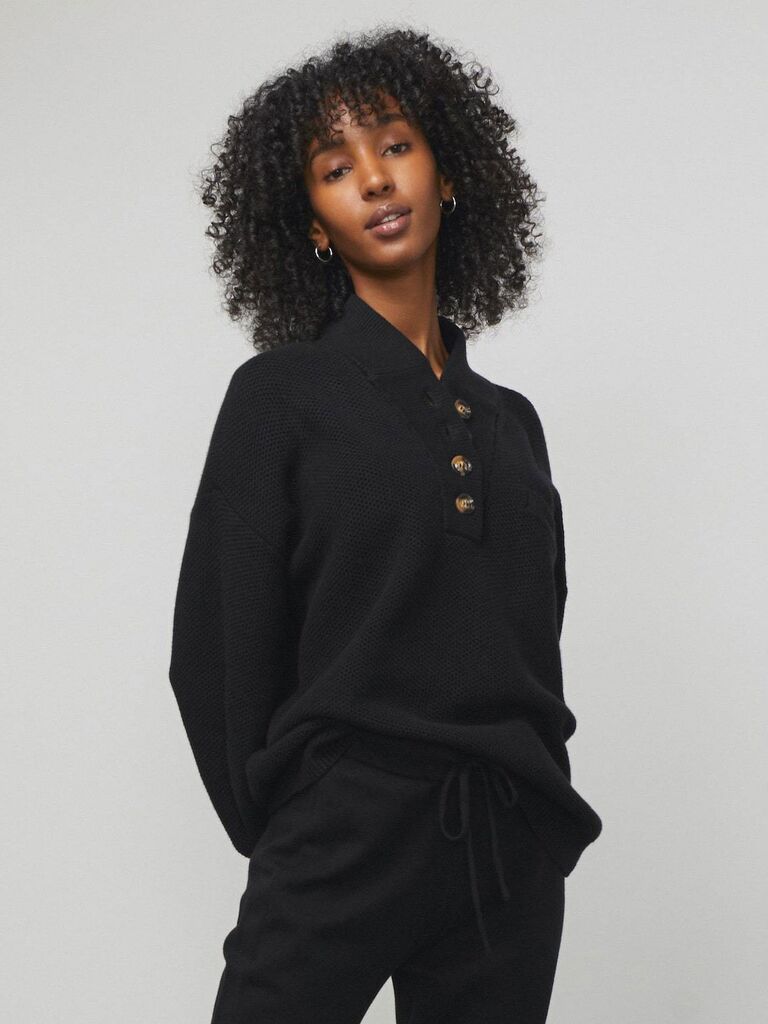 Luxury cotton anniversary gifts are a great way to mark this special milestone. We all love Lunya's trademark silk PJs, but did you know that the brand makes some gorgeous cotton womenswear too? This ribbed henley sweater comes in nine earthy hues and has a trendy oversized fit, meaning it'll be extra comfortable. Pair it with cotton joggers for a matching set perfect for a date night in. (Psst: Are you a first-time customer? Take $20 off your order of $100 or more with the code FOR-TK20.)
Super-Soft Sweat Set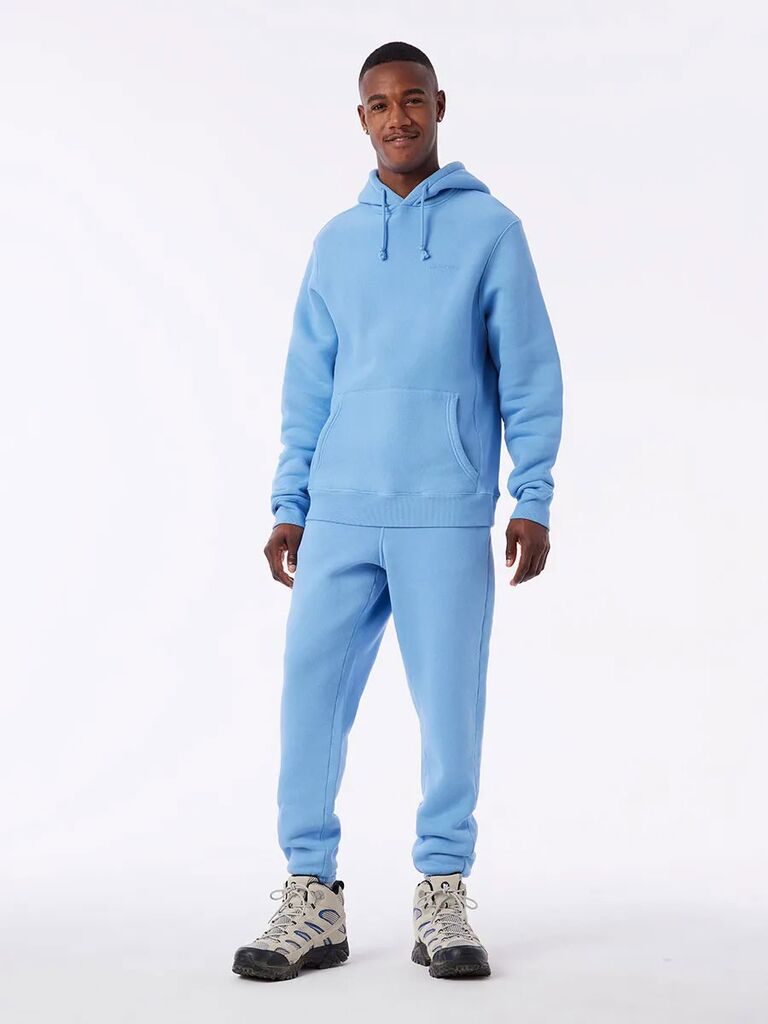 Stylish and functional athleisure is here to stay. If your S.O.'s favorite sweats are looking a little worse for wear, they'll appreciate a cozy new hoodie, sweatpants or both. Outdoor Voices loungewear is fast becoming a cult favorite, and it's not hard to see why. This soft and fleecy men's set is 100% cotton (and 100% comfortable!).
Colorful Sock Subscription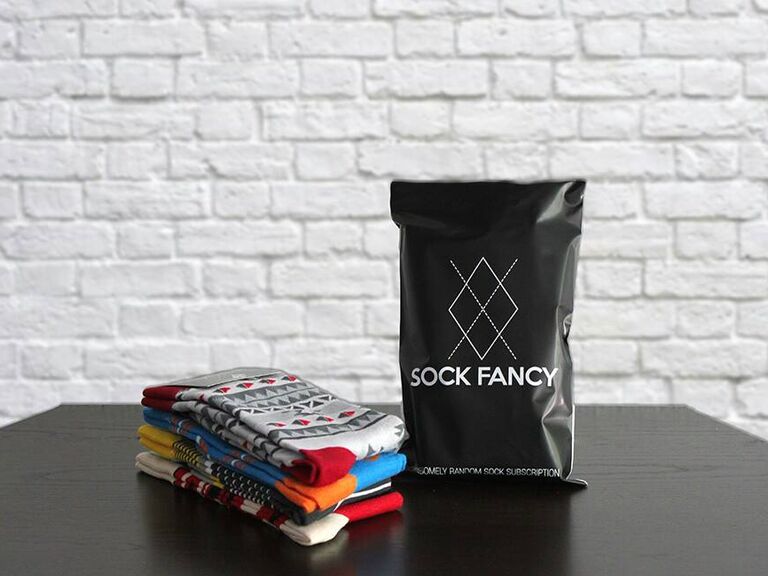 Subscription boxes make excellent last-minute anniversary gifts because you can usually send your boo an email gift message before the surprise arrives. And what better way to celebrate two years together than with some fun socks? Sock Fancy has monthly subscription boxes for anyone who loves to add a pop of color to their outfits.
Unique State String Art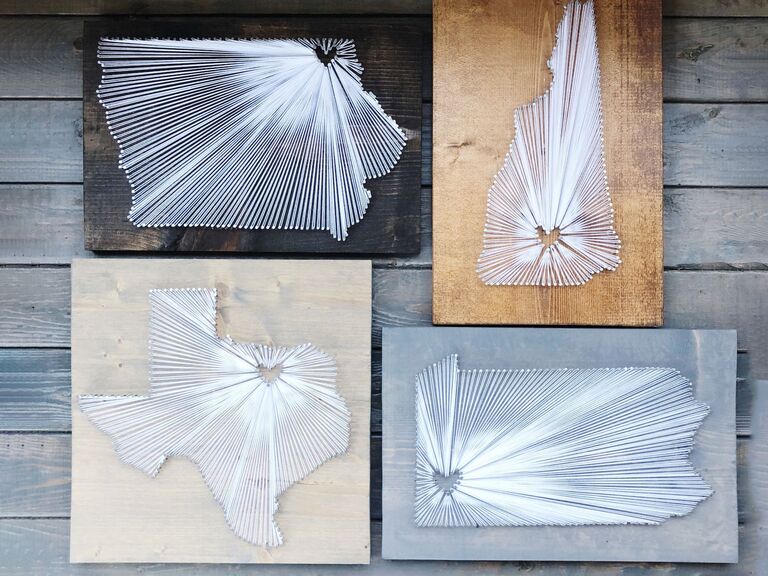 If you're looking for something truly unique to mark the occasion, consider it done. This sign is handcrafted to order with the state the couple calls home and a heart to mark their city. The string is 100% cotton to represent the second anniversary's traditional material and comes in all the colors of the rainbow. For extra personalization, the seller will paint names, initials or a date on the wood slab in white. Best of all, it comes ready to hang!
Monogrammed Cotton Tea Towel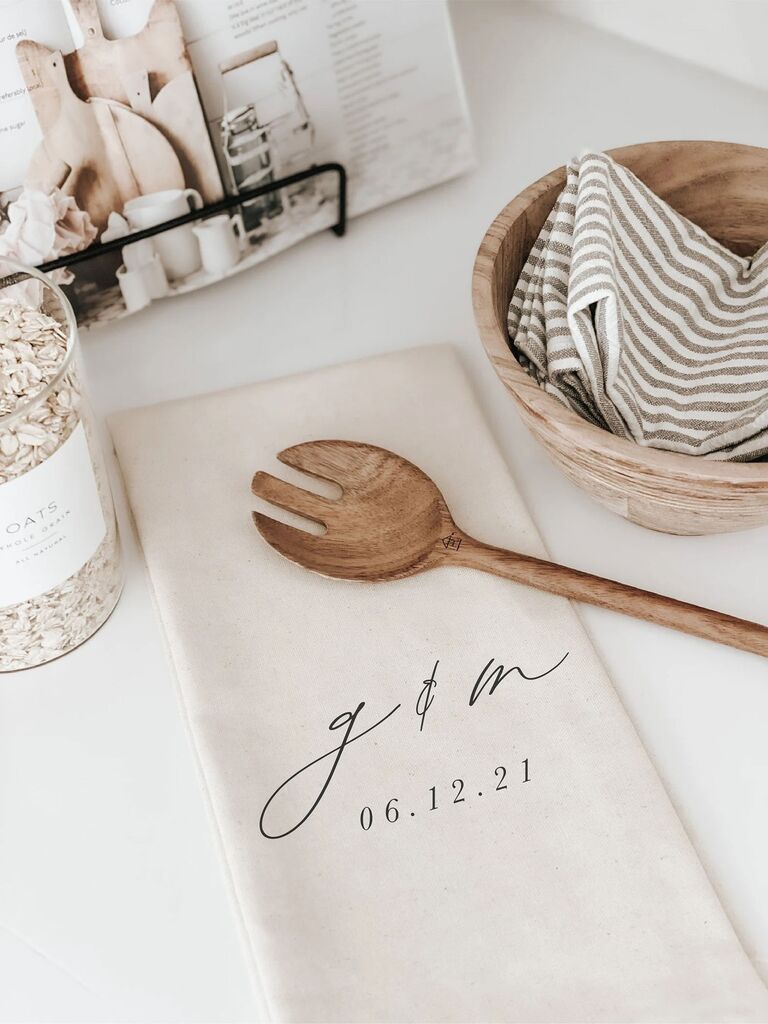 The cotton anniversary is a great year to refresh your kitchen linens, and we love these personalized handmade tea towels. Customize each towel with two initials and the anniversary date printed in beautiful calligraphy. It's an elegant and practical kitchen gift for your partner or a married couple.
Personalized Trinket Trays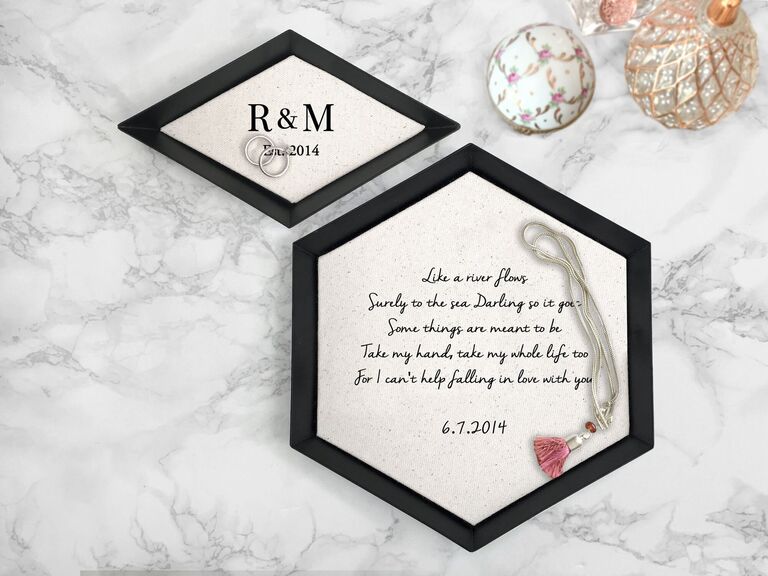 If your spouse needs some extra storage space, consider this creative gift. Get these stackable cotton trays embroidered with your initials, wedding vows, lyrics from one of your wedding songs or another romantic quote that'll mean a lot to them. It'll put a smile on their face whenever they go to grab their jewelry or keys.
Matching Anniversary Sweatshirts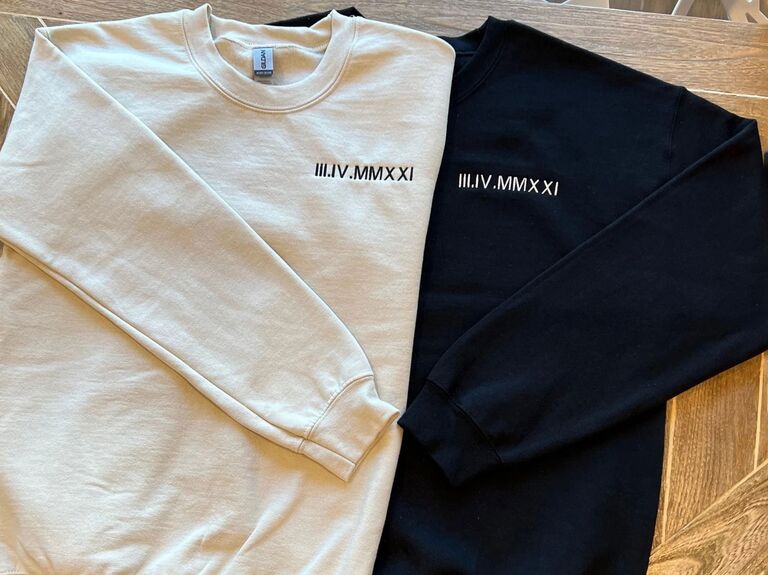 This cozy cotton hoodie is embroidered with your wedding date in roman numerals on the chest. Choose from a variety of neutral-toned sweatshirts and over a dozen thread colors, then get the inverse for yourself for a subtle matching couple's set.
Romantic Cotton Throw Blanket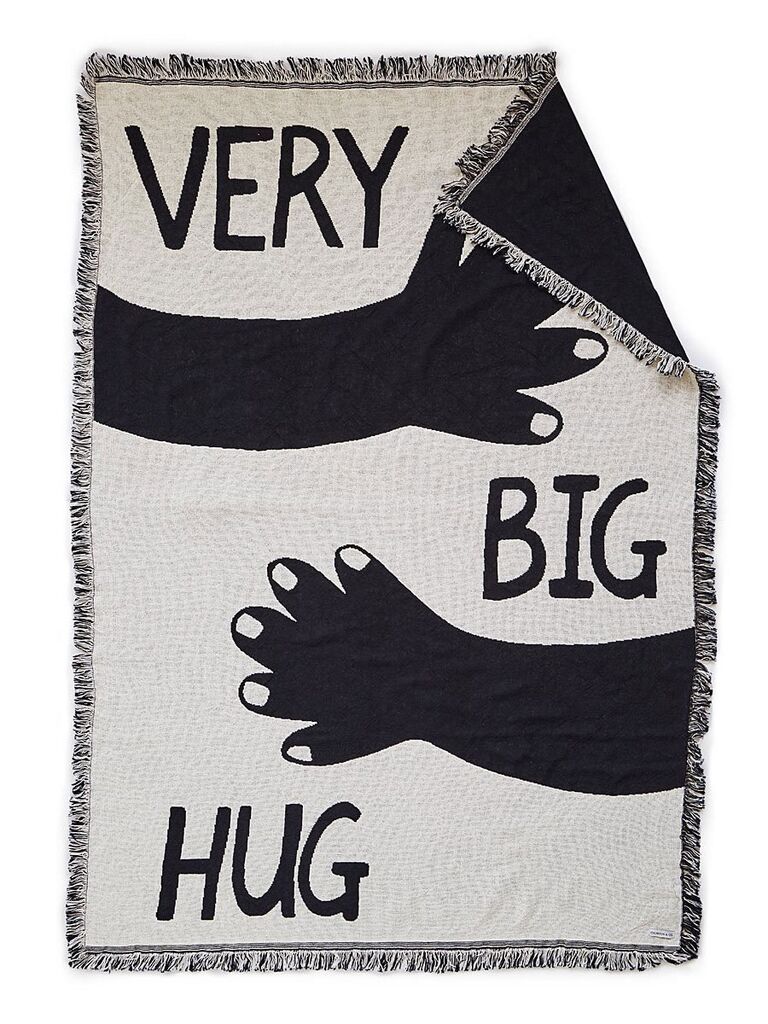 The blanket says it all! This black and white soft cotton throw, woven to read "Very Big Hug," is the new best way to cuddle. This thoughtful anniversary gift will keep your partner wrapped up with love even when you're away, but it's also big enough for two when you're reunited.
Custom Decorative Pillow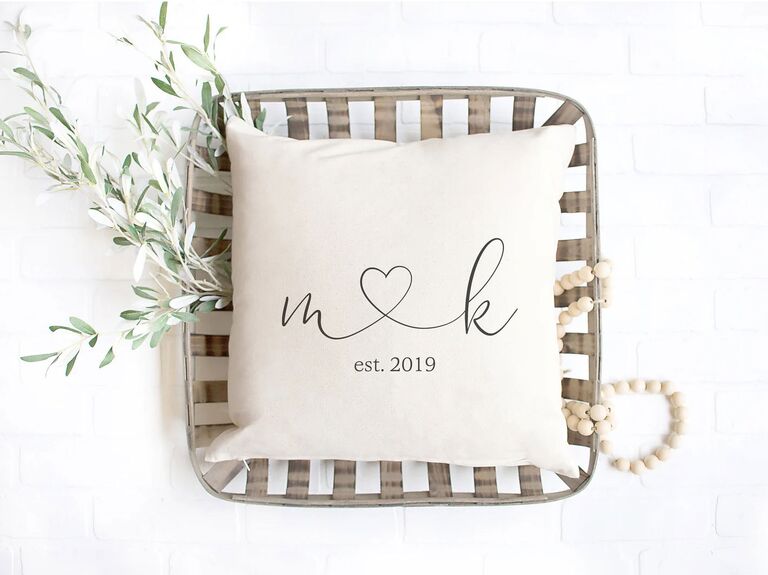 Who knew cotton gifts came in so many different varieties? This decorative throw pillow is a great gift idea for the person who's always sprucing up their home with the latest seasonal decor. Plus, it's a lovely tribute to your union, thanks to the personalized initials, heart and marriage "established" date.
Soft Waffle Duvet Set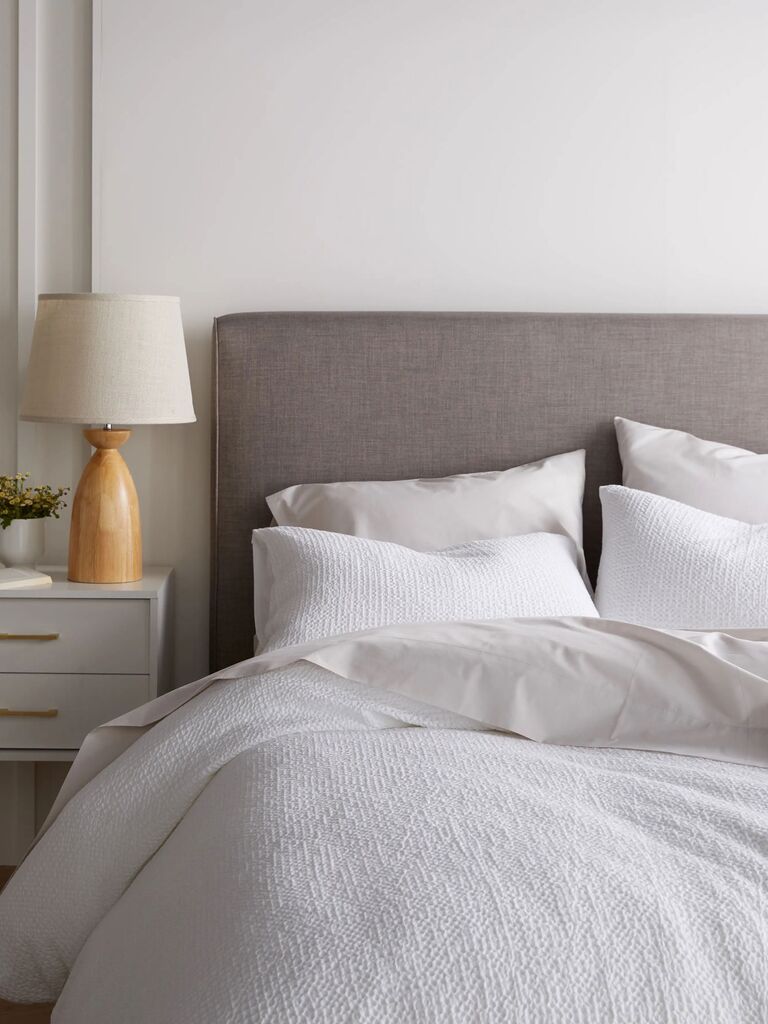 Another common cotton wedding anniversary gift: bedding! This luxurious duvet and pillowcase set would make anyone feel like they're living in a five-star hotel. Best of all, the crisp white color and modern waffle texture will complement any bedroom design scheme.
Canvas and Leather Satchel
Looking for a second anniversary gift for someone always on-the-go? This stylish handbag is made from high-quality materials, including canvas, cotton and vegetable-tanned leather. Each R.Riveter bag is handmade with care by creative military spouses from around the country. Though it looks minimalistic, this bag has ample volume to carry anything from a work computer to a picnic.
China Anniversary Gifts
If the traditional two-year anniversary gift of cotton isn't grabbing your attention, why not look to this milestone's modern materials instead? Check out some of our favorite china and porcelain presents right here.
Anniversary Date Ring Dish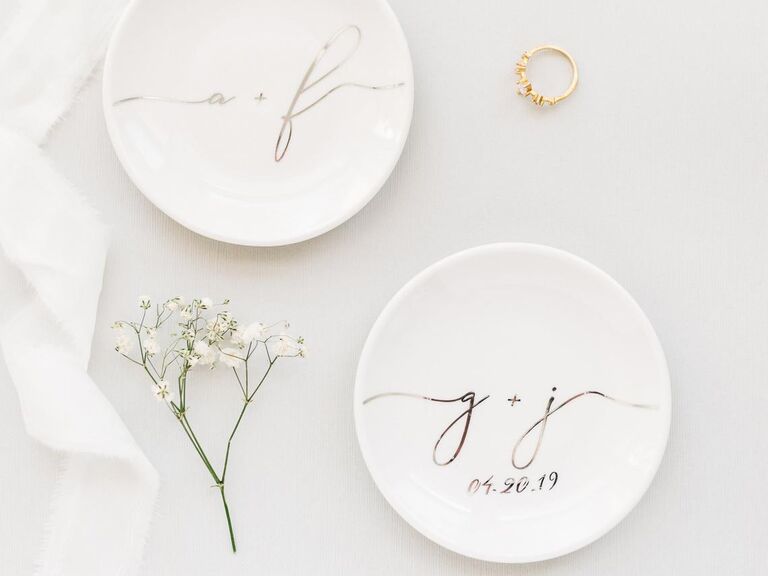 This elegant trinket dish is a fitting china anniversary gift for the second year of marriage. It'll give your partner somewhere safe to store their rings and it's a sweet nod to your nuptials. Personalize the dish with your first initials and the wedding date in black, gold, rose gold or silver calligraphy.
Kissing Porcelain Mug Set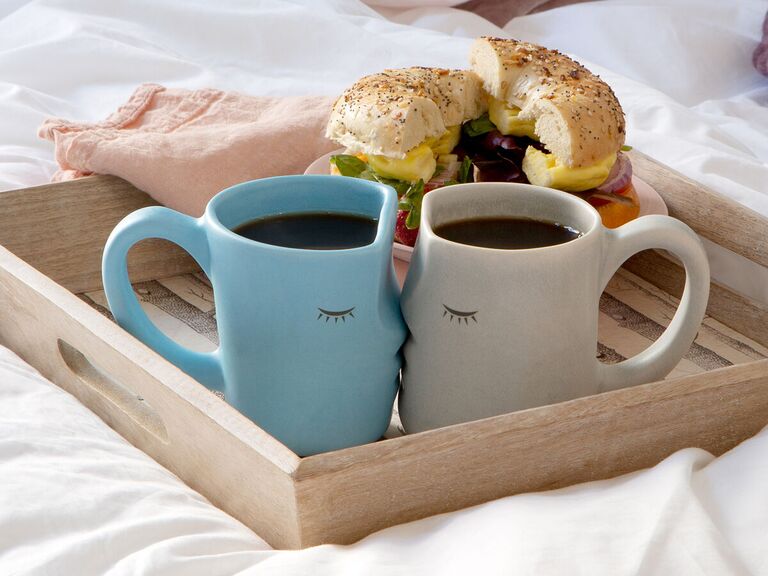 Looking for modern second anniversary gift ideas for a couple? This adorable set of porcelain mugs will make their morning coffee extra sweet. Sold as a pair, each mug is shaped like a face—when pieced together, their lips kiss and the handles form a heart.
Engraved Porcelain Cuff Links
Handmade and engraved, these porcelain cuff links are a great modern anniversary gift. Your spouse can wear these minimalist cuff links—engraved with any word, date or monogram up to six characters—with their favorite suit for a chic fashion statement. They're perfect for a celebratory anniversary dinner or another special occasion.
Fine China Chandelier Earrings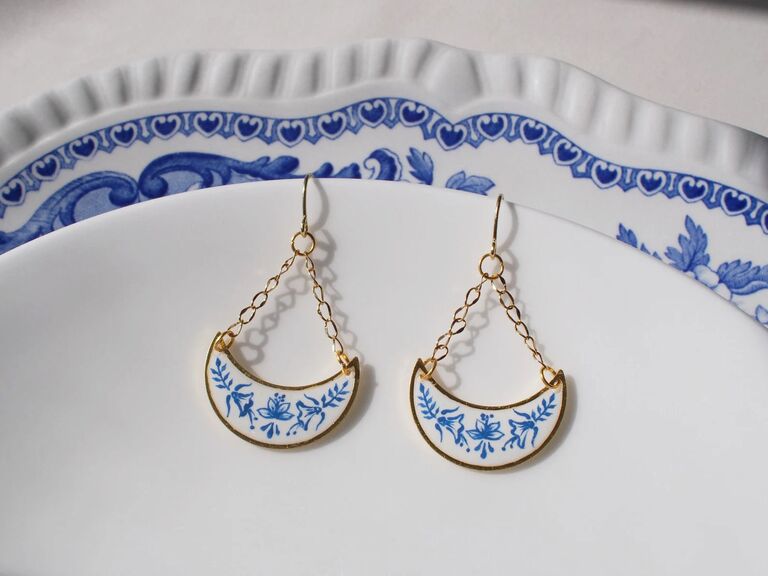 Who knew the two-year modern anniversary gift of china was so wearable? Made to order, these delicate porcelain earrings with hand-painted blue flowers and 14K gold plating are truly a one-of-a-kind gift for your spouse.
Hand-Painted Commemorative Plate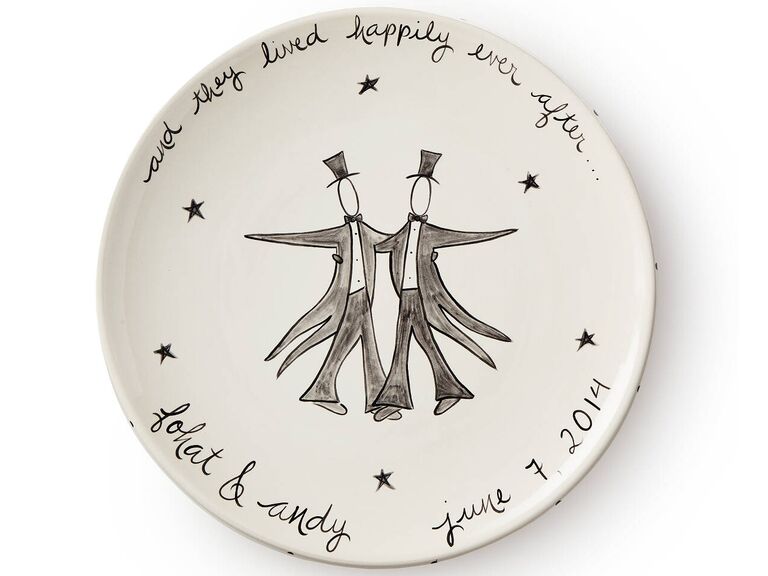 It's never too late to give the couple a heartfelt memento of their wedding day. This keepsake plate can be personalized with their names, the date and a cute illustration. Most romantic of all, at the top it reads: "and they lived happily ever after."
XO Porcelain Vase Set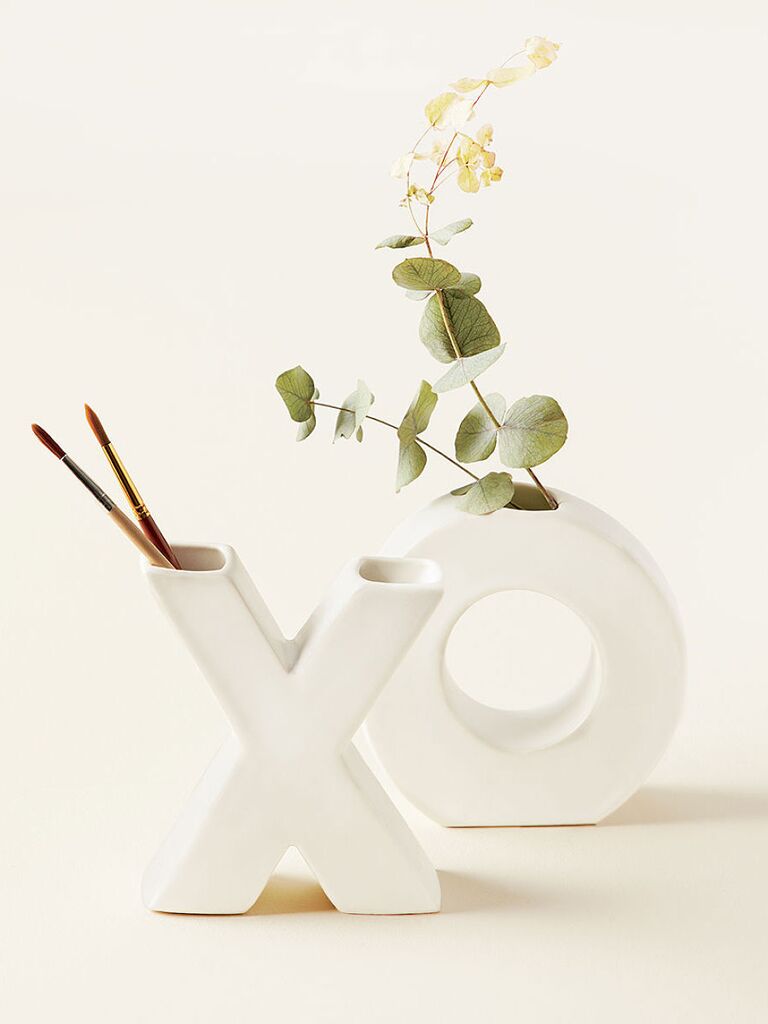 XOs for your S.O.! Add a little more love to your home decor with this handmade porcelain vase set representing hugs and kisses. Fill them with flowers before the gift exchange for an extra-thoughtful anniversary gift—though they look great on their own too!
DIY Kintsugi Kit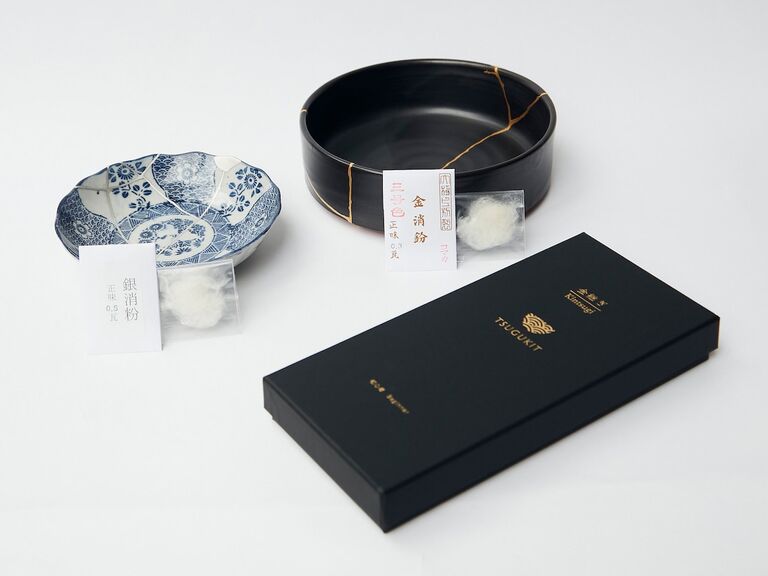 Don't be afraid to think outside the box in your search for the perfect two-year anniversary gift. Kintsugi is the Japanese art of repairing broken pottery. Think: Imperfection is perfection. This home craft kit is a creative take on the modern theme that'll allow them to transform broken china into something even more beautiful. This gift set is made in Japan and includes red (the second anniversary's associated color), silver and gold powder as well as sandpaper, mixing tools and brushes.
Alternative Two-Year Anniversary Gifts
You shouldn't feel pressured to pick out a cotton or china present if you don't want to. At the end of the day, following the guidelines is totally optional and it can be just as fun to make your own tradition. To make that easier, we've listed some of our favorite second wedding anniversary gifts for him, her and them that don't follow tradition below.
Adventure Scrapbook With Camera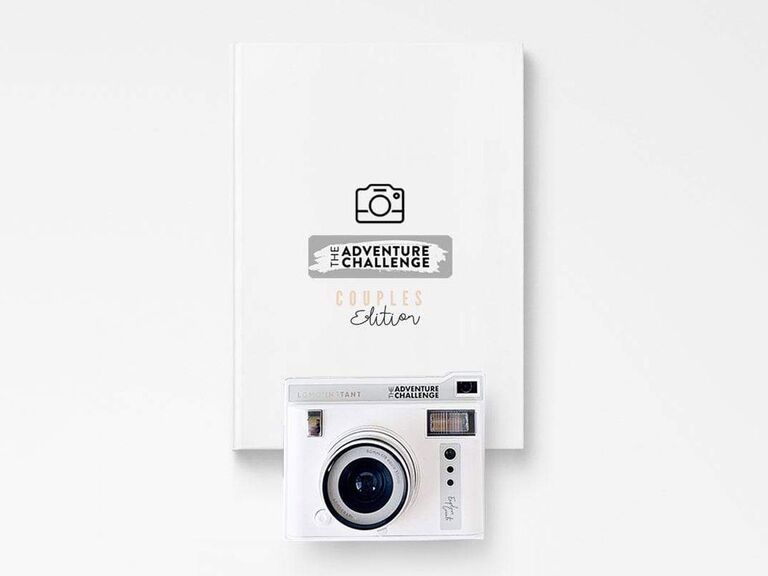 Whether you're looking for a two-year anniversary gift for your wife, husband or the couple, we're big fans of the Adventure Challenge. This cool scrapbook is chock full of awesome date night ideas for couples to do together and then document. The best part is that you have to commit to one of the scratch-off ideas before finding out what it is, bringing an element of fun and spontaneity. (That said, there are some helpful hints beside each date idea to help you choose.) Use code THEKNOT10 for 10% off your purchase!
Custom Whiskey Decanter Set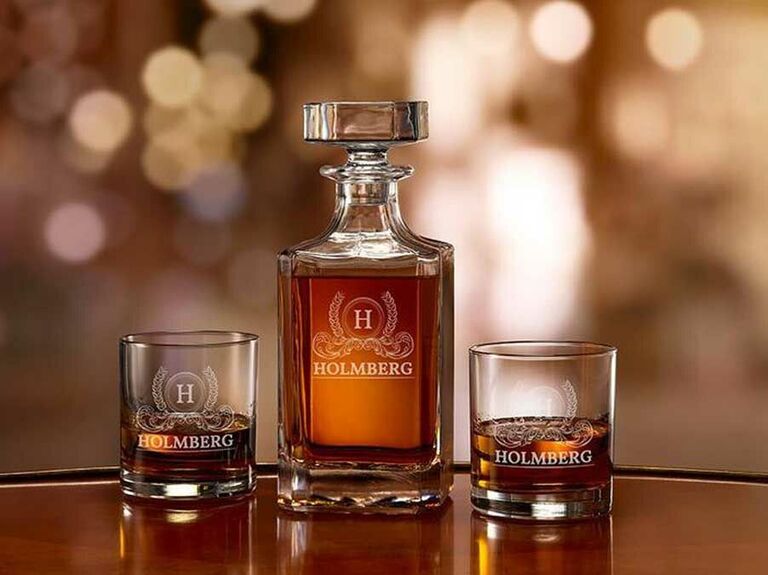 For the couple who likes to celebrate with their favorite bottle of scotch or bourbon, this elegant decanter set is sure to wow. It comes engraved with their shared last name and monogram emblem. Trust us, they'll find any excuse to break out these fancy rocks glasses from now on.
Enchanting Light-Up Rose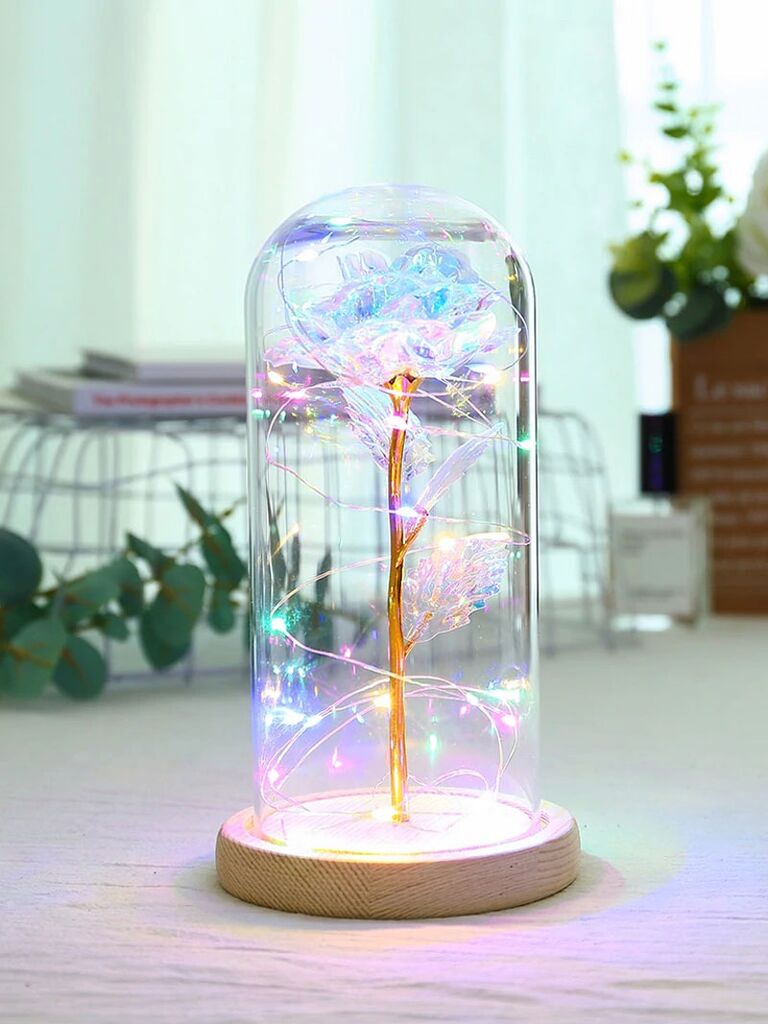 Now this is a memorable two-year anniversary gift. Inspired by Beauty and the Beast, make your partner's fairytale dreams come true with this iridescent rose encased in a glass dome. The fairy lights add a magical finishing touch any Disney lover would appreciate.
Sexy Lingerie Subscription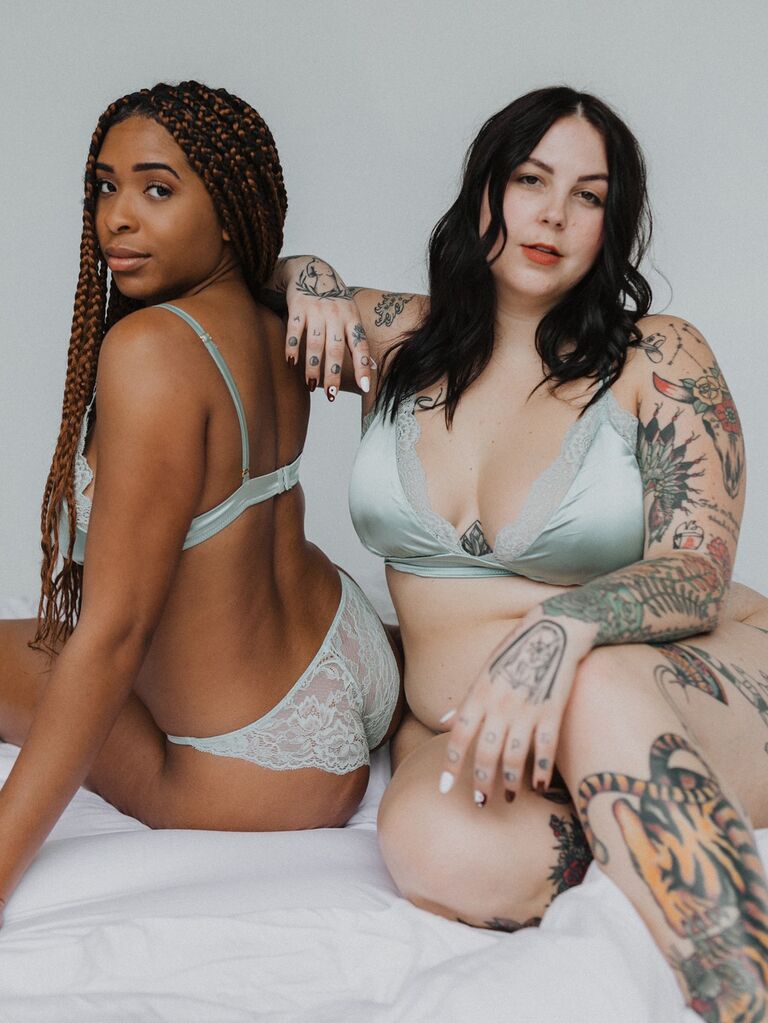 Give your spouse the gift of designer underwear delivered right to their door. This awesome subscription service will send your other half a notification on the date of your choosing. From there, they can fill out a style questionnaire that'll help curate each month's package. You can even select a few add-ons for the first delivery, from sexy intimates to comfy loungewear.
Anniversary Journal and Photo Album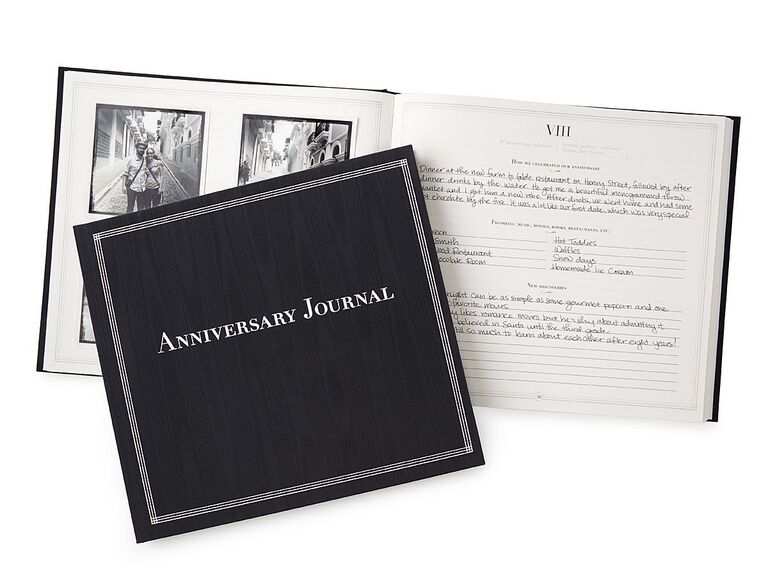 This beautiful journal is an incredibly popular first anniversary gift, but it's never too late to start documenting your milestones. There's a space dedicated to each year of marriage, from the first all the way to the 60th. Thoughtful prompts inspire couples to reflect on the past year together, while dedicated photo pages and envelopes allow them to preserve their memories in different ways.
Custom Digital Wedding Portrait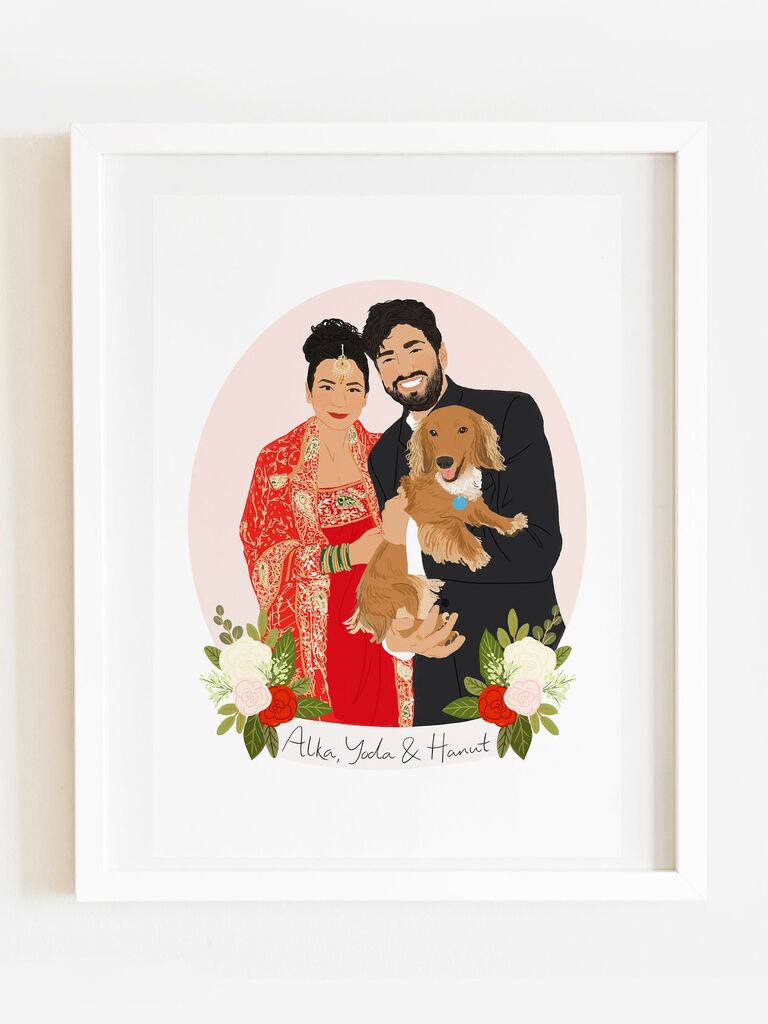 Custom digital portraits are having a serious moment right now. They're a sweet way to memorialize your favorite photo, and some artists are able to include additional elements, like pets or children too. Honor two years of marriage by getting your S.O. a sweet picture to commemorate your wedding day.
Garnet and Diamond Earrings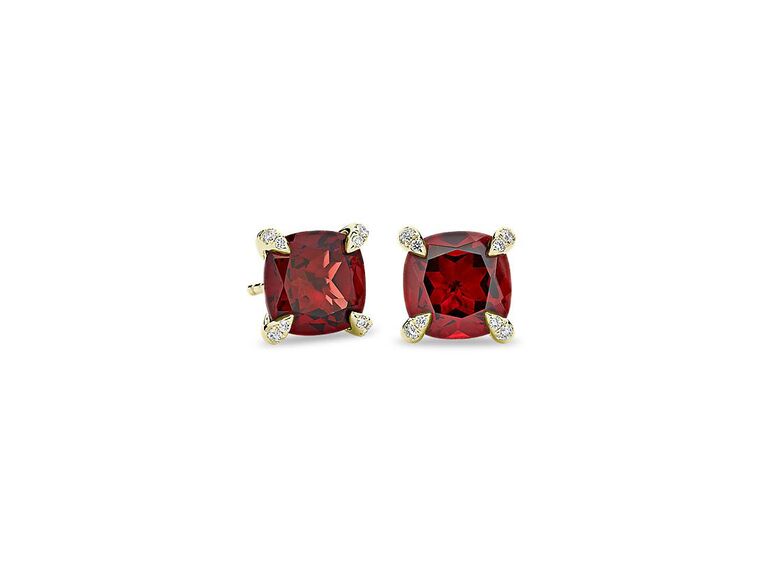 Garnet is another second anniversary theme you can use for inspiration, and what better medium to gift it than jewelry? The two-year anniversary stone represents love and friendship—a fitting symbol of your special bond. These regal cushion-cut garnet earrings set in 14K yellow gold with diamond accents are a beautiful gift to surprise your spouse on your anniversary.
Personalized Four-Across Game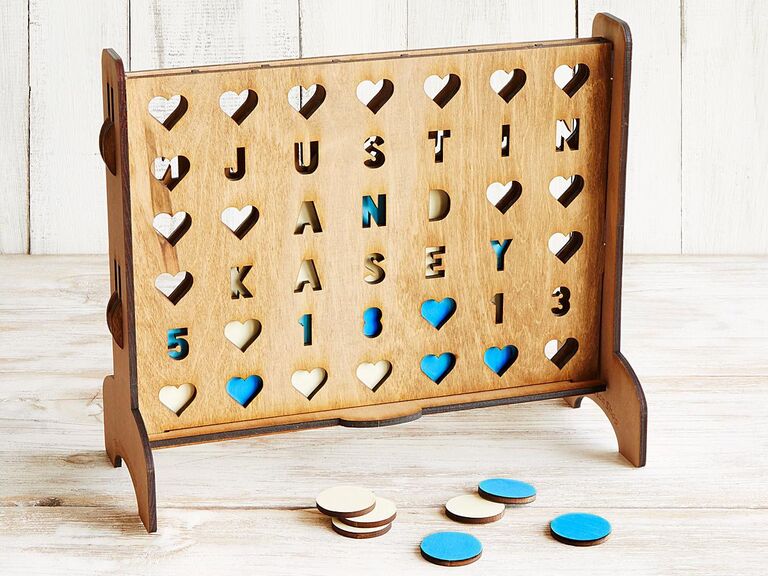 The dating game may be over, but that doesn't mean the fun has to end. Personalize this wooden four-across game with the couple's names so they can challenge each other to some lighthearted competition.
Cosmo Flower Pendant Necklace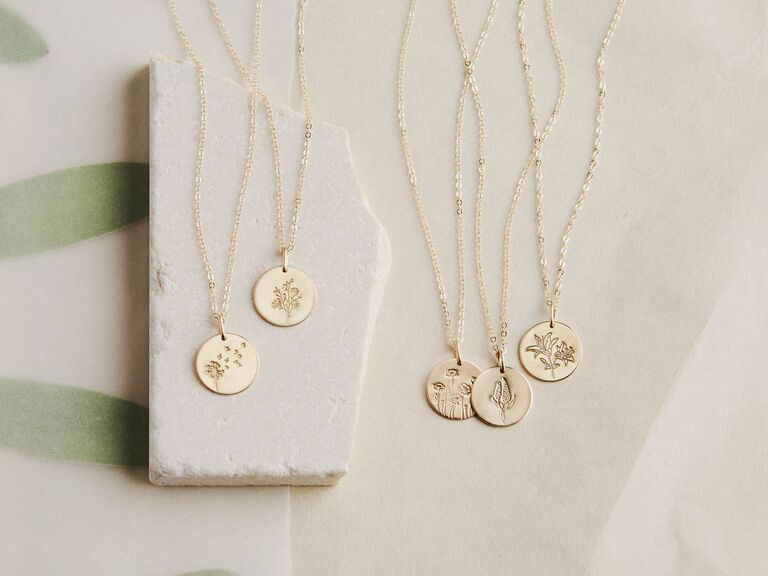 These handmade pendant necklaces are stamped with wildflowers, including the second anniversary flower: cosmos. Cosmos are a symbol of peace, making this gift a lovely representation of the harmony you've found in your relationship. Choose between gold or silver finishing and even have it gift-wrapped.
Monthly Plant Delivery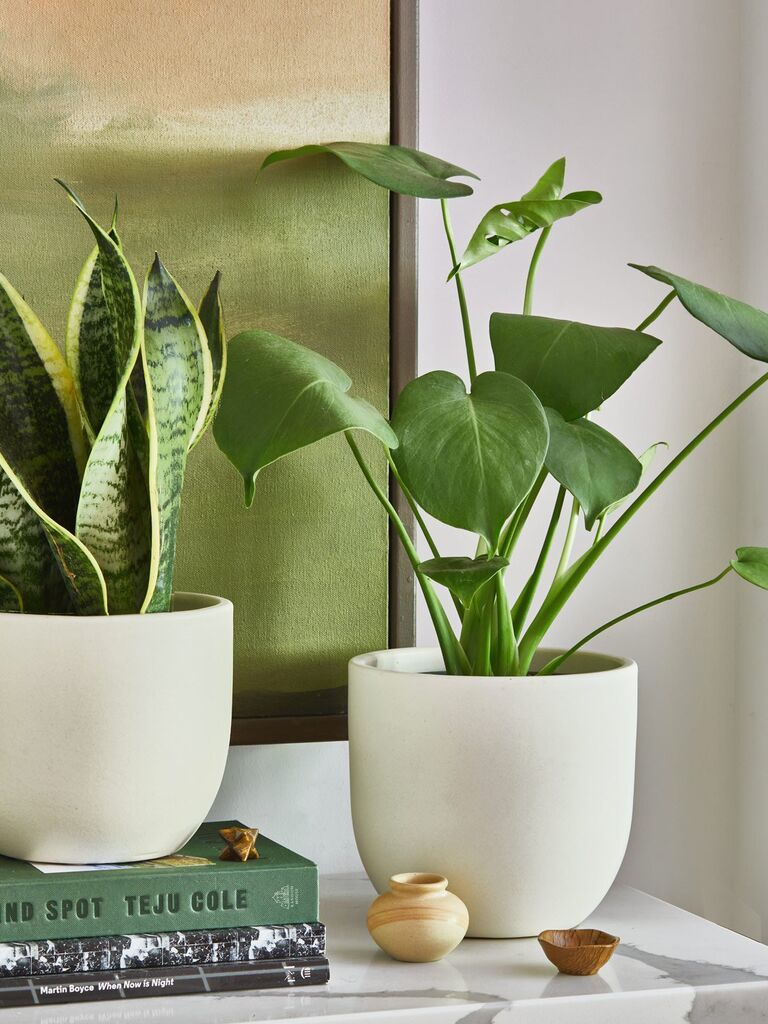 Whether they're greenery experts or just starting out, get the newlyweds a plant subscription. Every month, they'll receive a new easy-care plant of small or medium size with a chic ceramic planter. Still worried about the state of their green thumb? Add in plant care accessories like fertilizer or a soil moisture meter.
DIY Hot Sauce Kit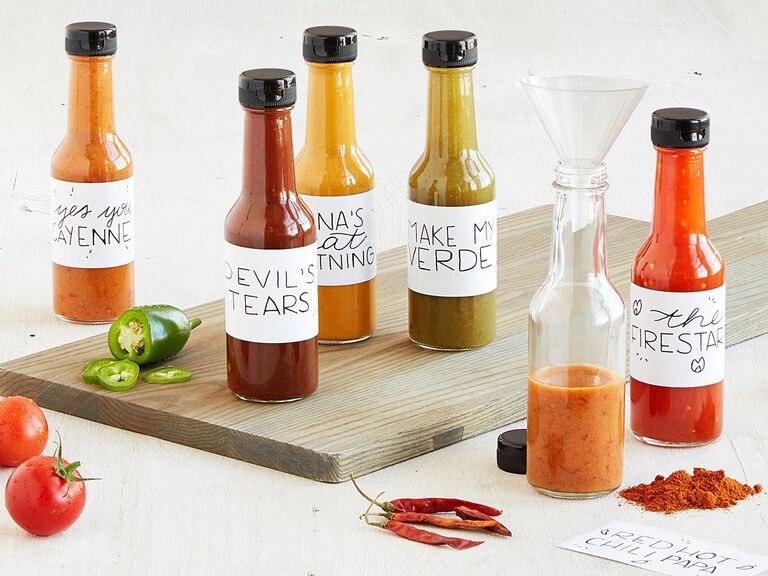 Add a little spice (or a lot) to the relationship! If your spouse likes their food extra hot, you can't go wrong with a DIY hot sauce kit as a second-year anniversary gift. This one features a variety of spice packs, recipes, bottles and labels to whip up small-batch condiments that'll turn up the heat on their favorite eats.
Sleek Wireless Charging Tray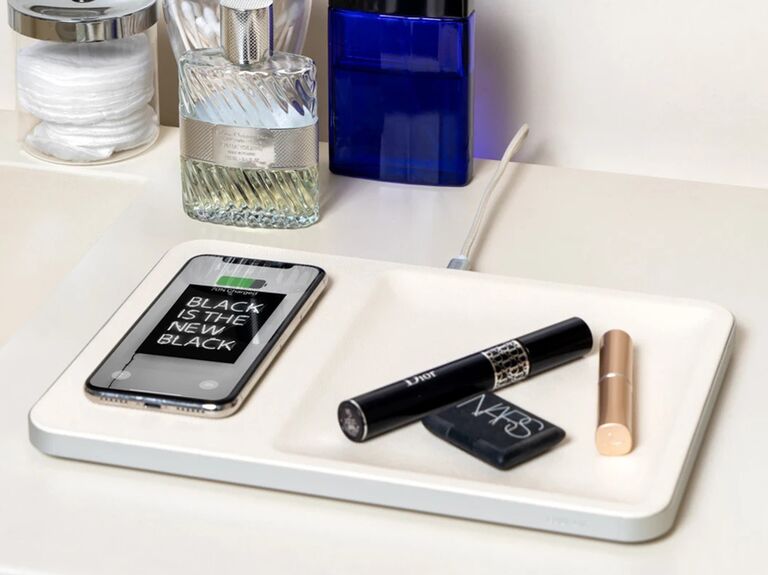 This trinket tray isn't just a chic piece of home decor, it's also a wireless charging tray for your partner's phone—perfect for the person who's always losing or breaking their charger. The Italian leather finish looks and feels luxurious—plus, it can be monogrammed. Better yet, it comes in five different colorways to suit your S.O.'s style. Talk about a useful two-year wedding anniversary gift!
Engraved Wooden Serving Tray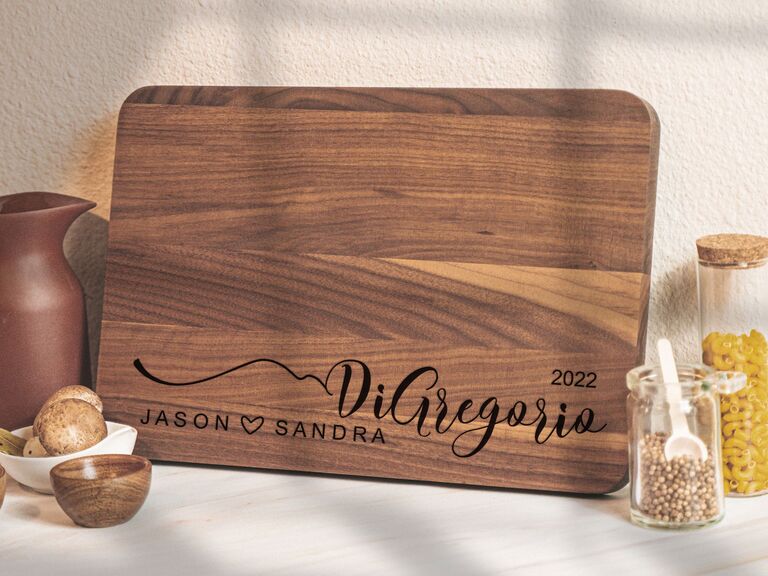 Are they self-proclaimed charcuterie experts? Is their house the go-to spot for dinner parties? If so, they need a personalized cutting board to use for all their serving (and cheese board) desires. Even if their most-used app is Seamless, this custom piece will be a decorative addition to their kitchen.