Everything to Know About Katy Perry & Orlando Bloom's Relationship as They Plan Their Wedding
Baby, they're fireworks.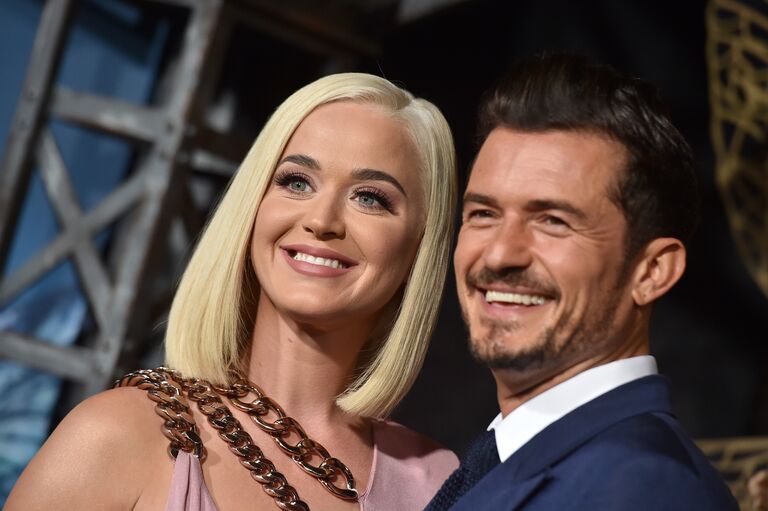 Getty Images
Talk about fireworks. Orlando Bloom and Katy Perry have always been open about their high-profile relationship, but never before like this. In a recent interview with The Guardian, Bloom was asked how often he has sex with his fiancée—and the answer might surprise you. "Not enough," he told the outlet. "We just had a baby, though."
The spicy response comes just seven months after the couple welcomed their first child together, a baby girl named Daisy, which they revealed in August 2020. In an unusual and charitable move, the pair instead used the UNICEF platform to share the news of their bundle of joy rather than sharing it first on their respective social media platforms.
"Welcome to the world, Daisy Dove Bloom!" it read on UNICEF's Instagram account. "We are honoured to introduce Goodwill Ambassadors @KatyPerry and @OrlandoBloom's new bundle of joy."
In a joint statement to UNICEF, the couple spoke about their decision in detail. "We are floating with love and wonder from the safe and healthy arrival of our daughter," they expressed. "But we know we're the lucky ones and not everyone can have a birthing experience as peaceful as ours was. Communities around the world are still experiencing a shortage of healthcare workers and every eleven seconds a pregnant woman or newborn dies, mostly from preventable causes. Since COVID-19 many more newborn lives are at risk because of the increased lack of access to water, soap, vaccines and medicines that prevent diseases. As parents to a newborn, this breaks our hearts, as we empathize with struggling parents now more than ever. As UNICEF Goodwill Ambassadors, we know UNICEF is there, on the ground, doing whatever it takes to make sure every expecting mother has access to a trained health worker and access to quality healthcare. In celebration of the heart we know our daughter already has, we have set up a donation page to celebrate DDB's arrival. By supporting them, you are supporting a safe start to life and reimagining a healthier world for every child. We hope your ♥️ can bloom with generosity. Gratefully-Katy & Orlando."⠀
Perry and Bloom revealed the pregnancy news in March when the singer dropped the new music video for her single, "Never Worn White." In the video, Perry displayed her blossoming baby bump, and subsequently confirmed the pregnancy in an Instagram Live following the video's debut. On Twitter, she joked about keeping the secret for so long: "Omg so glad I don't have to suck it in anymore," she said, while adding in another tweet: "Or carry around a big purse lol."
The arrival of Daisy Dove was a first for Perry. The baby girl is Bloom's second child as he's dad to 9-year-old son Flynn, whom he co-parents with ex-wife Miranda Kerr. In an interview with CBS This Morning on August 28, the "Smile" singer expressed gratitude for her growing family, particularly her future husband. "I know that bringing a child into the world sometimes can make things even more stressful," Perry reflected. "And I feel like if I can go through that stress with anyone, it's him."
As 2020 has marked the arrival of their bundle of joy, Perry and Bloom have also dealt with setbacks—much like other couples—with wedding planning amid COVID-19. Bloom, who proposed during a romantic helicopter ride in February 2019, was expected to marry Perry by the end of 2019, during which many believed it would be a holiday occasion. After delaying their wedding the first time, they had to postpone it again.
"It was all set for Japan with 150 guests," a source previously told People. "Katy was actually really excited about walking down the aisle pregnant. They were both so elated that all the wedding details were finally coming together, but they are hitting pause because of coronavirus."
Perry also joked about her postponed plans in a comment on Erin Foster's now-controversial post about weddings being held in April as COVID continued to spread across the US. "Not to brag, but what a time to have already had your wedding," Foster wrote alongside a photo from her own ceremony held on New Year's Eve. While the post didn't sit well with the masses, Perry wrote, "Feels pointed @erinfoster."
In an interview with Stellar Magazine, in fact, Perry referred to herself as a "bridechilla as opposed to a bridezilla." She added, "Orlando and I are united with our approach. It's not about the party, it's about the coming together of people who will hold us accountable when things get really hard. Those are just the facts when you're with someone who challenges you to be your best self."