20 Kwanzaa Greetings to Adorn Your Cards This Year
Let your loved ones know you're thinking of them.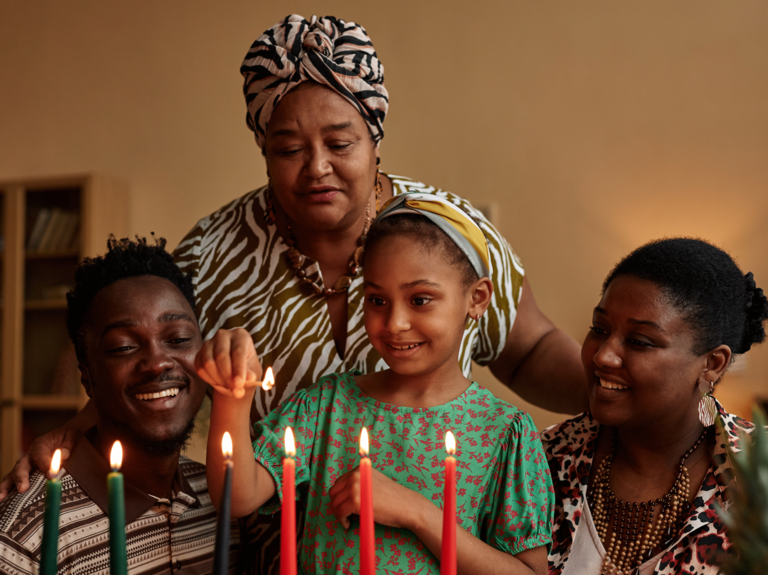 Photo: SeventyFour / Shutterstock
It's almost time to celebrate Kwanzaa, and thus, almost time to get you pen ready to write some Kwanzaa greetings. "Kwanzaa is a cultural celebration of African heritage and unity," says Tami Claytor, owner of Always Appropriate: Image & Etiquette Consulting, an image and etiquette consulting firm in New York City. "It is not a religious holiday nor is it a substitution for Christmas, but rather it is a time when people of African descent gather to reflect on the holiday's core principles of community, family and shared values."
Each of the seven days of the week-long holiday focuses on one of the holiday's guiding principles, which are Umoja (Unity), Kujichagulia (Self-Determination), Ujima (Collective Work and Responsibility), Ujamaa (Cooperative Economics), Nia (Purpose), Kuumba (Creativity) and Imani (Faith). Those principles are a great place to start if you're wondering what to write in a Kwanzaa card. Whether you're looking for some phrases to write in your first holiday card as a married duo or you're just looking to send some well-wishes to friends and family, we've got a few Kwanzaa sayings and ideas for how to wish someone a "Happy Kwanzaa" below. It's appropriate to extend Kwanzaa greetings during the entire seven days of festivities, says Claytor. "Whether a warm smile or beautiful card, sincere Kwanzaa wishes are always appreciated!"
In this article:
Kwanzaa Wishes to Your Partner
Wondering how to wish a happy Kwanzaa to your most special person? It's a wonderful time to celebrate the love and unity you share, and the one you share with your two families. Here are some great Kwanzaa wishes for your partner.
To my love on Kwanzaa: May you know how much light you bring to my life.
Sending my love to you on Kwanzaa and always.
May the seven guiding principles of Kwanzaa remain in our minds and hearts always.
Happy Kwanzaa, my love!
Wishing the blessings of Umoja and Imani on our union.
Kwanzaa Wishes to a Couple
Kwanzaa greetings for a special couple, whether they're friends, neighbors or coworkers, are those that bring warmth to their hearts during this special time of celebration, togetherness and special cultural traditions.
May Kwanzaa bring you prosperity and joy.
This Kwanzaa, may you embrace the seven guiding principles.
May the warmth of the seven candles bring light to your lives.
May the Kwanzaa harvest you share together be fruitful.
Celebrating love, community and togetherness this Kwanzaa season.
Kwanzaa Wishes to Friends
Tell your friends how much they mean to you this year as you celebrate the season of Kwanzaa. Here, we've listed some touching Kwanzaa messages for your friends. Bonus points if you include them in some cute couples holiday cards they'll want to hang on the fridge.
Heri za Kwanzaa! (Swahili for Happy Kwanzaa)
You're in our thoughts this year on Kwanzaa and throughout the year.
Honoring friendship and community this Kwanzaa season. I am grateful for your presence in my life.
Celebrating peace and heritage this Kwanzaa season. May you always remember your connection to our community.
Wishing you a bountiful harvest on this joyous Kwanzaa.
Kwanzaa Wishes to Family
Whether they'll be celebrating alongside you or from afar, the holidays are a wonderful time to let your family know just how much you love them. Start by sharing a heartfelt Kwanzaa message like the options we've included below.
My prayer is that the light of the seven candles will guide you and bring warmth to your life this Kwanzaa.
May you receive many blessings this Kwanzaa season.
Wishing you a reflective Kwanzaa season: May you always live by the guiding principles.
As we come together and reflect on this Kwanzaa season, may your life be filled with love and light.
This Kwanzaa season, we celebrate our family's heritage, whether close together or miles apart.