The Best Tips For Splitting Holidays Between Families, According to Real Couples
Sharing holidays might be complicated, but here's how couples make it work.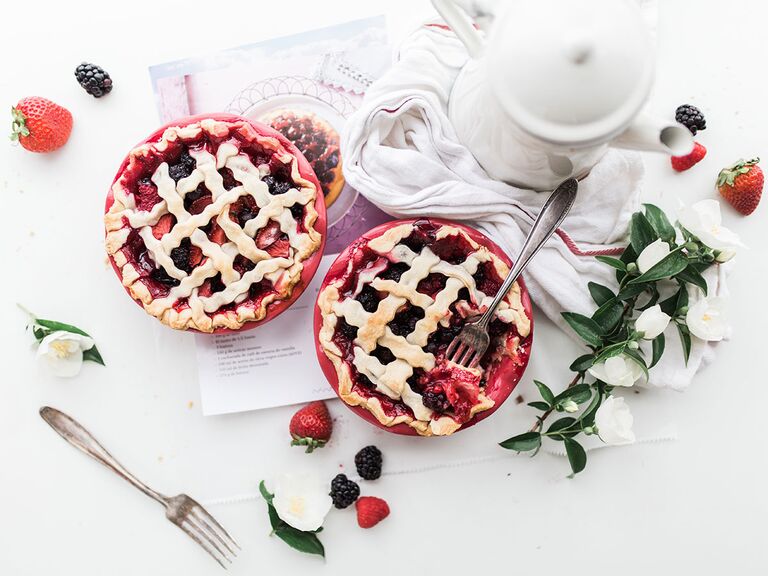 Unsplash
Spending time with your family and friends at home is what the holidays are about. But if you're newly engaged or married and have to merge two families (or more, if your parents are remarried), it can be challenging to figure out what works best for all parties involved. Deciding where to spend the holidays can get downright complicated, to say the least. Of course, you both want to see your loved ones, and they want to see you, and neither family wants the other set of in-laws to monopolize all your time. So when it comes time to splitting holidays between families, what do you do?
It comes down to compromise and communication. According to marriage health app Lasting, only 14 percent of couples say that they are very satisfied in how they communicate with their partner. In order to balance time between your families around the holidays, it's important to be honest with your partner about what you want while keeping their desires in mind too. Take the time to hear what your partner envisions for seasonal celebrations, and be sure to respectfully voice your opinion too. From there, you can work to find a compromise on the best holiday system… for you and both families.
While it might not be easy, it's possible to find a solution that's fair to everyone involved. Since splitting holidays between families is such a common conundrum, we asked real couples how they navigate the holidays. You might just find your very own win-win situation below.
"We're from cities about four hours apart, so this year we're doing Christmas Eve at my mom's, Christmas Day at my dad's, and then the day after Christmas with his parents. Whatever holiday it is, we try to make time for both families, even if it's not all in one day." —Samantha
"His father lives in Idaho, his mother lives in Tennessee, both of my parents live in Florida and we live in Colorado. It's super hard during the holidays (we both work in retail) so we use a lot of FaceTime and video chat on Google Hangouts. One day when we own our own home, we plan on having our family come to us." —Alyssa
"We alternate the holidays. Every other year, we spend time with one family on Thanksgiving and the other on Christmas." —Morgan
"Since our families don't live close to each other, we can't hit both of them over Christmas weekend. Instead, we spend Thanksgiving with his family since it's his favorite holiday. (My family is English so it isn't important to them.) We'll spend Christmas with my family since it's my favorite holiday and is very important to them." —Christina
"We have six hours in between our families (we're in the middle-ish) so we usually spend Thanksgiving Day with my family then go to his for a second Thanksgiving for the weekend (we'll stay two nights so the drive is broken up). For Christmas, we'll do Christmas Eve with his family and drive out first thing in the morning for Christmas Day and then go back home. It's pretty tiring, so next year we'll host one of the two so we don't have to travel for both." —Barbara
"My family lives in Florida and his in New York, so we switch off every year. This year will be Thanksgiving with mine and Christmas at his, next year will be Thanksgiving with his and Christmas with mine." —Anastasia
"His family does a family Christmas before the holidays and we'll go to that, then spend actual Christmas with my family." —Sarah Ann
"We're crazy and spend Christmas Eve with his family and then drive five hours overnight to spend Christmas Day with mine." —Katie
"We usually agree to spend holidays apart, as annoying as that can be. Our families live six hours apart, and right now, my mom needs my help preparing for her big traditional holiday dinners. The goal is to one day host both of our families myself." —Olivia
"My parents are flying from France to spend Christmas with me and my in-laws. This is our first married Christmas, but we'll most likely alternate and offer our parents to either come to France or America." —Eva
"We're interfaith (he's Jewish and I was raised Catholic). Our only tricky holiday is Thanksgiving, for which we'll usually either split for the day and meet in the evening or spend half the day with one side and the other half at the other. Other than that, we do Hanukkah with his family and Christmas with mine. Everyone is happy every year!" —Kristen
"My family's much larger and closer, but a lot farther way, so we're spending Christmas with them whenever we can afford to travel. We spent Thanksgiving with his mom this year, since we're doing Christmas with mine." —Stephania
"His favorite holiday is Thanksgiving and mine is Christmas. So Thanksgiving is with his family, and Christmas is with mine." —Emily
"We'll split Christmas (Christmas Eve in Southern California with his family where we live, then we'll drive up Christmas morning to Northern California to spend with mine). And then we alternate Thanksgivings and Easters." —Karissa
"His family isn't really close, so we spend nearly every holiday with mine. But his dad always has a huge Father's Day party every year, so we make sure we make it to that!" —Alexis
"We're lucky because even though we live in Oregon, both of our families are in Southern California. My parents are divorced, so we do three Christmases. His favorite part is Christmas dinner (we do that with his family), my favorite part is Christmas morning (we do that with my mom) and my dad always does it big on Christmas Eve." —Dani
"This has been particularly difficult for me and my fiancé to figure out, since I'm an ER nurse required to work every other holiday. I'm lucky enough to have Christmas off this year, so we're doing Christmas Eve with my family and Christmas Day with his. Next year will be difficult because I'll have to work both days. We'll just have to take each holiday season as it comes and be open to celebrating on other days." —Allison
"I'm Italian, so I host the annual Festa dei Sette Pesci (or Feast of the Seven Fishes) on Christmas Eve. We'll open presents then too. Then our fiancé's family has us over on Christmas Day." —Nikki
"We visit both! On Thanksgiving, my family does an earlier dinner (around 1 p.m.) and his family does a later one (around 7 p.m.). For Christmas, we'll do gifts with his family in the morning, then the early dinner and gifts with my family in the evening, then end the night with his family." —Jessica
"Christmas Eve and Christmas Day are just the two of us. The day after Christmas, we'll fly and visit his family for a couple days and celebrate Christmas with them. We're going to visit my family a little earlier in December to celebrate with them. We like to celebrate the actual holiday with just the two of us to start traditions as our own family." —Abby