Exclusive: Kyle Richards and Mauricio Umansky Are the Real Deal
The Knot cover stars reflect back on 25 years of marriage.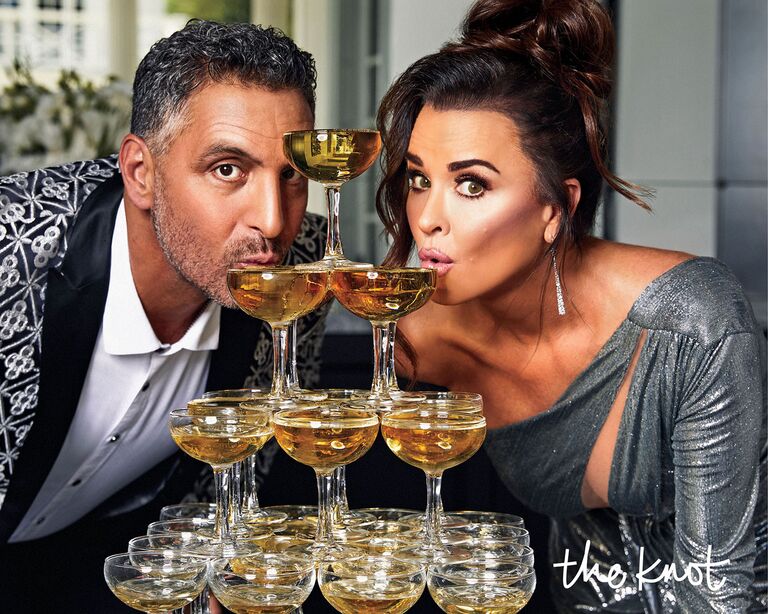 Easton Schirra
Kyle Richards has had a busy year. In addition to her popular Bravo Housewives franchise entering its 11th season, Kyle's feature film Halloween Kills (where she reprises her role from the original Halloween) finally hit the big screen after delays due to COVID-19. Her holiday movie for Peacock, The Real Housewives of the North Pole, is set to premiere later this year. But perhaps her biggest accomplishment was back in January, when she celebrated her 25th wedding anniversary to real estate mogul Mauricio Umansky.
Kyle shared the milestone on Instagram saying, "I still get happy when I hear your car pull in the driveway and still get sad if we have to spend a night apart. How is that even possible?? May we continue to grow, learn, explore, experience & create incredible memories side by side. I love you forever." Despite their being in separate places (and on the phone), Kyle and Mauricio's connection is palpable during our interview. While they strike a playful tone in the retelling of their courtship, wedding and quartercentury marriage, they're serious about the dedication and respect they have for each other and the life they've built.
How Kyle and Mauricio Met
KRISTEN MAXWELL COOPER: So let's go back to the beginning. Tell me how the two of you met.
KYLE RICHARDS: Oh my gosh, we actually met in a nightclub called Bar One, which is now Bootsy Bellows. It's so funny to me because now our kids go there and we'll says 'well, that's actually where we met 27 years ago.' Twenty-seven-plus [years ago]! [Mauricio] thought I was Demi Moore's sister—and I had actually been told that [before]—so he worked up the courage to come over and say hello, thinking that I was her sister.
MAURICIO UMANSKY: I figured if I couldn't get Demi Moore, I could try to get her sister!
KMC: And then you got something even better!
MU: Oh, I got something way better.
KMC: Kyle, what was it that drew you to Mauricio?
KR: He was just a sweet guy and he loved my daughter. And we like to do the same things. We share the same interests and have common goals, and I think that's what really drew us together. But the most important thing to me was how he was with my oldest daughter, Farrah.
KMC: And Mauricio, what was it about Kyle?
MU: I mean, other than the fact that she is absolutely gorgeous, she has an amazing soul. She's an amazing person. And quite honestly, the fact that she already had a daughter, it made dating a lot more important. I had to take it much more seriously because I was responsible for a woman with a daughter. I also got insight into the way that she was as a mom and how good of a mom she was. And that gave me insight into the future and what it would look like.
Inside Kyle and Mauricio's Engagement
KMC: That's really beautiful. And so after that came the proposal. Tell me about that!
KR: You tell, honey.
MU: The proposal, oh my God, I took Kyle out to [Santa Monica restaurant] Shutters. And you know, Kyle at that point never wanted to leave her kid. She's still the same. She just doesn't want to be away from our kids, no matter what. But I took her to Shutters on a date, and I gave her a bouquet of flowers. And it was a very pretty, romantic evening and inside the flowers I had a rosebud case...
KR: A ring box.
MU: Yes, a ring box that looked like a rosebud. So I gave her the flowers hoping she would see the fake flower or box. Of course she didn't because it was such a good box. So I had to tell her, 'honey, smell the flowers, like, do they all smell the same?'
KR: Here's the truth. I saw something that looked like a box, but I didn't want to be wrong and embarrass myself.
KMC: That's fair!
MU: And then when she saw the box and she opened it and saw the ring, I got down on one knee and I asked her to marry me. Is that pretty accurate, honey? Twenty-seven years ago? Was that pretty good?
KR: Yes, it was.
KMC: Kyle, what was your reaction?
KR: I was just so happy and excited—it was a dream for me. The moment we started dating, I just felt like he was the one. And a few months into dating he had asked me if I would consider converting to Judaism. Growing up in Los Angeles, Bel-Air where I lived, all of my friends are Jewish. So it was really a no-brainer for me. I used to look at the Jewish families and think, 'Aw, they're all married and they have these great family dinners together.' I loved that whole life. I used to wear a Jewish star when I was a kid and pretend I was Jewish, so I was like, 'Yes, I'll convert!' So then I just had to wait for the ring.
Kyle and Mauricio on Their Wedding
KMC: What was your wedding planning like?
MU: Oooh I'm going to let you take that one, honey. I did absolutely nothing.
KR: He did absolutely nothing. He was a kid. He got the ring and then was like, 'Okay, I'm out.' I turned to my sisters for advice, but because it was a Jewish wedding, I really needed his parents involved, which they were. I had never done anything like that and all of a sudden I had to consider a chuppah and all of these things I didn't even know the words to. We decided on the Bel-Air Country Club and it was just amazing bringing my family together and his family and all of our friends. And it's so funny, I'll never forget the day of our wedding, everyone had to wear kippahs on their head, and my family was like, 'Wait, what's happening?' I looked over and my brother-in-law, who's not Jewish, was in the mirror putting it on and I was like, 'Okay, this is a first for our family.'
Overall, we knew we wanted it to be really elegant and really fun. But we were so worried about people making long speeches, so we said no speeches at all.
MU: Honey, do we want to talk about how the wedding had to be moved up in time? Or do we not want to talk about that?
KR: It's not a secret. The wedding was originally going to be I believe in April, and then we moved it up to January so my dress would still fit, because I was pregnant.
KMC: Well, that was an exciting addition to the wedding!
KR: It was.
MU: And our oldest daughter, Farrah, was in the wedding party, which was cool and fun.
KR: That's something important! When my husband asked me to marry him, he also gave Farrah a little 'engagement ring' that
was a heart with two hands holding it.
MU: That's right, I had to ask her to marry me too!
KMC: How old was she at the time? And what was her reaction?
KR: She was five when we met so she was seven by the wedding date. And oh my goodness, she was just so in love with
[Mauricio]. Every night we would all lay in bed and she would suck her thumb and rub his ear with her other little hand like he
was her blankie!
KMC: What was her role in the wedding?
KR: She was a flower girl along with my sister Kim's daughters, Whitney and Brooke, and then Nicky [Hilton] was a flower girl,
but Paris [Hilton] was a junior bridesmaid.
KMC: A real family affair! Were there any traditions you really cherished?
KR: Well, all of it for me, really. But I can remember thinking, 'I am so worried about people lifting me up on a chair while I'm pregnant and doing the hora.' I'm a nervous Nelly anyway, so I would've already been scared. But then I thought, 'Oh my God, I can not believe I'm doing this pregnant and being lifted into the air.'
KMC: If you were to get married today, what do you think you would do differently?
KR: I would not change one thing. It was just filled with fun and love and it was just amazing. I wouldn't change one thing about it today.
MU: I wouldn't change anything. I mean, if we were going to do it today and have a vow renewal, I would do it a lot smaller.
KR: But here's the thing, I don't believe in getting married again or a vow renewal because we got it right the first time and I just don't want to mess with what works.
Kyle and Mauricio on Marriage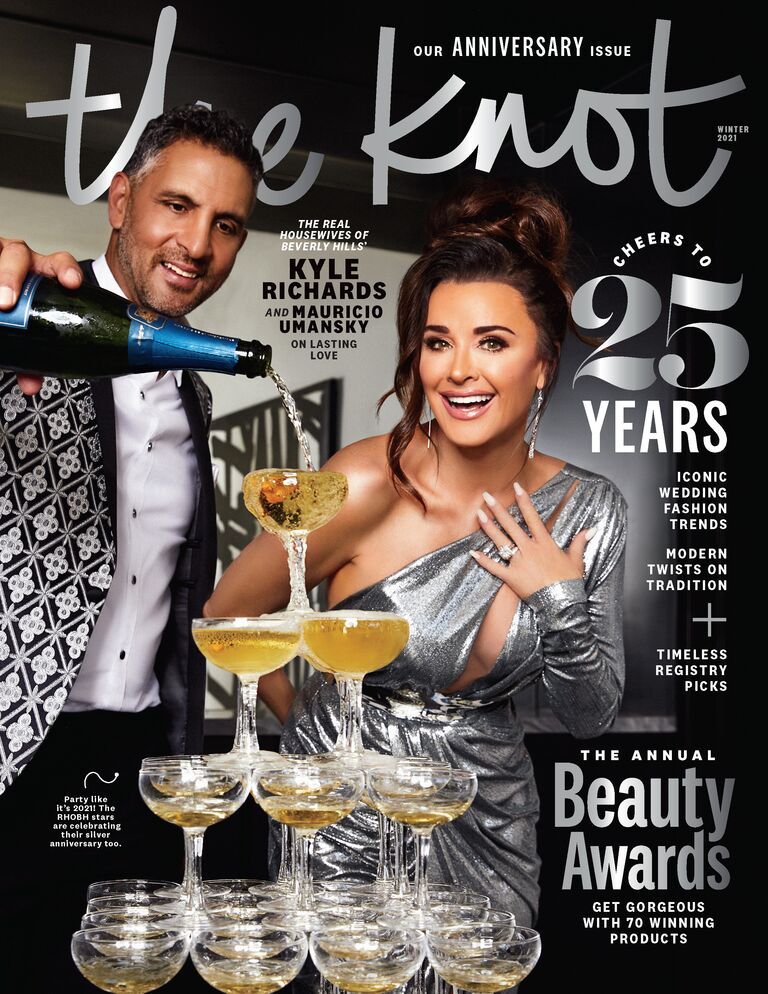 KMC: I actually really love that sentiment. Let me ask about your 25 years as a married couple. Are there any rituals you've kept throughout the years?
KR: I could say we do a regular date night—we tried that, but honestly, the nights that we have open, we just go out, because our schedules are so crazy. When we were first married and we were struggling financially, we'd get a babysitter one night a week and we went to get our real estate licenses together. That was our date night! Let's kill two birds with one stone—we'll get a babysitter and maybe start a new business so we can start making some money.
KMC: What do you hope your girls take away from seeing their parents being married for 25 years?
KR: You know, it's very hard to teach your kids this is what you should do and this is the right way to live your life. You have to lead by example. And our kids see us as being very proud of our family and loving being a family unit. And sometimes I do think that these are big shoes to fill. I know my husband and I are very fortunate, but I hope we set the bar high so they don't ever settle.
MU: We truly love to hang out together. You know, we have our house in Aspen and it's become a real sanctuary for us. It's definitely a place that Kyle and I use to go and tune out and, while we never fall out of love, we go there to fall back in love, for lack of a different phrase. It's just a sanctuary.
KR: It keeps us connected.
MU: It's real nature time and a time to get out of the city. It's been really good for us.
KR: I would add that fitness is a very big part of our lives and our relationship. We'll go hiking or paddleboarding or biking, and we really enjoy that time together. I love that he pushes me out of my comfort zone because I'm cautious. I always say that he pushes me outside my comfort zone and I keep him safe and alive, so we're a good combo.
KMC: You two both have fairly demanding jobs, to put it mildly. How do you balance your time together and
your time apart?
KR: Calendar sync!
MU: Well, we just try not to ever be apart. That's the bottom line. Recently, we've just had to because we both have very busy lives. But I can tell you from my perspective that when I travel for business alone, I make the trips as fast as possible.
KR: I was shooting this movie in Utah for five weeks and I was panicking about leaving the family. Portia actually ended up coming with me, but I would fly home, even just for 24 hours, to see my husband and the other kids. You just have to make the effort, and it's never not been worth it for us.
KMC: Your relationship is obviously in the public eye. How do you keep it strong under scrutiny?
KR: When we first started [The Real Housewives of Beverly Hills], the more people would talk about how happy we were, the more people would try to come for us. It was shocking because we had never dealt with something like that. But now, after all these years on the show, people know us and know our relationship. I think the difficulties we've gone through on the show—and I know it sounds like a cliché—but it's made us stronger. And it's crazy to think you could say that about a reality show. But when you've been tested over time, you either cave and you lose, or you win and come out on top. And we definitely ended up being stronger from being tested.
KMC: What do you think is important for people to consider in a partner, if they want what you have?
MC: For me, the most important thing is somebody that you love to be with and you love to hang out with. Romance is fantastic and it's super-important, but at the end of the day, it has to be someone who makes you laugh and you can have fun with. That's a recipe that lasts forever.
KR: I do think some of it is that the planets align and it's fate, or whatever it may be. But my husband and I have always enjoyed the same
things and shared a common goal. We both want to succeed and do well. We both want to have our family together and strong. But as you grow, you do change and you have to know that. You can either grow apart or you can grow together. Something that I think is really important for any marriage starting out is to surround yourself with other happy couples. You don't want to surround yourself with people where one is a cheater or they fight all the time or they have other problems. We make a point to surround ourselves with other solid couples and it just makes your foundation even stronger.
KMC: Any last bit of advice for a 25-year marriage?
KR: Oh my gosh, what could we say about these 25 years? We've been through so much. I think it's important to know that you are going to be challenged and you have to start out remembering that you are in this for better or for worse. I've lost both my mother and my father during our marriage. I've been pregnant with my head in the toilet getting sick. We've done the not-fun times, but you just really have to know that you are sticking with it through thick and thin. There are going to be bad days, but hopefully the good outweighs the bad. We've, of course, had challenging times, but never ever a moment where we weren't on the same page. We love each other more than anything, and we're in this until the day we die.
MU: Kyle, you're so cute.