7 Predictions for Paris Hilton and Carter Reum's Wedding
The Kardashians and the Housewives of Beverly Hills will attend.
We have included third party products to help you navigate and enjoy life's biggest moments. Purchases made through links on this page may earn us a commission.
Paris Hilton is ready to be a Reum. The heiress and reality star, who announced her engagement to boyfriend Carter Reum in mid-February, will soon begin planning the wedding of the year. In fact, the event will be the equivalent of an American royal wedding. Not only will the hotel heiress hire top wedding vendors who come well recommended by her peers, but she'll also host an unparalleled weekend lineup brimming with delicious cocktails and food, top-tier entertainment and paparazzi-worthy moments at every turn. 
Paris Hilton Wedding Predictions
If their engagement announcement is any indication, the nuptials could take place by the end of the year. "When you find your soulmate, you don't just know it. You feel it," Paris, 40, wrote on Instagram. "My love & I have been together since our first date, and for my birthday, he arranged a special trip to tropical paradise. 🏝️ As we walked to dinner along the beach, Carter led us to a cabana adorned with flowers and dropped to one knee. 💍 I said yes, yes to forever ❤️ There's no one I'd rather spend forever with… Here's to Love - the Forever Kind."
Here's what The Knot predicts for her nuptials ahead. 
Considering the bride-to-be is a Hilton, she may turn to the family portfolio of properties to at least serve as a home base for guests preceding events. If the wedding is held in a toney destination with a major Hilton portfolio hotel property nearby, that space will be reserved strictly for guests. Options, of course, include the Boca Beach Club in Florida, a private, oceanfront property that rests on a peninsula in Boca Raton. 

If the couple prefers to keep it close to home, they'll likely buy out the Waldorf Astoria Beverly Hills. Finally, if they're going for a true luxury getaway wedding, there is a possibility guests will have complete access to the Ho'olei at Grand Wailea, one of the most luxurious properties located on the southern shore of Maui, Hawaii. Given the bride's access to preeminent stays, it's likely Rick Hilton will reserve only the best space for his eldest daughter and their guests.
The Venue Will Be Ultra Exclusive
Wherever the couple chooses to wed, the ceremony space will be ultra-private and difficult to access. If Nicky Hilton's wedding to James Rothschild was any indication, Paris's choice of venue will be equally-if-not-more exclusive. (As a reminder, Nicky and James married at the Orangery, a wedding venue that sits inside the Kensington Gardens. Only about 50 weddings are allowed to be held at the royal park each year.)
Nicky Hilton Will Be Matron of Honor
Speaking of Nicky, the bride and her sister share an inseparable bond that's been well-documented through the decades and into adulthood. It's highly likely Paris will ask her younger sister to be her matron of honor, while she enlists the help of her two nieces, Teddy and Lily-Grace, for other roles in the wedding. 
Her brothers, Conrad, 26, and Barron, 31, will either serve as groomsmen or they'll be given official duties the day of the wedding to some capacity. (Barron memorably married another heiress, Tessa Gräfin von Walderdorff, in 2018.)
Paris Hilton's Wedding Dress Will Be Couture
Swarovski heiress Victoria Swarovski and other royals remain at the top of the list for most lavish weddings held in the '10s. However, Paris Hilton will likely take the title in the '20s. Throughout the wedding week, Paris will rotate an influx of designer pieces—all custom—beginning with her wedding rehearsal dinner outfit. We speculate designer names to grace the wedding dress rotation will include Versace, Valentino and other preeminent fashion forces. Valentino has the biggest likelihood for dressing the bride-to-be as Paris is a brand ambassador for the fashion house. The gown, without hesitation, will be couture considering the bride's well-documented taste in fashion. 
Plus, Coordinated Dress Codes for Guests
The rehearsal dinner alone will be a lavish affair with guests dressed in coordinated color palettes for the occasion. The coordinated dress code is, in fact, rising in popularity among couples as it provides an aesthetically-pleasing effect for photos, in particular. Hilton and Reum will likely provide a guideline for what to wear and pack for the entire weekend ahead. 
Reality Stars Will Stud the Guest List
Between the Kardashians and the Real Housewives of Beverly Hills, the guest list will include top names and familiar faces that have graced small screens everywhere in the last decade. Paris is famously close to the Kardashian family members, especially her high school BFF Kim Kardashian and momager Kris Jenner, so the world's most beloved reality family will be invited to the nuptials. (The bride, after all, catapulted to mainstream fame with her debut on the Simple Life opposite Nicole Richie.) Her maternal aunts are Kim Richards and Kyle Richards, both of whom were original cast members on Bravo's Beverly Hills spinoff of the series. 
Other stars to receive invitations to the wedding include Saweetie, Avril Lavigne, Britney Spears, Elisha Cuthbert and more. 
Paris Will DJ a Portion of the Reception
As her career progressed in Hollywood, Paris briefly found herself musically inclined and surrounded by top producers and artists. The bride-to-be will hire all kinds of top-tier entertainment vendors(amazing lighting technicians, DJs, live bands, string quartets) to supplement music and ambiance setting for the day, but the greatest hit of all will be the moment she takes over the DJ booth. After all, what's a professional DJ bride to do on her wedding day without her own spotlight moment? 
Paris & Carter's Proposal Story
The couple shared more engagement details with Vogue. The proposal itself went down on Saturday, February 13, while the two were enjoying a  private island birthday celebration for Hilton. Photos from the magical moment were taken on the beach, spotlighting Hilton's emerald-cut diamond ring by engagement ring designer Jean Dousset. "I am excited about this next chapter and having such a supportive partner," Paris told the mag. "Our relationship is one of equals. We make each other better people. He was absolutely worth the wait!" 

Following the proposal, the couple enjoyed a mini celebration with their loved ones. Hilton and Reum first started dating in early 2020 and have been inseparable ever since their debut as a couple. This will be the fourth engagement for Hilton, who was previously betrothed to exes Jason Shaw, shipping heir Paris Latsis, and actor Chris Zylka. 
"From our very first date, I was able to get to know the real Paris," Reum told Vogue. "As people who have seen her documentary and recent advocacy work know, Paris is kind, smart, driven, authentic, and an amazing [woman], and I can't wait to have her as a partner in life."
Paris Hilton's Previous Pear-Shaped Engagement Ring
Hilton memorably got engaged to actor Chris Zylka over proposal season in January 2018. Most notably, her engagement ring at the time was shockingly large: a pear-shaped diamond engagement ring included a split-shank, all designed by Michael Greene of Greene & Co. It included a 20-carat center stone surrounded by a halo of 2-carat diamonds with a platinum band.
Zylka completely surprised Hilton by designing the ring with Greene on his own. Greene previously told The Knot of Zylka's inspiration to propose. The unique pear-shaped diamond came from Hilton's longtime admiration of her mother's ring. The ring hovered at around $2 million in value.
With Three Stones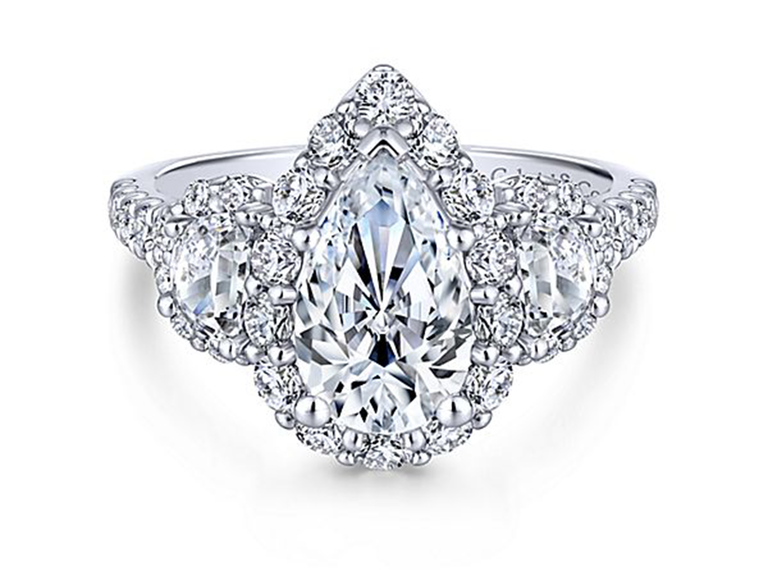 Gabriel & Co. three-stone pear-shaped diamond engagement ring, $6,465, GabrielNY.com

With a Large Center Stone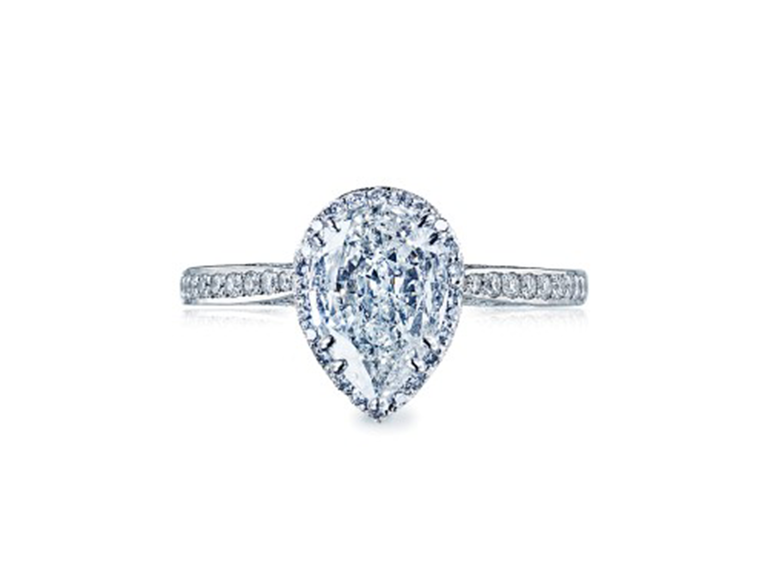 Tacori Dantela engagement ring, from $4,690, Tacori.com
With Baguette Side Stones
Kwiat pear-shaped diamond engagement ring, price upon request, Kwiat.com
With a Double Halo and Crisscross Shank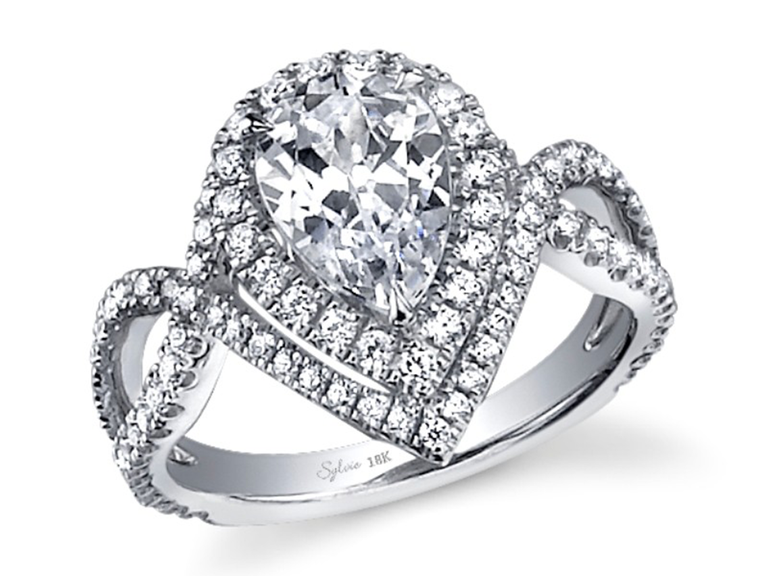 Sylvie Unique Halo pear-shaped engagement ring, price upon request, SylvieCollection.com
With a Solitaire Diamond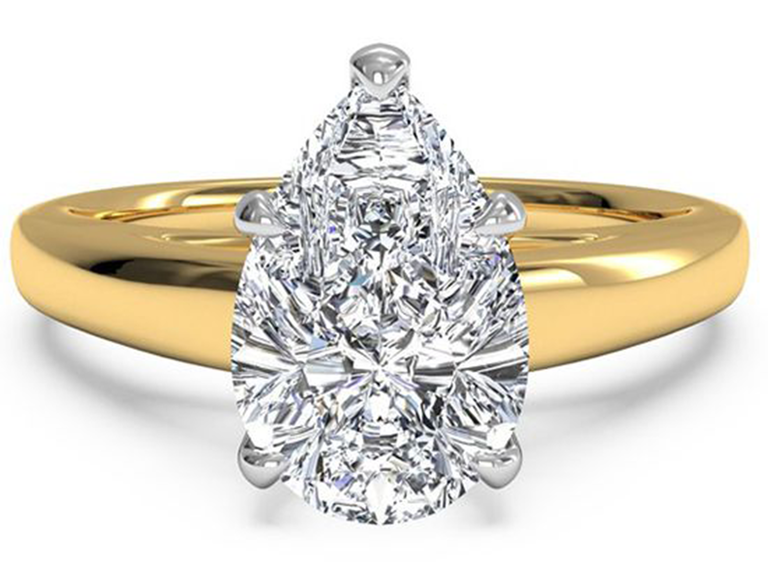 Ritani solitaire diamond Cathedral engagement ring, from $780, TheKnot.com
With a Simple Pavé Band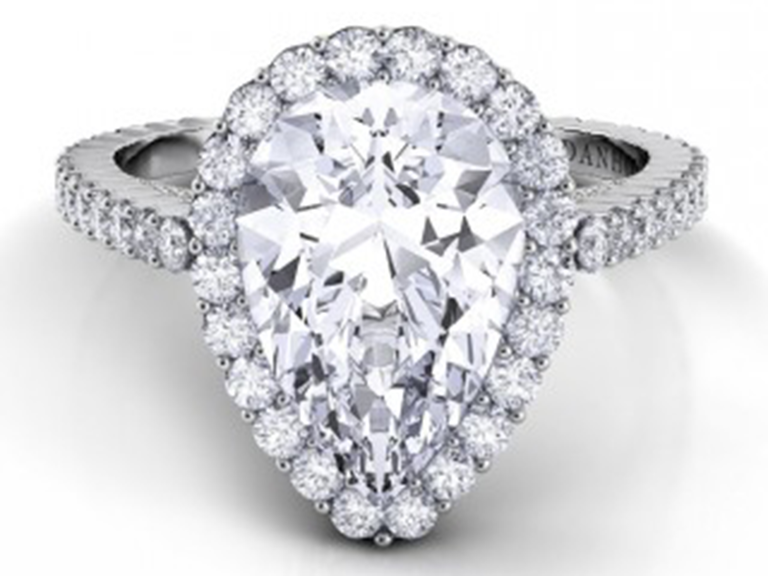 Danhov Carezza single shank pear engagement ring, from $3,190, Danhov.com
With a Colorful Center Stone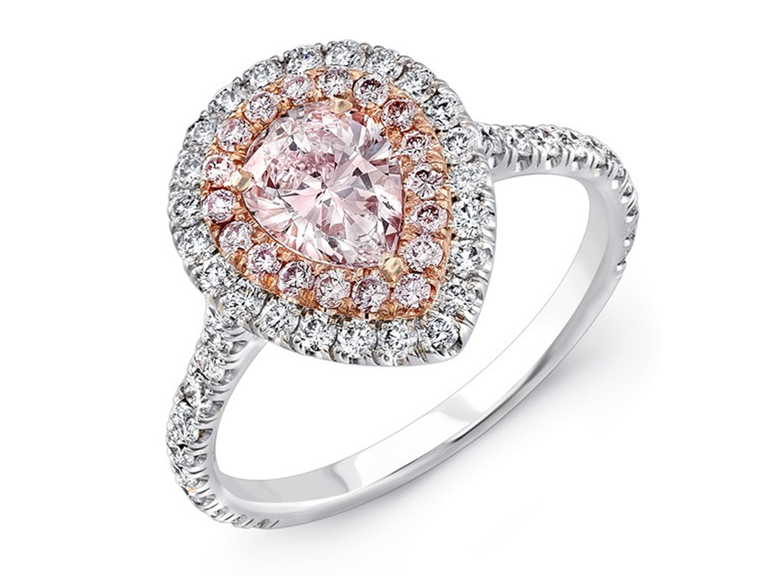 Uneek pear-shaped pink diamond engagement ring with pink diamond inner halo and white diamond outer halo, price upon request, UneekJewelry.com