Details About Paris Hilton's Engagement Ring, According to Her Jeweler
The heiress and Carter Reum are making it official.
We have included third party products to help you navigate and enjoy life's biggest moments. Purchases made through links on this page may earn us a commission.
Paris Hilton's engagement ring has long been a buzzworthy topic as each sparkler she's received has been equally impressive. However, Carter Reum's choice of engagement ring for the Hilton family heiress took a sweeter and unexpected turn. Reum, a venture capitalist, worked closely with jeweler Jean Dousset to create the perfect engagement ring for the Beverly Hills-based reality star.
"The one key element of this ring was that Carter was heavily invested [in the process] so that he could add as much sentiment as possible in the idealization and crafting of the ring," Dousset tells The Knot in an exclusive interview. "His focus was on how many details and personal touches, big and small, that he could add to the ring to represent how much he loves Paris. We tend to mostly work with sentimental clients that want to create and present an engagement ring full of symbols." Below, learn more about Paris Hilton's engagement ring by Dousset, as well as her wedding plans with Carter Reum.
In This Article:
Paris Hilton's Engagement Ring Details
Paris' ring was designed by French jeweler Jean Dousset, the great-great-grandson of Louis-François Cartier. (Watchmaker Louis Cartier started his namesake company in 1847; today, the family name is reputable for designing with the finest craftsmanship.) As Hilton is an heiress known for accessorizing in head-to-toe diamonds, her engagement bling had to accurately reflect the socialite's brand and empire.
"It is a three-stone ring design with an emerald-cut center stone, featuring baguette-cut and trapezoid accent diamonds," says Dousset. "The design of the ring derives from a combination of classical and Art Nouveau era influences. The geometric shapes of this ring are befitting to resemble the structure of the Grand Palais in Paris." (The destination, of course, holds value for both the designer and recipient of the ring. "It's the city where I am from, and of course, the wearer of the ring's namesake," Dousset says.)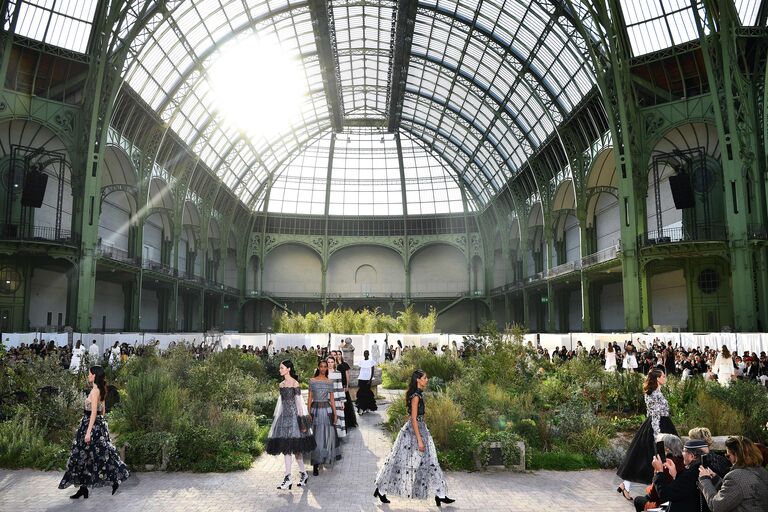 The Grand Palais des Champs-Élysées was designated a historic monument in 1900 and is arguably one of the most renowned museums and landmarks in Paris. "Its vaulted glass ceiling was designed to draw the maximum amount of light when large crowds were gathered, as electricity had yet to be invented," explains the jeweler. "The design is drawn from my desire to relegate the precious metal as a supporting role and maximize the ring's beauty from all points of view, so we used a special tension setting to align the diamonds seamlessly, without metal."
Shop the Style of Paris Hilton's Engagement Ring
Hilton's custom engagement ring style has been a trending design among the most stylish celebrities. For example, Jennifer Lopez's engagement ring from former fiancé Alex Rodriguez and Kim Kardashian's massive Lorraine Schwartz sparkler from Kanye West are both similar in style. Hilton's 20-carat emerald-cut diamond ring from Reum is valued to hover at around $2 million. Shop various dupes below.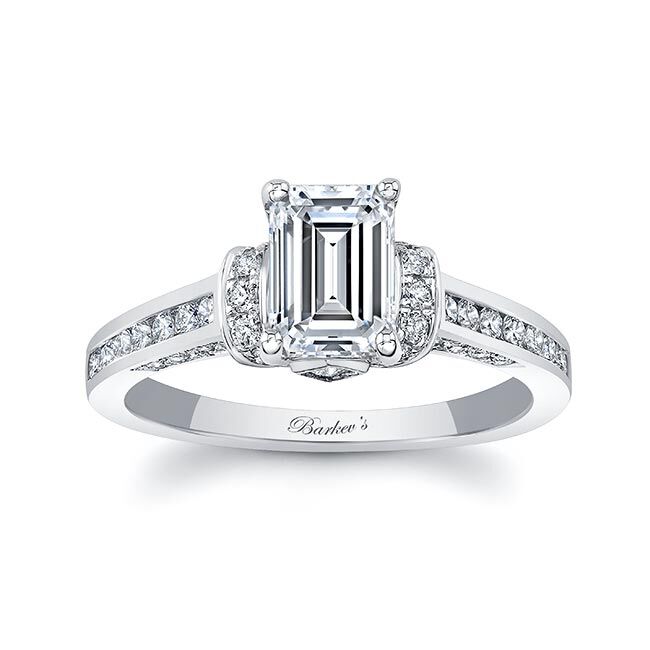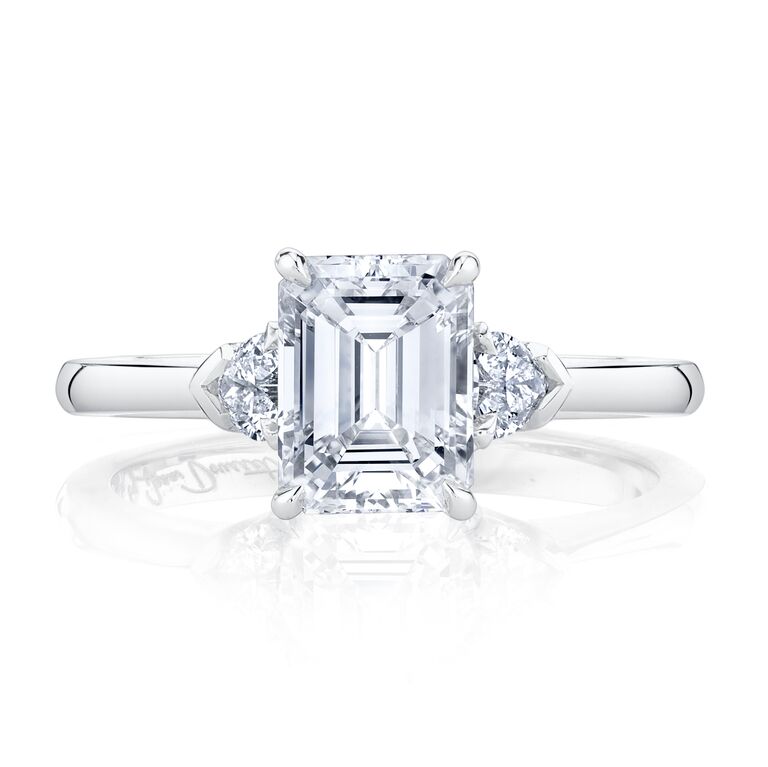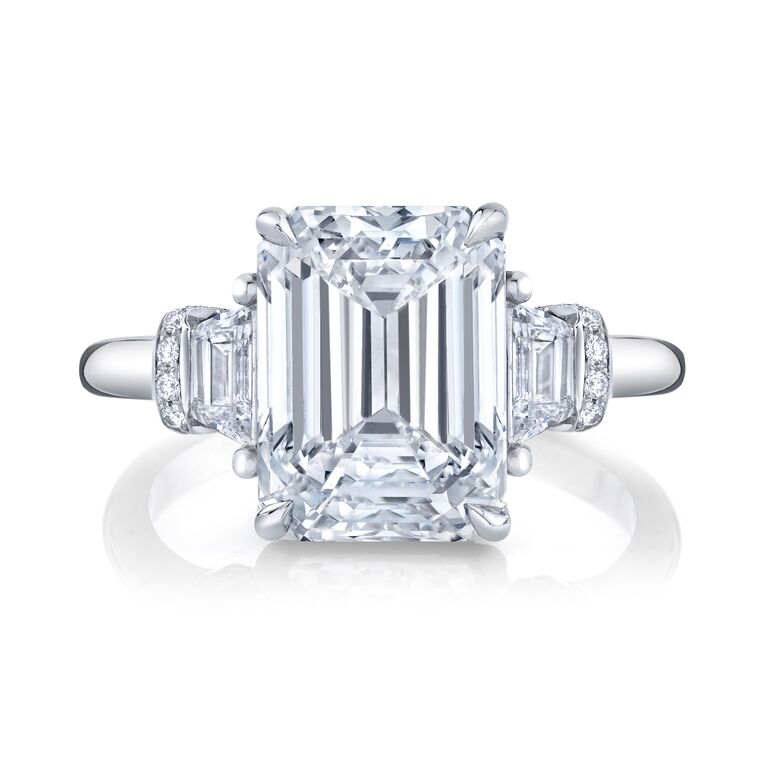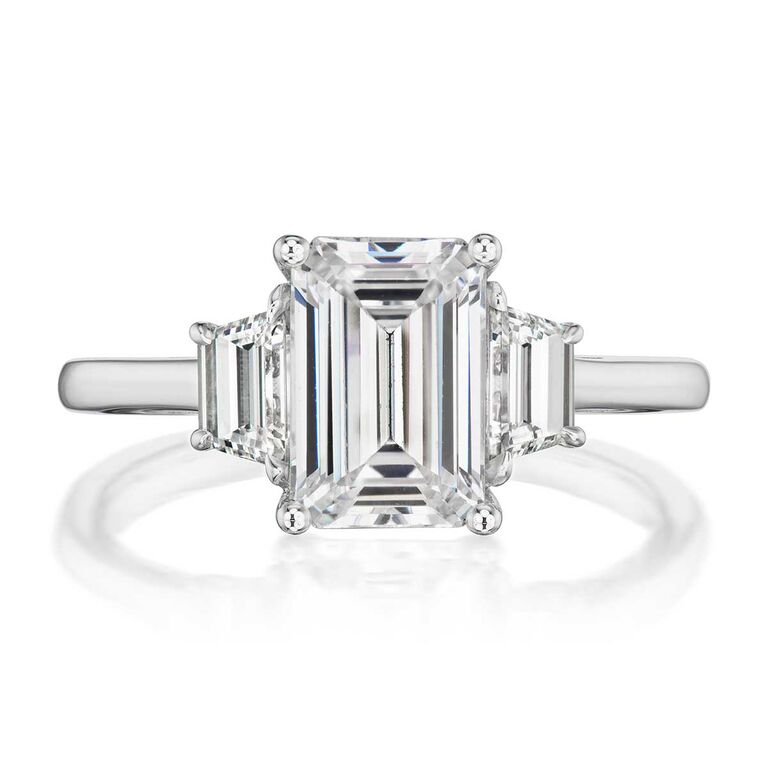 Paris Hilton and Carter Reum's Love Story
The Simple Life standout and Reum first started dating in early 2020 and have been inseparable ever since their debut as a couple. After a year of dating, the entrepreneur was certain he was ready to propose. On February 13, 2021, while the two were enjoying a private island celebration for Hilton's 40th birthday, he found the perfect opening to pop the question. "When you find your soulmate, you don't just know it. You feel it," Hilton wrote on social media. "My love & I have been together since our first date, and for my birthday, he arranged a special trip to tropical paradise. 🏝️ As we walked to dinner along the beach, Carter led us to a cabana adorned with flowers and dropped to one knee. 💍 I said yes, yes to forever ❤️ There's no one I'd rather spend forever with… Here's to Love - the Forever Kind."
This will be the fourth celebrity engagement for the This Is Paris star, who was previously betrothed to exes Jason Shaw, Greek shipping heir Paris Latsis, and actor Chris Zylka. "From our very first date, I was able to get to know the real Paris," Reum told Vogue. "As people who have seen her documentary and recent advocacy work know, Paris is kind, smart, driven, authentic, and an amazing [woman], and I can't wait to have her as a partner in life."
Photos from the magical moment were taken on the beach, spotlighting Hilton's emerald-cut diamond ring by engagement ring designer Dousset. "I am excited about this next chapter and having such a supportive partner," Paris added. "Our relationship is one of equals. We make each other better people. He was absolutely worth the wait!" Following the sweet moment, the couple enjoyed a mini celebration with their loved ones.
Paris Hilton and Carter Reum's Wedding Details
She's ready to be a Reum. The Hollywood heiress, who announced her new engagement to boyfriend Carter Reum at the height of proposal season 2021, has started planning the wedding of the year and sharing it with fans on her YouTube channel. It will be her first time walking down the aisle despite her numerous previous engagements. The couple has officially set their date for 11/11/2021.
Since Hilton and Reum's wedding will be the equivalent of an American royal wedding, the hotel heiress has been meeting with top wedding vendors who come well recommended by her peers. She'll also host an unparalleled weekend lineup brimming with delicious cocktails and food, top-tier entertainment and paparazzi-worthy moments at every turn.
Compare Paris Hilton's Previous Engagement Ring
In January 2018, Hilton got engaged to actor Chris Zylka during a skip trip. Most notably, her engagement ring at the time was shockingly large: a pear-shaped diamond engagement ring included a split-shank, all designed by Michael Greene of Greene & Co. It included a 20-carat center stone surrounded by a halo of 2-carat diamonds with a platinum band. Zylka completely surprised Hilton by designing the ring with Greene on his own. Greene previously told The Knot of Zylka's inspiration to propose. The unique pear-shaped diamond came from Hilton's longtime admiration of her mother's ring. The ring hovered at around $2 million in value.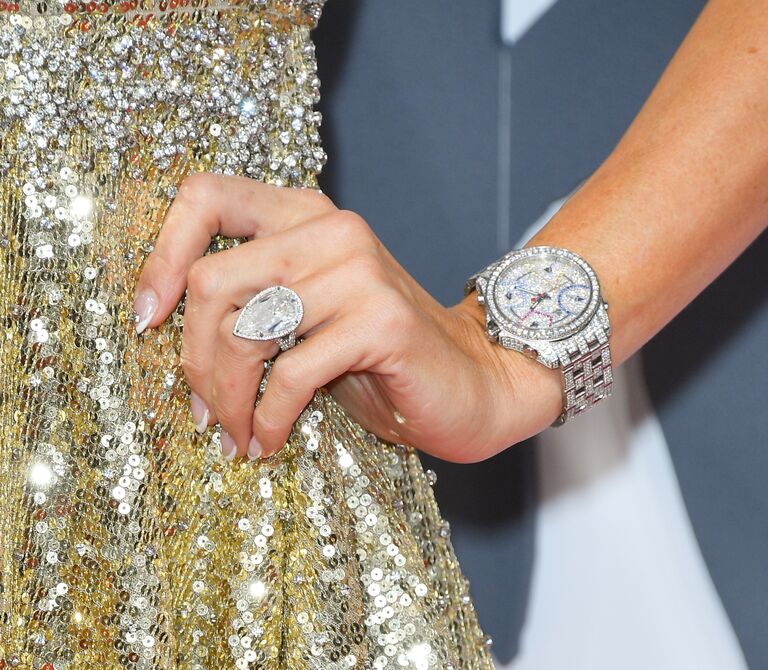 It was the thing of legends when Hilton reportedly flung her ring into an ice bucket while partying in Aspen. According to Page Six, the entire party halted to look for the piece though it had been buried.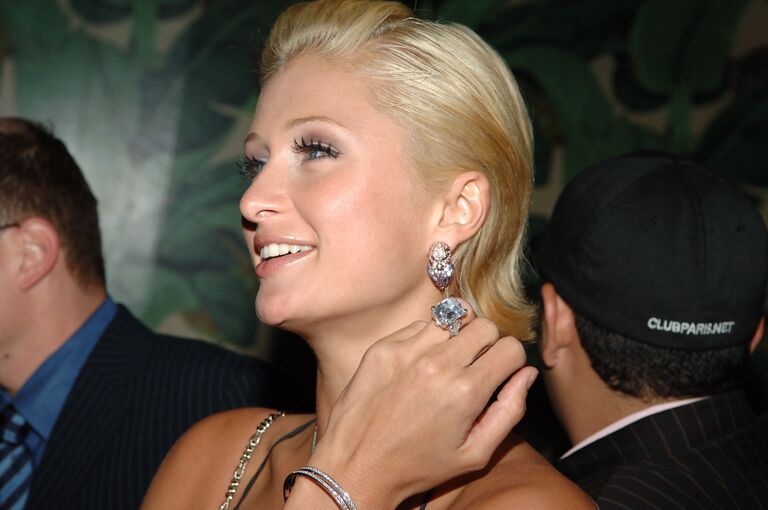 The second of Hilton's engagements (to Greek shipping heir Paris Latsis) involved a 24-carat diamond ring. The piece is valued at close to $5 million today, making it one of the most expensive celebrity engagement rings of all time.