25 Celebrity Weddings That Shaped How We Celebrate Marriage
It's The Knot's 25th anniversary and we're nostalgic for these weddings.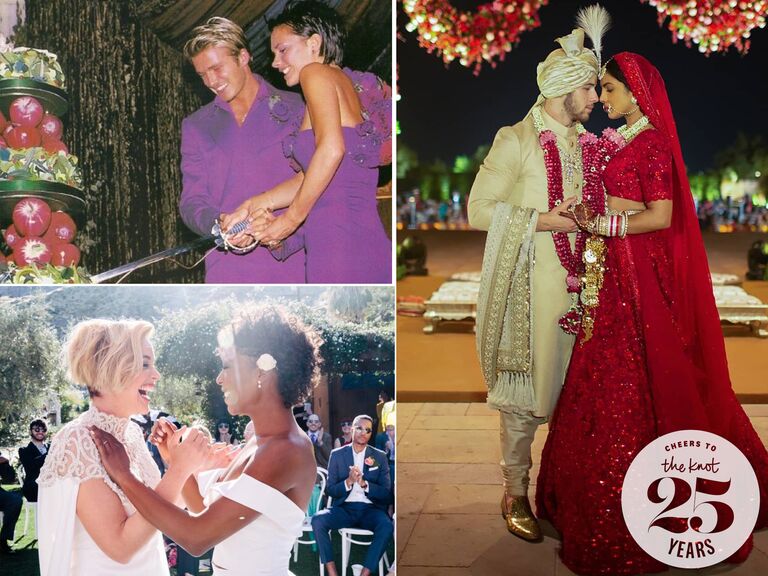 Victoria Beckham / Instagram; Lauren Morelli / Instagram, Priyanka Chopra / Instagram
Over the last 25 years, weddings have been shaped by an amalgamation of factors—wedding websites and magazines, a supportive vendor community and overarching societal trends, to name a few. One of the biggest indicators of the evolution of celebrations, however, is seen from celebrity weddings. For decades, the celebrity wedding—whether accessible and public (Meghan Markle and Prince Harry), sweet and subdued (Rande Gerber and Cindy Crawford) or uber private (Beyonce and Jay Z)—has shaped how couples perceive their weddings as they draw inspiration from these star-studded affairs.
Just in time for The Knot's 25th Anniversary, we reflect back on the celebrity weddings that have most shaped how we throw down. (By the way, don't forget to wish us a happy birthday.)
Carolyn Bessette and John F. Kennedy, Jr.
What They Shaped: The Rustic Wedding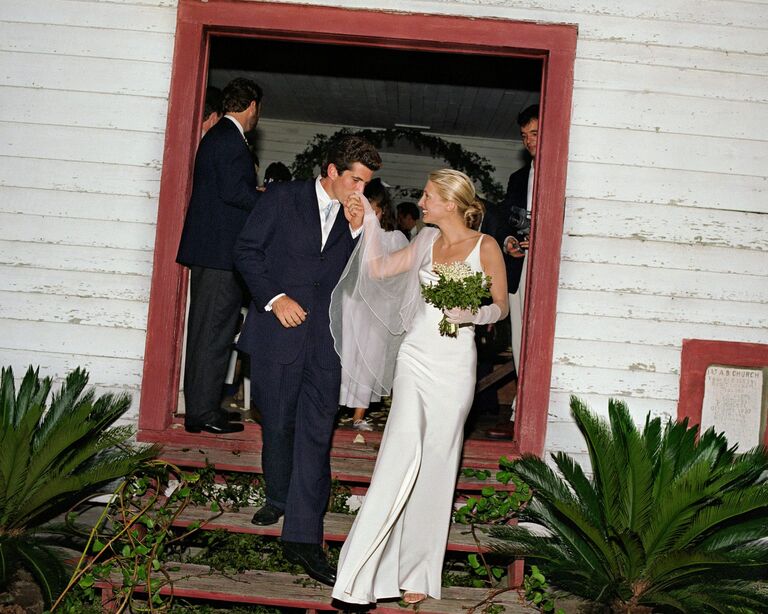 The rustic wedding to cap all rustic events of the future was fully on display at Carolyn Bessette and John F. Kennedy, Jr.'s 1996 wedding in Cumberland Island, Georgia. Arguably the royal wedding of that year, the couple went the route of discretion and secrecy while pulling off their destination event. Together, they sealed the affair with a candlelit walk down the steps of a tiny chapel on the island at dusk. The remarkable result was an iconic image by photographer Denis Reggie that captivated the essence of the original rustic wedding that would set the tone for decades to come.
Beyonce and Jay Z
What They Shaped: The 'No Social Media' Rule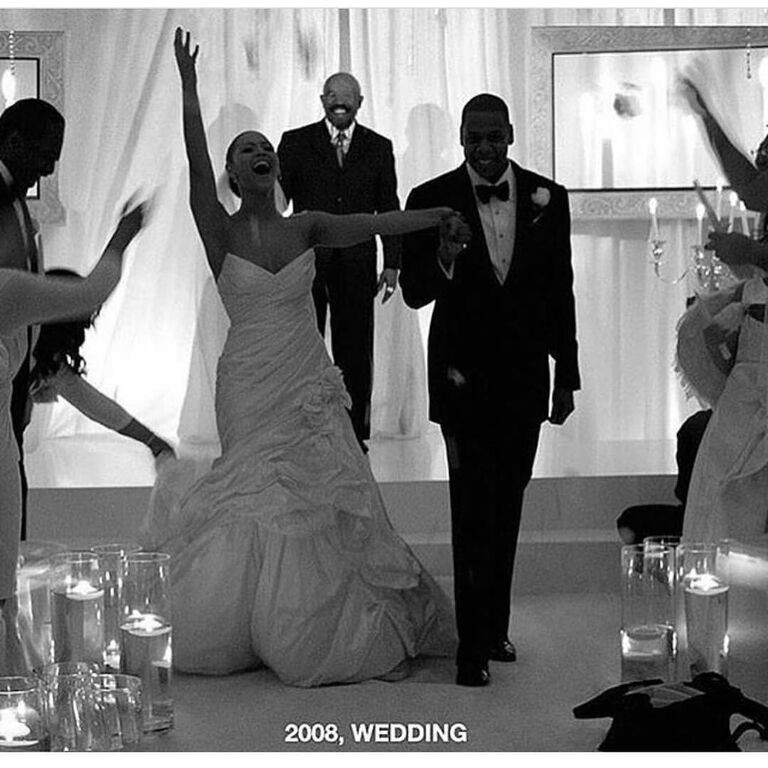 In 2008, the "no social media" rule didn't exist just yet. Ever original, Beyonce and Jay Z were among the first stars to ask their wedding guests to yield their Blackberries. (A tech relic of that period.) "I never pictured myself as a bride, but after my sister's wedding, I did start thinking about what kind of wedding I'd want," she told Cosmopolitan the year she married. "I don't think I want a big one." The couple transformed their Tribeca penthouse with a theme of whites and crystals, and the secret wedding was a success. It was only a decade later that Beyonce and her loved ones unveiled never-before-images from the day… this time, on social media.
Lauren Conrad and William Tell
What They Shaped: The Pinterest Wedding
A sun-soaked vineyard in Santa Ynez Valley and soothing, millennial color palette marked Lauren Conrad and William Tell's wedding. The Little Market founder paved the way for weddings in the mid-2010s with her wedding, planned by Conrad herself with bridesmaid Cassie Katz of Cassandra Bette Events. (It helps when your bestie is a wedding planner.) Leading up to the day, the bride baked 50 pies from scratch (the true type of DIY method where she sliced 300 apples on her own) to pay homage to her husband's name, which was derived from the folk hero and marksman of the 14th century. "It was a lot," Conrad laughed of the gesture. "But I liked the idea of a home-baked dessert."
Gwen Stefani and Gavin Rossdale
What They Shaped: Gradient Wedding Dresses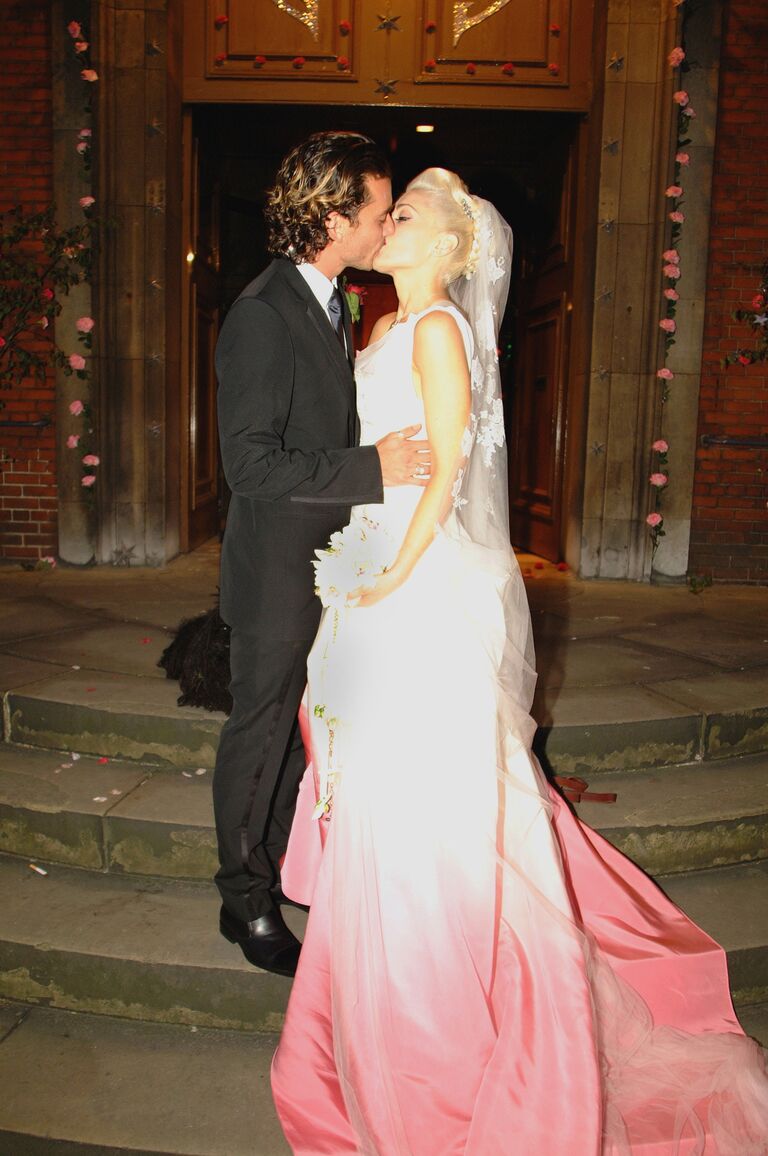 While Gwen Stefani and Gavin Rossdale are no longer together (in fact, she married Blake Shelton in a personalized Oklahoma ranch wedding in July 2021), the pink dress she donned for her 2002 nuptials remains supremely memorable. The show-stopping piece, designed by John Galliano, wowed the masses with its gradient, cream-and-rose hues—unheard of two decades ago when wedding gowns were rather cookie-cutter by nature. The same went for Rossdale and Stefanie's tiered, red rose wedding cake, an original confection back when they married at St Paul's Cathedral in London.
What They Shaped: The Nontraditional Walk Down the Aisle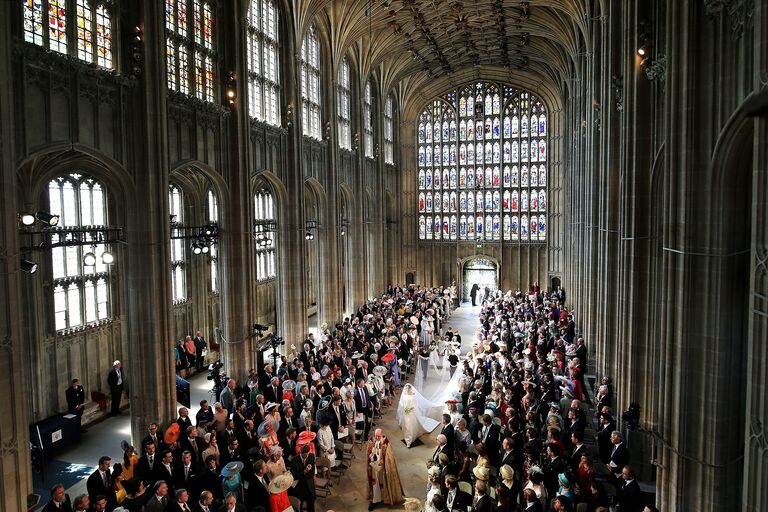 We may be biased, but everything about this wedding was sentimental. The week of her wedding, Markle's father was embroiled in a press scandal, causing his heart condition to worsen to the extent that he was rushed to emergency care. With so much family drama (between her half-sister's snide remarks and later-known drama with her future sister-in-law), Markle's rough wedding week culminated when it became clear Thomas Markle was unable to walk her down the aisle on her wedding day. With grace, the bride instead opted to walk down the long aisle solo, where she was greeted halfway by Prince Charles, who then led her to Prince Harry.
Mandy Moore and Taylor Goldsmith
What They Shaped: Baby's Breath and Rugs Lining Aisles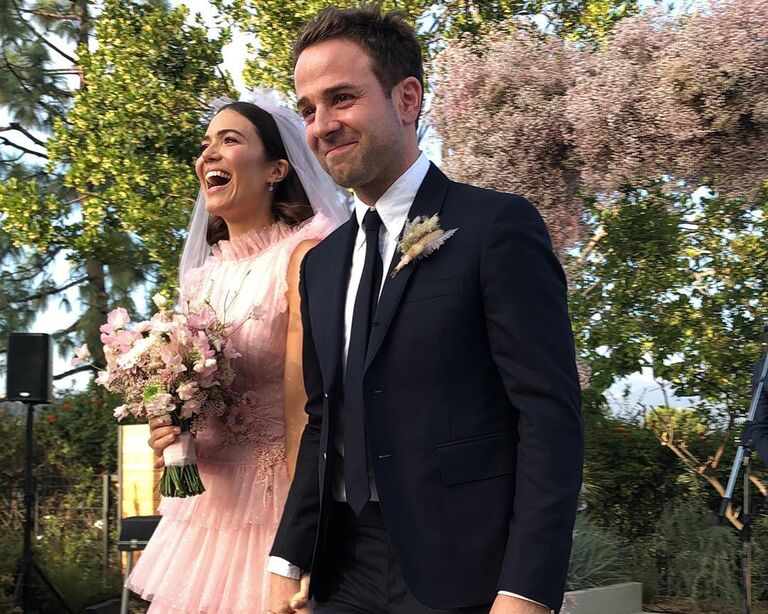 The industry audibly gasped when we saw the refreshing originality and beauty of Mandy Moore's 2018 wedding to Taylor Goldsmith. The This Is Us actress and the rocker exchanged vows in a hyper-personalized, pink-themed wedding ceremony that included wispy and dramatic baby's breath installations and a dip-dyed pampas grass aisle by Sara Simmonds Studio. Lining the aisle was a unique display of woven rugs to perfectly set the scene for the bride to walk down the aisle in a pink custom gown by Rodarte's Mulleavy sisters.
What They Shaped: The Regal Lace Gown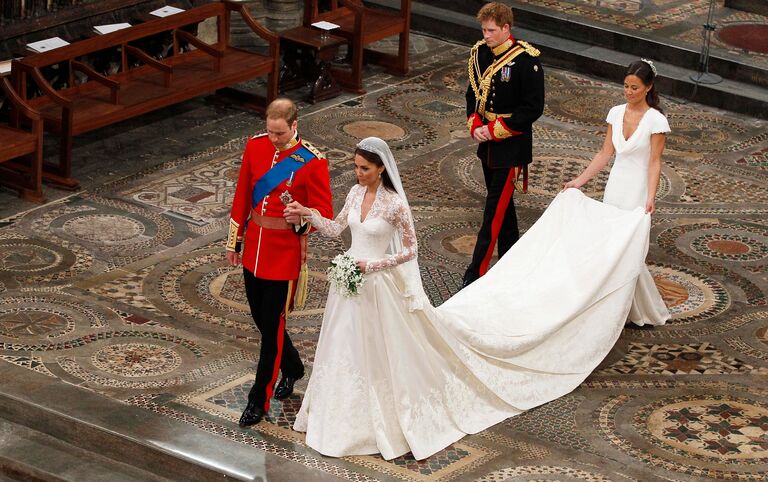 A modern gown with a Victorian twist, Kate Middleton's wedding dress inspired a sea of copycat gowns (Jasmine Tookes and Miranda Kerr) ever since her 2012 nuptials to Prince William. The piece by Sarah Burton for Alexander McQueen has certainly sparked a frenzy of copycat inspiration for generations to come.
Will and Jada Pinkett Smith
What They Shaped: The New Year's Eve Wedding
As the clock struck midnight on New Year's Eve 1997, Will and Jada Pinkett Smith stepped out in all-white attire (the bride in a high-neck Badgley Mischka gown in soft velvet, the groom in a white suit) for their ceremony held at the Cloisters in the bride's hometown of Baltimore. At the time, Pinkett was three months pregnant with one specific vision for her wedding: "Simple but elegant," according to their planner David Weinschel. It was also safe to say the Smiths pulled off one of the greatest New Year's Eve secrets among celebrity couples.
Olivia Palermo and Johannes Huebl
What They Shaped: Shorts on the Wedding Day
The star of MTV's The City and the supposed real-life inspiration behind Gossip Girl character of Blair Waldorf naturally delighted with her choice of bridal attire. When Olivia Palermo and model Johannes Huebl married in an intimate outdoor wedding, the Upper East Sider introduced an interesting and chic new statement piece. Wearing a simple cashmere sweater, bold royal blue Manolos and a wedding skirt by Carolina Herrera, Palermo also just happened to pull off a bold pair of crip, white shorts to round out her look.
"They had pulled out so many beautiful creations from floor-skimming numbers fit for royalty to tea-length dresses ideal for midday ceremonies, but it was an innocuous skirt overlay that caught my eye," Palermo later wrote on her blog. "I knew that paired with simple, silk faille shorts, the resulting combo would transition from daytime ceremony to dusk reception with elegance and ease. As for the top, I always run cold, so naturally, I gravitated towards a Carolina Herrera cashmere sweater, which had tonally coordinated bejeweled feathers at the hem. For the ceremony, I kept those details tucked into the skirt, but later on, it looked party-friendly with a fun twist when worn with just the shorts."
What They Shaped: Wedding Regrets
In 2012, Lively and Reynolds married in South Carolina in a wedding that still has yet to be shared to completion. Despite this, the couple has dropped snippets about the day, including a sparkler mishap involving Lively's gown. "It was just so heartbreaking to me," she said. "And later, my dress was hanging up and Ryan said, 'Isn't that beautiful?' I said, 'What?' And he pointed to the burn. My heart just stopped, because it was such a sensitive little subject. And he said, 'You'll always remember that moment with Florence singing and the sparklers. You have that forever, right there, preserved.' Now that's my favorite part of the dress."
When it comes to wedding remorse, the couple has been transparent about regretfully holding theirs at Boone Hall, apologizing in 2020 for the blunder in venue choice and further donating $200,000 to the NAACP.
Victoria Beckham and David Beckham
What They Shaped: Smaller Ceremony, Raucous Reception
US couples still aren't entirely accustomed to this idea, but the idea of separate guest lists has especially caught on during COVID. Across the pond, Victoria Beckham and David Beckham were among the first celeb couples to normalize the notion of inviting a certain set of guests to the ceremony, followed by an additional number of loved ones to the reception. Only 29 guests watched the world-renowned soccer star and the Spice Girl marry in a castle ceremony; however, 230 later joined the group to party the night away in the same venue. Posh and Becks, meanwhile, swapped their ceremony attire for matching purple ensembles.
Cindy Crawford and Rande Gerber
What They Shaped: Casual Beach Weddings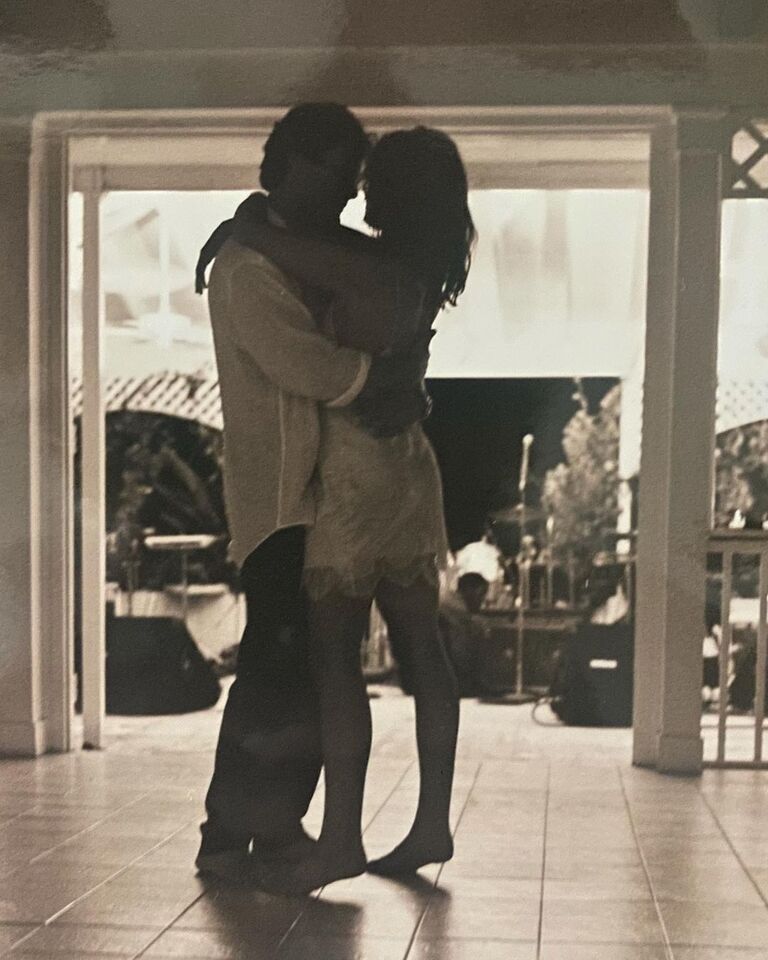 Barefoot in the sand and with a short and simple wedding dress, the entrepreneur and 90s supermodel said "I do" in arguably one of the most refreshing weddings of the decade. Paying homage to California's cool and relaxed atmosphere, Crawford chose to go barefoot in a short lace dress against Gerber's casual wedding attire. The couple (and the ocean) took the focal point, instead.
Gisele Bündchen and Tom Brady
What They Shaped: The Sequel Wedding
Whn Tom Brady and Gisele Bündchen married in 2009, the couple first hosted a ceremony for their loved ones—a church wedding in Santa Monica, California, planned in 10 days. Their second wedding was a destination getaway at their home in Santa Teresa, Costa Rica, a country where both have felt uninhibited freedom to be themselves and revel in nature. "I wore a simple white slip dress. My feet were bare," she wrote in her memoir, Lessons: My Path to a Meaningful Life. "The ceremony was brief, and the last words anyone heard were: For the pillars of the temple stand apart / And the oak tree and the cypress grow not in each other's shadow."
Kim Kardashian and Kanye West
What They Shaped: The Wedding Week
The buildup to Kim Kardashian and Kanye West's wedding at the Forte di Belvedere in Florence, Italy, was part of the overall fun of being a guest (and a spectator). The now-separated couple, who married in 2014, was photographed at a series of events their wedding week. The nuptials started with an over-the-top family dinner in Paris, followed by a bachelorette party in the City of Love. The prewedding festivities culminated with a welcome brunch on the grounds of the Valentino mansion, where Lana Del Rey performed, followed by the actual wedding day in Italia.
George Clooney and Amal Clooney
What They Shaped: Chic Wedding Transportation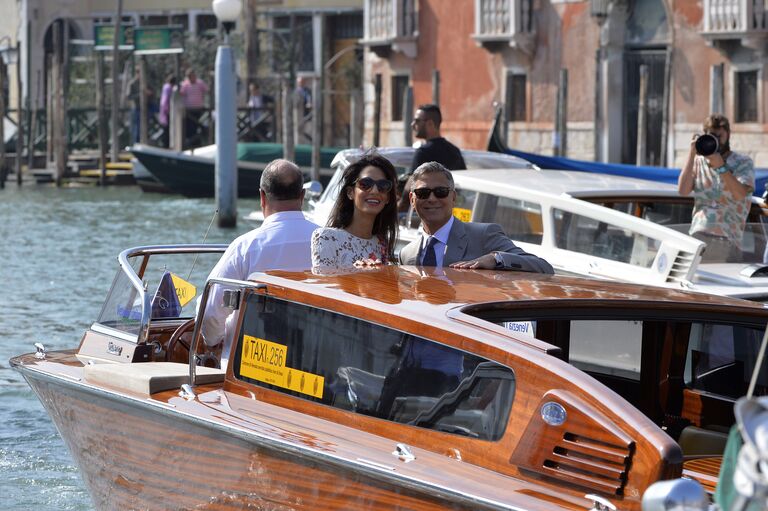 Of course, couples have long found fun ways to shuttle guests around their wedding (examples include trolleys and camper buses), but the elegance of the Clooneys with their choice of a flotilla of gondolas and boats was quite the spectacle in September 2014. The 420 bridges of Venice were never the same after the couple, plus their black-tie (optional)-clad guests, arrived to the venue via boat.
Nick Jonas and Priyanka Chopra
What They Shaped: Multiple Weddings for Different Groups of Guests
In December 2018, Nick Jonas and Priyanka Chopra set the world ablaze with their multiple weddings spanning weeks of festivities. Along with traditional Indian prewedding events, the couple emphasized the importance of their upbringings over the course of two distinct wedding days. The first honored the bride's Indian background and the second commemorated the groom's Christian upbringing. They even threw a postwedding recep This focus on culture and religion paved the way for other couples to enjoy throwing multiple weddings ("shift weddings" as they've been called during COVID) for distinct groups of loved ones to enjoy.
Samira Wiley and Lauren Morelli
What They Shaped: The Atypical Ceremony Layout
At Colony29 in Palm Springs, actress Samira Wiley and Lauren Morelli, the writer of Orange Is the New Black (how's that for a meet-cute?), exchanged vows within a circular ceremony layout. The purpose was distinguished in its mission: to unify all guests in love. "Our ceremony was in the round— in a spiral—so when we walked the aisle, we were able to walk past every single guest," Wiley told The Knot. "And I don't even think we knew at the time that it was going to be that wonderful." That wasn't the only standout portion of that day. "One of the most unique things about our wedding was that we didn't process down a traditional aisle," she added. "We processed in together holding hands."
Neil Patrick Harris and David Burtka
What They Shaped: Loved Ones Assuming Wedding Roles
After a decade together, Neil Patrick Harris and David Burtka married in a private destination wedding in 2012. "We happily confirm that Neil Patrick Harris and David Burtka were married in Italy in an intimate ceremony surrounded by their close friends and family," his rep told People. The couple requested a special officiant to preside over the ceremony: How I Met Your Mother director Pam Fryman, a prelude to the special performance by Elton John.
What They Shaped: The Secret Wedding
Aniston and Theroux, though no longer together, shocked everyone with their surprise and secret backyard wedding at their California home in August 2015. Jimmy Kimmel officiated the ceremony and other celebrity guests included Ellen DeGeneres. "It's so much more special when it's just your closest friends and family and it's lovely," Theroux subsequently told Entertainment Tonight. "We wanted it to be a peaceful environment, you don't want it to be hectic."
Tom Cruise and Katie Holmes
What They Shaped: The Wedding 'Pose'
Cheek-to-cheek, Tom Cruise and Katie Holmes' first wedding photos graced the cover of HELLO! Magazine after they married at sunset at Odescalchi Castle on Lake Braccino, Italy, in November 2006. Since then, the iconic photo (captured by famed photographer Robert Evans, who also documented Brad Pitt and Jennifer Aniston's wedding) has been one of the most highly-requested poses on the wedding photography shot list. Though the marriage ended, the pose lives on.
Allison Williams and Ricky Van Veen
What They Shaped: Nostalgic Wedding Cake Flavors
Former couple Allison Williams and Ricky Van Veen leaned into the saying, "It's what's inside that counts," with their tiered, all-white, textured wedding cake topped by simple Polaroids of the couple. Though the two have since gone their separate ways (Van Veen remarried Chelsea Clinton's top staffer in 2021), the pair hosted a memorable and extra personalized affair at Brush Creek Ranch in Saratoga, Wyoming, in 2015, cake included. "Turns out, if your wedding cake is made with ingredients from a box per your demands (store-bought funfetti and frosting), it's still delicious even two years later," she wrote in 2016, "after you forget to eat it on your first anniversary."
Ellen Degeneres and Portia de Rossi
What They Shaped: The Intimate Backyard Ceremony
With their dogs in tow, Portia de Rossi and Ellen DeGeneres married in a simple and sweet backyard ceremony in 2008. The couple both wore white: De Rossi in a halter neck ballgown, DeGeneres in a white vest and button-down shirt. The couple running triumphantly through their backyard has since emerged as one of the most recognizable celebrity wedding snapshots of the 21st century.
Lauren Bush and David Lauren
What They Shaped: The Western Wedding
When the father of the groom is Ralph Lauren himself, an all-American wedding is exactly what was planned and executed. Lauren Bush and David Lauren's September 2011 wedding was fittingly held at the groom's family ranch in Ridgway, Colorado. The Western theme was anything but wild: the bride walked down the aisle a custom, high-neck, lace gown by her fashion mogul-father-in-law and the groom awaited the FEED founder in a morning jacket. Beloved portrait photographer Norma Jean Roy was also there to document the beauty of the day.
Jessica Biel and Justin Timberlake
What They Shaped: A Standout Gown and White Bridesmaid Dresses
Wedding color palettes simply weren't the same after Jessica Biel and Justin Timberlake's 2012 wedding at the five-star Borgo Ignazia in Puglia, Italy. On the cover of Hello! was the actress in a blush Giambattista Valli wedding dress, while her ecstatic husband jumped for joy in his wedding attire. But it wasn't the surprising color choice of the bride's gown that created a big splash. It was a novel idea to dress the bridesmaids in white that flipped the traditional concept of wedding party attire on its head.