Everything We Know About Lizzo and Boyfriend Myke Wright's Relationship
Their love story is good as hell.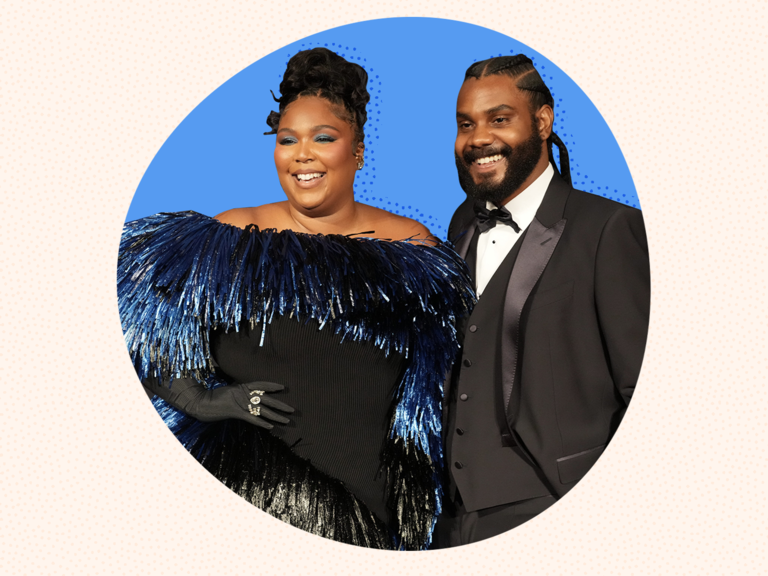 Photo: Getty Images | Design by Tiana Crispino
There's no denying this love story is special. If you're curious to know if Lizzo has a boyfriend, the answer is yes—and their relationship goes all the way back to 2016. The Grammy Award-winning singer, known for her empowering self-love anthems like "Truth Hurts," "Good as Hell" and "About Damn Time," is currently dating comedian Myke Wright. Although the duo first sparked romance rumors after being photographed together in 2021, they actually crossed paths years earlier during a shared hosting gig on MTV. Here, we break down everything to know about Lizzo's boyfriend, including how they met, their relationship timeline, and her thoughts on marriage.
Who is Lizzo's boyfriend? She's currently dating comedian Myke Wright.
Although Lizzo and Myke Wright met in 2016, they didn't spark romance rumors until 2021 when were photographed holding hands.
Lizzo and Myke Wright "hard launched" their relationship on Instagram in February 2023.
In an interview with Vanity Fair, Lizzo called her boyfriend Myke Wright "the love of my life."
Who Is Lizzo Dating?
So, who is Lizzo's boyfriend? She's currently dating Myke Wright. The Detroit native is a stand-up comedian who has appeared in specials including Adam Devine's House Party and Laughs. He also has acting credits to his name, as he's had roles in How to Be a Grown Up, Doubting Thomas, and the short Tell Me What You Know About Cyrus. In an interview with VoyageLA, Wright revealed he's a musician too, having performed in two different bands throughout his life. He also told the outlet that he works with EMLE, a Detroit-based luxury clothing brand, as well as his own company ümi, which is "focused on improving the quality of human life through products and experience."
2016: Lizzo and Myke Wright Meet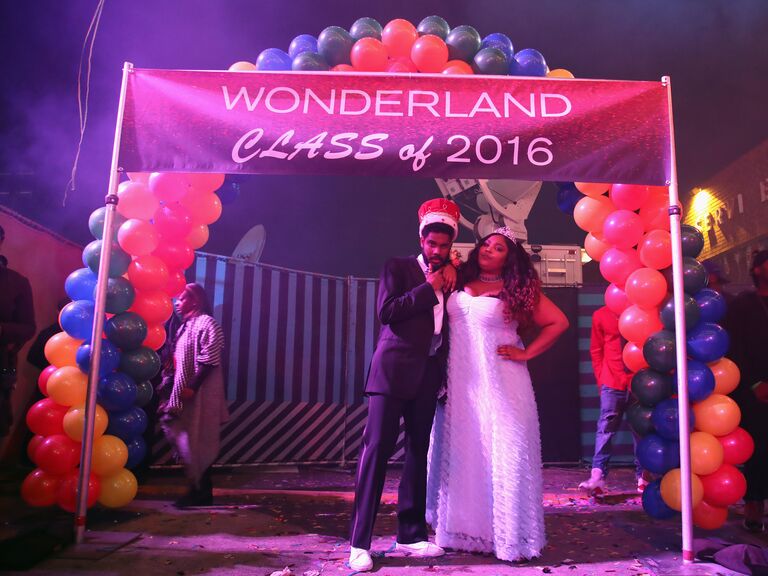 Lizzo and Myke Wright's relationship can be traced back to 2016 when they met while cohosting MTV's musical series Wonderland.
Early 2021: Lizzo and Myke Wright Start Dating
Lizzo and Myke Wright's relationship turned romantic five years later when they were photographed looking extra cozy on the balcony of her Malibu house in 2021. They were frequently spotted together by paparazzi for the remainder of the year.
March 2022: Lizzo Teases a Secret Boyfriend
About a year later, Lizzo played into the boyfriend speculation by posting an Instagram reel of herself kissing a man just outside the frame, writing, "Happyyyyyyyyyyyy."
April 2022: Lizzo Confirms She Has a Boyfriend
Early in April 2022, Lizzo and Myke Wright were photographed holding hands in New York City. During an appearance on SiriusXM's Radio Andy show hosted by Andy Cohen a few weeks later, Lizzo finally confirmed she had a boyfriend—but she didn't reveal his identity. She also said that he wasn't intimidated by her fame or her musical success. "If you have the right person, no, not at all. [Fame is] not even a factor," she said.
June 2022: Lizzo and Myke Wright Make Their Red Carpet Debut
Lizzo and Myke Wright made their romance red carpet official in June 2022. They attended a "For Your Consideration" event for the performer's Watch Out for the Big Grrrls competition series. Lizzo posted a photo dump of the event on Instagram, including a few snaps of her and her boyfriend on the red carpet, and with her hand over his in a car.
July 2022: Lizzo Talks About Her Boyfriend in an Interview
Lizzo, whose real name is Melissa Viviane Jefferson, spoke coyly about her boyfriend in an interview on the radio show The Breakfast Club. "I have the most genuine people around me. They don't give a s--t about Lizzo with the chain on. They care about Melissa, and everyone I'm close with has known me before all of this happened and I think that's important," she said. "Even the man I'm with, he knew me before all of this too. We were friends. It hit different when they knew you before 2019."
October 2022: Lizzo Speaks About Marrying Myke Wright
Lizzo got candid about her feelings for Myke Wright in an October 2022 interview with Vanity Fair, saying, "He's the love of my life. We are life mates." She also opened up about whether they see a wedding in their future. "Do I want to get married? If I wanted to start a business with him, I'd get married because that's when your finances come together," she revealed, adding that her independence helped strengthen their relationship. "How wonderful would it be to be this complete independent person and to come together and make two complete independent people? Not that whole 'You complete me, you're my other half.' No, I'm whole, you're incredible, too," she continued. "We're like the mirror image of each other. We're connected. But that doesn't mean I was incomplete when I met him."
November 2022: Myke Wright Appears in Love, Lizzo Documentary
In November 2022, the documentary Love, Lizzo premiered on HBO Max. It was filmed over the course of three years through Lizzo's Cuz I Love You world tour, the pandemic, and the recording of her album Special, and focuses on Lizzo's thoughts about body positivity, self-love, and empowering Black women. Lizzo's boyfriend Myke Wright appears in the film, a decision she opened up about to Glamour. "It was important to add that because I wanted y'all to get the complete story," she explained. "This is the definitive doc on me and how I've gotten this far. Now, if I need to do one with me and him one day, you know, breaking it down, that's a different story. But I did need to at least introduce him because he's very important to not just my personal life, but who I am as a creator."
She continued, "I think people are going to be surprised at the depth of my relationship with Myke. First off, they didn't know anything. I've been very careful about also protecting him and who he is so that I'm not telling his side of the story as well. He's a very confident guy. So nothing really shakes him."
February 2022: Lizzo and Myke Wright Go Instagram-Official
This is how you hard launch. In February 2023, Lizzo and Myke Wright finally made their love Instagram official. After posing together on the red carpet for Clive Davis' pre-Grammys gala, Lizzo shared the sweet photos on Instagram, writing, "Hard Launch😮‍💨."
February 2023: Lizzo and Myke Wright Attend the Grammys Together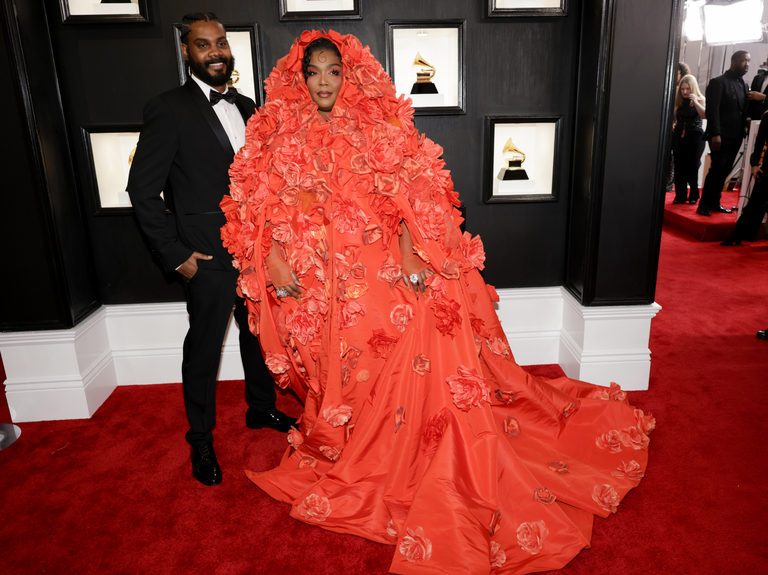 The 2023 Grammys were a major highlight of Lizzo's musical career thus far, as she walked away with five awards. She was accompanied by her boyfriend at the special event, who wore a sleek black tux while Lizzo looked fabulous in a red rose ensemble.
Are Lizzo and Myke Wright engaged?
Lizzo and boyfriend Myke Wright aren't engaged…yet. Given the singer's thoughts on marriage, it's unclear if a wedding is in their future (unless they start a business together, that is). Only time will tell if Lizzo and Myke Wright tie the knot sometime soon.