Everything to Know About Blake Lively and Ryan Reynolds' Love Story
The famous duo met on the set of a movie in 2010.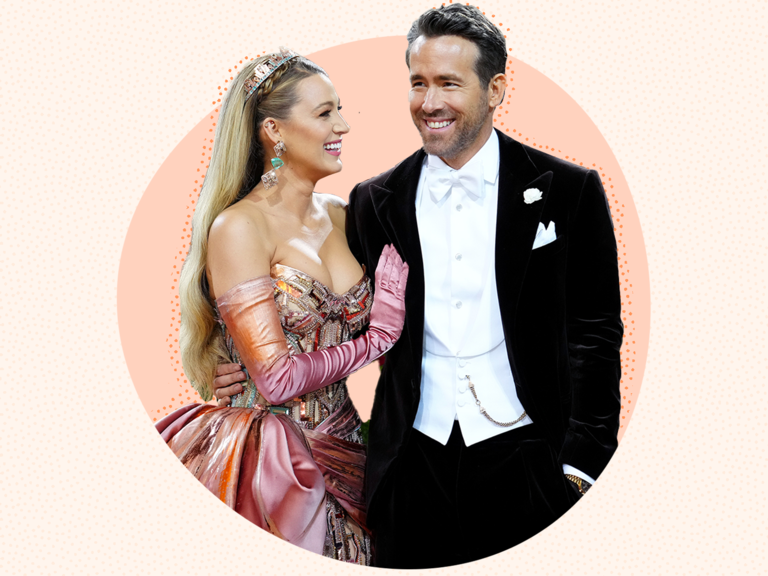 Getty Images | Design by Tiana Crispino
Blake Lively and Ryan Reynolds' love story is like a movie. After all, the Hollywood power duo did meet on an actual film set back in 2010. While they were dating different people at the time, the two found their way back to each other the following year. Although they've kept the majority of their relationship details out of the public eye, we do know that Blake Lively and Ryan Reynolds got married in secret in 2012. Since then, they've welcomed four daughters (whose names inspired a handful of Taylor Swift songs!) and continue to remain one of the most beloved celebrity couples to this day. Here, we break down everything to know about Ryan Reynolds and Blake Lively's relationship, including their secret wedding, how they addressed their controversial venue, and their growing family.
Blake Lively and Ryan Reynolds met in 2010 on the set of the movie Green Lantern. Although they played on-screen love interests, they were dating other people at the time.
Blake Lively and Ryan Reynolds began dating in 2011, and likely got engaged around the end of 2011 or early in 2012.
Ryan Reynolds and Blake Lively's wedding was on September 9, 2012, in South Carolina.
Today, Blake Lively and Ryan Reynolds have four daughters: James, Inez, Betty and a fourth (whose name is not yet public). They currently live in the Pound Ride/Bedford area of upstate New York.
2010: Blake Lively and Ryan Reynolds Meet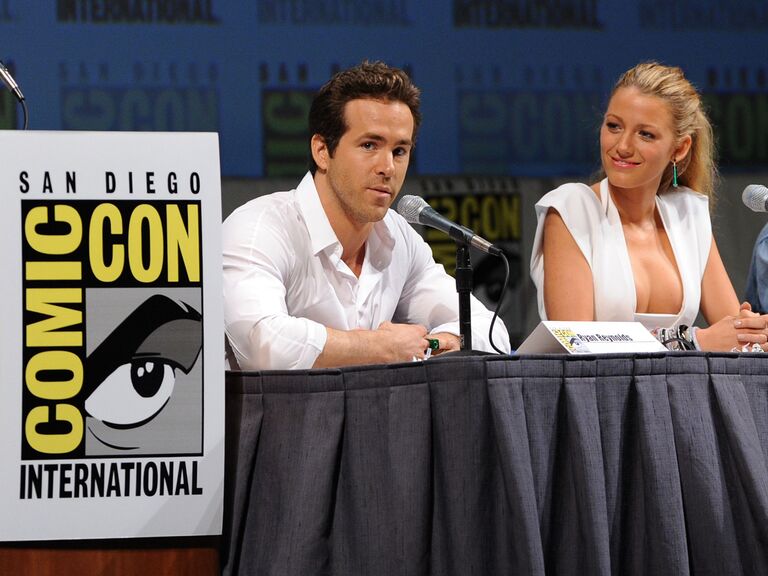 So, how did Blake Lively and Ryan Reynolds meet? They met on the set of the DC action movie Green Lantern in 2010, where they played on-screen love interests. At the time, the actors were both with other people in the industry—Ryan Reynolds was married to Scarlett Johansson, and Blake Lively was dating Penn Badgley.
July 2010: Blake Lively and Ryan Reynolds Attend Comic Con
Ahead of the film's release in 2011, Blake Lively and Ryan Reynolds attended Comic Con 2010 together in San Diego, though they weren't yet romantically linked.
October 2010: Blake Lively and Penn Badgley Break Up
A few months later, Blake Lively and her Gossip Girl co-star Penn Badgley broke up. They dated from 2007 to 2010.
December 2010: Ryan Reynolds and Scarlett Johannson Divorce
At the end of that year, Ryan Reynolds and ex-wife Scarlett Johannson confirmed their divorce with a statement: "After long and careful consideration on both our parts, we've decided to end our marriage. We entered our relationship with love and it's with love and kindness we leave it. While privacy isn't expected, it's certainly appreciated."
2011: Blake Lively and Ryan Reynolds Start Dating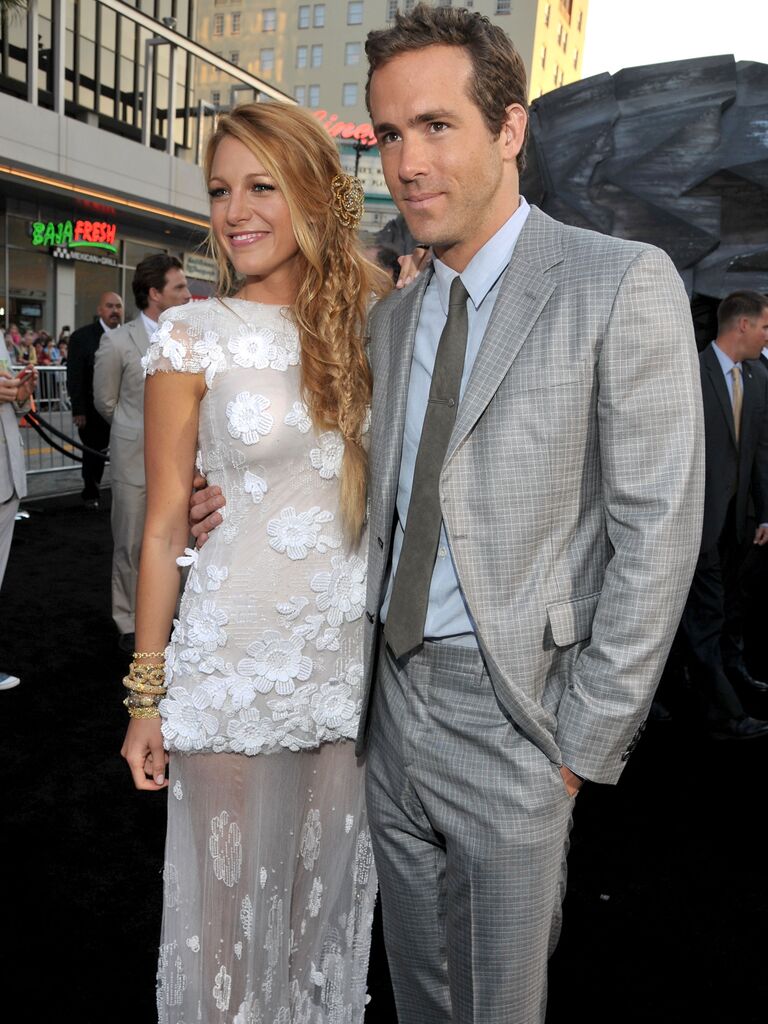 Both Blake Lively and Ryan Reynolds were single at the start of 2011, though Lively was linked to actor Leonardo DiCaprio for a few months.
Fall 2011: Blake Lively and Ryan Reynolds Go on a Double Date
We can trace Ryan Reynolds and Blake Lively's relationship back to fall 2011. In an interview with Entertainment Weekly, Reynolds opened up about the start of their romance, revealing that they went on a double date…with other people, that is. "We were buddies then. I remember it was funny because, for about a year after Green Lantern had come and gone and all that stuff, we were both single," he recalled. "We went on a double date. She was on a date with another guy, and I was on a date with another girl. That was the most awkward date [from their perspective] probably because we were just like fireworks coming across."
October 2011: Blake Lively Celebrates Ryan Reynolds' Birthday
Speculation that Blake Lively and Ryan Reynolds were dating hit a fever pitch when the actress was photographed leaving her rumored boyfriend's Boston apartment on his birthday. At the time, a source told People Magazine that the two were "very much a couple" and that "they're really happy together."
Fall and Winter 2011: Blake and Ryan Spend the Holidays Together
Blake and Ryan continued to be spotted together for the remainder of the year. The new couple was photographed spending time at Lively's sister's bed-and-breakfast in Utah over Thanksgiving, where they showed off serious PDA. They later spent Christmas with Reynolds' family in Vancouver, where paparazzi caught them shopping at markets.
2011-2012: Blake Lively and Ryan Reynolds Get Engaged
When did Blake Lively and Ryan Reynolds get engaged? We don't know for sure. This ultra-private couple has never confirmed when the question was popped, though we can guess it was either at the end of 2011 or in early 2012. One thing we do know about the engagement, though, is the kind of sparkler Lively received.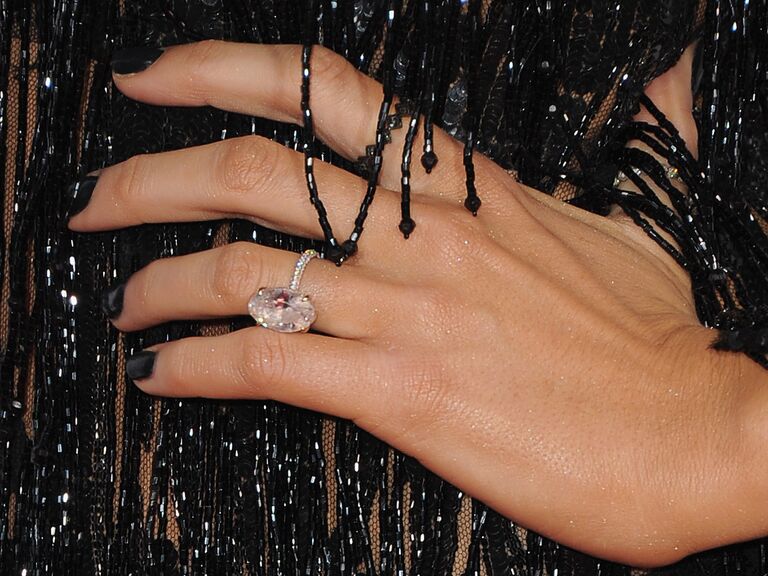 Blake Lively's engagement ring is a 12-carat pink oval-cut diamond set on a rose gold pavé band. It's estimated to be worth $2 million. Reynolds tapped celebrity jewelry designer Lorraine Schwartz to design the ring, which is largely credited with escalating the popularity of oval-cut diamonds in the US. Lively opened up about her engagement ring in an interview with British Vogue, saying, "My most treasured possession is my engagement ring made by my dear friend Lorraine Schwartz, because of the love and meaning it symbolizes." She also confirmed that the look was a total surprise, adding, "No, I didn't have any hand in its design—I married a gentleman."
September 2012: Blake Lively and Ryan Reynolds' Wedding
Blake Lively and Ryan Reynolds got married on September 9, 2012. The wedding was a complete secret, and the first photos were revealed by publisher Martha Stewart Weddings—in fact, the lifestyle guru (who happened to be neighbors with the couple) helped plan the nuptials. But in the years following their big day, Blake Lively and Ryan Reynolds faced backlash for the deeply controversial decision to wed at Boone Hall Plantation in South Carolina. Here's what to know about the wedding, including how the couple addressed the controversy and committed to anti-racism and education moving forward.
Blake Lively Burned Her Wedding Dress
If you're looking for photos of Blake Lively's wedding dress, you won't find much online, as only one image of the gown has been published to this day. The close-up snap gives a peek at Blake and Ryan holding hands, showing a glimpse of the Marchesa design. It appears to have a tulle skirt with rose gold embroidery and beading, perfectly matching the bride's engagement ring.
In a later interview with Vogue, Lively revealed that her gown suffered an unfortunate fate at the reception. "Florence Welch was singing at the reception, and they brought out these sparklers, and I'm watching her sing. I look down and my wedding dress has a big burn mark from one of the sparklers. Right on the front! And it was just so heartbreaking to me."
She added: "And later, my dress was hanging up and Ryan said, 'Isn't that beautiful?' I said, 'What?' And he pointed to the burn. My heart just stopped, because it was such a sensitive little subject. And he said, 'You'll always remember that moment with Florence singing and the sparklers. You have that forever, right there, preserved.' Now that's my favorite part of the dress."
The Couple Served a Lavish Dessert Spread
Not many other details about Ryan Reynolds and Blake Lively's wedding are known, though we do know that food played an important role. During the reception, guests enjoyed a lavish sweets spread including vanilla and sour cream cake with peach preserves, as well as alternative desserts like espresso beans, fruit tarts, jellies, mini cakes and s'mores bars.
Blake Lively and Ryan Reynolds' Wedding Venue Sparked Controversy—And They've Since Apologized
In the years following their nuptials, Blake Lively and Ryan Reynolds were criticized for getting married at a former plantation, which once had nine slave cabins, without acknowledgment of its broken past. In 2018, the couple faced scrutiny again when Reynolds was accused of hypocrisy after praising the cast of Black Panther, the first superhero movie to feature a majority Black cast.
Reynolds expressed regret for the decision in a 2020 interview with Fast Company. "It's something we'll always be deeply and unreservedly sorry for," he said. "It's impossible to reconcile. What we saw at the time was a wedding venue on Pinterest. What we saw after was a place built upon devastating tragedy. Years ago we got married again at home—but shame works in weird ways. A giant f—ing mistake like that can either cause you to shut down or it can reframe things and move you into action."
In the summer of 2020, amid Black Lives Matter protests and advocacy throughout the United States, Blake and Ryan spoke about their commitment to anti-racism and education. "Last week we contributed $200,000 to the NAACP Legal Defense Fund," they wrote in a joint statement on Instagram. "We stand in awe of this organization and its leader, Sherrilyn Ifill. And this is just a start... we want to use our privilege and platform to be an ally. And to play a part in easing pain for so many who feel as though this grand experiment is failing them." Reynolds also launched The Group Effort Initiative, a self-funded diversity and inclusion program that aims to give people of color experience on film sets.
2012-Present: Blake Lively and Ryan Reynolds' Marriage
Today, Blake Lively and Ryan Reynolds have been married for over 10 years. Here's what they've been up to since swapping vows in 2012.
May 2014: Blake Lively and Ryan Reynolds Make Their Red Carpet Debut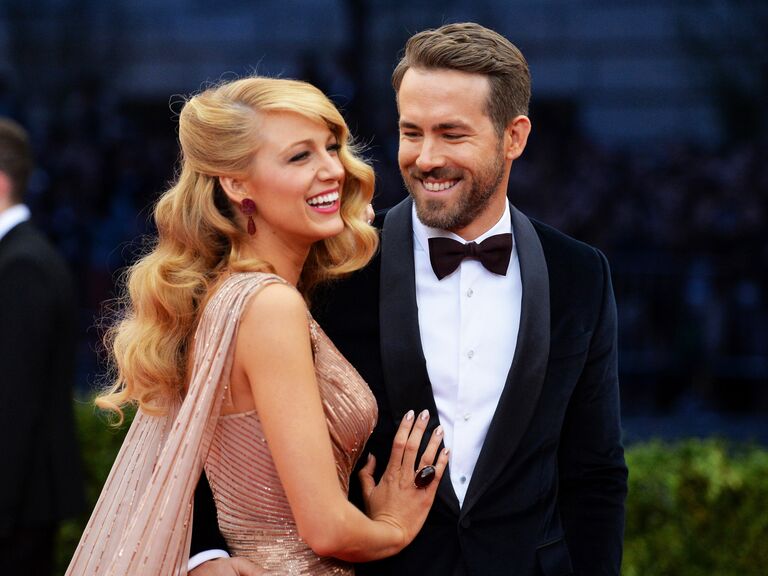 This famous couple made their first red carpet debut as a married couple at the 2014 Met Gala in New York City.
July 2014: Blake Lively Gushes About Husband Ryan Reynolds
In an interview with Vogue, Blake Lively gushed about her newly-minted husband and hinted at their desire to expand their family. "He's going to be a great father and leader and patriarch—he's so meant to be all of those things," Lively remarked. "The fact that he lived so much before we got together, he's the exact realized person that he should be. And so I get to share my life with the person he's become, and we get to grow from there."
She continued, "He's a part of it because everything we do in life we do together. If I'm working on a movie, he helps me with my character; I do the same with him. Picking out a coffee table. What we're going to eat. He's a beautiful writer—he's written a lot of stuff for us. And he's got a great barometer and he knows me, so he will tell me if it's not as good as it can be."
October 2014: Blake Lively and Ryan Reynolds Grow Their Family
On October 6, 2014, Blake Lively and Ryan Reynolds announced their pregnancy on the actress's now-defunct blog Preserve. They shared a photo of Lively showing off her baby bump with other pregnant women, writing, "Congratulations to all the expecting mothers out there." Their first daughter, James was born in 2014, and they've since welcomed three more daughters together—but more on their family life below.
November 2016: Ryan Reynolds Shares How He Knew Blake Lively Was "The One"
A few months after celebrating their fourth wedding anniversary, Ryan Reynolds opened up to GQ about the exact moment he knew his wife was "the one," saying, "We were hanging out at this little restaurant in Tribeca that's open really late, and this song came on and I was just like, 'Want to dance?' No one was in there, so it was just totally empty. And it was just one of those moments where halfway through the dance, it was like, 'Oh, I think I just crossed a line.' And then I walked her home. And, uh, you know, I don't really need to go into what happened after that."
December 2016: The Family Celebrates Ryan Reynolds' Hollywood Star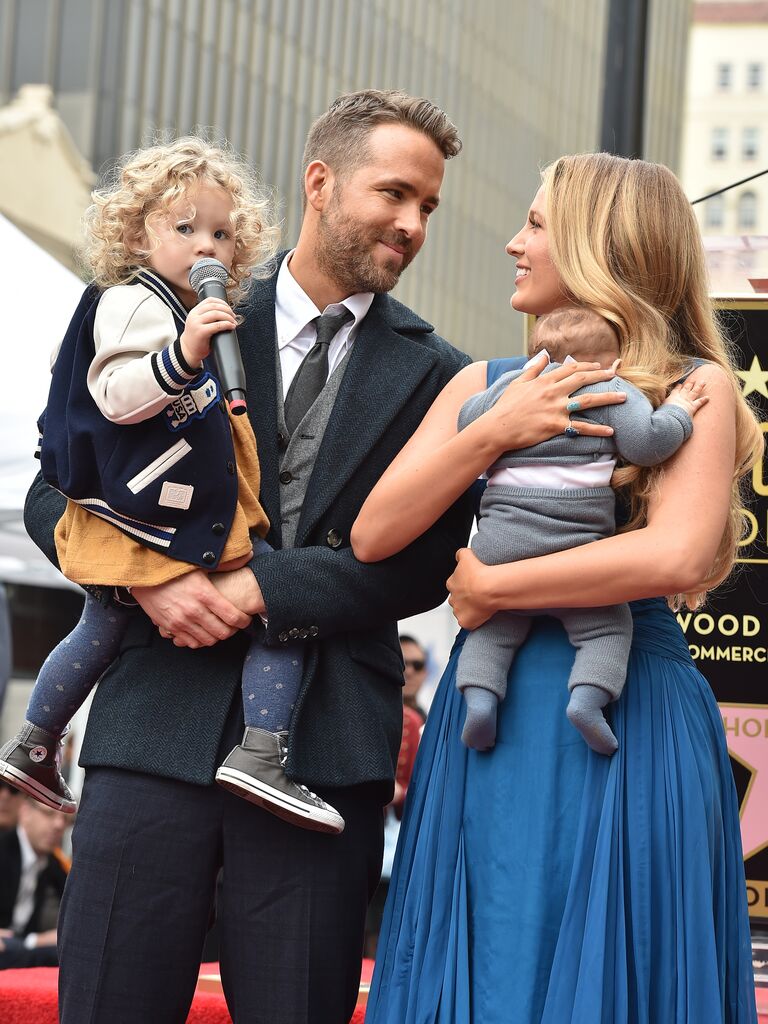 On December 16, 2016, Ryan Reynolds was honored with a star on the Hollywood Walk of Fame. His family supported the career milestone, and Reynolds was accompanied at the ceremony by his wife and their two daughters, James and newborn Inez. It was a rare moment for the growing family, as Blake and Ryan fiercely protect the privacy of their children.
March 2018: Blake Lively and Ryan Reynolds Deny Relationship Struggles
Many Hollywood couples face accusations of relationship struggles, cheating allegations, and divorce—and Blake Lively and Ryan Reynolds weren't an exception. In early 2018, publications reported that the couple was struggling to spend "quality time" together. Reynolds denied the rumors with his signature sense of humor. He quoted a Tweet of the report, writing, "I wish. I could use a little 'me time.'"
July 2021: Blake Lively and Ryan Reynolds Celebrate the 10th Anniversary of Their First Date
On July 31, 2021, Ryan Reynolds and Blake Lively marked the 10th anniversary of their first date by going back to where it all began at O Ya, a sushi restaurant in Boston. They shared a sweet photo of themselves on their Instagram Stories, writing, "10 years later. We still go out on our 'first date.' But in much more comfortable shoes."
May 2022: Blake Lively and Ryan Reynolds Serve as Met Gala Co-Chairs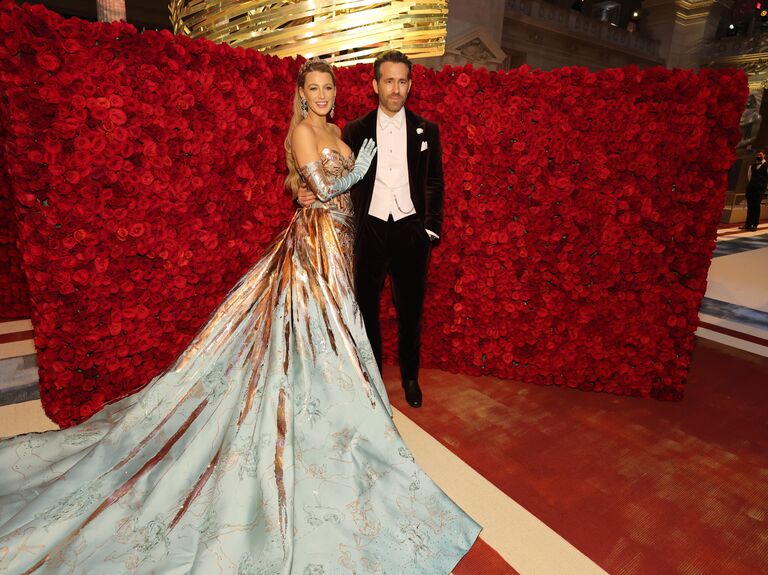 In March 2022, it was announced that Blake Lively and Ryan Reynolds would serve as co-chairs of the Met Gala alongside Regina King and Lin-Manuel Miranda. The moment finally arrived on May 2, and the couple's looks didn't disappoint. Following the "Gilded Age" dress code theme, Reynolds looked dapper in a black tuxedo while Lively wowed in a copper gown with opera gloves that transformed into a light green look, inspired by the Statue of Liberty.
Late 2022: Blake and Ryan Publicly Praise Each Other
Blake Lively praised her husband at the 2022 American Cinematheque Awards, speaking highly of his accomplishments and their relationship in a speech. "This man, he has contributed so much to the world's most international happiness with his art, his heart, his philanthropy, his humor, his integrity, his unmatched work ethic, his self-deprecating levity, his hard-earned depths in his scripts," she said before complimenting his dedication to their daughters. "And now I am his home, and our girls are his home. And just like that 19-year-old boy [who used to commute home to Canada], he races home, whether it's from across the globe or a meeting across the street, he is hard-wired to get home. If he came home from set not in his wardrobe, we would be very concerned."
Reynolds kept the love flowing by giving his wife an equally-romantic shoutout in his acceptance speech after winning the Icon Award at the People's Choice Awards in December. "Blake and my girls, you are quite literally my heart, my hope, my happiness," he said. "I joke that my family exhausts me, but in reality, you give me more strength than any man could possibly deserve."
2014-Present: Ryan Reynolds and Blake Lively's Kids
Blake Lively and Ryan Reynolds have four daughters together, and they currently spend most of their time in their home in upstate New York. Here are all the public details we know about Blake and Ryan's private family life.
December 2014: Blake Lively and Ryan Reynolds' Daughter James is Born
Ryan Reynolds and Blake Lively's first daughter was born in December 2014, though the couple never shared her exact birthdate. In a 2015 interview with Today, Reynolds confirmed her name. "It's James," he shared. "Everyone knows. I didn't want to be the first guy screaming it out to the media because as we know, little girls turn into teenage girls and little teenage girls sometimes scan through the archives and go, 'Why did you do that?'"
October 2016: Blake Lively and Ryan Reynolds' Daughter Inez is Born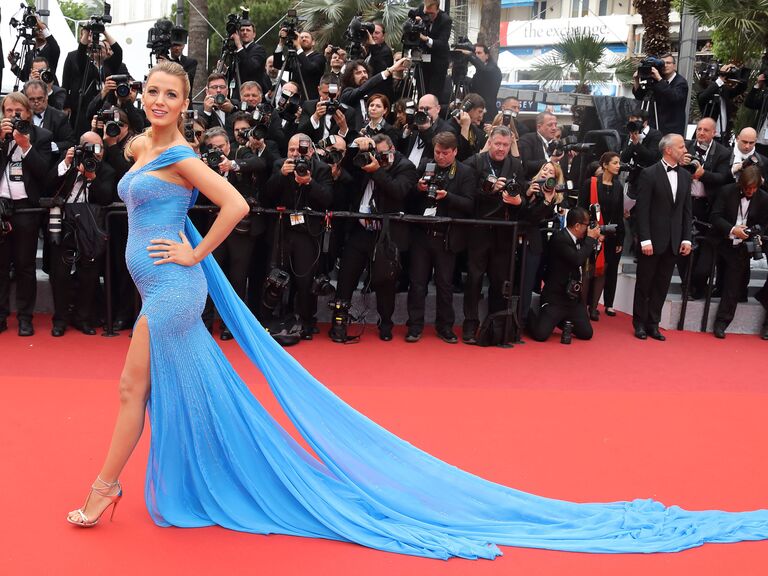 The parents of one were rumored to be expecting a second child in spring 2016. Blake and Ryan's second daughter, Inez, was born in October 2016—and the couple's close friend Taylor Swift visited them in the hospital following her birth.
October 2019: Blake Lively and Ryan Reynolds' Third Daughter Is Born
Blake Lively confirmed her next pregnancy in May 2019 by showing off her growing baby bump at the premiere of her husband's film Pokémon Detective Pikachu. The couple's third daughter was born in October of that year.
July 2020: Taylor Swift Announces Blake Lively and Ryan Reynolds' Daughter's Name
In July 2020, Taylor Swift shocked the world when she announced the surprise release of her eighth studio album, folklore. Fans were quick to realize that some of Swift's song lyrics included the names James, Betty and Inez. Since it was already public knowledge that Blake and Ryan's oldest daughters were named James and Inez, people speculated that Betty was the name of their third. Taylor Swift herself confirmed the theory in August of that year. Three years earlier in 2017, Swift previously confirmed that James Reynolds is the voice at the beginning of her Reputation song "Gorgeous."
November 2020: Ryan Reynolds Praises Being a Girl Dad
Speaking to Access Hollywood in November 2020, Ryan Reynolds spoke highly of being a father. "I love being a girl dad. I have three daughters, which I never in a million years would have imagined," he mused. "I come from all boys. I have three older brothers. I'm the youngest of four boys so for me to have three daughters has been such a ride and I love every second of it."
He continued. "No joke, they are the most capable people I know. If anything got crazy or scary in my life, they are the first people I would lean on because they have wisdom and strength and they're calm under fire. They have courage under fire."
September 2022: Blake Lively Confirms Her Fourth Pregnancy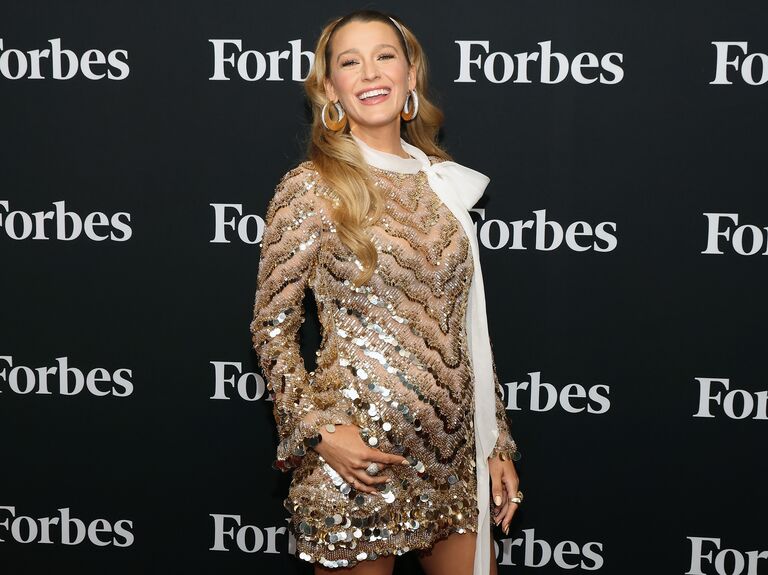 The Lively-Reynolds clan would expand once again. Blake Lively introduced the couple's fourth pregnancy by showing off her baby bump on the red carpet at the 10th Annual Forbes Power Women's Summit in September 2022.
February 2023: Blake Lively and Ryan Reynolds' Fourth Daughter is Born
Blake Lively slyly confirmed that she and husband Ryan Reynolds welcomed their fourth daughter with an Instagram post in February 2023. In the slideshow, Lively can be seen without a baby bump, seemingly alluding to the fact that she had given birth. Perhaps a future Taylor Swift song will confirm the name of the couple's youngest.