A Complete History of Beyoncé and Jay-Z's Relationship
This iconic love story goes all the way back to 1999.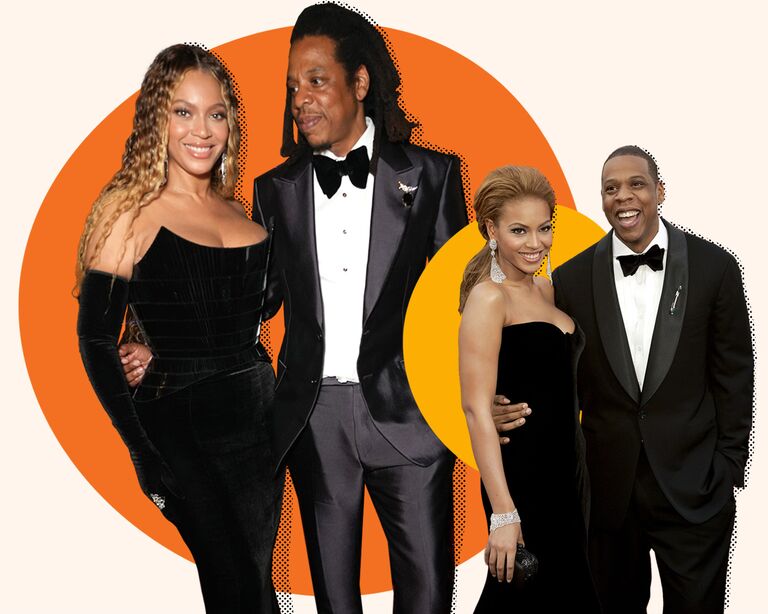 Getty | Design by Tiana Crispino
We'll admit it: We're crazy in love with Beyoncé and Jay-Z. Can you blame us? The musical power duo has been together for over 20 years, easily solidifying their status as one of the most beloved celebrity couples today. The Carters' love story has resulted in some of the most iconic musical collaborations of this generation—and fans have been along for the ride ever since the 1990s. Today, Beyoncé and Jay-Z share three children together and remain some of the most highly-acclaimed musicians in the industry. Here, we look back on Jay-Z and Beyoncé's relationship timeline, breaking down when they met, when they got married, how they weathered infidelity scandals (and came back stronger than ever), and where their romance stands today.
Beyoncé and Jay-Z met when she was 18 years old, sometime between 1999 and 2000. They started dating around 2001.
Beyoncé and Jay-Z got married on April 4, 2008. They hosted a top-secret wedding ceremony at their home in New York City and confirmed the news in August of that year.
Beyoncé and Jay-Z have since welcomed three children together: Blue Ivy in January 2012, and twins Rumi and Sir in June 2017.
In 2018, Beyoncé and Jay-Z renewed their wedding vows to mark their 10th marriage anniversary.
1999/2000: Beyoncé and Jay-Z Meet
In a 2008 interview with Seventeen Magazine, Beyoncé revealed that she first met Jay-Z when she was 18 years old, which would have been between 1999 and 2000. "I was 18 when we first met, 19 when we first started dating," she recalled. "There was no rush—no one expected me to run off and get married."
2000/2001: Beyoncé and Jay-Z Start Dating
Before their relationship turned romantic, Jay-Z and Beyoncé started out as friends. In an interview with Oprah Winfrey for OWN, Beyoncé recalled, "We were friends first for a year and a half before we went on any dates. We were on the phone for a year and a half, and that foundation is so important for a relationship. Just to have someone who you just like is so important, and someone [who] is honest." Based on this timeline, Beyoncé and Jay-Z began dating between 2000 and 2001.
November 2001: Beyoncé and Jay-Z Star on the Cover of Vanity Fair
In November 2001, Beyoncé and Jay-Z both appeared on the cover of Vanity Fair's Music Issue. At this point, the couple still played coy about their relationship status, and they didn't discuss their budding romance. In a 2013 interview with the same publication, Jay-Z confirmed that the cover shoot occurred during the early days of their partnership. "We were just beginning to try to date each other…You know, you've got to try first. You got to dazzle . . .wine and dine." He continued about his efforts to "pursue" the rising superstar, saying, "She's a charming Southern girl, you know, she's not impressed. . . but I would have definitely had to be this cool."
October 2002: Jay-Z Releases "'03 Bonnie & Clyde" with Beyoncé
October 2002 marked the very first time Beyoncé and Jay-Z collaborated on a song together. One month after they dropped "'03 Bonnie & Clyde," the couple filmed its corresponding music video in Mexico.
May 2003: Beyoncé Releases "Crazy in Love" with Jay-Z
Despite rumors of romance, the couple continued to tease fans with the release of "Crazy in Love." Although their chemistry was palpable, they didn't confirm or deny their relationship. The smash-hit song went on to win Best R&B Song and Best Rap/Sung Collaboration awards at the 2004 Grammy Awards.
August 2004: Beyoncé and Jay-Z Make Their Red Carpet Debut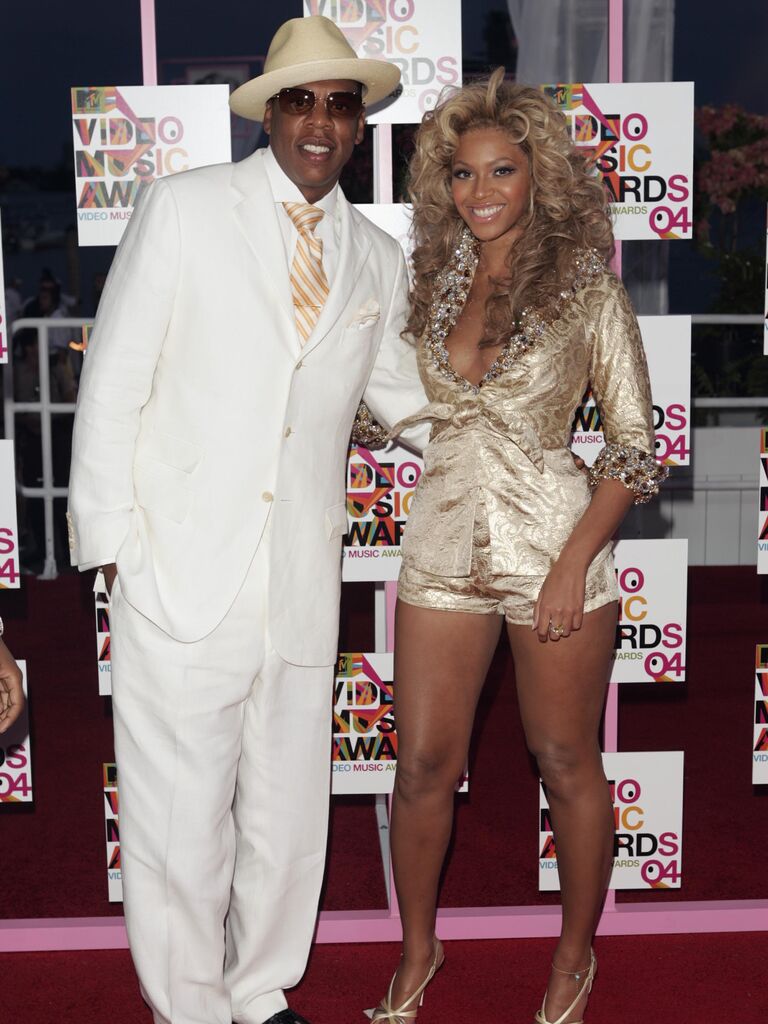 At long last, Jay-Z and Beyoncé put the relationship rumors to rest when they attended the MTV VMA awards, making their official red carpet debut together in Miami. Even sweeter? They both won awards that night.
Fall 2006: Beyoncé and Jay-Z Release More Songs Together
With their romance officially confirmed, Beyoncé and Jay-Z continued to make music together. Her second solo LP, B'Day, dropped in September and included two songs with Jay-Z: "Déjà Vu" and "Upgrade U." In November, Jay-Z released the album Kingdom Come, featuring Beyoncé on the song "Hollywood."
December 2007: Jay-Z Proposes to Beyoncé
Jay-Z proposed to Beyoncé on December 4, 2007—his birthday. He popped the question with a 24-carat emerald-cut diamond engagement ring with a platinum split shank, designed by Lorraine Schwartz. Beyoncé's engagement ring is estimated to be worth $5 million, making it one of the most expensive celebrity sparklers of all time. In a five-part documentary series that aired on her YouTube in 2013, Beyoncé later revealed that she and her newly-minted fiancé celebrated the milestone at Crazy Horse, a Parisian cabaret. This engagement party ultimately inspired the sultry music video for her song "Partition," featuring Jay-Z.
2008: Beyoncé and Jay-Z's Wedding Details
In the year after their engagement, Beyoncé and Jay-Z got married—and their wedding was one that instantly shaped the industry. Here are all the Jay-Z and Beyoncé wedding details you need to know.
April 2008: Beyoncé and Jay-Z Get Married in New York City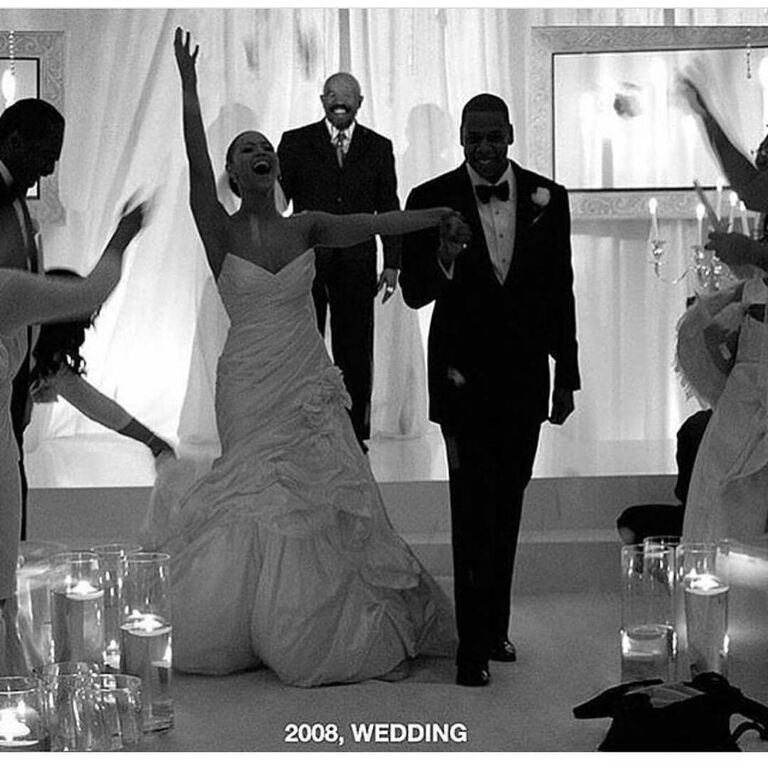 Beyoncé and Jay-Z's wedding took place on April 4, 2008, in their New York City penthouse. The TriBeCa apartment was transformed into a lush oasis of white flowers and crystals to serve as the backdrop for the nuptials, which were attended by only 40 esteemed guests. The couple decorated with 70,000 orchids from Thailand, bedazzled accents and floating candles. Beyoncé's wedding dress was handmade by her mother, Tina Lawson, and featured an of-the-moment strapless neckline, a ruched bodice and a full skirt with pickup details and floral accents.
Perhaps the most pivotal detail, though, was their strict "no phones" rule. The couple got married in top secret, essentially paving the way for unplugged weddings of the mid-2000s and beyond. Speaking to Cosmopolitan just before her wedding, the bride-to-be said, "I never pictured myself as a bride, but after my sister's wedding, I did start thinking about what kind of wedding I'd want. I don't think I want a big one."
2014: Beyoncé and Jay-Z Share Private Wedding Footage at Their "On The Run" Tour
Fans got their first glimpse of Beyoncé's wedding in 2011 at her "Live at Roseland" concert in New York. During the show, photos of her wedding dress were depicted on the screens during a video montage. Then, in 2014, previously-unseen footage of Jay-Z and Beyoncé's wedding was included in their joint "On The Run" tour.
2018: Beyoncé and Jay-Z Renew Their Wedding Vows on Their 10th Anniversary
On their 10th anniversary, Beyoncé and Jay-Z renewed their wedding vows. The couple included grainy footage of the private celebration in visuals for their "On the Run II" tour in the summer of 2018. Beyoncé wore a trendy long sleeve off-the-shoulder mermaid gown by Galia Lahav, which she paired with a trailing veil and white sunglasses. Like their first wedding, this vow swap was also private–but this time, they were joined by their three children, Blue Ivy, Rumi and Sir.
2008-Present Day: Beyoncé and Jay-Z's Marriage
Following their wedding in 2008, Beyoncé and Jay-Z's 15+ year marriage has endured its share of ups and downs, all in the public eye. Here are some of the biggest relationship milestones the couple has marked together.
January 2012: Beyoncé and Jay-Z Welcome Their Daughter, Blue Ivy Carter
It was the pregnancy announcement that stunned the world. After cradling her stomach on the MTV VMAs red carpet in 2011, Beyoncé ended her performance of "Love on Top" with a mic drop—literally—as she tossed the microphone and ripped open her sparkly jacket to show off her growing baby bump.
Beyoncé and Jay-Z's first child, Blue Ivy Carter, was born on January 7, 2012, in New York City. The couple received an outpouring of support from fans and famous friends alike, with stars like Rihanna and Solange sharing love on social media.
February 2013: Beyoncé and Jay-Z Star in Life Is But a Dream Documentary
Jay-Z and Beyoncé gave an intimate look inside their marriage in the HBO documentary Life Is But a Dream. With a combination of professional footage, private videos from Beyoncé's laptop and her May 2012 four-night show at Revel Atlantic City, the film portrayed the couple's relationship like never before. The documentary included footage of Beyoncé's pregnancy, clips of the couple singing Coldplay songs to each other, and jealousy-inducing snaps of the duo partying on a yacht.
May 2014: Jay-Z and Solange Get into an Altercation in an Elevator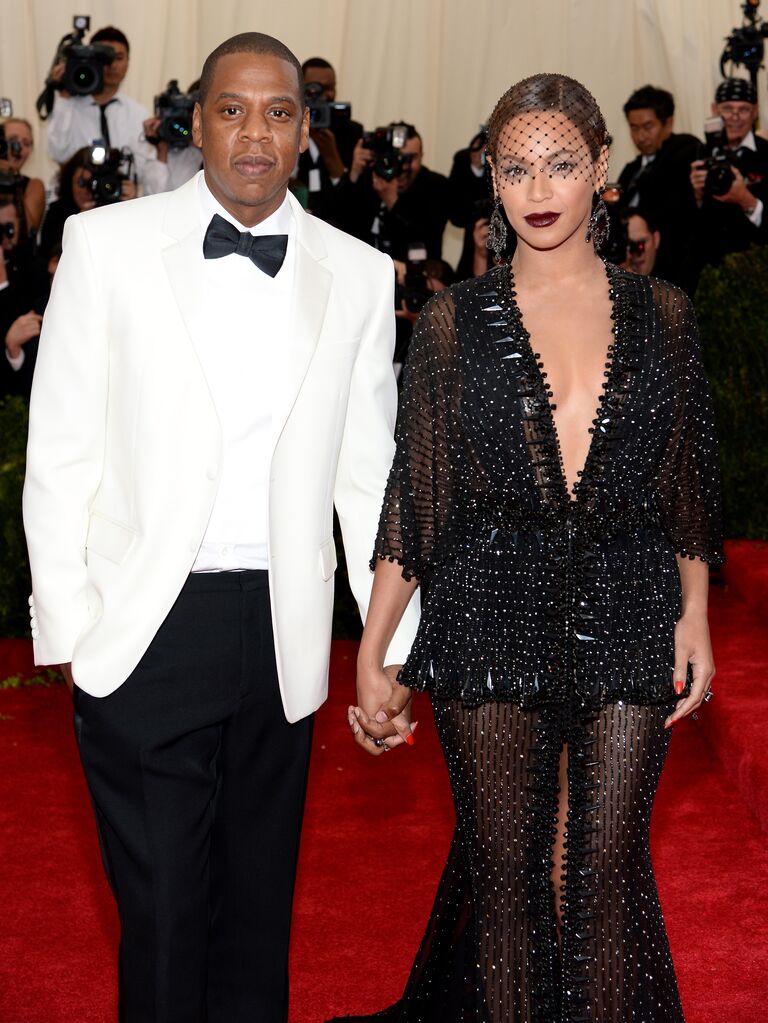 Despite their seemingly-perfect exterior, Beyoncé and Jay-Z weathered a series of marital struggles. In 2014, after attending the Met Gala together, footage of an altercation between Beyoncé's sister, Solange, and Jay-Z was leaked online. In the clip, Solange can be seen physically attacking Jay-Z while the three were in an elevator. While the reason for the fight was never confirmed, some speculated that Solange was upset about rumors that Jay-Z cheated on Beyoncé.
Following the incident, the trio released a statement: "There has been a great deal of speculation about what triggered the unfortunate incident. But the most important thing is that our family has worked through it. Jay and Solange each assume their share of responsibility for what has occurred. They both acknowledge their role in this private matter that has played out in the public. They both have apologized to each other and we have moved forward as a united family. The reports of Solange being intoxicated or displaying erratic behavior throughout that evening are simply false. At the end of the day families have problems and we're no different. We love each other and above all we are family. We've put this behind us and hope everyone else will do the same."
A few months later, Solange addressed "that thing" in the August cover story of Lucky Magazine. "What's important is that my family and I are all good," she told the outlet. "What we had to say collectively was in the statement that we put out, and we all feel at peace with that."
June 2014: Beyoncé and Jay-Z Begin Their "On the Run" Tour
Amid the elevator scandal, Beyoncé and Jay-Z embarked on their joint "On the Run" tour. The stadium series had 21 stops throughout the US, Canada and France, and included Beyoncé and Jay-Z's most popular songs; The set list featured hits like "Crazy in Love," "Run the World," "Drunk in Love," "99 Problems," and the couple's first song together, "'03 Bonnie & Clyde."
Summer 2014: Beyoncé and Jay-Z Grapple With Split Rumors
Despite the success of their joint headline tour, rumors throughout the summer of 2014 indicated that Beyoncé and Jay-Z were going to divorce. Conflicting sources alleged that the couple was facing problems at home, while others insisted their marriage was fine.
May 2015: Beyoncé, Jay-Z and Solange Attend the Met Gala Again
In November 2014, Beyoncé, Jay-Z and Blue Ivy attended Solange's wedding to Alan Ferguson in New Orleans, seemingly indicating that the trio moved past the elevator incident. One year after the fight, they attended the Met Gala together again.
April 2016: Beyoncé Releases Lemonade
Talk of a Beyoncé and Jay-Z divorce picked back up again in April 2016 when Beyoncé released the album and corresponding visual special Lemonade, which appeared to address the cheating allegations that had plagued the stars' marriage for years. Songs like "Hold Up," "Don't Hurt Yourself" and "Sorry" featured lyrics about affairs and infidelity, while others had references to redemption and forgiveness. Immediate reaction to the album was mixed: Some said the lyrics were meant to be autobiographical, while others were convinced it was simply a work of creative fiction.
June 2017: Beyoncé and Jay-Z Welcome Twins Rumi and Sir
Following the success of Lemonade and her "Formation" world tour—during which she dedicated a song to her husband—Beyoncé revealed in February 2017 that she and Jay-Z were expecting twins. "We would like to share our love and happiness. We have been blessed two times over," she captioned an Instagram photo of herself cradling her baby bump amid lush florals. "We are incredibly grateful that our family will be growing by two, and we thank you for your well wishes. - The Carters."
The growing family welcomed Rumi Carter and Sir Carter in June of that year. The same month, Jay-Z released the album 4:44. In the title track, the lyrics address his infidelity and include an apology to his wife: "I apologize, our love was one for the ages and I contained us…And if my children knew, I don't even know what I would do / If they ain't look at me the same / I would prolly die with all the shame."
November 2017: Jay-Z Admits to Infidelity
Toward the end of that year, Jay-Z opened up about his marriage in an interview with T: The New York Times Style Magazine. The intimate conversation marked the first time he publicly spoke about his affair, along with how he and Beyoncé worked through the challenges together and came back stronger. "You know, most people walk away, and like divorce rate is like 50 percent or something 'cause most people can't see themselves. The hardest thing is seeing pain on someone's face that you caused, and then have to deal with yourself," he said, adding that attending therapy played a role in his ability to acknowledge his wrongdoings and move forward. "So, you know, most people don't want to do that. You don't want to look inside yourself. And so you walk away."
Summer 2018: Beyoncé and Jay-Z Embark on "On the Run II" Tour
After their first wildly-popular joint tour, Beyoncé and Jay-Z once again embarked on another, aptly titled "On the Run II." Beginning in Cardiff, Wales, the show made stops across Europe, the US and Canada. Video montages that played during the show included personal footage of the couple's family, including special moments with their kids and their vow renewal earlier that year.
June 2018: Beyoncé and Jay-Z Release Everything is Love
One week into their headline tour, the Carters stunned fans by releasing their first joint album Everything is Love. (News of the album was shared during their London show as the text "Album out now" was displayed on the screens.) "You've all given so much love every time we come here—thank you. Because we love you all so much we have something special for y'all," Beyoncé said to the crowd. "We want you guys to be the first to experience this new project." It went on to receive the Grammy Award for Best Urban Contemporary Album in 2019.
April 2019: Beyoncé and Jay-Z Celebrate Their 11th Anniversary in Mexico
Enjoying some well-deserved R&R, Beyoncé and Jay-Z rang in their 11th wedding anniversary with a child-free vacation in Mexico. "Right after the tour ended, they took it easy," a source told People Magazine. "They were both beyond excited about how the tour went, but they were also tired. They just needed a little break and are back to talking about new projects."
September 2021: Beyoncé and Jay-Z Star in Tiffany & Co. Campaign
On September 2, 2021, Tiffany & Co. launched their ABOUT LOVE campaign starring the Carters. Inspired by Breakfast at Tiffany's, the campaign "captures the beauty of love through time and all its dimensions, forging a new vision of love today." In a black dress reminiscent of Audrey Hepburn's, Beyoncé donned the priceless Tiffany Diamond, a dazzling 128.54-carat gem. She is only the fourth person to wear the legendary stone since its discovery in 1877. In October, the brand released a short film titled "Date Night" as part of the campaign, in which Beyoncé and Jay-Z eat pizza and sip champagne in a Rolls Royce. Their oldest daughter, Blue Ivy, also made an appearance.
February 2023: Jay-Z Supports Beyoncé's Record-Breaking Win at the Grammys
Beyoncé made history at the 2023 Grammy Awards, officially securing the most wins of all time. (32, to be exact.) The milestone came after she won Best Dance/Electronic Album for Renaissance. She gave a sweet nod to her family and her husband in her emotional acceptance speech, saying, "I'd like to thank my parents, my father, my mother for loving me and pushing me. I'd like to thank my beautiful husband, and my beautiful three children who are at home watching." Jay-Z proudly cheered for his wife from the audience.
2012-Present Day: Beyoncé and Jay-Z's Kids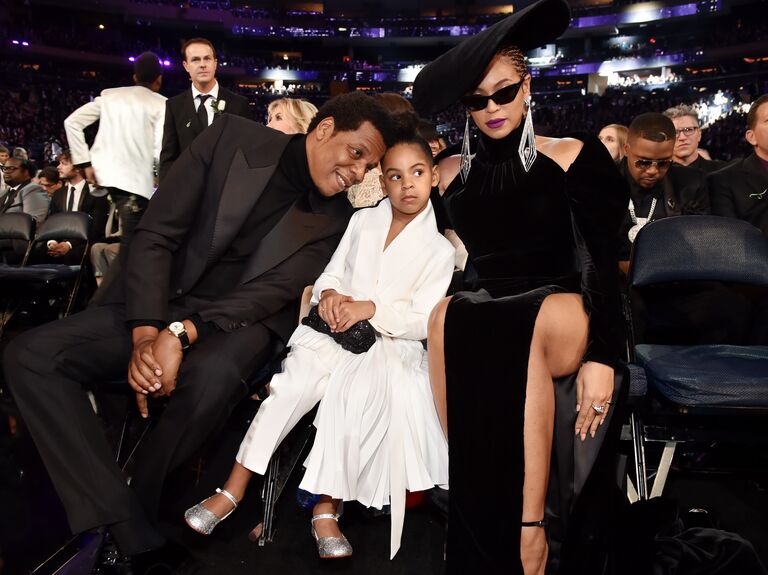 While Jay-Z and Beyoncé prioritize the privacy of their family, Blue Ivy is already following in the footsteps of her successful parents. Here's what you need to know about Beyoncé and Jay-Z's kids.
January 2012: Blue Ivy Carter is Born
Beyoncé and Jay-Z grew their family for the first time on January 7, 2012, when Blue Ivy Carter was born.
June 2017: Twins Rumi and Sir are Born
Five years later, the Carter family continued to expand with the birth of twins Rumi and Sir in June 2017. Jay-Z explained how he and Beyoncé chose the names of their twins on the podcast Rap Radar, telling the hosts, "Rumi is our favorite poet, so it was for our daughter. Sir was like, man, come out the gate. He carries himself like that. He just came out, like, Sir."
In her 2019 Netflix documentary Homecoming, Beyoncé gave a rare glimpse into her "extremely difficult pregnancy," going so far as to reveal that she developed preeclampsia. "My body went through more than I knew it could," she said. After the twins were born and she went back to work to rehearse for her 2018 headline performance at Coachella, she faced even more challenges. "I would dance and go off to the trailer and breastfeed the babies, the days I could I would bring the children," she reflected. "I'm just trying to figure out how to balance being the mother of a six-year-old and twins that need me and giving myself creativity. Physically, it was a lot to juggle. It's like, before I could rehearse 15 hours straight. I have children, I have a husband, I have to take care of my body."
That same year, she opened up to Elle once again about managing motherhood and her career. "I think the most stressful thing for me is balancing work and life," she told the publication. "Making sure I am present for my kids—dropping Blue off at school, taking Rumi and Sir to their activities, making time for date nights with my husband, and being home in time to have dinner with my family—all while running a company can be challenging."
2012 to Present: Blue Ivy Follows in Her Parents' Musical Footsteps
At just two days old, Blue Ivy embarked on her own musical career when her cries were featured on Jay-Z's song "Glory." One year later, her voice was included in Beyoncé's song "Blue." The couple's first daughter also appears in several music videos, including "Formation," "Spirit" from The Lion King soundtrack, and "Brown Skin Girl" from The Lion King: The Gift. In that video, Blue Ivy appears alongside her mom, her sister Rumi, and other stars like Kelly Rowland, Lupita Nyong'o and Naomi Campbell. Blue Ivy's voice can also be heard in the introduction and closing of the song, which went on to win the Best Music Video Grammy award in 2021, thus making Blue the second-youngest Grammy winner of all time.