8 Tips for Handling Your Finances After Marriage
Avoid money problems in your marriage by using The Knot's tips and expert advice on how to manage your finances.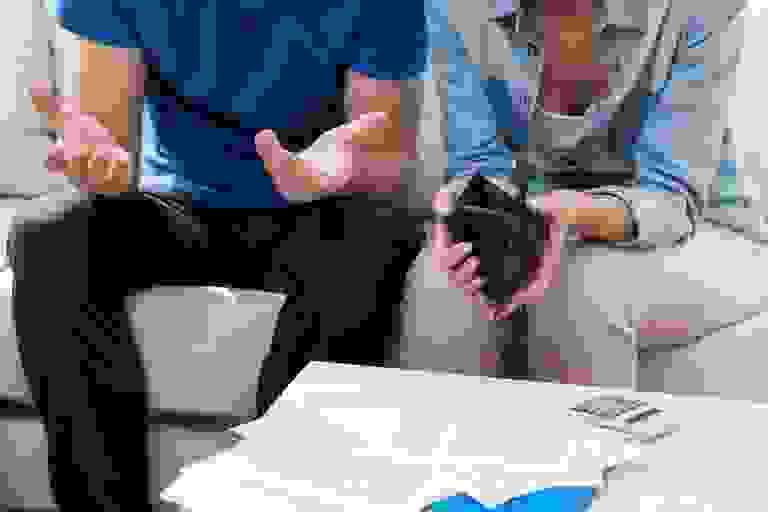 Shutterstock

Everyone envisions the perfect house surrounded by a white picket fence. Behind the fence is a family whose marriage is perfect, children are perfect, careers are perfect, and everything else falls into place. However, there is no such thing as a perfect life. In fact, imperfections make life a meaningful experience. Marriage is full of obstacles that have the ability to shake a foundation and place frustrations on a couple's shoulders. 
One of the most challenging conversations you will face as a couple is money. Certified Financial Planner Jeff Rose, author of Good Financial Cents, believes that the biggest misconception with couples and finances is that it's easy. "You would think that talking about money with the person that you love should be happily ever after. The reality is that it's difficult. The big difference is that each spouse was most likely raised differently in how to manage money," Rose says. "Right or wrong, that relationship with money is hard to break or to find compromise. To avoid headache, frustration, and disagreements about money it's so important to have frequent chats about money. It's also important to have money goals, so that each of you can work together and be on the same page to achieve these."
According to the Institute for Divorce Financial Analysts, the three leading causes of divorce in North America are basic incompatibility (43 percent), infidelity (28 percent), and money issues (22 percent). The results prove that financial disagreements are one of the most common causes for marital conflict and divorce. 
However, all hope is not lost. It's important to cultivate conversations around marriage and money in order to survive. You can have a happy marriage if you are willing to put forth the effort toward being educated about marriage and finances. Avoid financial marriage mayhem by utilizing The Knot's expert advice on managing your finances.
Tip #1: Use online tools.
You'll find that marriage brings a host of financial situations that you may not have previously had to deal with, such as joint loans, paying off debt, and finding a way to make loans work with two different credit scores. Minimize the stress by using convenient online tools. Set aside time during your regular marriage and financial conversations to look at new online tools and see how they can make budgeting your money simpler.

Tip #2: Consolidate existing debt.
Together, you may have several lines of debt between school loans, old credit card debt and new wedding costs. You may want to consider consolidating your debt using a personal loan from an online platform like Upstart.com. This means you can pay off high interest and revolving debts like credit cards, and pay one consistent monthly payment to pay off the total. This makes it easy to budget around as a couple, and a clear path forward to becoming debt free.
Tip #3: Communicate!
It is crucial to have an open line of communication about marriage and money issues with your spouse. Talk about money and define your shared goals. Discuss your plans for building a life together—purchasing a home, having children, college and education expenses, health care, investments, and retirement plans. These items do not just work themselves out. It's important to always talk about the steps that should be taken in order to attain your shared goals.
Jeff Rose is also the author of Soldier of Finance. In his book, he talks about taking control of your money and how poor choices in your past do not define your financial future. Jeff is very candid about his early struggles with money and marriage. "We had just gotten married in November and then in January, I deployed to Iraq. For the first 17 months of our marriage we were several thousand miles apart. There's no question that experience was hard, but one of the best things is that it forced us to communicate," Rose says. "I wasn't allowed to share a lot of what I was doing with the military with my wife Mandy. The only thing that we could really talk about were the things going on in her day and the plans that we had for our marriage when I got home. I think talking about our goals together was such a huge advantage over a lot of couples starting out." Laying it out on the table beforehand will help empower your communications skills and allow you to build a stronger foundation for your relationship.
Tip #4: Respect each other's money skills. 
It's important that both parties understand and be involved with marital finances. While one person may be more established with financial planning, this doesn't mean both individuals can't get involved. For example, one person can maintain the day-to-day bill paying and cash flow while the other individual oversees the couples' investments. Participating in your finances together will prohibit any bitterness from occurring and will keep everyone on the same page. No one will feel like the other has complete control. In fact, having both of you involved will provide a solid system of financial checks and balances.

Tip #5: Participate in financial check-ups. 
It's a good idea to discuss your financial goals at least once a year. Talking about money early on and consistently will help you to stave off money problems that could arise later in marriage. Discuss your goals from the prior year and evaluate your progress. What changes should or shouldn't you make to your existing financial plans? Also, identify whether or not there are any new goals that you want to set into motion. Jeff Rose is an established CFP; however, Jeff and his wife Mandy continuously discuss their financial goals. "We frequently talk about what our money goals are and how to apply our savings and expenditures to make sure we are working to achieve those goals together," Rose says. Having continual check-ups helps everyone stay up-to-date and gives you an opportunity to assess your financial standings over time.
Tip #6: Have a budget and stick to it.
According to Gallup's annual Economy and Personal Finance survey conducted in April 2013, only one in three Americans prepare a detailed household budget. The report also confirmed that fewer than 30% of Americans prepare a long-term financial plan that outlines their savings and investment goals. Talk about your budget, together as a couple, on a regular basis. Be sure to discuss the items that are important to you. For example, if you both work full-time, it may be important for you to hire a cleaning service to come once a month to keep the house in order. Therefore, other things may need to be sacrificed. In order to afford this luxury, that's deemed as an important item, you may decide to sacrifice a date night or maintain your own lawn instead. It's important to always maintain a balance within every item that is determined as a necessity. Make sure that you're compromising and not constantly demanding to make purchases that are deterring from the budget.
A great way to start a budget is to list out all of the bills and other expenses. Be sure to list everything—Starbucks, lunch, hair appointments, co-pays for prescriptions, sports camps, etc. Together with a fine-toothed comb, go through the list and tally everything up. What can you live without and what are the essentials? The key to compromise is stay rational and be fair.
Tip #7: Be honest about your debt and savings. 
Disclose your financial savings to each other and do not allow yourself to judge the other. Being honest will help establish financial trust within your marriage and finances. It's important to be forthcoming now to eliminate any surprises that could come up in the future and result in an argument. As each of you divulges your financial history, it's important that space and some sort of breathing room is provided because this will help both of you as you approach other financial obstacles in your marriage. It's relatively important to enter a marriage and finances with the mindset that "my" is replaced with "our." Instead of thinking of things as individual possessions, refer to them as joint items, regardless of whether they were purchased or developed prior to the marriage. Being married means accepting equal responsibility—for better or worse.
Tip #8: Develop a rationalized purchase system. 
Keep in mind that a rationalized purchase system requires a rationalized state of mind as well. In other words, just because you "think" you need an item or just because it's on sale doesn't mean that it's a rational purchase. One way you can measure the price and need for an item is by using a CPU ratio—cost per use. This methodology is a topic of conversation to discuss as a couple. It's important for both of you to have an understanding of what is a good CPU versus what is a bad CPU. Being on the same page will prevent any potential arguments from arising due to a purchase.
Money problems in marriage are a serious issue and can quickly trigger bitterness between you. Set a dollar amount that's okay to spend without consultation—a T-shirt, lunch with friends, or a round of golf. If you're considering making a purchase that's outside of the agreed amount, then give your spouse the courtesy of talking to them. You'll find that most marriage and financial advice forums recommend communication across the board. Not only will your significant other appreciate your willingness to be forthcoming, but he or she will also feel respected because you didn't make an abrupt financial decision alone.
Tip #9: Never be afraid to ask for money and financial advice. 
Your marriage is a priceless part of your life, therefore you should always keep your marriage as your number one priority. If your marriage and finances are in a difficult position or perhaps you sense you're headed toward a financial free-for-all, it's wise to ask for advice on how to solve money problems in marriage. There are plenty of conferences and sessions you can attend that will provide you with the support you need to get through your challenging time. Many community centers also provide financial counseling to their members. It's important to never avoid asking for help because you're embarrassed or fearful of what others will think. Asking for financial advice will make you a stronger person and help you approach other obstacles that arise in your life. Whether you're dating, engaged, or are already married, it's important to have a grasp on marriage and money. Communication is key and having open conversations on a regular basis will give you the tools you need to build a strong foundation. Remember that every marriage has the potential to live happily ever after, you just have to be willing to put forth the work.