Are Tom Holland and Zendaya Engaged? Here's Their Relationship Timeline
The beloved A-list power couple continues to spark marriage rumors.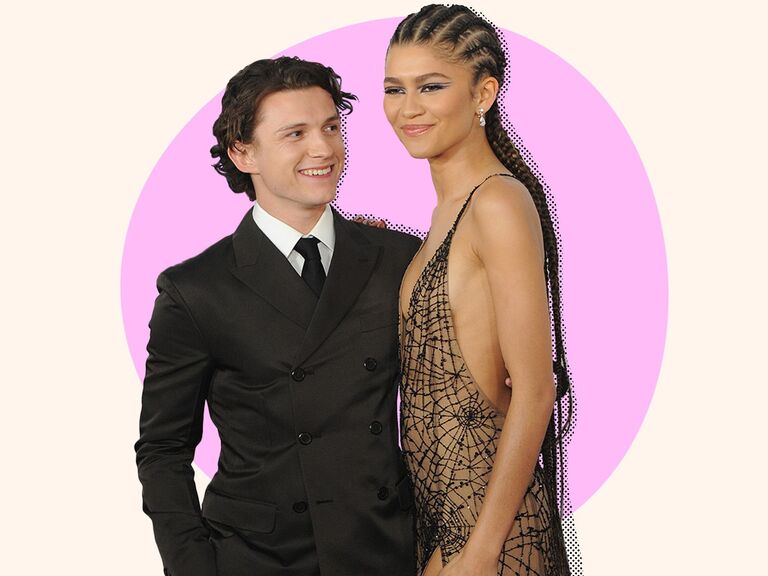 Getty | Design by Tiana Crispino
When it comes to Hollywood power couples, Zendaya and Tom Holland are one pair that fans can't help but root for. The illustrious actors—who've starred in some of the biggest movies and TV shows today, from the Marvel cinematic universe to Euphoria and Dune—began dating in 2021 after meeting on the set of Spider-Man: Homecoming in 2016. Although Zendaya and boyfriend Tom Holland are incredibly private, they've garnered passionate public support of their romance. (If you're active on TikTok, there's a good chance you've seen fan-made edits of "Tomdaya" being hailed as "relationship goals.") Here, we break down everything we know about Zendaya and Tom's romance, including their relationship timeline and their wedding predictions.
Zendaya and Tom Holland met on the set of Spider-Man: Homecoming in 2016.
Despite rumors of a romantic relationship, Zendaya and Tom Holland remained friends for years.
In July 2021, photos of Zendaya and Tom kissing indicated their friendship turned romantic.
Tom Holland confirmed he was dating Zendaya in an interview with GQ In November 2021.
In 2023, Zendaya and Tom Holland are not "officially" engaged, although engagement rumors are circulating. The couple keeps a low profile when it comes to their relationship.
While Zendaya and Tom Holland generally keep their relationship out of the public eye, the two have occasionally spoken out about each other. Here's what we know about Tom Holland and Zendaya's dating timeline.
2016: Zendaya and Tom Holland Meet on the Set of Spider-Man: Homecoming
In a move that can only be described as fate, Tom Holland and Zendaya were cast as Peter Parker and MJ Watson, respectively, in Marvel's Spider-Man: Homecoming. The infamous on-screen love interests have sparked real-life lore, as other actors who played them later started dating off-camera. (Read: Tobey Maguire dated Kirsten Dunst, and Andrew Garfield dated Emma Stone.) Given the history of these esteemed roles, fans couldn't help but hope that Tom Holland and Zendaya would follow in their predecessors' footsteps. While their chemistry was palpable both on-screen and in real life, Zendaya and Tom maintained that they were just friends.
July 2017: Zendaya and Tom Holland Entertain on Lip Sync Battle
There's no denying that Zendaya and Tom's Lip Sync Battle performances essentially broke the internet. Amid the release of their first Marvel movie, the Spider-Man co-stars appeared on the Paramount show, hosted by LL Cool J and Chrissy Teigen. While Zendaya opted for a dazzling performance of Bruno Mars' "24k Magic", Tom Holland truly shocked the audience with a rendition of Gene Kelly's "Singin' in the Rain," which transitioned into Rihanna's "Umbrella," complete with waterworks.
August 2017: Outlets Report That Zendaya and Tom Holland Are Dating—But They Deny the Rumors
In 2017, the year that Spider-Man: Homecoming was released, Zendaya and Tom were everywhere together. The breakout stars graced red carpets, attended interviews, and even starred on magazine covers side-by-side. As anticipation for real-life romance reached a fever pitch, People magazine seemingly "confirmed" that they were were officially an item—a claim that the duo quickly debunked. In an interview with Variety, Zendaya and Tom stressed that they were "best friends," and nothing else.
May 2018: Tom Holland Praises Zendaya's Met Gala Outfit
The next year, Tom Holland couldn't help but publicly praise his best friend on Instagram. When Zendaya stepped onto the Met Gala red carpet in a custom metallic Versace gown inspired by Joan of Arc, her bestie posted a pic of the ensemble on his Instagram page. "All hail the queen," Tom Holland wrote. "Killing it mate." While fans were delighted by this exchange, Tom seemingly reaffirmed the fact that they were still friends with his careful word selection.
July 2019: Zendaya and Tom Holland Reunite in Spider-Man: Far From Home
Keeping fans on their toes, the celebs reprised their roles as MJ and Peter Parker in Spider-Man: Far From Home, the sequel to their first movie in the Marvel Cinematic Universe.
July 2021: Tom and Zendaya Are Spotted Kissing in a Car
After playing love interests on-screen (and sharing plenty of swoon-worthy moments during press appearances), it seemed like the whole world was collectively hoping that Zendaya and Tom would start dating IRL. That confirmation came in July 2021, when Tom and Zendaya were captured kissing in a car in paparazzi photos published by Page Six. As happy as fans were to see that Tom and Zendaya were officially dating, it came at an unfortunate cost to the couple's privacy. While the viral relationship news sent the internet into a flurry of excitement, the PDA leak confirmed the news to the public despite the couple's wishes to remain private.
September 2021: Tom Holland Publicly Wishes "My MJ" a Happy Birthday
Despite keeping a low profile after the leaked kissing photos, Tom Holland took to Instagram to sweetly mark Zendaya's birthday. "My MJ, have the happiest of birthdays," he captioned the social media post of the two in their Spider-Man costumes, essentially making their romance Instagram official. "Gimme a call when your up xxx."
November: 2021: Tom Holland Confirms He's Dating Zendaya
A few weeks after news broke that Tom and Zendaya were dating, the actor opened up to GQ for the first time about what it was like to see the photos circulate without their consent. "One of the downsides of our fame is that privacy isn't really in our control anymore," Tom told the outlet. "And a moment that you think is between two people that love each other very much is now a moment that is shared with the entire world…I've always been really adamant to keep my private life private, because I share so much of my life with the world anyway. We sort of felt robbed of our privacy."
When asked if they weren't "ready" to take their relationship public, he added, "I don't think it's about not being ready. It's just that we didn't want to." Tom went on to say that he couldn't have the relationship "conversation" with his girlfriend, noting, "I respect her too much to say…this isn't my story. It's our story. And we'll talk about what it is when we're ready to talk about it together."
Zendaya later joined the interview via a phone call to add more color to the leaked photo situation. "It was quite strange and weird and confusing and invasive," she explained. "The equal sentiment [we both share] is just that when you really love and care about somebody, some moments or things, you wish were your own."
December 2021: Zendaya and Tom Holland Star in Spider-Man: No Way Home
With their romance news publicly confirmed, Zendaya and Tom Holland reprised their roles as MJ and Spider-Man once again in the series' highly-anticipated third installment, Spider-Man: No Way Home. The highly successful flick was a smash hit—not only was it the highest-grossing movie of 2021, it was also the highest-grossing Spider-Man film, and the highest-grossing film released by Sony.
January 2022: Tom Holland Visits Zendaya on the Set of Euphoria
Off the success of their third movie together, the Spider-Man co-stars remained as busy as ever. In a joint interview with IMDb, Tom was asked if he would ever make a cameo on his girlfriend's wildly-popular HBO show Euphoria—and his response gave fans a glimmer of hope. "I've been asking for this for a long time," he revealed. "And it hasn't happened yet, and I'm very disappointed. I must have visited the set 30 times this season."
Around the same time, eagle-eyed fans spotted Tom in the background of a BTS photo on the Euphoria set. "zendaya and tom on the set of euphoria, SCREAMING <3" wrote one Twitter user.
September 2022: Tom Holland Supports Zendaya's Record-Breaking Emmys Win
Later that year, Zendaya was favored to win the Emmy Award for Outstanding Lead Actress in a Drama Series for her portrayal of Rue Bennett on Euphoria—a prediction that ultimately came to fruition. The 26-year-old made history as the first Black woman to win the Emmy for lead actor in a drama series twice, and the youngest two-time Emmy winner in history. In a backstage interview, Zendaya was asked who the first was that she told about her win. Her response, unsurprisingly, was heartwarming. "I didn't have to text my mom because my mom was already there, she's here tonight, which is very special," she explained. "And I texted my boyfriend." Her candid answer marked the first time Zendaya referred to Tom Holland as her boyfriend publicly—and the ensuing fan reaction was wildly positive.
February 2023: Zendaya and Tom Holland Spark Engagement Rumors…Again
At the end of 2022, many began to speculate that Zendaya and Tom Holland were engaged thanks to false reports circulating the internet. An anonymous source even told Us Weekly that the two were "both in settling-down mode and are absolutely planning for a real future together." Ultimately, Zendaya's mom put the rumors to rest with a cryptic Instagram Story that shared the definition of clickbait.
In February 2023, the internet was once again convinced that Tom Holland proposed to Zendaya. This time, the mumblings sparked from an Instagram Story that Zendaya posted. In the zoomed-in image, the actress can be seen posing for a mirror selfie with a huge diamond ring on that finger. But, upon further inspection, it appeared that the ring was actually on her right hand because of her phone's mirroring effect, ending engagement speculation again.
March 2023: Zendaya Wears Tom Holland's Initials on a Ring
Can you hear that? It's the sound of fans swooning everywhere. In an Instagram video shared on March 20, 2023, Zendaya's nail artist Marina Dobyk gave a close-up look at the actress's neutral pink manicure—and in the clip, Zendaya can be seen wearing a gold signet ring on her pointer finger engraved with her boyfriend's initials, TH. Though not an engagement ring, this sweet snap solidified that Zendaya and Tom are stronger than ever.
Are Tom Holland and Zendaya Engaged?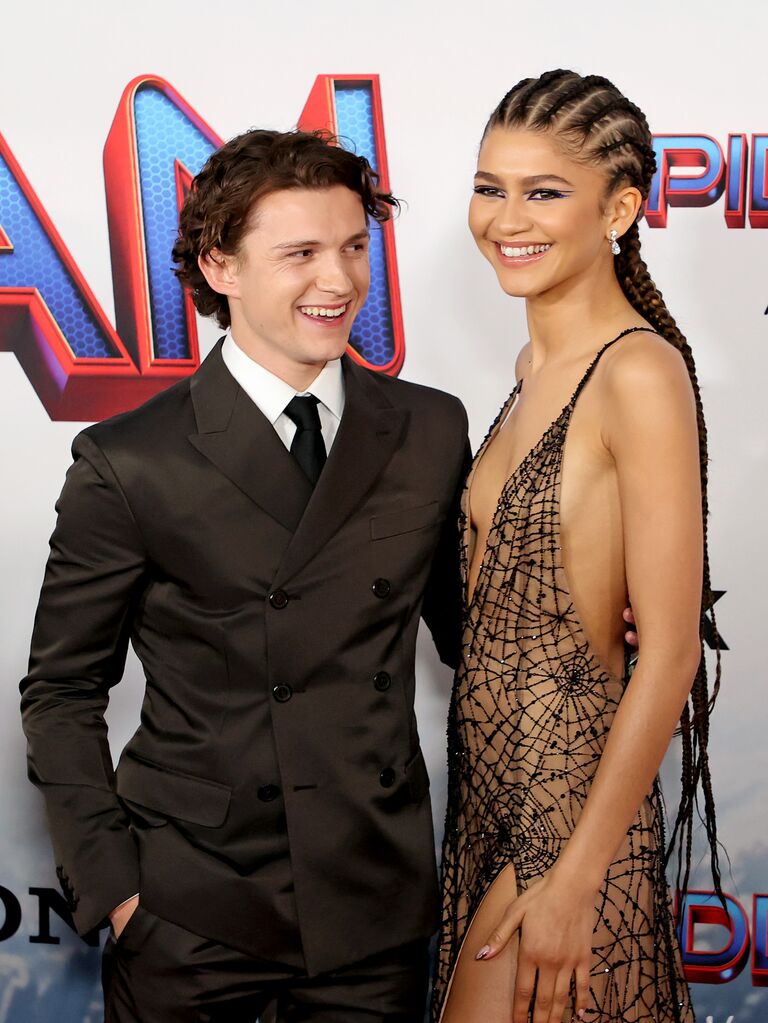 So, are Tom Holland and Zendaya engaged? The answer is no…for now. While Zendaya and Tom are not engaged or married, the two consistently spark proposal rumors. In December 2022, the rumor mill picked up when various online accounts claimed that Zendaya and Tom were engaged—without any factual basis, that is. Despite the unsubstantiated reports, various outlets jumped on the purported news, claiming that the two did indeed take the next step in their relationship.
Although Zendaya and Tom never commented on the false engagement reports, the actress's mother, Claire Stoermer, did. In a post on her Instagram Story, Stoermer shared the definition of clickbait: "Clickbait typically refers to the practice of writing sensationalized or misleading headlines in order to attract clicks on a piece of content," her post read, seemingly encouraging fans to be conscious about their news intake. "It often relies on exaggerating claims or leaving out key information in order to encourage traffic. The term is generally used in a dismissive sense."
Tom Holland and Zendaya's Wedding Predictions
While Zendaya and Tom Holland aren't engaged quite yet, we can't help but imagine what their wedding day could look like. After all, there's a very real chance that their nuptials could be the kind that reshapes the industry. Here's what we predict their big day will be like.
Zendaya and Tom Holland's Wedding Will Be Private
Given their shared stance on privacy, it's fair to say that Zendaya and Tom Holland's wedding details will be kept out of the public eye. In fact, we wouldn't be surprised if the two get married in a top-secret ceremony, and only confirm that they swapped vows years after the fact.
The Couple Will Have Multiple Ceremonies
One of the biggest wedding trends of the moment is the sequel ceremony. It's not uncommon for couples to tie the knot in one destination, and host a follow-up celebration with more friends and family in another location days, weeks or months later. This is one wedding trend we expect Zendaya and Tom Holland to follow, notably because Zendaya was born in California, while Tom Holland hails from the United Kingdom. Considering the couple is often photographed in both the US and the UK, we predict they would host wedding festivities in both countries to properly celebrate with all of their loved ones.
A-List Costars Will Be in Attendance
Given their status as Hollywood icons, we wouldn't be surprised if Zendaya and Tom's famous friends attended their wedding. Stars like Sydney Sweeney, Timothée Chalamet, Bella Thorne and Jacob Batalon would all be likely additions to Zendaya and Tom's wedding guest list.