Shailene Woodley Talks About Her Love Story Beginnings With Aaron Rodgers
"I feel we were meant to be together."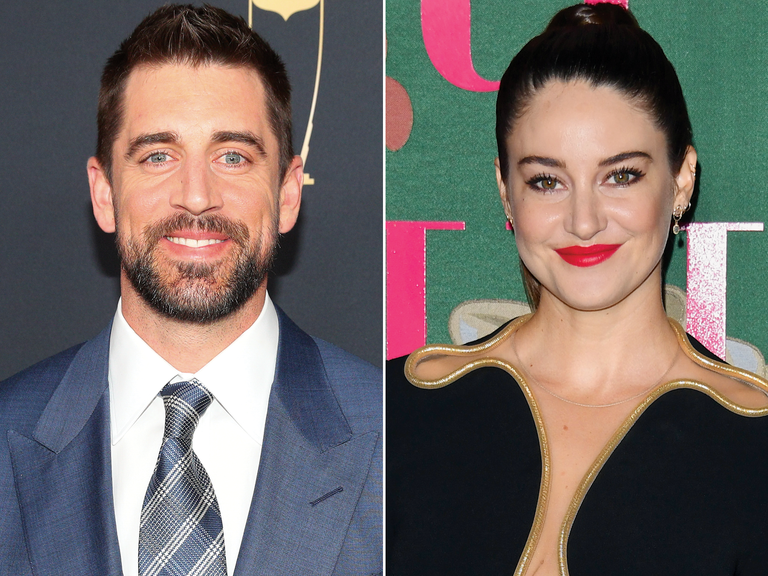 Getty Images (2)
Aaron Rodgers and Shailene Woodley's wedding will, without question, be one of the biggest celebrations ahead. While the couple plans their nuptials, they're slowly unveiling more information about their relationship beginnings.
"Starting a relationship where you immediately move in with someone—because it's a pandemic and you can't just get on a plane and go back and forth on weekends—taught us a lot about each other very quickly," Woodley told Shape in a new cover story. "We jumped in headfirst and got some of the sticky bits out of the way early."
While COVID accelerated their relationship ups and downs, Woodley says the turnout would've been the exact same with or without quarantining. "I have the perspective that I would have met Aaron in any context, any space in time," she reflected, "because I feel we were meant to be together."
Aaron Rodgers and Shailene Woodley's Love Story
On the evening before the Super Bowl, the Green Bay Packers quarterback, 37, revealed he quietly got engaged in 2020, without sharing the identity of his partner. Days later, it was confirmed that Aaron Rodgers' wife-to-be was none other than Big Little Lies actress Woodley. "We met during this wacky, wacky time," Woodley later told Jimmy Fallon.
Those both close to the couple and the general public were in shock from the surprising engagement reveal. "Now we realize that it was clearly a lot more serious than they told anyone," a source recently told People. "All this goes to show that this must be a very special relationship for him and for her. So everyone wishes them happiness."
The couple started dating in summer 2020, away from the watchful eye of the public as they moved in together during COVID. Rodgers revealed his relationship milestone while accepting the 2020 AP Most Valuable Player award in February. The star quarterback reflected on his prolific year along with his equally exciting personal life. "Twenty-twenty was definitely a crazy year filled with lots of change, growth, some amazing, memorable moments," he noted in the televised announcement. "One-hundred-eighty straight days of having my nose hair scraped, playing for very little fans or no stands the entire season."
"I got engaged and I played some of the best football in my career," he added. "So I'd like to thank, first and foremost, my teammates for their support, their inspiration, protection, incredible play on the field." He also gave a firm nod to "my fiancée," setting the internet ablaze with reactions to the surprise announcement. "It was so fast that at first, we thought she was just a rebound," an insider close to Rodgers added to People. "There was no way this could be so serious. Everyone thought it was a casual thing because that's what he was telling everyone, even when it was clearly not a casual thing." Prior to being romantically linked to the Big Little Lies star, he dated race car driver Danica Patrick for two years.
Photographers also captured images of the pair boarding a private jet in Costa Careyes, Mexico, this winter. Both were rare appearances for the couple, who managed to keep their entire relationship and engagement private up until this year. While appearing on The Tonight Show in March 2021, Woodley confirmed she and Rodgers are, indeed, getting married. According to the star, the proposal took place "a while ago" though it remained a well-kept secret until the quarterback casually dropped the news in February. "I've been reading that too," she laughed of their relationship buzz. "Yes, we are engaged. For us, it's not new news."
"He's just a wonderful, incredible human being," she proceeded. "When we first met, also, I knew he was a football guy, but I didn't know like what kind of a football guy he was. And I'm still constantly learning."
Weeks later, the couple was photographed holding hands and beaming at an Arkansas restaurant. "Our team had the opportunity to cook for @aaronrodgers12 and his crew last night. Grateful for the opportunity," an employee wrote on the page. In the photo that circulated over social media after it was posted by Best Cafe and Bar, both Rodgers and Woodley affectionately hold hands after a tasting at the Hot Springs restaurant.
Both are close friends with Miles Teller and his wife, Keleigh Sperry Teller, even traveling to Maui together late spring 2021, for a couples' trip. However, Woodley has yet to attend one of Rodgers' games. (Let alone a single NFL game.) "I don't get it. He's good. He's great," she laughed with Fallon. "But like, I don't understand. Because I don't know him as a football guy. I know him as the nerd who wants to host Jeopardy! That's the dude I know." Below, The Knot dives into Aaron Rodgers and wife-to-be Shailene Woodley's wedding predictions and more.
Aaron Rodgers and Shailene Woodley's Wedding Predictions
As anticipated, the couple's wedding will be one of the biggest celeb events regardless of where it's held and who's on the guest list. As both are known for their individual activism, much of their wedding planning decisions will be deliberate and supremely thoughtful. Among all celebrity couples who are currently engaged, it's very possible the low-key pair will elope and call it a day. However, if they move forward with a wedding, The Knot predicts it'll be the sustainable event of the year.
The Wedding Venue Will Be Solar Powered
Aside from her various TV and movie roles, Shailene Woodley is well known as an environmental activist, so it's likely her wedding will reflect her heart for sustainability in many ways. (After all, this is a bride-to-be who was arrested in 2017 while protesting the Dakota Access Pipeline.) Woodley will take the extra step in having a hand in all decisions surrounding her wedding day, especially the location where the wedding is held.
If the event isn't held at home, the couple will choose a sustainable wedding venue that will offer privacy from the public eye. "The goal would be one day to build a home where it's 100% solar heated and where everything is made from reclaimed or recycled materials," she told Architectural Digest in 2019. "And it's a childhood dream to be able to do that. I'm fascinated by all of these kinds of innovative ways to create homes. Designers are using shipping containers or building tiny homes. There are so many unique ways to make our footprint smaller when it comes to the way we engineer or construct an individual home or even large businesses for that matter. And that's fun and exciting and fascinating to me."
They Will Select Vendors Who Focus on Sustainability
In all areas of her life, Woodley is rather clear about intentionality--right on par with our 2021 wedding trends. "There's definitely much more that I can do. I think it's all about turning the wheel slowly," she said in the same interview. "Nobody wants to be preached at; nobody wants to be told what to do. So, for me, in my industry, I can be doing a lot more to 'green-ify' film sets that I'm a part of. I try to lead by example. If people see me bringing my own water bottle and reusable utensils, they ask, and then those questions spark a new curiosity within them. It's not about shaming. It's about us as human beings learning and growing from and with one another."
With all this in mind, the couple will select wedding vendors who share similar values as environmental activists and experts. As Woodley mentioned in the same interview, the goal for the celebration would be to reduce their carbon footprint, so even their stationery and their will be focused on reducing as much.
There Will Be a Charity Component
As both stars are charitably minded, they will pick one or two organizations that will benefit from a charity registry in lieu of requesting physical or experiential gifts from their guests. In January, Rodgers teamed up with Barstool Sports' Dave Portnoy to donate $500,000 to the Barstool Fund with hopes to save small businesses struggling amid COVID-19. If the pandemic fallout continues, the NFL player will likely continue to step up to use his platform to help those in need.
Other charities to benefit from Rodgers' generosity include Legal Action of Wisconsin, the Make-a-Wish Foundation and many more organizations.
The Bride Will Break Conventional "Rules" for Wedding Attire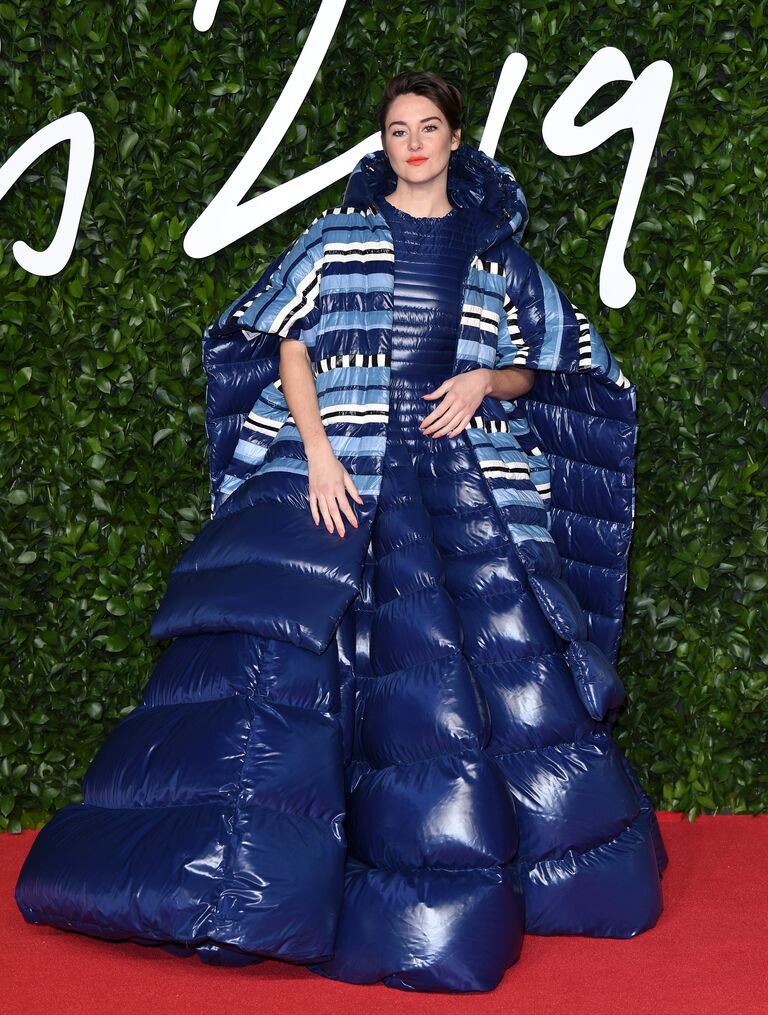 Woodley is one to break rules, and her wedding attire choice will reflect much of the same. The actress, who made ripples at the 2019 British Fashion Awards for her red carpet look, will make a statement through whatever designer and look she chooses. This is, after all, an actress who stepped onto the red carpet at a fashion awards show in a puffer gown from Moncler. With certainty, Woodley will be working with a top designer or a sustainable designer to execute her wedding day look.
The Guest List Will Include Top Athletes and Actors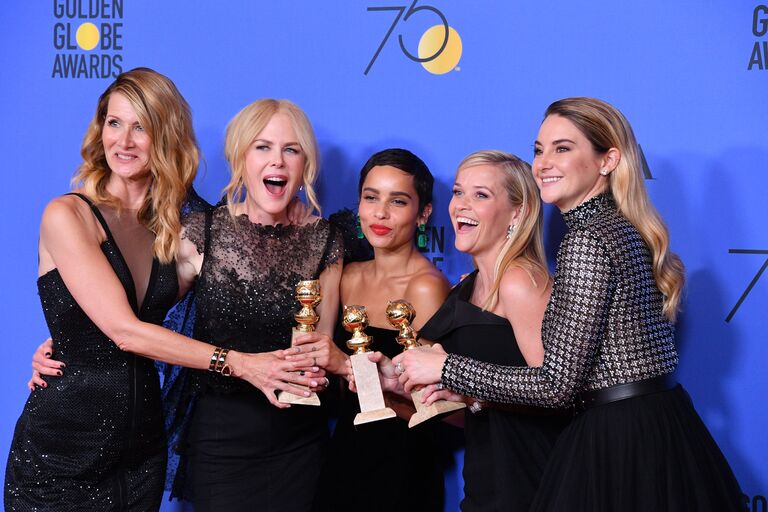 Both Woodley and Rodgers near the top of their respective industries, so it's no surprise that they rub shoulders with the best in both sports and in Hollywood. Rodgers will likely invite many of his longtime Packers teammates, along with other industry pals. Woodley will, without doubt, extend the guest list to co-stars Reese Witherspoon, Meryl Streep, Laura Dern, Nicole Kidman, longtime close friend Zoe Kravitz, among other former colleagues.
"With Nicole, I feel like I could stare into her eyes for hours and leave all the wiser and more grounded simply because of the energy she holds," she told Who What Wear in a previous interview. "Reese is one person who I know, despite what may be thrown at her, is going to forge through and powerfully fight for cataclysmic change with a certain grace—even if it's not initially interpreted as grace. Laura is someone who knows how to make every single person around her feel as if they're the most important person in the room, as if they're someone who deeply matters. Meryl has an infinite supply of passion and humility, and that's wisdom I gained just from watching her. (I've often found in this industry that people at the top, the ones who are the most successful, are also the humblest, the kindest, and most generous.) Zoë: I grew up next to her. We have done five projects together now between the Divergent series and Big Little Lies. We have gone through most bumps that any normal friendship goes through when you're in your 20s, but we've still been able to find love for one another. And I think that there is a wisdom in that."
The big question mark, however, remains next to the groom's family, with whom a well-documented rift has occurred. Nevertheless, one thing's certain: the NFL standout isn't the only Rodgers family member who's engaged and planning a wedding. Aaron's younger brother, Jordan Rodgers, has postponed his wedding, yet again to former Bachelorette JoJo Fletcher (whom he met on the franchise). The reality couple, though disappointed by the postponements, ended up creating a registry on The Knot in the interim.
"We keep going back to this when we were going through the decision to postpone and reschedule and we'd go, 'You know what? In five years, 10 years, 20 years from now, we won't remember if it was 2020 or 2021," Jordan previously reflected to The Knot. "We won't remember the difficulties that we went through in planning. We will remember that moment when we're standing up there, saying our vows, when we're getting married,'" Rodgers concludes. "And [couples will] remember the love they had around them. So as difficult as this process is for us and millions of others trying to plan and execute in the time of such uncertainty, what matters is love and what matters is that day and it happening… Just have some faith. It'll turn out amazing."