Exclusive: Alex and Reagan Bregman on Their Backyard Wedding
The MLB player and his wife detail how to throw a wedding safely during COVID.
The year 2020 wasn't the easiest for Houston Astros player Alex Bregman and his wife, Reagan Bregman, but they discovered sweetness in the middle of chaos. Like millions of couples, the MLB player and his wife-to-be faced an initial wedding postponement when COVID arrived stateside last spring. Though hopeful, the Bregmans nevertheless had to postpone their wedding, yet again, when it became clear that large group gatherings would put their immediate loved ones at risk. Between wedding woes and a leg strain for the future groom, the couple ultimately decided to do what was best for everyone: a safely-held, backyard microwedding with only their nearest and dearest.
"Alex's dad is high-risk for COVID and he's been very safe, quarantining by himself on his ranch," Reagan tells The Knot. "And we wanted our close friends to attend and not worry about COVID… The goal was for [all] to attend without the risk of getting COVID by coming to our wedding."
The challenge was met by a detailed plan where the bride and groom asked their immediate loved ones to quarantine for two weeks leading up to the nuptials. To be extra cautious in the days before the wedding, the Bregmans arranged a rapid testing station at the home. "Our planner came and worked from 10 to 2 pm for two days," says the bride. "We asked everyone to come and get tested."
Acknowledging factors beyond their control, any high-risk guests kept their masks on, while the design team ensured all tables and layouts were socially distanced in the backyard. "Everyone was serious about it," the groom says. "But the wedding had an intimate feel to it, which was really cool."
True love, after all, requires sacrifices, something the couple learned very early on in their relationship. "One of my girlfriends was dating his friend," Reagan recalls of their first encounter. While working for Google, she drove to Houston to spend time with friends for a weekend. She didn't expect to meet her future husband. "It was crazy because I didn't want to be [at dinner]," says Reagan. "And then we went on a date, three or four days later."
Once baseball season started again, the pair officially dealt with the true challenges of a long-distance relationship. "When we both realized we were willing to sacrifice things to make things work, we realized it was it," says Reagan. Adds Alex, "She was driving back and forth every weekend, three hours there and back, waking up at 5 am to get to work. She was working her tail off and coming to see me."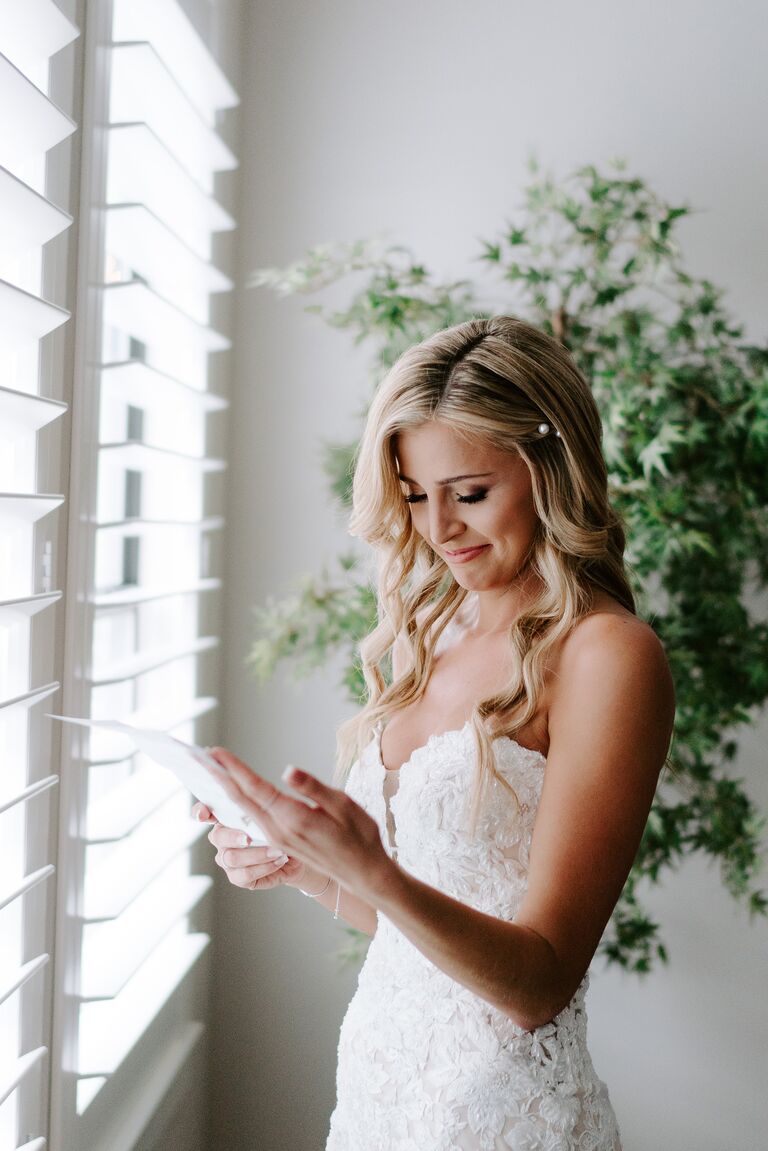 The delayed gratification, even from the beginning of their relationship, somehow reflected how the couple dealt with their wedding plans in the middle of a pandemic. They were thoughtful and committed. "I love Alex's heart and how he'd give the shirt off his back to anyone," reflects Reagan. "He makes everyone feel included and happy--that's admirable and hard to find."
"She cares: she's willing to go above and beyond for the people she loves and is loyal. She's hardworking, smart and she literally does everything for me," laughs Alex. "She makes life better. Whenever I'm around her, she makes me happy." Here's how one of baseball's most promising stars and his new wife threw their backyard wedding, and what they did to make it exceptionally memorable for loved ones.
The Bregmans Hired Most of Their Original Vendors
Since the wedding aesthetic went from a large-scale event to something more pared-down, the couple wanted to capture elements from their original celebration to a more intimate degree. "We did end up using some of the same vendors," says the bride. "It was really nice to be at my parents' home. We kept it pretty similar to what we had originally planned and discussed. We literally changed locations and did the same thing."
The florals also had to be adjusted for a backyard affair. "I wanted a lot of white flowers and a bit of greenery," recalls Reagan. "[The designers] did a great job of taking my parents' backyard and transformed it with a white arch of flowers."
After pivoting their wedding location, the couple ended up tasking Mastro's Steakhouse in nearby Houston with a delicious dinner. "We had steak, salmon and a plant-based Southwestern bowl," says the bride. "Our sides were Elote corn, lobster and roasted Brussels sprouts. For appetizers, we had a caesar salad and southwest wedge… We were so happy with how everything tasted."
The best part of having a backyard cocktail hour, however, might have been a specialty item from the father of the bride: the couple served his "infamous" margarita recipe.
They Got to the Core Meaning of a Wedding
In place of a first look, the couple chose to see each other at first glance during their ceremony. The reason wasn't only for each other, but also for those who traveled to be there. "I wanted everyone to be there [and to see us]," says Reagan. "It was amazing that we did it that way. I didn't want to do the first look."
"I was very smiley and very happy," adds her husband. "I almost teared up because I saw Reagan's mom tearing up… I was close. But I was just so happy… maybe more nervous."
And what would a wedding day be without a snafu? In this case, the groom nearly ran into the bride before the ceremony. "Alex was walking out to the venue and I was in my mom's room getting ready when he crossed me in front of a window," recalls Reagan. "I immediately dropped to the ground and shut the blinds, spilling a pink drink on the bottom of my train. He didn't see me but I was so scared he would. Thankfully, you couldn't see the pink spill on my dress and I ducked quickly enough for him to miss me. My mom and I were dying laughing. It was like the Matrix."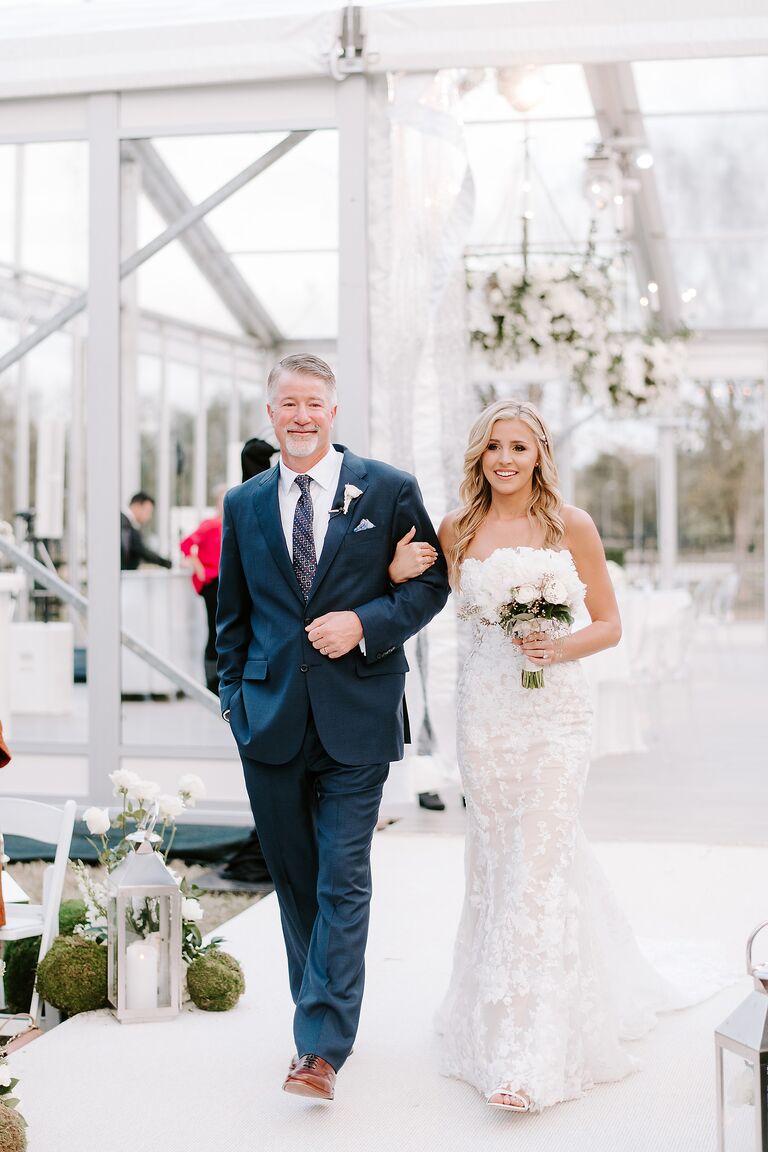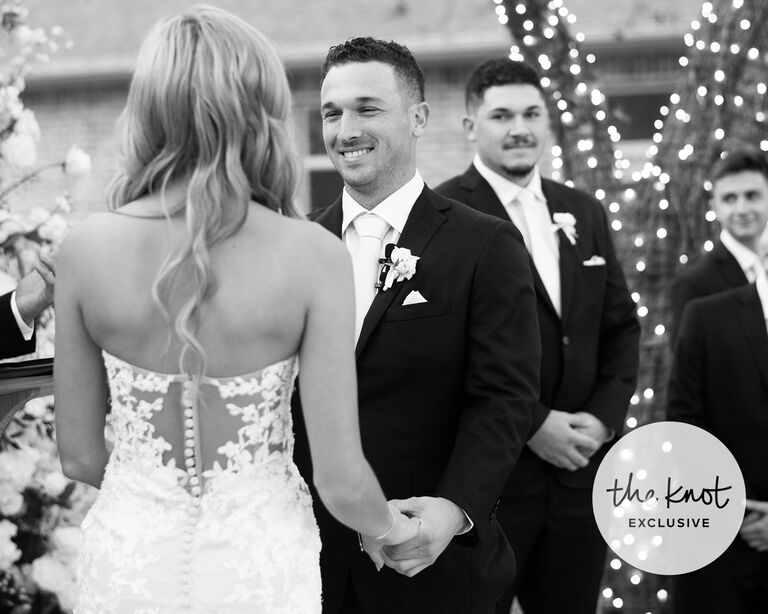 Indeed for the Bregmans, the biggest perk of getting married amid COVID was experiencing so much love from their guests. "It made us truly appreciate our family and made us look into the true meaning of a wedding," says Reagan. "Sometimes it becomes all about the decor and party, but with COVID, we had to limit it and be extremely careful. We were able to focus on what it's really about, which was getting married."
"To add onto that about our family and bridal party, the only people who were there: everyone was willing to stop their lives for us, quarantine, and stay safe," adds Alex. "It was super cool and it made us feel really good that they did that for us."
They Asked Friends to Take On Different Roles
Since some guests were unable to travel due to restrictions, the couple had to be creative with replacements, including their officiant Jeff Kirkpatrick. "One of my best friends growing up, like he was one of my high school baseball coaches, he was originally supposed to be an usher at the wedding," recalls Bregman. "But the original guy who was supposed to marry us—one of my other friends—he couldn't come. So we had him switch from being an usher to being ordained two weeks before. He was so nervous, but he knocked it out of the park."
That wasn't the only wedding cameo. "We had Paul Wall tested, and then he performed at the wedding," laughs the groom. "Our photographer stopped taking photos [at one point] and just started dancing."
They Had a Virtual Live-Stream
For those who couldn't attend in person, the couple arranged a virtual option. "We had it on Vimeo, we had it live-streamed for people who couldn't make it to the wedding like our grandparents," says Reagan. "They were able to watch it live and we FaceTimed them at the reception. Even though it's different and not exactly the same, we were able to have them there. We made it work with what we had."
"My grandma called in and Reagan's grandmother Zoomed in," adds Alex. Most guests didn't even know: the video camera was carefully tucked away behind the arch. Close enough for loved ones near and far to all witness the ceremony up close.
They Had a Charity Registry
The Bregmans wanted to use their wedding, not for personal necessities, but to highlight their heart for charity. During COVID, for example, the couple volunteered at local food banks and raised funds to help their local community in a time of need. It's part of their ethos as a couple to extend a hand to their local community, so they spotlighted one particular cause that was personal to them for their wedding.
"Instead of a registry, we asked for everyone to donate to Bregman Cares, our charity which helps kids with autism," says Alex. "It was awesome to have my eldest godson there—he has autism. Bregman Cares does a lot of work in Houston and New Mexico, and we're expanding into other places. We asked people to donate to Bregman Cares to make an impact in the autism community."
No doubt, the fun-loving duo will have a second do-over once large group gatherings are safe again. While the wedding was just right for themselves, the Bregmans are awaiting the moment when they'll be able to party with their original guest list. "We are definitely having a big celebration," says the groom. "Originally, I wanted a big wedding and Reagan wanted a small wedding—though she got exactly what she wanted. The best part about [our microwedding] was that we got quality time with everybody who attended. It was fun, we really enjoyed it."
"After the season ends," he pauses, "we're doing a bigger celebration with everybody on our original guest list."
But if you decide to get married during COVID, the Bregmans say do it and be safe. "Overall while it was chaotic planning and re-planning, it made us really thankful for our family and those close to us, and how understanding everyone was with us," says Reagan. "It made us really grateful. We'll never forget this time, but we'll be really happy that we did this in such a crazy time."
"We're thankful," adds Alex. "And also, the people who are doing weddings during COVID: you can do 'em and do 'em smart. They're super fun, as long as everyone is safe."
Planner and Designer: The Events Co. | Photography: Raetay Photography | Florals: The Events Co. | Wedding Dress: Martina Liana / Mia Bridal Couture | Groom's Attire: Tom James | Hair & Makeup: Carley Hair and Makeup | Rings: Armari Fine Jewelry | Bridesmaid Dresses: Bella Bridesmaids | Stationery: Atelier du Papier | Catering: Mastro's | Cakes: Sweet Nation Houston | Ceremony Music: Divisi Strings | Reception and Afterparty Entertainment: DJ Silver, DJ Ikon, Paul Wall | Videography: 31 Films | Honeymoon: The Little Nell