Inside Paris Hilton's 'Chic, Cute and Fun' Wedding to Carter Reum
The heiress had multiple outfit changes throughout the day. See the photos here.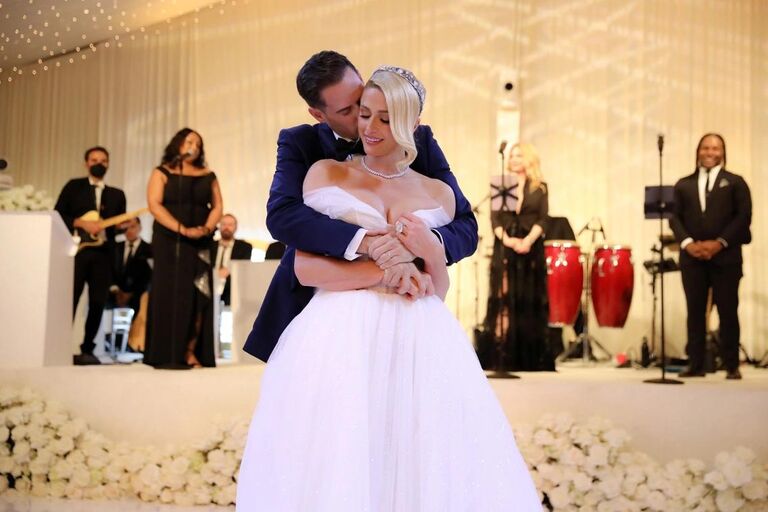 Courtesy of Galia Lahav,Shutterstock
Paris Hilton and husband Carter Reum made it official in one of the biggest pop culture weddings of all time. The Hilton Hotels heiress and the venture capitalist married at the former estate of the bride's late grandfather, Barron Hilton, in Bel-Air on November 11. (In fact, the couple exchanged vows on the numeric-centric date of 11/11/2021.)
"My forever begins today... ✨💍 11/11," Hilton wrote with the first shot of herself in a dress. "#JustMarried #ForeverHiltonReum." In another wedding post, Hilton revealed her regal gown, featuring long sleeves, an elegant high neckline and floral appliques. Hilton's wedding photos were taken by photographer Jose Villa, also the force behind the lens at Nick Jonas and Priyanka Chopra's wedding, among many other celeb names.
Clearly enthralled with her wedding, the new Mrs. Reum blogged about the entire day in a lengthy post published the next day. "Today I'm writing this reflection as a new wife. I can't believe it," Hilton wrote. "I've lived a very unique life in the public eye over the last two decades and throughout the years, I was always searching for my partner. Not only someone to share my dreams with but a man to build a future together. I was looking for my equal. Someone who wasn't fascinated with "Paris Hilton" but instead, someone who saw the real me and loved me for me. Someone who is loving and kind. Someone to be a father to my future children. I'm so proud of my love story with Carter, and even more excited that it's just beginning. My next chapter as a wife is going to be the best yet."
The day, Hilton revealed, was incredibly emotional. "My dad [Rick Hilton] had the sweetest reaction to seeing me in my wedding dress. It was the most wholesome moment," she wrote. "I felt like a little girl again seeing the sparkle in his eyes. It was so obvious how proud he was. To make it more emotional, Carter and I did our first look after. I told him he couldn't cry, because then I'd start crying and I would ruin my mascara before my walk. Of course, he did cry, but I think I started crying first. It was a Cinderella moment and I knew I found my true love. I had a glam refresh after because if I walked the aisle with all that mascara running down my face, it would've been beyond."
Paris Hilton's Wedding Ceremony Dress
The bride wore a couture gown by Oscar de la Renta, though she teased 11 looks throughout the occasion. "Paris selected her dress late last night," an insider told E! News. "There is a lot of love and support surrounding both Carter and Paris."
Following the couple's engagement, both Hilton and her family members would occasionally drop wedding planning tidbits in conjunction with the bride-to-be's docuseries, Paris in Love. Mother of the bride Kathy Hilton added a sentimental touch to the gown for Paris' "something old," which she mentioned in the days leading up to the ceremony. "You know how you are supposed to have something old? I am having something sewn into her wedding dress that's going to be a big surprise," she said in another interview. "I can't tell you yet, but it's going to be very special." (The bride's sister, Nicky Hilton, also opted for a couture designer (Valentino) for her wedding dress designer of choice when she married James Rothschild in 2015.)
Hilton revealed on her blog that Kim Petras performed as she walked down the aisle… and even sang one of the bride's smash hits. "It was so surreal hearing 'Stars Are Blind' being sung by one of my favorite singers now at our wedding, and knowing that as soon as it finished I would begin my walk down the aisle," the bride wrote. "She sang a stunning rendition of 'I Can't Help Falling In Love With You' as I walked down the aisle that moved me so much. This was so surreal. It's like I had been dreaming of this moment my whole life. My heart was thumping because before I knew it, it was time. I was getting shaky waiting for the doors to open. This would be one of the biggest moments of my life."
Paris Hilton's Wedding Reception Dress
Prior to the wedding day, aerial photographers captured Hilton and Reum's elaborate backyard dance floor and multiple tents for the reception. "Instead of riding into the sunset, we attended our version of a ball. We made our grand entrance into the reception party, and had our first dance as Mr. and Mrs. Hilton-Reum," she wrote on her blog. "Carter and I aren't much of dancers, but we've been practicing for weeks and I think we pulled it off! I loved Demi Lovato's performance of 'I Will Always Love You.' They were incredible. It brought so much emotion and love to the event… The reception was everything I wanted… chic, cute and fun."
There were at least two additional outfit changes throughout the course of the evening. During the reception, Hilton looked resplendent in an off-the-shoulder princess gown with a sweetheart neckline custom-designed by Galia Lahav. The gown was appropriately showcased during the couple's first dance.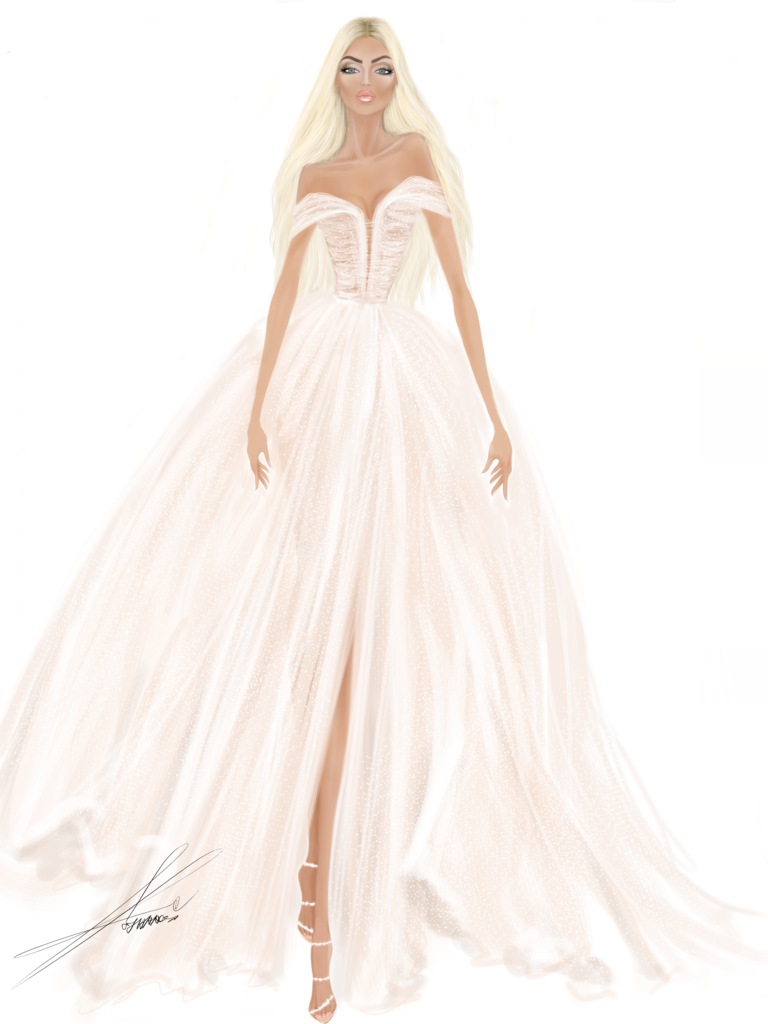 "I envisioned a princess," Galia Lahav head designer Sharon Sever tells The Knot. "I knew the effect of the fabric would be flawless on the dance floor, the subtle sparkly fabric allows movement so I added a slit that was hardly noticeable so Paris would be able to move freely in the dress and she even sat down!"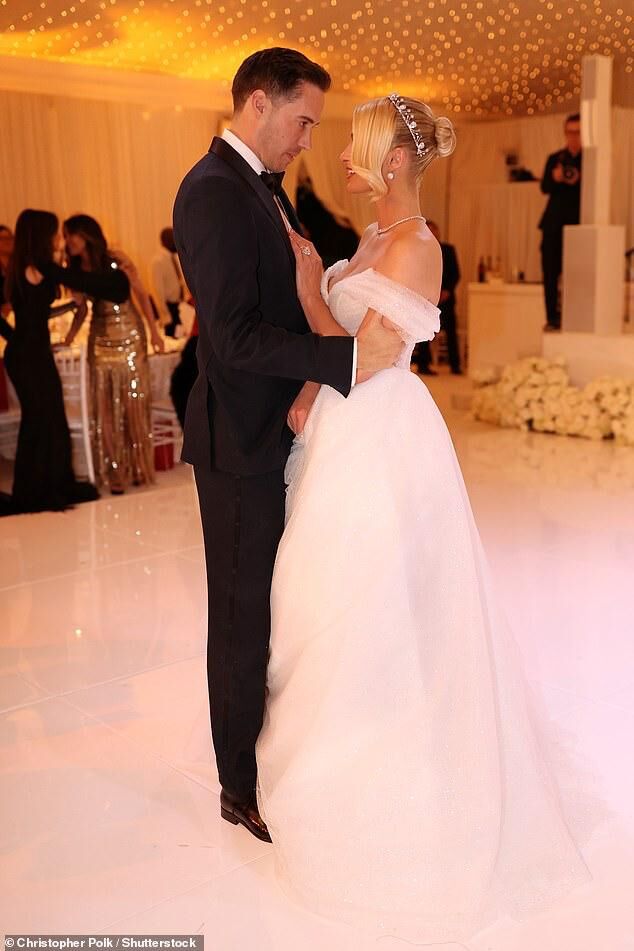 According to Kathy Hilton, the specialty drinks simply had to be pink for Paris, whose inclination towards the hue has been evident since her reality TV days. "We're doing a special drink, Moet Rose Imperial Champagne. And I wanted to have a little pink. Paris has to have a little pink in her wedding. So we're doing two special cocktails. One is going to have pink cotton candy with the champagne... I've seen it [before], I have to admit that," Kathy said. But the drinks, she added, would have "extra fizz" and be served in special glassware designed by none other than herself.
"We ended the night with dancing and raging to a DJ set," Paris wrote in her reflections. "It was the best day and night of my life. If I could do it all again I would in a heartbeat. I was incredibly happy being surrounded by so many loved ones and for everyone to be catching up and letting loose and celebrating."
Paris Hilton's Wedding Registry
Hilton and Reum splurged when it came to the all-important wedding registry, opting for a wishlist at Geary's. In total, the couple's registry was valued at close to $70,000 with luxury items like the Lalique Naiades Vase valued at $4,900. Big on capturing memories, the couple also registered for a $3,200 picture frame by Buccellati.
The Florals and Design
Hilton and Reum opted for sculptural installations in soft cream colors to decorate the space. Mark's Garden, a luxury floral and event design company based in LA, was tasked with creating a wow-worthy moment for the couple.
The Destination
If Nicky Hilton's wedding to James Rothschild was any indication, Paris's choice of venue was equally if not more exclusive as it took place on former family property. (As a reminder, Nicky and James married at the Orangery, a wedding venue that sits inside the Kensington Gardens. Only about 50 weddings are allowed to be held at the royal park each year.) Barron Hilton's estate was sold for $61.5 million to former Google CEO Eric Schmidt in May 2021.
Prior to the wedding day, it was speculated that Hilton would marry Reum at a Hilton property. Popular resorts among the possible buyout list included the Boca Beach Club in Florida, a private, oceanfront property that rests on a peninsula in Boca Raton, as well as the beloved Waldorf Astoria Beverly Hills.
The Guest List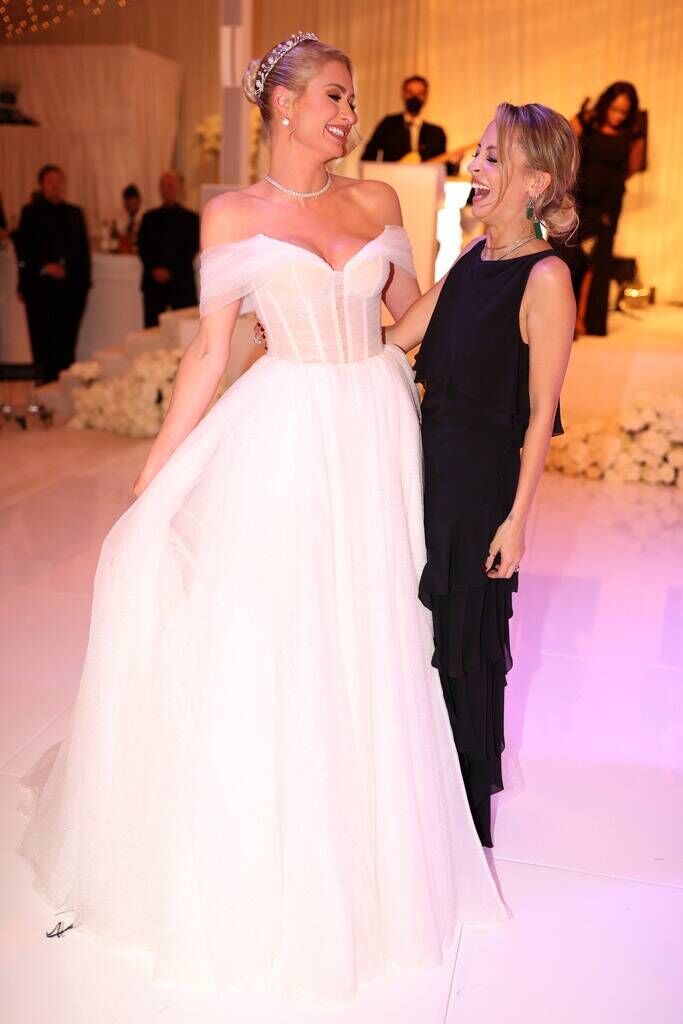 Between the Kardashians and the Real Housewives of Beverly Hills, the guest list included top names and familiar faces. Paris is famously close to the Kardashian family members, especially her high school BFF Kim Kardashian, who attended the nuptials and shared a private moment with the bride.
Nicole Richie, who catapulted to mainstream fame with her debut on the Simple Life opposite Hilton, also attended the wedding. Paris' maternal aunts, Kim Richards and The Knot 25th Anniversary Issue cover star Kyle Richards, both of whom were original cast members on Bravo's Beverly Hills spinoff of the series, also attended the wedd
Other stars to receive invitations to the wedding include Saweetie, Avril Lavigne, Britney Spears, Elisha Cuthbert and more.