Will Meghan Markle and Prince Harry Break Any of These Royal Wedding Traditions?
Princess Diana and Kate Middleton broke a few of them—we can't wait to see if the to-be-weds put their own spin on any classic royal wedding customs too.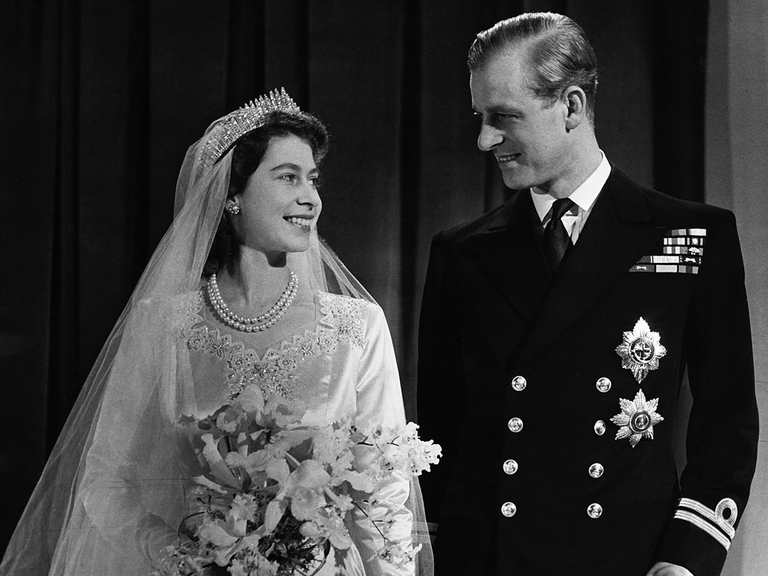 Hulton Deutsch/Getty Images
Marrying into the royal family means far more than just wearing a tiara and waving elegantly to a cheering crowd—just ask Kate Middleton. It's a serious lifestyle change and full-time job with strict rules and formalities. And when it comes to the actual wedding, the British royals typically adhere to a set of age-old traditions and expectations too. Here are some examples of formal royal marriage decorum and where they came from. A few royal brides and grooms, including Princess Diana, Prince William and Duchess Catherine, put their own twist on some of these traditions, and it's only a matter of time before we know how closely Meghan Markle and Prince Harry will follow protocol.
The Monarch Must Provide Written Permission
Imagine if your grandmother had to give you both verbal and written permission before you could pop the question. That's what Prince Harry had to do before proposing to Markle. According to the Royal Marriages Act, six of the Queen's heirs closest in line to the throne (aka Prince Charles, Prince William, Prince George, Princess Charlotte, Prince Harry and Prince Andrew) have had or will have to receive Her Majesty's approval in the form of a signature on a formal notice of approval. It's a good thing Meghan Markle impressed Elizabeth so much when they met over tea.
The Monarch Must Be a Member of The Church of England
There's no law stating that royalty can't marry someone of a different faith than The Church of England, but the Act of Settlement of 1701 confirms that the king or queen is also the Head of the Protestant Anglican Church of England. Therefore, anyone in line to the throne who marries someone outside the CE will lose their right to the throne. Markle is set to be baptized into The Church of England as well as confirmed before their wedding in May.
There's a Formal Royal Engagement Announcement and Photo Call
According to royal protocol, an engagement announcement is to formally be made by Kensington Palace, followed by the couple's first public photo call and joint interview. Just hours after Clarence House announced Harry's engagement to Markle, the to-be-weds posed for their first press call in the Sunken Gardens at Kensington Palace—a favorite spot of the late Princess Diana.
The Bride Wears a White Wedding Dress
Ever since Queen Victoria chose to wed Prince Albert in a sumptuous white gown in 1840, every royal bride since (and pretty much every other bride, to be honest) has followed suit. In later years, it's also become customary for the bride's gown to include lace.
The Groom Wears a Military Uniform
Remember Prince William's brilliant red military garb from his and Kate's lavish nuptials at Westminster Abbey? Well, you can expect to see Harry don his sashes and metals as well as a member of the Army Air Corp. Queen Victoria's husband Prince Albert was the first to start this trend for royal grooms.
The Bride's Bouquet Includes a Sprig of Myrtle
Queen Victoria was clearly quite the trendsetter for royal brides. Victoria carried a sprig of myrtle down the aisle, since this special flora is an emblem of love and good fortune in marriage. Victoria received the plant from Prince Albert's grandmother and brought it back from Germany to the Isle of Wight. This centuries-old royal myrtle plant has provided sprigs for the bouquets of brides including: Victoria's daughter, Princess Victoria; Queen Elizabeth; Princess Diana and Duchess Kate. We'll see if Markle carries her own special stem of myrtle.
The Couple Marries at the Chapel Royal at St. James Palace in Westminster
This ceremony spot hosted the nuptials of royals since the 17th century, starting with Queen Anne in 1683. However, Elizabeth and Philip, followed by Will and Kate, tied the knot at Westminster Abbey, while Harry and Meghan are set to wed at St. George's Chapel at Windsor Castle.
A Glass Coach Transports the Couple to and From the Ceremony
This tradition seems less rigid too, since the last bride to be carried in the infamous glass coach was Princess Diana, while Duchess Kate was only planning to use it for her own transportation pending bad weather. The Duchess ended up riding with her father to Westminster Abbey in a repaired Rolls-Royce. We'll see how Markle decides to roll up to St. George's Chapel.
The Bride Wears a Tiara
There's nothing like a breathtaking tiara to top off a royal bride's wedding day look, and we hope Markle keeps this tradition around—she'd look stunning in a royal family heirloom.
The Bride Lays Her Bouquet at the Tomb of the Unknown Warrior
After saying "I do" to King George VI in 1923, the former Lady Elizabeth Bowes-Lyon placed her bouquet at the Tomb of the Unknown Warrior at Westminster Abbey to honor her brother who died during World War I. Every royal bride since Queen Elizabeth (the current Queen Elizabeth's mother) has left her bouquet in the same spot after the ceremony.
The Wedding Ring Is Made From a Special Type of Gold
Starting with Queen Elizabeth's mother back in the '20s, every royal bride's wedding band is made from gold sourced from a designated mine in North Wales. This gold is even more valuable than any mined in South Africa or Australia. And this is great news for Markle—Harry proposed with a 14-karat gold engagement ring, which will perfectly complement her wedding band if she sticks to this tradition.
There Is Always a Formal Wedding Portrait
After the royal couple ties the knot, they pose for an official portrait with their immediate families and wedding party. And don't expect to see any candid or cutesy poses here—it's pretty much all business for this important photo session.
The Newlyweds Make an Appearance at Buckingham Palace
Remember all those royal waves and public kisses from the balcony of Buckingham Palace? We're keeping our fingers crossed for a sweet postwedding PDA moment from Megan and Harry too.
There Are Often Two Receptions
Immediately following an early ceremony, typically around 11 am or noon, the couple celebrates with a lunch or brunch. Later, they host an evening event including dinner and dancing.
Their Wedding Menu Can't Include Shellfish
Due to the higher likelihood of causing food poisoning, shellfish is off-limits for any royal menu, especially a wedding. That means no swanky raw bar at Harry and Meghan's reception. Oh, the Queen also strictly prohibits garlic from palace dishes, so it's possible the upcoming wedding menu will exclude that too.
The Wedding Cake Is a Fruitcake (and There Are Often Two)
Who would stray from this tradition? When the Duke and Duchess of Cambridge married, they served two cakes: one towering, eight-tier fruitcake (a British wedding cake staple) by award-winning cake baker Fiona Cairns, and one chocolate biscuit cake, per the groom's request (it is one of Queen Elizabeth's faves, after all). Prince Charles and Princess Diana served a five-tier fruitcake by David Avery. The couple often sends out portions of the remaining wedding cake to guests as a thank-you gesture.