What Makes a Marriage Legal? What to Learn From Prince Harry & Meghan Markle's Pre-Ceremony Vows
More details have emerged about the couple's private prewedding ceremony.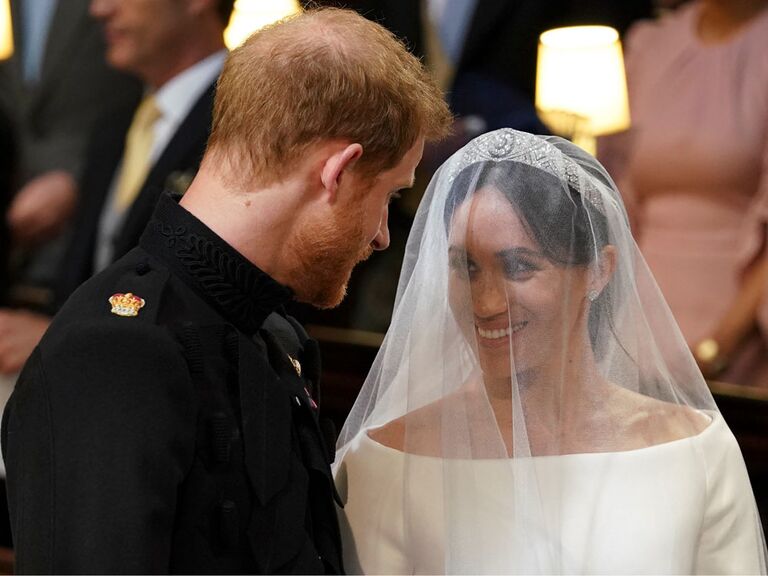 DOMINIC LIPINSKI/AFP via Getty Images
Prince Harry and Meghan Markle dropped a number of bombshell revelations in their groundbreaking tell-all interview with Oprah Winfrey on March 7—one of the biggest, though, was that they actually got married before their royal wedding on May 19, 2018.
"Three days before the wedding, we got married," Markle told Winfrey. "The vows that we had… [were] with the Archbishop of Canterbury." Prince Harry added that the private ceremony, which took place in the backyard of Nottingham Cottage, their home on the grounds of Kensington Palace, was limited to just the three of them.
Harry and Meghan's Minimony Wasn't Legally Binding
The revelation shocked royal fans and followers, and it became one of the buzziest moments from the interview. But, as it turns out, their backyard minimony wasn't legally binding. On March 23, reps for the couple clarified that they "privately exchanged personal vows a few days before their official/legal wedding on May 19." Their official wedding license also confirms that they were legally married at St. George's Chapel in Windsor Castle on May 19, 2018.
So, what makes a marriage legal?
We can learn a lot from Harry and Meghan's pre-ceremony vows. As it turns out, the pair were trendsetters before backyard microweddings exploded in popularity as a result of the coronavirus pandemic. In recent years, some couples have opted to host a private commitment ceremony before their legal wedding, but this trend was accelerated by COVID-19.
When planning your wedding, it's important to know the difference between a legal ceremony and a commitment ceremony. In order to be legally married, you need to get a marriage license issued by the municipality where your nuptials will take place. Timing requirements vary by state, so work with your partner and officiant to complete all documents within the allotted time frame.
After you've obtained a marriage license, your wedding must be presided by a qualified officiant. (Non-religious civil ceremonies can be officiated by a judge, justice of the peace or a court clerk.) You'll also need a marriage certificate, which proves the legality of your union. This is often filed by the officiant, and it requires signatures from the couple, the officiant and a witness.
COVID Has Made Things More Complicated
This process has been complicated by the pandemic, which prompted some couples to host virtual weddings over video platforms like Zoom or Google Hangouts. While this seems like a creative way to wed safely in front of loved ones, it's a legal gray area. Marriage laws haven't been updated to reflect virtual gatherings, and some unions may not be declared official if not conducted by an officiant in-person with the couple.
Whether you're a COVID couple or you simply want a private celebration before the big day like Meghan and Harry, a commitment ceremony might be right for you. If you do opt for a prewedding vow exchange, keep in mind that this won't be legally binding if it doesn't match the details on your marriage license. It'll simply allow you to share personal vows without an audience. Plus, a commitment ceremony will be a special memory just for you and your spouse to cherish. You can also plan to host an anniversary reception after your wedding day to celebrate again with loved ones. After all, there's no such thing as celebrating your wedding too many times.