Everything You Didn't Know About Princess Diana's Engagement Ring
The famous sapphire sparkler once caused a royal controversy.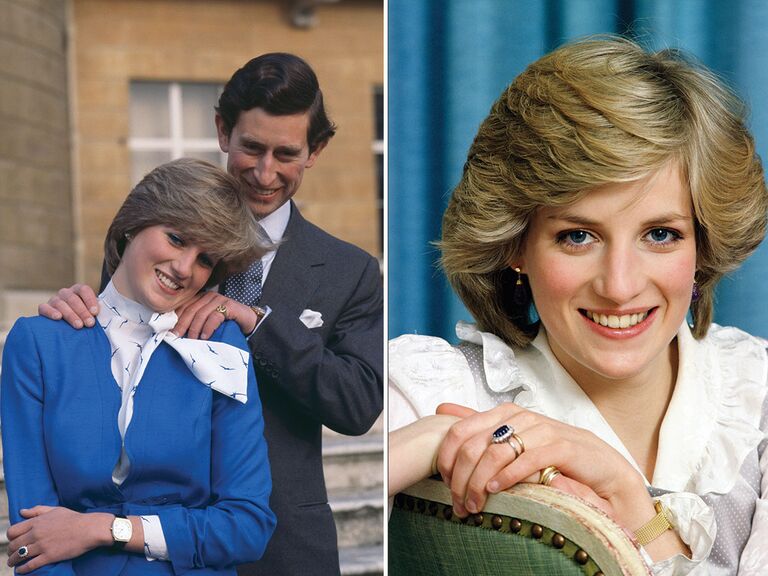 Hulton Archive / Getty Images,Tim Graham Photo Library via Getty Images
We've seen plenty of iconic royal engagement rings over the years, but there's no denying that one sparkler in particular reigns supreme. Princess Diana's engagement ring has become one of the most recognizable and beloved pieces of jewelry in history, thanks to its striking blue hue and dazzling diamond halo. Following her engagement to Prince Charles (now King Charles III) in 1981, Princess Diana's sapphire ring has influenced couples and inspired jewelry trends for decades—and now, it lives on through her daughter-in-law, Kate Middleton, who was gifted the gemstone by Prince William when he proposed in 2010. Here, we look back on the history of Princess Diana's engagement ring, including who designed it, what it's worth today, and how it stirred up serious royal controversy.
In this article:
Princess Diana's Sapphire Ring Design and Cost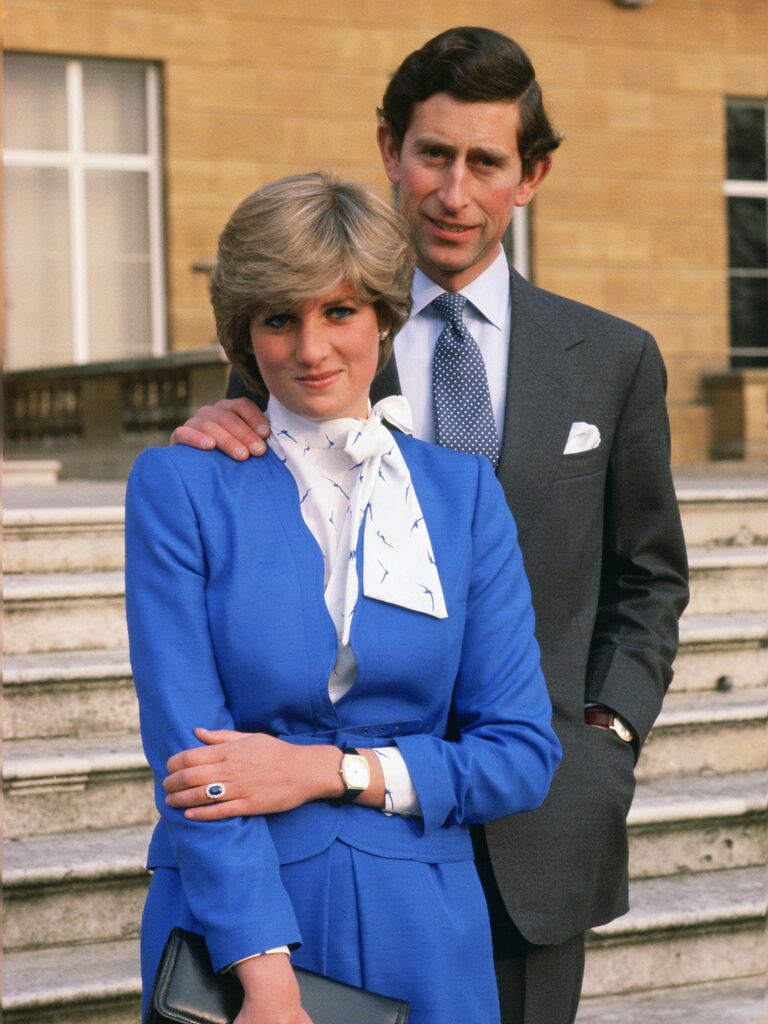 While sapphires and other colored gems have been the royal family's preferred jewelry aesthetic for centuries, Princess Diana's engagement ring is a standout for a few reasons. First, it's a statement piece, featuring both an impressive center stone and large accent diamonds in a luxe halo setting—and its price tag is equally decadent. "Princess Diana's engagement ring is a 12-carat oval sapphire surrounded by 14 round diamonds set in 18 karats white gold," says Greg Kwiat, CEO and owner of Kwiat Diamonds and Fred Leighton. "The sapphire is a royal blue color of Ceylon (now known as Sri Lanka) origin. It cost £47,000 (or $60,000) at the time it was purchased." Today, Princess Diana's engagement ring is estimated to be worth $400,000.
The engagement ring, which was sourced from UK jewelry company Garrard's, was inspired by a brooch once owned by Queen Victoria. Commissioned by her husband Prince Albert, the brooch featured a diamond sapphire center stone within a halo of 12 diamonds and was set on a gold band. The gem was a favorite in Queen Victoria's collection, and she even used it as her "something blue" on her wedding day.
How Princess Diana's Engagement Ring Caused Controversy
Beyond its remarkable size and price, Princess Diana's wedding ring also broke with tradition. Instead of commissioning a one-of-a-kind design as was the royal custom, Diana selected the sapphire ring from Garrard's existing catalog. This was a pivotal decision, because it meant commoners could also have access to the same jewels as the royal family—if they could afford a $60,000 ring, that is. While it may seem fitting that the royal dubbed "The People's Princess" chose an engagement ring that was not exclusive to the royal family, this decision stirred up some drama. "At the time, the Queen was reportedly not pleased that the engagement ring was a stock piece that any client of the jeweler could have owned," says Kwiat.
Legend has it Princess Di was attracted to the vibrant sapphire ring for purely sentimental reasons. "It has long been suggested that Diana selected the ring because it reminded her of her mother's engagement ring. An alternate theory suggests that she loved the deep blue hue of the sapphire because it matched the color of her eyes," Kwiat says.
Princess Diana's Engagement Photos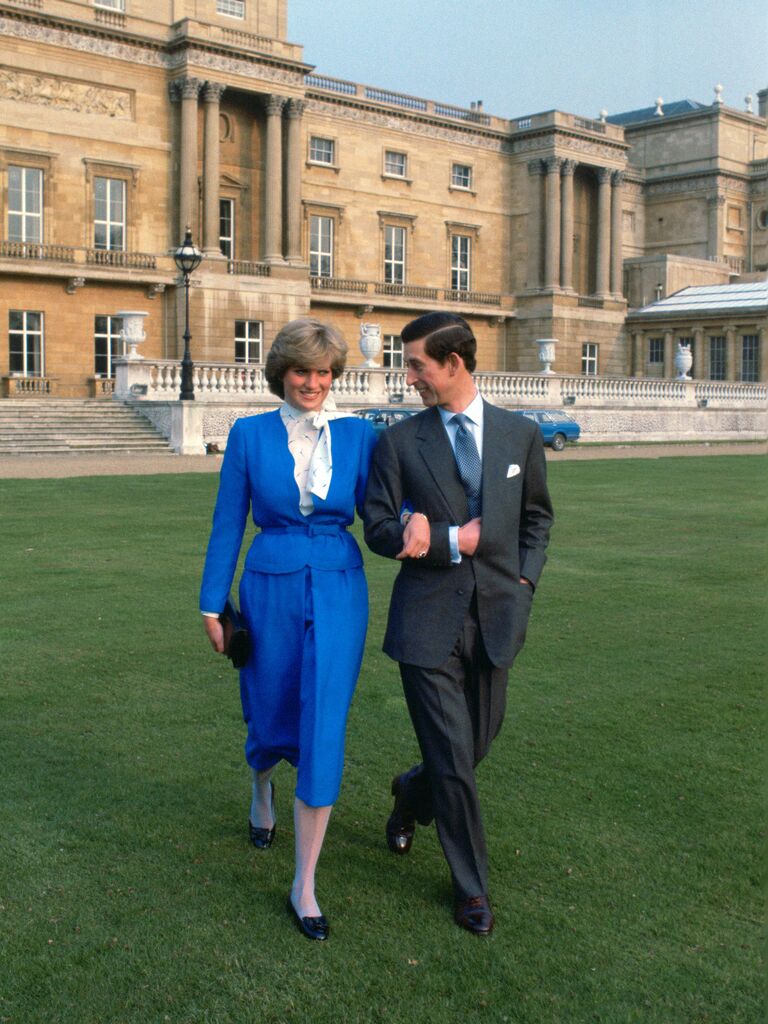 Prince Charles and Princess Diana formally announced their engagement on February 24, 1981, just six months after they began dating. The couple shared the happy news through a statement via the Lord Chancellor: "It is with greatest pleasure that the Queen and the Duke of Edinburgh announce the betrothal of their beloved son the Prince of Wales to the Lady Diana Spencer, daughter of the Earl Spencer and the Honourable Mrs. Shand Kydd."
They posed for portraits on the grounds of Buckingham Palace and later gave a joint interview to BBC. Considering Princess Diana's engagement photos gave the first public look at her engagement ring, the royal opted for an outfit that matched her new sparkler: She donned a cobalt blue jacket and skirt set from Harrods with a crisp white and blue printed top underneath, complete with a bow at the neck.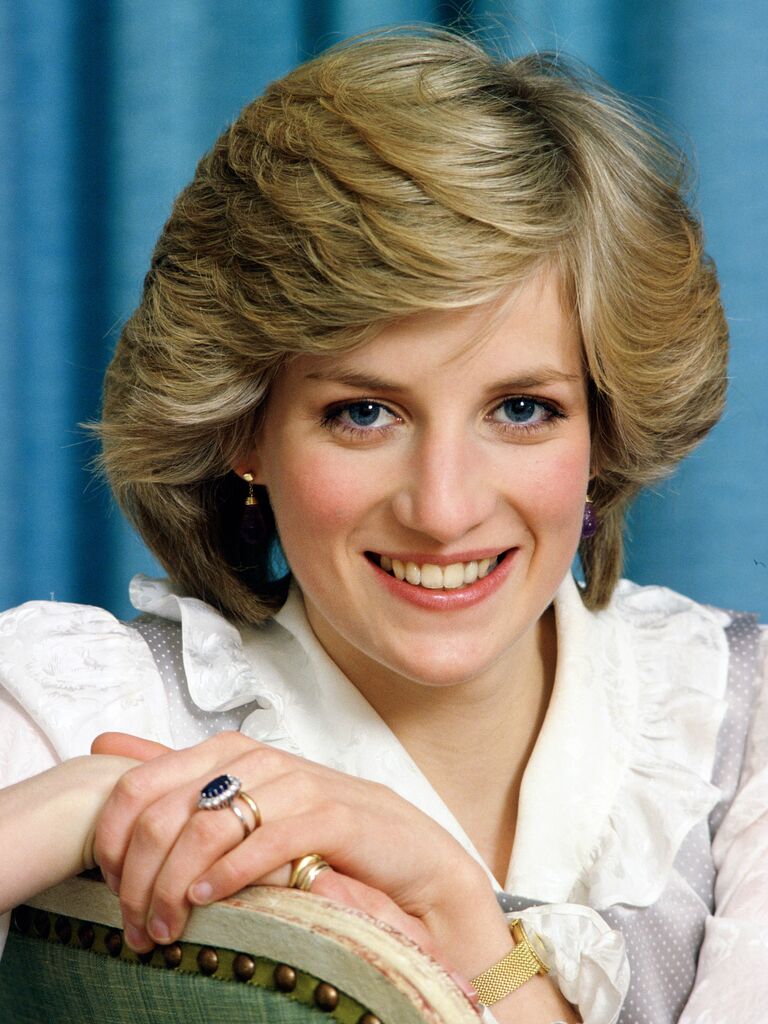 In 1983, Princess Diana posed for a portrait at home in Kensington Palace that gave another clear shot of her sapphire engagement ring and her wedding band. Princess Diana's wedding ring followed royal tradition in that it was made from a nugget of Welsh gold that has been in the family for centuries. (Meghan Markle, Kate Middleton, and Queen Elizabeth, among others, all received wedding bands from that same piece of gold.)
Kate Middleton and Princess Diana's Engagement Ring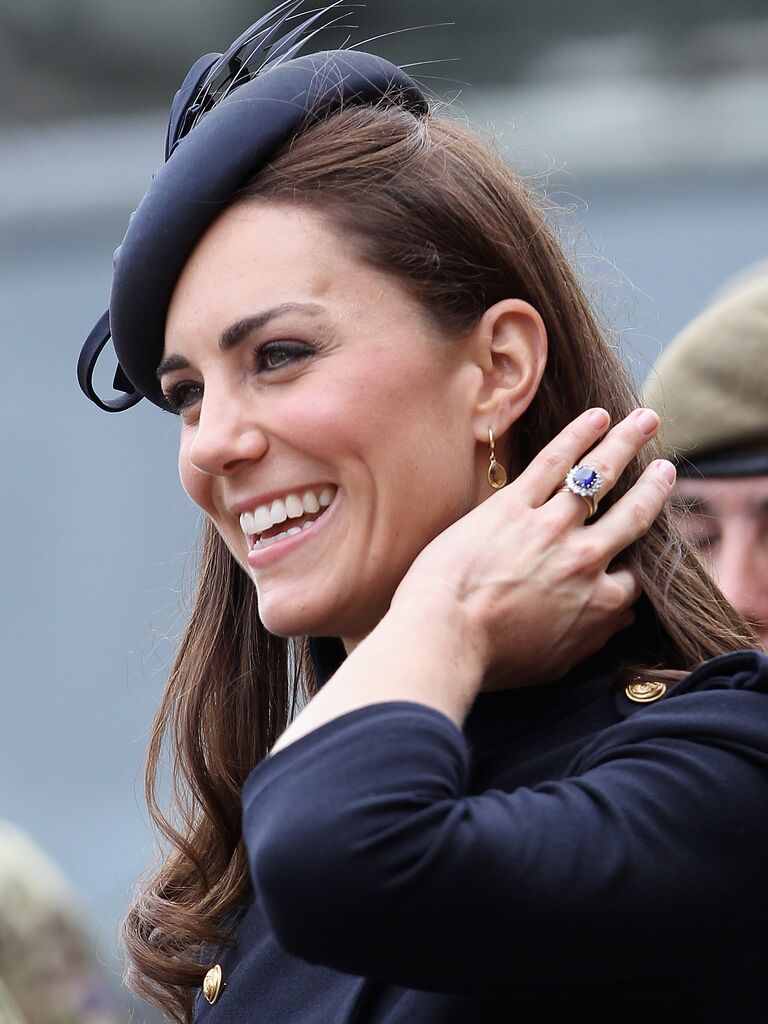 Although it was a nontraditional choice at first, this iconic sparkler is now synonymous with the British royal family. The late princess continued to wear the now-famous sapphire engagement ring even after she and Prince Charles divorced in 1996. After her death, it was believed that Prince Harry inherited Princess Diana's ring and gifted it to Prince William—but that wasn't exactly the case. Prince Harry set the record straight about the fate of Princess Diana's sapphire ring in his memoir Spare, which was released in January 2023. "The papers published florid stories about the moment I realized Willy and Kate were well matched, the moment I appreciated the depth of their love and thus decided to gift Willy the ring I'd inherited from Mummy, the legendary sapphire," he recalled. "A tender moment between brothers, a bonding moment for all three of us, and absolute rubbish: none of it ever happened. I never gave Willy that ring because it wasn't mine to give. He had already had it. He'd asked for it after Mummy died, and I'd been more than happy to let it go."
Thus, Princess Diana's engagement ring began a new royal chapter when Prince William proposed to Kate Middleton with it in 2010. "In a highly romantic and symbolic gesture, William kept his mother's memory close to his heart by placing her famous ring on the finger of his wife and the future Queen of England," Kwiat says.
According to Lisa Ingram, SVP of Merchandising for Signet Jewelers (overseeing brands like Kay, Jared and Zales), there's a strong possibility we may see Princess Diana's engagement ring on the finger of Princess Charlotte, the future spouse of Prince George or Prince Louis, or even their children. "Princess Diana's ring has become an heirloom, so it's highly probable that it will continue to be passed down through generations," she tells us. "Heirlooms, especially in the royal family, hold significant meaning because it allows future generations to honor their ancestors."
Meghan Markle's Engagement Ring and Princess Diana's Stone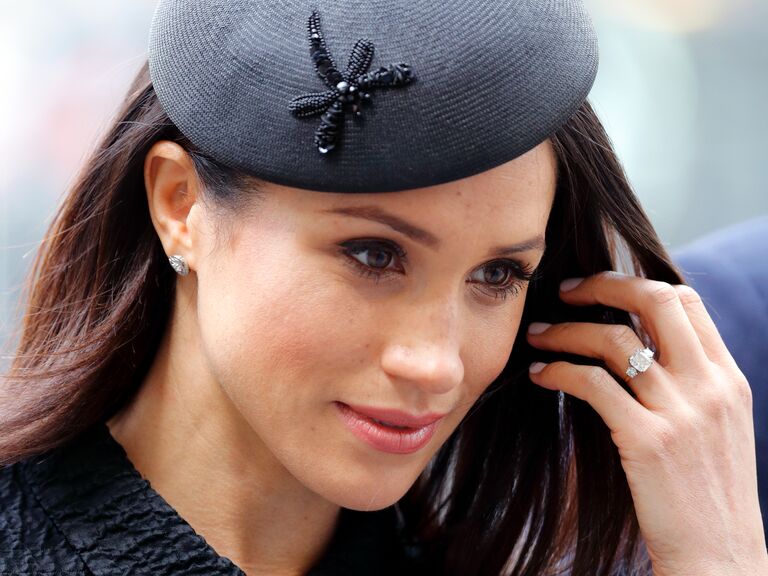 Considering Kate Middleton inherited Princess Diana's engagement ring, you might wonder if Meghan Markle received a similar gift when she got engaged to Prince Harry—and she did. Meghan Markle's engagement ring features a cushion-cut diamond center stone sourced from Botswana, a place close to the couple's heart. (It was there that they embarked on their first vacation together, mere weeks into their relationship.) That stone is flanked by two smaller round diamonds sourced from Princess Diana's jewelry collection. The three-stone ring was designed by the royal family jewelers Cleave and Company. "It's so important to me to know that she's a part of this with us," the Duchess of Sussex said of the custom design in the couple's engagement interview. "It's incredibly special to be able to have this, which sort of links where [Harry comes] from and Botswana, which is important to us, it's perfect."