29 Unique Ways to Fill Your Wedding With "Something Blue"
These unique ideas will have you feeling anything but blue.
Chances are, you're familiar with the phrase "something old, something new, something borrowed, something blue." However, you may be wondering—what does the saying mean and where did it originate? Beyond the somethings mentioned, there's actually a fifth element to the old adage—a sixpence for your shoe. Together, these five items are tokens to-be-weds would historically gather to have on their wedding day.
As modern brides and grooms reinvent wedding traditions to better fit their contemporary nuptials, many to-be-weds are opting to keep the "something blue" idea, but refresh it in a cool and unique way. Even if blue isn't an official part of your wedding color scheme, it can be fun to include a subtle "something blue" as a nod to this ages-old tradition.
In this story:
Meredith Ryncharz of Meredith Ryncharz Photography explains that the phrase "originally comes from an Old English rhyme that describes what a bride needs on her wedding day to have good luck and happy marriage. The poem states she must have 'something old, something new, something borrowed, something blue, a sixpence in your shoe.' Blue is associated with prosperity, fidelity and purity—all necessary qualities for a successful marriage in Jolly Olde England. In addition, the blue item is meant to ward off the 'evil eye.' This is a popular symbol stemming back to Ancient Greece and refers to a 'malevolent gaze.' Getting this on your wedding day meant that your marriage would be cursed from the start."
While couples used to think it would be bad luck if they didn't gather the five items from the poem before the wedding, now many to-be-weds simply incorporate them as a fun, festive part of the wedding. And if you do choose to include "something blue" in your wedding, remember that you can make the item as unique or out-of-the-box as you wish. Nora Shiels of Rock Paper Coin and Bridal Bliss emphasizes that "there is no rule about what has to be blue to bring you the best luck on your wedding date, and the creative options are endless. Think outside of the box, and know that no one has to see it. If you know, you know."
Find your kind of venue
From barns to ballrooms, discover reception venues that feel like you.
29 Unique "Something Blue" Wedding Ideas
If you like the idea of including a meaningful blue item in your wedding day, but can't figure out just what that detail should be, let these creative "something blue" ideas inspire your "I do" plans. From fashion moments, like blue shoes or blue earrings, to blue signature cocktails and even blue wedding favors, the options for the special day are truly endless.
1. Blue Bouquet
This bride included beautiful light blue flowers in her wedding bouquet.
2. "Something Blue" Signature Cocktail
Acai-blueberry vodka gave this signature cocktail a festive blue tint.
3. Bride Wearing Blue Shawl
If you're tying the knot during the winter, consider opting for blue outerwear. This bride cozied up with a blue shawl during her wedding reception.
4. Aquamarine Wedding Earrings
The jewelry you add to our wedding ensemble is a great spot to add in a touch of blue. Bonus points if the piece of jewelry is a family heirloom from a loved one that can also serve as your "something old."
5. Blue Cookie With Dog Motif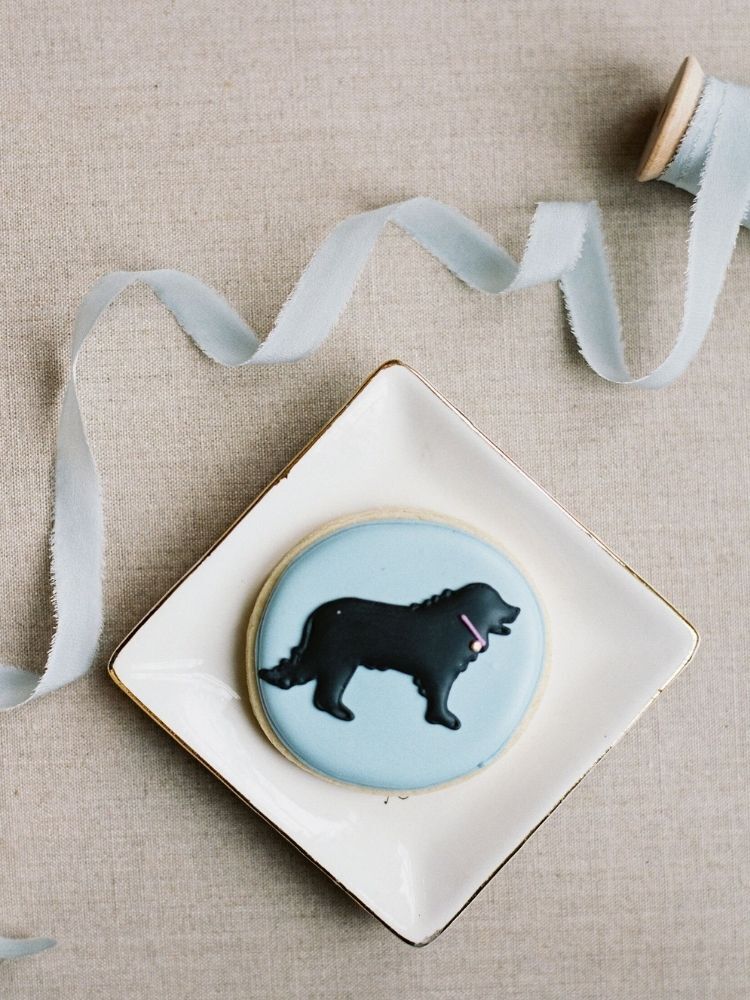 This cookie wedding favor pulled double-duty—it honored the couple's four-legged friend and was a unique "something blue."
6. Blue-and-White Vase
The centerpieces at this wedding made use of Chinoiserie-inspired blue-and-white vases.
7. Blue Oversized Connect Four Lawn Game
Blue chips were part of this giant game of Connect Four at an outdoor wedding reception.
If you want a "something blue" that'll become a cherished keepsake, consider having a blue guest book at your wedding reception.
9. Jordan Almonds Wedding Favor Wrapped in Blue Ribbon
Your "something blue" doesn't have to just be for you. Get guests in on the fun by wrapping their wedding favors in blue ribbon.
10. Blue Tandem Bicycle
For their wedding getaway, this couple pedaled off on a blue tandem bicycle.
11. Bridesmaids in Blue Robes
This to-be-wed gifted her bridal party blue robes for getting ready on the morning of the special day.
12. Blue Engagement Ring in Blue Velvet Box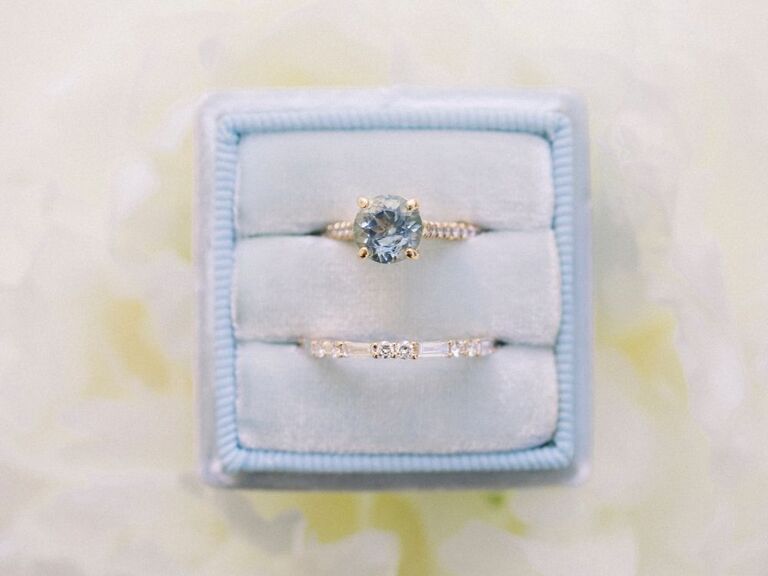 Not only was did this engagement ring include a beautiful light blue stone, but it was also housed in a blue velvet box.
13. Blue-and-White Handkerchief
A wedding hankie to keep the happy tears at bay is a great thing to have on hand on the big day—why not make it your "something blue" as well?
This couple made their pooch their meaningful blue detail by dyeing their ears blue with dog-safe dye.
15. Groom in Blue Three-Piece Suit
This groom rocked a blue three-piece suit for his wedding in Tennessee.
16. Vintage Pale-Blue Volkswagen Bug Getaway Car
If you're booking a vintage car for your wedding grand exit, think about making it a blue one.
17. Grooms Wearing Patterned Blue Socks
Since your wedding socks won't be super visible, they're a fun spot to get creative and infuse a dose of personality into your wedding outfit.
18. Blue Wedding Outfits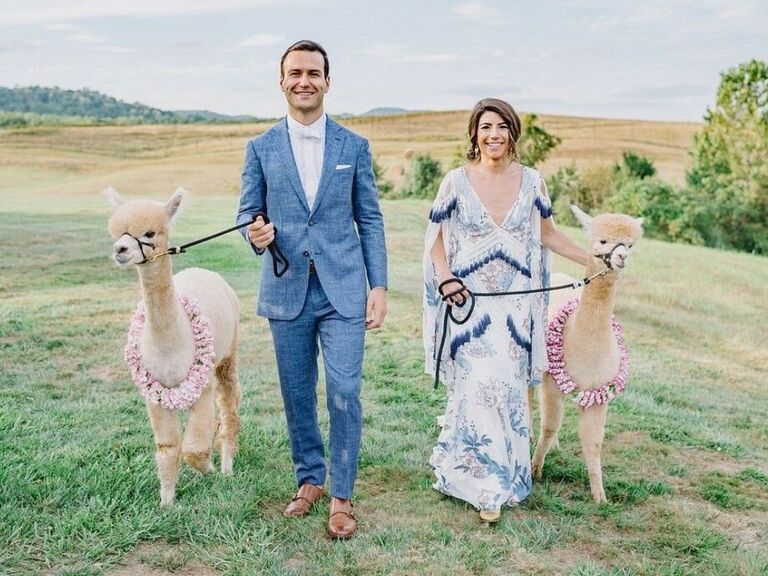 The groom at this wedding rocked a blue suit while the bride donned a patterned blue-and-white wedding dress. If you're not quite ready to forgo a traditional wedding gown, you could even consider wearing a blue dress for a prewedding event like the rehearsal dinner.
19. Blue Monogram Wedding Sign
The bar at this wedding reception was decorated with a custom blue monogram sign.
20. Blue Koozie Wedding Favors
For their wedding in the mountains, this couple ordered custom blue wedding koozies.
21. Colorful Wedding Bouquet With Blue Roses
Instead of making their entire bouquet blue, this to-be-wed opted to just have a few blue roses sprinkled throughout the wedding bouquet design.
22. Blue Ring Box
Buying a special ring box for your engagement ring and other bridal accessories is a nice touch that you can keep as an heirloom for a long time after the wedding. This to-be-wed got a cool three-slot box that houses both rings and earrings.
The attendants at this wedding wore floor-length blue sequin bridesmaid dresses.
24. Bride in Blue Wedding Dress
This bride wore a blue lehenga for her wedding.
25. Blue Wedding Cake With Monogram
Varied shades of blue and silver ensured each tier of this classic monogrammed wedding cake stood out.
Complete your wedding outfit with blue wedding shoes as a fun "something blue" you can wear in the future.
27. Blue Smoke Bomb
During their elopement in California, this couple set off a blue smoke bomb to add unique flair to their wedding portraits.
28. Wedding Invitation Wrapped in Blue Ribbon
Blue ribbon, plus a blue wax seal, finished off this romantic wedding invitation suite.
29. Blue-and-White Wedding Cake
This cake had a mottled, hand-painted look that made the entire dessert look like a work of impressionist art.