8 Questions to Ask Before Buying Your Wedding Rings
Make the process of wedding ring shopping a little simpler with these questions.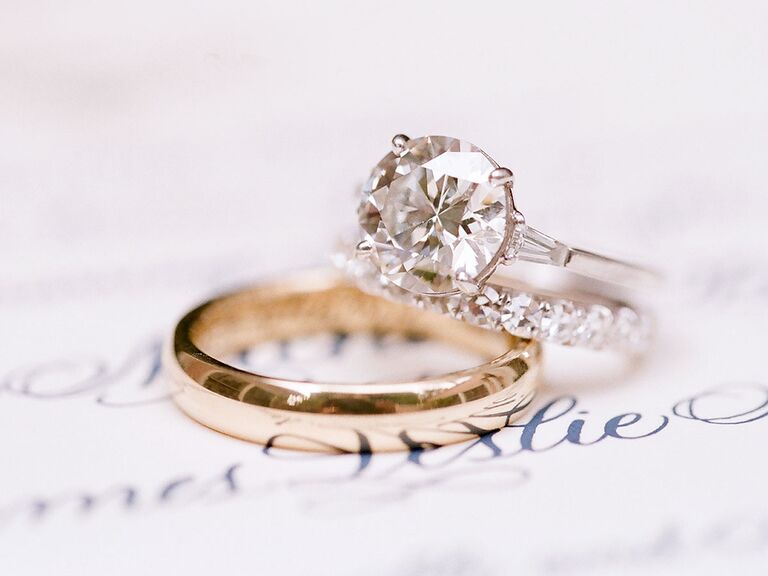 Carrie Patterson
When shopping with your partner for your wedding rings, it's important to remember that this is a piece of jewelry you'll be wearing every day, for the rest of your lives. So that means you have to choose a band that suits your everyday lifestyle. Before making the purchase, ask yourselves these questions.
1. What color metals do we like?
Do you like yellow or white gold? What about rose gold? Today, the options are just about endless. You could even choose from a combination of metals, like platinum and rose gold. So think about your options and make some preliminary choices before you hit the stores.
2. How much do we want to customize it?
Will they be plain and simple or something one of a kind? Decide, and then also keep in mind that more customization and extras usually means more money. A plain 14-karat gold band will start at around $200, and a plain platinum band cost upward of $600. Adding diamonds will drive up your cost, and there's also engraving to consider. That price depends on the font and whether you'll have it engraved by hand or machine.
3.What's our budget?
For a wedding band with diamonds or extra customization, you'll probably spend quite a bit more. Our advice: Consider investing more in bands that will stand the test of time in both quality and style. When you think about it, pricey wedding rings seem more reasonable when you divide it by the number of days you'll wear them.
4. Do we want to match?
You'll see a lot of coordinating wedding band sets for couples when you hit the stores, but that doesn't mean that you two have to match. Your fiancé may go crazy for a yellow gold band while you're obsessed with a white gold ring with colorful stones. Show off your personal styles by mixing it up! And if you still want something that coordinates, you could do this in other ways. One fun idea is to get matching inscriptions (your wedding date or a short quote) inside the bands.
5. How classic do we want to go?
Timeless rings are elegant and, for the most part, unadorned. If your wardrobe is full of clean lines and neutrals, this is the way to go. Look for bands that are clean and simple—you really can't go wrong with a single metal in a smooth finish. If you're someone who follows trends, then feel free to go for a more modern look—choose a ring with a mix of shapes and maybe some edgy black diamonds. But if you do tend to get sick of some trends and fads, be wary that you may get tired of this type of ring in a few years.
6. Do we want the band and engagement ring to perfectly match?
Many jewelers sell shadow bands (the type of band that fits with the engagement ring like a puzzle piece). Some couples love this option because it's easy and obviously makes for a perfect match. While some shadow bands look good alone, if you plan on not always wearing your engagement ring, it may not be the way to go. If you're going to wear your wedding ring solo, look into getting one that shows off your style even if you aren't wearing your engagement ring.
7. What would we consider too delicate?
Depending on what you do for a living (or for fun), you may need a sturdier band. If you play sports or an instrument, look for a slimmer ring with rounded edges (appropriately called the "comfort fit"). If you work with your hands, search for a simple, solid metal ring because stones can come loose and carvings can trap dirt. And if you're really active, go for a metal like platinum, which is strong and durable (when it's scratched, the metal is merely displaced and doesn't actually wear away).
8. Do either of us want more than one band?
If you travel a lot or are outdoorsy types, you may not want to take your fancy bands on your adventures. You could get something simple in an affordable titanium or silver in addition to the ring you really want. Consider how it might look with the rest of your rings (if you like the stacked look) and by itself.
Find a jeweler in your area here.
Shop for wedding rings here.