35 Wedding Necklace Options for Every Bridal Style
These shoppable picks run the gamut from classic pearls to boho backdrop pieces.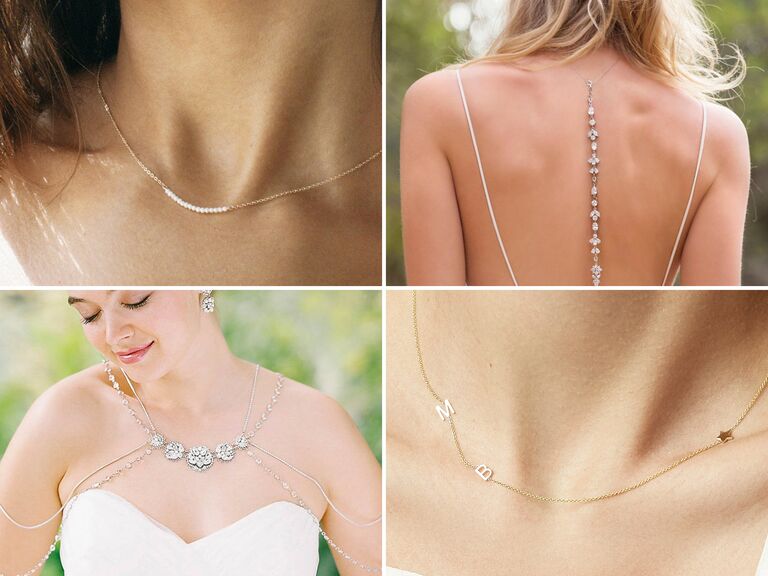 We have included third party products to help you navigate and enjoy life's biggest moments. Purchases made through links on this page may earn us a commission.
You've decided you want to wear a wedding necklace. Now comes the hard part: sifting through all the many, many options on the market. Fear not, nearlywed. We're here to help you accessorize your look no matter what style you're going for. We've scoured the web for gorgeous and unique bridal necklaces in every popular category. Not only that, but we've included some pointers for how to pull off each type. (Check out this guide to accessorizing your wedding dress for more advice.)
Still not sure if a bridal necklace is for you? Use our tips and shoppable picks to help you decide. This jewelry is so pretty and cool, you might just be convinced to wear one (and buy one!) on the spot.
Wedding Necklaces for Brides by Material:
Wedding Necklaces for Brides by Style:
Wedding Necklaces for Brides by Material
Whether you're on the hunt for a bridal necklace adorned with a specific stone or you're more interested in finding a metal to complement your dress (here's how to figure that out), check out these picks.
Pearl Wedding Necklaces
Why do so many brides opt for a pearl wedding necklace? Because the style is totally timeless. Plus, the gems come in wedding white. While many people choose pearls for a more traditional bridal look, there are plenty of modern pearl pieces too. Find a few of our favorites below.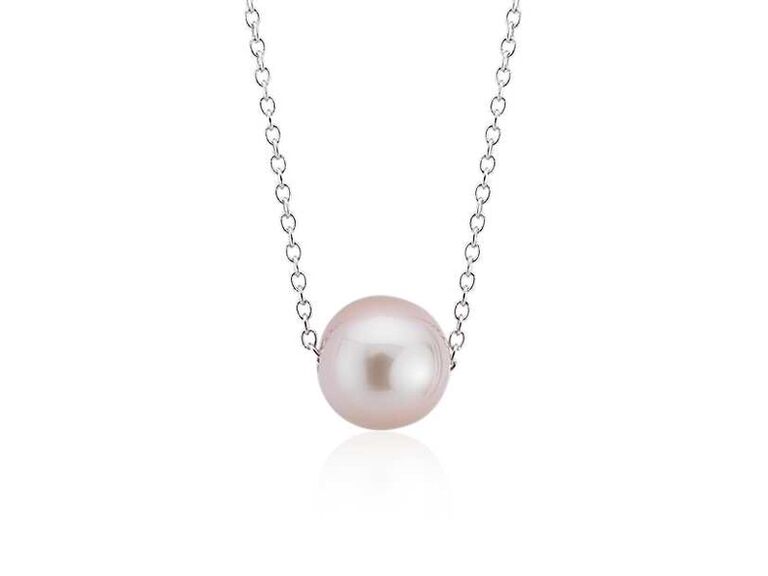 Keep things simple with a single pearl on a mid-length chain. This bridal necklace comes with either a white, pink or dark-colored gemstone. Bonus: You can wear it well past the wedding day—really, that can be said for anything on this list!
Blue Nile cultured pearl floating pendant, from $245, BlueNile.com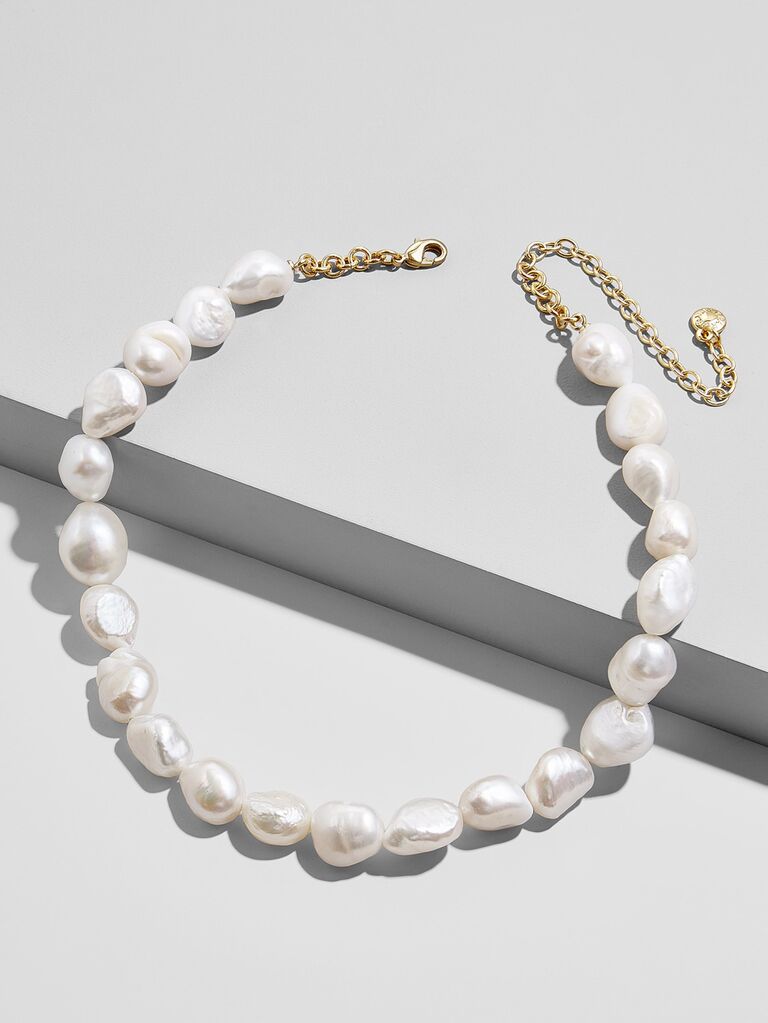 Perfectly round pearls are elegant and classic, but for a more casual, effortless vibe try this wedding necklace. The freshwater pearls are naturally shaped and beautifully wrap around the entire short chain. (FYI, BaubleBar is our go-to resource for inexpensive wedding jewelry.)
BaubleBar Lacey statement necklace, $38, BaubleBar.com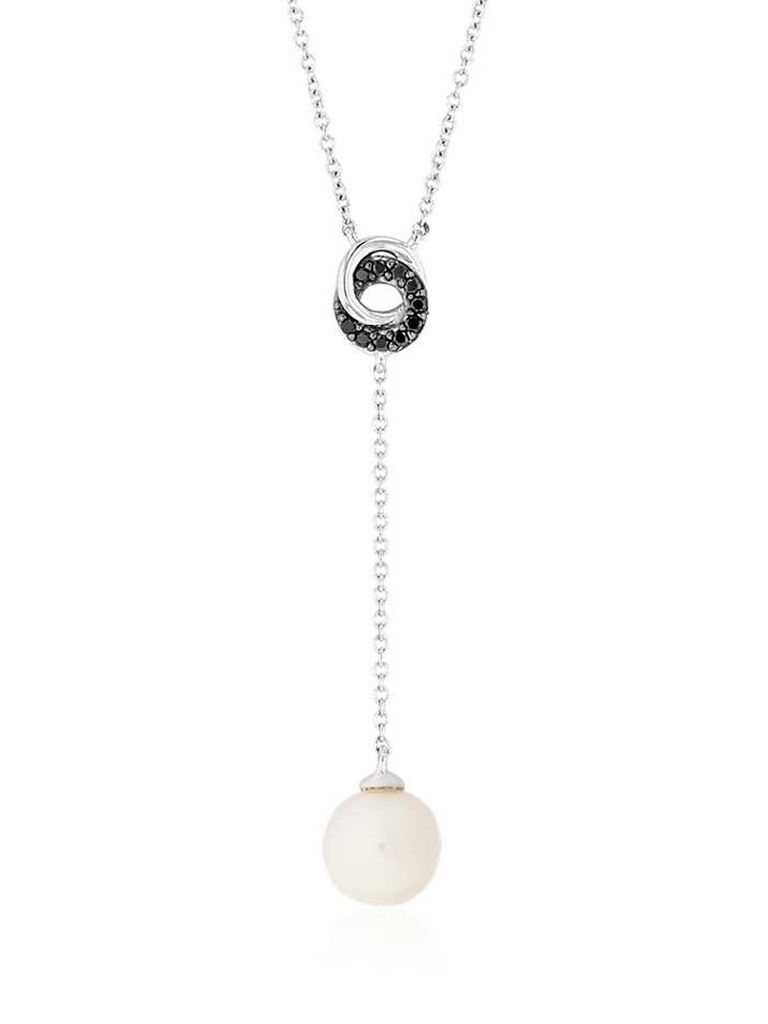 Drop chains look awesome with a plunging neckline. This one makes tradition with its white pearl pendant and edgy black diamond accents. Now's probably the time to call out Blue Nile's diverse array of luxury wedding necklaces, which is why it's another favorite jewelry retailer of ours.
Blue Nile freshwater cultured pearl drop pendant with black diamond Love knot, $450, BlueNile.com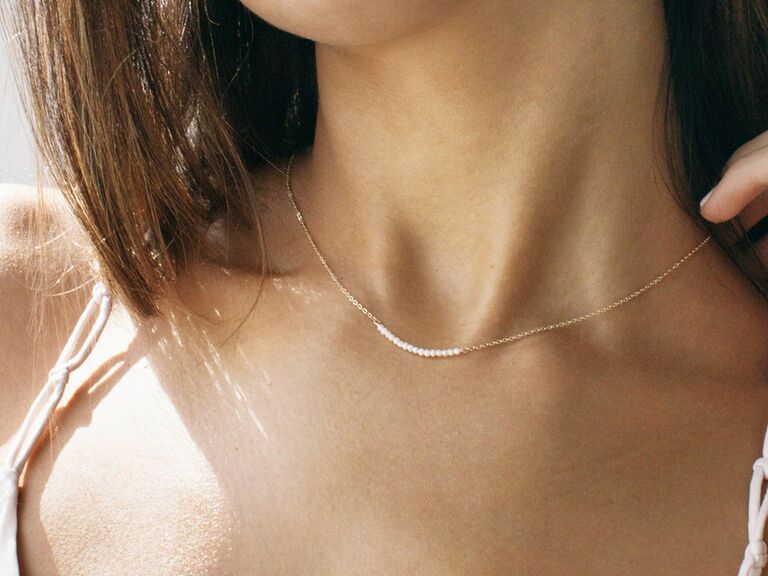 A bridal necklace roundup would be remiss not to include some Etsy options—brides love the marketplace for its unique and bespoke offerings. This wedding pearl necklace is oh-so dainty, courtesy of the thin chain (which comes in different sizes and colors, including trendy rose gold) and itty-bitty freshwater gemstones.
Femina Handmade LORE pearl bar necklace, from $40, Etsy.com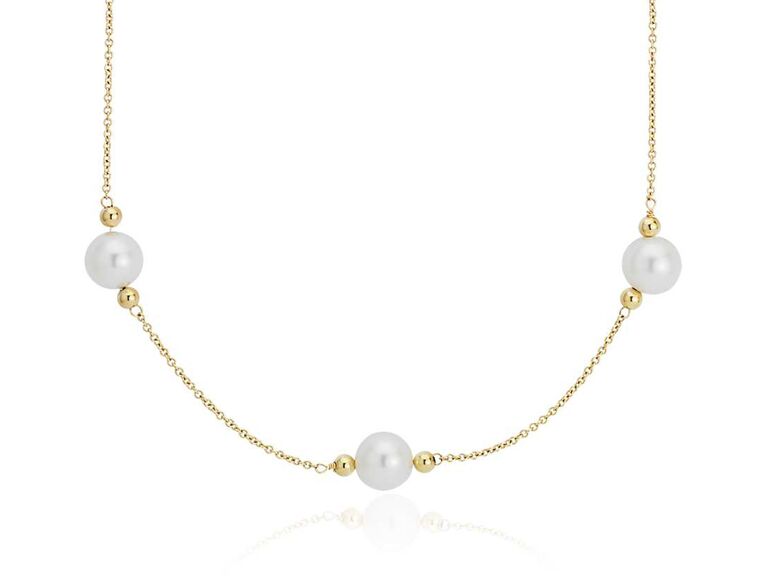 Stationed pearl necklaces make beautiful bridal necklaces, especially this gold and freshwater pearl one. We love how the gems are placed on the chain.
Blue Nile freshwater cultured pearl stationed necklace, $390, BlueNile.com
Diamond Wedding Necklaces
Diamonds aren't reserved for your wedding band or engagement ring. In fact, because they're so associated with both, they make other wedding jewelry feel especially bridal. Better yet, the clear, sparkly stones go with tons of different looks.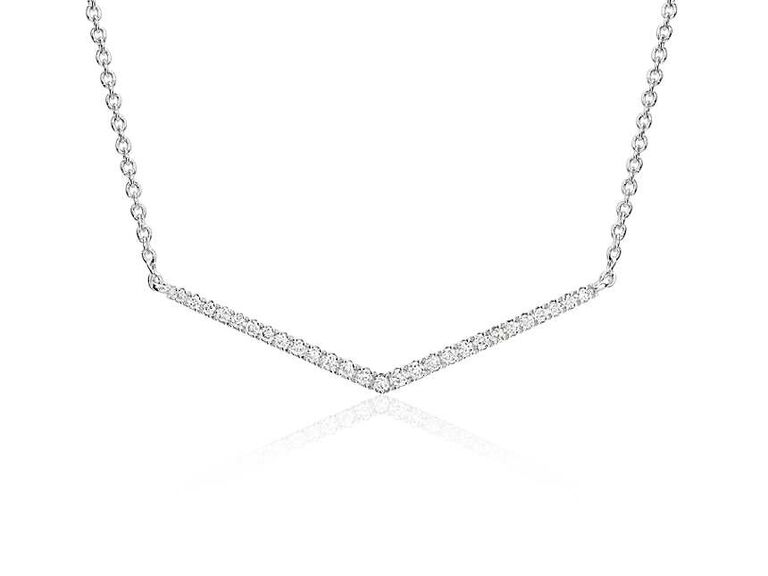 Purchase this bohemian bridal necklace with either a white gold or rose gold chain. Either way, it'll come with a chic chevron bar dotted with pave diamonds.
Blue Nile mini chevron diamond bar necklace, $395, BlueNile.com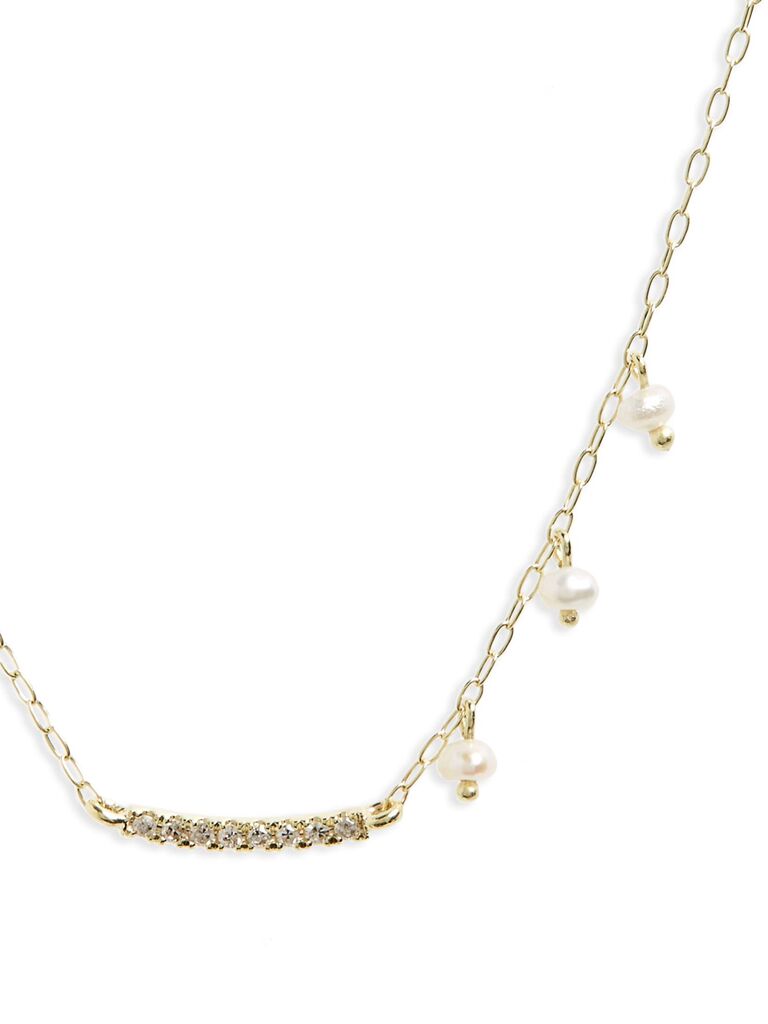 Thought you saw the last bridal pearl necklace in this roundup? Think again. The ever-popular stones pair perfectly with other common wedding necklace elements, including diamonds. This asymmetrical gold jewelry is incredibly eye-catching and ideal for a one-of-a-kind bride. A diamond bar sits at the center, while small freshwater pearls hang from one side.
Meira T diamond & pearl bar pendant necklace, $330, Nordstrom.com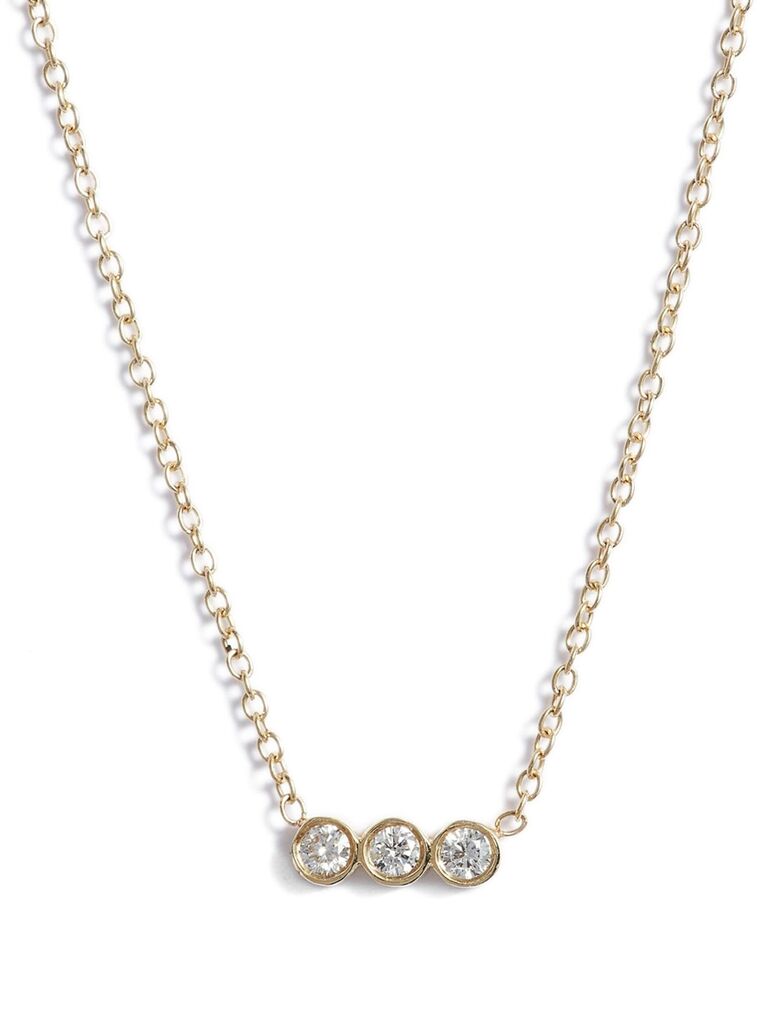 Three bezel-set diamonds make a subtle statement on this mid-length wedding necklace. We'd call the style casual but still totally wedding-worthy. If you're feeling creative, you could even layer it with other minimalist bridal necklaces.
Zoe Chicco diamond bezel pendant necklace, $530, Nordstrom.com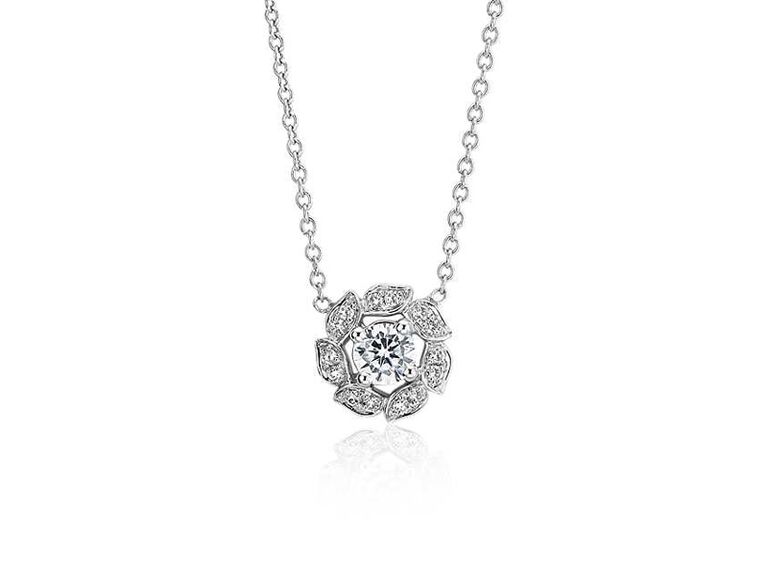 Looking for something more romantic? Try this stunning piece. The pendant features a single round diamond with a floral halo—Hello, garden wedding!—and while it's certainly an investment, it's a truly beautiful addition to your jewelry collection.
Monique Lhuillier diamond halo floral pendant, $1,375, BlueNile.com
Gold Wedding Necklaces
Shopping for a wedding necklace in gold? You've come to the right place. Traditional yellow gold goes well with off-white (think: ivory) wedding dresses. (We personally love the metal with vintage lace gowns.) The same goes for up-and-coming rose gold, which also complements blush attire. Meanwhile, white gold is great for bright white dresses. Of course, you're welcome to get creative—it's your look, after all!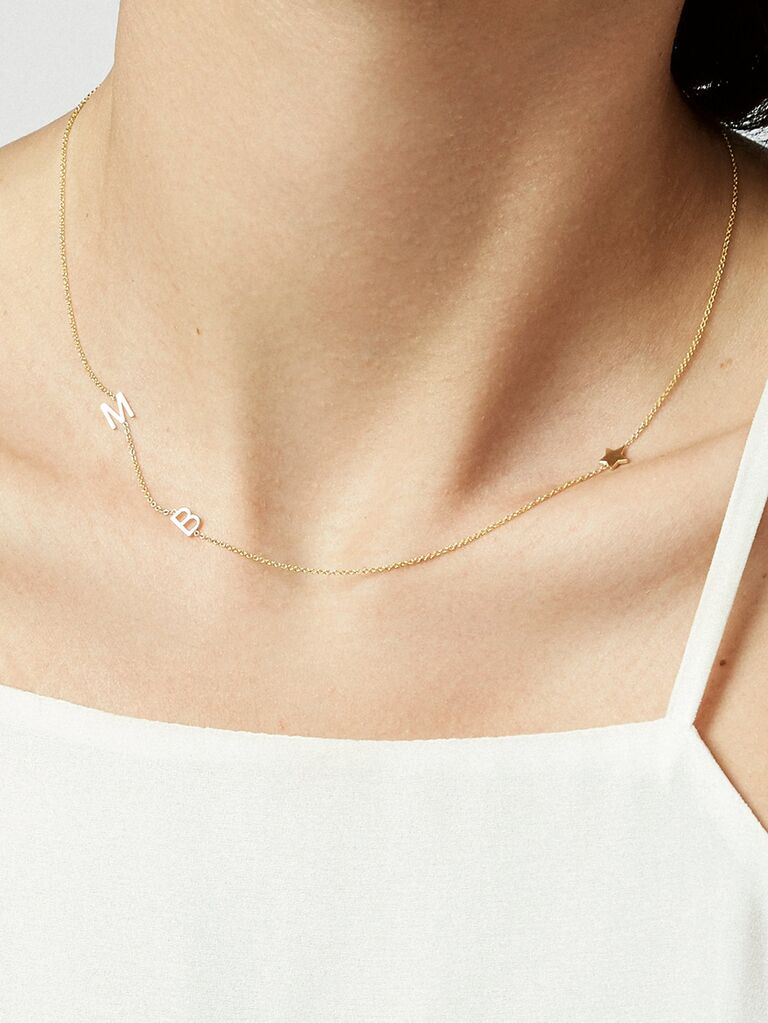 Consider yourself the super-sentimental type? Try this simple yellow, white or rose gold chain with your first initial, your future spouse's first initial and an optional heart charm. Your wedding guests will "aww" over the personalization. (Yep, BaubleBar carries designer pieces too—and did you know Meghan Markle owns this exact necklace?)
Maya Brenner asymmetrical charm necklace, from $300 for 2 charms, BaubleBar.com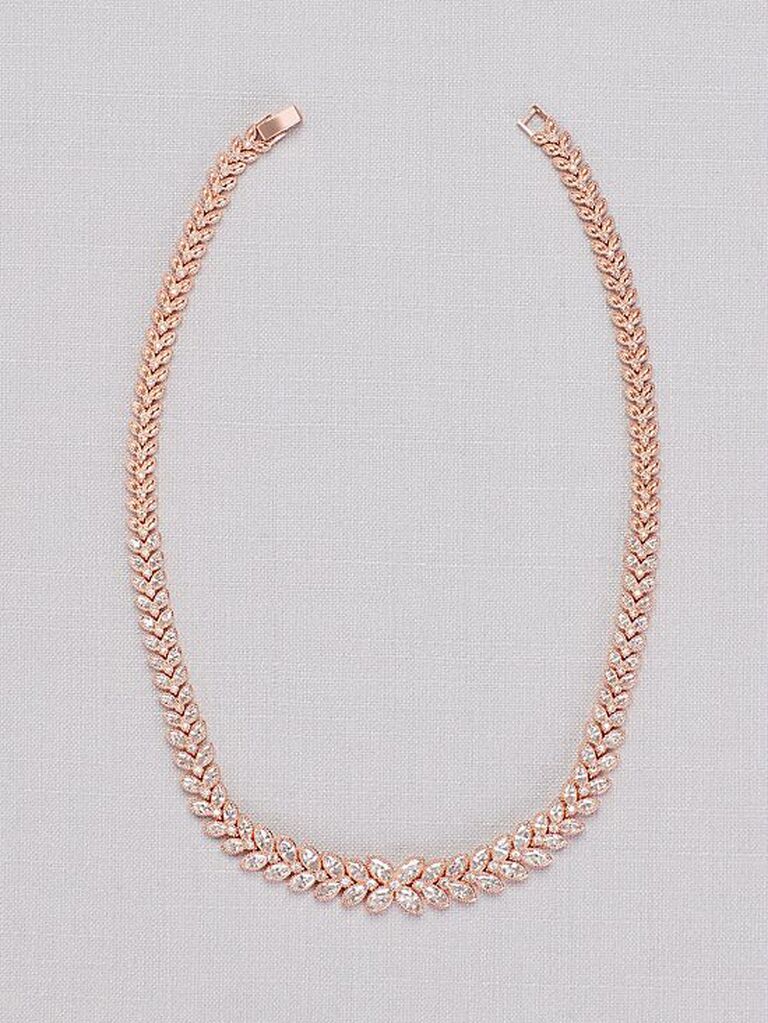 David's Bridal boasts a jewelry collection that proves your wedding necklace doesn't have to be overly pricey. This thick, elegant rose gold bridal necklace has leafy diamond dupes, which are perfect if you're trying to play up the crystals on your wedding dress.
Natasha cubic zirconia liner leaf necklace, $70, DavidsBridal.com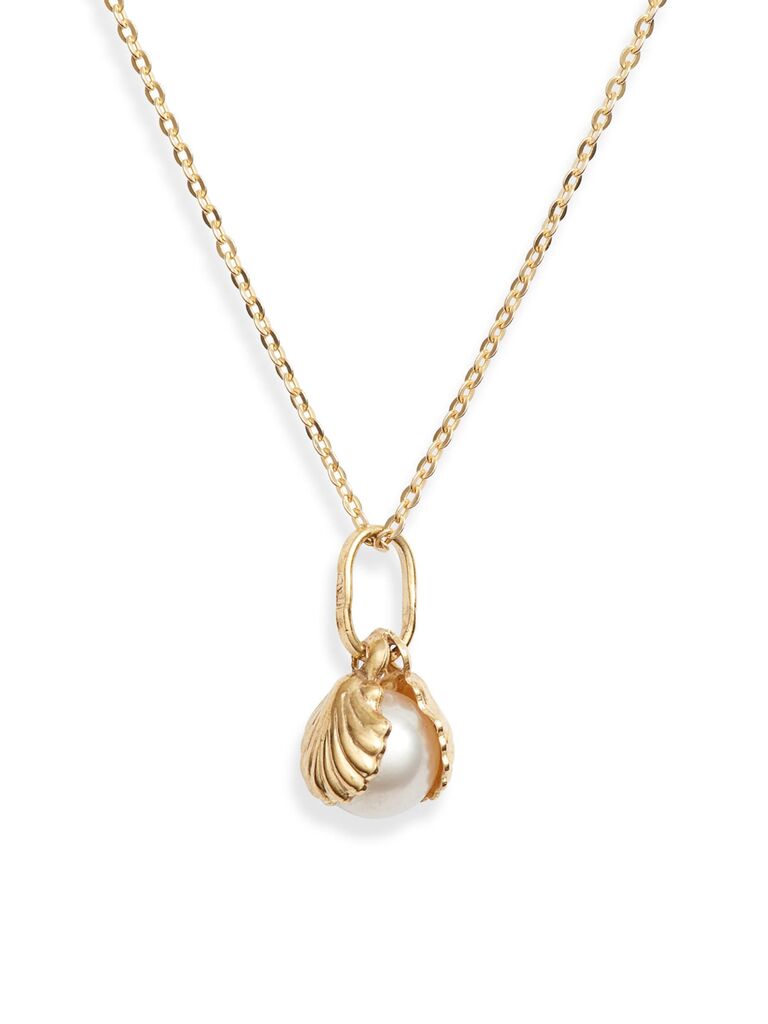 Calling all beach brides (or Disney lovers): This seashell-inspired pearl wedding necklace will leave you feeling like an elevated Ariel. The pendant and chain feature yellow gold.
Loren Stewart Secret shell pearl necklace, $276, Nordstrom.com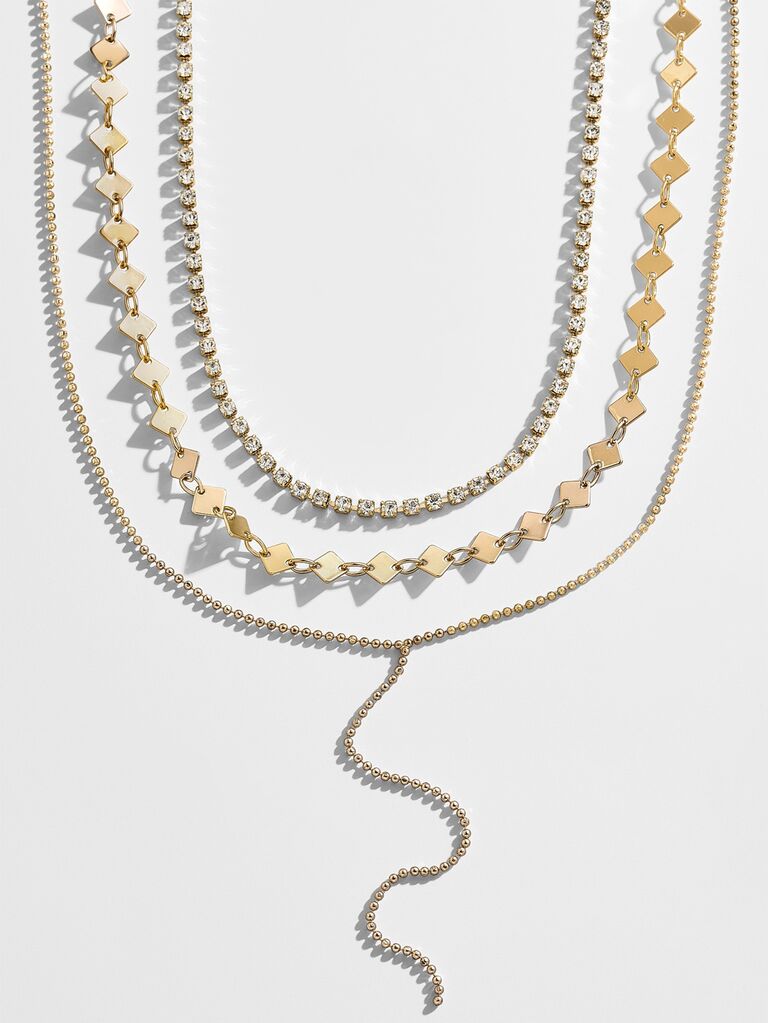 Here's another affordable option for boho brides. Layers of mismatched gold chains, including a plunging Y-chain, make this drapey set stand out.
BaubleBar Diancia layered Y-chain necklace set, $42, BaubleBar.com
Silver Wedding Necklaces
Silver and gold, silver and gold … what would a list be with one but not the other? Generally speaking, silver (and platinum and other similarly-hued metals) feel more contemporary than yellow gold. They're also said to pair best with ultra-white dresses. That being said, it's really all about how you style your entire look. Here are some silver bridal necklace options we stand behind.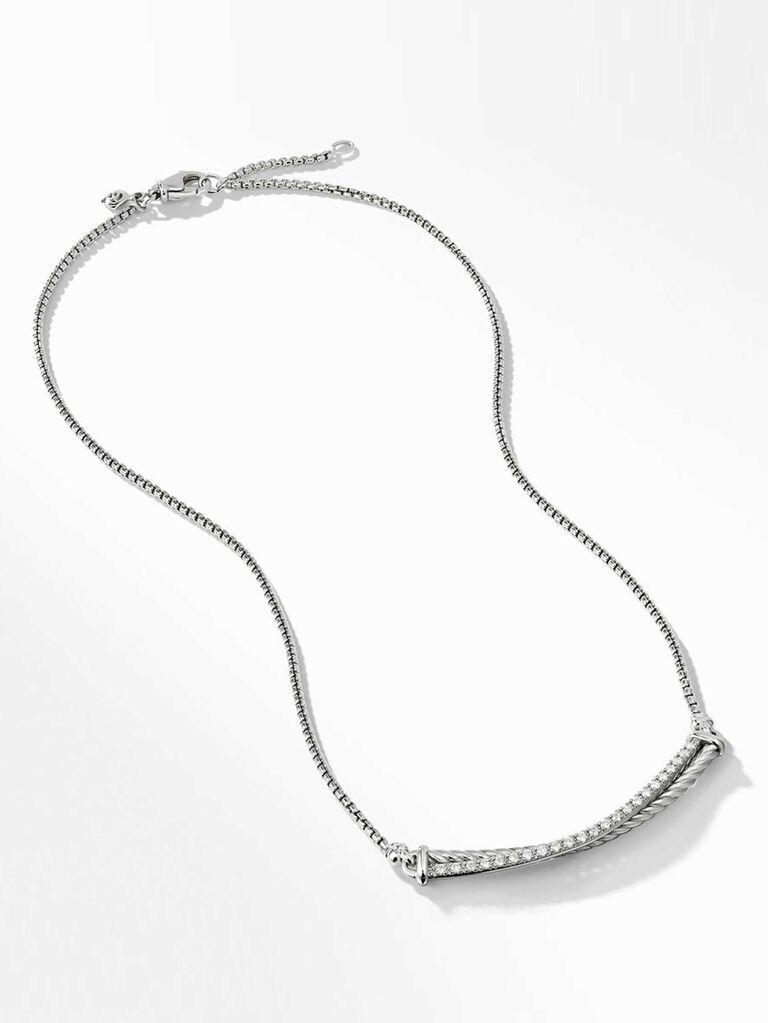 Expensive? Yes. A total statement-maker? Also yes. This silver wedding necklace is equal parts edgy and timeless, thanks to the block chain and crossover bars—one studded with diamonds, one resembling a rope. (On that thought, we love it for a glamorous nautical affair.)
David Yurman crossover bar necklace with diamonds, $1,250, Nordstrom.com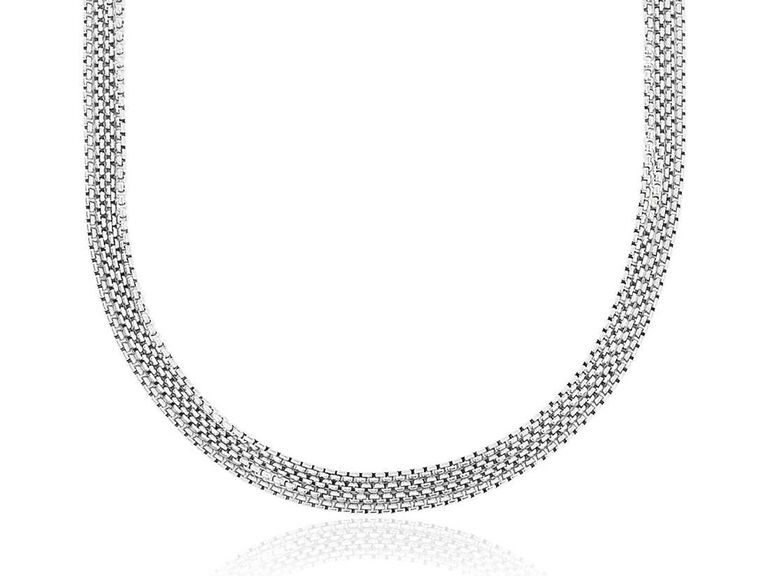 This simple, sophisticated wedding choker is made from four silver strands. The styling possibilities are plentiful, but we like the idea of wearing it with a sleek, minimalist strapless dress (or jumpsuit!).
Blue Nile four strand choker necklace, $70, BlueNile.com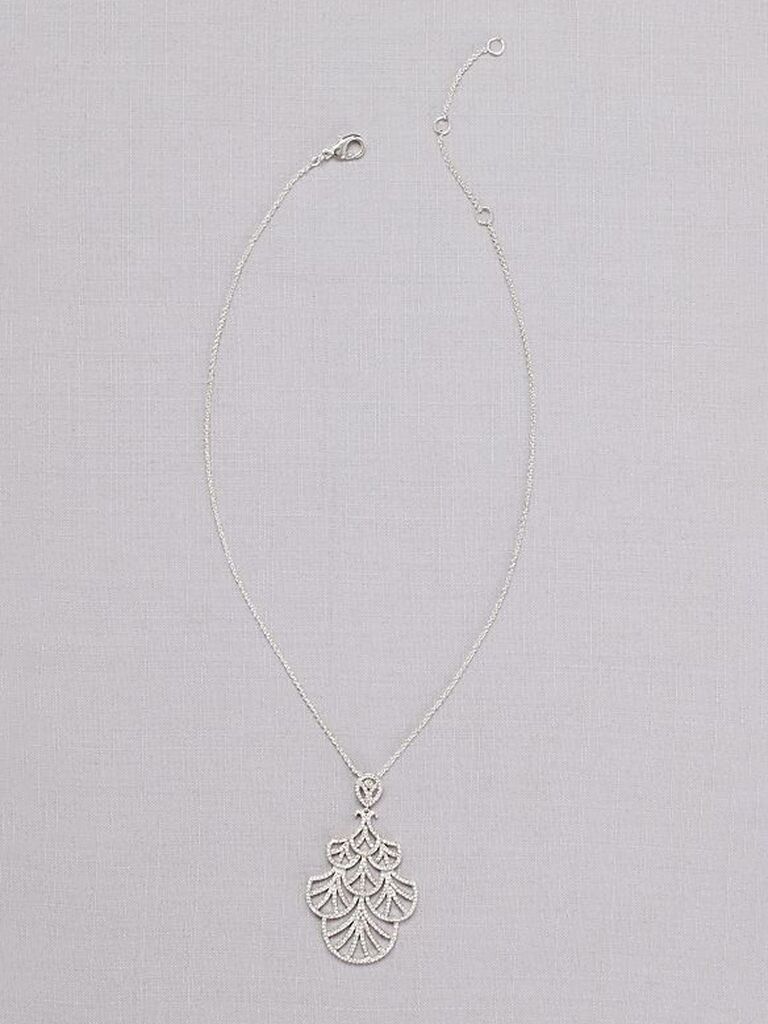 Now, for all you Art Deco fans, a fan bridal necklace. Wear this silver and crystal wedding necklace to a '20s-inspired event.
Nina mini crystal fan pendant necklace, $85, DavidsBridal.com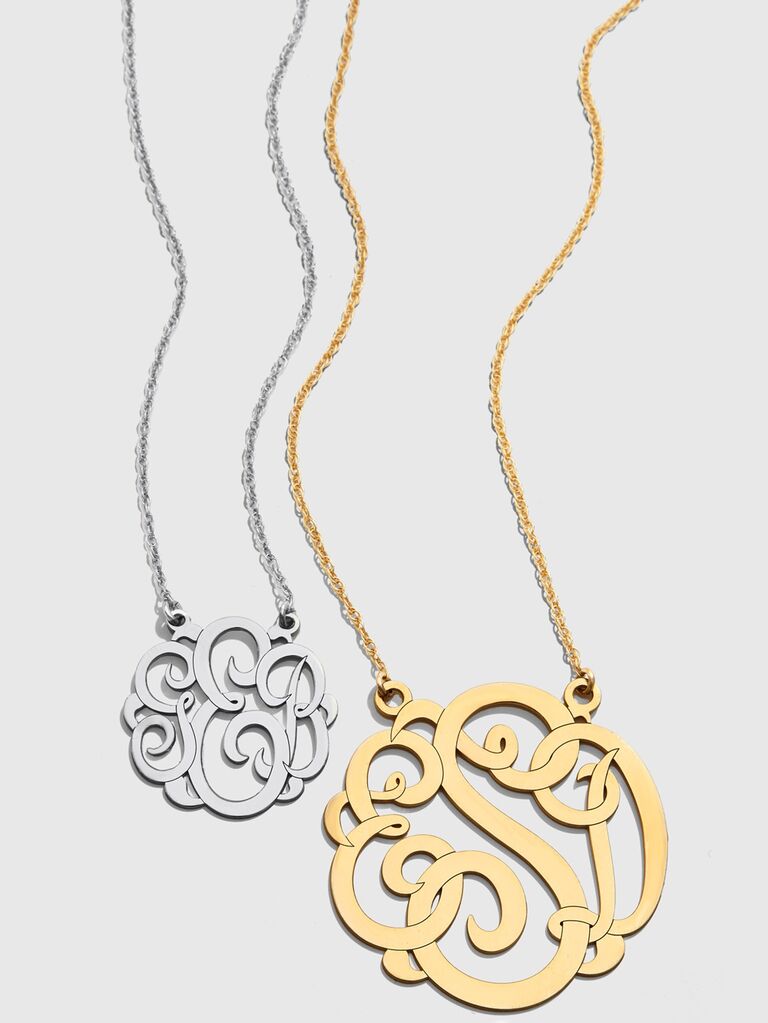 Looking for more personalized wedding necklaces? Wear your wedding monogram with the help of this pendant piece. The bridal necklace comes in sterling silver, but also in different shades of gold.
BaubleBar ribbon letter monogram necklace, $148, BaubleBar.com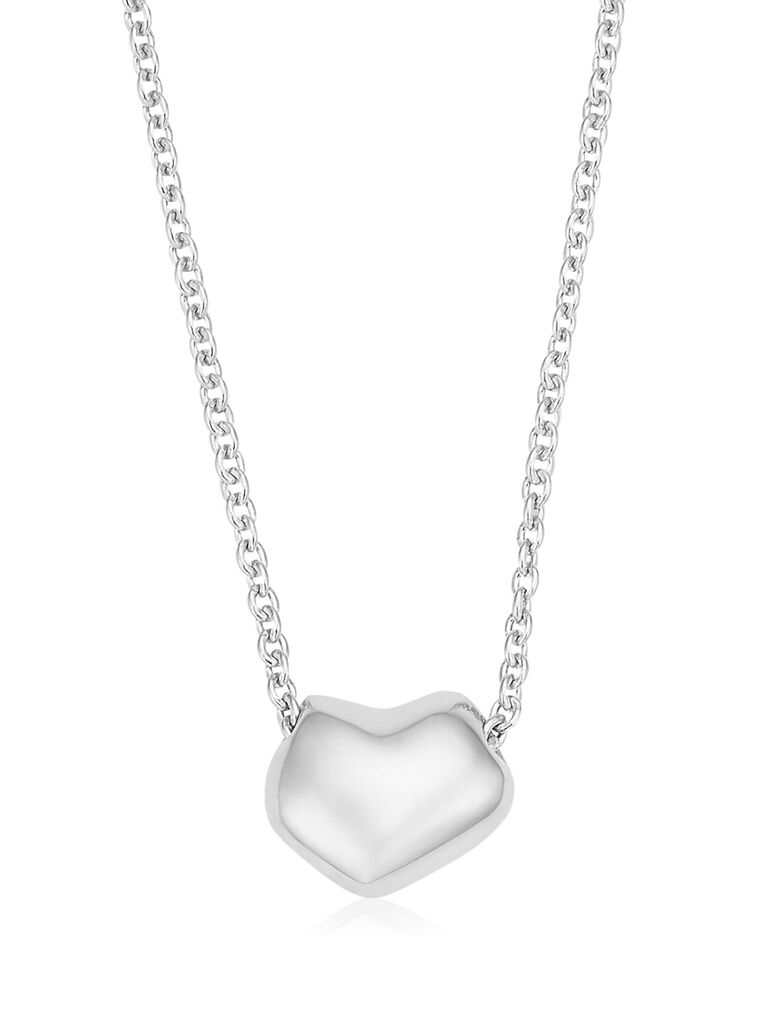 This bridal necklace is another pick for artsy types. The silver (or rose gold) pendant is an abstract heart. How thematic (but still super-cool) for the wedding day!
Monica Vinader mini heart pendant necklace, $175, Nordstrom.com
Wedding Necklaces for Brides by Style
On the hunt for something super-specific, like a head-turning bridal backdrop necklace or intricate bridal shoulder necklace? Or do you just know that you want some sort of statement piece? On the other hand, you could be looking for a one-and-done bridal necklace set. Whatever the case, we've got what you need.
Statement Wedding Necklaces
What makes a wedding necklace a bridal statement necklace? It's big, it's bold and it's bound to grab attention. We recommend this style if you're wearing something simple, so as not to clutter (or draw attention away from) your look. Of course, who's to say a statement necklace with a statement dress absolutely can't be done? You do you. (But remember, the heavier, the hotter, so thick metal might not be the best bet for a scorching summer day.)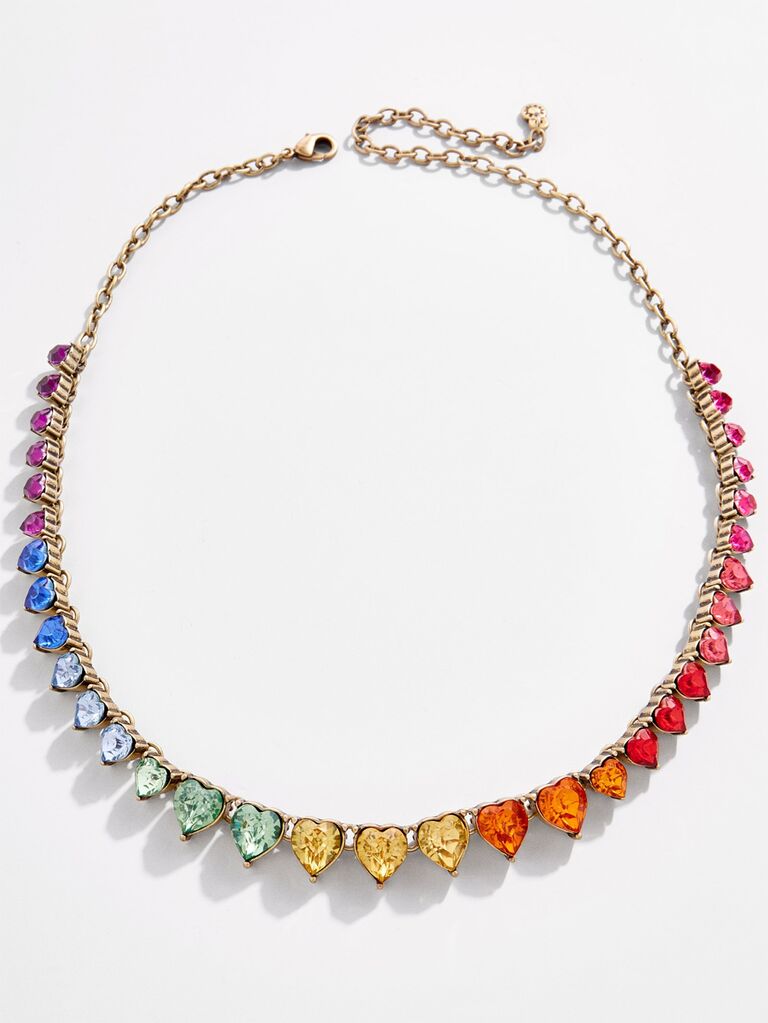 Show your pride with this stunning choker embellished with heart-shaped rainbow crystals. We'd style it with a solid dress (or jumpsuit, or whatever), be it white or bright red.
BaubleBar Francina statement necklace, $54, BaubleBar.com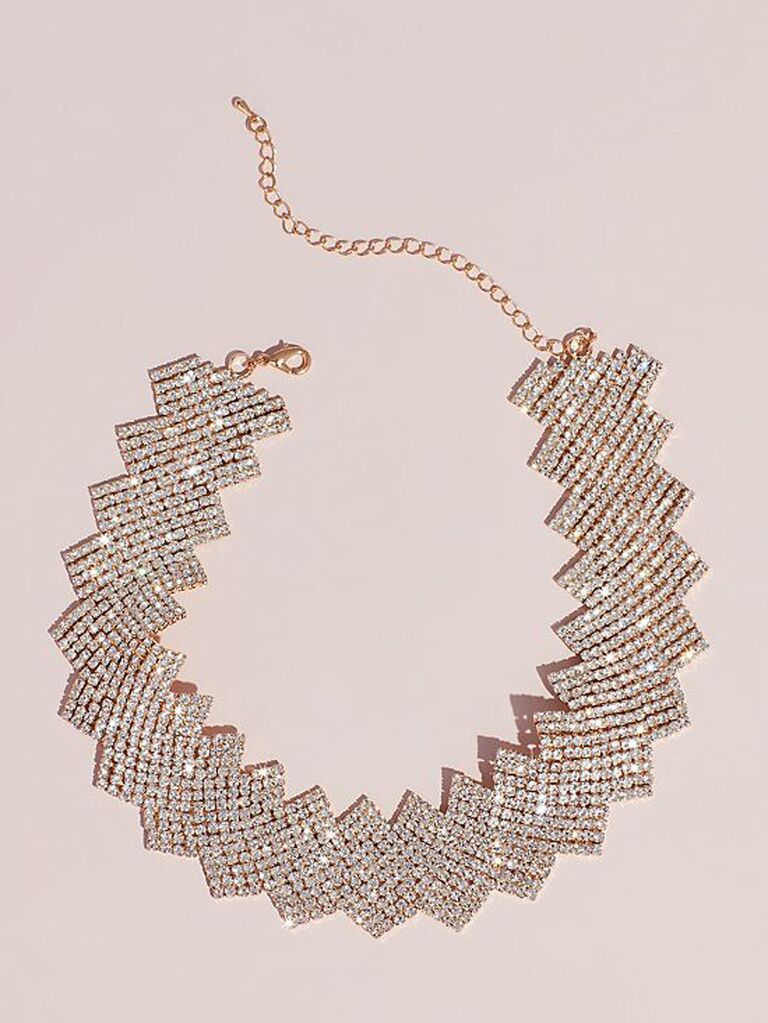 Go full-blown glam with this collar wedding statement necklace, which has tons of tiny crystals that form a unique zig-zag shape. It comes in either gold, rose gold or silver.
Natasha crystal zigzag statement necklace, $35, DavidsBridal.com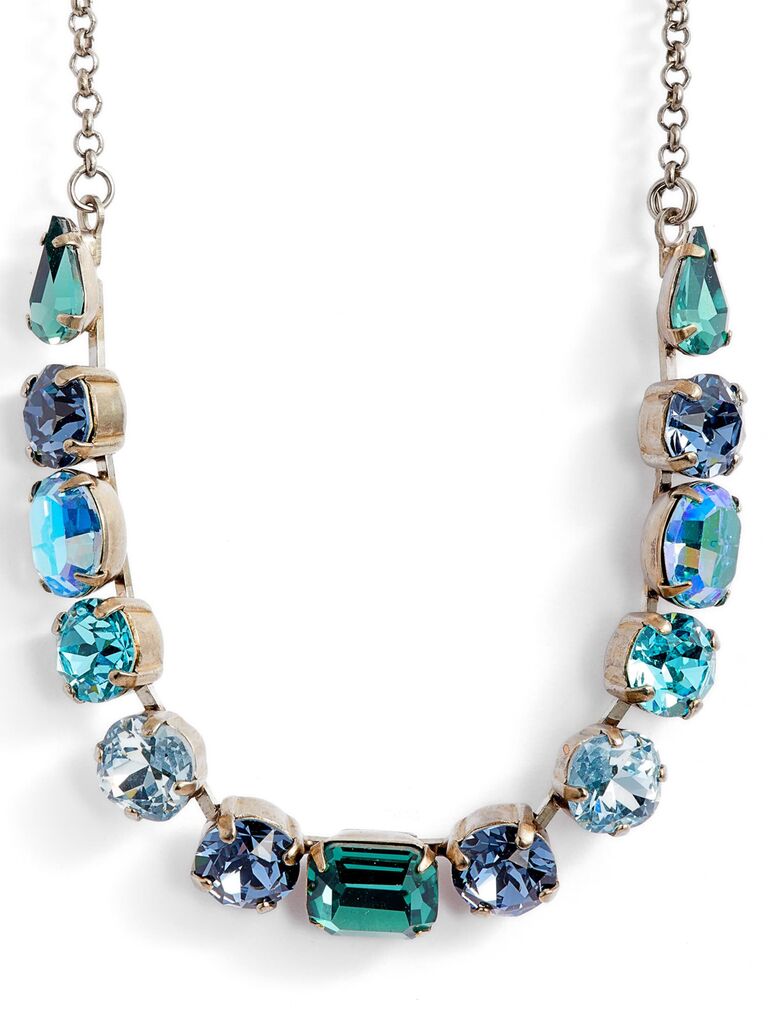 Still need your "something blue?" This sparkly, mixed-cut crystal necklace features a variety of aquatic shades ranging from ocean blue to a near-emerald hue.
Sorrelli Tansy crystal necklace, $120, Nordstrom.com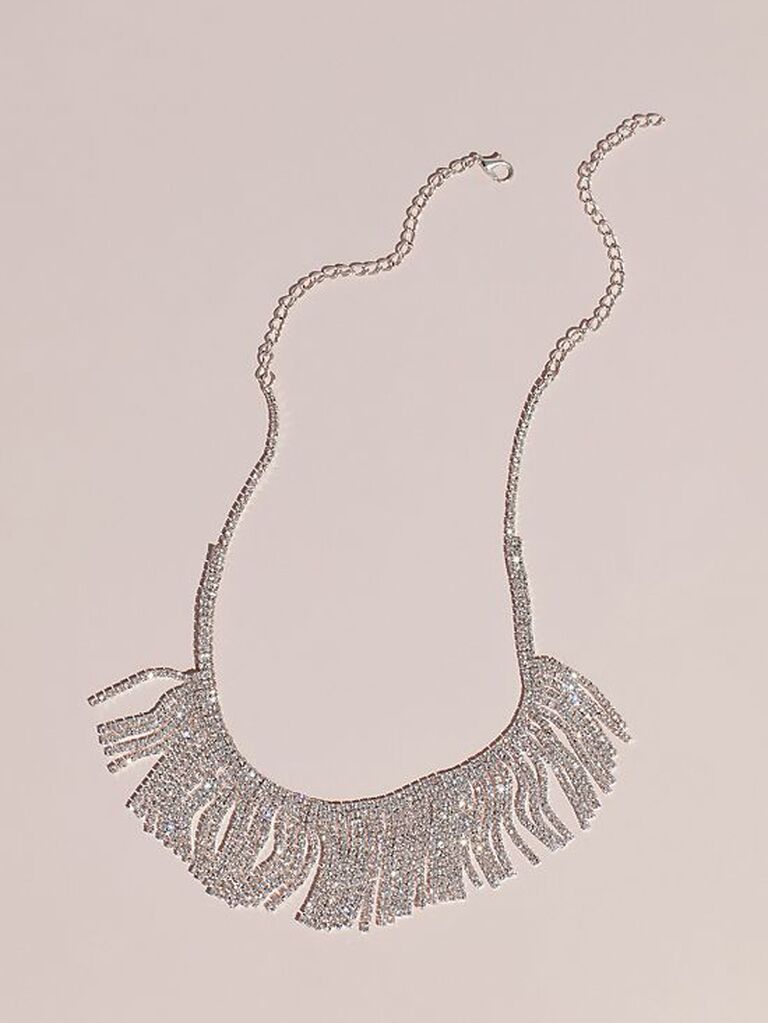 Bring out your inner flapper with this fringe bridal statement necklace. It also comes in gold, rose gold or silver, and of course, the strands are studded with crystals.
Natasha crystal fringe collar necklace, $30, DavidsBridal.com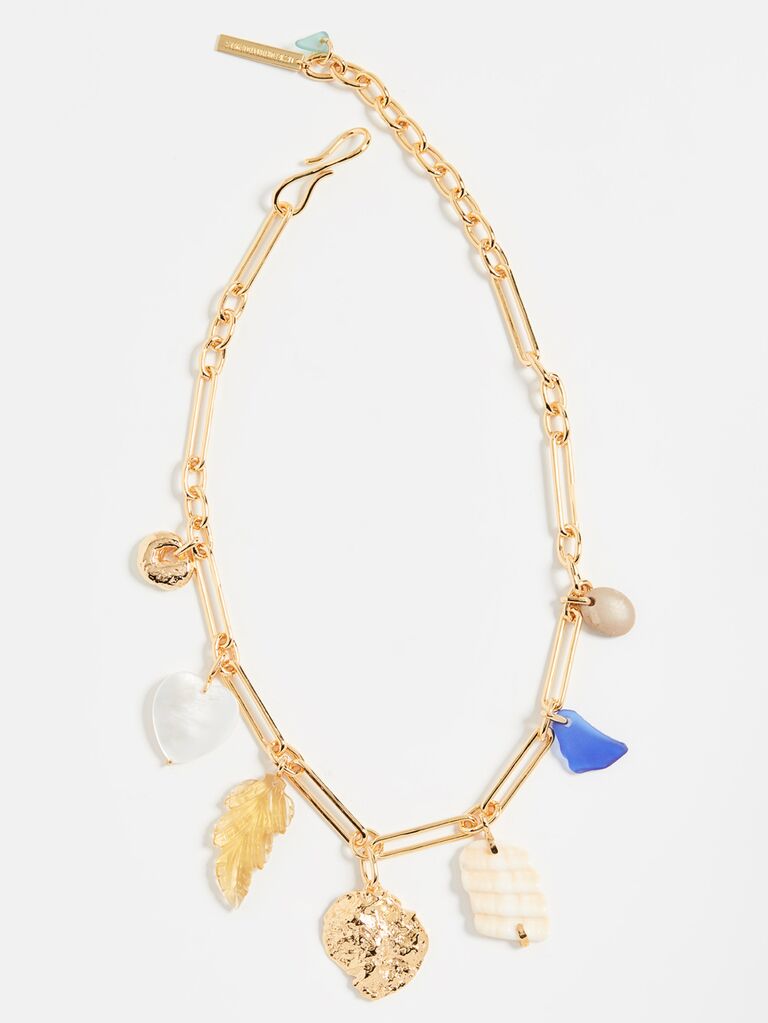 Pull together an eclectic bridal style (and wedding theme) with this truly unique statement piece. Sea glass, stones and gold-plated charms hang from the wedding necklace, which would fit right in at a tropical soirée.
Lizzie Fortunato Paradise charm necklace, $390, Shopbop.com
Shoulder Wedding Necklaces
For those who aren't familiar, a bridal shoulder necklace drapes past the decollage to make even more of a statement. It's kind of like the jewelry equivalent of a bolero. (You should also know that because they're so elaborate, they can get very expensive.) Often, they give off the illusion that they're a part of the dress, which means you can use yours to really customize your ensemble. They tend to work best with strapless gowns, though they definitely aren't limited to them.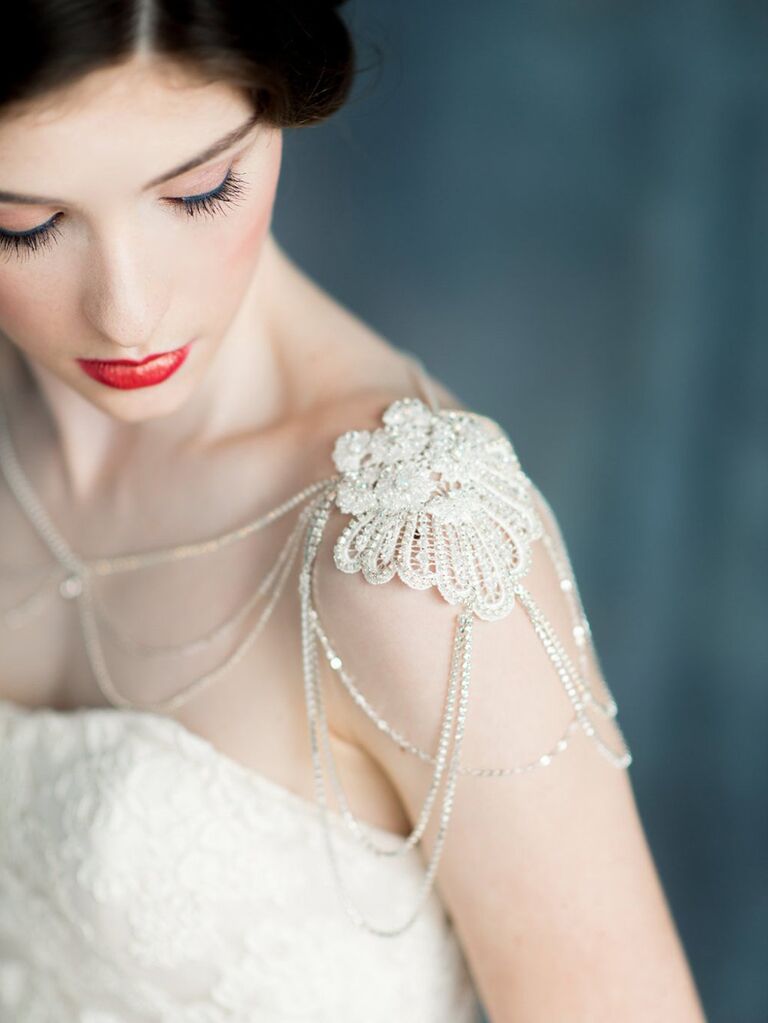 This ornate wedding shoulder necklace is utterly romantic. Just look at the dripping crystals and intricate, retro lace.
Blair Nadeau Bridal silver crystal shoulder necklace, $395, Etsy.com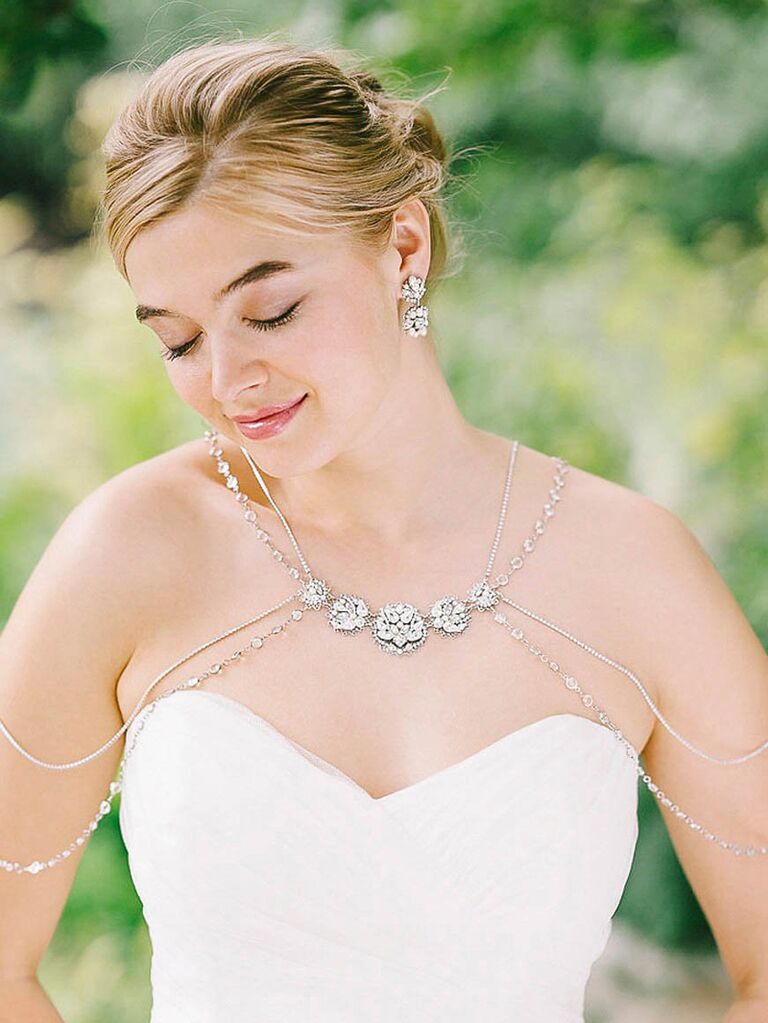 This handmade piece features genuine Swarovski crystals and pearls. Our favorite part? The floral embellishments in the front that hang like a regular bridal necklace. Bonus: You can buy it in ivory or pure white.
Sara Gabriel Michelle shoulder jewelry, from $507, SaraGabriel.com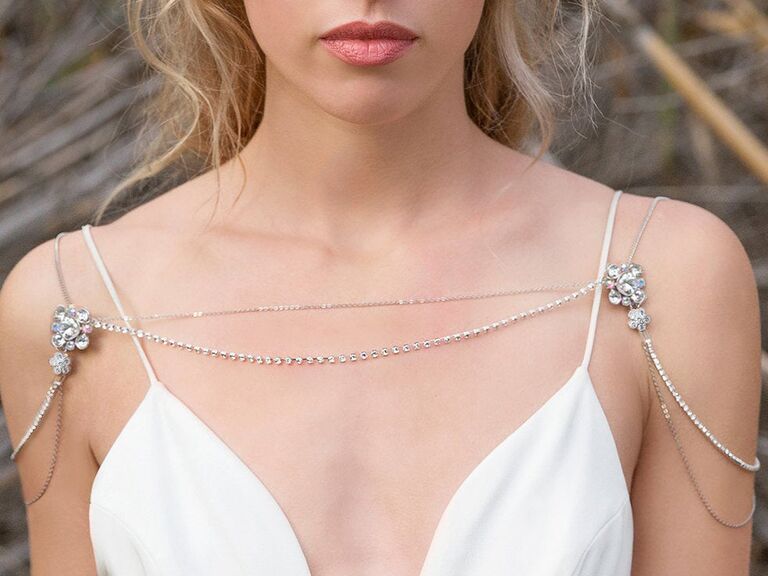 Love Swarovski crystals? This boho wedding shoulder necklace features a body chain comprised of floral crystal accents on either arm, supplemented by simple metal strands.
AMY O. Bridal bridal shoulder necklace, from $298, Etsy.com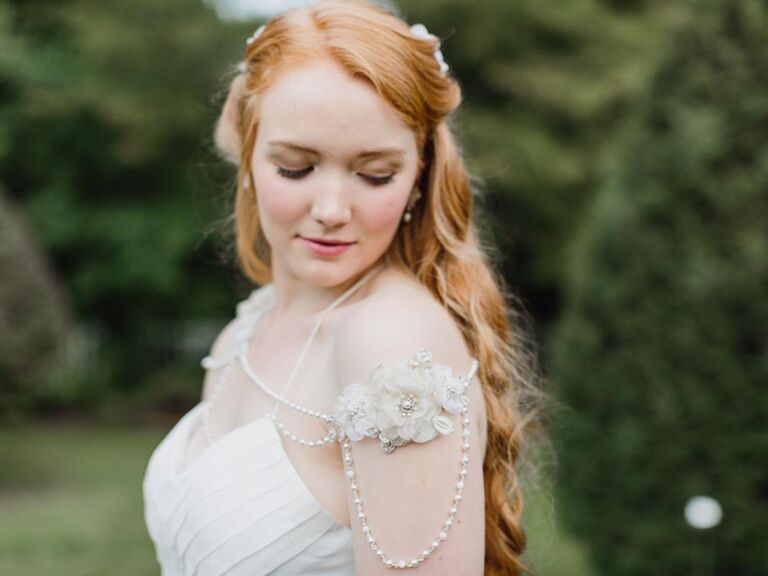 Ready to splurge? Here's a vintage-inspired wedding shoulder necklace made from whimsical silk blooms and a double strand of pearls. How dreamy! The faux flowers come in blush, cream, ivory or white.
Edera Tea Rose shoulder necklace, $735, EderaJewelry.com
Backdrop Wedding Necklaces
Bridal backdrop necklaces focus on—you guessed it—the back instead of the neck. (Though it's worth nothing that typically, they're designed to accessorize both.) If you're wearing something backless or plunging in the rear, keep this trendy style of wedding necklace in mind. It's guaranteed to add drama to your look.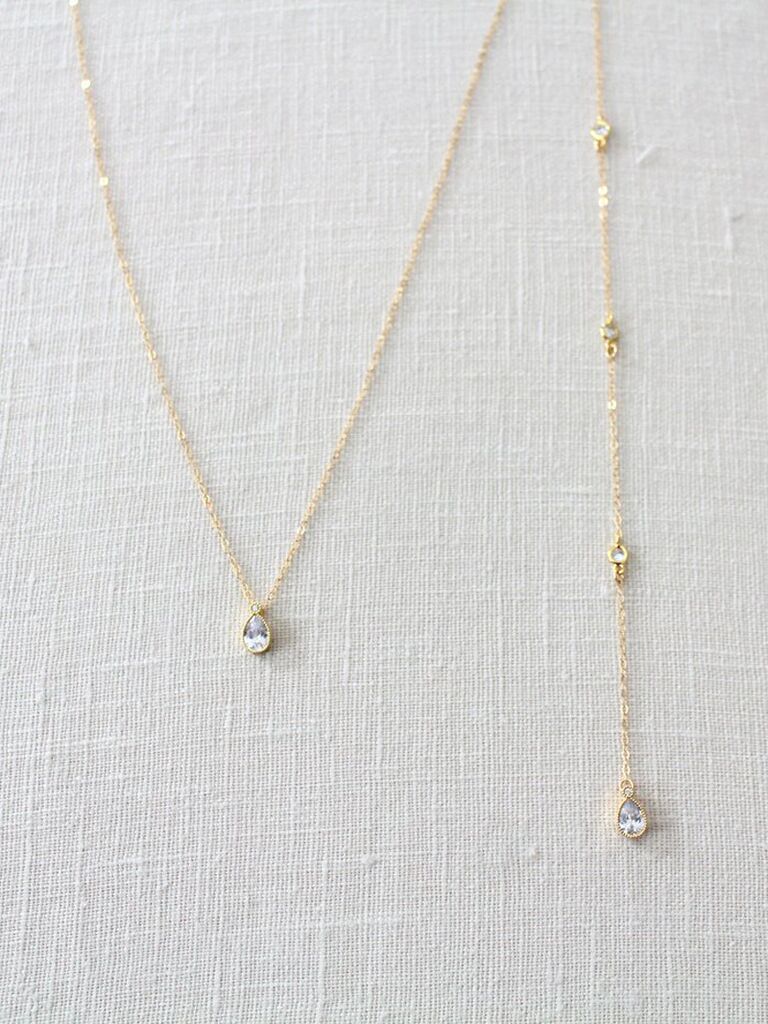 Need proof that this is an awesome wedding backdrop necklace? It's earned best-seller status. The front is a simple pendant necklace, while the back is a chain of crystals. Get it in either gold, rhodium or rose gold and in the drop length of your choosing.
Treasures 570 dainty bridal backdrop necklace, from $67, Etsy.com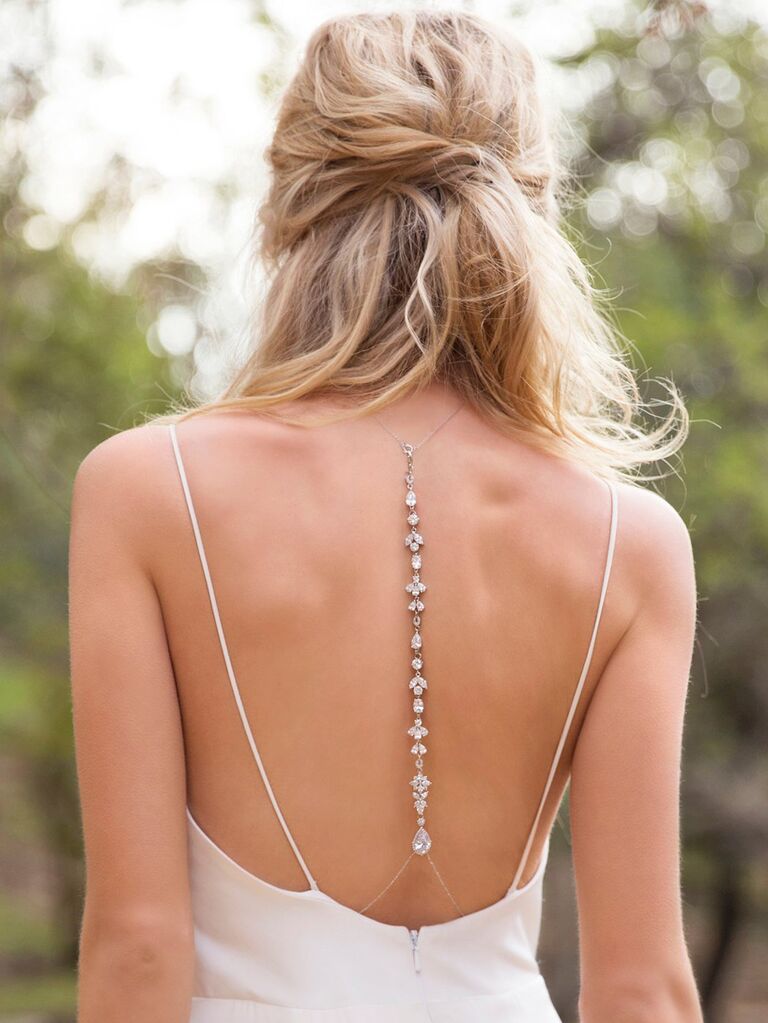 Want something bolder? Try this wedding backdrop necklace. In the front, there's a classic double chain with a big teardrop pendant. In the back, things get more modern—there's a strip of floral cubic zirconia. Prepare to feel like a goddess wearing it.
AMY O. Bridal bridal backdrop necklace, from $300, Etsy.com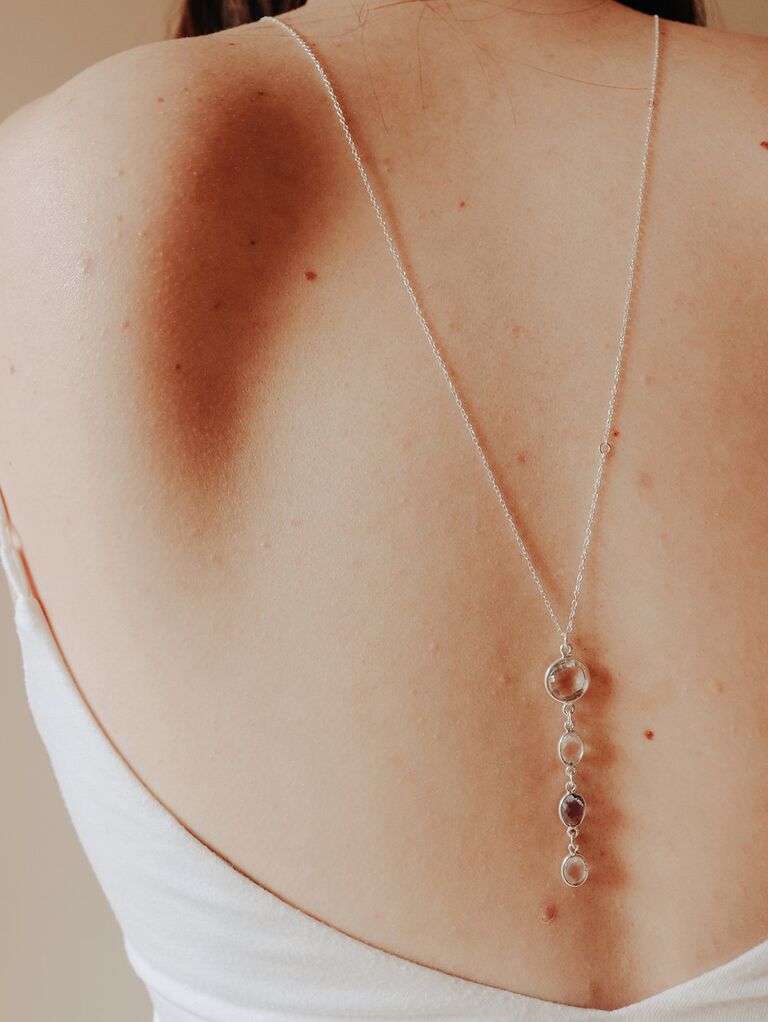 Backdrop necklaces come in colors too! We're obsessed with this piece, which ends with four rounded crystals (alternating amethyst and rose quartz). According to the seller's description, these stones represent things like love and harmony—two beautiful wedding themes.
Wildest Dreams Bridal rose quartz amethyst wedding back necklace, $73, Etsy.com
Wedding Necklace Sets
Make accessorizing easy with jewelry you know goes together because it's sold together. These bridal necklace sets come in a range of price points for any wedding budget.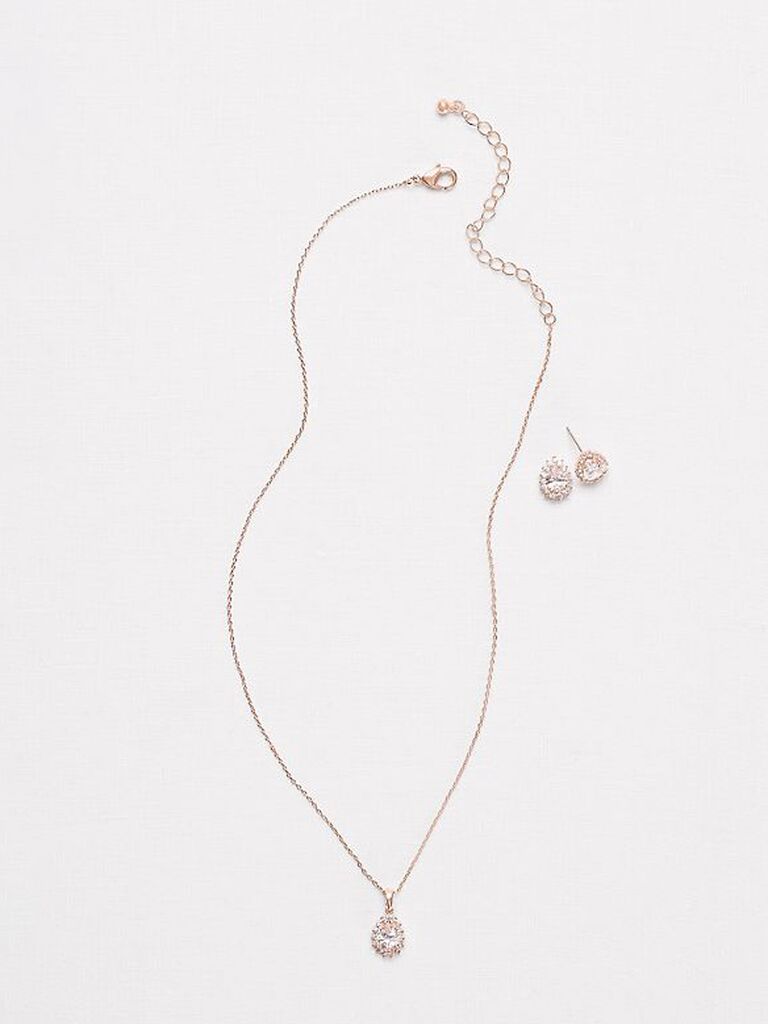 Keep things classic with a pear-shaped crystal necklace and matching stud earrings. Bonus points if your engagement ring is also pear-shaped.
David's Bridal almond cubic zirconia necklace and earring set, $25, DavidsBridal.com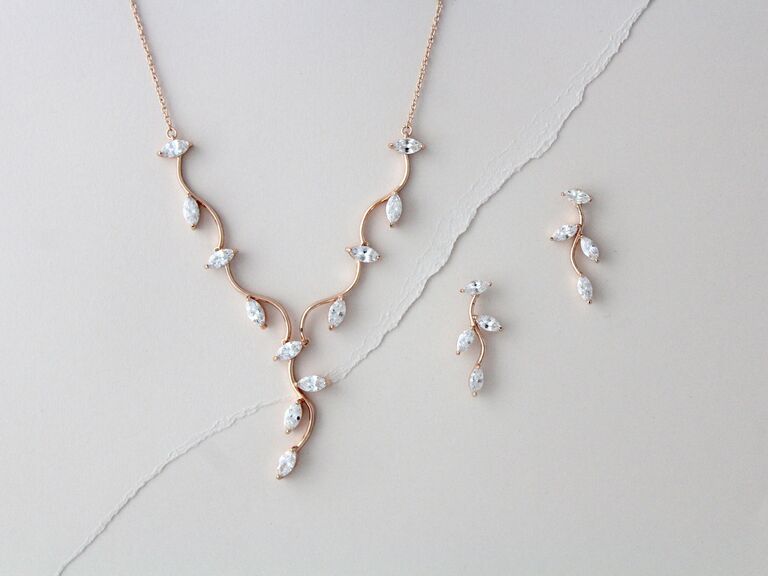 This whimsical wedding necklace set includes a rose gold chain with an optional backdrop (score—you can buy a bridal backdrop necklace in a set) and coordinating drop earrings. Both have a dreamy botanical design.
The Exquisite Bride rose gold wedding necklace set, from $63, Etsy.com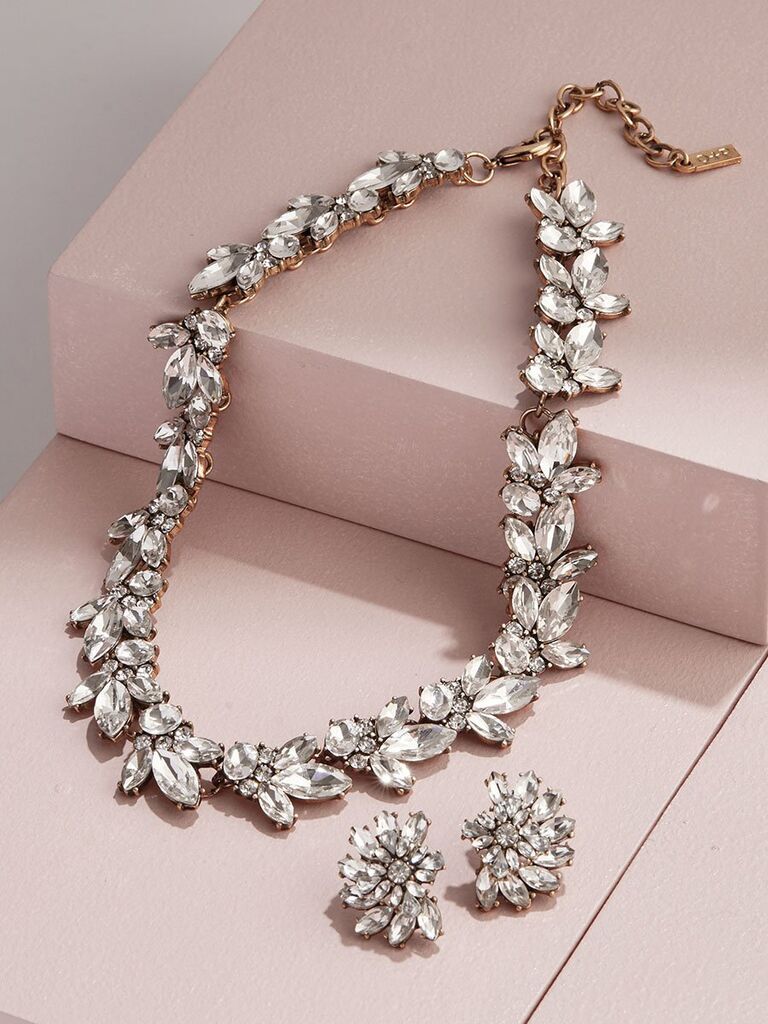 Want a bridal statement necklace and earrings to match? How about this floral set, comprised of a gold or silver crystal necklace plus complementary cluster studs?
Olive + Piper luxe crystal set, $72, OliveandPiper.com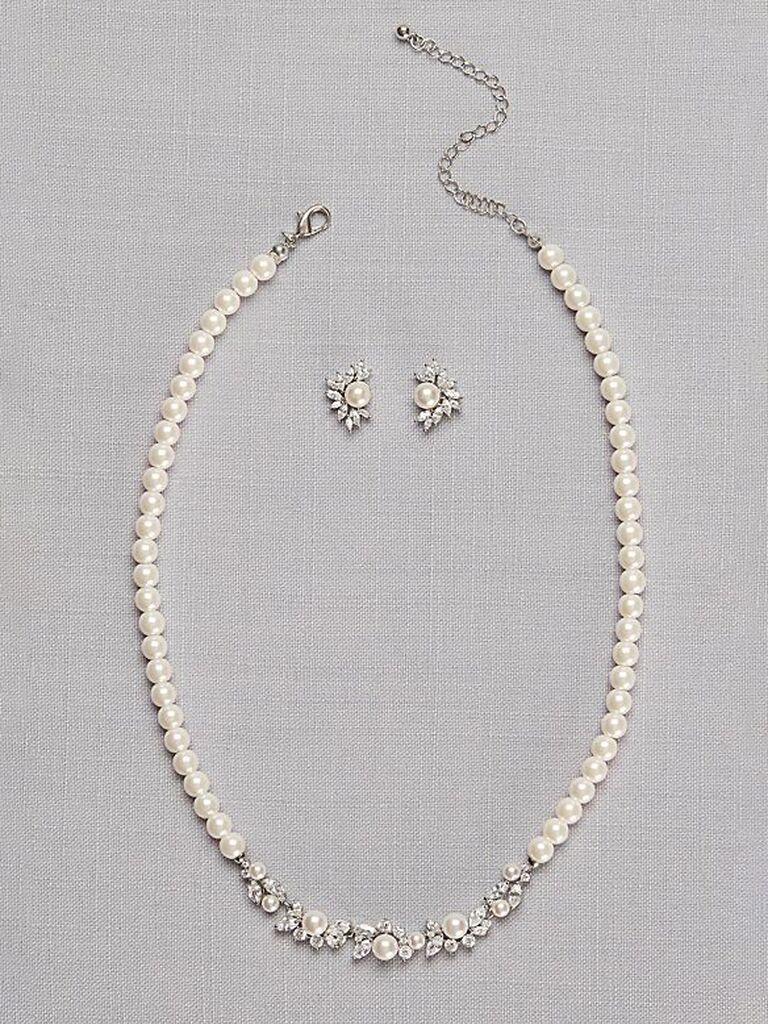 There's seriously a set for every style. This one has a bridal pearl necklace and bridal pearl earrings with cubic zirconia detailing. Both are on silver bases.
David's Bridal pearl and cubic zirconia necklace and earring set, $40, DavidsBridal.com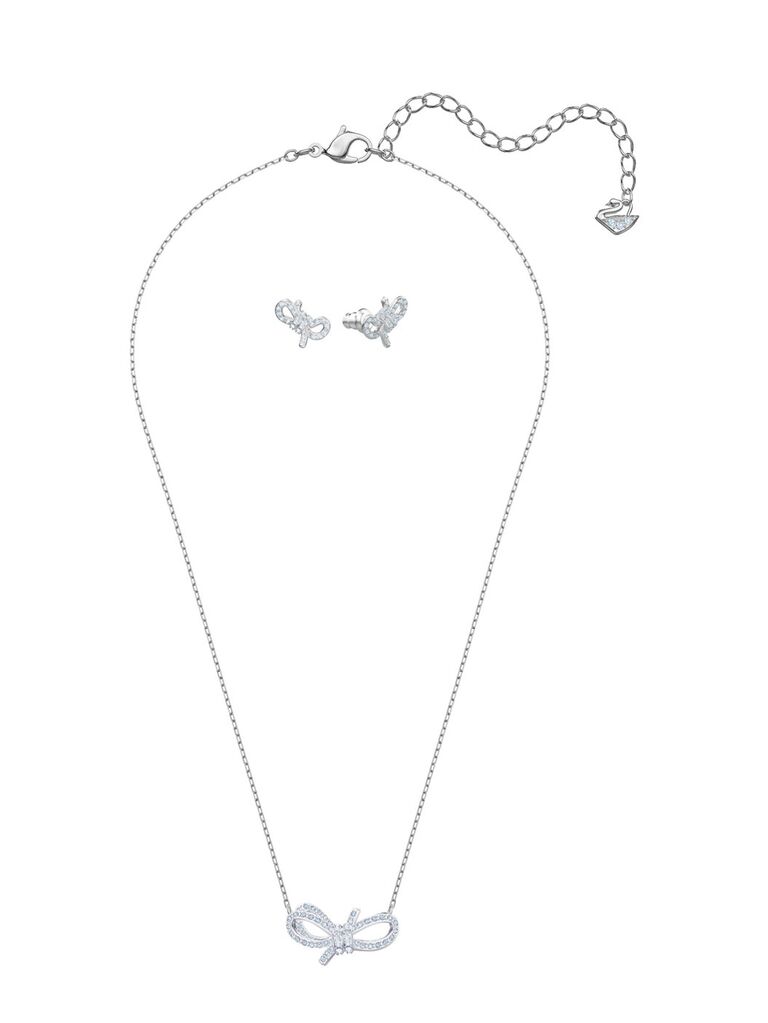 Last but not least, here's a sparkly, preppy set perfect for a country club wedding. The silver bridal necklace has a bow-shaped pendant that's near identical to the bow-shaped earrings. It helps that the fun, pretty knots were crafted to represent lifelong love.
Swarovski lifelong bow set, $129, Swarovski.com