13 Best Wedding Ties for Every Suit Color (And Where To Buy Them)
Having trouble finding the right wedding tie? Our Menswear Editor shows you his favorite selections to help tie your outfit together.
Got a wedding coming up and trying to figure out how to take your suit from good to great? It all comes down to wedding ties. Ties are one of the most common suiting accessories at weddings ranging from white-tie to semi-formal and can be the choice that makes or breaks a suit. And that's the thing: different dress codes, seasons, suit colors, and vibes call for different ties (or even bow ties). They're an accessory that allows you to elevate a look but also express yourself with patterns, colors, and fabrics that accentuate the energy of your outfit.
I've put together a selection of some of my personal favorites here, from simple solids to crazy paisleys and fun fabrics. I'm also going to help you style them and offer some guidance on when to wear what. You're in the hands of experts - read on for everything you need to know about wedding ties!
Best Wedding Ties
Whether you're looking for ties to pair with a navy suit, a great groom tie, or just trying to figure out what color tie a wedding guest is supposed to wear (it's simpler than you might realize) I've got you covered. But before we get into that, let's talk about the secret behind pairing ties with suits: most suits come in pretty neutral tones–black, grey, navy, and brown being the most common. Because of this it's actually quite easy to pair most colors with them. What follows isn't an end-all-be-all determining factor in what kind of tie you should wear with each kind of suit but rather the ones that I tend to feel pair with them the best.
Best for Black Suits: Saks Fifth Avenue Black Silk Tie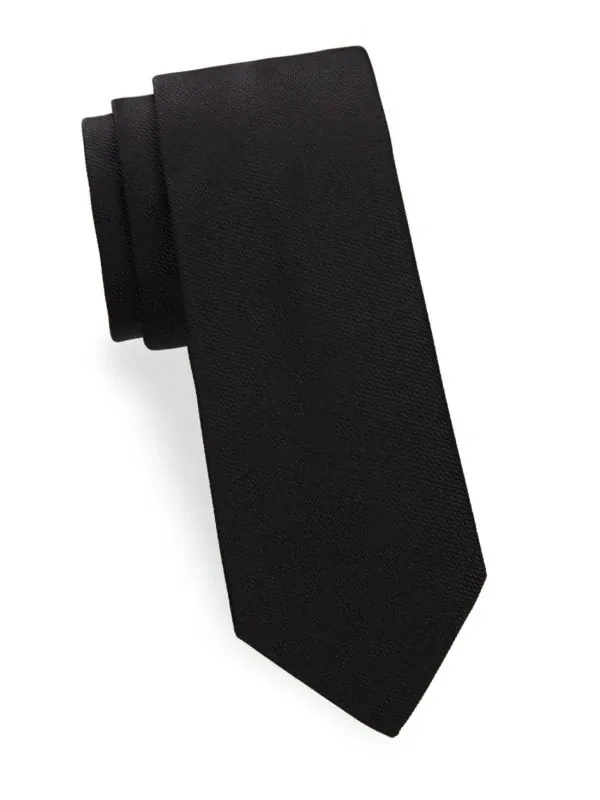 You can wear pretty much any color tie with a black suit but I'm generally of the inclination that there are few better suiting looks than pairing them with simple black ties. The trick here is to go with a tie made of a material with some texture to it, like this silk one from Sak's Fifth Avenue. It's affordable and comes in a weaved pattern that will provide contrast against most black suits.
Best for Navy and Blue Suits: The Tie Bar Solid Cotton Grey Tie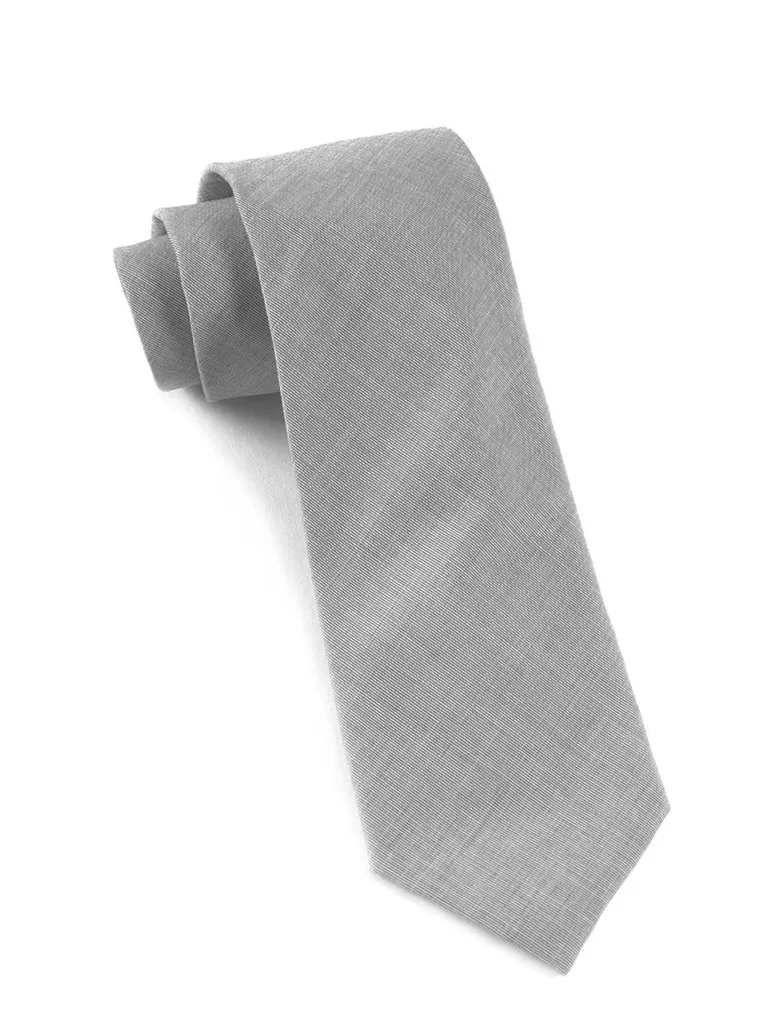 If you're aiming for a more neutral vibe with your blue or navy suit I've always been pretty partial to a grey tie. The Tie Bar's option is made of a sturdy cotton and will bring a suave, understated feel to your wedding look.
Also Best for Navy Suits: The Tie Bar Striped Knit Burgundy Tie
On the other hand, if you want to bring a pop of color to a navy suit you really can't do better than burgundy. The dark red brings a splash of variance to a navy suit and leans into classic Americana. The Tie Bar's knit option, perfect for spring and summer weddings, offers a preppy vibe too.
Best for Grey Suits: J. Crew Navy Silk Knit Tie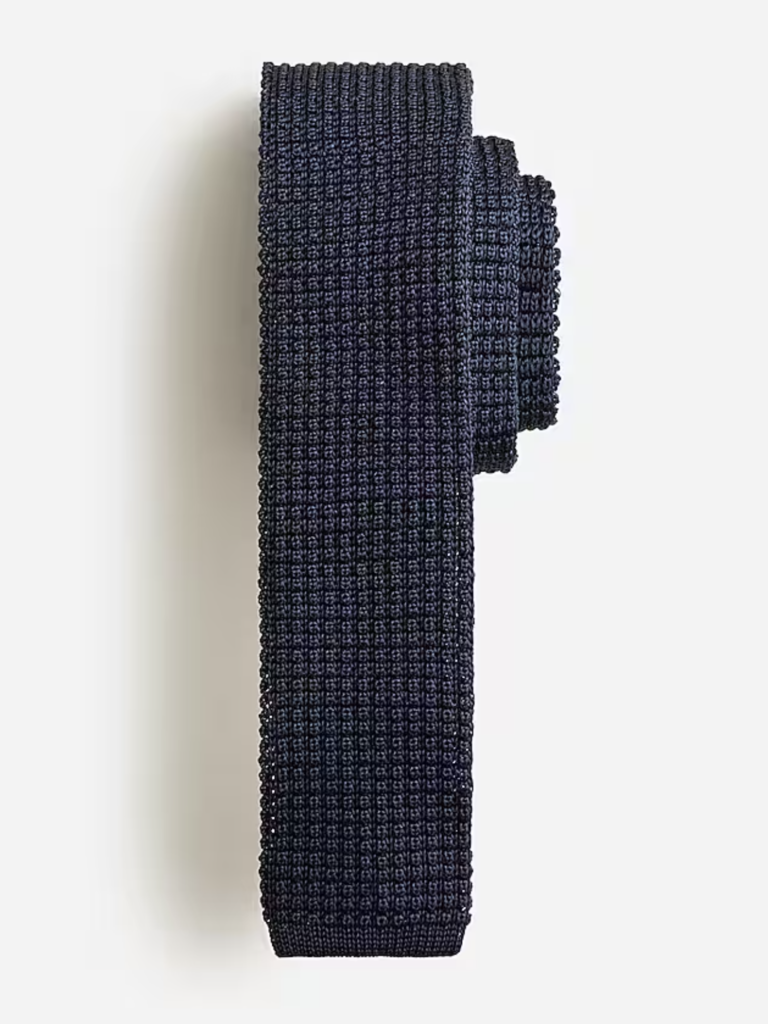 The same way a grey tie goes well with a blue suit, a blue tie pairs great with a grey one. It doesn't have to be as simple as a solid tie, though. J. Crew's silk knit tie blends a textured feel with a perfect complementary blue for a grey suit.
Also Best for Grey Suits: Birdy Grey Dusty Rose Simon Necktie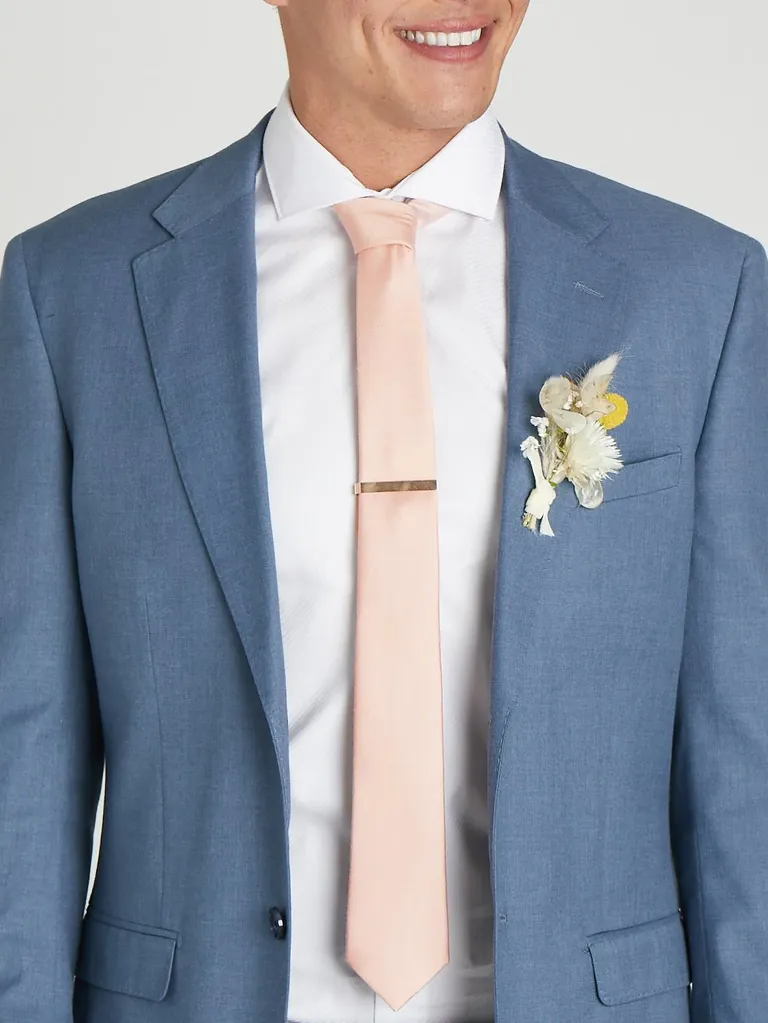 Another perfect pairing with a grey suit? Pink–don't be afraid of it. A faded dusty rose tie like this one from Birdy Grey can add a ton of vibrancy to a grey suit, especially at outdoor ceremonies.
Best for Burgundy Suits: Turnbull & Asser Navy Racing Yacht Silk Tie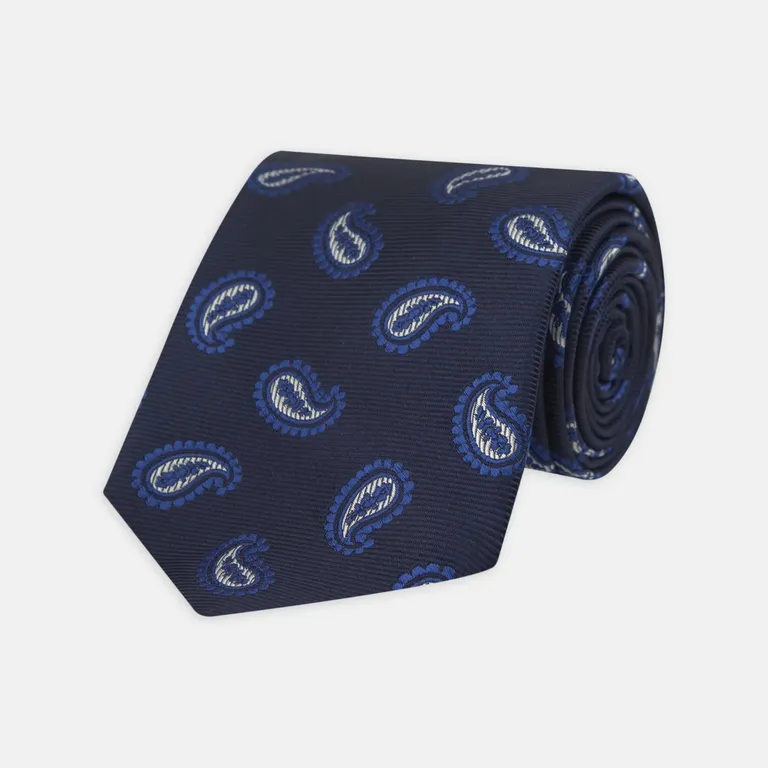 You know the drill by now: if burgundy ties go with navy suits, navy ties go with burgundy suits. Burgundy, however, is a far less understated color than navy. Some would say that's a reason to exercise restraint in picking out your tie to wear with it, but I'd disagree. Go with a pattern like this cool paisley one from British sartorial legends Turnbull & Asser.
Best for Tan Suits: Drake's Navy and Green Large Paisley Print Silk Tie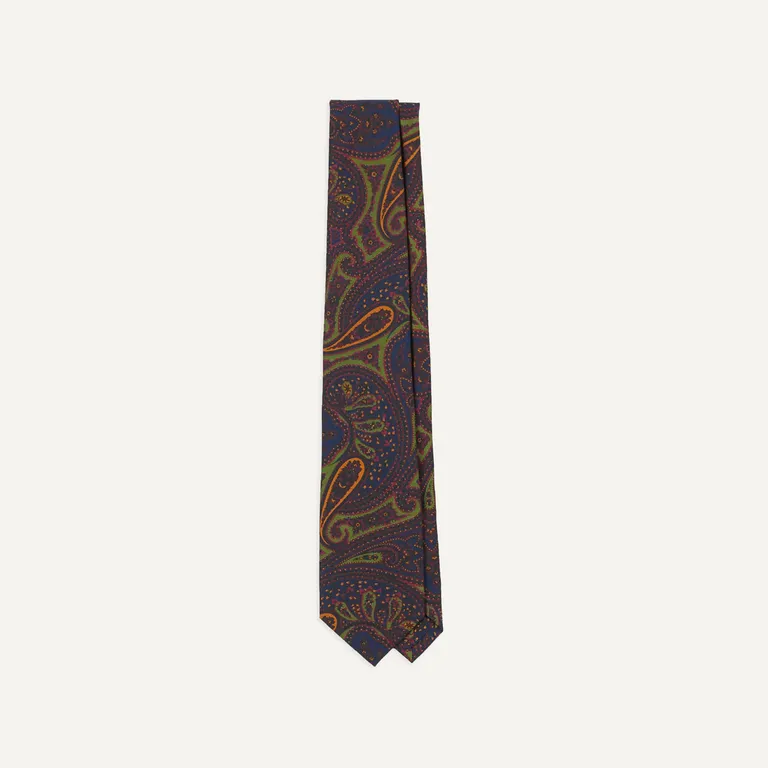 Tan is another suit color that just about any color tie is going to look good with. Take advantage of its versatility and wear a loud one with it. This silk tie from Drake's is full of catchy colors like olive green, violet, and splashes of orange. It'll have every other person in a suit at your wedding asking where you got it.
Best for Brown Suits: Dazi Sugar Blossom Tie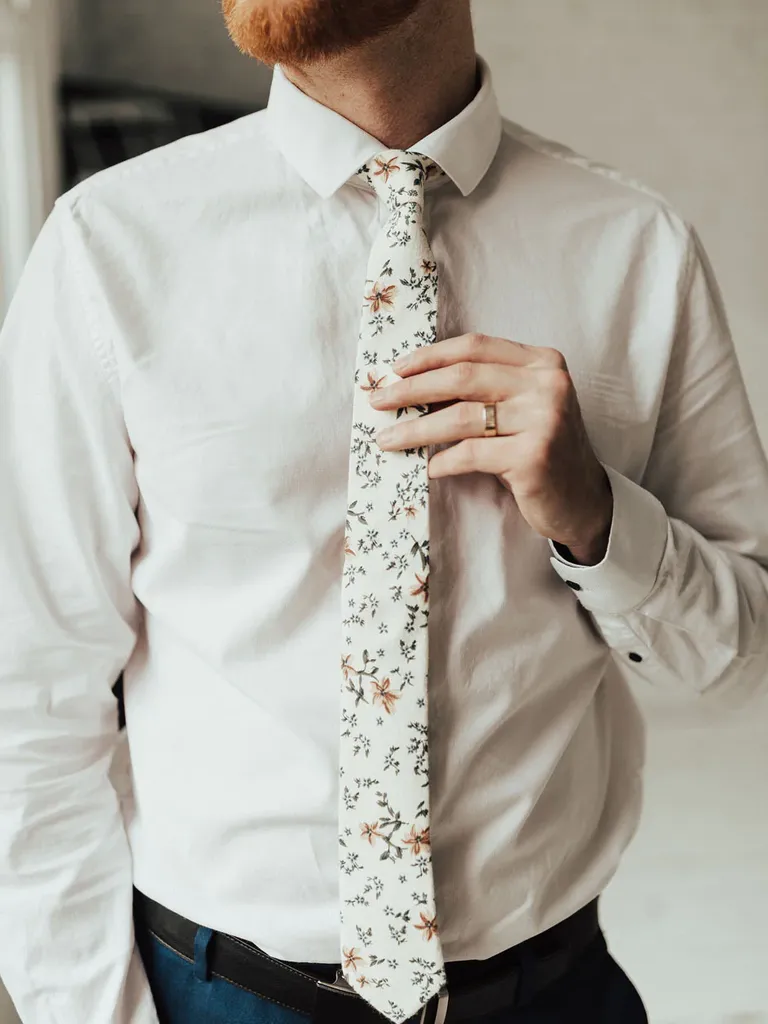 I've always felt the best ties for brown suits are other neutrals, and perhaps even other neural tones in the general realm of brown (think beige and sandy linens). This option from Dazi features a cream white base and then a pop of beautiful color with its artful flower print. It'll bring a brown suit to life in ways you can only imagine..
Also Best for Brown Suits: Hermés Navy Saint-Honore Tie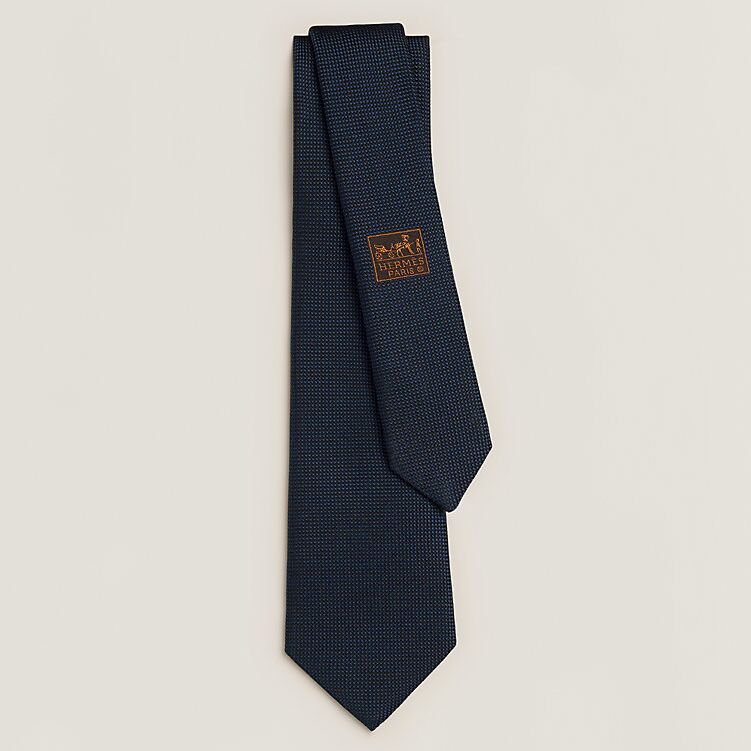 Navy and brown remains a classic pairing. If you feel like going that route, treat yourself to the Ferrari of ties in the form of this Hermés Saint-Honore. There's a reason the brand's ties have been coveted for decades–it's a quality investment that will look good with anything (but especially your brown suit).
Best Floral Tie: Le Colonel Katie & Millie Vanilla Tie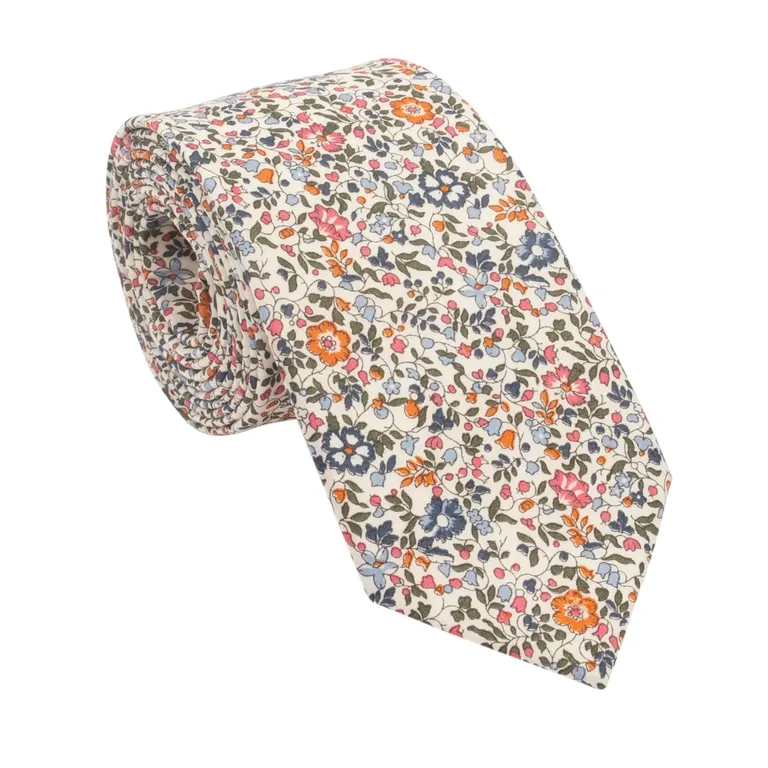 The key to a great floral tie is subtle neutrality–patterns like this with so much color and linework can actually be very difficult to pair with a suit if there's too much going on in one direction or another on the color scale. You don't have to worry about that at all with Le Colonel's take on the classic tie option. From the off-white base to the subtle blues and greens of the floral pattern, it will work just as well with a tan suit as it will a burgundy one.
Best for Western Suits: Banana Republic Spiagga Italian Silk Tie in Sedona Rust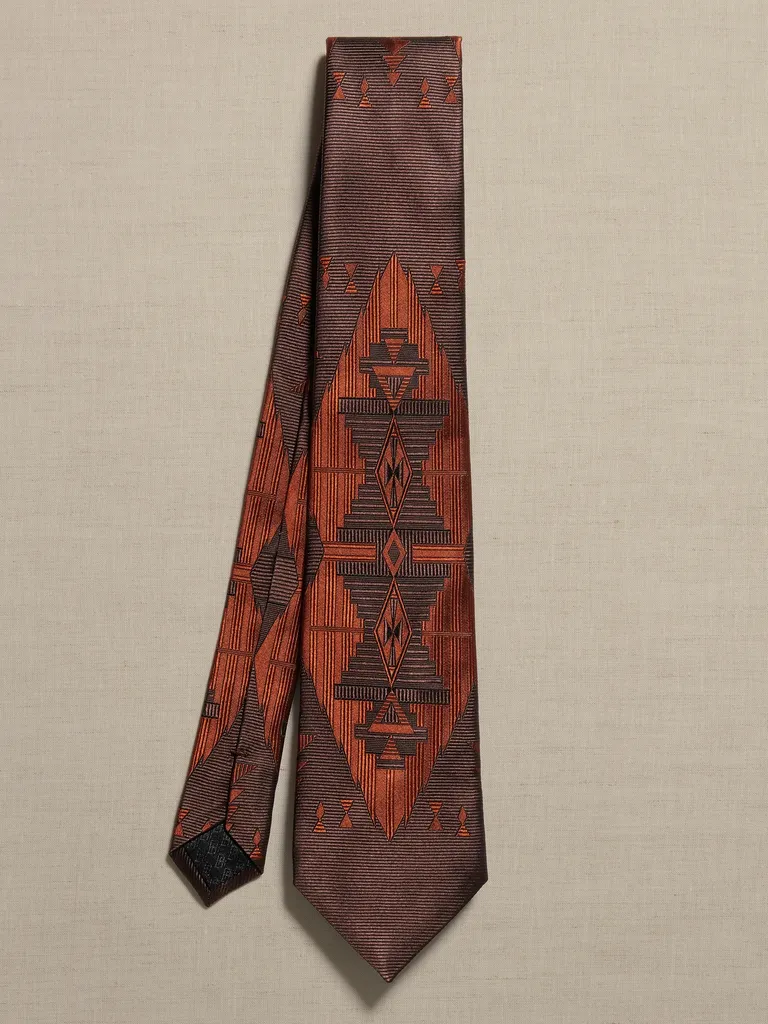 If you're knotting up a tie for a western wedding you have to lean into the theme–this rustic choice from Banana Republic is exactly what you need. It'll look great against a traditional dress shirt but also would bring big-time cowboy vibes to a denim or chambray shirt, the sort you're likely to find yourself considering for a wedding with this theme.
Best Knit Tie: John Henric Beige Knitted Cashmere Tie
Knit ties tend to work best in the spring and summer, but if you're looking for a high-quality option that'll get you through all four seasons the folks at John Henric have you covered. Their beige knit cashmere tie looks like it cost a few hundred bucks and you can grab it for under $100–plus this shade of beige goes with everything from black to brown to burgundy.
Best Geometric Print Tie: Joseph Abboud Burgundy Square and Floral Print Tie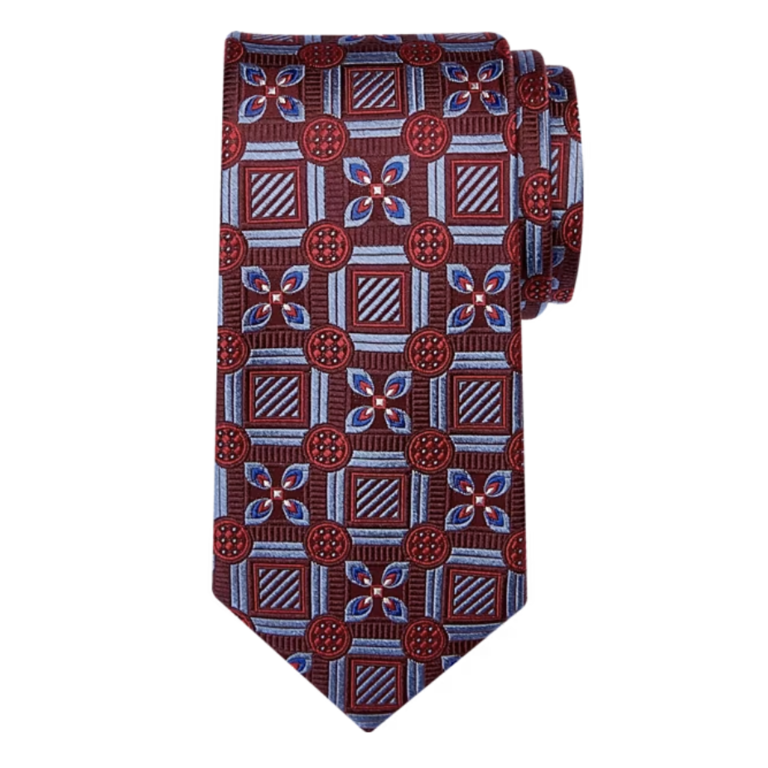 We're all about geometric ties in 2023 (seriously, it's one of our favorite suiting trends this year) and there's a wealth of options out there for guys looking to go that route. They bring a cool vintage vibe to a suit and I'm personally partial to pairing them with double-breasted ones. If you're looking for a good place to start with the geometric tie trend, this option from Joseph Abboud will get you in the door for a cool $60 and have your vintage vibes emanating at their best.
Best Tie for Disney Weddings: CuffLinks Mickey Mouse Pattern Tie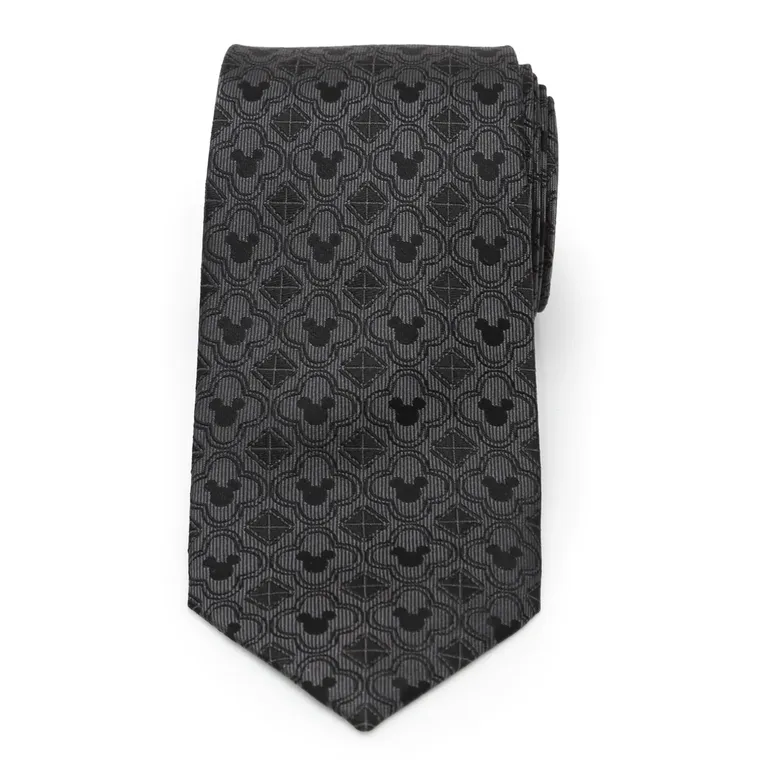 Listen, Disney weddings are a thing and you can bet that if you're showing up to one for the first time you need to dress the part–because everyone else will. This doesn't have to mean Beauty & the Beast cosplay, though (unless that's your thing, in which case who am I to stop you?). Sometimes it just means an appropriately-themed piece of neckwear like this understated Mickey Mouse-paisley print tie.
Where to Buy Wedding Ties
Whether you're looking for matching groomsmen ties or a catchy statement piece, there are plenty of menswear hubs today that can help you find the perfect tie for the next wedding you attend. Some of them are tie specialists while others are larger menswear spots that just happen to do them particularly well. Keep reading for the best places to buy wedding ties.
The Tie Bar
The Tie Bar offers menswear accessories and apparel but their bread and butter is in the name. They offer quality ties in every color, pattern, and fabric you could possibly imagine. Between the range of their line and the price point, this is a great option for any guest looking for a quick and easy suiting star ahead of a wedding or for a groom putting together the wardrobe for his groomsmen.
Turnbull & Asser
If you're looking to go the artisanal route, British legends Turnbull & Asser is the name you're looking for. They've been making ties for some of the most well-dressed men in the world (including Pierce Brosnan during his run as James Bond) for quite a while. Buying a tie from Turnbull & Asser is an investment in a piece of art–your wardrobe will thank you.
Etsy & eBay
If you're like me and love a good vintage find, Etsy and eBay are absolute treasure troves of vintage ties. Classics from designers like Dior, Armani, and Gucci are available on these sites for pennies on the dollar and it's not uncommon to find a totally unique vintage tie from a designer brand for $40 or so. It requires a bit more time to dig through the digital racks and probably isn't the way to go if you're looking to coordinate with groomsmen or bridesmaids but if you're looking for a one-of-a-kind wedding tie, this is where you'll find it.
J. Crew
J. Crew's tie selection has been sneaky great for years, with their signature brand of Americana revival giving way to all kinds of gems. This is a great place to go for a tie for a black-tie-optional or semi-formal wedding, something with some character but not so much as to come off as informal.
Birdy Grey
Birdy Grey is a great hub for wedding parties looking to find coordinating accessories, ties included. When I was best man at my friend's wedding it's the site we used to pull together a number of matching flourishes between both the bridesmaids and the groomsmen, from pocket squares to ties. You won't find anything stretching too far outside of the realm of conventionality but sometimes that isn't what you need. When you need simple, solid accessories for a big party, Birdy Grey is the place.
Frequently Asked Questions About Wedding Ties
What color tie do you wear to a wedding?
As with many wedding fashion questions, it's going to depend on the dress code. For black-tie and white-tie weddings, the answer is in the name. Once you get into the realm of formal and semi-formal weddings though, you have more leeway and reach a point where there aren't hard rules as to what color tie you wear to a wedding.
Can you wear a suit without a tie to a wedding?
If the dress code is semi-formal or anything more casual than that, you may be able to wear a suit without a tie. Check the wedding website for clarity on the dress code and ask the couple before making the decision, though.
Should I wear a tie bar to a wedding?
That's totally up to you! You don't generally wear a tie bar with a tuxedo so that's maybe not an accessory for white or black-tie weddings. Otherwise, it's your call.