Everything to Know About the Tradition of the Wedding Ring Finger
Do you have to wear it on your left hand?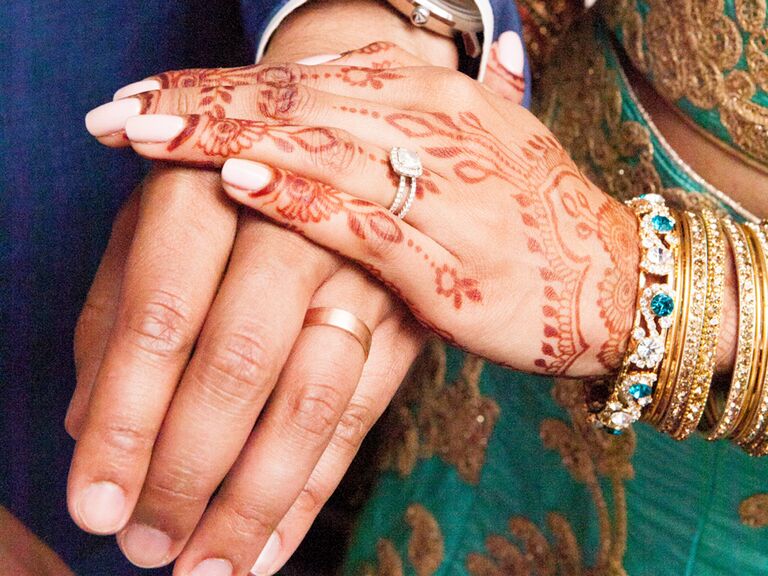 Rosetta Li Photography
After your significant other pops that question, your first instinct might be to slide your engagement ring on the fourth finger of your left hand. It's often referred to as your "ring finger," primarily because it's a common spot to stack an engagement ring and wedding ring. But if you've ever wondered which finger a wedding ring goes on, you're not alone. While wearing wedding jewelry on your left ring finger is a common practice, especially in the United States, it's not the only option. In fact, the wedding ring finger meaning and tradition is steeped in history, and it often changes among different cultures.
So, what's the proper wedding ring finger and hand? Do you have to wear it on your left, or can you transfer your jewels to the right if you'd like? Here, we break down everything you need to know about how to wear your engagement, wedding or promise ring.
In this article:
What's the Proper Wedding Ring Finger?
If you're confused about what hand you should wear your wedding rings on, we have good news: As with most wedding traditions, the choice is up to you. You might be familiar with the "vein of love" tale that prompts most couples to wear their wedding jewelry on the fourth finger of the left hand. But if you like the look of your engagement ring alone on one finger, you can certainly separate both rings—you can even wear your stack on your right hand if you'd like. While there's no "proper" wedding ring finger, there are some meaningful reasons why couples often choose the left hand, which we explain below.
The Traditional Ring Finger Meaning
The tradition of wearing an engagement and/or wedding ring on the fourth finger of the left hand is a romantic one—but the meaning is totally untrue. Kristen Lawler-Trustey, a spokeswoman for jewelry brand Forevermark, explains that the ancient Romans believed this finger had a vein that ran directly to the heart—the Vena Amoris, or "Vein of Love." So of course, couples in love should wear the symbol of their love and devotion on that lifeline.
Today, we know there's no such vein (although we still love the story!), yet the tradition of wearing the engagement and wedding ring on the fourth finger of the left hand continues here in the US. But there are some countries, says Zaven Ghanimian, CEO of Simon G Jewelry, where the ring finger of the right hand is the more popular choice for brides and grooms to wear their rings, like in Russia, Greece and Colombia.
Want to know more about which finger and hand to wear your wedding, engagement or promise ring? Read on.
The Wedding Ring Finger Meaning
Wedding rings are a sweet symbol of eternal love throughout history. "The tradition of wedding rings came about in Egypt, about 4,800 years ago," Ghanimian says. "The circle symbolizes eternity, with no beginning or end. What most people don't know is that the hole in the center of the ring also has significance—it's not just space, but rather a gateway or door. When you give someone a ring, it signifies immortal love."
Couples typically exchange rings during their wedding ceremony, placing the ring on each other's wedding ring finger—the fourth finger of the left hand—after saying their vows. As for determining what hand does the wedding ring goes on, the choice is really up to you. Traditions are nice, but etiquette rules have softened through the years.
There are no rules on which metal your wedding rings must be made of, or whether or not they should match. You can opt for simple bands or more elaborate ones with stones or designs. Some couples choose to have their wedding date or a romantic phrase inscribed in their bands.
The Engagement Ring Finger Meaning
It wasn't until more recently that engagement rings appeared on the scene. "The first recorded use of a diamond engagement ring occurred in 1477, when Archduke Maximilian of Austria presented Mary of Burgundy with a ring featuring hogback diamonds (modern-day baguette diamonds) arranged in the shape of the Gothic letter M," Lawler-Trustey says.
His engagement ring choice then sparked a trend—for more than one reason. "Diamonds have long been an unwavering symbol of a couple's eternal love and commitment to one another," Lawler-Trustey says. "A diamond is the hardest and most durable naturally occurring substance found on Earth, making it the perfect choice to represent enduring, everlasting love and the promise of forever. Each diamond is also incredibly rare and unique. No two diamonds are alike, just as each couple's love has its own unique story."
Still, diamonds aren't a requirement for an engagement ring. They can have other gemstones, or whatever else suits your sense of style. For example, Duchess of Cambridge Kate Middleton has a blue sapphire engagement ring, Carrie Underwood has a canary yellow diamond and Jessica Simpson has a red ruby engagement ring. Emerald engagement rings and black diamond engagement rings are other trendy alternatives to the classic bauble. Pearl engagement rings and moonstone engagement rings are other non-diamond engagement rings to consider.
There's also been a rise in the popularity of engagement rings (or watches) for men too. "Today, it is not uncommon to see men wearing an engagement ring," Lawler-Trustey says.
Which Finger Do You Wear Your Engagement Ring On?
Given this knowledge, most wearers dictate their fourth finger on their left hand as their engagement ring finger. Since it's become so mainstream over the years, the engagement ring finger is generally known to be on the left hand. However, there aren't any steadfast rules about ways you must wear your wedding jewelry. If the ring feels comfortable on another finger or your opposite hand, you can wear it wherever you please. (It is your bauble, after all!)
Which Finger Do You Wear Your Wedding Ring On?
If you're planning your wedding and looking down at that sparkler, you're probably wondering how you'll wear your engagement ring on your wedding day. The first thing to note is that married people typically wear their wedding bands closer to their hearts—in other words, below the engagement ring.
Probably the most popular way to swing this is to move your engagement ring to your right hand for your walk down the aisle. That way, your fiance can slide your wedding band onto your left hand, and you can then later place your engagement ring on top of it.
"Usually people have slightly larger ring sizes on the right hand, but as long as it is within a quarter of the size, this should work," Ghanimian says. If the engagement ring is too big or too small to do this—or you just don't want to take the engagement ring off (and risk losing it!)—it's okay to put your band above your engagement ring. Some people even have their wedding band soldered to the engagement ring so that it becomes one piece of jewelry and represents the marital bond.
After the wedding day, wear your engagement and wedding rings however you like them best. Again, the most popular way in the US is to have them both on the ring finger of the left hand with your wedding band first, but you can separate them and wear them on opposite hands, or you can wear your wedding band solo. While it's easy to obsess about which finger does a wedding ring go on, the choice is really yours to make.
"Many people are wearing their wedding bands solo as an excuse to start a collection of bands that they can stack on their right hand," Lawler-Trustey says. "Some are even receiving more than one wedding band on the day of the wedding to surround their engagement ring. Another trend we've seen is forgoing the traditional engagement ring altogether and requesting a beautiful diamond eternity band."
Ghanimian agrees that breaking engagement ring rules makes your choice even more unique. "There may be traditions, but there are no rules!" Ghanimian says. "Everyone can express their personal preferences individually through wedding jewelry."
Can You Wear Your Wedding Ring on Your Right Hand?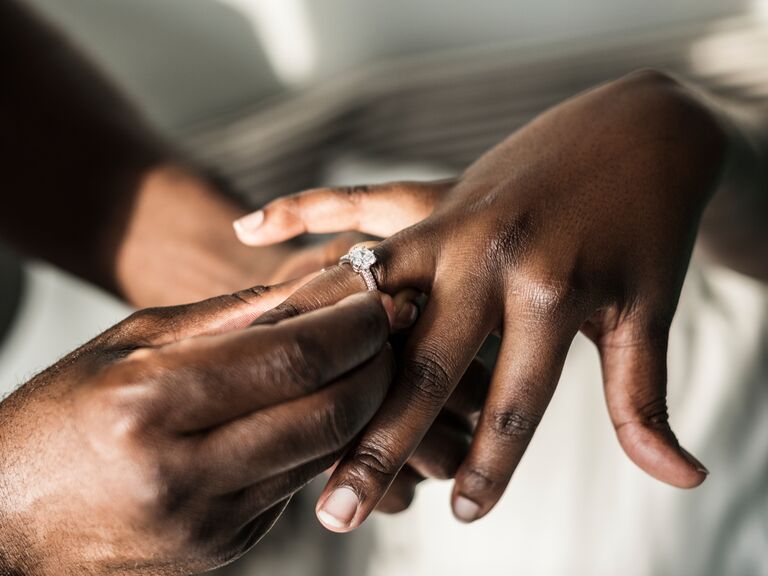 Your wedding ring finger doesn't have to be on your left hand. While tradition singles out the left ring finger as the ideal option, modern trends allow us to pick and choose how to wear our rings. It's perfectly acceptable to wear your wedding ring or engagement ring on either hand and any finger. In fact, you don't have to wear a ring at all – the choice is up to you and your partner to decide what fits your lifestyle best.
What Does Wearing Rings on Different Fingers Mean?
Different cultures have different meanings associated with each finger. While your wedding ring finger is traditionally on your right hand, some cultures wear wedding rings on their right index finger. Similarly, signet rings worn on the pinky finger are also associated with marital status. In general, though, there are no hard and fast rules to follow, so choose whichever finger works best for your ring.
What Finger Does a Promise Ring Go On?
Unlike engagement and wedding rings, the promise ring is a tradition dating back to the 16th century that's commonly misunderstood, since the ring used to signify the promise that an engagement would ensue. Now, that's not always the case, since some couples might not be ready for impending marriage, but want to show their commitment somehow.
So, what is a promise ring exactly? Today, a promise ring can have any number of personal meanings; typically it's a symbol of an exclusive relationship and/or of love. "The gifting of promise rings has been an age-old tradition, for couples who are in a steady relationship, and symbolizing their newfound love and commitment to each other," Lawler-Trustey says.
It can also mean the couple has promised to one day get married. Or in the case of purity rings, they may have promised to remain abstinent until their wedding day. Some believe promise rings are pre-engagement rings—and while it isn't always, it can be. "Many times, engagement rings inspire responses of 'How did he propose, when's the date, what are your colors and where are you getting married?' If you don't want to jump into the wedding planning process, a couple may choose to go with a promise ring," Ghanimian says. "It's a symbol that marriage is where the relationship is headed eventually, when you're both ready."
So, on which finger does a promise ring go? There's no hard and fast rule here. Some couples use the same finger as the engagement and wedding rings—the fourth finger of the left hand—but since this isn't an official engagement, others opt for a different finger. If you wear your promise ring on your left hand, once you get married, the tradition is to move the promise ring to your right hand ring finger, Lawler-Trustey says.