12 San Francisco Proposal Spots for a Dream California Engagement
The Golden Gate City has a lot to offer in addition to its iconic bridge.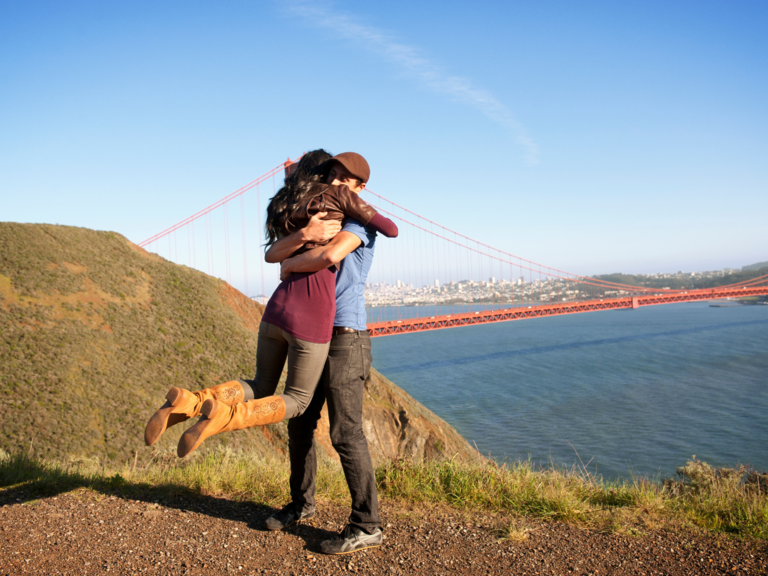 If you met in San Francisco or fell in love there, it's only fitting that you're thinking about a San Francisco Proposal. And, why wouldn't you be? The city is filled with iconic historical landmarks, rooftops and restaurants perfect for popping the question.
To learn more about San Francisco proposal ideas and tips in addition to the most romantic places to propose in San Francisco, we spoke with San Francisco proposal photographer David Zhang of A Tale Ahead Photography who has photographed more than 500 proposals in the San Francisco Bay Area and Heather Vaughn, founder and proposal planner at The Yes Girls.
If one or a couple of the locations we listed below catch your eye, you can visit The Knot Vendor Marketplace for additional information including how to contact the venue. Furthermore, The Knot Marketplace can be used to research other vendors including proposal photographers and proposal planners who can help you make your San Francisco proposal a reality and meet all of the must-haves on your wedding proposal checklist.
In this story:
How to Decide to Propose in San Francisco
Deciding where to pop the question in the Golden Gate City may feel overwhelming as there are many beautiful places to propose in San Francisco. However, you should find some comfort in knowing that it's unlikely that you won't find somewhere that best suits you and your partner's style as a couple due to the city's vastness. "San Francisco has it all—oceans, beaches, landmarks, woods, mountaintops," says Zhang. "Choose a location that has some personal meaning; or alternatively, select a location based on the type of look you're going for."
The Best Time of the Year to Propose in San Francisco
There's not one specific best time of the year to execute a San Francisco proposal as what is viewed as the best will vary depending on the kind of proposal you seek. However, there are a couple of factors you can keep in mind when thinking about what the best time of the year would be when it comes to a San Francisco proposal for you and your partner.
Since San Francisco is home to several tourist attractions including the Golden Gate Bridge, tourists tend to congregate in the city. With that being said, "Fall (September-October) have actually been some of the prettiest months to avoid the gloom and it's less crowded than summer," says Vaughn.
The Best Places to Propose in San Francisco
From historical landmarks to art museums, here are some of the best places to propose in San Francisco.
Golden Gate Bridge
For a Golden Gate Bridge proposal, you can't make it any more authentic than popping the question on the Golden Gate Bridge itself. Whether you take a stroll across the bridge or look at it from afar, a proposal on this historical bridge is a great way to start your next chapter together as a couple–especially if you're choosing to get married or stay in San Francisco.
Exploratorium
If your partner is a teacher or simply enjoys learning, head over to the San Francisco Exploratorium at Pier 15. With hundreds of indoor and outdoor science and art exhibits, it's unlikely that you won't find one where you'd like to ask that very special question. And, this museum offers views of the city skyline which can serve as a beautiful engagement photo backdrop.
Fuchsia Dell
Take your partner to Golden Gate Park for a proposal at Fuschia Dell. Although Fuschia Dell is a small section of the park, there are a plethora of trails stemming from it which you can follow into many other of the park areas and alcoves. If you want to pop the question in front of the purple-red blooms, visit between May and November when they are in season.
San Francisco Botanical Garden
The San Francisco Botanical Garden is home to more than 8,000 plants which can make for a great backdrop for popping the question. Although you can get down on one knee in front of your partner in front of their favorite bloom while enjoying the garden, both public and private tours are available if you'd rather have some more structure leading up to your special moment–just make sure to tell your tour guide about your proposal plan ahead of time so they can recommend the best spot or make themselves available to snap a photo or two when the time comes.
San Francisco Museum of Modern Art
If your first date was to an art museum or your partner enjoys viewing artwork, take your proposal to the San Francisco Museum of Modern Art. Whether you choose to ask for their hand in the museum's contemporary art or photography section, a proposal here is picture-perfect.
Romantic Places for a Rooftop Proposal in San Francisco
Since San Francisco offers a beautiful skyline to visitors, there are many rooftop venues in the area. Read on for some of our favorites.
Top of the Mark at Intercontinental Mark Hopkins
Head up to the 19th floor of the Intercontinental Mark Hopkins San Francisco for a rooftop proposal in San Francisco. The hotel's Top of the Mark bar offers views of the Bay Bridge and the Sutro Tower in addition to many other city landmarks. If you want to keep your proposal to the two of you (and a proposal photographer if you choose), you can buy out the full bar for your special moment.
Rooftop 25
Rooftop 25 sits on the third floor of the 25 Lusk event venue. Its overhead lighting and wood furniture make this rooftop a romantic place to propose and enjoy each other's company. Please note that the outdoor rooftop area is only open Tuesday through Saturday–if you're currently planning a Sunday or Monday proposal and like Rooftop 25, we'd recommend switching the date.
Charmaine's at San Francisco Proper Hotel
If views of the city are non-negotiable for your San Francisco proposal, Charmaine's at the San Francisco Proper Hotel is a great option. Along with its sweeping views from 120 feet above San Francisco's Market Street, this bar and lounge offers signature cocktails and appetizers that you and your partner can enjoy together. Since it's a hybrid venue, it's a wonderful pick since you can keep your moment outside or head inside if inclement weather approaches.
Perfect Restaurants to Propose at in San Francisco
Whether you'd prefer a wine bar or an upscale bistro for your proposal, San Francisco has it all.
Campus
If you met in college, consider proposing at Campus. This Chestnut Street neighborhood lounge will take you back to your university days with its casual atmosphere, light bites and music. If you plan on inviting friends and family, make a reservation to ensure there'll be enough space available for all of your guests.
Cafe Boho
If a casual proposal is what you seek, look no further than Cafe Boho. This is one of the best restaurants to propose in San Francisco as it offers indoor and outdoor seating making it suitable for a proposal during any season. Whether or not you visit for brunch or dinner, you can celebrate the start of your next chapter with one of the artisanal cakes.
Park Tavern
For a super chic proposal, Park Tavern is a solid option. Its hanging light fixtures and wooden chairs make guests feel welcome from the moment they step inside. Depending on the ambiance you're going for, this venue is home to a bistro dining room and a cafe which are perfect for presenting the ring.
The Barrel Room
Wine lovers will be sure to appreciate a proposal at The Barrel Room. This wine bar houses more than 50 wines from across the globe in addition to cuisine and menus which vary regularly throughout the year. If you want to bring things down a notch, you can do so at the restaurant's underground speakeasy which contains a library area, a bar and an electric fireplace.