A Complete Guide to Taylor Swift and Boyfriend Joe Alwyn's Relationship Timeline
It's a love story for the ages.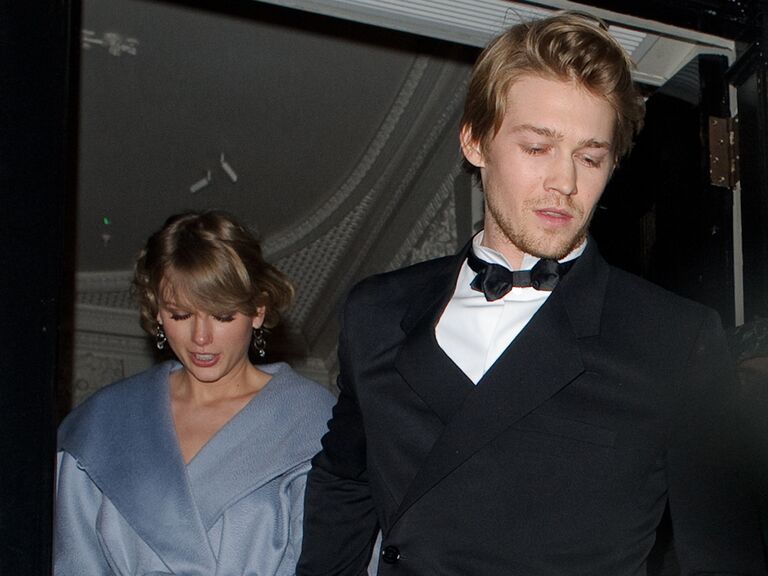 GOR/GC Images
If you've religiously followed the Taylor Swift boyfriend chronicles, you'll know that the singer has endured her fair share of high profile romances since breaking onto the music scene in 2006. While Swift's early years consisted of writing about heartbreak, her current love life (or, shall we say, love story) is a bit more positive.
After a string of relationships with stars like Joe Jonas, Harry Styles and Calvin Harris, Swift quietly started dating British actor Joe Alwyn in 2017. While the couple originally kept their romance out of the public eye, they've slowly opened up with the progress of their relationship, occasionally speaking about each other through music and interviews. Amid new rumors that they're secretly engaged, look back on Taylor Swift and Joe Alwyn's relationship timeline, we which we document below.
May 2016: When Swift and Alwyn First Met
Swift and Alwyn reportedly first met at the 2016 Met Gala. We know what you're thinking: Wasn't that the night Swift and her soon-to-be boyfriend Tom Hiddleston went viral for their after-party dance moves? Yes. Swift and Hiddleston began dating shortly after the Met Gala, but their whirlwind romance ended in September 2016 (after a summer of PDA). But, we have good reason to believe that Swift met her current beau at this event based on these lyrics from her song "Dress" off her 2017 album Reputation: "Flashback when you met me/Your buzzcut and my hair bleached." Swift sported a short, bleached fringe at the Met Gala—and can you guess who attended with a buzzcut? We'll let you make the connection.
May 2017: They Start Dating Undercover
While it's not exactly clear when things started to heat up between these two, The Sun reported about a year after the 2016 Met Gala that Swift and Alwyn had been together for a few months, with Swift traveling to London to go on dates with her rumored boyfriend—going so far as to wear hats, wigs, and scarves to keep their budding romance on the down low.
June 2017: A Coffee Date in Nashville
A month later, Alwyn traveled to Swift's hometown in Nashville where they were spotted on a quiet coffee date. The two giggled and sipped on their drinks on a private balcony while looking completely smitten. It was also rumored that, by this time, Alwyn already met Selena Gomez and Gigi Hadid, two very important members of Swift's girl squad.
October 2017: Swift Starts Dropping Hints in Her Music
Swift proved she was ready to start revealing hints about her boyfriend in the music video for her song "...Ready for It?" During the production, Swift stands next to a wall with her birth year ('89) written in graffiti next to Alwyn's ('91). She also types "2-1" into a phone… and Alwyn's birthday happens to be February 21.
December 2017: Swift and Alwyn Enjoy a "Perfect" Date Night
Swift and Alwyn were caught dancing while Ed Sheeran performed "Perfect" at Jingle Ball in 2017. Alwyn was also seen recording his leading lady's performance at the show, showing off his Instagram-boyfriend skills.
March 2018: Swift Sports a New Necklace
While the two had yet to speak publicly about their relationship up until this point, Swift left another reference to Alwyn in the Spotify video for the song "Delicate" off of her Reputation album. She can be seen wearing a necklace with a "J" initial—and in another song off the same album, "Call It What You Want," she sings, "I want to wear his initial on a chain 'round my neck/Chain 'round my neck."
May 2018: Swift and Alwyn Match Instagram Posts
A day before Swift's Reputation stadium tour began, she and Alwyn separately posted pictures of themselves standing next to the same exact cactus tree. Of all the cacti in the desert, it didn't appear to be a coincidence.
July 2018: Independence Day Together
For four consecutive years, Swift was known for celebrating the Fourth of July with Instagram-worthy, star-studded summer bashes at her Rhode Island residence—though the singer's last "Taymerica" party was held in 2016. Since then, Swift has traded her sparklers for smaller celebrations like in 2018, when she and Alwyn spent the Fourth together in Turks and Caicos. (She still sported a patriotic bikini to mark the day).
September 2018: Swift Supports Alwyn's Work
Swift kept a low profile at the premiere of Alwyn's film The Favourite. Though she attended with her boyfriend, she skipped the red carpet and instead used a private back door to get in. Have no fear, though: they were still photographed sneaking in together, hand-in-hand.
September 2018: Alwyn Speaks Publicly About Swift
In the same month, Alwyn also spoke publicly about Swift for the first time to British Vogue, saying, "I'm aware people want to know about that side of things. I think we have been successfully very private, and that has now sunk in for people."
November 2018: Swift's First Social Shout-Out
Proud girlfriend alert! Swift gave Alwyn a very public shoutout on Instagram for his work in his film. "The Favourite is absolutely phenomenal, and it opens in NY and LA tomorrow— Swipe to see cities and dates! @thefavouritemovie@joe.alwyn @nicholashoult," she raved.
February 2019: The Couple Displays PDA
Despite their tendency to keep things private, Swift and Alwyn packed on the PDA during the 2019 awards season. Not only were they affectionate at a BAFTAs party in London, they couldn't keep their hands off each other at an Oscars party in Los Angeles.
May 2019: Swift Opens Up in Lover
In the August 2019 release of Lover, Swift opened up about her boyfriend like never before. Her seventh studio album was packed with references to Alwyn—though the most obvious were in the song "London Boy," where she sings about her time across the pond with her beau ("Took me back to Highgate/Met all of his best mates/So I guess all the rumors are true/You know I love a London boy").
Swift left a number of other Easter eggs for loyal Swifties to decode throughout the album. She references marriage in the song "Paper Rings," which fueled rumors that the two were already engaged. The album's namesake song "Lover" also includes lyrics seemingly inspired by wedding vows: "Ladies and gentlemen, will you please stand?/With every guitar string scar on my hand/I take this magnetic force of a man to be my lover/My heart's been borrowed and yours has been blue/All's well that ends well to end up with you." In "Cornelia Street," the singer reminisced on her time spent in Greenwhich Village in New York City, likely with Alwyn at the beginning of their relationship. Plus, the music video for her single "ME!" featured plenty of wedding references, including a proposal involving a ring and a cat.
Later in the year, Alwyn briefly spoke to The Sunday Times about being the subject of Swift's love songs, saying he "didn't mind at all" and that he found it "flattering."
July 2020: Swift Drops More Hints in folklore
Swift dropped a bombshell surprise with the unexpected release of her eighth studio album folklore in July 2020. A self-proclaimed isolation project as a result of the COVID-19 pandemic, the album is a depature from Swift's typical pop music in favor of alternative, stripped-down ballads. According to Swift, most songs are a "steam of consciousness" that tell vivid stories derived from her own imagination, as well as historical features. There are, however, a few unmistakle references to Swift's boyfriend Alywn.
Fans surmised the track "invisible string" references the Chinese myth about the Red Thread of Fate, which says there is an invisible red thread that connects you to your soulmate. In the quirky tune, Swift sings, "Bad was the blood of the song in the cab/On your first trip to LA/You ate at my favorite spot for dinner/Bold was the waitress on our three-year trip/Getting lunch down by the Lakes/She said I looked like an American singer," and, later in the song, "And isn't it just so pretty to think/All along there was some/Invisible string/Tying you to me?"

Some Swifties also used the album to predict that the pair were engaged—or perhaps married—on August 7, noting that the tracklist includes songs titled "seven" and "august" respectively. The prediction remains unconfirmed, but Swift did reveal that Alwyn co-wrote multiple songs on the album under the pen name William Bowery in the Disney+ documentary concert film folklore: the long pond studio sessions. While time will tell if Taylor Swift is engaged to boyfriend Joe Alwyn, fans continue to follow the notoriously private relationship through subtle Easter eggs and Swift's ingenious lyricism.
Summer 2022
To this day, the duo remains mum on the status of their relationship. In fact, during a March 2022 interview with The Wall Street Journal, Alwyn was directly asked whether the two are engaged—a question he immediately shut down. "If I had a pound for every time I think I've been told I've been engaged, then I'd have a lot of pound coins," he remarked. "I mean, the truth is, if the answer was yes, I wouldn't say, and if the answer was no, I wouldn't say."
A few months later in July, rumors began swirling once again that he indeed popped the question, with a source telling The Sun, "They've actually been engaged for a few months but have only told their inner-inner circle— basically immediate family, and trusted, very old friends. Everyone has been sworn to secrecy, too... They want their love to stay away from the cameras as much as possible."
So, are Taylor Swift and Joe Alwyn engaged? It may be an easter egg that even the sharpest Swifties can't figure out.. yet.