The Best Taylor Swift Love Songs for Your Wedding Day
"All's well that ends well to end up with you."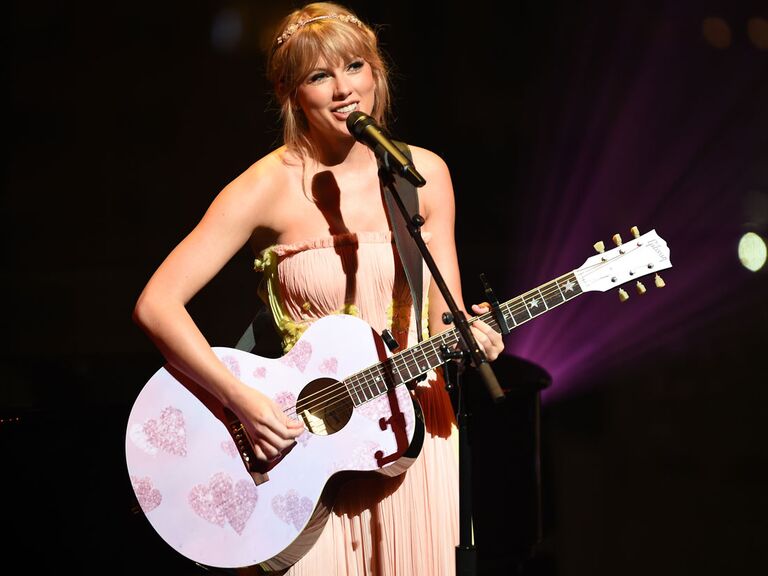 Dimitrios Kambouris/Getty Images for TIME
As any Swiftie knows, no wedding playlist is complete without a few Taylor Swift love songs. Since her music industry debut in 2006, Swift has become one of the most accomplished singer-songwriters of all time—and while she's known for emotional breakup songs, she's also written plenty of love ballads that are perfect for weddings. Believe it or not, there's a Taylor Swift love song for every moment of your big day, from the processional to the reception dance party. But with so many tunes to pick from (spanning nine studio albums and one re-recorded tracklist), it can be difficult to narrow down the best songs for your wedding. Fear not: We've created a complete roundup of the best Taylor Swift love songs, including underrated deep cuts and classic hits that everyone will know.
"Our Song," Taylor Swift
Lyrics you'll love: "I've heard every album, listened to the radio/Waited for something to come along/That was as good as our song"
While "Tim McGraw" was Swift's first single, "Our Song," was the hit off of her eponymous album that kick-started her career. Play this catchy country love song as you and your S.O. enter the reception to start the night off strong.
"Mary's Song (Oh My My My)," Taylor Swift
Lyrics you'll love: "I'll be eighty-seven; you'll be eighty-nine/I'll still look at you like the stars that shine/In the sky, oh my my my"
This sweet tune is particularly appropriate for childhood sweethearts. It follows the story of two young friends who grow up together and fall in love throughout the course of their lives. We guarantee there won't be a dry eye in the house as this song plays.
"I'm Only Me When I'm With You," Taylor Swift
Lyrics you'll love: "And I don't try to hide my tears/My secrets or my deepest fears/Through it all nobody gets me like you do"
Any Swiftie's wedding reception isn't complete without this throwback jam. In fact, we think it's one of the most underrated Taylor Swift love songs ever released. Plus, it showcases Swift's unique country twang that sets her early music apart from her new songs.
"Love Story," Fearless
Lyrics you'll love: "Romeo, take me somewhere we can be alone/I'll be waiting, all there's left to do is run/You'll be the prince and I'll be the princess/It's a love story, baby, just say, 'Yes'"
This award-winning Taylor Swift song is a must-play at your wedding. The fairytale-inspired chart-topper will inspire all of your guests to dance and sing along with you and your S.O.
"Fearless," Fearless
Lyrics you'll love: "And I don't know how it gets better than this/You take my hand and drag me head first/Fearless"
If you need some confidence-boosting music for your getting-ready playlist, be sure to include this title track to set the tone for the day.
"You Belong With Me," Fearless
Lyrics you'll love: "And I know your favorite songs/And you tell me 'bout your dreams/Think I know where you belong/Think I know it's with me"
While this chart-topper is about a high school romance, it's a classic Taylor Swift hit that should to be included on any superfan's wedding playlist. Even if your wedding guests aren't die-hard fans, they'll be able to sing along to this well-known hit. Add it to your reception playlist to keep everyone on the dance floor.
"Hey Stephen," Fearless
Lyrics you'll love: "Come feel this magic I've been feeling since I met you/Can't help it if there's no one else/Mmm, I can't help myself"
We can't help ourselves—this youthful ballad is a fresh addition to any wedding playlist, especially if you're looking for under-the-radar Taylor Swift love songs.
"Jump Then Fall," Fearless
Lyrics you'll love: "Take a deep breath and jump then fall into me/'Cause every time you smile, I smile/And every time you shine, I'll shine for you"
You might recognize this catchy tune from the star-studded rom-com Valentine's Day (where Swift appeared as Taylor Lautner's love interest). Released on the platinum edition of Fearless, "Jump Then Fall" is a swoon-worthy story about—you guessed it—jumping (and falling) into true love.
"Today Was a Fairytale," Fearless (Taylor's Version)
Lyrics you'll love: "Сan you feel this magic in the air?/It must have been the way you kissed me/Fell in love when I saw you standin' there/It must have been the way/Today was a fairytale"
"Today Was a Fairytale" also made its debut in Valentine's Day, though this swoon-worthy ballad didn't appear on an album until April 2021, when Swift released a re-recording of Fearless. With mature vocals and a softer pop vibe, you'd be remiss not to include this new version on your wedding playlist. Your wedding day will be a fairytale, after all.
"That's When (ft. Keith Urban)," Fearless (Taylor's Version)
Lyrics you'll love: "That's when, when I see your face/That's when I love you, that's when"
Taylor Swift nearly broke the internet with her nostalgia-fueled announcement of Fearless (Taylor's Version) in early 2021, especially because she revealed the new soundtrack would include six songs from "the vault." These never-before-released songs were cut from her sophomore album in 2008, but they would ultimately make their debut 13 years later. While most of the songs from the vault are emotinal breakup tunes, "That's When" tells the story of a couple coming back together—so if you're looking for a sweet country song to add to your wedding playlist, consider it this. Swift collaborated with Keith Urban on the track, who she toured with during the original Fearless era as his opening act.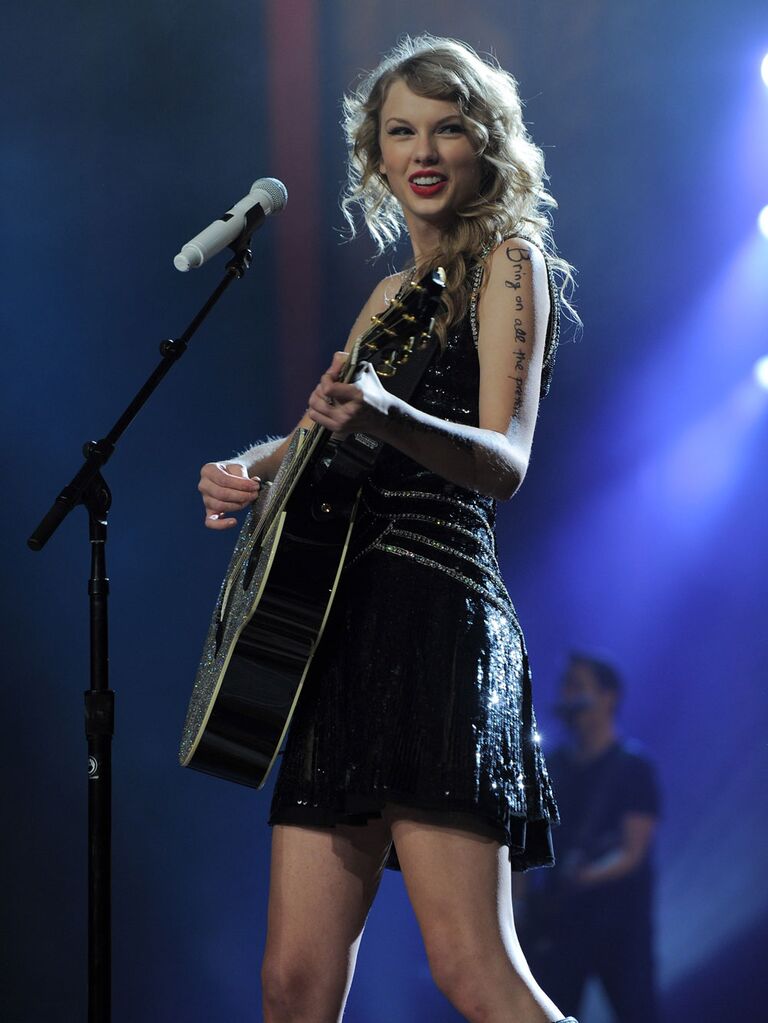 "Mine," Speak Now
Lyrics you'll love: "You said, "I remember how we felt, sitting by the water/And every time I look at you, it's like the first time"
It's hard to find a Taylor Swift love song that doesn't give you butterflies, and "Mine" is no exception. Queue this for your reception to celebrate your love story.
"Sparks Fly," Speak Now
Lyrics you'll love: "Drop everything now/Meet me in the pouring rain/Kiss me on the sidewalk/Take away the pain/'Cause I see, sparks fly whenever you smile"
Taylor Swift was just 16 years old when she wrote "Sparks Fly." Despite her young age, the budding superstar created a memorable love song that stands the test of time. If you need a showstopping wedding entrance song, this will wow any crowd.
"Enchanted," Speak Now
Lyrics you'll love: "I'm wonder struck, dancing around all alone/I'll spend forever wondering if you knew/I was enchanted to meet you"
We have a feeling you were "enchanted" to meet your S.O., so this Speak Now tune is a no-brainer for your nuptials.
"Starlight," Red
Lyrics you'll love: "And I said, 'Oh my, what a marvelous tune'/It was the best night, never would forget how we moved/The whole place/Was dressed to the nines/And we were dancing, dancing/Like we're made of starlight, starlight"
"Starlight" is one of Taylor Swift's love songs that wasn't inspired by her own romances. According to the Wall Street Journal, the storyline was actually inspired by political power couple Ethel and Bobby Kennedy after Swift found a photo of the pair dancing in the 1940s. Given its context, this upbeat song is a great addition to your reception song lineup.
"Everything Has Changed (ft. Ed Sheeran)," Red
Lyrics you'll love: '"Cause all I know is we said, 'Hello'/And your eyes look like comin' home/All I know is a simple name/And everything has changed"
Taylor Swift's duet with fellow Grammy-award winner Ed Sheeran is a must for your wedding playlist. In the sentimental ballad, Sheeran and Swift sing about how falling in love drastically changes your life in a split second. In other words, it's a great song to dance to with your new spouse.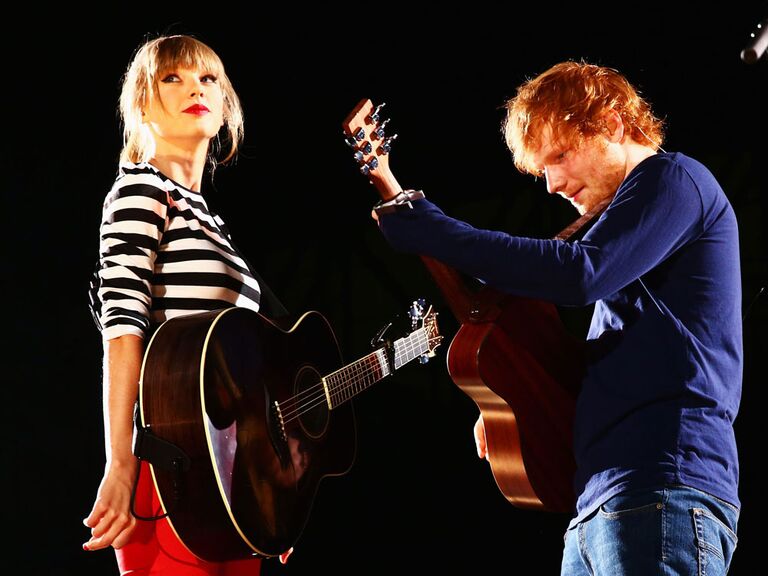 "Begin Again," Red
Lyrics you'll love: "I've been spending the last eight months/Thinking all love ever does/Is break and burn, and end/But on a Wednesday in a cafe/I watched it begin again"
Upon first listen, this song might sound like a heartbreak ballad. But, as any Taylor Swift fan knows, this sweet tune is actually about a blossoming relationship and the purity of new love. If you're searching for alternative slow dance songs, this deep cut will give your guests all the feels.
"You Are in Love," 1989
Lyrics you'll love: "You can hear it in the silence, silence, you/You can feel it on the way home, way home, you/You can see it with the lights out, lights out/You are in love, true love"
Swift's fifth studio album is responsible for some of her most iconic hits (like "Shake It Off," "Blank Space," "Welcome to New York" and "Bad Blood"). But the deluxe edition of 1989 includes some of her most underrated love songs, including "You Are in Love." Consider this dreamy ballad for an unlikely first dance song or ceremony recessional tune.
"King of My Heart," Reputation
Lyrics you'll love: "And all at once, you are the one I have been waiting for/King of my heart, body and soul"
While reputation is Taylor Swift's edgiest album, it's not without a few swoon-worthy love songs. This selection is all about the early stages of her private romance with boyfriend Joe Alwyn, making it suitable for your nuptials.
"New Year's Day," Reputation
Lyrics you'll love: "Don't read the last page/But I stay when you're lost and I'm scared and you're turning away
I want your midnights/But I'll be cleaning up bottles with you on New Year's Day"
The final song on Swift's sixth studio album is a bittersweet and nostalgic tune, so consider using it as your wedding exit song when you and your S.O. depart at the end of the night. Swift sings about a relationship through the lens of a New Year's Eve party: the celebration, the clean-up, the solitude and the opportunity for a fresh start at the beginning of the day. It's a poignant reminder that a relationship isn't just defined by its triumphant highs—it's about the small moments too, like cleaning up bottles and gathering polaroids of your favorite memories.
"Call It What You Want," Reputation
Lyrics you'll love: "I did one thing right/I'm laughing with my lover, making forts under covers/Trust him like a brother, yeah, you know I did one thing right/Starry eyes sparkin' up my darkest night"
As one of Swift's most honest love songs, "Call It What You Want" is a memorable collaboration with producer Jack Antonoff that deserves a spot on your reception playlist.
"Lover," Lover
Lyrics you'll love: "My heart's been borrowed and yours has been blue/All's well that ends well to end up with you"
The title track of Swift's seventh studio album is a must-play at your wedding. Not only do the lyrics sound like wedding vows, "Lover" showcases some of Swift's most powerful songwriting to date. Use it as your first dance song or during your ceremony to set the tone of the day.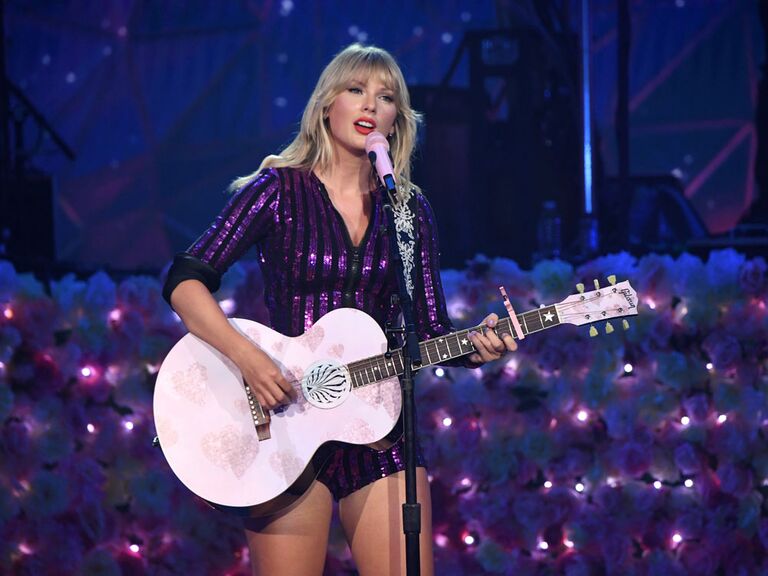 "Paper Rings," Lover
Lyrics you'll love: "I like shiny things, but I'd marry you with paper rings/Uh huh, that's right/Darling, you're the one I want, and/I hate accidents except when we went from friends to this"
Fast-paced Taylor Swift love songs are hard to come by, so "Paper Rings" is a hidden gem. If you, too, would marry your S.O. with paper rings, make sure this gets a spot on your wedding soundtrack.
"invisible string," Folklore
Lyrics you'll love: "And isn't it just so pretty to think/All along there was some/Invisible string/Tying you to me?"
While Swift's surprise eighth album has a somber vibe compared to her earlier work, "invisible string" deserves to be on your wedding playlist. In the quirky track, Swift appears to sing about the "red thread of fate," an East Asian mythological teaching that says an invisible thread is tied to the fingers of soulmates. The two are connected by destiny and, as the myth says, will find each other one day by fate. If you're looking for a romantic Taylor Swift song for your wedding, consider it this.
"gold rush," Evermore
Lyrics you'll love: "I don't like anticipating my face in a red flush/I don't like that anyone would die to feel your touch/Everybody wants you/Everybody wonders what it would be like to love you"
Just five months after the release of Folklore, Swift surprised fans once again with the unexpected drop of Evermore. Like its preceding sister album, Evermore is a moody, cottagecore-inspired soundtrack of fables and historical stories. As one of the album's only love songs, "gold rush" details the exhilarating feeling of love at first sight—a fitting tune for your wedding reception.