The 13 Most Memorable 'Bachelor' and 'Bachelorette' Proposals
Some made us laugh, and some made us cry—but we'll never forget these moments.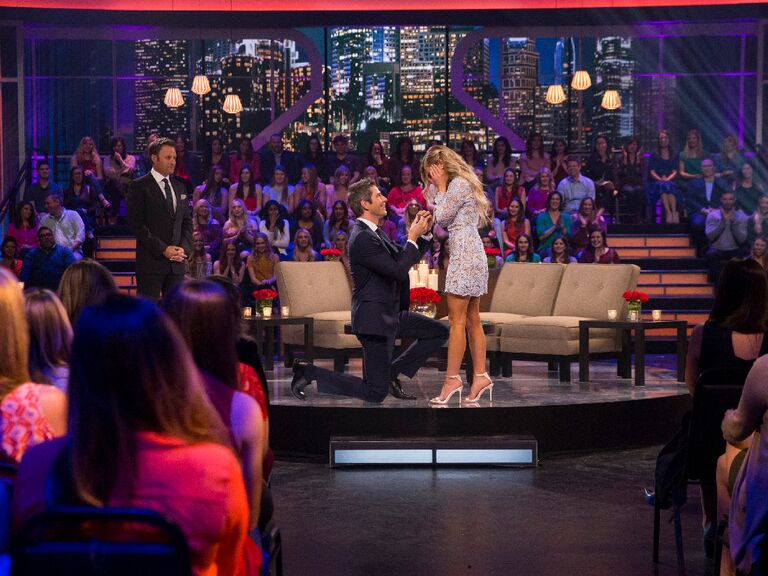 Paul Hebert/Disney General Entertainment Content via Getty Images
It doesn't matter whether you've been watching The Bachelor for one season or its entire 20-year tenure—you know the series is responsible for some of the most romantic (and downright cringey) moments in reality television. The franchise, including spinoffs like The Bachelorette, Bachelor in Paradise, and Bachelor Pad, has taken fans on an emotional roller coaster filled with dramatic rose ceremonies, tense fights, and tearful breakups you need to see to believe. (After all, who can forget Jason Mesnick's change-of-heart on live TV?) While the show is dedicated to love, fairy tale endings are somewhat few and far between. In fact, recent data from a study conducted by ExpressVPN shows that, in the 25 season history of The Bachelor, 40% of the winners never even get a marriage proposal.
But every so often, a rare season comes along where true love really does blossom, resulting in a romantic Bachelor proposal accompanied by a dazzling Neil Lane engagement ring. And, if the stars (or roses) truly align, that proposal can lead to a swoon-worthy wedding and a lifetime of happiness. (The same study, though, reveals that the average length of a Bachelor relationship after the season ends is just three months and 16 days.)
Despite the odds, the process has worked out for a lucky few as there are a number of happy Bachelor couples still together today. Regardless of the couple's current relationship status, some Bachelor proposals are simply unforgettable. Let us steal you for a sec to look back on the best bended-knee moments in franchise history. From Jared and Ashley to Chris and Whitney, reminisce on the 13 best Bachelor proposals of all time.
JoJo Fletcher and Jordan Rodgers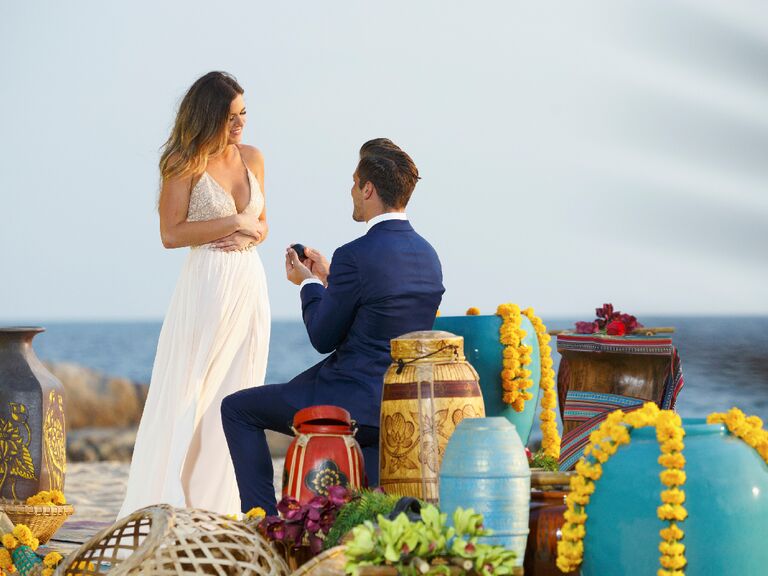 Bachelorette JoJo Fletcher's intuition was strong on the first night of her season, as she gave her first impression rose to Jordan Rodgers—and he ultimately received her final rose too. The fan favorites quickly fell in love, and Rodgers popped the question during the scenic season finale in Phuket, Thailand. Nearly three years after their first engagement, Rodgers proposed once again without a TV production crew nearby. "Three weeks ago I made the best decision of my life…again!" Rodgers wrote on Instagram. "This proposal was just us, and let me tell you almost everything that could've gone wrong DID! But I wouldn't have it any other way…IT WAS PERFECTLY IMPERFECT."
To this day, they're still happily together. Despite postponing their nuptials multiple times due to the pandemic, they wed in spring 2022—and they even worked with The Knot to curate their registry and design a custom invitation collection. When speaking about their journey to the altar, Fletcher revealed to us that their extra-long engagement was worth it. "I don't know if there's anything that could be thrown our way that we can't work through," Fletcher told us ahead of their wedding. "Six years taught us a lot, and we feel so at peace and prepared—and we're so excited to be married."
Ashley Iaconetti and Jared Haibon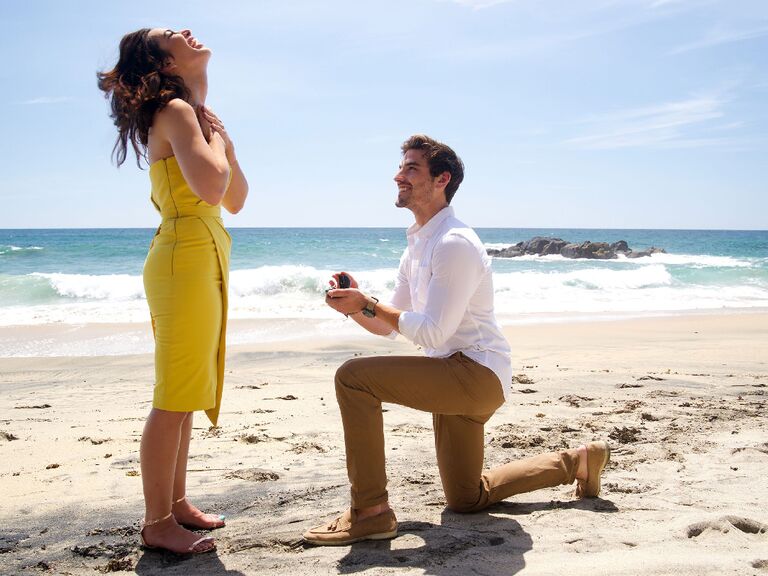 For Bachelor fans who watched Ashley Iaconetti and Jared Haibon's romance come full circle, their engagement certainly was one to remember. Iaconetti, who appeared first on Chris Soules' season, went on the second installment of Bachelor in Paradise with the intent of sparking a connection with Jared Haibon, originally from Kaitlyn Bristowe's season. Spoiler alert: It didn't work out. And it didn't work out on their second appearance in paradise the following year either, despite many emotionally-charged conversations. Interestingly enough, Haibon sent a love letter off-camera that professed his feelings, which was ultimately the jolt their romance needed. The iconic duo returned to BiP Season 5 to give advice to the contestants—but little to Iaconetti's knowledge, Haibon was planning to propose on-camera the entire time. She enthusiastically accepted, and they're now married with a son, Dawson, who they welcomed in early 2022.
Tayshia Adams and Zac Clark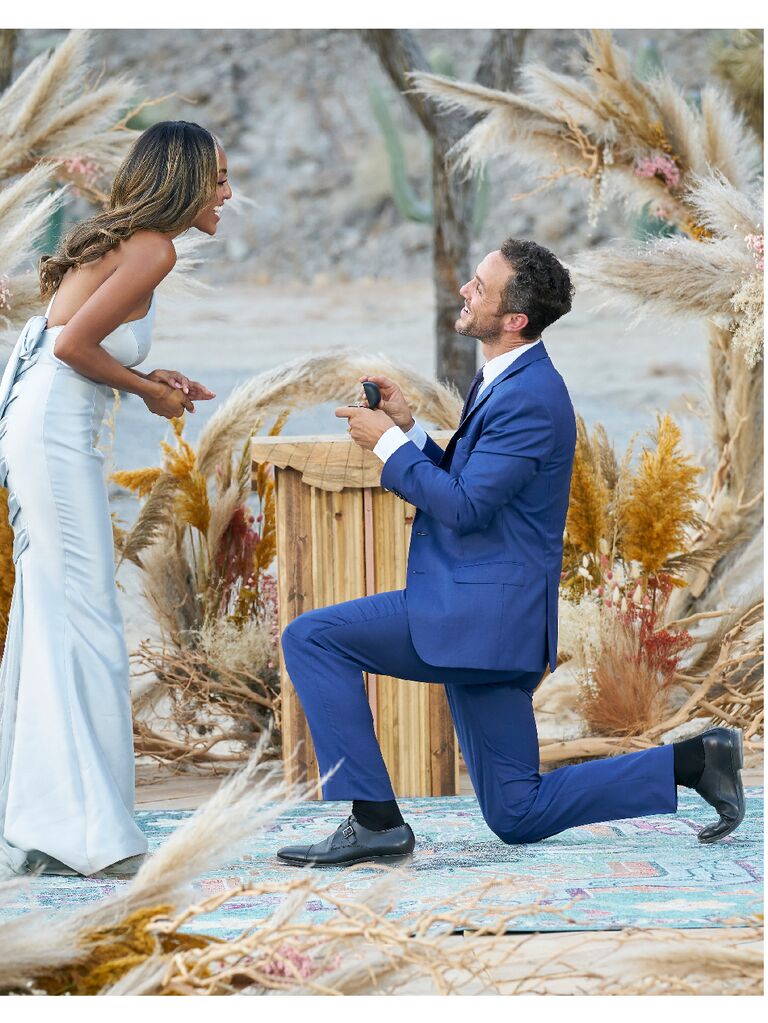 There's no denying that Tayshia Adams and Zac Clark had one of the best Bachelor proposals of all time. The engagement was seemingly foreshadowed by a one-on-one date featuring a wedding-themed photo shoot earlier in the season, which fueled their fast romance. After Adams gave Clark her final rose of the season, he proposed with a nod to his "hometown" date featuring cardboard taxi cars inspired by New York City. (Notably, Adams' entire Bachelorette season was confined to a resort in Palm Springs due to the pandemic.) After Adams said yes, the fiancés "drove off" in Clark's yellow taxi once again. Although Adams later moved in with Clark in his native NYC, they shocked fans by announcing their split in November 2021.
Demi Burnett and Kristian Haggerty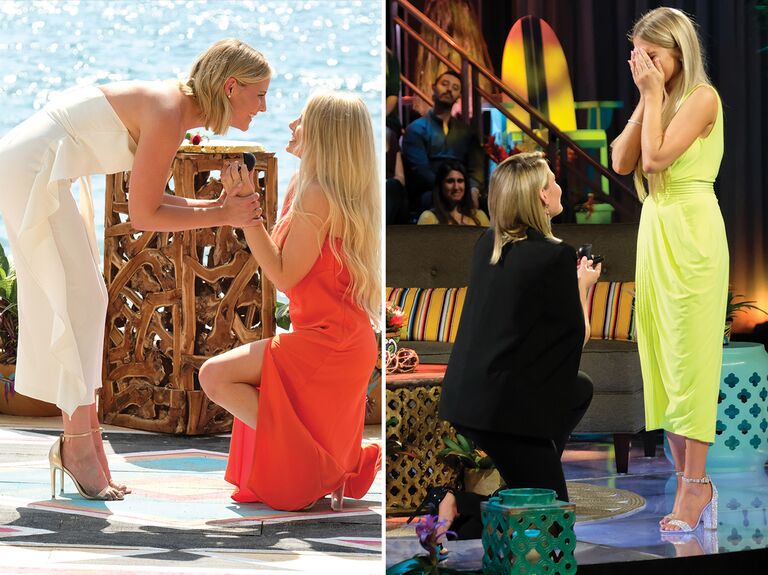 Demi Burnett and Kristian Haggerty's Bachelor in Paradise proposal was a historic milestone for the franchise, as it was the first between a same-sex couple. Burnett, who first appeared on Colton Underwood's season, had a relationship with Haggerty in real life before she signed on to film BiP Season 6. Despite not being previously involved in the Bachelor franchise, producers allowed Haggerty to join the cast so she could pursue her relationship with Burnett. They ended the season by getting engaged twice; first, when Burnett proposed on the season finale, and again when Haggerty proposed on the reunion show. Unfortunately, their engagement didn't last, as the couple announced their breakup in October 2019.
Trista Rehn and Ryan Sutter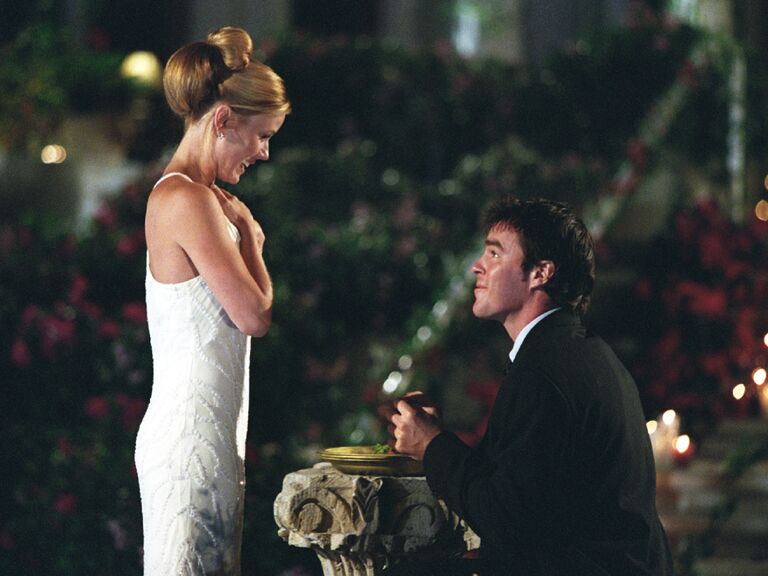 We can't talk about iconic Bachelor proposals without including Trista Rehn. The original Bachelorette has the longest-running relationship in the entire franchise, as she's still happily married to her final pick, Ryan Sutter. The couple hit it off quickly, and Sutter received the very first one-on-one date of the season. On the finale, Rehn gave Sutter her final rose, and in return, he gave her a diamond ring. Their wedding was featured on a three-part TV special, Trista & Ryan's Wedding, which followed the couple as they planned their big day. (Notably, the special drew in over 26 million viewers.) Today, they live in Colorado with their kids, Maxwell and Blakesley.
Rachel Lindsay and Bryan Abasolo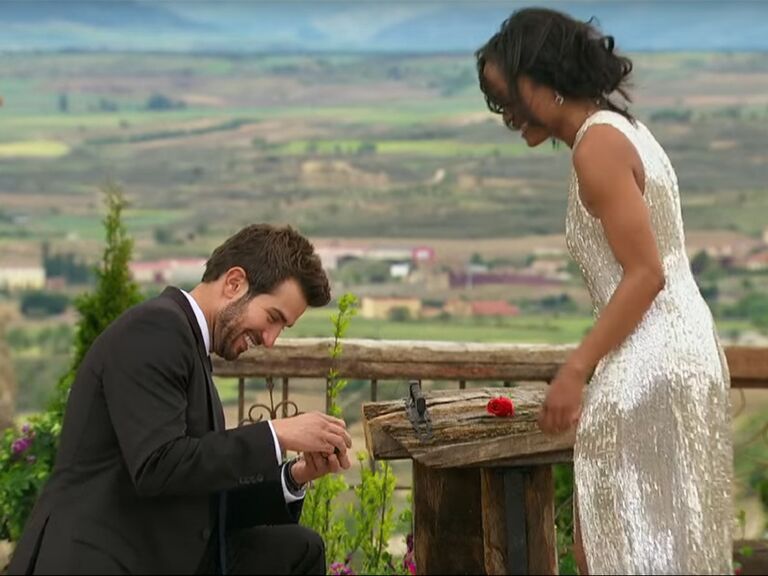 If you're a die-hard member of Bachelor nation, you certainly remember Bryan Abasolo's proposal to Bachelorette Rachel Lindsay in the scenic wine region of Rioja, Spain. Following a brutal split with runner-up Peter Kraus, Lindsay confidently gave her final rose to Abasolo—and her heart led her in the right direction. The couple finished the season as fiancés, telling press at the time they couldn't wait to go back to visit the spot of their engagement. (They held true to their word: In 2018, Abasolo proposed once again in the "spot where it all began.") They were married at a lavish beach wedding ceremony in August 2019, telling The Knot, "We always said we wanted a wedding where we are bringing two different families together and they are able to celebrate life and love and have the best time doing it. When we reflect on the entire wedding weekend that is exactly what happened."
Jade Roper and Tanner Tolbert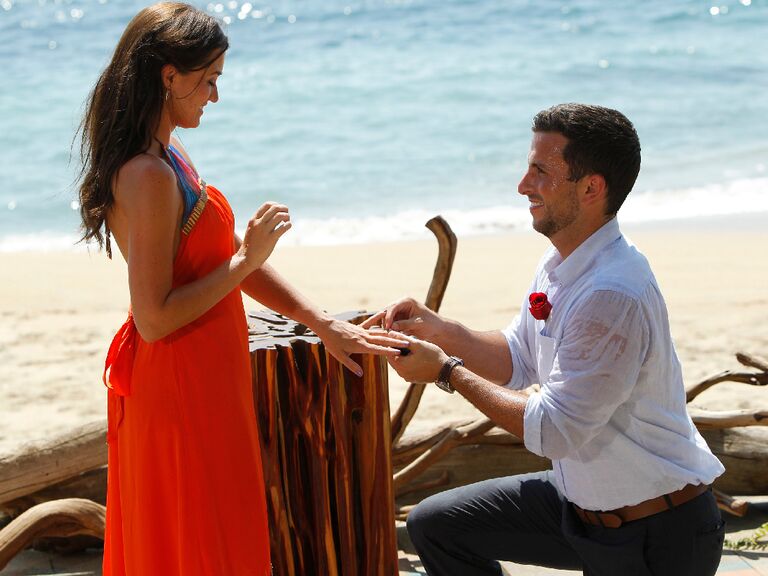 As the very first success story to come from Bachelor in Paradise, Jade Roper and Tanner Tolbert's sunny engagement certainly deserves a spot on our list of best Bachelor proposals. The franchise alums met in Mexico on the second season of the spin-off, and their connection was undeniable. They ended the season engaged after Tolbert proposed during the season finale. Their wedding was featured on a special episode of The Bachelor, and they're still together today. They've since had three children: Emerson, Brooks and Reed.
Ben Higgins and Lauren Bushnell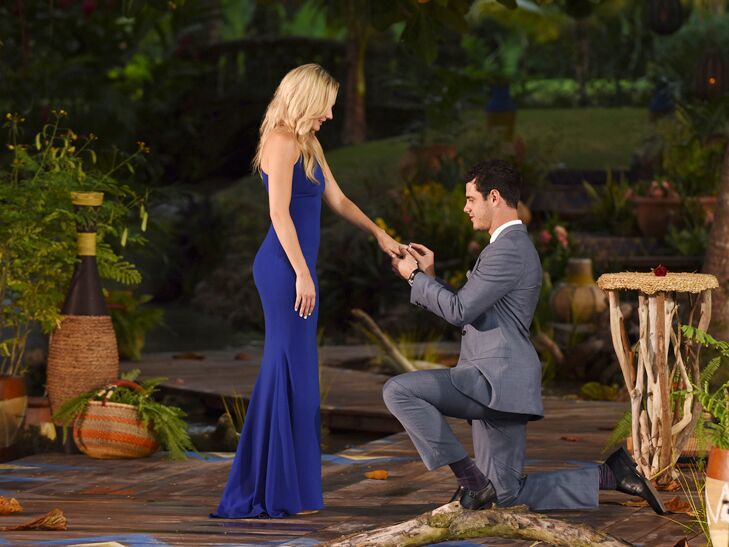 Ben Higgins made history on The Bachelor, as he was the first lead to tell multiple women he loved them on camera. He ultimately sent JoJo Fletcher home during the season finale in Jamaica, opting to propose to Lauren Bushnell. At the time, he proposed with the biggest engagement ring in Bachelor history: a $100,000 3-carat diamond sparkler by Neil Lane. (Now, though, that title belongs to the ring Clare Crawley received from Dale Moss.) After a year-long engagement, which included a brief stint on their own reality spin-off show, the couple announced their split in 2017. Bushnell went on to marry country singer Chris Lane, while Higgins wed esthetician Jess Clarke.
Sean Lowe and Catherine Giudici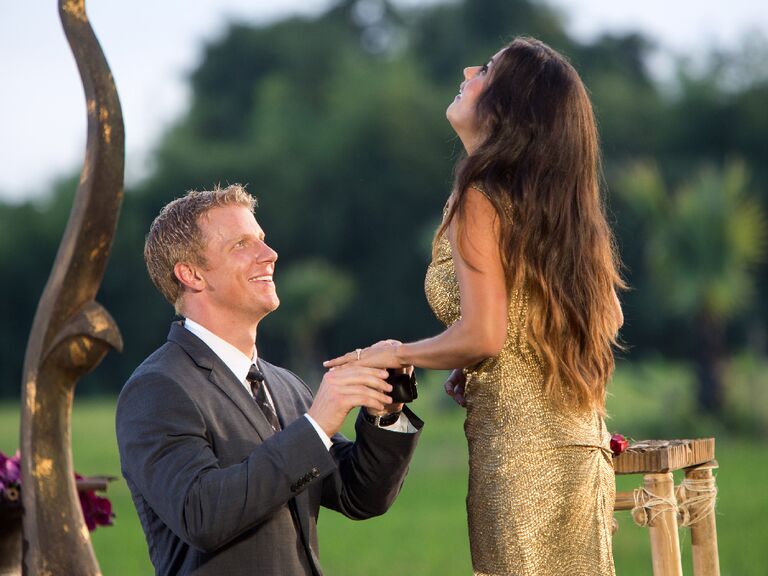 Catherine Giudici received the proposal of a lifetime from Sean Lowe on the season 17 finale of The Bachelor. Lowe dropped to one knee in Chiang Mai, Thailand to pop the question, which Giudici unsurprisingly accepted. (Memorably, she said, "I'm so glad it's you. You're such a hunk," when they met on the first night of the season.) Their lavish nuptials were chronicled on a live TV special—the first of its kind to broadcast a Bachelor wedding on air in real-time. The two are still married today, and they live in Dallas with kids Samuel, Isaiah and Mia Mejia.
Arie Luyendyk Jr. and Lauren Burnham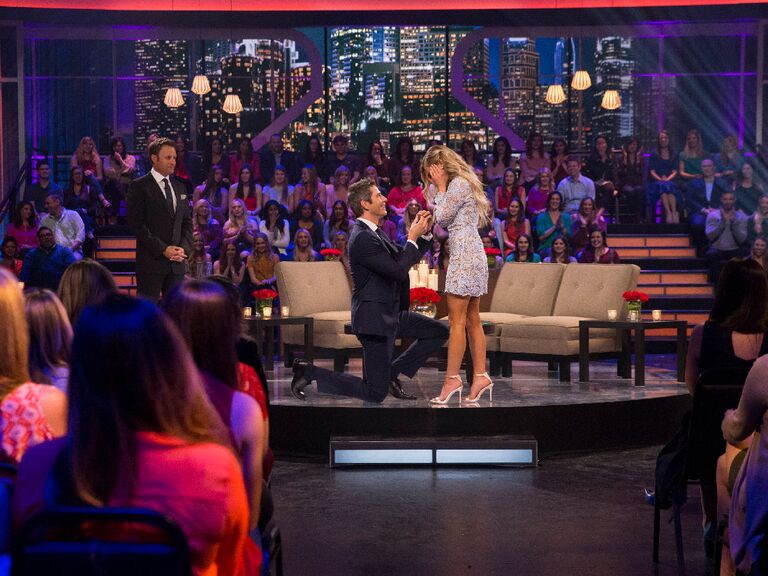 Although Arie Luyendyk Jr. and Lauren Burnham have one of the most memorable Bachelor proposals, it almost didn't come to fruition. Luyendyk first ended his season by getting engaged to Becca Kurfin, but he had a change of heart and their break-up was captured on camera. He asked runner-up Burnham for a second chance, which she accepted. He then popped the question on the live After the Final Rose finale special. They went on to marry twice: first in Hawaii, and again in Las Vegas after the birth of their daughter, Alessi. They've since welcomed twins, Lux and Senna, and revealed in 2021 that Luyendyk proposed again at the site of their first wedding. "we're ENGAGED!" they wrote on social media. "again💍 this time, just for us.🤍
Desiree Hartsock and Chris Siegfried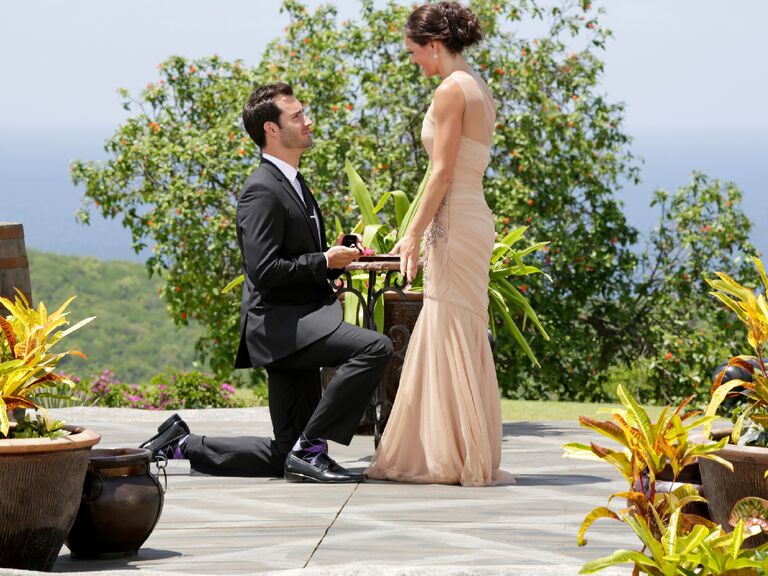 As a bridal stylist, Desiree Hartsock helped plenty of brides throughout her career—and she finally got her turn thanks to The Bachelorette. After competing on Sean Lowe's season, Hartsock became an instant fan-favorite, which led to her casting as the Season 9 Bachelorette lead. She and Chris Siegfried hit it off early, with Hartsock admitting, "How could I not have loved him from the beginning?" He proposed during the season finale, and wedding planning details came together quickly. (Hartsock even designed her own gown!) Unlike other Bachelor couples, Hartsock and Siegfried opted to leave the cameras out of their big day, instead swapping vows in front of family and friends in Palos Verdes, California in January 2015. They're still together, and they share sons Asher and Zander.
Chris Soules and Whitney Bischoff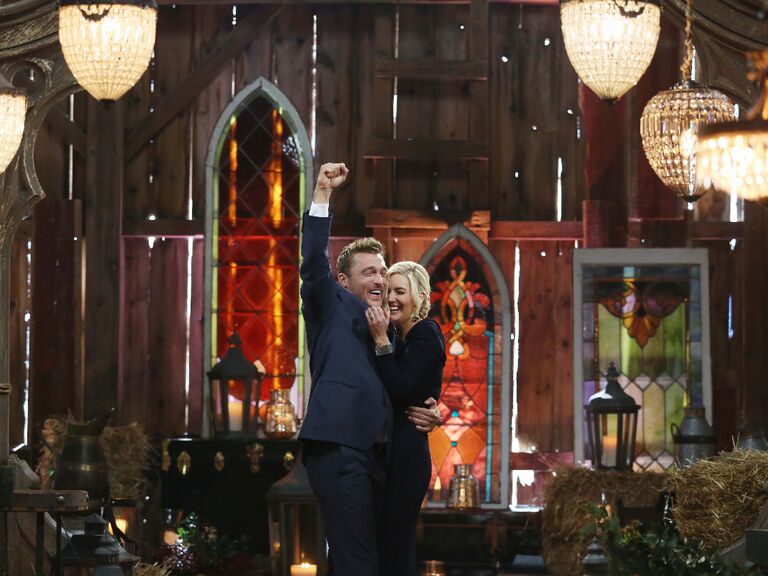 Most proposals on The Bachelor take place on warm, sandy beaches in paradise—but that wasn't the case for Chris Soules. The season 19 Bachelor lead, endearingly called Prince Farming, took his final two women to the chilly plains of Iowa. After sending runner-up Becca Tilley home, he popped the question to Whitney Bischoff on a freezing cold night inside his family's barn, which she happily accepted… because nothing says romance like a hayloft. Merely six months after their engagement, the couple broke things off, saying in statements to press they'd remain "supportive friends."