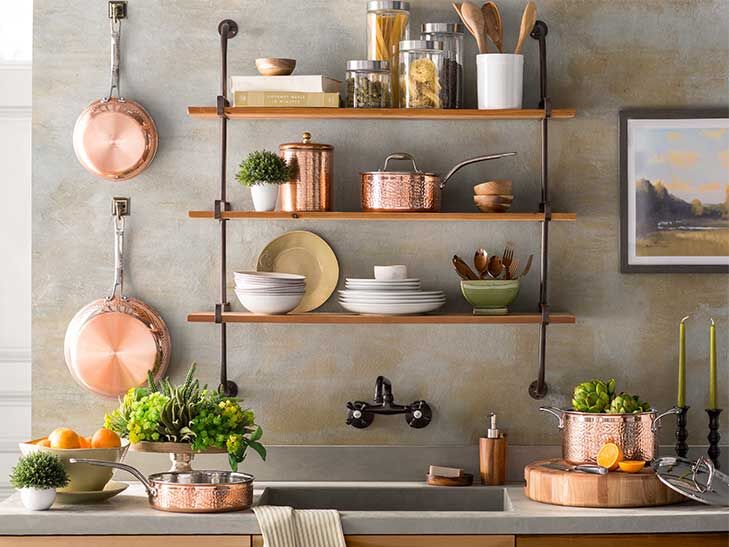 When it comes to wedding registries, it's true you have a ton of options, which can make it tough to pick the best one for you and your partner. If you're a couple that's just setting up your pad, a registry like Wayfair, which offers a huge selection of home items, is a no-brainer. Even if you've been happily cohabitating for years, their registry is ideal for upgrading your basics to brands like Le Creuset and Dyson. Check out some more of our favorite registry picks here, then read on for seven more reasons why registering with Wayfair is a must.
1. Everything you could ever want, all in one place.
Wayfair is basically your dream online department and furniture store rolled into one. Whether you need a dining table, the tableware to set it or both, you'll find great picks from iconic brands like KitchenAid and Kate Spade New York for every room of your house (and your backyard too). And yes, you can register for absolutely everything on Wayfair, including a jacuzzi—seriously!
2. Finding the perfect picks is super-easy—and fun. 
The My Checklist feature is a master list organized by category that'll help you shop for the items you need and ignore the things you don't. Looking for even more of a shortcut? Start off by browsing Registry Essentials, an assortment of the most popular gifts. Then check out Gifts by Style, where you can scroll through items tailored to your taste—whether you're Farmhouse Chic or Boho Cool. Curated Collections helps you find everything from storage solutions to cocktail party picks. You can even view products by price, what's trending or what's new, and your guests get free shipping no matter how large the item.

3. Special features make your registry more personal.
This isn't a regular registry; it's a cool registry. Make your list more than just a page of products by adding a custom photo of the two of you, or leave special notes for your guests. As for that gorgeous dining room rug you've been coveting, let your friends and family know by clicking the "most wanted" box to tag your favorite finds. You can also create a unique URL, add your wedding hashtag, and link to both The Knot's all-in-one registry and your wedding website, which makes it easy for guests to find all your registries in one place.
4. Your guests can join forces with group gifting.
Go ahead and register for those big-ticket items you really want without feeling guilty. With the group gifting feature, your crew can go in together, contributing any dollar amount toward that fancy Vitamix, which means they'll still be able to indulge in those boutique workout classes. Especially now that you'll be providing the post-sweat-sesh smoothies, right?
5. Expert advice tailored just for you.
Totally confused about which food processor is right for you or how many plates you should register for? You don't have to go it alone. Sign up for a free consultation online or over the phone with a Wayfair registry specialist to discuss all of your burning questions. These experts are also on hand to help your guests find your registry and place an order.
6. Managing your registry is always convenient.
Download the Wayfair app to keep track of your registry on the go, view a gift's status, and edit your settings. Plus, the app makes it easy to add new items. That life-changing garment steamer your friend just recommended at happy hour? Add it with just a few taps, then get back to enjoying that glass of Cabernet.
7. Get it all with the fulfillment discount.
If you didn't get everything on your wish list, don't worry: You can save 10 percent on anything that's still available on your registry with Wayfair's fulfillment discount. All you have to do is buy that forgotten waffle maker within six months of your wedding day. On the flip side, if you get a gift you don't really love, you can return it within 90 days for a full refund. It's fast and stress-free, so you can get back to planning the rest of your happily ever after.  
The Knot and Wayfair present Registry Reimagined, a sponsored series full of tips and ideas to help you register in style. Visit Wayfair to start your registry.