The 10 Biggest Wedding Registry Etiquette Mistakes to Avoid
Plus, our tips on how to make the registering process go seamlessly.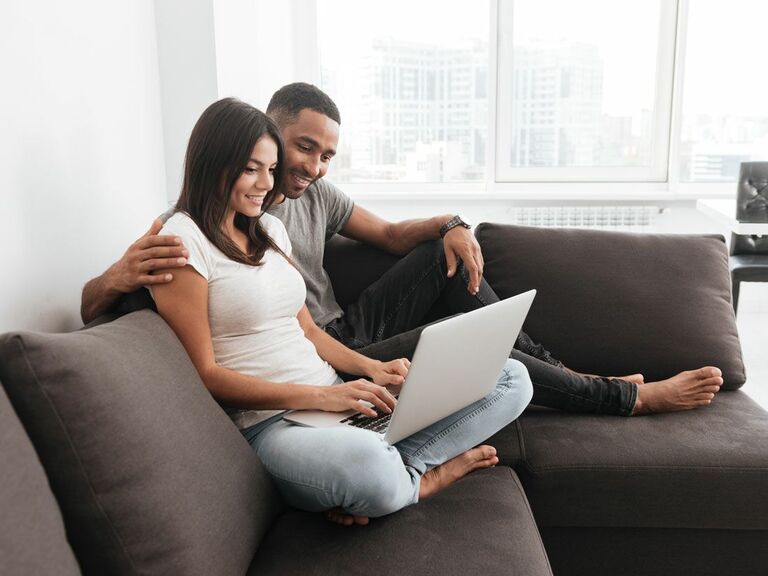 Dean Drobot/Shutterstock.com
One of the very first tasks you'll need to accomplish after getting engaged is curating your wedding registry, since friends and family will want to congratulate you and your new fiancé right away. Before you start shopping, though, there's some wedding registry etiquette you'll want to follow. Below, we explain wedding registry dos and don'ts to give you and your guests the best overall experience with your wish list. You'll definitely get everything you need to start married life off right as early as your wedding shower (or even engagement party) with our wedding registry guidelines.
In this article:
What's Acceptable to Put on a Wedding Registry?
Traditional wedding registry items include kitchen appliances, tableware, bed and bath linens and home decor. Think about goods you'll need to furnish your newlywed nest like new wine glasses, an elegant serving platter, a cookware set, monogrammed bath towels, a cozy duvet cover or even a backyard grill. Couples also tend to register for new travel accessories like luggage to take on their honeymoon. Additionally, gift cards to your most-shopped stores, cash funds (for your post-wedding travels, house renovations or date nights) and charity donations are increasing in popularity. Essentially, any gifts that will help you grow and thrive as a married couple fall under what is appropriate to put on a wedding registry.
What Shouldn't Go on a Wedding Registry?
Now, on to what not to put on your wedding registry. It isn't appropriate to ask for personal items like clothes, jewelry, beauty products or personal electronics. Essentially, if it can't be enjoyed by both spouses, it shouldn't be included. Save those asks for your birthdays. We also suggest steering clear of certain home maintenance goods (like cleaning supplies and batteries) and items you wouldn't want to open in front of family (like bedroom intimates).
Common Wedding Registry Mistakes to Avoid
Still have questions about the proper etiquette for a wedding registry? Below, we address the most common wedding registry mistakes and how to avoid them. Consider them part of your official wedding registry rules.
1. Not Registering at All
Perhaps one of the biggest wedding registry mistakes couples can make is not registering at all. It's normal to feel awkward asking for gifts, but don't let that stop you. Guests already expect the ask, but more than that, they want to give you a gift as a gesture of love and support for your relationship. A registry will help them choose a present you'll actually like—which is exactly what they want to do anyway.
2. Waiting Too Long to Register
As aforementioned, it's important to set up a registry shortly after you're engaged, so friends and family can start showering you with gifts you actually want and need right away. You may be surprised by the number of people who want to give you a token of congratulations, even if a specific soirée (engagement party or wedding shower) hasn't been added to their calendar yet. Registering early will help your guests give you items you'll really use and value—which, in turn, helps you too. And remember, you can update your wedding registry throughout your engagement, so don't feel you have to have a complete list right away. Feel free to start small for the guests eager to hand over a present, then add to it once you're more settled in the planning process.
3. Not Taking Inventory of Your Own Stuff
It's easy to get a little click-happy when browsing all the gift options you can add to your registry. And while you should register for some things that simply excite you, you should prioritize items you actually need first. To decide what you need, take inventory of the items you already have and talk with your fiancé about the style of the home you'd like to share. Consider your entertainment approach, your hobbies and what your life may look like a few years from now. (Perhaps you do need a nice gravy boat for holiday hosting or new serving plates for frequent dinner parties.) Ask for gifts that fit your newlywed needs. If you and your fiancé have been living together for years, don't feel pressured to register for traditional gifts. Instead, ask for cash funds to help with buying a house together or pet adoption fees, if those are some of your goals as newlyweds.
4. Not Using a Universal Registry
Do yourself (and your guests) a favor and set up a universal registry. In the past, couples with various needs and interests had to register at three to four big-box retailers. Now, thanks to the convenience of online registries, everything can be organized on one wish list. With a universal registry—like The Knot Registry—couples can add everything from hiking gear to charcuterie board tools in one spot for guests to shop. Plus, having all of your registry items in the same spot makes it easy for you to see what has and hasn't been purchased and, thus, add to the registry throughout the engagement. (It also helps you keep track of thank-yous, but more on that later.)
5. Skipping the Fine Print
It's important to read each retailer's resources page, so you know you're making the most informed decisions on where to register. First, check a store's return and exchange policy. This way, if you change your mind about an item or you get duplicates, you can swap it. Additionally, check their shipping options. Some stores will hold purchased registry gifts and ship them all at once after the wedding for your convenience. Lastly, plenty of registry sites have incentive programs and perks. We suggest looking at retailers that offer a discount on gifts not purchased from your registry after the wedding. This way, you still have the option to get them for yourself at a reduced price! Since details vary among stores, familiarize yourself with their rules as you go.
6. Not Registering for Enough Items in a Range of Prices
Having great wedding registry etiquette means keeping your guests' best interests in mind. Given that, your wish list should have gift options that cater to various budgets. There's actually a secret formula to help you determine how many gifts to add to your registry: simply multiply your guest list by two and add a few extras. Over-registering will give loved ones plenty of options, especially as items start to get purchased. Plus, some of your friends and family members may be purchasing multiple gifts, while some will be looking to splurge on one big-ticket item. To cover all the bases, register for gifts that fall between $50 and $200 or more. Guests will have no problem sticking to your registry when it has plenty of options at myriad price points.
7. Only Registering for the Essentials
Physical gifts like china, linens and flatware are longstanding registry asks, but you can also request anything from furniture and gift cards to luggage or cash. Take advantage of your options and register for items you'll really use. If you and your partner are both in agreement about a pricier object, like a new grill or down payment for a future house, put it on the registry. A wedding registry isn't one-size-fits-all for every couple, so register for things that best fit your needs.
8. Not Putting Your Registry on Your Wedding Website
The best way to share your registry with guests is through your wedding website. Since your site is a hub for all your wedding details, it's the best way to share gift information with guests. It's not proper etiquette to share registry information on formal wedding invitations because it can make guests feel less important to you than gifts. Instead, simply add an information insert to the same envelope to share your wedding website link.
9. Not Updating Your Registry Regularly
Your registry should be maintained from the time you're engaged to when you walk down the aisle. Revisit it often and update it with new gift selections as items are purchased. This will give all of your guests a range of options, no matter when they start shopping. As previously mentioned, a good rule of thumb is to have more items on your registry than guests at your wedding. This will help accommodate engagement, shower and wedding gifts as well as guests who buy more than one gift for the occasion.
10. Procrastinating on Thank-You Cards
Proper etiquette for any occasion in which you receive gifts is to express gratitude in the form of a thank-you note. For wedding presents, let your guests know as soon as their gift arrives, even if it's months before (or after) the big day. For gifts received before the wedding, send thank-you cards within two weeks of their arrival. For gifts received on or after the wedding day, send a thank-you note within three months (so you have some time to enjoy newlywed bliss). Keep a list of what you've received alongside your guest list to stay organized and designate a space in your home where you can keep stationery at the ready. (Psst: Check out The Knot Invitations to find thank-you cards that match your wedding stationery.) Furthermore, set aside time each week to make progress on your wedding gift thank-you cards to keep the task manageable amongst the rest of your planning.
Sarah Hanlon contributed to the reporting on this piece.