Which Honeymoon Registry Is the Best for You?
Honeymoon registries can be a great alternative to traditional registries, and we've got a list of our favorites here.
by Celia Shatzman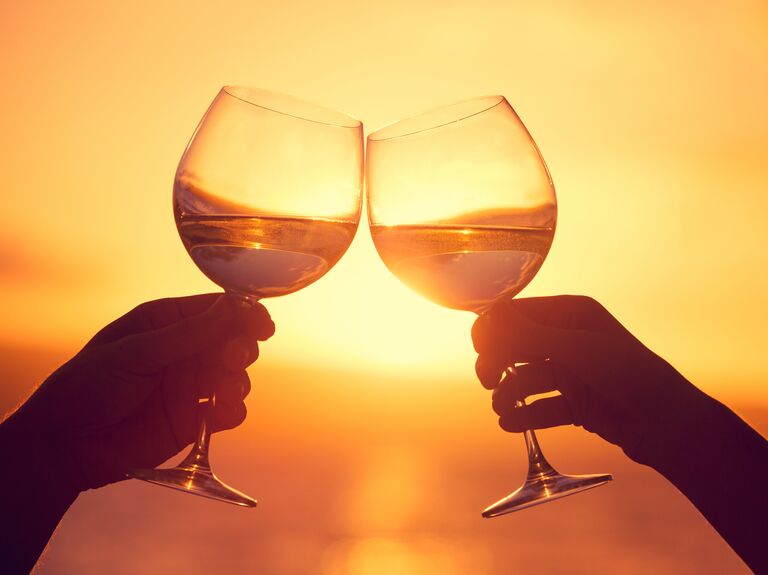 With couples now waiting to get married later in life, chances are they already have a blender and all the bedding they need. That's why honeymoon registries can be a great alternative to traditional registries. Honeymoon registries essentially allow you to crowdsource your postwedding travels. Most sites give you the option to break it down by specific gifts: airfare, hotels, cooking classes, breakfast in bed, sightseeing tours—or you can ask for a lump sum.
The easiest way to get the word out about your honeymoon registry is to add the URL to your wedding website and spread the word to your family members and close friends. Keep in mind that some guests may prefer to give traditional gifts, so add a brick-and-mortar registry as well.
Even if you're not taking your honeymoon right after the wedding, or aren't going on one at all, you can still use a registry. If you're not going to go on a honeymoon but you love to travel, a great alternative is to add some gift cards for airlines or hotels to your registry. And just like any registry, your honeymoon one should be personal. So which ones are the best?
Not to brag or anything, but our digital cash registry at The Knot is pretty amazing. The Knot Cash Funds allow you to ask for cash (and for your guests to gift it) in a more meaningful way by specifying exactly what each monetary gift is going toward. And better yet, it appears right alongside your traditional registry with The Knot, so guests can conveniently see what's been purchased and what's still available to give. Setting up your own digital cash registry couldn't be easier. Just go to The Newlywed Fund website where you can add in as many cash funds as you'd like—we even give you suggestions, or you can simply customize your own. There's a spot to name the fund and add a note to your guests about why this fund is important to you. (If you have a bigger ticket item, our cash registry allows multiple guests to contribute to the total.) Then, link your bank account so your guests' contributions will be transferred directly to your account. From there, your account information is verified and your funds go live. For every transaction The Knot processes, we get charged by the credit card company and credit card processor. We pass this fee directly to the gift-giver with no markup, so the couples keep 100 percent of the gift amount requested. The Knot charges one of the lowest fees in the wedding industry at 2.5 percent, and we don't take any commission. 
Traveler's Joy is one of the oldest and most trusted honeymoon registry services—no wonder so many The Knot users give the company rave reviews! Over 400,000 couples have used the service to register for anything from an upgrade to first class airfare, to a romantic horseback ride on the beach, to even a new camera to capture all the memories. We like how flexible and streamlined The Traveler's Joy platform is, especially with their easy registration process and Instant Registry feature, both of which make creating a complete registry take only minutes. Traveler's Joy has no signup or upgrade fees, offers 100 percent free gift redemptions in the US, and all gifts provided by cash or check are 100 percent free to both you and your guests. (Note that if a credit card is used, there's a 2.95 percent service fee. Guests also have a small checkout fee that covers the credit card company and credit card processor at cost.) Bonus: Traveler's Joy also offers extensive honeymoon stories and honeymoon destination guides that are super-helpful when looking for the perfect honeymoon destination. They've learned a lot about what helps make a dream honeymoon after 15+ years!
Newer to the honeymoon registry scene is Wanderable, a service that helps couples focus on making memories with their loved ones by creating stylish honeymoon registries. The team focuses heavily on registry page design, making the details of your honeymoon an expression of you, through and through. Like with Traveler's Joy, there are no upgrade fees, there's free gift redemption in the US, and gifts provided by cash or check are also completely free. This time, there's just a 2.5 percent service fee if a credit card is used. (But again, guests also have a small fee upon checkout that covers credit card processing.) Learn more about how it works and check out some of the sample registries (and glowing reviews) on Wanderable's website for inspiration. 
Honeyfund's platform can be used for any type of cash gift, from a down payment for a home to a donation to your favorite charity, and, of course, your honeymoon. Couples can link other registries to their Honeyfund page and splurge on an upgrade package for more design template options, photo slideshows, personalized images and more. You make your own travel arrangements while Honeyfund encourages guests to send gifts via cash or check directly to you to avoid all fees, though they can pay by credit card through WePay (2.8 percent plus $0.30 fee) or PayPal (2.8 percent plus $0.30/transaction).
It's also important to remember that fees are subject to change, so it's important to double-check the fees before you create your registry.
Disclosure: This post contains affiliate links, some of which may be sponsored by paying vendors.