The 8 Best Honeymoon Fund Registries For Your Postwedding Getaway
We've rounded up the top honeymoon fund sites for you to pick the perfect one for you and your guests.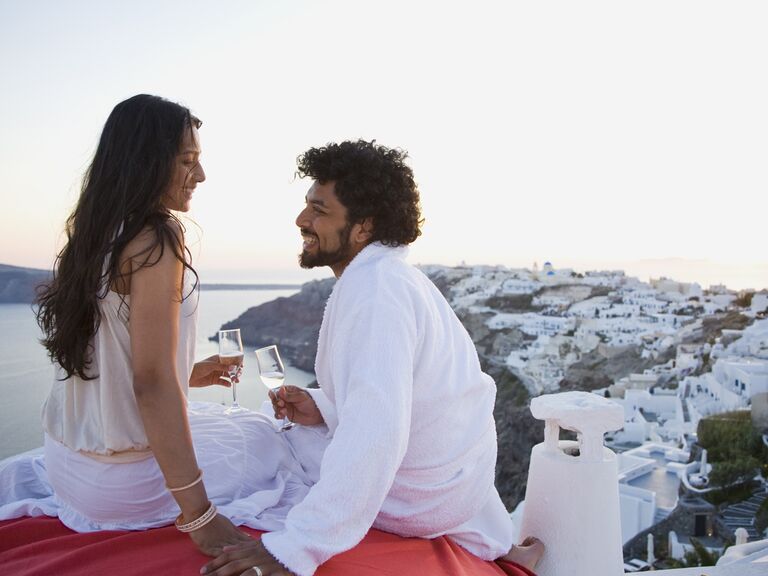 Denise Andersen/Shutterstock.com
We have included third party products to help you navigate and enjoy life's biggest moments. Purchases made through links on this page may earn us a commission.
Wedding registries don't have to be full of dining sets and matching linens. If you and your S.O. would rather travel the world than stock your newlywed nest, a honeymoon fund (a.k.a. honeymoon registry) may be better suited for you. After all, you should register for gifts you'll actually use—including a dream honeymoon to relieve some of the costs. It's increasingly common to ask for money or experiences as wedding gifts, especially if you don't want (or need) traditional registry items for the home. Therefore, a honeymoon fund registry makes it easy to crowdsource cash for airfare, hotel stays, excursions and more.
A honeymoon fund is just like a traditional registry. You can include the link on your wedding website for easy guest access, or use an all-in-one registry tool to combine your honeymoon fund with traditional gift ideas too. (Some guests prefer to give traditional presents, so it's recommended to have another registry for diverse gifting options.)
To help you get started, we've rounded up the top honeymoon fund registry sites. Since each service has slightly different features, we break down everything to know about these honeymoon registry sites so you can pick the best one for your needs.
Yep, you can start a honeymoon fund right here. The Knot Cash Funds allow you to ask for cash (and for your guests to gift it) in a more meaningful way than a generic monetary fund. You can specify exactly what each monetary gift is going toward, so guests can choose whether to chip in for your airline fare or a relaxing couples massage at your resort. Better yet, your honeymoon gift ideas appear alongside your traditional wishlist thanks to The Knot's all-in-one style registry. That means wedding guests can conveniently browse your honeymoon fund, your traditional gift registry, and even a cash registry for a downpayment on a house— all at the same time. They can also see what's been purchased and what's still available to give—or, they can coordinate group gifting for high-ticket items. Once you create your honeymoon fund registry, you can add as many cash fund options as you'd like—we offer suggestions along the way, or you can simply customize your own. There's also a spot to name the fund and add a note to your guests about why it's important to you or how you'll use the money.
With The Knot Cash Fund, you can easily link your bank account so your guests' contributions will be transferred directly. From there, your account information is verified and funds will go live. For every transaction The Knot processes, we get charged by the credit card company and credit card processor. We pass this fee directly to the gift-giver with no markup, so couples keep 100 percent of the gift amount requested. The Knot charges one of the lowest fees in the wedding industry at 2.5 percent, and we don't take any commission.
Launched in 2004, Traveler's Joy is one of the oldest honeymoon registry services. Over 400,000 couples have used the service to register for a variety of travel-related gifts, like an upgrade to first-class airfare, romantic excursions for two and even new tech products to capture the memories. With an easy registration process and Instant Registry feature with pre-selected gifts based on location, the process is flexible and streamlined to your needs. Traveler's Joy has no signup or upgrade fees, offers 100 percent free gift redemptions in the US, and all gifts provided by cash or check are 100 percent free to both you and your guests. (If a credit card is used, there's a 2.95 percent service fee. Guests also have a small checkout fee that covers the credit card company and credit card processor at cost.) Of note: gifts stay in your account for up to two years after your wedding.
Honeyfund's platform can be used for any type of cash gift, making it ideal for couples who want to split cash gifts among different activities. While you can dedicate some of your Honeyfund cash for a honeymoon trip, you can also use it for house payments, wedding fees, charity donations and more. There are three ways to receive gifts with Honeyfund: cash, check and custom payments; gift cards; and bank account deposits. There are no extra fees for you or your guests when you use cash, check and custom payments or gift cards. If you choose to receive cash to your bank account or PayPal account with a 2.4 percent fee or 2.9 percent fee, respectively. (With this option, each gift also includes a $0.30 transaction fee.)
Couples can also link other registries to their Honeyfund page by splurging on an upgraded package. This also offers more design templates options, photo slideshows, personalized images and more. For more on what the site offers, read real couple reviews here.
If you're looking for a single stop for your wedding's online presence, Blueprint might be what you're looking for. Their comprehensive platform integrates all aspects of wedding planning under one roof. Blueprint's notable registry feature allows for a mixture of both honeymoon experiences and traditional gifts. The only fee comes from credit card processing, which you can elect to deduct from your donations or pass along to your guests. There is also a significant degree of customizability for honeymoon registries: you can pick from pre-packaged experiences or set a custom cash gift with no minimum amount.
Billing itself as "America's Most Trusted Honeymoon Registry," Honeymoon Wishes has quite a pedigree. The honeymoon registry website connects couples with a variety of luxe destinations, from Botswana to Jamaica and beyond. The brand has an extensive list of honeymoon destinations thanks to its exclusive partnerships with cruise lines and hotels that other registries don't have. They also offer live customer service and cutting-edge security. Because of this, the honeymoon fund comes with a higher cost: 7 percent of your total gifts, billable to you at checkout or to your guests at the time of purchase. There's also a 2.65 percent processing fee for credit cards. For couples looking for a premium registry experience, Honeymoon Wishes fits the bill.
One of the newer honeymoon registries on the scene, Joy is a zero-fee honeymoon fund, giving you 100% of the cash gifts you receive (by PayPal, Venmo or Cash App) towards your honeymoon. Joy is first and foremost a free online registry tool, allowing you to add items from any store through a widget and connect any registry you've created at another store. They have a partnership with Spur Experiences, making it possible to search thousands of experience packages in certain locations and add them to your registry. However, you can also add custom experiences and include your own honeymoon fund wording.
Design-minded couples will appreciate the ability to create their honeymoon fund on Hitchd. The paid service is dedicated exclusively to registry and focuses heavily on registry page design and a modern mobile and desktop experience for couples and wedding guests. Plans range from $99 to $199 USD to create and manage a personal registry site. You start by selecting a layout and font, then choose from gift idea design templates and honeymoon fund wording options that are completely customizable. When it comes to getting paid, you have a wide range of options—although for credit cards there is a processing fee of 2.9% + $0.30 charged by Stripe that can be paid by the couple or gift giver.
From hi-tech to completely low-tech, we have a new spin on an old-school idea for collecting cash gifts. It's not an online service, per se, but it's ideal for couples whose guests prefer to deliver their cash gifts in person. A honeymoon fund box is based on the traditional card box or wishing well that couples display on the gift table at their wedding reception. There are several honeymoon fund box designs to choose from online featuring cute calligraphy, such as "honeymoon fund" or "our adventure fund". To give your guests a heads up that you'd like contributions towards your vacation, include honeymoon fund wording on your wedding website and let them know that their envelopes can be dropped into the box on the big day.
Pro tip: Since fees are subject to change, double-check the fine print before you create your registry.