The 8 Best Honeymoon Fund Registries For Your Romantic Getaway
Your wedding guests can—and want to—finance your honeymoon.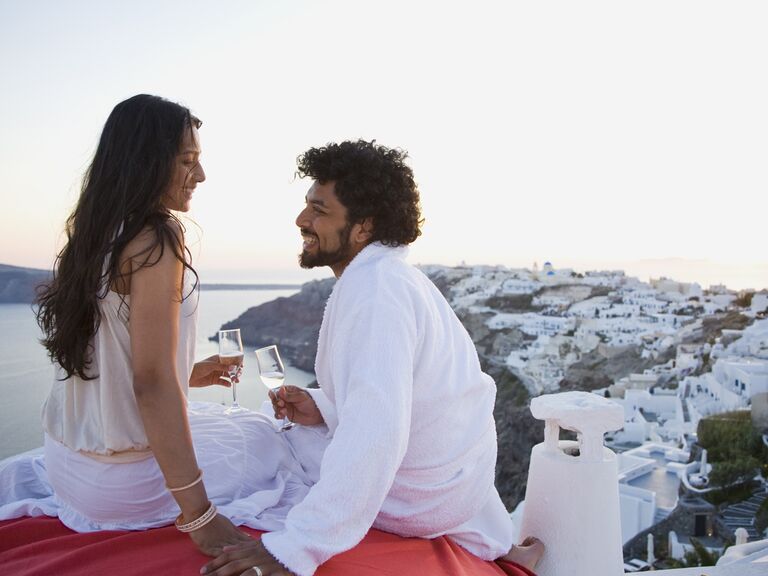 Photo: Denise Andersen/Shutterstock.com
We have included third party products to help you navigate and enjoy life's biggest moments. Purchases made through links on this page may earn us a commission.
Sit back and relax, your dream honeymoon is taken care of. Nope, you didn't win the lottery; you just used your wedding registry to its full potential. A honeymoon fund lets your guests give you cash for airfare, housing accommodations and travel excursions as a wedding gift instead of dining sets and matching linens. That's right, you don't need to register for just traditional items. Friends and family want to give you a present you'll actually use—including wedding cash funds for all married life has to offer (like a two-week vacation to Italy).
We're not even going to ask, we know you're sold on the idea. So, here's how to set up a honeymoon fund. It actually works just like a traditional gift registry. You can include the link on your wedding website for easy guest access or use an all-in-one registry tool (like The Knot Registry) to combine your honeymoon fund with traditional gift ideas. We actually recommend this option, since some guests still prefer to give physical presents.
To help you get started, we've rounded up the best honeymoon fund registry websites. Since each service has slightly different features, we break down everything to know about these sites so you can pick the best one for your needs.
The Knot Honeymoon Fund
While we're not going to rank all the available wedding registries for honeymoon funds, if we did, The Knot's cash funds would take first place. Cash funds from The Knot look just like traditional registry items from The Knot Registry Store and are even listed beside them with a picture and price. When users click on the block, they'll be directed to a custom product description written by you about the fund. You can create one block for your entire honeymoon or multiple to account specifically for airline tickets, hotel rooms, a relaxing couples massage at your resort and a beachside bottomless brunch. ​​You can create cash funds of any amount—whether it be a fixed ask or an option for guests to contribute whatever they desire toward your goal. Additionally, you have the option to hide said goal number from guests, if that's what you prefer. Then, you can continuously check how you're pacing toward your dream honeymoon and who contributed—so you can send thank-you notes!
The Knot Cash Funds link to your bank account, so your guests' contributions will be transferred directly. While there is a 2.5-percent transaction fee required by credit card companies for every complete purchase, guests will pay this directly. Don't worry, The Knot charges one of the lowest fees in the wedding industry and doesn't take any commission. Plus, this fee is typically less expensive than the taxes and shipping costs associated with a physical gift, so guests are usually okay with the charge.
Thanks to The Knot's all-in-one registry, setting up a honeymoon fund has never been easier—and it's free! Plus, the process is super straightforward for guests. They'll love the option to contribute to your travels and you'll love the help.
Traveler's Joy
Launched in 2004, Traveler's Joy is one of the oldest wedding registries for honeymoon planning. Hundreds of thousands of couples have used the service to register for a variety of travel-related cash funds, like an upgrade to first-class airfare, romantic excursions for two and even a new camera to capture the vacay mems. To get started, set up a free honeymoon registry with Traveler's Joy, then customize your page with images and descriptions, videos, photos and travel plans. And if you need help setting it up, their Instant Registry will auto-fill your wish list with premade themes based on location-specific items. Of course, no matter what items you add to your wish list, everything will be redeemed as cash to use as you see fit.
Traveler's Joy has no sign-up or upgrade fees, offers 100-percent-free gift redemptions in the US and all gifts provided by cash or check come at no cost to both you and your guests. (If a credit card is used, there's a 2.95-percent service fee. Guests also have a small checkout fee that covers the credit card company and credit card processor cost.)
The best part of Traveler's Joy? Guests can easily find your honeymoon wedding registry by searching your wedding website on The Knot. This also means you can register on both sites for a honeymoon fund, other cash funds as well as traditional gifts.
Honeyfund
Despite its name, Honeyfund can be used for any type of cash gift. So, while you can dedicate some of your wish list to your honeymoon, you can also create funds for a home down payment, charity donations and more. Simply create a free account, then design your personal page. It can include a long list of excursions or just one donation box for guests to contribute to. It'll all be deposited in your bank account. Note: There's a 2.4-percent processing fee or a 2.9-percent fee for PayPal transactions. Alternatively, you can register for zero-fee gift cards to nearly 200 dining, shopping and travel brands. Once you've built your unique honeymoon registry fund, you can share it with guests on social media or your wedding website.
Honeymoon Wishes
Honeymoon Wishes is a great travel wedding registry for the adventurous couple. Thanks to the brand's exclusive partnerships with cruise lines and hotels, you can save for a variety of trips like Botswana, Jamaica and beyond—seriously, they have over 850 destinations to explore. They also offer live customer service and cutting-edge security. Because of this, the honeymoon fund comes with a higher cost: 7 percent of your total gifts billable to you at checkout or to your guests at the time of purchase. There's also a 2.65-percent processing fee for credit cards. Still, for couples looking for a premium ​​wedding registry for their honeymoon, Honeymoon Wishes fits the bill.
Hitchd
Design-minded couples will appreciate the ability to create their honeymoon fund on Hitchd. The paid service is dedicated exclusively to registries and focuses heavily on registry page design and a modern mobile and desktop experience for couples and wedding guests. Plans range from $119 to $199 USD based on your wedding size, though you can try it for free before making a decision if this is the right honeymoon fund for you. Start by selecting a layout and font, then choose from gift idea design templates and honeymoon fund wording options that are completely customizable. If you're worried about asking for cash gifts, Hitchd's thoughtful design ensures guests still feel the time and thought you put into your registry. Plus, they have digital and physical thank-you cards to show your friends and family gratitude. When it comes to cashing out, you have a wide range of options including credit card, Venmo, Wise and more. Just note: Credit cards have a processing fee of 2.9% plus $0.30 charged by Stripe that can be paid by the couple or gift giver.
Blueprint Registry
If you're looking for a one-stop shop for your wedding's online presence, Blueprint could be a good option for you. Their comprehensive platform offers wedding website and registry building and is compatible to host a mixture of traditional gifts and cash fund options, including honeymoon experiences. Feel free to customize your honeymoon registries with a selection of prepackaged experiences or set a custom cash gift with no minimum amount. While everything is free to set up, like other wedding registry honeymoon funds, there is a 2.5% credit card processing fee. This can be deducted from your total donations or guests can choose to cover the cost.
Joy Honeymoon Registry
One of the newer honeymoon registries on the scene, Joy is a zero-fee honeymoon fund, giving you 100% of the cash gifts you receive. This is because instead of connecting to your bank account, all monetary contributions by guests will go to your PayPal, Venmo or Cash App. Like other universal registry sites, you can ask for both a honeymoon fund and traditional wedding gifts. They'll be listed together on a single wedding registry. You can also shop pre-curated experience packages by Spur Experiences or customize your own honeymoon fund widgets. Joy also has the functionality to host your wedding website, if you choose.
Honeymoon Fund Box
From high-tech to analogue, we have a new spin on an old-school idea for collecting cash gifts. It's not an online service, per se, but it's ideal for couples who have guests that would prefer to deliver their cash gifts in person. A honeymoon fund box is based on the traditional card box or wishing well that couples display on the gift table at their wedding reception. There are several honeymoon fund box designs to choose from online, featuring cute calligraphy that spells out phrases like"honeymoon fund" or "our adventure fund." To give your guests a heads up that you'd like contributions towards your vacation, include honeymoon fund wording on your wedding website and let them know that their envelopes can be dropped into the box on the big day.