2023 Global Wedding Report
An in-depth look at weddings across 15 countries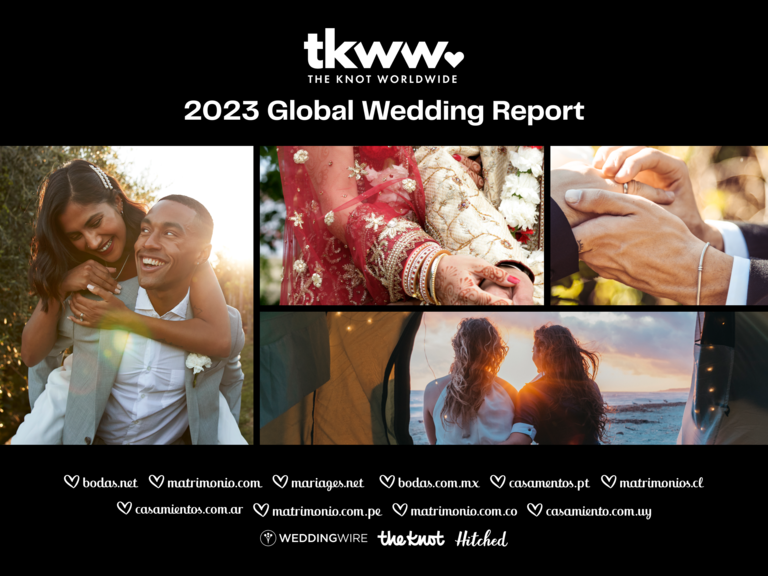 While wedding trends and traditions vary widely across cultures and regions, one theme across the world in our latest study was a high demand for celebrations following two years of pandemic restrictions. Couples embraced the opportunity to gather with loved ones and sought ways to highlight their individuality. This report outlines themes across 15 countries—from intimate gatherings in the British countryside to romantic outdoor celebrations in São Paulo. More than 25,000 couples were surveyed by The Knot, Hitched, Bodas.net and their sister sites to capture a comprehensive view of weddings in a post-COVID world from spend and vendors hired to planning preferences and emerging trends.
Key takeaways from the study
Timing: Weddings peak when weather is more favorable, with late summer most popular in many European countries (August/September). October remains the top month in the US where planning timelines are also longer (15-16 months—also true in the UK), while timelines are shorter in most Latin American countries (10 months or less) and India (5-6 months). Technology plays a growing role in the wedding journey from downloading apps for planning on the go to watching YouTube videos for inspiration.
Vendors: Couples across all countries are relying heavily on vendors, hiring an average of ten pros. Photographers are a top category across countries (hired by 85% of couples on average) and their role often extends beyond the wedding day to capture surprise proposals, engagement shoots and even post-wedding sessions.
Guest experience: Providing a stellar guest experience is a must in many cultures. Fun entertainment, decadent desserts and thoughtful favors were a few ways that couples provided the "wow" factor. India had the highest number of attendees at 285 (though lower than pre-pandemic levels), while Colombian weddings had the lowest guest count at 76.
Traditions: Couples continue to incorporate traditions like a first dance and cake-cutting ceremony, but many are also putting a spin on these traditions (like this UK couple who opted for a retro dance-off). Couples are also finding new ways to highlight their individuality like incorporating pets (including custom attire and first looks) and including unique themes or unconventional ways to symbolize their commitment (including matching tattoos).
Today's Couples
How couples meet
In 7 out of 15 countries, the top way couples met was through friends in common, with Italy capturing the highest levels (33%). In contrast, in Latin America it's more common to meet through work—especially in Peru (33%).
Online is the most common way couples meet in the US, Canada and UK, with roughly three in ten connecting via dating sites/apps or social media. In several South American countries, there has been significant growth in meeting online compared to 2019—including Argentina (22%, +9pts), Uruguay (20%, +7pts), Colombia (19%, +13pts) and Brazil (18%, +6pts).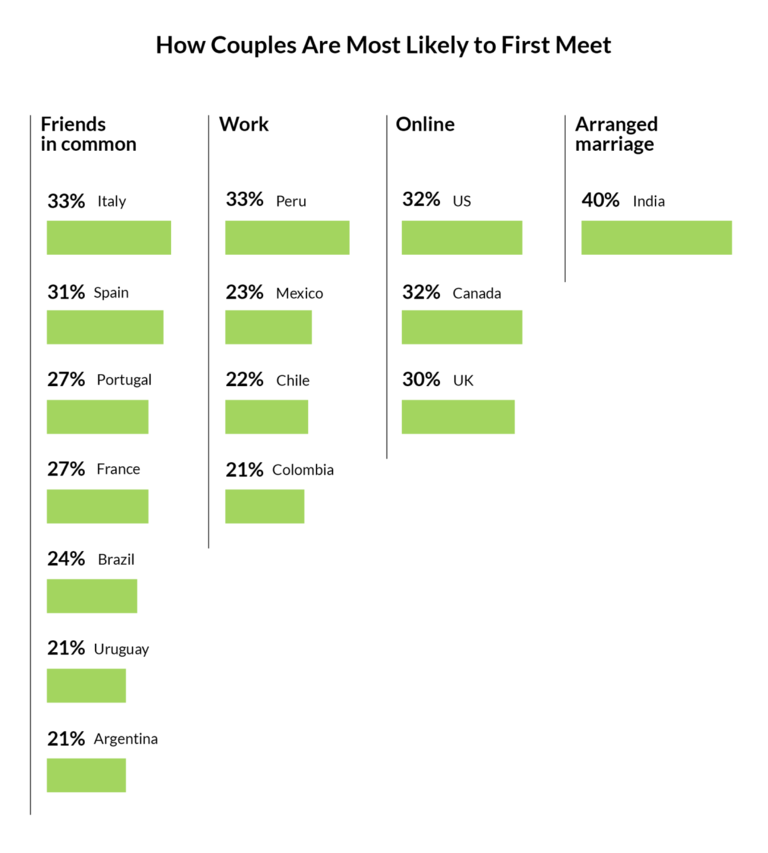 Living together
In North America and Europe, more than three-quarters of couples are living together before marriage. Couples are increasingly marrying at an older age, especially in Western Europe where the average age to get married hovers around 35-36 years. The trend of living together pre-marriage is less common in Latin American countries like Brazil (41%) and Mexico (42%).
Many are also starting families together prior to getting married. In France, over half of newlyweds already had children (56%) and this was also true of more than four in ten couples in Portugal (42%). Children can play a major role in the wedding, whether as part of the wedding party, being involved in the first look or simply adding cuteness to pictures.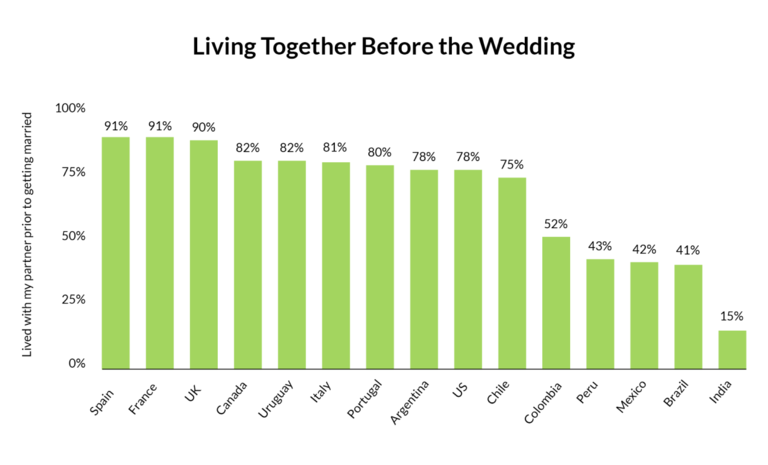 The Engagement
When it comes to engagements, a majority across markets (average: 66%) had a set day when it became official. French couples were least likely to say there was a proposal day (43%, down from 79% in 2019) reflecting greater open-mindness about how couples approach marriage.
December is the most common month for couples to get engaged throughout many countries. France (20%), Portugal (20%), Canada (19%) and the UK (19%) had the largest percentage of engagements occurring in December. Another month with high levels of engagements in Europe is August when many take summer vacations.
Wedding Planning
Planning timeline
Planning timelines are longer in the US and UK where couples begin research 15-16 months pre-wedding. In Western European countries including Spain, Italy and Portugal, couples begin planning approximately 12 months ahead of time. Latin American countries see that most planning timelines are 10 months or less, though Brazil is a bit longer. India, with a shorter 5-6 month planning timeline, also sees parents/family more involved in planning than other countries.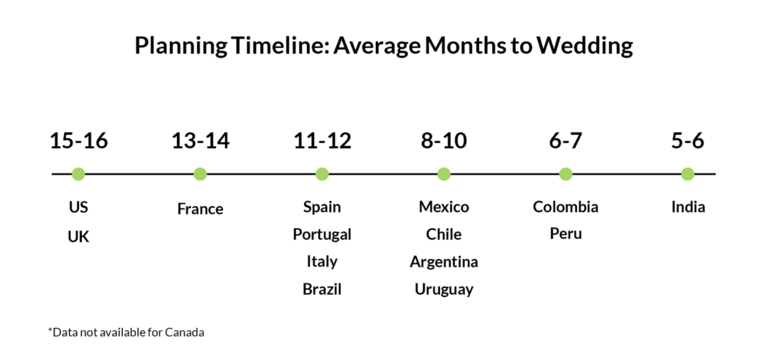 Technology
Couples are relying on technology in countless ways through the wedding journey—from finding inspiration to connecting with vendors and guests. Examples include:
India: 60% are using WhatsApp to communicate details with guests, utilizing it more than other resources like sending invitations or save the dates by mail (53%).

Brazil: 63% downloaded apps for wedding planning to be able to plan on the go.

US: More than half of couples video chatted with vendors, an increase of 35 percentage points vs. 2019.

Peru: Nearly three in ten used YouTube during planning and are checking out video content ranging from planning tips to wedding mishaps.
Trend Alert! Many couples choose to post content on social networks, so new formats have arrived that are more visual and make sharing easier. Couples are creating personalized filters to use during the wedding, but also shorter creative pieces like pre-wedding trailers, post-wedding recaps, trash the dress videos and other ideas to share on Reels and TikTok. Short videos are the new star format that all couples seem to want.
Wedding communication and timing
Couples are using wedding invitations to communicate the wedding date and other key details to guests—often choosing stationery in colors and themes that match their overall wedding vibe. More than 75% of couples in the US, UK, Canada and Italy used invitations. In Latin America usage varied, though invitations are used most in Brazil and Mexico (60%+).
When it comes to selecting a wedding date, weather has a significant influence. Late summer (August or September) is the most popular time for weddings in most European countries, while November or December were preferred in Latin America where the seasons are opposite. October was the highest in the US for the sixth consecutive year.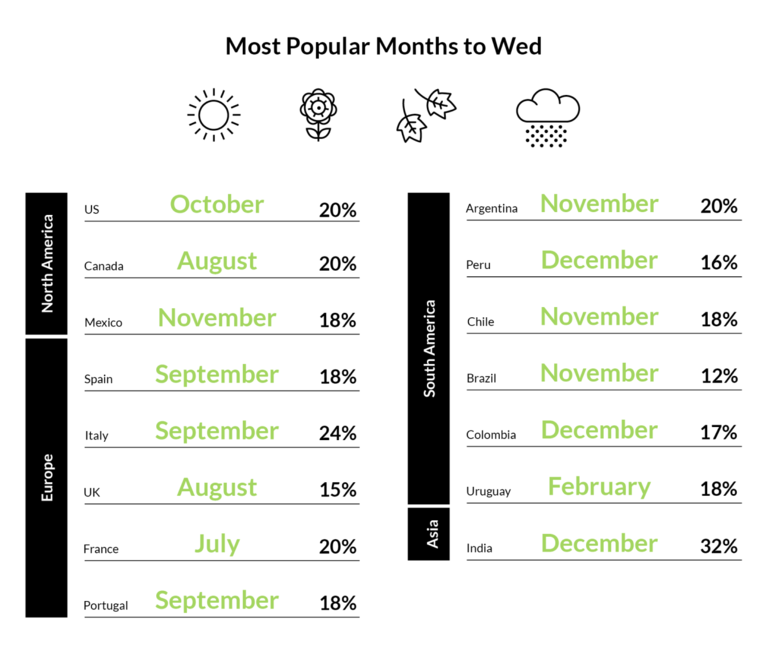 Vendor Selection
Couples rely heavily on wedding professionals to bring their visions to life, hiring ten vendors on average. Across all countries, photographer is a top category hired (with 85% hiring one) including more than 90% hiring a photographer in the UK, Canada and Brazil. In the US, couples are significantly more likely to hire photographers to help with the proposal compared to three years ago, and in Spain some are having post-wedding photo shoots. With couples wanting to look their best, it makes sense that beauty professionals like hair and makeup artists are also frequently hired, especially in Brazil (84%).

The study found several notable differences between countries:
Catering: While food ranks high in many countries, couples in France are most inclined to hire (75%) caterers.

Dessert: In several Latin American countries (Colombia, Chile, Mexico) this ranks among top vendors hired and highlights strong preferences in Latin America to have a sweet treat for guests to enjoy.

Videographer: There is a far higher rate of hiring a videographer in India (71%) than other countries. Mehendi artists are also a category unique to India (68% hire). Every Indian wedding has a mehendi event, which involves temporarily painting or tattooing the hands and feet of the bride and her friends with henna.

Florists: Couples in Italy are most likely to hire a florist (86%).

Dress: Ranks as the #1 category hired in the US—one of the few countries where photography isn't first.
Venue Selection
One of the first decisions a couple typically makes is booking a venue. That's a moment when many key factors come into play, including determining the location, guest count and vibe of the wedding.
When searching for venues online, cost ranked among the top three considerations in all countries. The type or style of the venue was also a key consideration, with high agreement in Latin American countries (Peru: 76%, Uruguay: 75%, Mexico: 73%, Argentina: 71%).
Additional considerations ranking high were:
Having exclusive use on the wedding day was an important factor in Italy (58%), UK (49%) and Portugal (47%).

In India, it's important that the venue has the capacity to hold the ceremony (62%).

In Spain, how long it will take to get there (49%) ranks among top priorities.

Photos, reviews from other couples and being able to hold both the ceremony and reception were also mentioned as valuable information for couples when looking for a venue.
Preferred venue types
A wide majority of couples have a ceremony and a wedding on the same date, especially in the US (94%), Italy (91%) and UK (91%). The exceptions were Uruguay (52%), Argentina (46%) and Chile (45%) where many had the ceremony on a different day. In these countries, it's more common to celebrate a civil wedding and have lunch with the closest relatives, then host the religious wedding with all loved ones a day or two later.
When selecting the venue for their reception, couples in Western Europe have a clear preference for villas, while banquet halls are preferred in North and South America. The UK is unique with hotels being the top location for receptions.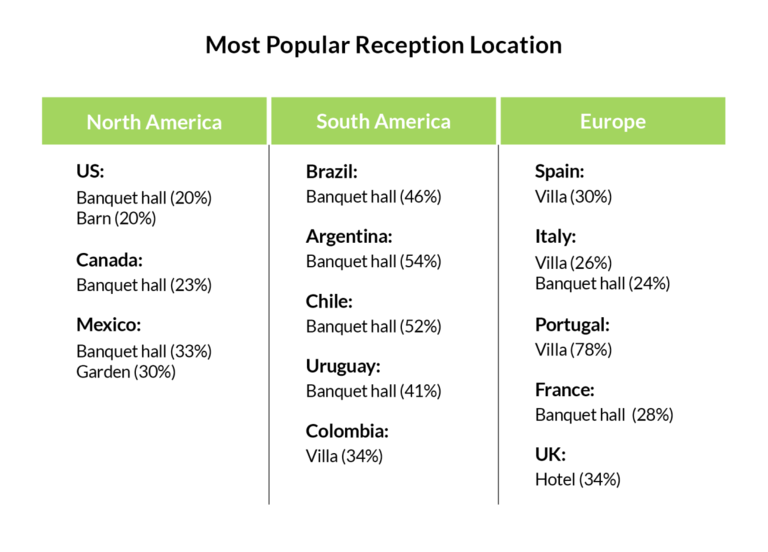 Wedding Spend
Weddings have the highest average cost in the US and tend to be lower in South America, aligned with incomes and each country's cost of living. A major factor impacting wedding spend is guest count and this varied widely by country. India guest counts were highest with an average of 285 followed by Mexico (145 guests) and Brazil (125 guests). Lingering COVID restrictions in 2022 kept guest counts lower than pre-pandemic levels across many countries, but providing a stellar guest experience was a priority for couples who splurged on unique entertainment (like this glitter stand in Mexico), decadent desserts, eye-catching decor and more.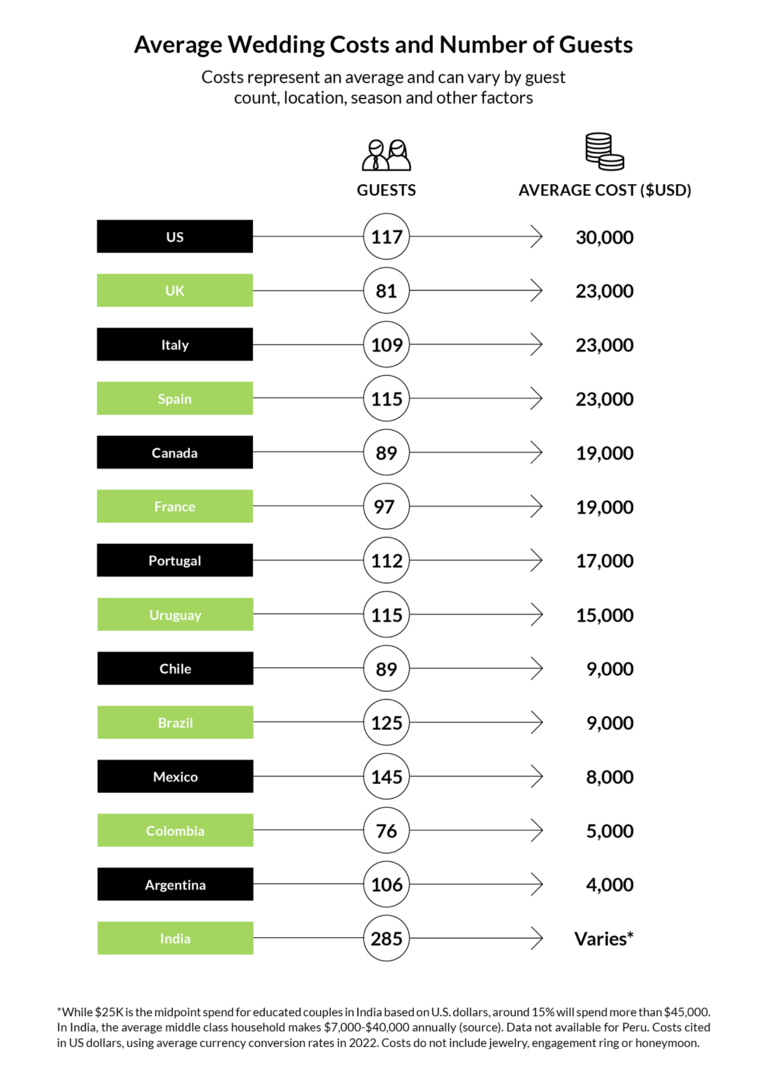 Economic impact
In a typical year, budgeting is a top challenge for couples. Reasons for this include uncertainty of how much family/others will contribute, doubts about what the final guest count will be and discovery of new ideas/upgrades after planning has started (example: this stunning lighting to set the mood). With inflation rates across the world spiking in 2022, couples felt this impact during planning and it added further complexity to budgeting. This was especially true in Latin American countries where a majority said they went over budget including 68% in Peru, 62% in Brazil, 61% in Colombia and 59% in Mexico.
The country with the budget most impacted by the economy was Argentina (68%), which aligns with macro challenges related to inflation rates in the country. In other South American countries and the US, more than 40% said the economy impacted their planning, while it was less of a factor in Europe. Couples in Latin America handled the economic challenge by inviting fewer guests and increasing the budget of the wedding. In the US and Canada, couples opted for fewer upgrades and also increased budgets.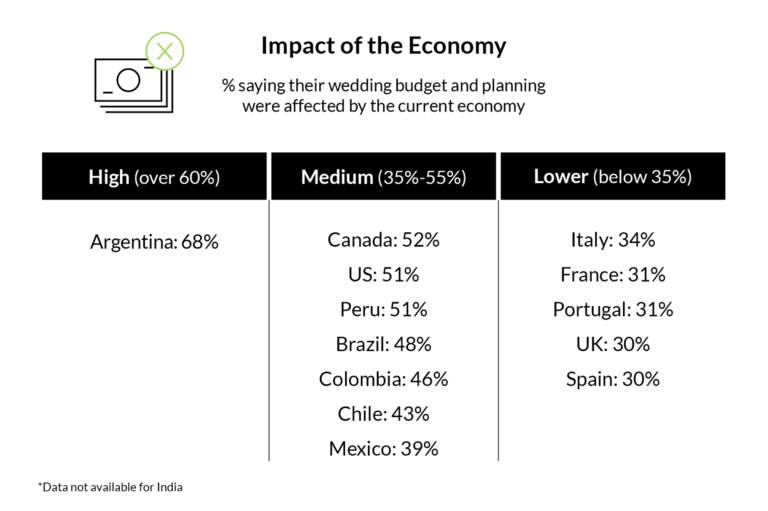 Trends & Traditions
Ceremony: Those in Italy, Colombia, Portugal, Mexico, Brazil and Peru are most likely to have religious ceremonies (over 50% of ceremonies). UK weddings are least religious (22%) and this also matches an overall decline in the UK in the percentage of the population who identify as Christian.
Wedding parties: The majority of weddings in North America include ceremonial roles like bridesmaid and groomsman, but usage varies widely in Europe (France: 71%, Spain: 21%) and South America (Brazil: 68%, Argentina and Chile: 17%). The wedding party plays a key role throughout the day from getting ready with the couple and participating in group pictures to even performing choreographed dances and entertaining guests.
Certain trends are notably more relevant in certain countries:
The bouquet toss remains common in Latin America (included by more than two-thirds) and Portugal (77%), while it drops in other countries, especially the UK (12%).

Sustainability is becoming more top of mind across countries, though India is leading the way with 28% incorporating eco-friendly elements such as reusable decor or a sustainable venue.

First looks are growing in the US and now used by 55% (up 13 points vs five years ago).

Giving favors to guests is especially common in Western Europe, including around eight in ten couples in Spain (83%), Italy (82%) and Portugal (79%).
Trend Alert! One of the most notably emerging trends in Europe and Latin America are Wedding Fests. The couples' goal is to create a "wow" effect among the guests, with a celebration full of neon, music, smoke cannons, lights and lots of color. Inspired by music festivals, Wedding Fests are one of the most popular trends due to their showiness and the chance of customization.
Food & Drink
From champagne toasts to signature cocktails, alcohol is a big component of US, Canada and UK weddings where about 90% serve it. In Western Europe, alcohol is also quite likely to be served in Spain (86%) and Portugal (86%). Colombia is lowest among South American countries (63%), while in India it drops significantly to only 18% of weddings.
Cake-cutting ceremonies are most common in Portugal (95%) and Italy (84%). In Colombia, Peru and Brazil there wasn't a cake-cutting ceremony for the majority of weddings. In these countries, couples might opt for dessert tables with individual-sized tarts, cupcakes, macarons, alfores and other tasty treats.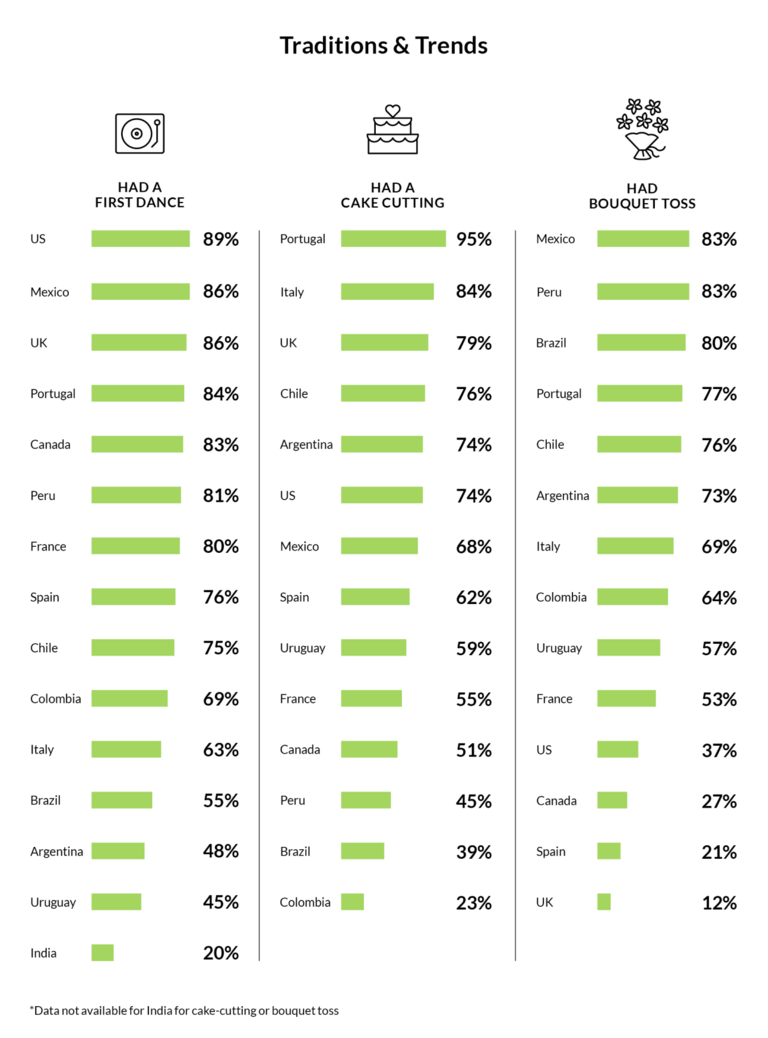 Honeymoons & Minimoons
Across 15 countries, an average of 75% of couples took a honeymoon and/or minimoon. This was most popular in European countries, as more than 85% in the UK, Spain, Italy and Portugal took a post-wedding trip. The beach was a preferred location in many countries, especially Portugal (66%), Brazil (62%) and Mexico (61%). India was the only country where fewer than half of couples took a honeymoon or minimoon.
Methodology
The 2023 Global Wedding Report is primarily based on data collected from The Knot Worldwide (The Knot, WeddingWire and Bodas.net) annual newlywed survey, distributed to couples married in 2022. The survey was sent between December 2022 and February 2023 to couples with an email address on file, and a total of 25,245 responded. India data was mainly collected via SMS text. To provide the most comprehensive view, this report includes findings from ad hoc studies and examples from couples who have shared their real wedding experiences with the company.
Graphics created by Melissa Brody and content written by Lauren Goodson