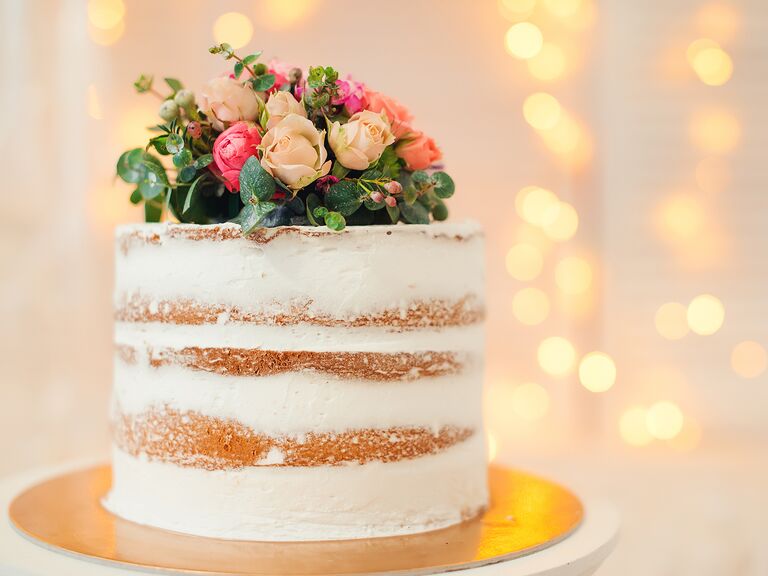 Reception
1. Cut the guest list. This will slash your catering costs and save on invitations and even the number of centerpieces.
2. Think off-peak season and save thousands.
3. Hold your ceremony and reception in one spot—it will cut travel time for vendors you pay by the hour.
4. Skip the Saturday wedding.
5. Have bigger tables so you need fewer centerpieces and tablecloths.
Flowers
6. Use more greenery than flowers.
7. Swap out costly flowers—did you know peonies can be five times more expensive than roses?
8. Stick to just one or two kinds of flowers.
9. Buy flowers that are in season.
10. Include nonfloral pieces, like seashells or fruit.
Food & Drink
11. Skip the main course—just have passed hors d'oeuvres or stations.

12. Offer beer, wine and a signature cocktail instead of a full bar.
13. Skip the champagne toast.

Cakes
14. Order a small one- or two-tier cake and then supplement it with a larger sheet cake (hidden in the kitchen).
15. Keep the add-ons simple.
16. Use fresh flowers, not sugar ones.
17. Skip exotic fillings like guava and mango.

Stationery & Favors
18. Get single-page invites to save on postage.
19. Give out one favor per couple.
20. Make your cake the favors.
21. Have favors double as escort cards.
22. Email your save-the-dates.
23. Make your own menu cards , escort cards and wedding favor packaging.
Photo, Video & Music
24. Have a photographer you love but can't afford the prices? Ask them if they have an associate shooter who will do your wedding for less.
25. Opt for a smaller band.
26. Hire a band or DJ who can do both the ceremony and the reception.
Purchases with a Synchrony Home Credit Card are subject to credit approval.

The Knot and Synchrony HOME Credit Card present Make Yourself at Home, a sponsored series featuring money-saving tips and ideas to help you furnish your newlywed nest on a budget. Learn more about how the Synchrony HOME Credit Card can help you finance purchases from tens of thousands of retailers.

Tell us what you think about what you just read! Click here to take a survey and be entered to win a $100 Amazon gift card.