22 Ways to Save Money on Your Wedding
We know, weddings are expensive—but you can cut costs without anyone even noticing.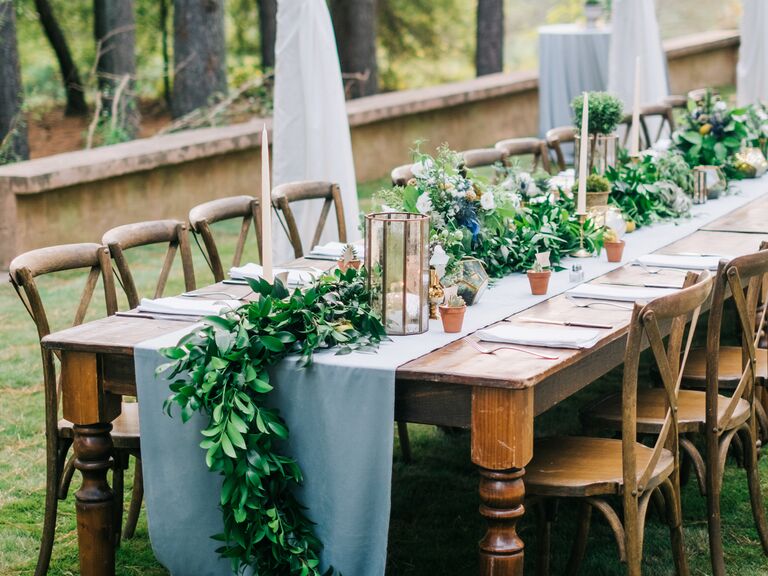 Harwell Photography
Looking for ways to pare down your wedding budget here and there? From the guest list to the music, here are a number of easy wedding details to modify and help save some money (without anyone noticing).
Reception
1. Trim your guest list.
We know it's hard to consider celebrating without certain people, but cutting your guest list is the easiest way to reduce your budget. It'll lower everything, including your catering and invitation costs, your venue size and rentals.
2. Choose a Shoulder-Season Date
Depending on where you plan to tie the knot, you could save hundreds, even thousands, of dollars by doing so in your destination's off-season or during one of the general shoulder seasons (typically late winter and early spring). We know the weather might not be as optimal, but it could totally be worth a February wedding to afford your dream venue.
3. Host It All in One Place
Having your ceremony and reception at one location will cut travel time for vendors you'd have to pay by the hour.
4. Skip Saturdays
Venues charge way more for Saturday events because they're by far the most popular day of the week, and there's far more competition. So, while it's not always as convenient for you or your guests, a Friday or Sunday (or pretty much any other non-Saturday) wedding date could be the answer to your budget prayers.
Flowers
5. Choose Greenery Over Flowers
Foliage over flowers? Not only is it gorgeous, it's super popular right now too. Use garlands to fill your tables and drape your altar.
6. Swap Out Pricey Blooms
Replace expensive flower varieties for less expensive ones. Even little substitutions add up: Exchange black magic roses for more reasonably priced deeply colored dahlias in all your bouquets and table arrangements, you'll save about $4 a stem. If you were planning on having five roses per bouquet and 10 per centerpiece—with a wedding party of five and guest list of 150 people, you've just saved $520. (Your florist will be able to recommend other great ways to swap and save too!)
7. Stick to One (or Two) Stems
If your florist is only sourcing two types of stems, they can buy in bulk, saving you big bucks. Consider sticking to flowers in a similar color scheme or shape for a more cohesive look.
8. Buy Local, In-Season Flowers
This will guarantee the freshest blooms, plus the stems will be less costly too. Your second-best option is choosing from widely available, year-round blossoms, like roses, calla lilies and orchids. If you go local, you'll save on transport costs too (tulips from Holland don't come cheap).
9. Consider Nonfloral Décor
No need to splurge on buds if you don't care about them. Try adding books, seashells, extra candles, heirloom photos or other nonfloral elements to your day.
Food and Drink
10. Have a Cocktail Hour Reception
Skip the sit-down dinner or big buffet and opt for passed appetizers (just make sure you have enough to go around—don't let your guests go hungry).
11. Limit Your Bar
Please don't have a cash bar, but it's perfectly okay to limit your alcohol offerings. Instead of a full bar with a dozen pricey spirits, serve only beer and wine, and one signature cocktail, or some combination of the two.
12. Skip the Champagne
Your love will be no less legit if you skip the Dom Perignon. If you're set on a toast moment, all that matters are your designated drink's bubbles and drinkability. Let people say "cheers" with whatever cocktail they're holding, or opt for one of champagne's more affordable cousins: prosecco, cava or other sparkling wine.
Cakes
13. Order a Small Cake
Have a beautiful a one- or two-tier cake for that quintessential cake-cutting moment, then supplement it with a larger sheet cake (hidden in the kitchen) for everyone to have a slice.
14. Keep Embellishments Minimal
The more ornate your cake decorations, the more it'll cost you. Keep add-ons to simple, minimal details that won't jack up the price too much.
15. Choose Fresh Flowers (Not Sugar)
We know they're small, but sugar flowers are super pricey because they cost your cake baker time and effort (it's like a gorgeous mini flower sculpture—made of sugar!). Fresh flowers are your most affordable bet for a floral-adorned confection.
16. Stick to Classic Fillings
Skip exotic fillings like guava and mango and shoot for simple, but no less delicious, flavors.
Stationery & Favors
17. Send Single-Page Invites
Save on postage with smaller, flat, single-page invites.
18. Give One Favor Per Couple
Choose a favor, like candles or a potted plant, where you only need one per couple.
19. Make Escort Cards Double as Favors
A classic two-for-one.
Photo, Video and Music
20. Book an Associate
Ask about booking a photographer, band or DJ's associate. Oftentimes, great vendors can recommend another person who works for them at a lower price, meaning you get a similar vibe and quality, just not the one most in demand.
21. Get a Smaller Band
The smaller the band, the fewer people and equipment you'll need to pay for. It's not always an option, but cutting down your band from 12 pieces to eight or even six instruments and vocalists is an easy way to save on live music.
22. Hire for More Than One Service
Hire a band or DJ who can do both the ceremony and the reception. For example, if you're having a band at your reception, ask about hiring one or two members for the ceremony.